March 3, 2020
Affordable housing rises where a church building once stood
After a period of discernment and community engagement, a congregation takes a risk and finds its way back home.
Donna Budway wasn't certain her daughter was ready to spend her first night away from home. Emma Budway is 22 and has autism. As the young woman prepared for bed after moving into her new apartment, Donna lay down next to her.
Emma can speak, but does so unreliably, preferring to communicate by spelling on an iPad or a laminated sheet. But she was abundantly clear on that evening in early December when she turned to her mother and declared her long-awaited independence.
"No sharing," she said, insisting that her mother sleep in the family's Arlington, Virginia, home, about 2 miles away.
"We haven't looked back since," said Donna, whose daughter is among the first residents at Gilliam Place, an affordable housing complex born of one congregation's quest to discern their calling in a community with changing needs.
"This is just a wonderful source of good in our community," Donna said.
The 173 apartments reserved for low-income families, seniors and those with disabilities are the result of a yearslong — and at times contentious — discernment process by Arlington Presbyterian Church. The complex, built where the church once stood, is named for Ronda A. Gilliam (1906-1970) who served the church and presbytery as an elder and was a neighborhood conservationist. Gilliam founded the congregation's community clothing ministry, which still distributes thousands of items each year.
Arlington Presbyterian's stone sanctuary had occupied a lot near a busy intersection west of the Pentagon for more than 80 years. Like many churches, the congregation had seen its numbers dwindle, and its aging infrastructure had become an increasing burden. But what happened next wasn't driven by finances, said Susan Etherton, a ruling elder and member for nearly 40 years. Arlington Presbyterian could have sold its property — worth more than $10 million just a few years ago — and built a new sanctuary elsewhere, she said.
"We weren't looking to save ourselves," said Etherton, who was deeply involved in the church's effort to discover the community's needs and discern how best to meet them.
"It had to be grounded in that spiritual sense of, How is God calling us to be? What can we do, not for people really, but with people? How can we be in relationship with the community by doing something bold and courageous?"
How might your programs and outreach change if they were done with people rather than for people?
To that end, church members wandered the streets of Arlington, gathering stories at bus stops, dog parks, farmers markets and coffee shops. They heard repeated concerns about the loss of community and the high cost of housing — how servers, teachers, cashiers and first responders could no longer afford to live where they worked.
The congregation decided to join forces with the nonprofit Arlington Partnership for Affordable Housing, which shepherded the church through difficult conversations with its neighbors — and plenty of its own members — as well as negotiations with the local presbytery and the county. The organization then bought the land and constructed a six-story building where the church once stood, with five floors of affordable housing above retail space on the first floor.
Nina Janopaul, APAH's president and CEO, estimates that more than 400 people have made Gilliam Place their home since it opened in August 2019. Hundreds more remain on a waiting list.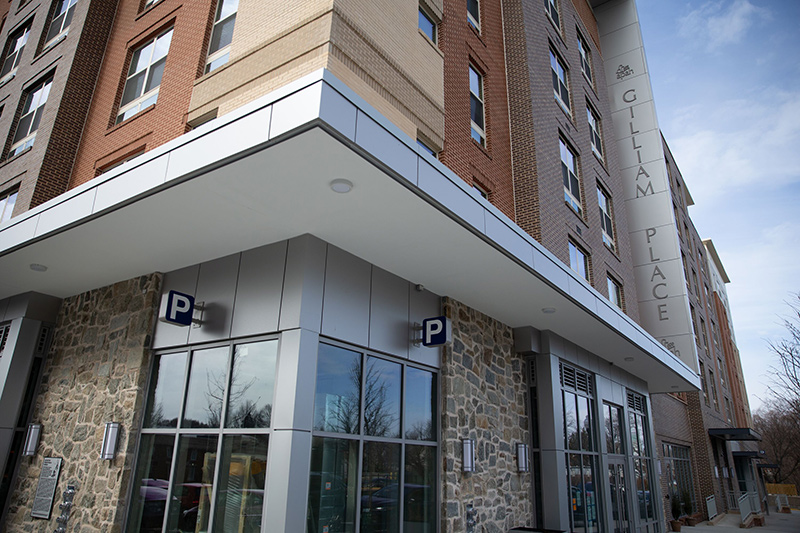 Have you ever wandered the streets of your community with the only purpose being to listen and learn?
It's hard to overstate the need for dedicated affordable housing, Janopaul said. Between 2000 and 2017, Arlington lost nearly 85% of its market-rate affordable housing units, largely because of increasing rent prices.
Nationwide, according to the National Low Income Housing Coalition, there is a shortage of 7.4 million affordable housing units for households living at or below 50% of an area's median income. In the Washington, D.C., region, that was about $121,000 for a family of four last year.
But faith communities, many of them longtime property owners, are uniquely positioned to address the crisis and expand their missions, said Janopaul, who also serves on the board of trustees for Virginia Diocesan Homes, a nonprofit affiliated with the Episcopal church that explores ways to provide affordable housing to seniors.
"Rather than getting caught up in 'How can we salvage a building?' it could be a really sweet opportunity to think big," she said.
The entire process for Arlington Presbyterian, according to members, was an exercise in allowing God to reveal their purpose. They now rent space on the first floor of Gilliam Place, but that wasn't a foregone conclusion. After selling the property to APAH, they gave away hymnals, pews and even the church organ, moved into a temporary worship space, and contemplated whether the congregation should continue to exist.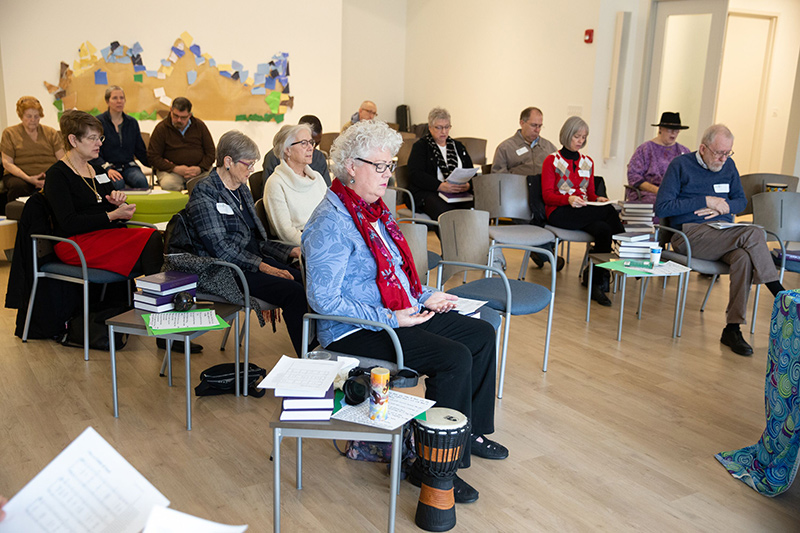 "It's almost like they became curious about death, the curiosity of how to die well, not where do we go after — because honestly we have no idea," said the Rev. Ashley Goff, who became the pastor at Arlington Presbyterian in July 2018.
What risks might your organization be willing to take for the sake of your neighbors?
Goff, who was previously the minister for spiritual formation at
Church of the Pilgrims
in Washington, D.C., said she was attracted to Arlington Presbyterian by the church's steady commitment to doing something radical.
"They risked it all for the sake of their neighbors. They took a building, blessed it, broke it and shared it, poured it out. What they did, for me, was very sacramental."
'What does this community need us to be?'
In 2008, Arlington Presbyterian celebrated its centennial, ushering in a period of deep reflection, said Jon Etherton, Susan's husband. While membership had reached about 1,000 in the mid-1950s, that had steadily dropped; by 2008, a typical Sunday saw fewer than 200 worshippers, many of whom were wondering, "What's next?"
In fall 2009, the church's governing board — its session — held a retreat to brainstorm possibilities. Selling or leasing its land was among the suggestions the group planned to float at the congregation's annual meeting. But rough winter weather delayed that meeting by weeks, and by the time it actually happened in late February 2010, members were anxious about the bits and pieces of information that had already dribbled out.
Over the next two and a half years, the church increased its efforts to engage members in the decision-making process, organizing meetings in members' homes and churchwide retreats where people were invited to share their memories of the congregation and help plot its future.
The resulting consensus, though far from unanimous, was that Arlington Presbyterian should act as if it were a new church in the community, asking itself, "Why are we here? What does this community need us to be?"
With guidance from a coach who specialized in helping congregations become more missional, a vision team from Arlington Presbyterian ventured into the community in pairs to hear the stories of their neighbors. Many of the people they spoke with had grown up in Arlington and still worked there but could no longer afford to live in the community. The team shared its experiences with others in the church.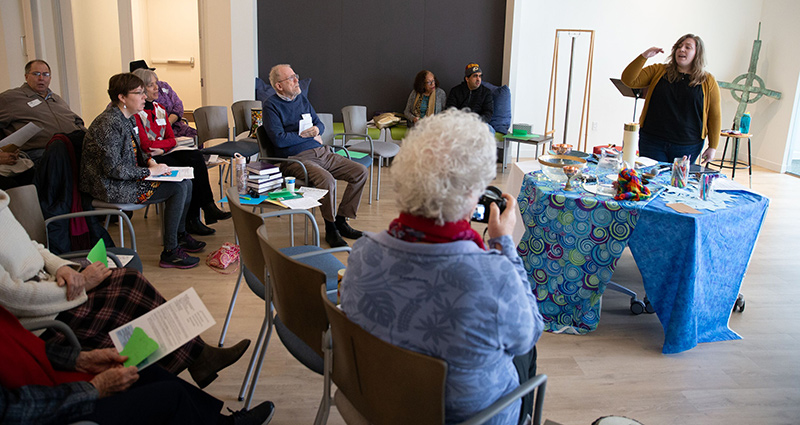 "The response [of the congregation] was, 'Wow.' It was compelling," said Susan Etherton. "We had tears. Hearts were broken open for these people. This was our 'why.'"
For whom are the hearts of your organization breaking?
Initially, the congregation voted to support a plan to preserve the church building while leasing rights above it for an affordable housing development built by APAH. The National Capital Presbytery, which holds the region's church land in trust, rejected that proposal in early 2014.
"When the presbytery received it, all they could see was the risk," Susan Etherton said.
The church was urged to consider instead selling the property outright , a simpler process by far but an emotionally difficult one for many in the congregation, who had married, baptized their children or marked the passing of loved ones within its walls.
"This was the hardest thing I've ever been a part of," Jon Etherton said. "A lot of Sundays, I dreaded coming to church."
The Rev. Karen Chamis, former director of congregational development and mission for the National Capital Presbytery, said she heard from plenty of members who were upset about the sale. But she was struck by the time and effort the congregation had devoted to uncovering the community's greatest needs — and by its commitment to serving them, even if it meant losing members.
"Their focus was not on preserving themselves, preserving the status quo. Instead, they tried to discover what God was calling them to do in the Arlington area, and that was persuasive," said Chamis, who now serves with a presbytery in New York.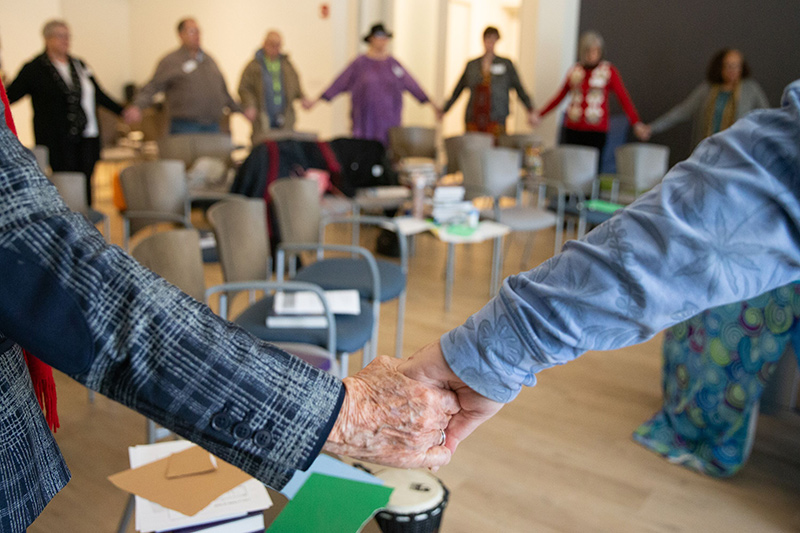 APAH's Janopaul understood the kind of pressure the church was under, from within and without. In other projects, she had seen firsthand the "natural tension between a church and a neighborhood"; citizens feel entitled to tell a church what it can and can't do with its property, she said.
At Arlington Presbyterian, APAH encouraged project supporters to counter opposition at public meetings. To further temper concerns, the agency embarked on a public education campaign, explaining the extreme need for affordable housing, offering tours of their other properties and introducing community members to those projects' residents to "de-escalate the otherness of the equation," Janopaul said.
The National Capital Presbytery ultimately approved selling the site to APAH for $8.5 million, about 80% of its market value. Since then, the presbytery has established a network to support church-backed affordable housing projects, endorsing one in Washington, D.C., and another in Alexandria. A third proposal from a congregation in Fairfax, Virginia, is in the pipeline.
On June 5, 2016, the Arlington Presbyterian congregation held its last service in its longtime home before moving to temporary space nearby. At that point, there was no guarantee that they would continue to operate as a congregation, Susan Etherton said.
"We really had to stop and say, 'Are we done? Was this what we were called to do, and it's done? Or is there more for us here in South Arlington?'" she said.
'We are who we say we are'
Once again in search of clarity, the congregation took to the streets in pairs. Strolling through their old neighborhood, they noticed a lack of green space. As it turned out, APAH didn't need all the land it had purchased from the church and was planning to sell a grassy plot at the northeast corner of the property to a single-family home developer.
At Arlington Presbyterian's request, APAH delayed the sale to see whether the church could generate enough support within the congregation to buy back the land for the full listed price, $700,000, which APAH needed to finish Gilliam Place.
Using proceeds from the original sale, the congregation reclaimed the land, setting up colorful Adirondack chairs beneath a shade tree, hanging bird feeders, building raised garden beds and stringing up a banner with an invitation to passersby: "Sit. Pause. Rest."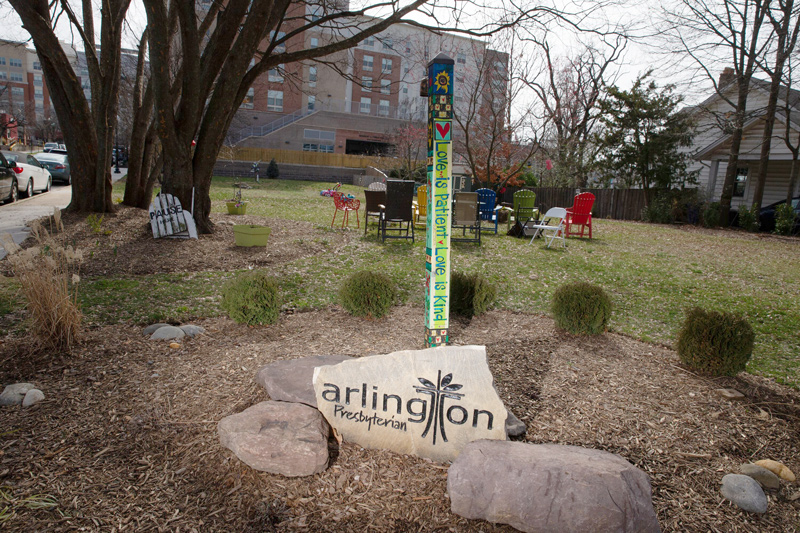 How might your organization use its property to offer pause and rest to the community?
Susan Etherton describes the effort as tithing back to the neighborhood that had nourished them for so long. At least monthly, church members began gathering in the tranquil green space to worship.
Securing the land only days before it was scheduled to be sold to a developer felt like a "God moment," Etherton said, one of many over the years that seemed to point the congregation toward its mission. To continue to care for that land, the congregation decided it needed to move home.
When the Gilliam Place construction was complete, Arlington Presbyterian leased 3,500 square feet on the complex's ground floor and — more than three years after leaving the property — returned for its first service there on November 17, 2019.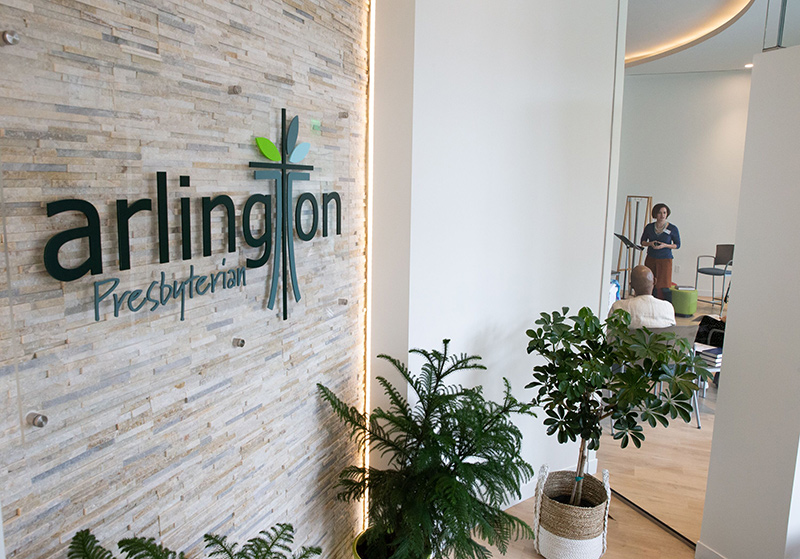 On a recent Sunday, about 25 worshippers gathered for a morning service. Seated around the sunny room, they shook tambourines, shaker eggs and maracas as they joined in singing hymns. The space is open and inviting, with a bank of windows down one side, gender-neutral bathrooms, and a wall covered in navy blue Braille wallpaper stamped with words like kindness, compassion, love and courage.
Not everything is brand-new. Two communion cups that sit on a table with the Christ candle were fashioned by a local artist from copper piping and a lightning rod salvaged from the old structure. The copper cross that once graced the church's spire, felled by the wrecking ball, now leans in a corner, battered, tarnished and green with age, but still striking.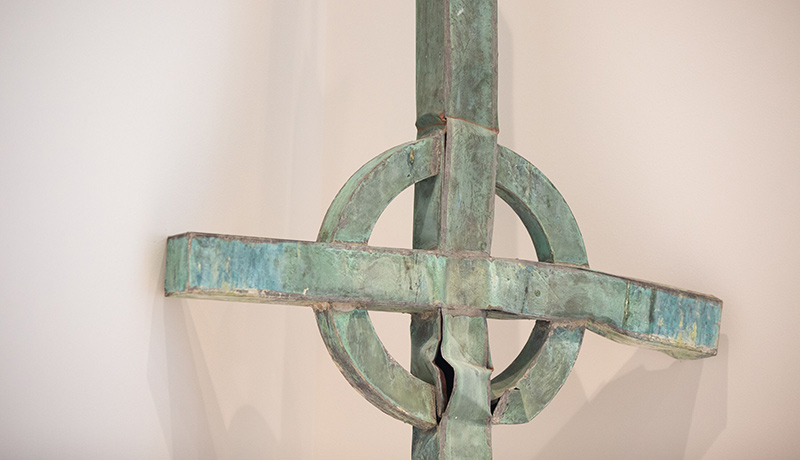 Several church members are becoming active on the Gilliam Place intake team, which assesses the needs of new tenants and helps fill the gaps, Jon Etherton said. And there are still plenty of people in South Arlington who could use assistance.
"We can't sit here and just rest. We've got to move forward," he said. "This is what believers do. This is what people of faith do."
Chamis said she folds the tale of Arlington Presbyterian into just about every sermon she preaches. Not every congregation can provide affordable housing, she said. But each can be intentional about becoming the hands and feet of Christ in its own community.
"The values of that church never changed. They just communicated them in a new way: 'We are who we were. But more importantly, we are who we say we are.'"
Questions to consider
Questions to consider
How might your programs and outreach change if they were done with people rather than for people?
Have you ever wandered the streets of your community with the only purpose being to listen and learn?
What risks might your organization be willing to take for the sake of your neighbors?
Members of Arlington Presbyterian Church reacted to the impact the lack of affordable housing was having on their neighbors. When you consider the needs in your community, for whom are the hearts of your organization breaking?
How might your organization use its property to offer pause and rest to the community?