Majora Carter: Don't leave! We can make low-status neighborhoods better
A real estate developer in the South Bronx works to build attractive spaces and create jobs in her home community and show people they can have beautiful, successful lives in their own neighborhoods.
Low-status neighborhoods need talent retention. Instead, what they get is talent extraction, says Majora Carter.
"You are led to believe you need to leave — you need to measure success by how far you get away from there," said Carter, a real estate developer and consultant who does work in her hometown neighborhood of Hunts Point in the South Bronx.
Carter, whose own family has experienced some of the ill effects of gentrification and predatory practices, has dedicated her efforts to building up her neighborhood and others.
Her projects include a local park and a coffee shop. In 2001, she founded Sustainable South Bronx, which aims to "achieve environmental justice through economically sustainable projects informed by community needs." She also co-founded the Southern Bronx River Watershed Alliance and has been involved in numerous environmental and green jobs initiatives.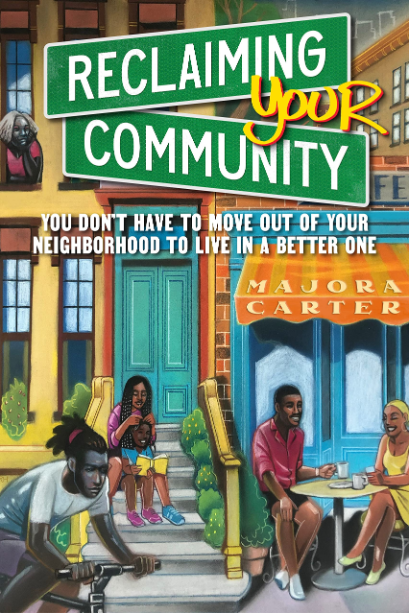 Carter wrote the book "Reclaiming Your Community: You Don't Have to Move Out of Your Neighborhood to Live in a Better One" — which was endorsed by Lin-Manuel Miranda and Seth Godin — and gave a 2022 TED Talk on the same theme.
She is president of the Majora Carter Group, which offers consulting services in environmental assessment, compliance and planning. She has received many awards, including a 2005 MacArthur Foundation "genius grant" that described her as "a relentless and charismatic urban strategist" and New York University's Martin Luther King Jr. Award for Humanitarian Service.
She spoke with Faith & Leadership's Sally Hicks about her work in the South Bronx. The following is an edited transcript.
Faith & Leadership: Talk a little bit about the neighborhoods you work in and write about. You use the term "low-status" rather than more typical descriptors, and you actually begin your book with a glossary. Why?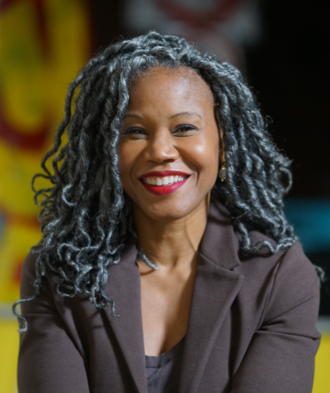 Majora Carter: Most folks, when they use "poor" or "underprivileged" or "underresourced," blah, blah, blah — it implies poverty is there. "Low-status" implies something much larger and deeper is at work. There's a high status and there's a lower status, and inequality is simply assumed.
It's the places where the health outcomes are lower, where the educational attainment is lower. Yes, poverty exists more frequently in those areas as well, and there's often a lack of hope in terms of the future of the community, both for people in the neighborhood and outside it.
And it can be anywhere. Urban, rural, suburban. It can be inner cities, Native American reservations, white towns where there was some industry and it's long gone.
What we see happening all the time is that the bright kids, the ones who are academically or artistically or even athletically inclined, are led to believe that they need to grow up and get out of those neighborhoods. That's really the underlying thing that just everybody gets. I don't care where they're from.
That's why our approach to community development is a talent retention strategy, really.
F&L: Part of this mindset is what you call the perception of "poverty as a cultural attribute." The community can't change — it isn't changeable — and therefore the only solution is leaving.
MC: It's baked in, this idea that poverty is part of the culture. So that's what you plan for, whether you're an elected planner, whether you're an elected official or part of the "nonprofit industrial complex." That is what you're planning for.
There are several industries essentially that profit off that, and that's what we're trying to work against.
F&L: You use the term "nonprofit industrial complex." What's your critique of investment done according to traditional means?
MC: It's a structure that was designed to take care of needs. But if we understand that and then we look at the money that's being spent and we don't see that the amount of money we spend is actually reducing all those social ills, then you kind of have to wonder, "Is it working?"
I'm not saying that [the nonprofit sector] doesn't play a great role. It does. I'm just saying let's just ask that question. Stop doing the exact same things over and over and over again.
Huge amounts of government-subsidized affordable housing [are built] for the lowest income bands. You're not building economic diversity in any of the housing.
Health conditions happen because of the environmental abuses in the same neighborhoods, and we don't address any of the underlying things but are managing the health conditions that are here, whether they're diabetes, obesity, heart conditions. Then we are surprised that those numbers stay the same?
We all seem to be surprised every single year. It's mind-boggling to me. I know I'm not the only person who sees this.
We're managing poverty. We have plenty of systems to manage people and their poverty. It's an incredibly paternalistic system that definitely has its roots in white supremacy that says, "You really will never be better, so we're going to help you — not that much, but just enough."
We keep seeing that over and over again, and yes, it does bother me very much.
F&L: What have you done in your own neighborhood, and what were you trying to accomplish with your projects?
MC: Ultimately, what I try to do is to help folks in my community, and communities like it, to not believe the narrative that our communities are places that are meant to be escaped from. We actually do have the capacity to revitalize our community from the inside out.
It started in my early work, when I was in the nonprofit sector for a number of years. I've always done project-based community development, because I've always felt the people needed to see and experience something different from what only screams poverty.
Again, the environment of our neighborhood literally often does say that. People know they need to leave their neighborhood in order to experience a nice park or a decent supermarket or a nice place to have a cocktail or a coffee with their friends.
What does it say about where you're from? It says, "You don't really need to be here if you have any sense of aspiration for yourself." And most people do.
What I've tried to show is that we have wonderful things to offer people within our neighborhoods. The projects range from spearheading the development of the first waterfront park our neighborhood's had in over 60 years. It was the only park — waterfront or not — that actually had grass and trees and the kind of places that made people feel, "Oh wait, this is a really special place to be."
Then we did some work where we helped people have both a personal and a financial stake in the improvement of their environment. So we've created green-collar job training and placement systems.
F&L: Tell me about the cafe; that you're sitting in right now while we're talking on Zoom.
MC: In the early days, our work was more focused on consulting, but then it didn't take us long to realize that it was really real estate development that we needed to be focused on.
We started in small multifamily [housing], and then we realized the other piece was lifestyle infrastructure. In part, we did that because it was nearly impossible for us to get the kind of financing that we needed to do larger projects. I didn't really know much about real estate development, frankly, at the time.
But when we realized that what people were leaving the neighborhood to experience was places like cafes and coffee shops and things of that nature, we actually sort of used our own good credit. We made relationships with some of the local landowners that had businesses and got very, very reasonable rents on a couple of spaces in the commercial storefronts of their buildings.
We really wanted a cafe, because, again, we did an enormous amount of market research in the form of surveys and focus groups to understand what was it that made people feel good about being in their own neighborhood or not. Why were they leaving the neighborhood to experience something good?
So we got a lease, and we realized that most of the folks who wanted to build a cafe did not have the capacity to do it. We went to Starbucks, actually, and they were just like, "Nah. Your market is too emerging."
That was really hard to hear, but then we ended up partnering with this awesome group called Birch Coffee, and we did a joint venture with them to open up our very first coffee shop. But it was also clear that we needed to be more about our own culture from the cafe's perspective, and so that's why we branched off into the Boogie Down Grind Café [in 2017] and rebranded ourselves.
It's like an homage to hip-hop. Where I'm sitting right now, you take off the cushion and it becomes a stage, with a great big plate-glass window behind me so people can see it, for open mics or all sorts of wonderful things.
The day we were protested, we were hosting a workshop in this space for people who wanted low and 0% interest loans for either homeownership or for business development. It was kind of tragic and sad but ironic. But that's what we did.
But those types of things — building out a space so that the community could come in and fill it and be seen in a cool place where people felt really good about how they looked — it was really fun, and we had a really nice time with it.
F&L: You mentioned a protest. You've gotten recognition for but also criticism of your work. Why do you think that is?
MC: Because Black girls from neighborhoods like this are not supposed to do this. I am acting way above my station, and I'm not supposed to do it.
We are just so duped into this idea that the only thing we can really be is just managed where we are, and that's why [the detractors] behave that way.
I don't know what they thought or what they think they're getting out of it, but I no longer wish to continue to allow the idea that only a few companies around the country, in any city that you're in, are the only ones. They're almost always led by white men.
That's why our communities are the way they are. I don't feel that's the only way our communities can develop — and why don't we have that conversation?
But yeah, being a Black woman just paints another target on my head from everybody concerned.
F&L: I wanted to ask you just to clarify one thing. Several times you've said, "We did this. We did that." When you refer to the "we," are you referring to a development company?
MC: My company, yes. It's interesting that I get that question. I really do think that it's still hard for people to believe that I do this as a Black woman from a neighborhood like this. Of course I have a company. It's small, but of course I have a company. I'm long on vision and short on balance sheet, but even functioning in that way, it's still us, still doing the work of a developer.
F&L: What projects are you working on now?
MC: We're redeveloping a commercial property, which is a former rail station. It's a feasibility study to do an assemblage, which would be roughly 1,000 units of mixed-income housing, including homeownership, and about 400,000 to 500,000 square feet of manufacturing and commercial space.
That's my dream. Literally, I want to be able to co-lead that project, and then I'll retire. I will show that it can be done by someone who looks like me, and then I'll walk. That is my prayer. Because I'm just too old. I'm going to be 60 in a few years, and I'm done. I'm not going to lie.
F&L: Even on Zoom, you do not look like someone who's talking about retirement.
MC: Oh no, I am. I swear I've aged a lot over these past few years. I'm grateful. I know I'm blessed that I have the ability to do what I do. I'm still here, despite being smacked around as much as I've been. I can still smile and laugh about most of it — it makes me super, super happy — so that's great.
F&L: If a congregation wants to do this kind of work, what would you recommend? I know you've worked with the Parish Collective organization.
MC: I was at the last Parish Collective [event]. I had actually been talking to a lot of them about, "What are the roles churches can play in development?"
If they do have property, how are they using it to support folks? More economically diverse communities are actually safer economically, socially. Spiritually as well.
But also really paying attention to predatory speculation. How do we support the homeowners that are already in those communities to keep them from falling victim to predators? I think churches can play a huge role in that, and so some of us are actually starting to have those conversations around it, which is great.
F&L: Do you come from a faith background?
MC: No, no. I am a Christian, definitely a follower. [But] I didn't become a Christian until years later. I do feel like this is my ministry. And my ability to love my neighbor — I feel like this is my contribution. This is how I can give, and I love it.