Otis Moss III: Care for the land is intimately tied to Black liberation
An urban megachurch on Chicago's South Side is a leader in creation care, drawing upon the congregation's history and addressing its current needs.
Over the past decade, a cadre of African American pastors have stepped up their commitment to environmental stewardship. One of the leaders of this movement is the Rev. Otis Moss III, the pastor of Chicago's Trinity United Church of Christ.
After succeeding the Rev. Jeremiah Wright to become senior pastor of the 8,000-member South Side megachurch in 2008, Moss began to cast a vision for protecting the environment and retooling for resilience in the wake of climate change.
It wasn't easy. Many church members grew up in an urban environment, far removed from that of their ancestors — many of whom were sharecroppers, and before that, worked the land as enslaved persons.
But over the past 12 years, Moss has led the church to plant the George Washington Carver community vegetable garden, which also teaches youth about gardening, and to start a Black farmers market.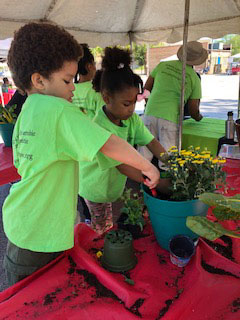 He helped raise millions of dollars to build a green roof — covered in vegetation to absorb rainfall and regulate temperature — that also incorporates solar power. In 2017, he dedicated the site of a 27-acre "green" intergenerational community called Imani Village.
Faith & Leadership contributor Yonat Shimron talked to Moss about the challenges of reconnecting to the Earth and its habitat. The following is an edited transcript.
Faith & Leadership: When did you first make the connection between care for the environment and your calling as a minister?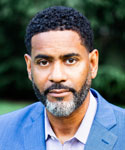 Otis Moss III: It began in connection with my home church in Cleveland, Ohio. I was at Olivet Institutional Baptist Church, where my father pastored. My father was from Georgia, right outside LaGrange. As the son of a sharecropper, he was tied to the land and had a special affinity for the land and what we would call today holistic health.
That continued with my relationship with my wife, who is also from the South. Her family had a deep tie to the land and the lessons she learned from her grandmother. They lived on a peanut farm. Part of her ethic was, "You take care of the land; the land takes care of you."
Coming to Chicago, we realized the great migration had created a break. People who had deep connection to the land were disoriented and living in spaces of rapid urbanization. When we took hold of a piece of property across the street from the church to create a garden, that was a catalyst for us moving in a green and sustainable direction.
F&L: What was that piece of property like?
OM: It wasn't much of anything — just a little lot. We turned that into a community garden with a small grant from a group called Faith in Place. We received another grant to train young people to be gardeners and hired a master gardener to be their teacher.
From there, we expanded to a farmers market and built a relationship with a coalition of African American farmers in Pembroke, Illinois. Pembroke is primarily a rural African American community where the first people of African descent migrated from North Carolina, prior to emancipation, for a better life.
We built a relationship with this community where you had fourth- and fifth-generation farmers living in this area.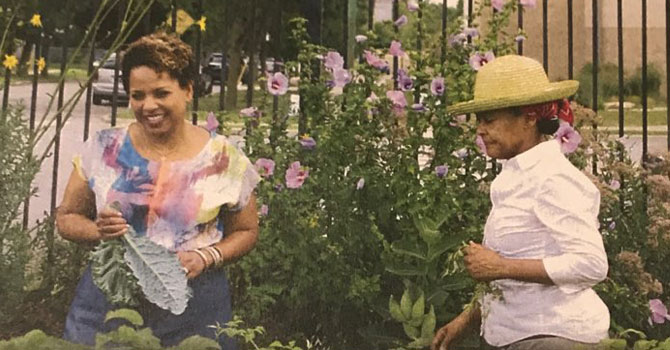 From there, we made a decision to be a sustainable church.
When we reached the point where we needed to do a church renovation, we made the decision it would be a green renovation. We would seek to hire returning citizens who were formerly incarcerated. The contractors would be from our community.
Those were the principles we used: green, dismantling mass incarceration and economic empowerment.
F&L: Was it a hard sell for the congregation? Did you have to convince the board of directors?
OM: There's a funny story around that. I remember the first presentation I gave to the congregation. It was pretty quiet. Many times when people are quiet, people are thinking to themselves, "I'm not going to support this, because I don't understand what the minister is talking about." They have to take it home and sit with it.
I went to go get my hair cut later that week, and my barber told me that one of the elders came into the barbershop and was fussing about the new minister and his church.
We had been talking about doing a green roof. The person in the barbershop was quite upset with me for wanting to put a putting green on top of the church.
When he heard "a green roof," he only associated it with a putting green on top of the church. He didn't have any concept of what a green roof was.
Because of that encounter, I went back to the board of directors and said, "We made a huge mistake. We have not educated the congregation appropriately. They have no idea what we're talking about."
From there, we instituted an education program with small groups, sharing, "What does green mean?
"Your grandmother was green because she had a quilt that recycled pieces of cloth. Your grandmother made gumbo, which is essentially a culinary form of recycling. Your grandmother grew food behind the house and you never went without."
Once we did that and the elders had the language and vocabulary, it was easy to make the next step. They became the ambassadors for it: "We must go green. This is our responsibility and our heritage."
F&L: Do you now encourage other churches?
OM: We do. I've been asked multiple times to give presentations about our work. Our community development corporation became evangelistic for green design, sustainable design and partnering with organizations that put to work people who are returning from prison.
We were part of the renovation for our local library, several blocks down the street, the Carter G. Woodson Regional Library. It's a repository for African American literature in the Midwest.
The building was falling apart. We wanted a green renovation using people from the mass incarceration system and contractors from our community.
We were able to negotiate with the city — it was about 10 different organizations that got together — and we were able to receive $10 million from the state for a full-service renovation that was green.
It's the crown jewel of our community. It's a beautiful structure now that was built and organized by community partnership.
Then we purchased 27 acres down the street and we built a medical facility. We're planning housing, along with an urban farm and workforce development with people coming out of mass incarceration, and a fitness facility. And the entire design, from the ground up, is a green design.
It's in partnership with the Nature Conservancy, and we're putting together what's called a healing garden, which will be a beta test for prescribing nature over traditional chemical medication.
It's a new way of looking at revitalizing and building communities in areas that have traditionally had no investment or have been divested over the years.
F&L: African American churches are dealing with so much right now — police brutality, health disparities, unemployment. Have you seen this issue gain much traction?
OM: The challenge in America and in the West in general is that we compartmentalize issues. Environment is over here; mass incarceration is over there.
But we approach it all as intertwined.
If you live in [some sections of] Chicago, you live in a food desert. You have corner stores. The reason you have corner stores is because no one has invested there or these areas have been redlined due to government policies.
These corner stores do not serve healthy food. They serve highly processed food. That then becomes the diet for children in that area.
Then they're diagnosed by a public school system with attention deficit disorder or some other type of challenge that needs to be fixed by medication. It's directly connected to how children are perceived in our community.
We do a lot of work helping people see the connections between a food desert and mass incarceration and economic disparity and the way police are deployed to occupy rather than being community partners.
All of it is interconnected with systematic racism. And helping people see the connection, they then understand, "Oh, creation and the land is also connected to my transformation and liberation."
F&L: Have you seen congregants make changes in their lives?
OM: We use our farmers for the food that's prepared at the church so you know where it's coming from. We push this idea that you should know your farmer. When you invest with a farmer, you know his or her entire family.
You have this community that's created where people are witnessing children learning about farming and building a relationship with a person who's raising the food.
A change in eating can also change a community, economically and socially. There is now data that shows that community gardens reduce violence in impoverished neighborhoods. It's a pretty simple reason: community gardens create community.
They have people working in the gardens who get to know each other. They become quasi block clubs and watch clubs. People become interested in each other and their challenges and celebrate their victories together, all because we put our hands in the same soil.
F&L: How do you tie it in to the Christian message?
OM: The exodus story is near and dear to people of African descent. We see ourselves in the exodus story. Moses tells Pharaoh to "let my people go" — not "that we may build an ark," but "so we may go to a land where we may worship God," where we may have this relationship we used to have prior to the enslavement moment.
We share that narrative that we are displaced, that we have been disoriented from the land. Exodus is about reorientation and the Jewish people becoming landed people from a landless people. We share that same narrative.
When we move to the New Testament, Jesus is a country preacher, a rural preacher. Paul's urban; Jesus is a landed preacher.
The parables are told from the perspective of someone who knows about the land. That's why you have a parable of seed falling upon the land or the parable of the prodigal son, of someone who has been hired out to care for pigs.
They are rural stories, stories that connect people to the land.
The Bible is rich in imagery that connects us to the land. There's a list of 100 scriptures beloved by people of African descent. Many of the most beloved are those that are landed.
For example, the Twenty-Third Psalm speaks in rural language. The Isaiah text of "they that wait upon the Lord shall renew their strength; they shall mount up with wings as eagles" (Isaiah 40:31 KJV) speaks, again, out of this landedness. The Amos text of justice rolling down like waters (Amos 5:24).
The creation metaphors, the rural metaphors speak to a community that still has a deep memory of being in the South migrating to the North, but it still rings so true to us.