The concussive pops rang through Uptown Baptist Church one evening in August 2013. The Rev. Michael Allen didn't realize the noise as gunfire at first. Busy greeting the familiar faces and newcomers at the church's Monday Meal program, the minister thought it was perhaps late summer fireworks.
Then he opened the church door. He saw five men bleeding at the bottom of the church steps. One man, shot in the head, later died; the other victims recovered from their injuries. Uptown has higher rates of violence than many other North Side Chicago neighborhoods, but this was beyond anything Allen had ever seen.
"We can't allow this," he thought. He had long been focused on urban ministry and justice, and this latest violence underscored his neighborhood's critical need: What could be done to help the victims as well as keep the would-be perpetrators from getting to this point?
"How can we minister on both sides of the gun?" he asked himself.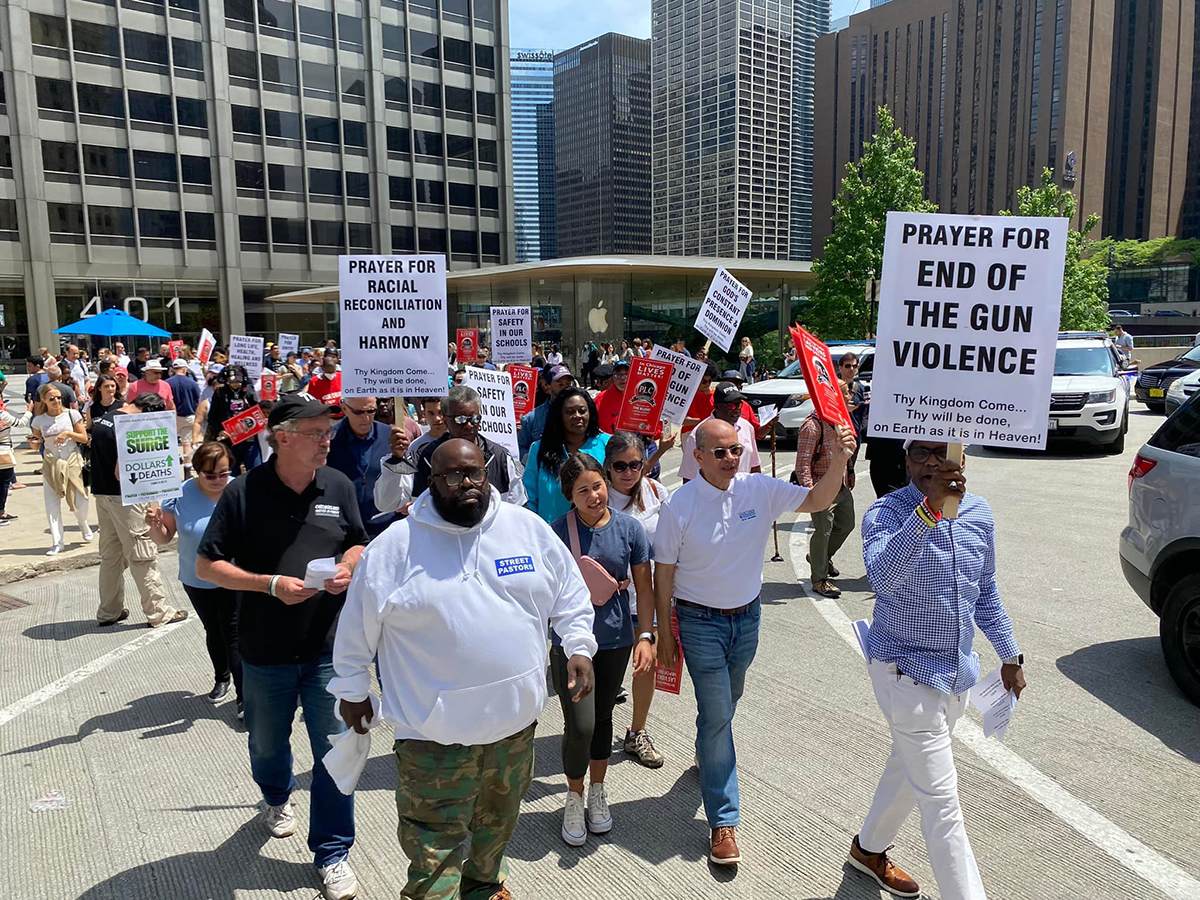 A year and a half later, Allen met David Dillon, a tech entrepreneur who had grown up the child of Baptist General Conference missionaries in Japan and later moved to Chicago. The two discovered they were focused on the same issue.
Staggering rates of gun violence in 2016 spurred Dillon to try to find an approach to the problem. He invited his friends, business peers and pastor contacts to pray and brainstorm.
In 2017, Together Chicago was born of faith, strategy and collaboration, with Dillon and Allen as co-founders. Its goal is to improve communities on Chicago's near West Side and address what Together Chicago board member the Rev. Jon Dennis calls a "racial wound that hasn't been healed yet."
Collaboration and collective impact
Gun violence is just one outcome of the interconnected problems of economic disenfranchisement, systemic racism, high incarceration rates, violence, substandard educational resources and demoralization.
Together Chicago tackles it all. Inspired by a 2014 article in the Stanford Social Innovation Review, Allen and Dillon designed the nonprofit as a "collective impact" organization. Collective impact is "an intentional way of working together and sharing information for the purpose of solving a complex problem," according to the National Council of Nonprofits.
What partners do you invite into conversation when you face what seems like an intractable problem?
Gun violence overall in Chicago isn't as rampant as some might think — Chicago isn't even the most violent city in the Midwest. However, its gun violence is highly concentrated in certain neighborhoods: between 2017 and 2020, 15 of Chicago's 77 designated community areas, concentrated in the city's South and West sides, accounted for over 50% of all shootings.
The West Haven neighborhood, where Together Chicago focuses, includes the United Center (the house that Michael Jordan built). It's close to the downtown Loop and is a mix of rapacious gentrification and generations-old public housing.
In order to address the web of interrelated factors that contribute to violence, the leaders set up the organization with five focus areas: violence reduction, education, economic development, gospel justice and faith community mobilization.
Together Chicago's reach and impact is expanding as the organization grows.
In 2020-21, volunteers and staff worked with about 3,000 schoolchildren; offered legal aid in 19 churches; trained 28 volunteers and faith leaders to "interrupt" violence; helped local businesses become suppliers to major industries; and engaged more than 100 churches in prayer gatherings and other efforts.
Together Chicago works with local universities to track its impact. The work is slow and long term, but the group can point to successes.
Andrew Papachristos is a Northwestern University sociology professor who studies gun violence and has researched nonviolence outreach groups. He has worked with Together Chicago partner Communities Partnering for Peace.
Papachristos said the data collected so far indicates that efforts of outreach programs by Communities Partnering for Peace could be linked to 383 fewer homicides in 2021.
"That's not 5,000, but that's not zero, either," he said.
Violence reduction
Dillon and Allen call each other co-CEOs (also sometimes, in presentations and interviews, "twin sons of different mothers"). They note that business acumen is essential to managing an organization with so many priorities and stakeholders.
Together Chicago resisted thinking about gun violence as a stand-alone challenge, appreciating the ways it is interconnected with economics, racism and other injustices. How would such an approach to discernment invite you to think differently about your ministries and their impact?
"We're over a $2 million organization now," Dillon said. "There's just a ton to manage in terms of complexity. We're audited by every agency that gives us money to do work. We report, literally, sometimes weekly on our activities to various agencies. It's a huge amount of overhead and red tape."
The organization, which has 50 employees, is funded by grants from foundations, churches and individuals, contracts with local businesses, and government grants for services related to violence prevention and reduction.
Like other business leaders in 2023, Dillon and Allen understand the importance of data and how to use it.
With access to data on crime, education and other metrics through partners like the University of Chicago, North Park University and the Department of Education, they track their efforts. That includes the number of students in volunteer programs, the number of parents in the Parent Champions program and the number of school/church combinations, Dillon said.
Beyond thoughts and prayers, metrics let them know whether they're heading in the right direction and what goals to set.
"We've had some double-digit reduction in violence last year [2021] compared to the year before, but we're still not back to pre-pandemic numbers," Dillon said, reviewing data from the University of Chicago Crime Lab portal, which tracked gun victims on the West Side in 2021 (nine) vs. 2020 (16).
The city experienced 695 homicides in 2022 — still some of the highest numbers since the 1990s, but lower than the 804 in 2021.
Watching numbers like those provided by the portal in real time helps provide a more granular picture of spots to focus on in the areas they serve.
"We're not doing as well this year as we did in '21, but we still are seeing a reduction," Dillon said. "At the end of this year, we'd love to see another double-digit reduction in homicides and shootings."
How do you measure success? What partners might help you learn from your efforts and pivot for greater effect?
Interrupting street violence
Tio Hardiman, the executive director of Chicago's Violence Interrupters program, supervises Together Chicago's street outreach team. Former gang members, people who have been incarcerated and gunshot survivors serve as community liaisons to keep local at-risk youth out of prison or the morgue.
"We provide the training so they know what it takes to become a credible messenger and how to prevent conflicts on the front end before any shots are fired," Hardiman said.
"They don't just meet with the guys on the streets; they actually have a relationship with different community stakeholders like church leaders, community residents and community leaders, which is very, very important."
One strategy is to interrupt bad actions through volunteer peacemakers who engage in "positive loitering" to change street dynamics. Another strategy is to interrupt bad actors through personal visits and messages of hope.
Derek Wright is a West Haven resident who learned about Together Chicago's street outreach program because of its network. His brother knew Charles King, a former gang member who now counsels local guys like him.
Wright said that King helped him get a job with the city of Chicago, when previously he had been "hanging on the street."
"It's not just he got me a job; he got seven other people jobs. He helped the community," Wright said. "[Charles] has been involved in my life for a minute. When life has its ups and downs, I give him a call, and we work it out. Not everything is peaches and cream."
In other situations, the Chicago Police Department shares names of local youth most at risk of landing in prison, possibly repeatedly, with the group's anti-violence leaders.
"The commanders give a message of warning to these guys," Allen said. "We give a message of hope and help to them: 'The police will stop you if you make them; we will help you if you let us. Give us a call when you're ready to put the guns and drugs down. We'll show you a better path.'"
The Rev. Joe Cali, a North Side minister, has a list of 100 families of "acute offenders" he checks in on as one of the organization's volunteer counselors. He considers it a success if any of the youths indicate they want to hear what he has to say. Not everyone he counsels stays out of jail, but he can still help them if they don't.
"We went to one young man's house three times because he kept being on the Top 10 list," Cali said. The young man finally reached out after landing in prison for breaking into cars.
"He started calling me almost every night from jail: 'Pastor, I've got to change.'" He has been staying out of trouble since he got out.
"We just took him to the Blackhawks game last night," Cali said. "He's a different person now. He's smiling big."
What skills are essential for your ministry? If your team doesn't already have those skills, how might you develop them?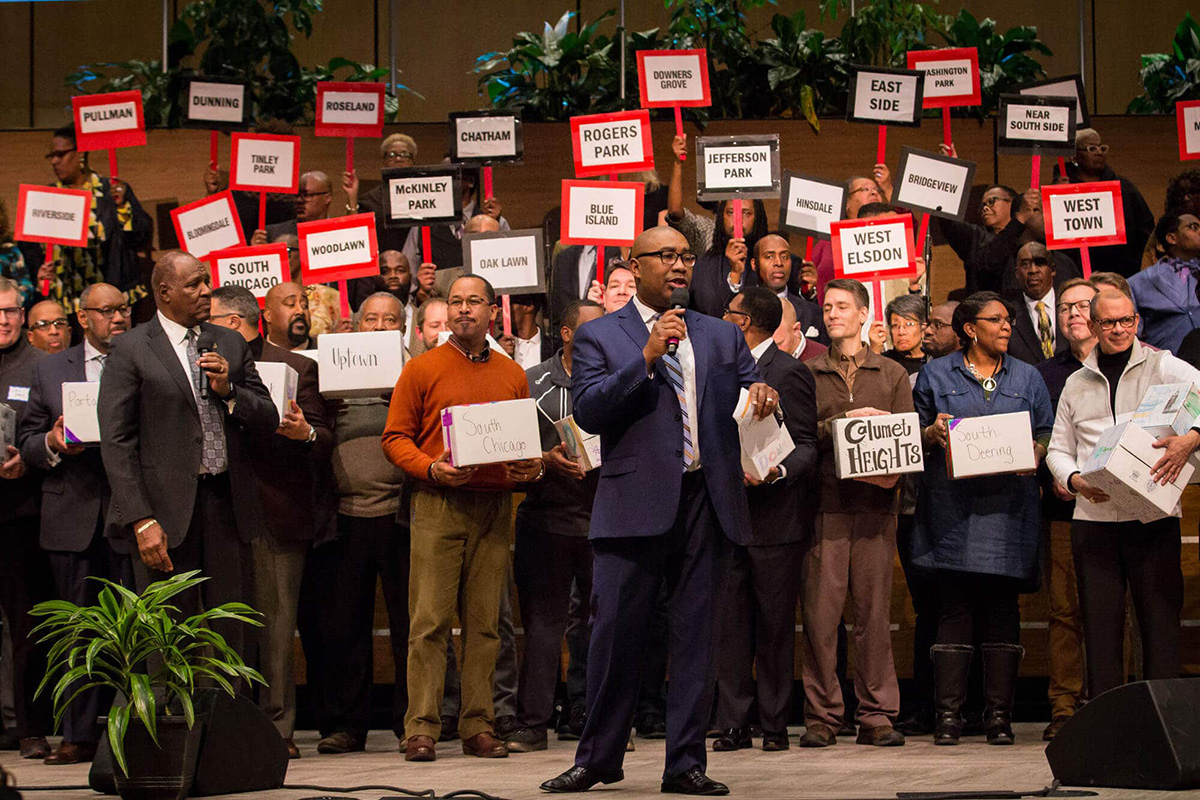 Gospel justice, education and economic development
Together Chicago's focus areas are informed by the needs left in the wake of Chicago's documented disenfranchisement of minorities on the West Side. After several formal and informal listening sessions among community members, Allen says, it was clear there was a need for legal assistance.
"People said, 'We've got so many families involved in the justice system. How do we help those people solve some of their civil issues before those civil issues become criminal issues?'"
Together Chicago, in partnership with the legal aid organization Administer Justice, runs Gospel Justice Centers in 19 churches. On Saturday mornings in primarily South and West Side churches, local volunteer attorneys offer legal aid clinics to advise clients on civil cases, typically involving family, housing, probate court or tax issues.
Together Chicago also seeks to interrupt the school-to-prison pipeline by working with schools and families and developing the economy in the city's marginalized neighborhoods.
To improve education, Together Chicago pairs with Chicago Public Schools to help churches and other organizations "adopt" schools to provide resources and help they may lack.
Some efforts are focused on student learning, such as tutoring. Together Chicago also trains mentors to work with students and recruit churches to help build a "village of support" for their families.
This support ranges from training volunteers to donating money and furniture and, in one case, preparing an end-of-semester meal for staff at Doolittle Elementary in the city's Bronzeville neighborhood.
The Parent Champions program offers counseling for stressed-out parents with the difficult task of raising kids in a tough environment.
How do you practice listening in your context? Whose voices are loudest? Whose are missing? Are you paying attention to needs, hopes, gifts or something else?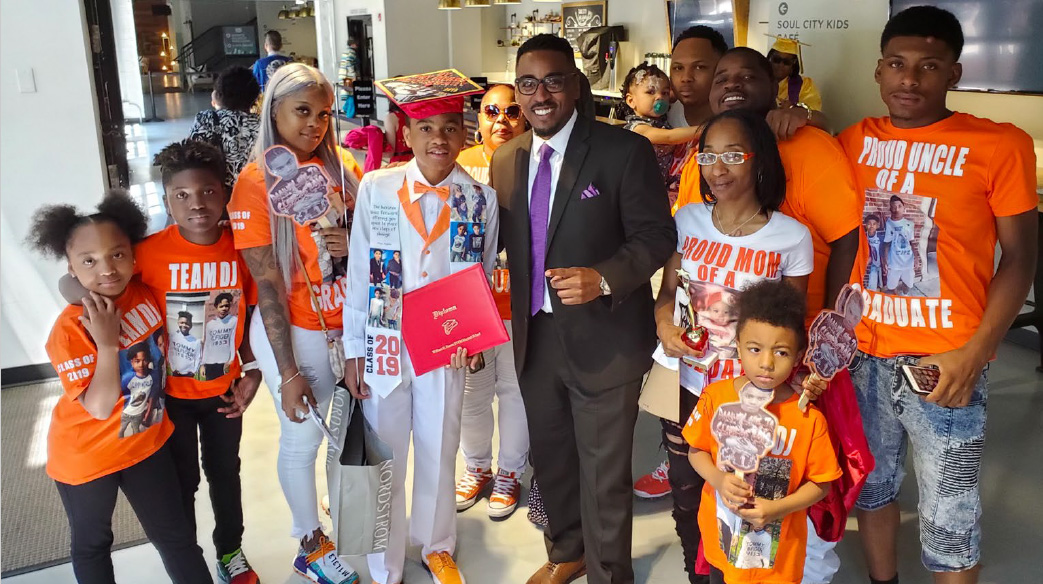 "I know Together Chicago's work is paying off when I see a kid like Camden," said Damien Howard, the director of education initiatives at Together Chicago.
"He was a young man with behavioral issues at school. He took to [our] Social Emotional Learning training that was not just happening at school, but it was happening at home as well because his mom was taking part in it too."
Camden Woodley, a third grader, said Together Chicago's SEL training made a big difference.
"[The training] helped me take control of my emotions and make better choices and be a better friend," he said.
Once students graduate, Together Chicago wants them to be able to find jobs and live in economically healthy communities. Much of this effort involves job placement, but the group's economic development work is broader than keeping people out of prison.
In one case, the nonprofit worked with a nearby health care system that purchases $100 million in goods and services, helping it identify local businesses.
"They asked us to find local businesses that are minority-owned that they can use to do various services for their hospitals," Dillon said. "We found IT companies and attorneys and repair companies and all kinds of companies that are minority-owned that are now doing services for Rush Hospital."
The role of faith communities
None of this work would happen without faith community mobilization. In late January, the group was preparing for its annual Prayer Gathering event, in which 170 churches across Chicago pray virtually and in person for peace and thriving communities. It's organized by Chicagoland United in Prayer, a sister organization. They even offer a special guide to prayer for each of the city's neighborhoods.
"What's really cool about these prayer gatherings is it's very racially integrated," Dillon said. "It's a very visible way to show that the body of Christ really can unite, as in the Bible in John chapter 17. We pray together. We train together. We learn together."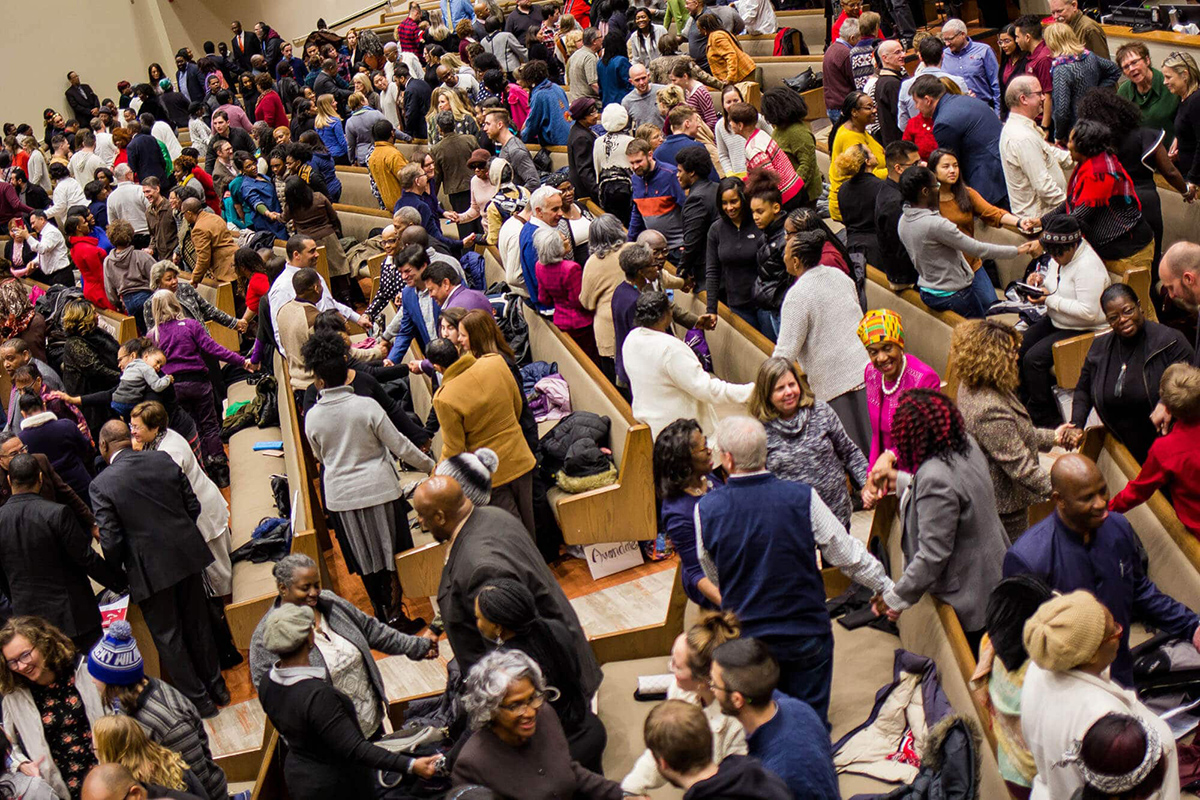 However, many of the spaces Together Chicago advocates for and works in — gangs, public schools, courts, law enforcement — are not necessarily places of faith.
Allen and Dillon say they follow a general philosophy: they lead with but do not force religion on anyone, especially members of the street outreach team, several of whom are Muslim.
"We have a statement of faith, the core values that we want everybody on our staff to live out in their day-to-day work," Allen said. "It's a work in progress. Most of our staff, even among the street outreach team, have no problem with our core values."
But sometimes, Dillon said, a faith connection grows where there was none before. When police officers depart, a young man might develop a rapport with a visiting minister who lingers to talk. Or a client who steps inside a church looking for affordable legal counsel might find something more.
"It's meeting a legitimate, everyday need that they have that then sparks a faith journey," he said.
There are many more intimate, less scalable ways the organization helps the community.
Shortly before Christmas, 16-year-old Kimberly Campbell was indoors on the West Side when she was shot in the head by outside gunfire. She later died. Together Chicago helped raise funds for her mother to spend some time at a hotel away from the triggering pressure and sadness of the neighborhood.
Cali, the volunteer counselor, said he once counseled the mother of a young man in jail for accidentally shooting and killing his best friend.
"I asked the family, 'Do you need anything?' The mom said, 'I just broke my last pan.' We bought her three new pans so she can cook her food."
Looking ahead
Together Chicago's goals for the year ahead are ambitious. The double-digit reduction in gun violence. More locations for the Gospel Justice Centers. And some signed truces between rival gangs.
In the spring, local gang factions will leave their guns behind and meet for several hours with the street outreach team to talk about what peace in the community might look like.
"They will be offered food, fun activities and noted hosts or participants who are well respected on the streets. These peace circles promise some ways and means out toward safety and prosperity," Allen said.
No amount of data or funding can build this type of trust, he said. It takes solid partnerships built over time, a person-to-person model Together Chicago aims to reflect at every level.
"When we do get asked to come into a community," Dillon said, "before we do that, we sit down and say, 'How can we really coexist well together?' If we can't do that, we have no business even being in existence. It's really core to our whole DNA."
Questions to consider
What partners do you invite into conversation when you face what seems like an intractable problem?
Together Chicago resisted thinking about gun violence as a stand-alone challenge, appreciating the ways it is interconnected with economics, racism and other injustices. How would such an approach to discernment invite you to think differently about your ministries and their impact?
How do you measure success? What partners might help you learn from your efforts and pivot for greater effect?
What skills are essential for your ministry? If your team doesn't already have those skills, how might you develop them?
How do you practice listening in your context? Whose voices are loudest? Whose are missing? Are you paying attention to needs, hopes, gifts or something else?