In 2021, Darnella Frazier received a special citation from the Pulitzer Prize Board for her actions on a Minneapolis sidewalk the year before. Frazier, then 17, literally refused to look away from George Floyd's murder and made sure the rest of us could not look away either. On May 25, we mourn the second anniversary since Floyd was killed by police officer Derek Chauvin; the video Frazier captured of that crime helped spark a summer of uprisings.
The Pulitzer citation recognized her courage in recording "a video that spurred protests against police brutality around the world, highlighting the crucial role of citizens in journalists' quest for truth and justice."
What do we make of a teenager who bore witness to an act that traumatizes her to this day but that she realized she had a responsibility to document? How can we balance that against a societal tendency to avoid what we don't want to see and to prevaricate and dissemble about the unavoidable truth before us?
Most of us prefer to avoid difficult situations. It's why we may not make eye contact when a conversation turns unpleasant. It's why we may delay a doctor's visit when we fear the diagnosis.
Even when we know we need to engage more deeply or speak up, we sometimes choose to avert our gaze or divert the discussion rather than deal with what is urgently before us. We claim absolution through avoidance.
Late last year, the Episcopal Church and the market research firm Ipsos conducted a wide-ranging survey on religious beliefs among more than 3,000 Americans. Questions ranged from sussing out levels of involvement in a faith community to gauging how people of faith perceive themselves and are perceived by others:
"How involved are you in a religious community/church/mosque/synagogue/temple?"
"In your opinion, how well do Christians you know represent the values and teachings of Jesus?"
"What characteristics do you associate with Christians in general?"
Let's call what shows up in the last two a "goodness gap." Christians tend to see themselves as exemplars of Jesus' words and example; others do not.
The national study, titled Jesus in America, also showed that while there was agreement on the importance of Jesus as a spiritual figure and the desire for all to be treated equally, there were some crucial disconnects on the church and race, from the racial climate within the church to what helps bring people together.
Specifically, while 61% of mainline Protestants and 53% of evangelicals agreed that people of color in the U.S. are affected by racism, they were less likely to see racism in the church, with only 43% and 39%, respectively, agreeing that it exists there.
Meanwhile, 83% of mainline Protestants and 80% of evangelicals said that understanding history helps us "do better in the present." But at the same time, 41% and 45%, respectively, said that "talking about racism pushes people apart instead of bringing them together."
To be clear, this indicates that within those two groups, a significant number believe that racism is an issue that melts away at the threshold of the narthex and that knowing history is helpful as long as we don't talk about it. We perceive the problem at a distance but not up close. We understand its underpinnings but don't want to discuss them.
That's to our profound loss. Consider the words of curator and writer Cole Arthur Riley: "When memory endures no scrutiny or curiosity or challenge from the exterior, it can lead to a profound loneliness at best; at worst, individual or collective delusion."
Significant percentages of both groups said they do not believe that churches discuss racism and slavery to make white people feel bad about themselves — 45% of mainline Protestants and 46% of evangelicals — yet that aligns closely with the number who said that discussion leads to division.
Christopher Moessner, Ipsos senior vice president for public affairs, wrote in an email to Faith & Leadership, "When I read this data it tells me that we are struggling as Americans to understand our past and how it relates to our future. Everyone wants equality for their children moving forward, but not everyone is comfortable talking about the elephant in the room: RACISM in all forms and places. We may have a shared history, but we do not have a shared experience."
If we don't perceive racism as near us, we may assume it isn't our problem. If we don't ever talk about it, we may assume we don't have to think about it too deeply. If we don't ever learn the diagnosis, we may assume the disease cannot be consuming us from the inside.
One of Jesus' practices that those around him — followers and foes — found most disconcerting was the way he saw people and situations that polite society generally ignored, and then he got up close with them. He touched and was touched by; he dined with and blessed.
His actions underscored the shortcomings of refusing to engage.
We continually confront efforts to shore up the flagging self-esteem of those who whitewash history and pad the present with bans and barriers intended to cushion their discomfort. But if churches and faith leaders are to be repairers of the breach and doers of the word, they cannot let people of faith look away.
To be clear, this indicates that within those two groups, a significant number believe that racism is an issue that melts away at the threshold of the narthex and that knowing history is helpful as long as we don't talk about it.
When I was young, Jesus greeted me every day at my grandmother's house.
A framed ​​print of Warner E. Sallman's "Head of Christ" graced the wall adjacent to her front door. Jesus looked like an elegant surfer dude to me — tanned, with honey-streaked brown hair and blue eyes that gazed benevolently to the heavens.
The Almighty didn't look anything like me, but so what? It certainly didn't make me question my faith or my self-worth, because my religious experience was steeped in the tradition of the African Methodist Episcopal Church.
From the all-Black choir that sang the songs of Zion to the Black mothers of the church who prayed over me to the Black pastor who preached that, yes, Jesus loved my little chocolate self, my Blackness was continually validated. At my grandmother's, I was more concerned about her yelling at me for slamming the screen door than I was about the white Jesus hanging next to it.
But once I became aware of the world and my place in it, I realized that imagery was a powerful tool through which white supremacy operated. Whiteness has always been the default for defining everything America deems worthy: standards of beauty, true patriotism, innovators and intellectuals and stewards of power. Even our most sacrosanct attribute — spirituality — demands that we pray to a God presented as white.
That's why "DeColonizing Christ," a visual arts exhibit that runs through Dec. 19 in Harrisburg, Pennsylvania, is so fascinating. It dares to imagine Jesus Christ as what he was, a person of color. It dares to debunk everything we've been programmed to believe about Christ's appearance while interpreting a historical fact.
As the exhibit draws to a close well into the season of Advent, it has offered opportunities for those who have never deeply questioned their vision of Christ to reconsider the frame through which they have been looking.
What images of Jesus did you grow up with, and how do they align with your vision of Christ now?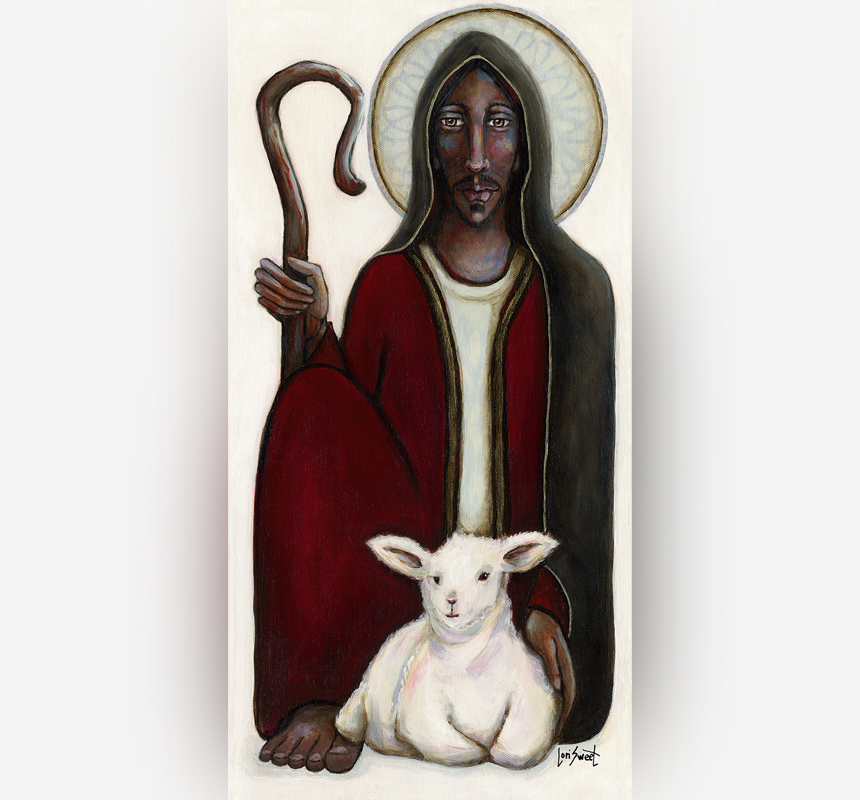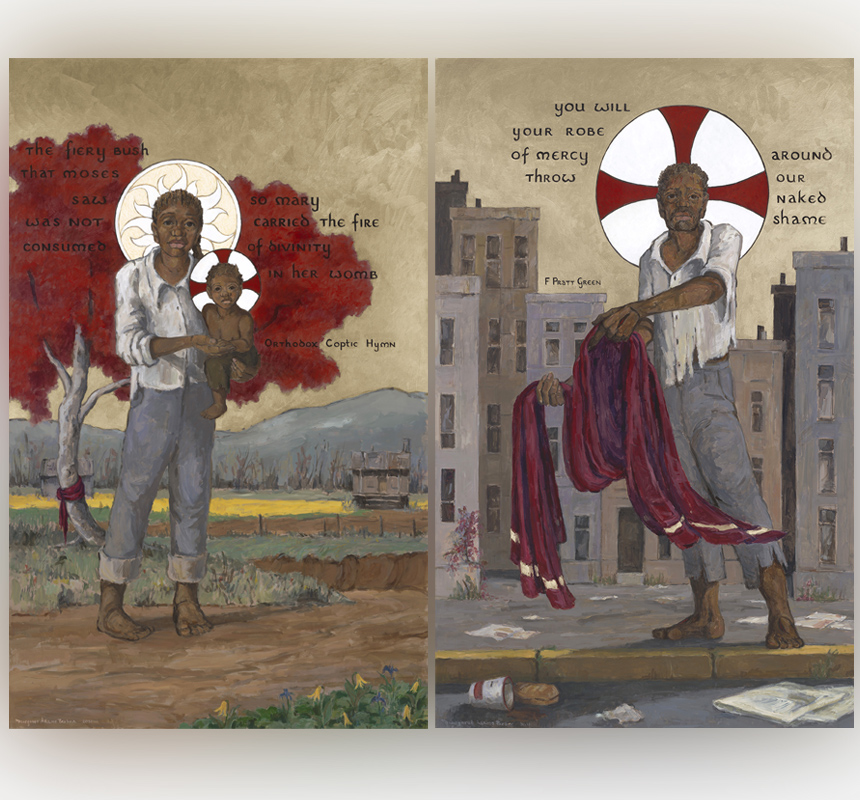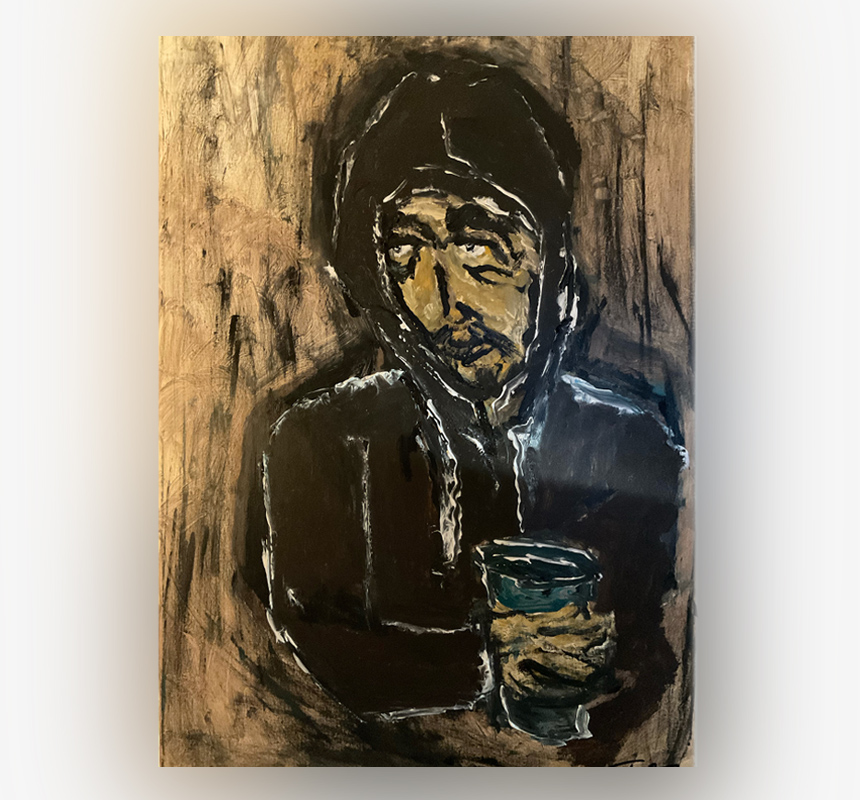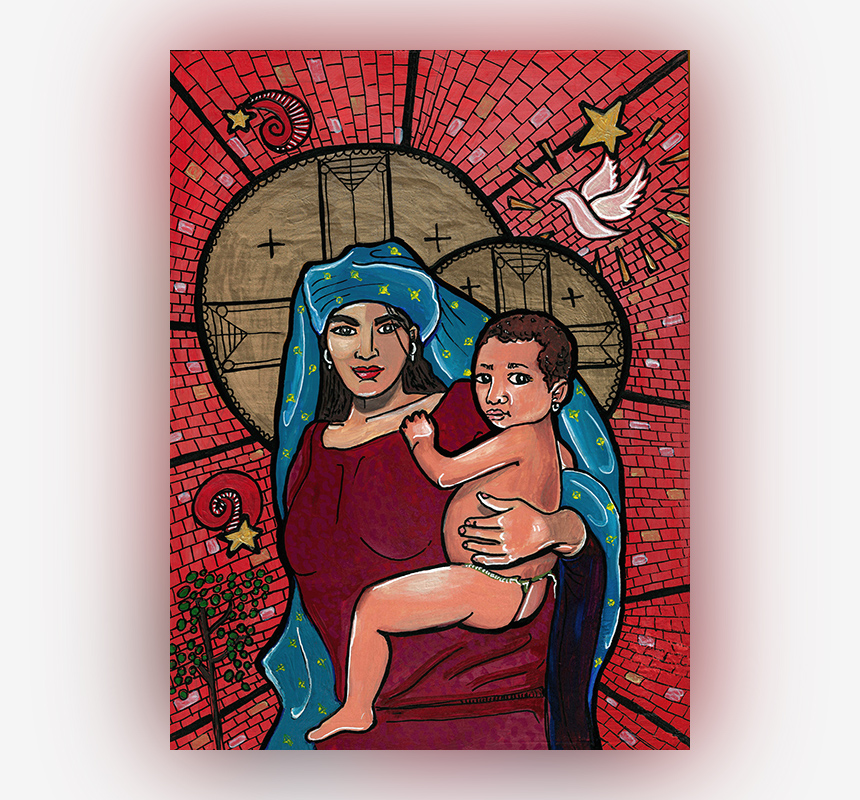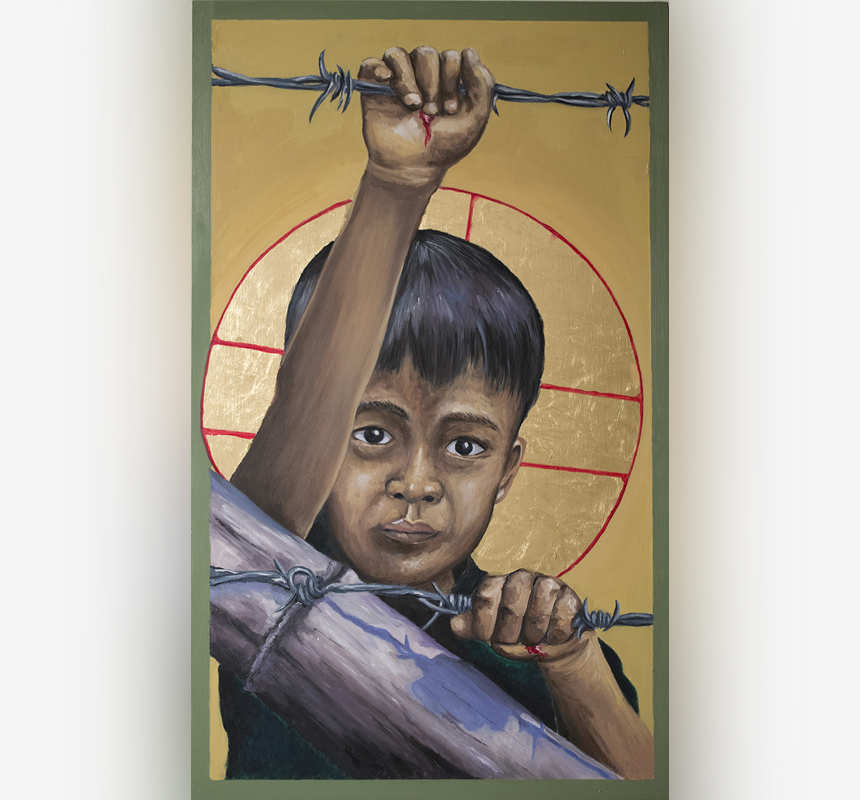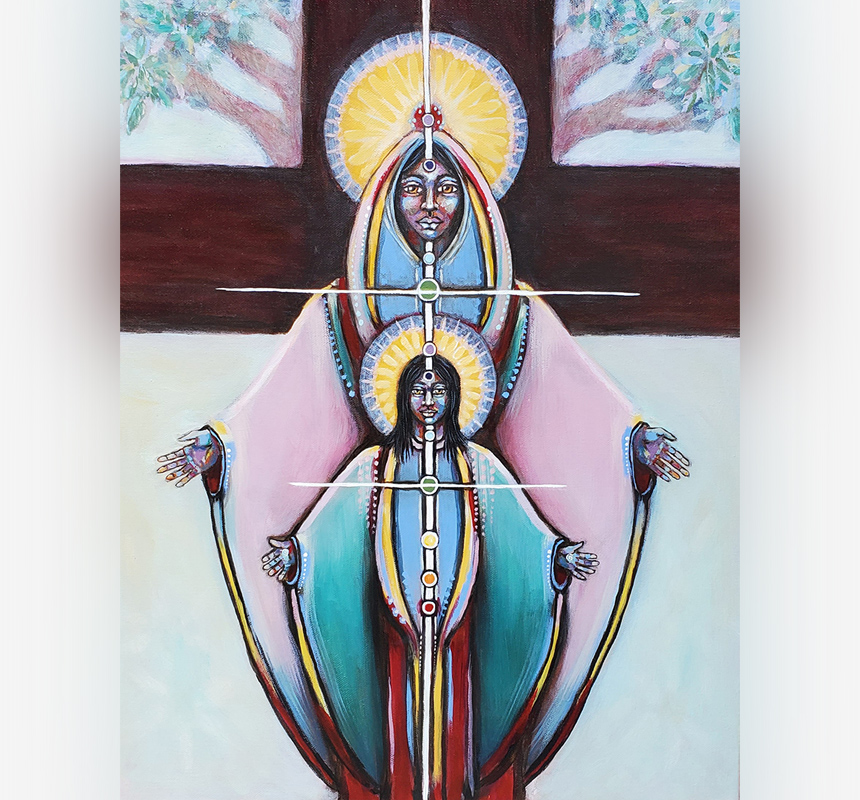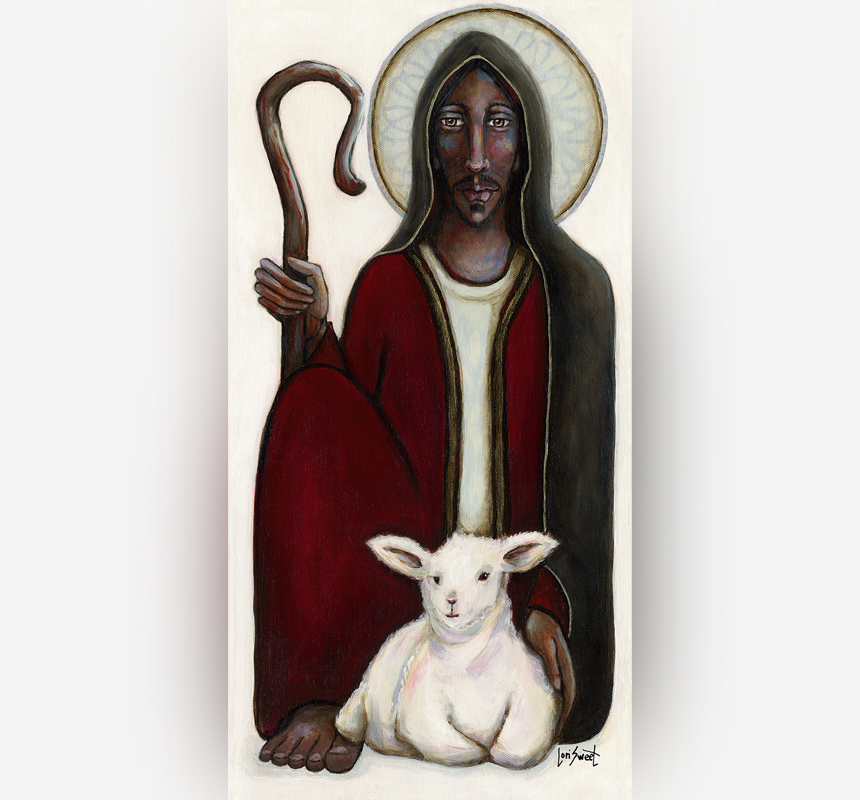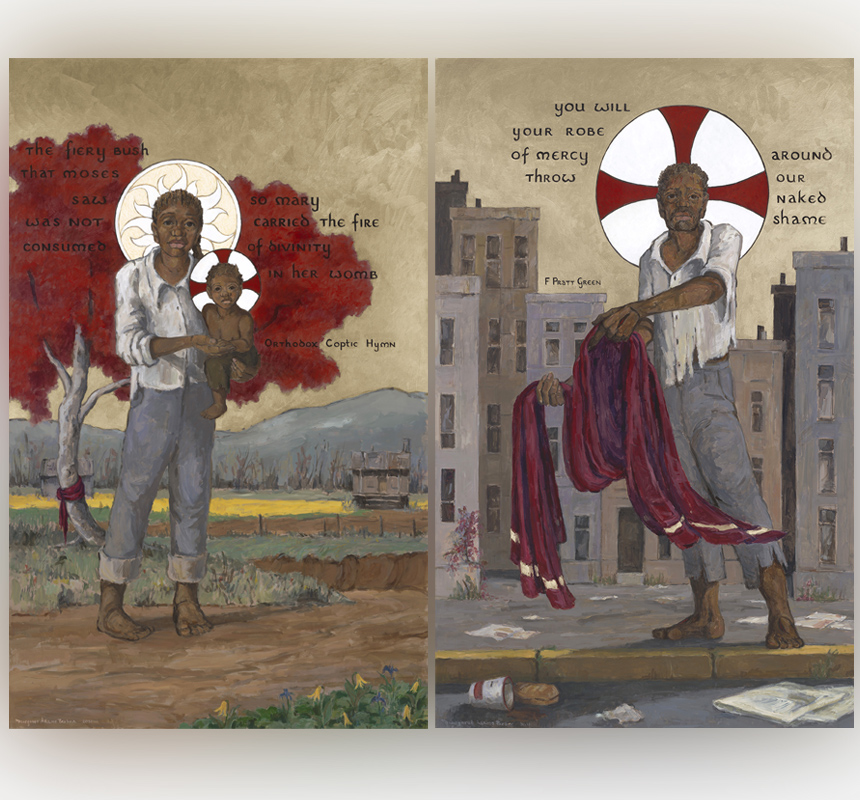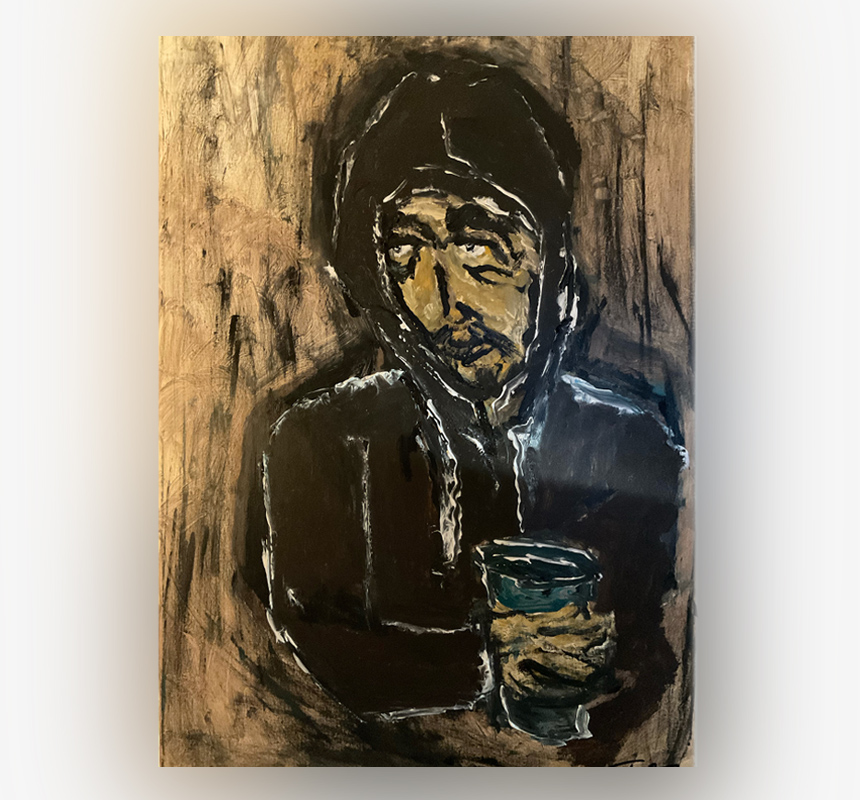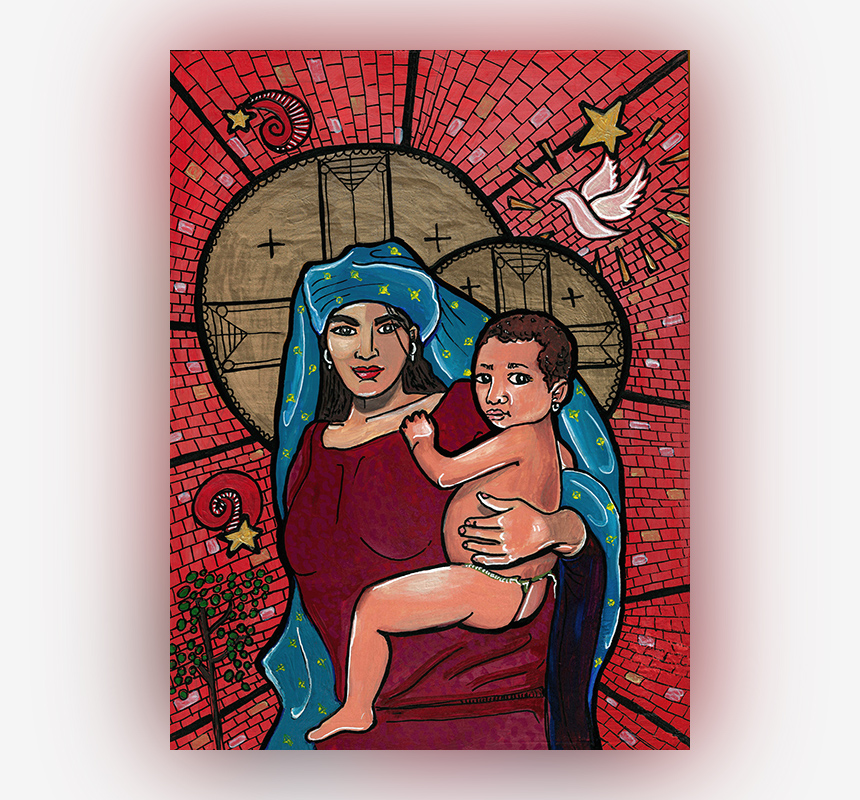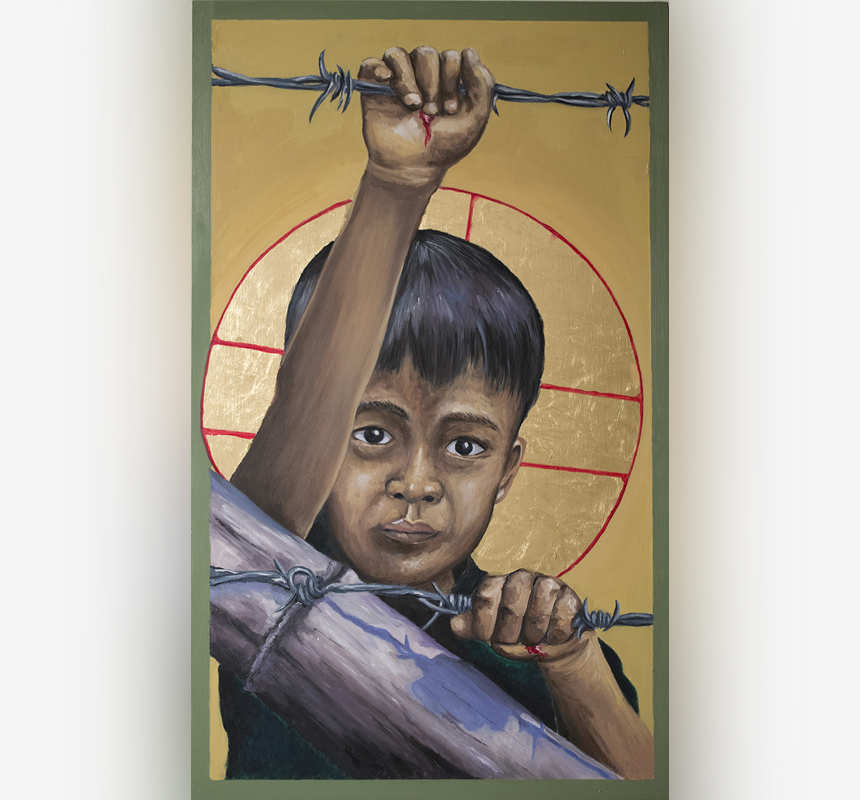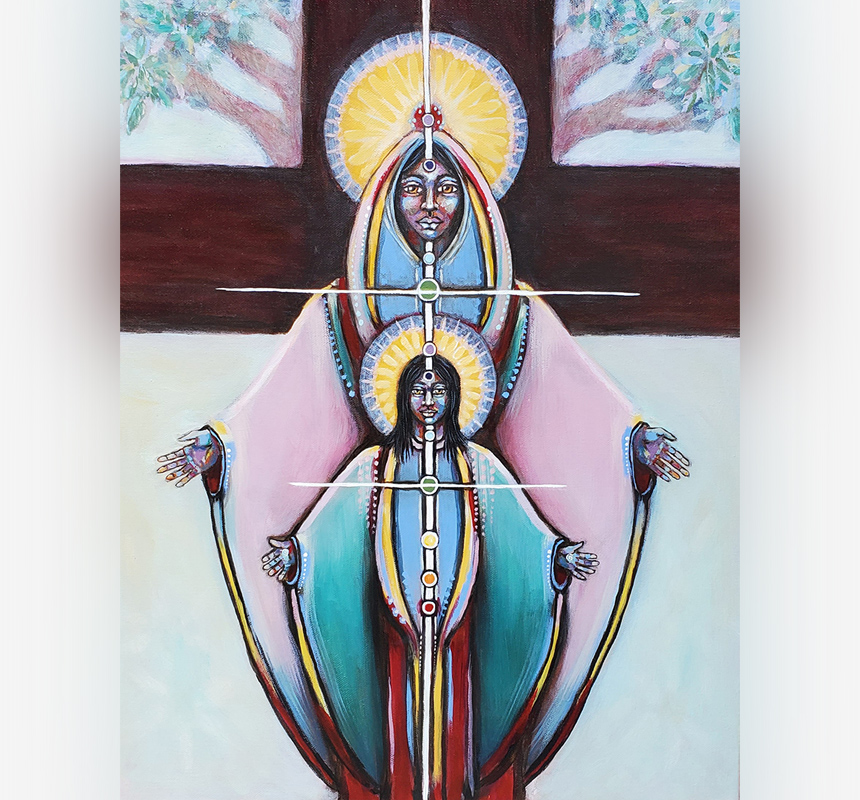 Some of the exhibit's artists took license to envision Christ as a woman, a Latino child, or a brother on the street sporting a halo-shaped afro and smoking a blunt. Each of the 40 pieces invites the viewer to imagine Christ as more provocative and edgy than the sanitized version we're used to seeing.
"There are some people that will deny [that Christ was not white]," said Matt Parsley, of Harrisburg. "But I consider it to be a fact."
On a recent Sunday, Parsley, who is white, viewed the exhibit with friends Helena Felix and Tracy Cisney. "In the long term, this exhibit could have an impact," he said. "That's the whole point of art, is to challenge your way of thinking."
For the Very Rev. Dr. Amy D. Welin, the dean of St. Stephen's Episcopal Cathedral, where the exhibit is displayed, it's not a stretch to think of Christ as someone other than white and ethereal.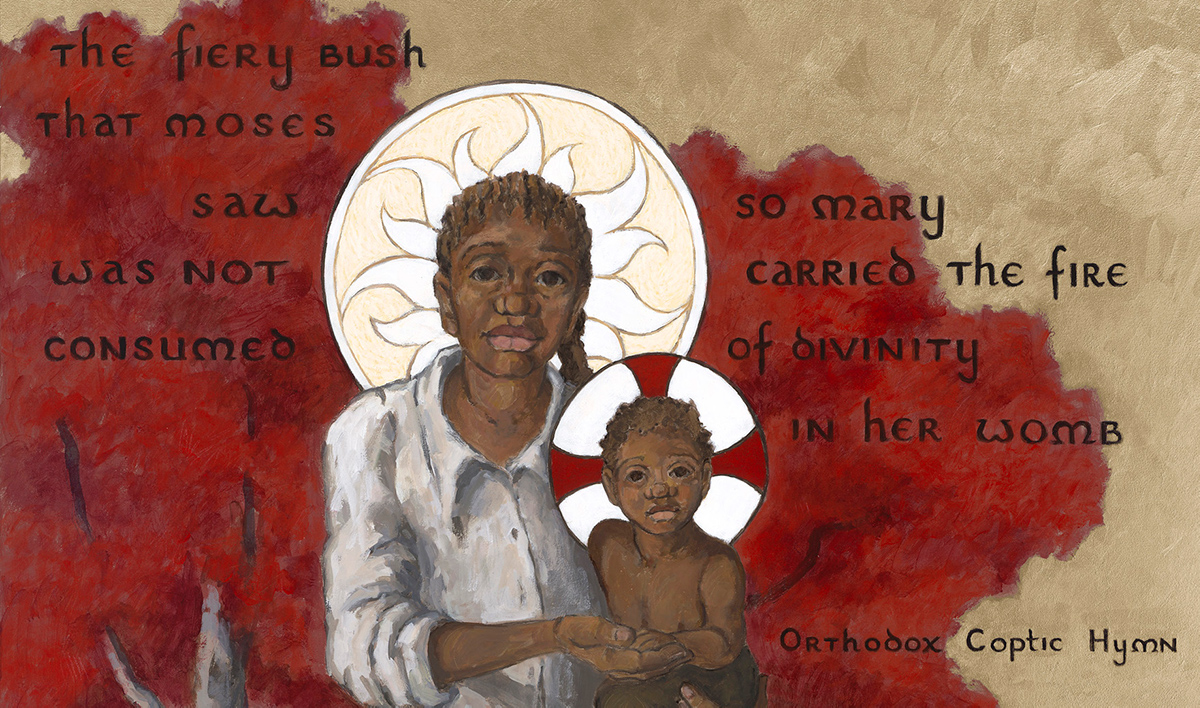 "Christ was edgy, and he hung around with edgy people," Welin said. "We've so emasculated Christ that he's like our pet gerbil. He's not threatening — he's nice. He's the Good Shepherd. But we also see in the Bible that he's kicking ass in the temple; he's turning over tables. So he was good, but he wasn't nice."
We are in St. Stephen's, strolling through the sanctuary, an immaculately reverent space that welcomed an average of 150 congregants every Sunday before COVID-19 hit. The images of "DeColonizing Christ" are juxtaposed with the stained-glass images of Bible characters, all depicted as white, that line either side of the cathedral. Taken together, the disparate images create an interesting theological debate.
"We all enculturate Jesus. Every tribe. We all paint him as one of us, which is fine, because we want to be close to God, and that's what people do," Welin said.
If any of these images challenges you, why do you think that is?
"But then we learn that the images of Jesus were used to silence and oppress people in Latin America and Indigenous people and the enslaved in the United States. So there's this fine line that says we want Christ to be one of us … but we don't want him to be one of you."
The narrative of Jesus being "one of us" was normalized through commercialization of Sallman's "Head of Christ" painting, the one that hung in my grandmother's house. It has been described as the "best-known American artwork of the 20th century."
Sallman, a religious painter and illustrator from Chicago, styled the painting to appeal to 1940s American Protestant audiences, and it was soon printed on prayer cards and circulated by all denominations, regardless of race. The image, which has been reprinted more than 1 billion times, defined the nation's religious culture, creating another white default that most Christians took for granted.
"I always thought Christ looked like one of my people," said Welin, a self-described pale-skinned Irish American. "I went to a Catholic high school, and the images we had in textbooks and religious art were of a Jesus who was definitely European."
It wasn't until she was well into her 30s that the revelation hit her: according to the Bible, Christ was a Palestinian Jew. Even as a medieval history major, Welin was never taught that. Years later, after Trayvon Martin was murdered, she started to consider how white supremacy manifests itself in ways big and small. It wasn't lost on her that public outcry had forced the removal of certain public monuments and other symbols of the nation's racist past. Meanwhile, every Sunday, the stained-glass images in her own church stared at her almost mockingly.
"It became really clear that the image of Christ had been commercialized and promulgated," Welin said.
How could your congregation explore the enculturated history of Christianity as part of formation and worship?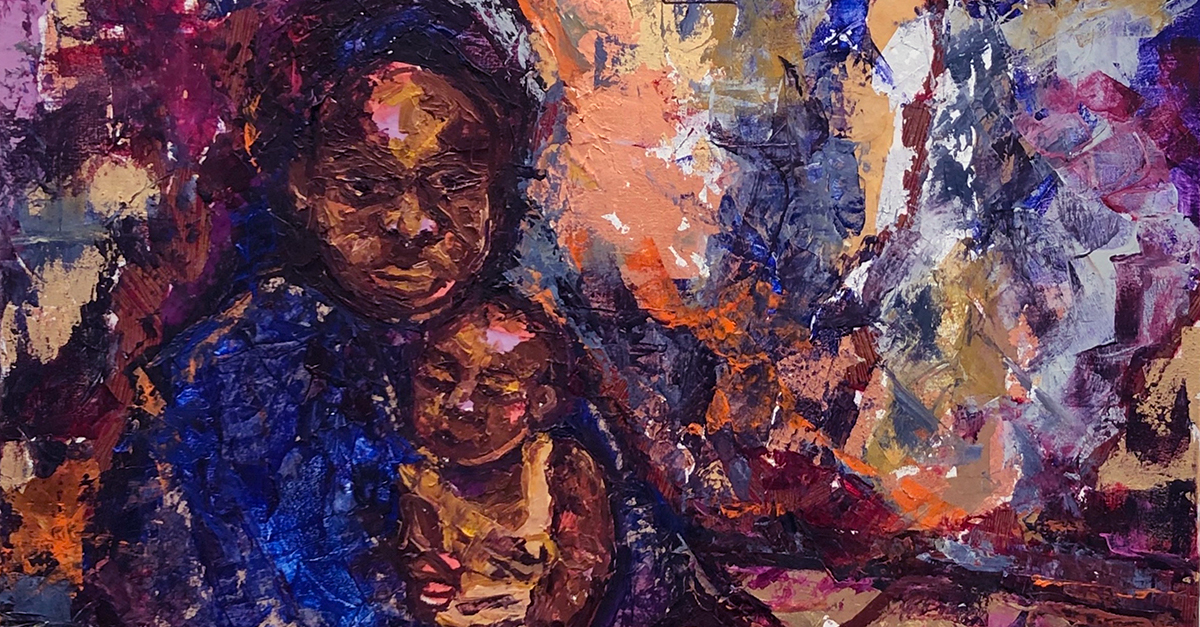 Last year, a parishioner told Welin that if she really was serious about doing the work of diversity and inclusion, she need look no further than her own sanctuary. "Because all of the iconography in the cathedral says this is a white space," he told her.
"And I was like, 'Wow, we need to broaden our palette. This is an opportunity,'" the priest said.
Welin met with staffers at the Art Association of Harrisburg to brainstorm about the concept. One of them pointed out that it seemed the theme of the exhibition should be decolonizing the image of Christ.
"And that's how we got our title," Welin said.
She enlisted the Rev. Mack Granderson, the pastor of Crossroads Christian Ministries Church, also in Harrisburg, to chair the selection committee. A music major from Philadelphia who for years owned a jazz club in Harrisburg before going into ministry, Granderson was well-qualified to lead the project. In the '80s, he served for seven years under then-Gov. Richard Thornburgh on the Pennsylvania Council on the Arts.
The committee reached out to artists, universities and arts organizations in New York, Pennsylvania, New Jersey, Delaware and Washington, D.C. They secured a grant from the Arts for All partnership, a collaboration between the Cultural Enrichment Fund and the Greater Harrisburg Foundation.
In all, the show features 28 original artworks, plus a dozen on loan from private collections. Although the images are unquestionably thought-provoking and confront racism in diverse interpretations, there is a troubling omission. All but seven of the 17 participating artists are white, and two out of three cash prizes awarded in the juried exhibition went to white artists. Michael Reyes, a Franciscan friar and trained artist from the Philippines, won the People's Choice award for his work "Christ the Dreamer."
If some of the most-praised works in an exhibit that seeks to challenge white supremacy are created by white artists, and if lived experience is the biggest informer of personal expression, what does that mean for the exhibit?
It's a question that gets to the heart of the complicated nature of racism, intended or not. The novelist Toni Morrison once noted that she worked hard to write without the intrusive "white gaze," the idea that Black writers must explain cultural references to white readers, must hand-hold and make them feel comfortable.
How does the art in your church reflect your congregation's beliefs?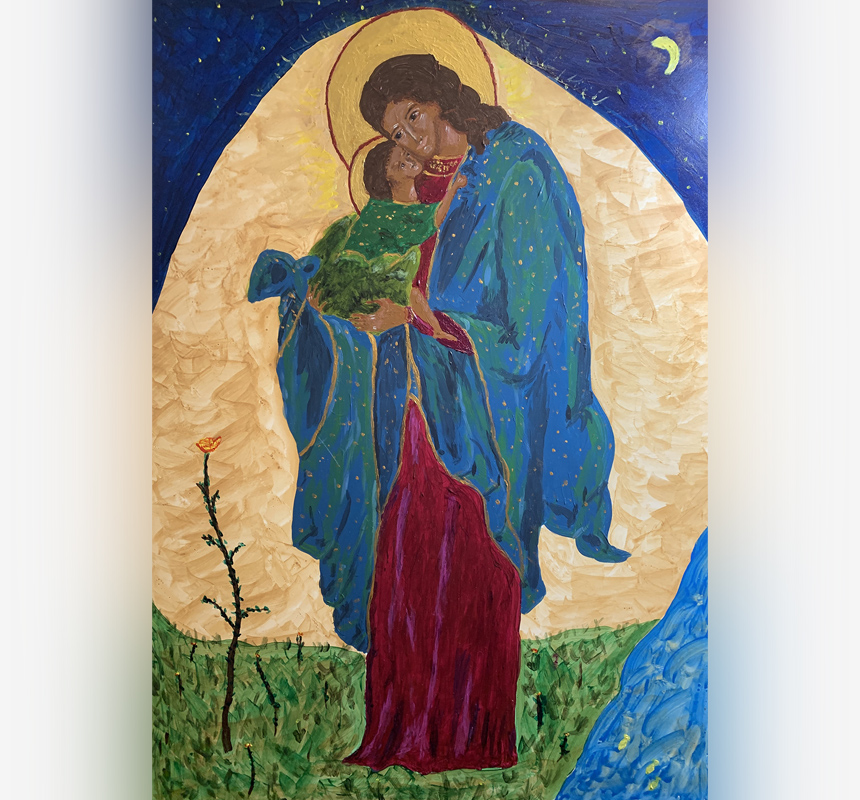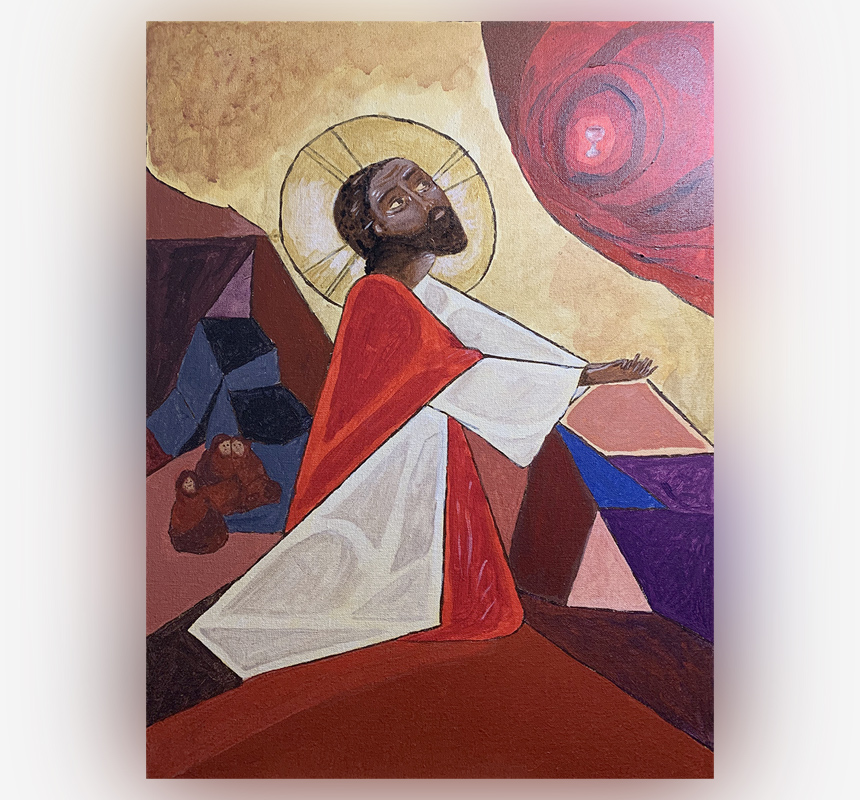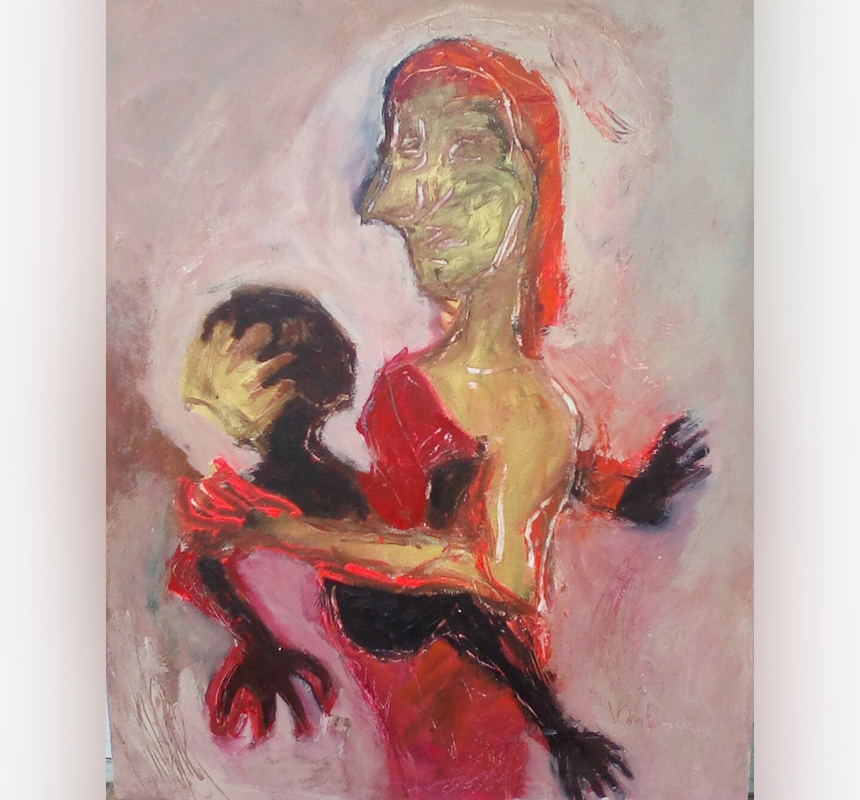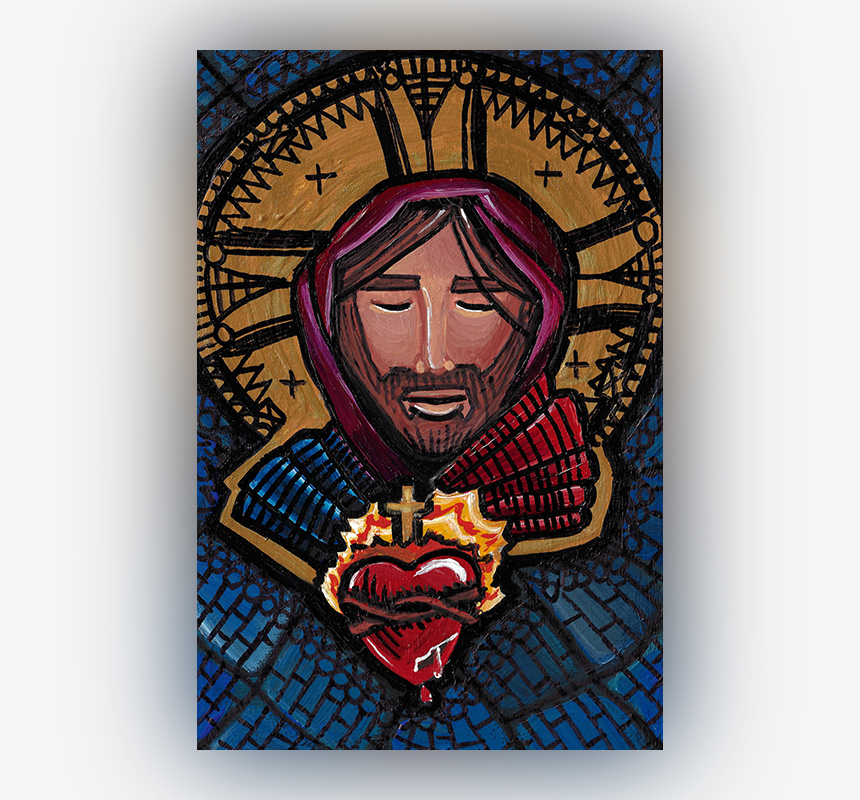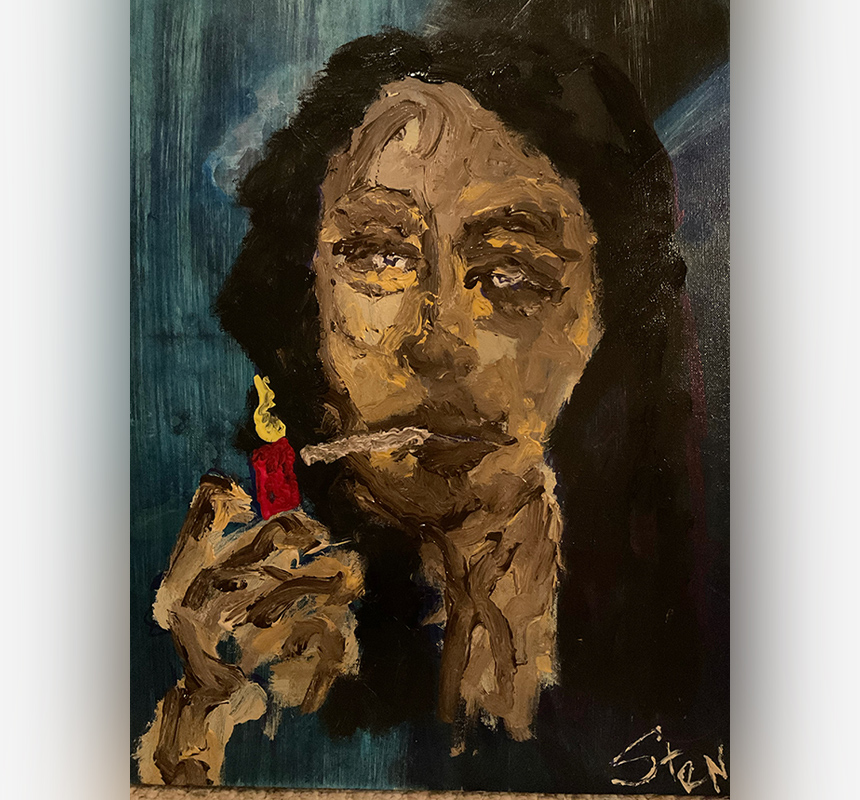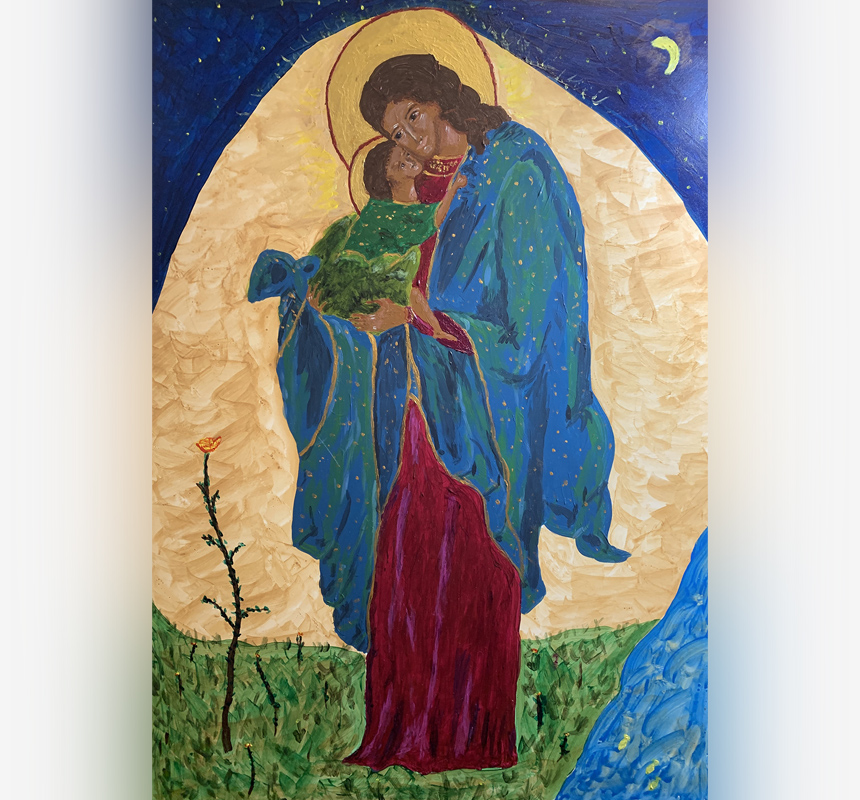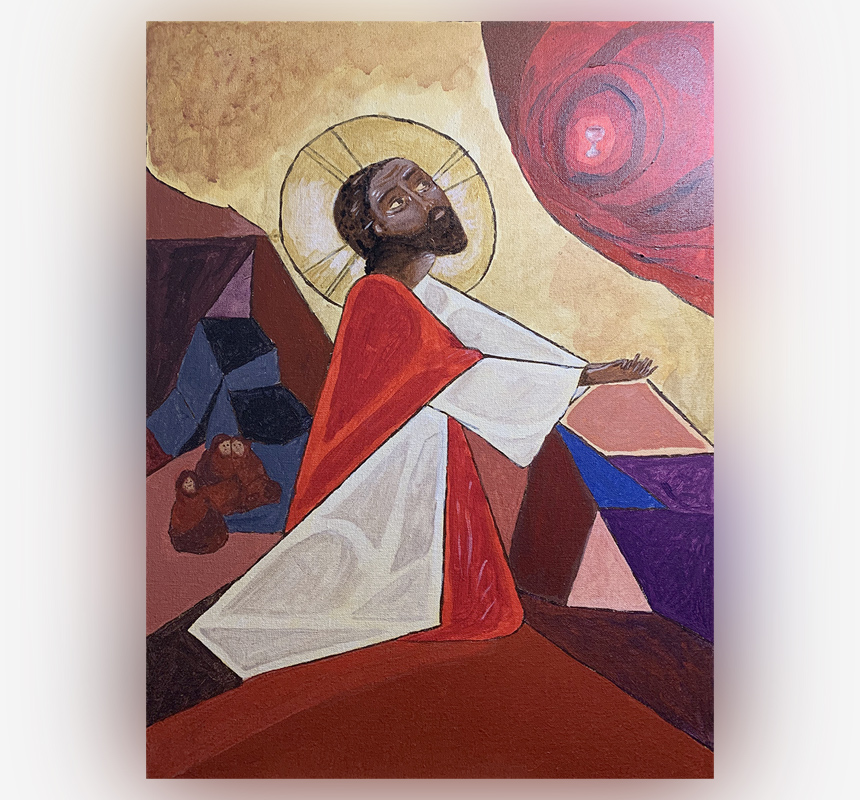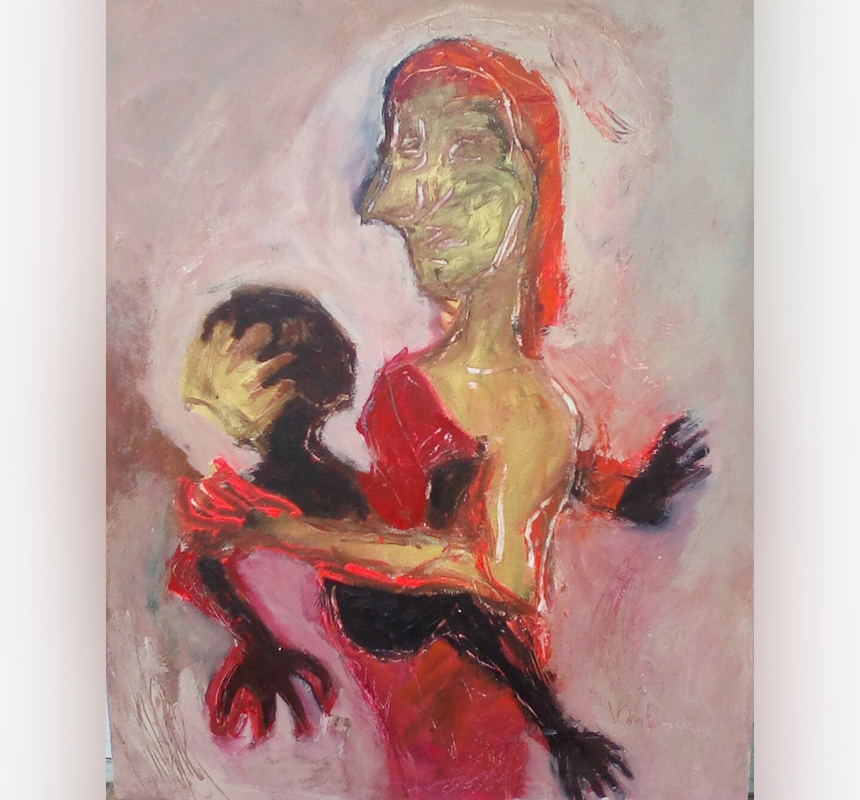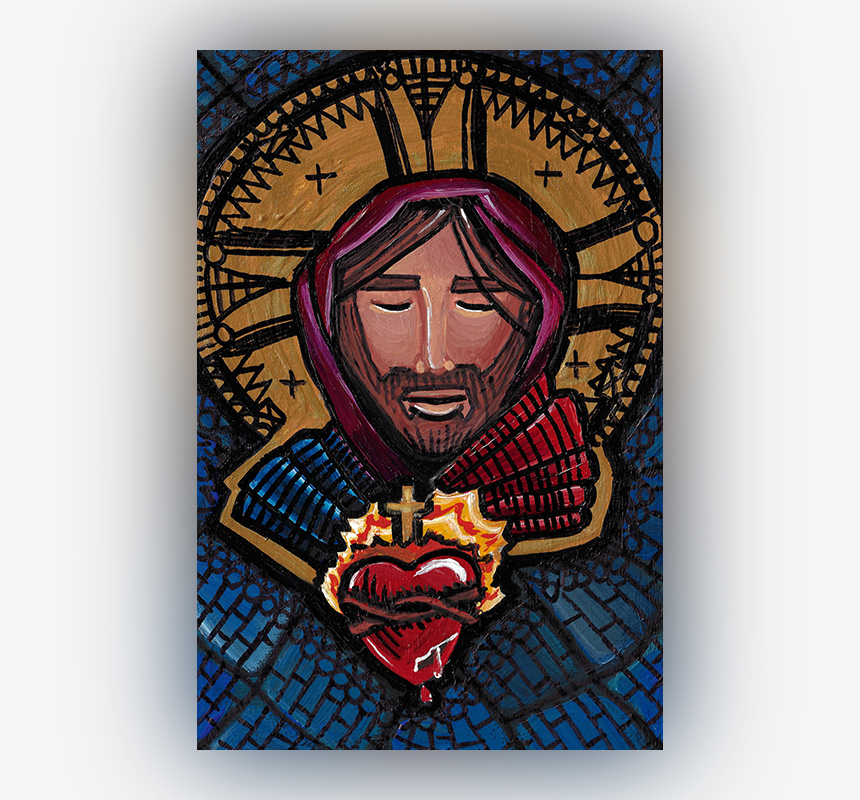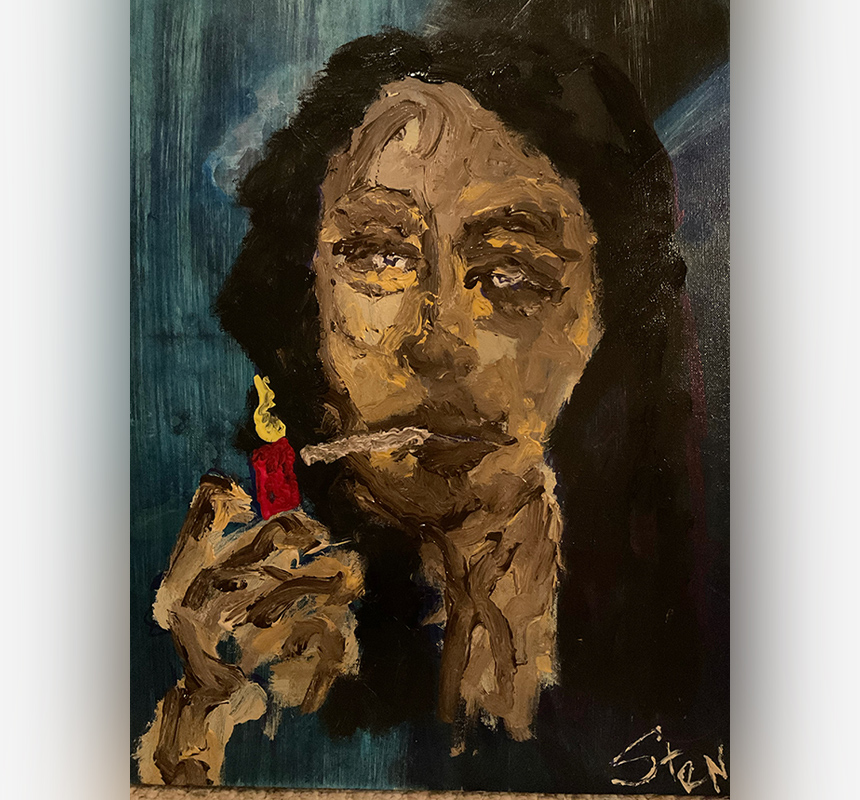 Lori Sweet, of Harrisburg, award winner of the Bishops' Prize for her work "The Healer," admitted that she hesitated to enter a piece in the show because her previous religious works focused more on the feminine and nature. Portraying Christ as a person of color didn't fall into her wheelhouse, in part because she is white.
"I did feel like, 'Who am I to represent this, because this isn't my experience,'" said Sweet, who has a background in social work. "But it's been part of my life's work to stand up and be present for people who are oppressed and suffering and bear witness to that. So I feel honored and grateful that I can stand in solidarity with others on this issue — and it's continuing to inform me."
"The Healer" features an olive-skinned, hooded-robed Jesus. He has a direct gaze and full lips, holding a lamb that represents "not a sacrifice but the true and authentic part of who we are, the delicate and vulnerable part," Sweet said.
"I think when people look at each other, they're seeing the outward appearance," she said. "And I guess I see Christ as being able to look beyond the surface and being able to see the sacred in each of us, and that is healing."
In your church's context, what gaze is missing? How might it be valuable to include that perspective? How might you invite it in an authentic and respectful way?
Best in show went to "Pantocrator in Black and Brown" by Brian Behm of North Carolina.
For Granderson, who is Black, the lack of participants of color was disappointing, though understandable. His years serving on the Pennsylvania Council on the Arts taught him that recognition for artists of color, getting their works displayed in galleries and museums, has been an ongoing struggle.
"But then something came to mind," Granderson said. "I was very excited for white artists, because they would have to go through something internally to create an image of Christ from Palestine. There will also be a reckoning that must take place with the person who is seeing the exhibit. I would hope that kind of conversation, even if it's an internal conversation, must take place."
Not surprisingly, countercultural images similar to those in the exhibit have drawn controversy. St. Louis artist Kelly Latimore's "Mama," depicting a Black Virgin Mary cradling Jesus' body after his crucifixion — with Jesus portrayed as George Floyd — was recently discovered to be missing from a public exhibition of Catholic University of America's Columbus Law School. Officials at the school replaced it with a smaller version.
Latimore, meanwhile, has faced death threats.
"I think, unfortunately, racism is part of a lot of it, especially death threats [that include] derogatory remarks about George Floyd specifically," Latimore told Religion News Service, adding that some of the threats took issue with any depiction of Jesus as Black.
"Really white supremacist, racist stuff — which, theologically, is what racism is: a complete denial of the incarnation of Christ," he said.
It may be that breaking down the barriers of systemic racism starts incrementally, with art exhibits like these. "DeColonizing Christ" not only dares to see Jesus differently but does so with none of the mean-spirited bickering that sullies our public discourse today. In their introspection, exhibitgoers may see themselves differently, too.
With that in mind, Welin is giving serious consideration to hosting rotating exhibits that feature different points of view at her church. "I really like the idea of using our cathedral as an art gallery, because then we could expand our spiritual life," she said.
Harrisburg's diversity — Pennsylvania's capital city is 51% Black — demands that inclusivity be addressed. How to build community within the walls of the church is something Welin is still thinking about.
"This has been a local event," she said. "It is wonderful that this has generated conversation in other churches about the use of art to illuminate matters of social justice. So perhaps the generative outcome is an opportunity to inspire other communities of faith to consider what they can do locally to address issues of justice. Because just like politics, justice is usually a local thing."
As I sat in the sanctuary talking to Welin, it occurred to me that the exhibit was doing exactly what it was designed for — encouraging conversations that allow for expanding our worldview.
The God I know would be pleased.
"We can't make up for 1,000 years of oppression," Welin said, "but we can start to do things differently. And this is a start."
How might different visions of Jesus broaden conversation in your church and community?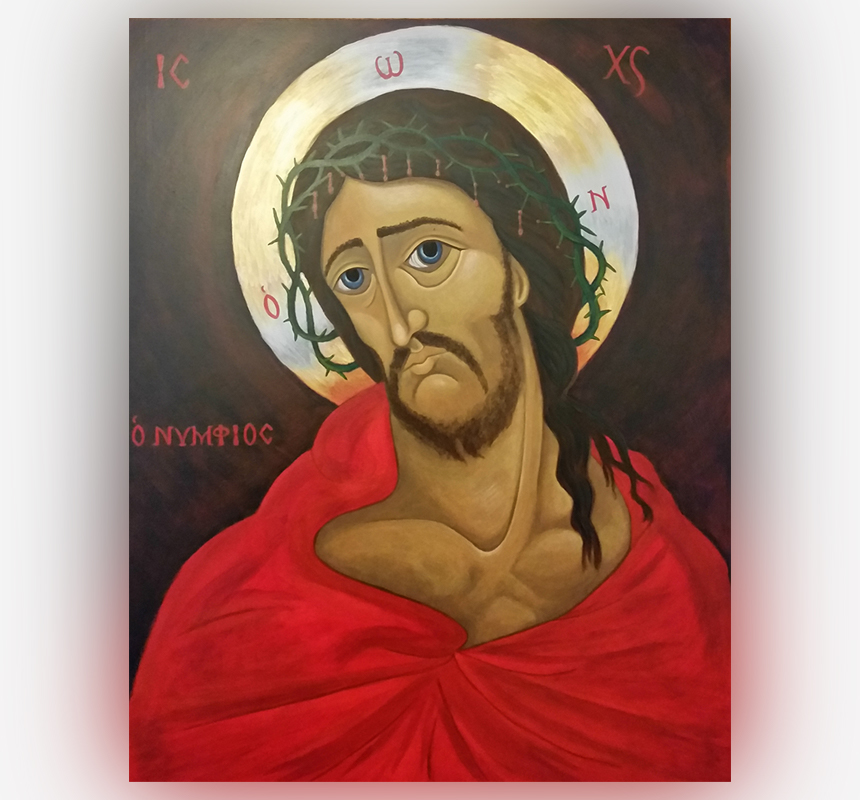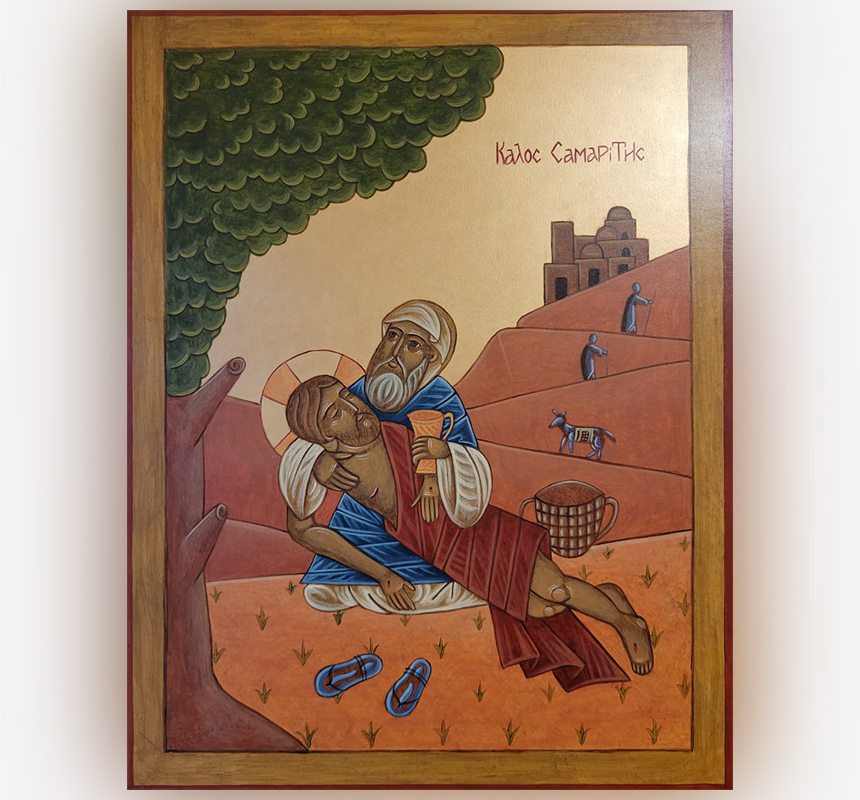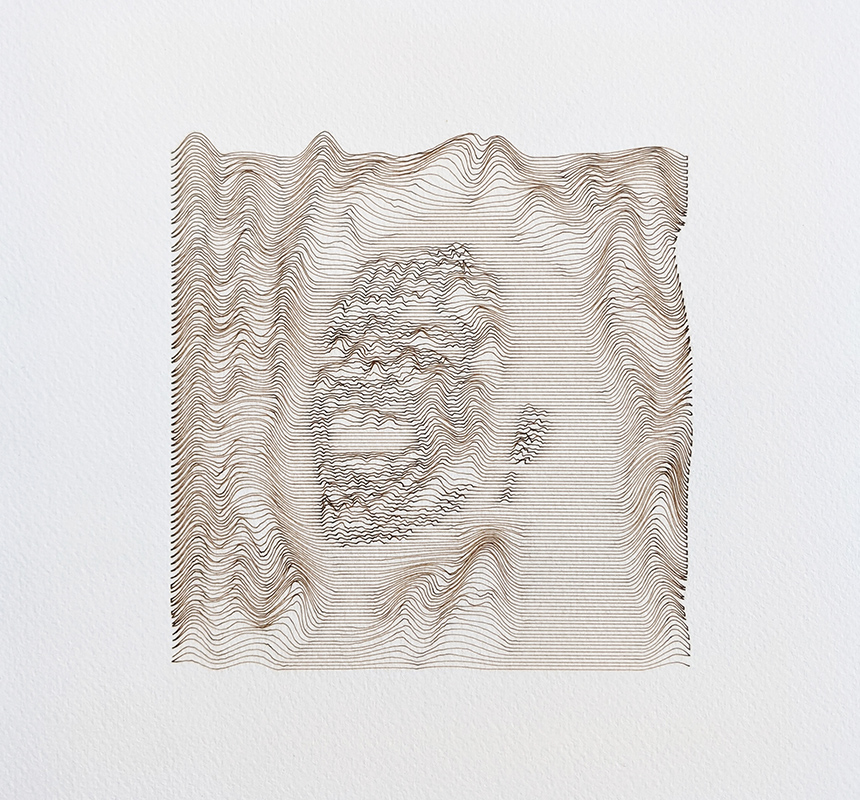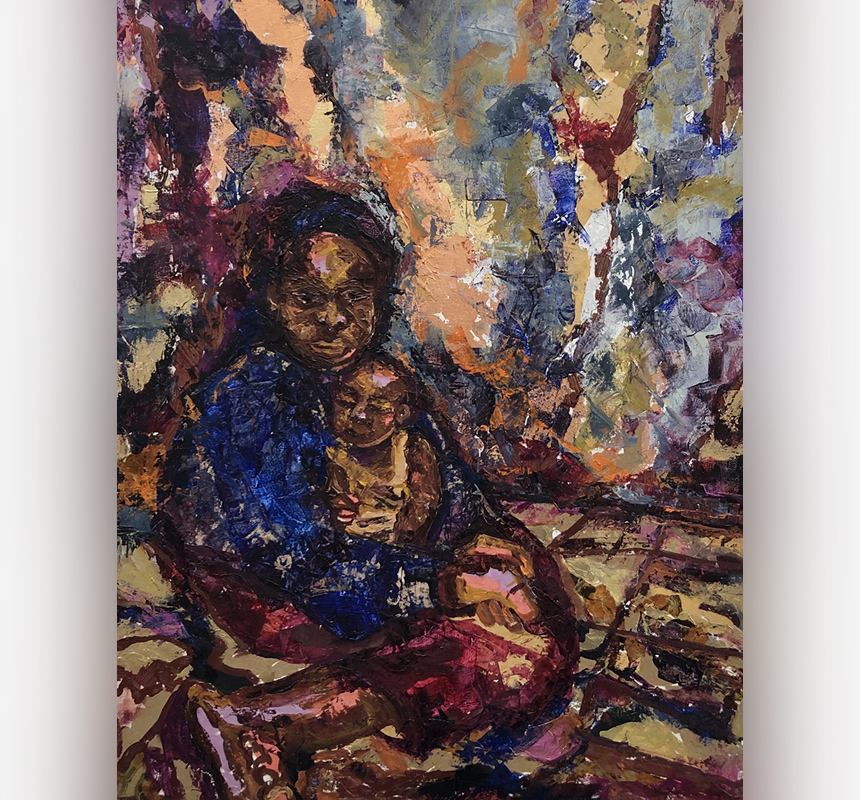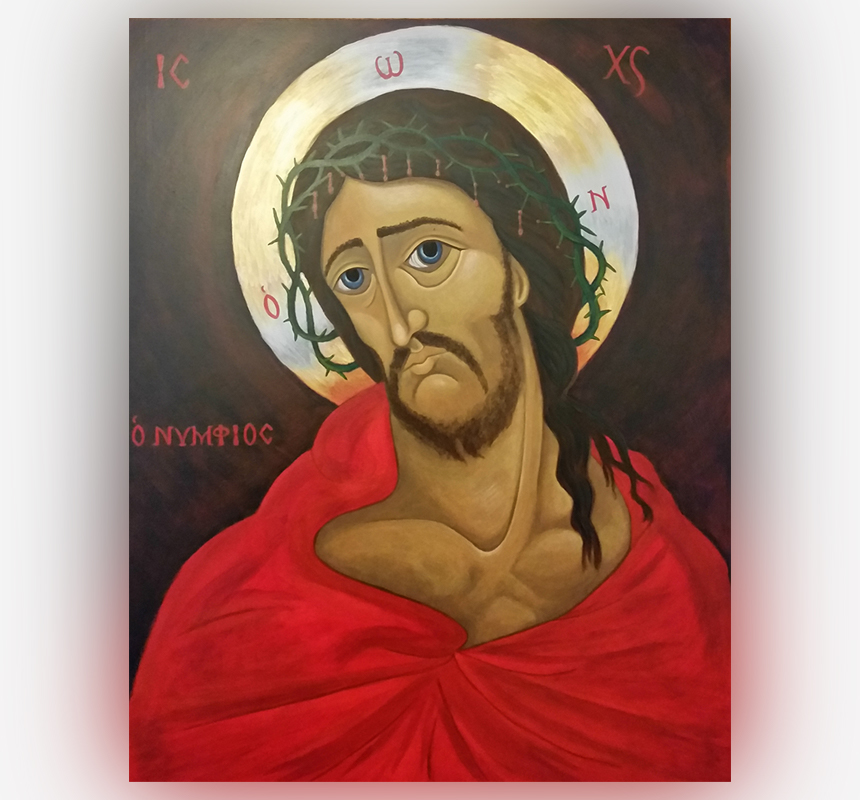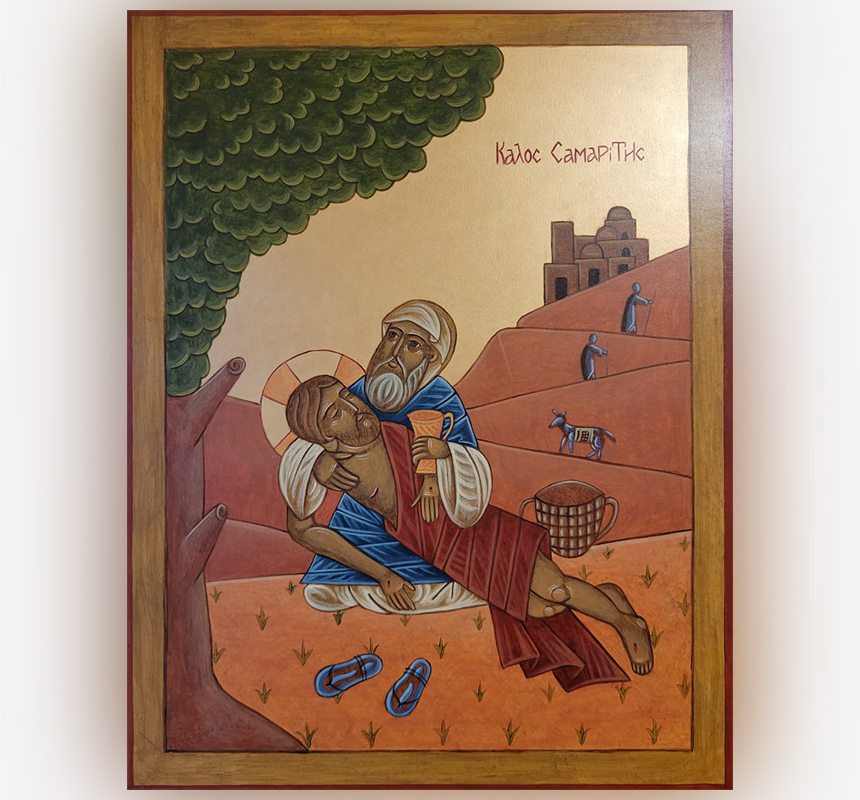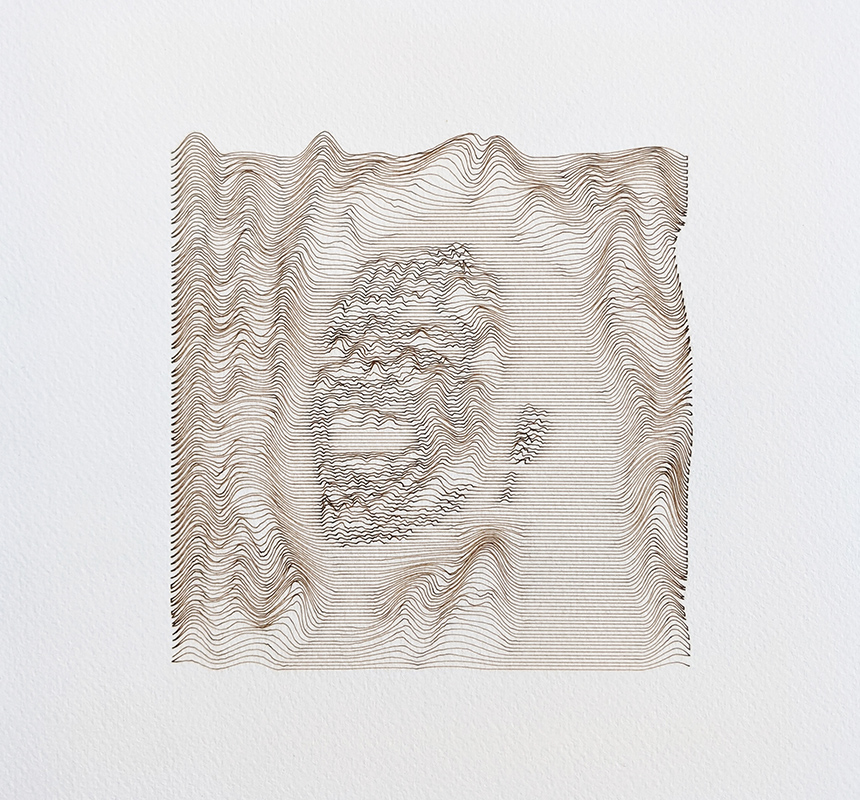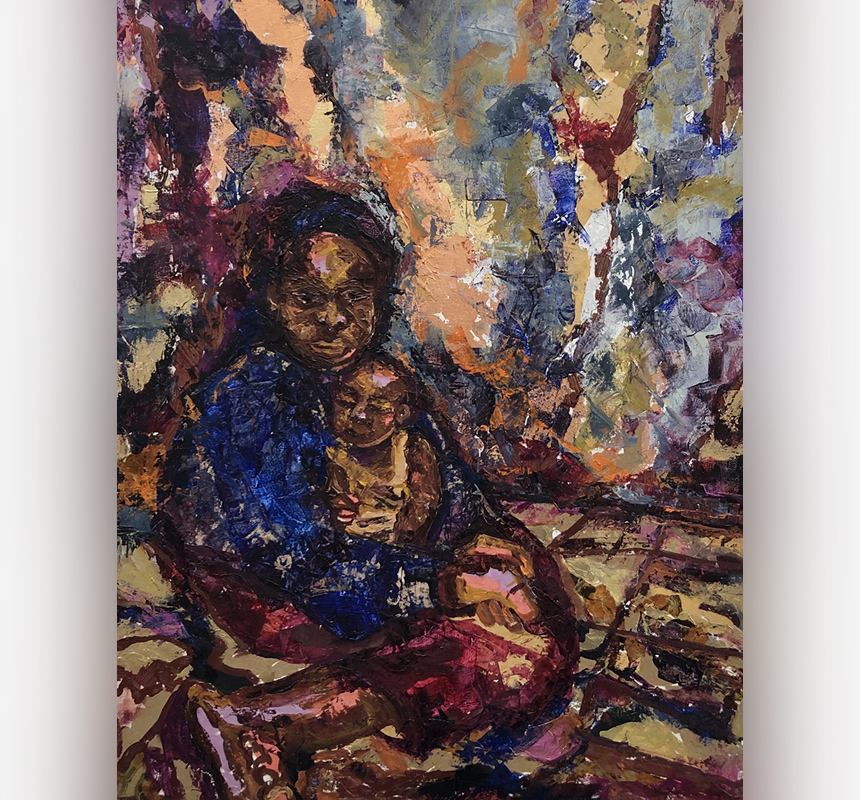 Questions to consider
What images of Jesus did you grow up with, and how do they align with your vision of Christ now?
If any of these images challenges you, why do you think that is?
How could your congregation explore the enculturated history of Christianity as part of formation and worship?
How does the art in your church reflect your congregation's beliefs?
In your church's context, what gaze is missing? How might it be valuable to include that perspective? How might you invite it in an authentic and respectful way?
How might different visions of Jesus broaden conversation in your church and community?
Within too many congregations, privilege as a topic is denounced, minimized or ignored because it is misunderstood.
Many churches see it as divisive — a concept rooted in condemnation, used to shame or guilt one another into coerced remorse.
Some congregations reject it on theological grounds, claiming that the concept is unbiblical. Other Christians decry it on grounds of individualism, refusing to apologize, take responsibility for, or strive to make amends for the sins of their ancestors or something they personally did not do.
Still others deny the notion of privilege because they believe it insinuates that they did not earn what they have through their own efforts.
Consequently, conversations about privilege in the church generally end in one of three ways: churches and members deny that privilege exists, declare the topic too controversial to address, or lament that they feel immobilized by its weight.
However, when privilege is understood missionally and our lives are guided by the Spirit, it becomes a subversive tool we can leverage to further the kingdom and sacrificially love our neighbors.
The gospel offers us a faithful, liberating way to think about and exercise privilege. Acts 6:1-7 is one of many passages that illuminate this generative opportunity.
As Acts 6 opens, the disciples seem to have been functioning as a healthy, missional, interconnected body of Christ. They were actively making disciples, fulfilling the Great Commission and welcoming new members into God's family.
However, they were oblivious to the injustice happening along the margins of their community, unaware of the discrimination in their midst.
In accordance with God's expectation, the disciples were striving to sacrificially love their neighbors, particularly the most vulnerable. Throughout the Old Testament, Israel did this via gleaning laws and the practice of Jubilee.
In Acts 6, the disciples were sustaining this tradition by operating a food distribution program for vulnerable widows. A challenge ensued, however. The food program served widows of two different cultural backgrounds, and those two groups of widows had divergent experiences within the program.
The Hebraic widows were cultural insiders, with direct access to the city's and church's dominant culture, customs and language.
The Hellenistic widows were Jews who had lived most of their lives in Greek-speaking locations; now, in Jerusalem, they were cultural outsiders. The Hellenist widows felt as if their outsider status was causing them to be overlooked and marginalized in the church's distribution of food.
The Hebraic widows had advocates at the table of power, as well as cultural, linguistic and relational advantages, all of which led to their receiving superior treatment. They had privilege.
Meanwhile, the Hellenistic widows lacked representation at the decision-making table; they were without advocates in leadership who saw their suffering and identified with their marginalized experience.
As a result, the church did not care for Hellenistic widows with the same intentionality and love that it showed for Hebraic widows. The exclusively Hebraic leadership had a blind spot, and the distribution disparity went unacknowledged until Hellenistic Jews brought a formal complaint. This matter was one of the earliest challenges the church faced as it started becoming multicultural.
Once the complaint was raised, the disciples assessed the institutional structure and program and then demonstrated their maturity in Christ through their response. Instead of being defensive, denying the problem or trying to cover it up, the disciples conducted a sober assessment of the program and determined that the discrimination claim was legitimate.
They did not try to explain away the problem or cast the Hellenistic widows as being divisive for bringing it up. Not only did the church's leadership acknowledge that there was a problem; they also confirmed that it was systemic. Then they took proactive steps to address it.
To ensure that the discrimination did not recur, church leadership called a communal meeting to discern collectively how to address it. After identifying the need for a council to oversee the food distribution program, the apostles tasked the community with selecting seven men known to be wise and full of the Spirit to oversee the work.
Notably, all seven men selected by the overwhelmingly Hebraic community were, by virtue of their Greek names — Stephen, Philip, Procorus, Nicanor, Timon, Parmenas and Nicolas — likely Hellenist. These seven leaders resolved the problem and became an ecclesial model for confronting privilege, addressing discrimination and sharing power.
As a result of the church's maturity, Acts tells us, "the word of God spread. The number of disciples in Jerusalem increased rapidly, and a large number of priests became obedient to the faith" (Acts 6:7 NIV).
The church's willingness to confront privilege and address discrimination led to the spread of the gospel in Jerusalem and beyond. The newly constructed Jerusalem council, led by Hellenists, became a crucial bridge that expanded the kingdom, enabling the gospel to reach the Gentile world. Acts traces this progression "from Cyprus and Cyrene" north to Antioch, where members of the council were the first to preach the gospel directly to non-Jewish Greeks (Acts 11:19-21).
This beautiful story illustrates why we must humbly respond to discrimination complaints and address privilege in our midst, and how we must equally prioritize the Great Commission and the greatest commandment — called as we are to fulfill both, not just one or the other.
Naming privilege requires spiritual maturity. It feels threatening because it reveals our sustained complicity with broken systems, structures and laws that deface the imago Dei inherent in our neighbors and infringe upon the shalom God created us all to experience.
Scripture affirms that privilege is real and declares that while we have the option to exploit it for selfish gain or to passively benefit from it, we are called to soberly acknowledge and faithfully steward it.
We will never learn to leverage privilege to further the kingdom and love our neighbors if we continue to deny its existence. Addressing privilege offers us a discipleship opportunity. When we are guided by the Spirit, privilege becomes generative and liberating, compelling us to participate as ambassadors of reconciliation in innovative and subversive ways.
Building from this foundation, Christians should understand privilege as a unique opportunity for us to bear witness to who and whose we are. When we leverage privilege instead of exploiting it, we function as the leaven in the loaf, the moral compass and accountability in spaces and places of distinction.
The church must become courageous enough to address privilege, because when we do not, when privilege is unbridled, it distorts the communion God intends for us to enjoy with our Creator and with one another. We are commissioned to understand privilege as something to be leveraged to further the kingdom and sacrificially love our neighbors.
When Jennifer Harvey wrote her book "Dear White Christians: For Those Still Longing for Racial Reconciliation," she couldn't have imagined the context in which it would be published.
Just weeks before the book came out in 2014, Michael Brown was killed in Ferguson, Missouri, and a powerful advocacy movement burst onto the national scene with a simple message: Black Lives Matter.
In the wake of the protests, some white churches were confused, even shocked, at the "grief-filled rage" shown in Ferguson, Harvey said.
And some of those churches turned to Harvey and her book for education.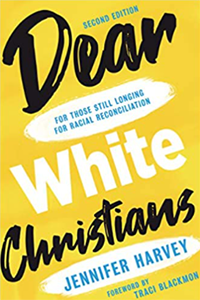 "The book is for white Christians … who are asking the questions, 'Why are our churches built so white? Why don't we have more multiracial communities? Why do we seem so divided and alienated still?'" she said.
Her book, the second edition of which was released last summer, helps white Christians understand how the history of Black Power movements informs current organizing efforts and calls to redistribute resources.
Understanding and heeding this history, she says, is a prerequisite to moving toward the Christian vision of reconciliation.
Harvey is a professor of religion at Drake University and an award-winning author and public speaker. She is also the author of "Raising White Kids: Bringing Up Children in a Racially Unjust America."
Harvey spoke with Faith & Leadership's Chris Karnadi about the importance of knowing the history of Black Power movements and the differences between the paradigms of reconciliation and reparations. The following is an edited transcript.
Faith & Leadership: How important is it to know and teach history that doesn't whitewash civil rights?
Jennifer Harvey: One of the things I excavate in the book is the degree to which Black Power movements are obscured in how we remember history. What I explore in the book is that these power movements were not only part of the civil rights movement but they also had Christian elements.
It's critically important that we know these histories that many white communities, and in this case, white Christians, either haven't been taught, have ignored or have been taught to ignore.
I was raised in the church. I've been a Christian my whole life. I didn't learn any of these histories until I was doing my Ph.D. at Union Seminary. I had even gone through an M.Div. program without learning this history.
F&L: Can you describe the importance of Black Power movements?
JH: The history of power movements helps us reckon differently with what came out of the civil rights movement. It wasn't wonderful progress where white Christians and Americans started doing better around Black demands for racial justice; white Christians started to reject and step back from civil rights when it made progress.
We have to learn this history, because Black Power movements made different kinds of demands from calls for integration. They demanded power and resource redistribution, and part of the crisis we're in today is directly related to how deeply we have — not just white Christians but white America — ignored and rejected those calls for power and resource redistribution.
Knowing that history is important for that reason, because our actual racial story is not the story we often tell in the white church. So that's one piece of the reason why it's so important.
The other reason that it's so important to excavate and remember these histories is that the erasure of those histories is itself a form of racial harm.
It's not just an accident that we don't know the history of Black Power movements inside the white church — the way James Forman and other activists, including Black clergy, for example, made calls for reparations to white communities in 1969.
It's actually a site of sin, is how I would talk about it. We actively rejected the history of Black clergy in Black Power movements, and then we pretended those calls had never been made.
There's been this kind of amnesia from white Christians; we don't even know the sins that we've committed, and so we're stuck in our calls for equity and reconciliation and diversity. These calls are so hollow, but we don't even know that, because we haven't named and confessed the erasure that we actively committed moving out of the civil rights movement era.
I say this in the book, but it's critically important to see that many of the things Black Power advocates were naming and predicting about the reality of racial relationships is what we're seeing right now. In the last five years, this beast we have never repented from or repaired has created our national climate. I feel very clear about that.
It's past time to confess what we've done and pick up partnership with those communities who have never stopped making those same demands.
F&L: Were Black Power movements prophetic?
JH: I think "prophetic" is the right word to use. They were telling us that integration — or reconciliation, which is the way we talk about it in the church — was going to fail without massive resource redistribution.
To be clear, I long for reconciliation. I do think that's the space to which we are called, but just making integration the solution to racial injustice and racial violence is misguided. You need to change the systems of exploitation.
Black Power movement leaders and the diverse communities that were organizing with them were calling for things like reparations to enable resource redistribution that would enable Black self-determination, Black business cooperatives, Black media networks and outlets.
They called for a radical transformation in how we thought about public education. If you have inequitable school systems, where Black children don't have access to high quality education because of segregation and racial injustice, just integrating kids is not a solution. It's important to reject segregation, but simply putting some Black children in a white classroom with a white teacher who doesn't even know how to love Black children is not necessarily better.
You need Black teachers. You need Black principals. You need to shift all the power structure so that resources are distributed differently.
They also called for a radical rethink on policing. Police violence in the '60s was creating these instances of just community rage and grief because of the way policing happened in Black communities, which is still very relevant today.
We cannot be siblings to one another in a genuine, mutual way if we haven't repaired the harm and the exploitation that were not only present in the foundation of the United States but are actively constructed even today.
We need to repent and repair those things in order to even begin to talk meaningfully about beloved community. What I'm trying to get us to think about as white Christians in the book is that history had prophetic things to say to us about who we actually are and how we could be converted to become something different.
F&L: You make this delineation in the book between a reconciliation paradigm and a reparations paradigm. Can you explain both of those?
JH: The reason I use the word "paradigm" is because I think that helps us think about what kind of lens we are using. I believe as a Christian that reconciliation is a state to which we are called, but the framework of reconciliation is a problem, because of what it teaches us to be.
For example, a reconciliation paradigm is universal. It would say things like, "We need to come to the table and celebrate and embrace our differences. We need to come together across our diverse experiences and learn to love each other more fully and truly."
The problem with reconciliation as a paradigm, again separate from actually being reconciled, is that it assumes that our differences are equally problematic. A reconciliation paradigm assumes that I as a white person need to better come to love Blackness, Nativeness and Latinoness and also implies that Black, Native and Latino people should better love my whiteness in order for all of us to reconcile. But it's not a moral parallel. Blackness and whiteness are not moral or cultural or political parallels.
White people owe something different and distinct if we are going to be reconciled. So a reparations paradigm says that the crisis of racism and racial injustice is a multiracial crisis and we each have a different location in it.
In particular, it says historically white communities, whether actively or passively, have engaged in perpetrating harm. We have unjustly reaped economic benefits from that harm, and we've also been spiritually and morally malformed by our participation in that harm.
So if we want to be at a multiracial table, then we name that and repair that as the way we come to the table. There's no responsibility of Black people learning to better appreciate and understand white people. It's about, "How do we together address and redress the structures of harm, violence and unjust benefit that exist between us?"
If we can redress those and redistribute resources from white communities to communities of color, that actually might make us beloved to one another. But the repentance and the repair piece is how white folks show up to the table in a reparations paradigm.
F&L: You say that you've seen progress since 2014. Can you talk about ways in which you've seen white Christians moving forward and how some of the gaps remain?
JH: I tried to include in the book's appendix some anecdotal examples of reparations-informed movements that have begun to emerge in the last four years. They're scattered all over the place, but they're worth naming, because it's an energy and sort of responsive kind of percolation that is starting to happen.
The Minnesota Council of Churches is starting to unroll a 10-year project of reparations relative to Native communities in a central way, but there is also language for reparations toward African American communities.
The Fellowship of Reconciliation has a national reparations and truth telling campaign that has gotten underway. I'm seeing in my local community in Des Moines in the last year all kinds of white clergy who have — not just as individuals but speaking in the name of their church — have been not just putting signs for Black Lives Matter on their churches but have been out organizing with Black Lives Matter movement leaders.
They are organizing by asking, "OK, what do you need us to do? What role do you need us to play? How do you need us to hold the police authorities accountable?" That's another example.
It's just new for white communities. I think a lot of people are still asking for a model out there that we can just implement here in our church — but there's no universal model out there.
We are actually the ones who have to do the thing. There are some landmarks, some language, some principles we need to try to embody, but we haven't corrected this injustice before, and so we literally are the ones who have to figure out what it means. And it's going to look different in each local context.
It's new to white people, but there is a different kind of sharing that is happening. And it's because, I think, of the leadership and insistence and ongoing tenacity of Black Lives Matter movement leaders over the last seven or eight years that we're getting to this inflection point.