Kelly Latimore is a St. Louis-based artist who specializes in painting icons. Some of his images have attracted widespread attention, as when he faced death threats over "Mama," his Pieta-style image of a Black Mary cradling the body of Jesus, who resembles George Floyd. Others depict figures such as Dietrich Bonhoeffer, Pauli Murray and Mahalia Jackson. One, "La Sagrada Familia," shows the holy family as modern immigrants walking in the desert.
Latimore spoke to Faith & Leadership's Aleta Payne about his work. The following is edited for length and clarity.
Faith & Leadership: Can you talk about how iconography grew out of your collective work for connectedness as a member of a monastic community?
Kelly Latimore: I'm a PK, a pastor's kid, and I grew up in a small Protestant denomination. It was very much about transcendence. Later in life, after graduating [from college], I ended up in Athens, Ohio, and was a part of this small monastic farming community. The main mission of that place was growing vegetables and food for food pantries. Volunteers would come to the farm and help in that work, but also people who were poor and living in shelters, coming and joining us in that work as well.
Putting your hands in the soil and weeding a bed of carrots across from a complete stranger, and the conversations that came out of that — I really learned that the way we use things in the world is of spiritual significance. It was a transition away from transcendence. It was more about engaging God in a physical incarnation in the world.
It was less about transcendence and more about engagement, embodiment and communion, connection. And so it was a very profound time. The first icon that I painted was called "Christ: Consider the Lilies," and that stemmed out of my relationship with my best friend, Paul. We used to talk about a lot as we were growing food: How do we as farmers have a right relationship with the earth, and how do we, as Jesus would say, consider the lilies of the field? What does that mean?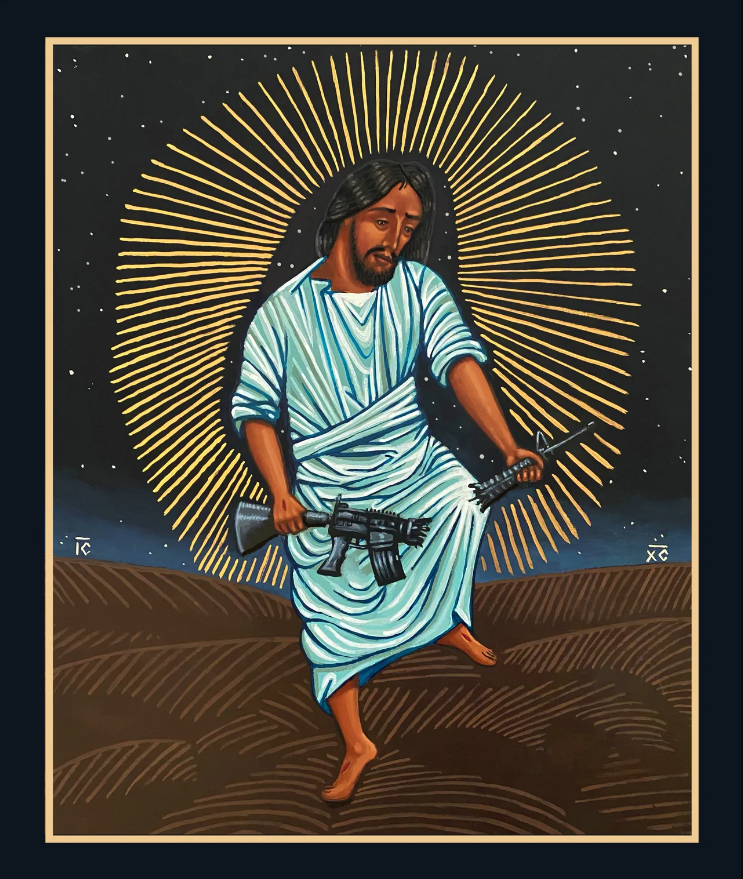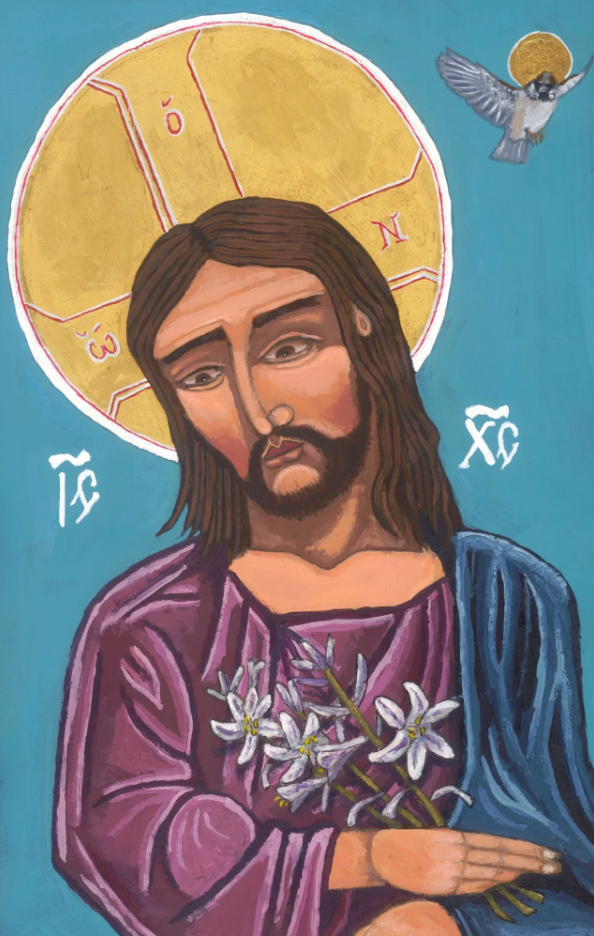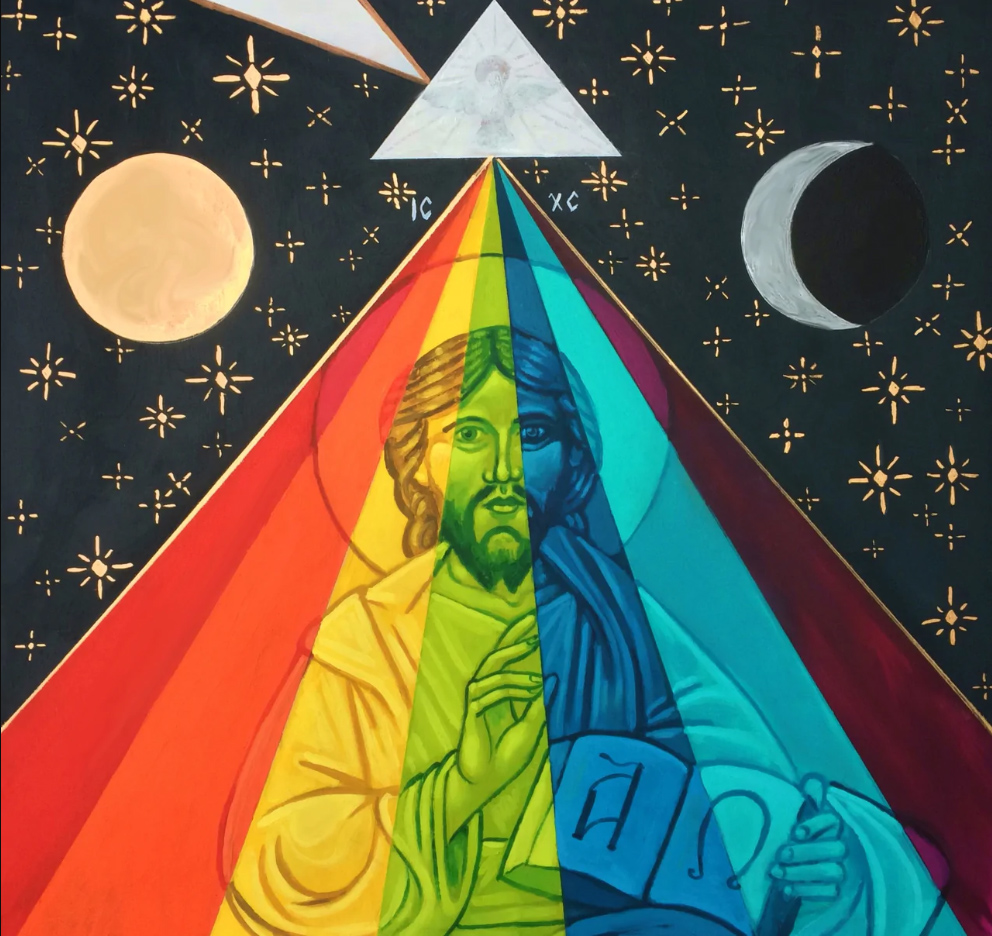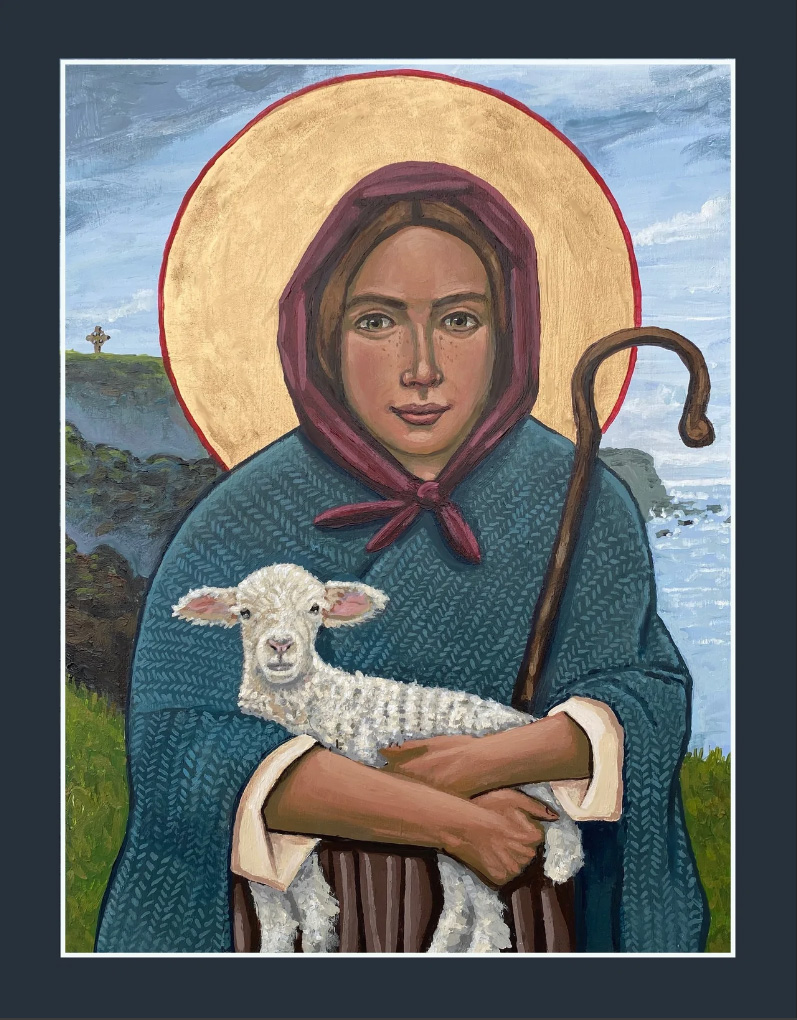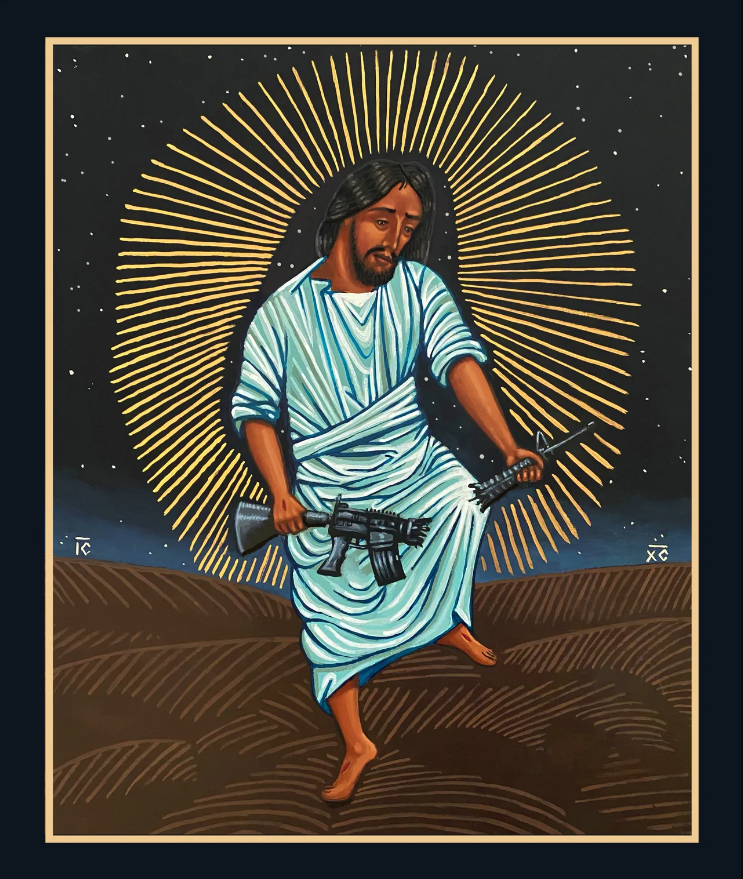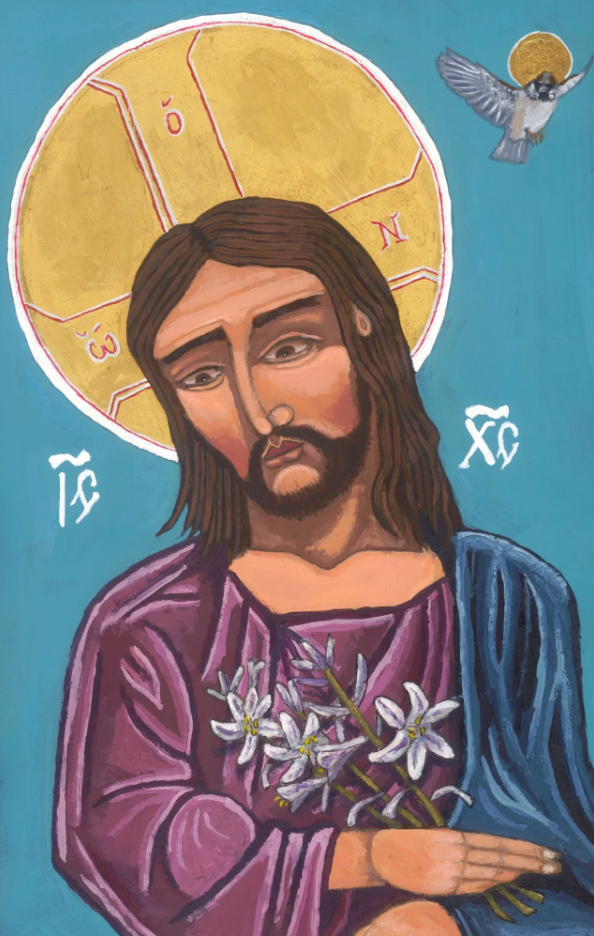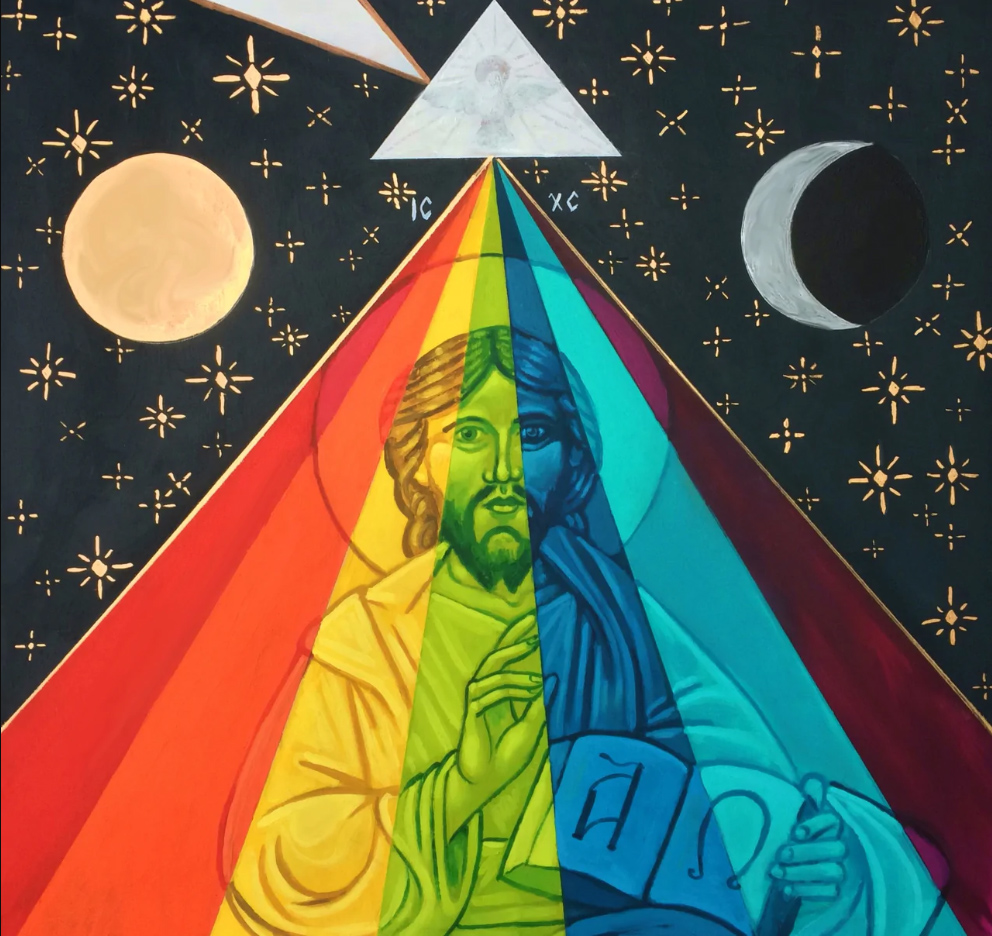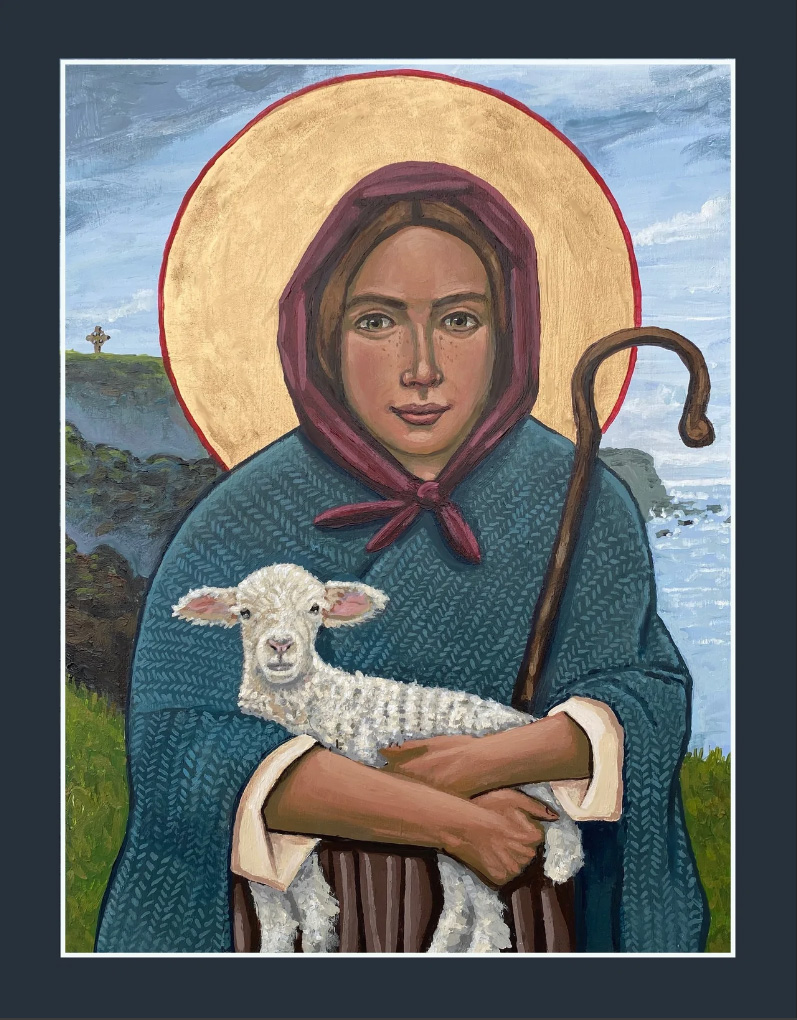 I had done a lot of traditional icons; I started how all iconographers start, going over these old images and tracing them as best I could. But then when I got to a point where I wanted to try my first original icon, it was that idea of "Christ: Consider the Lilies," and it focused on our common work. And what was interesting — it wasn't a great first. It was a good first try. Christ, if you see it, he's almost surprised that the lilies are in his hands, and the lines are shaky.
But what was interesting about it, and I think what was beautiful, was that the community embraced it, because it was a part of our common experience. It showed me how art can be a focal point for focusing and seeing in a new way how we want to live in the world. As time's gone on, this has been the theme of the work that my partner, Evie, and I collaborate on.
Trying to find the holy family that is among us here and now or Christ that is in our own neighborhood, and bringing these modern images of people that are struggling or in pain right in front of us but inherently have the image of God within them: the refugee, the immigrant, those in prison, those suffering from living in tent cities.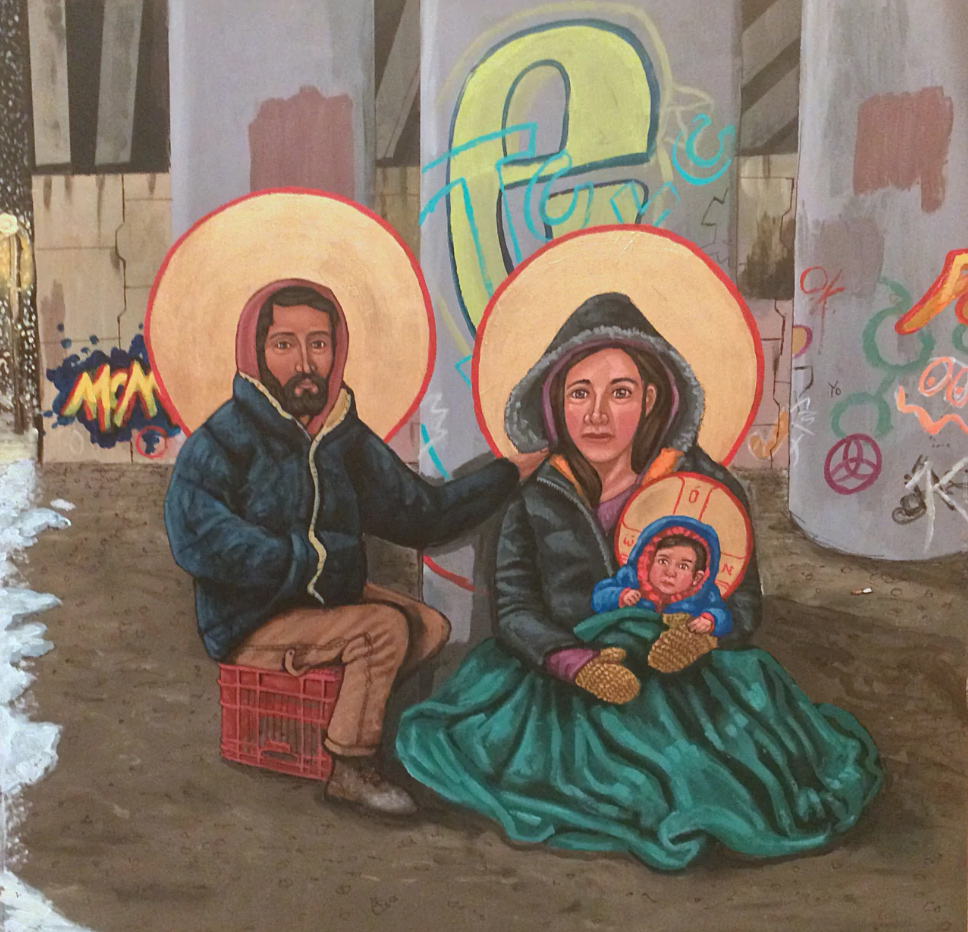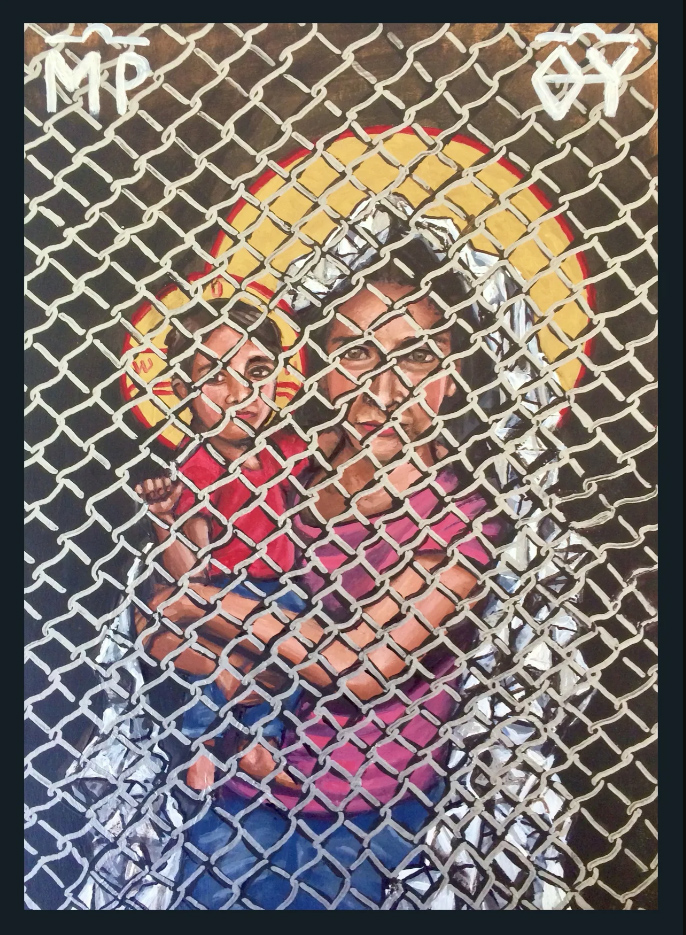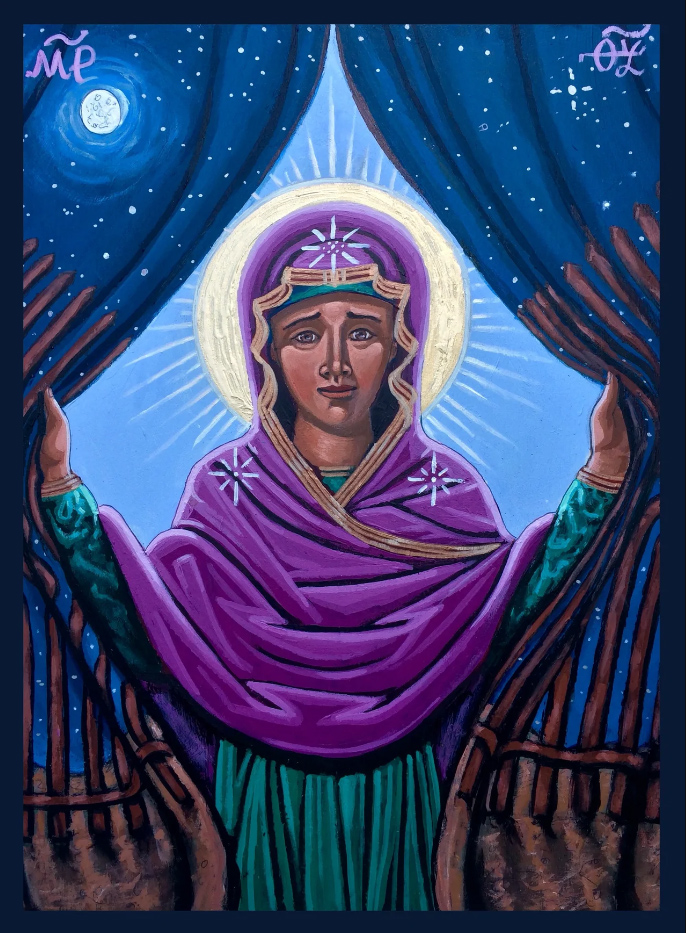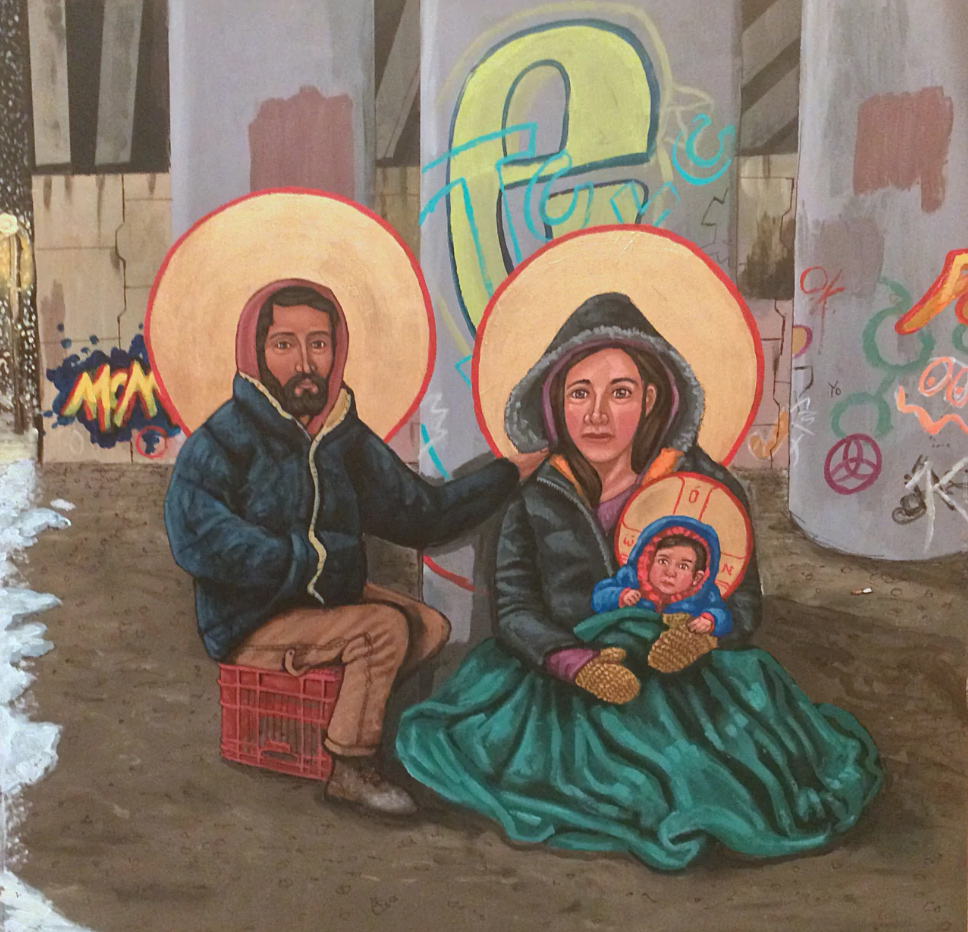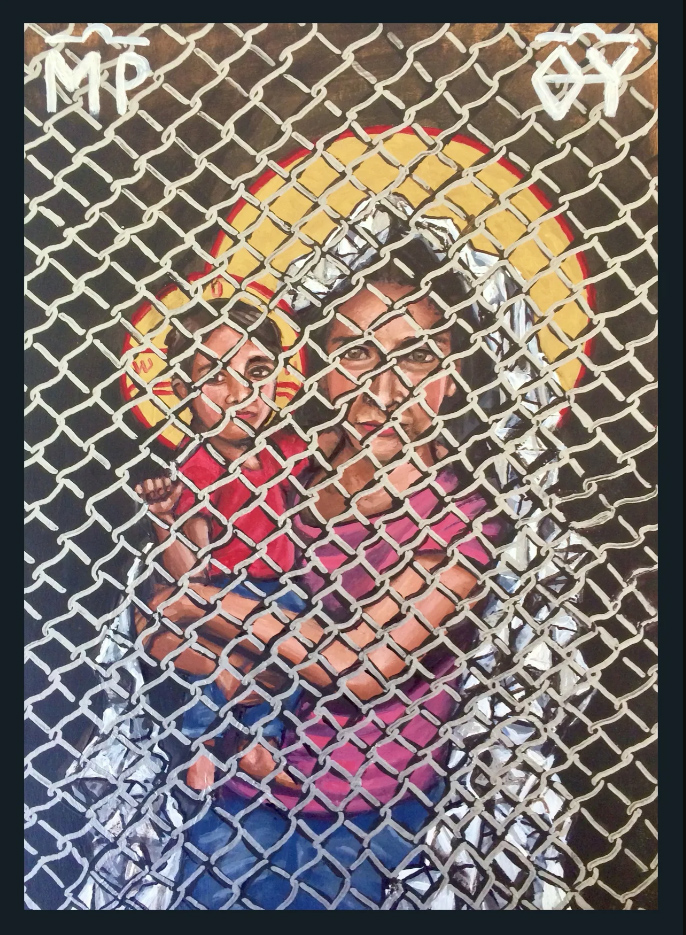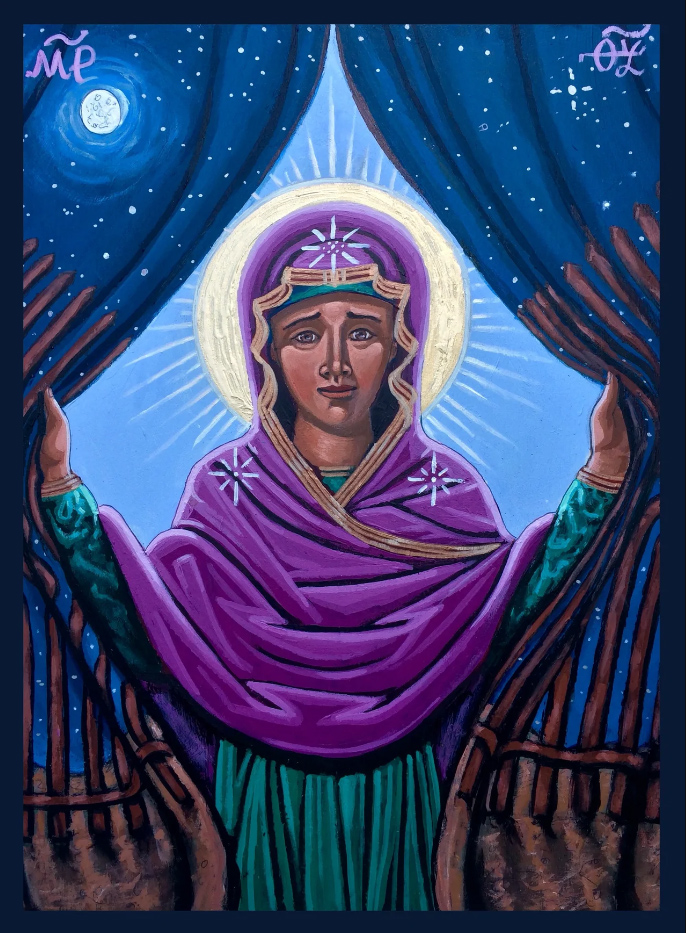 There's another icon I did called "Cloud of Unknowing." In my early days in iconography, I had started an icon called "Christ the Pantocrator" or "Christ the Teacher," which is a pretty traditional icon where Christ is holding the Gospels and holding a blessing hand. I got really frustrated. His face was fine, but his hands weren't right. And I ended up putting it up on a shelf, where it sat for two years.
And then at one point I had gotten some new gold leaf in, and I was looking for something to try it on, and I found that icon and was like, "Ah, I didn't really like this anyway," so I just started gold-leafing over it. But I realized that because I had reworked that icon so much, the paint stood up, even with the gold leaf [over it]. It looked like a gold leaf board, but if you got up close, you saw the raised face of Christ.
I had two priests that are friends of mine, and I was showing them what I was working on, and they saw it and both said at the same time, "That's 'The Cloud of Unknowing.'"
The 14th-century work is about [our] potential for knowledge, or knowing God — that the more we put God under a cloud of unknowing, or a cloud of forgetting, the closer we'll be to God through our hearts and through our experience.
My friends, those priests, named what that image was, and therefore it became a new gift. I think that's what art can do for us in our communities. It should teach us how to see in new ways, not only to show how similar we are, but also [to name] the racism that might be within me or to name the ways that I'm not loving my neighbor well or other ways that maybe I'm not seeing God as clearly in my neighbor and around me.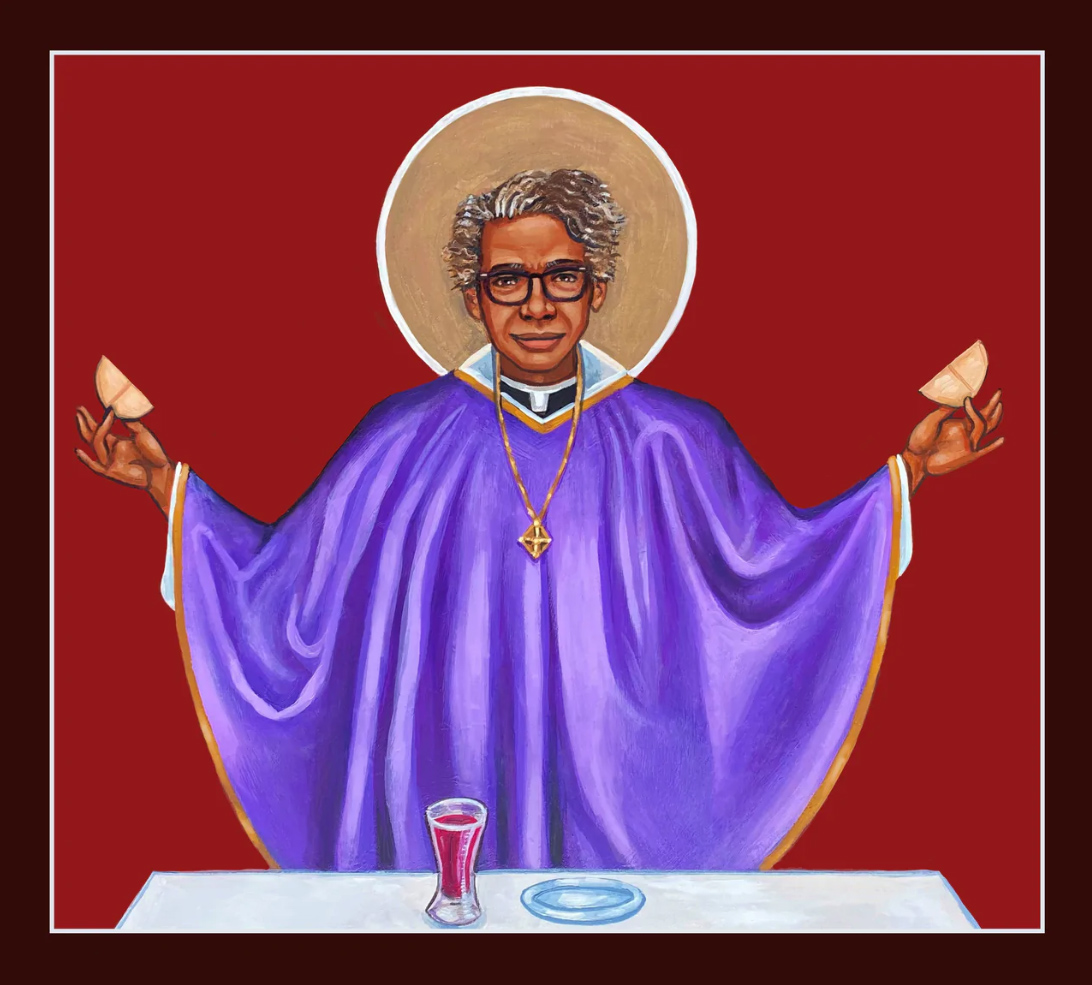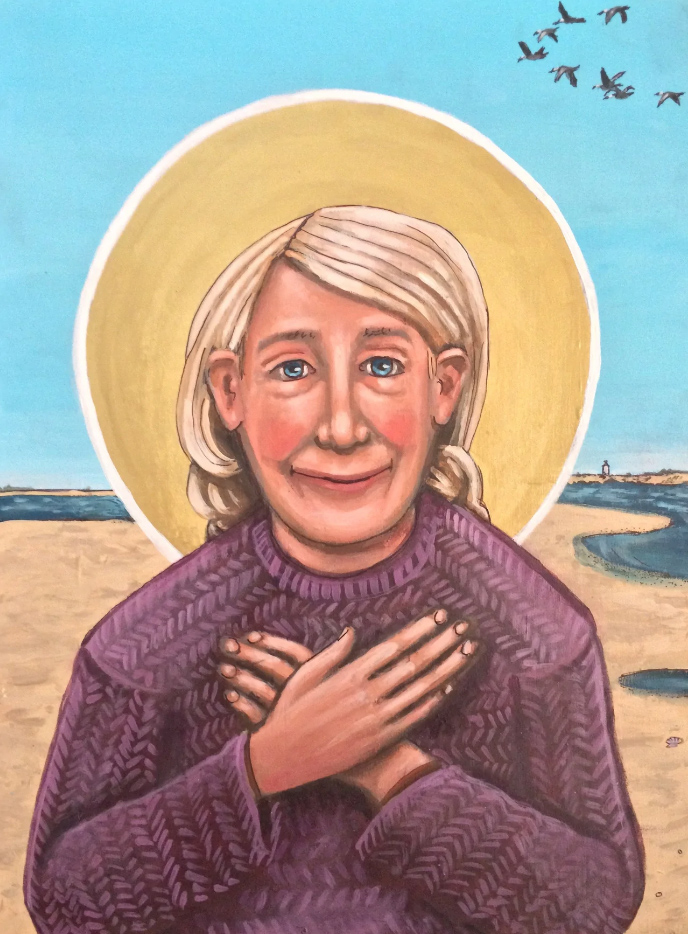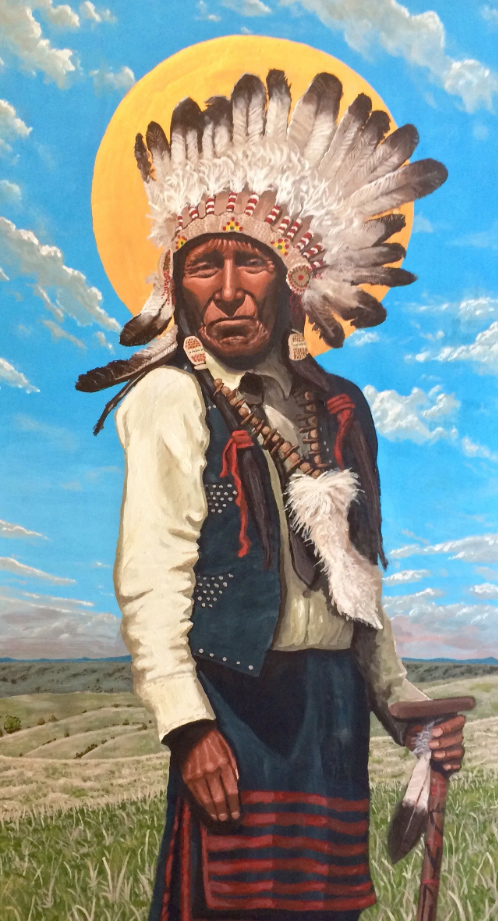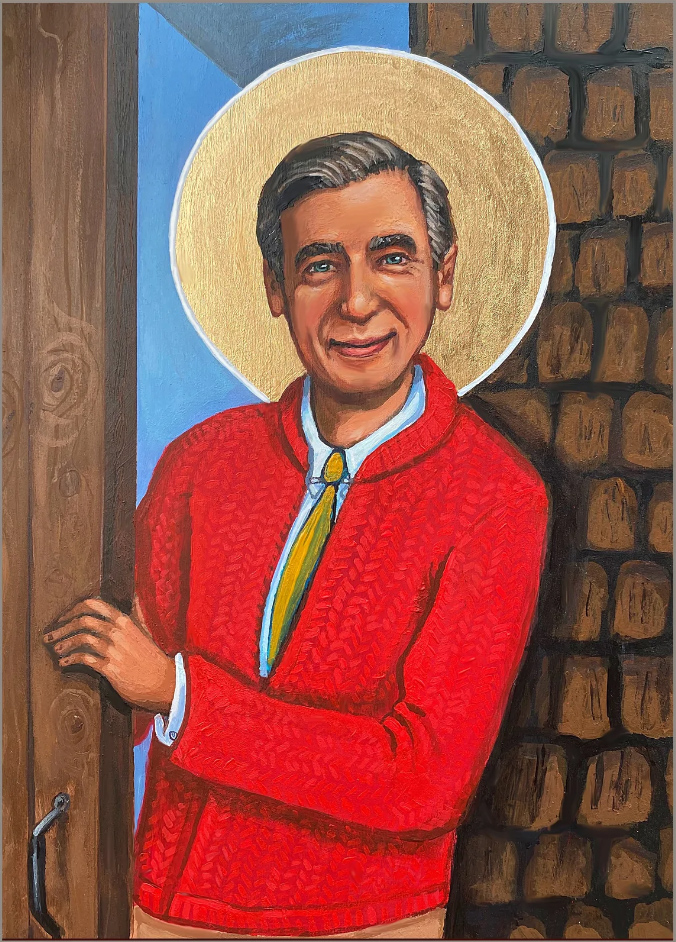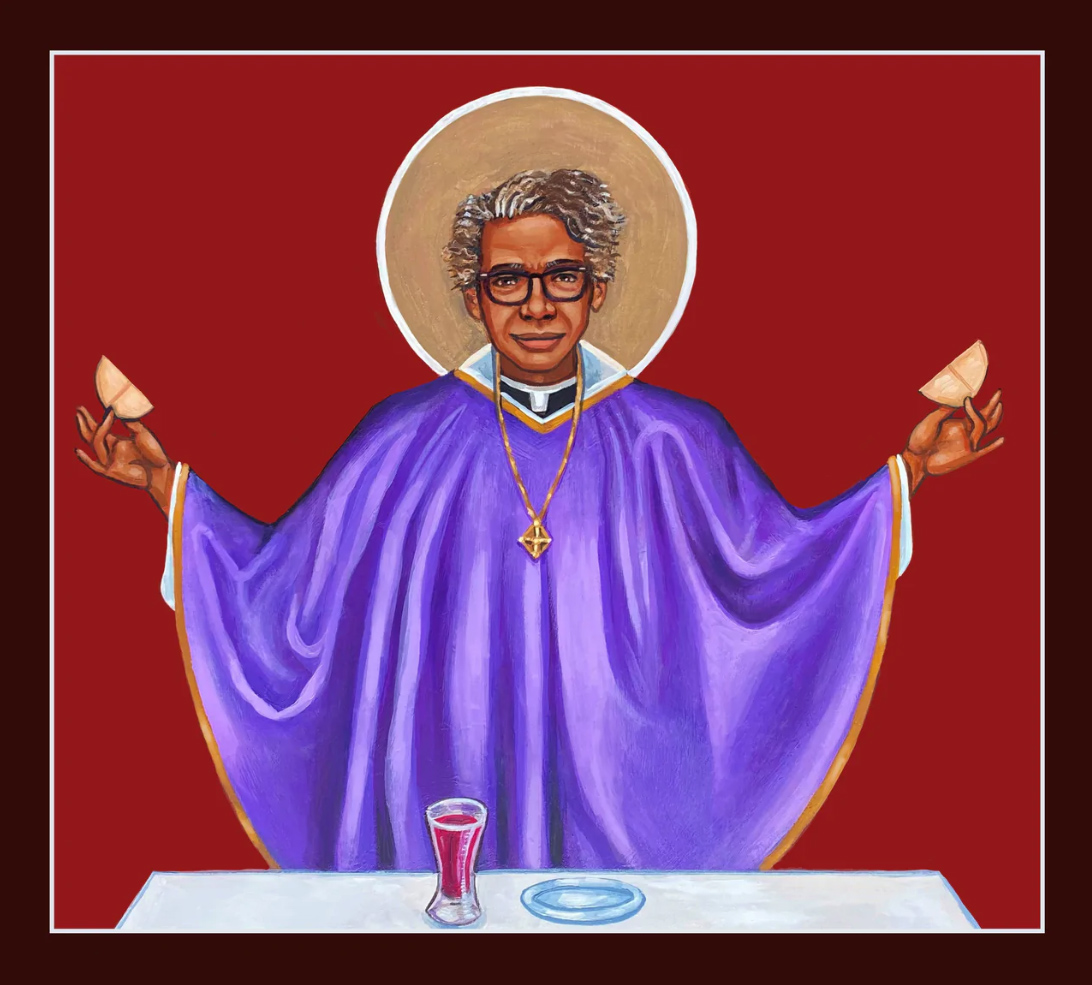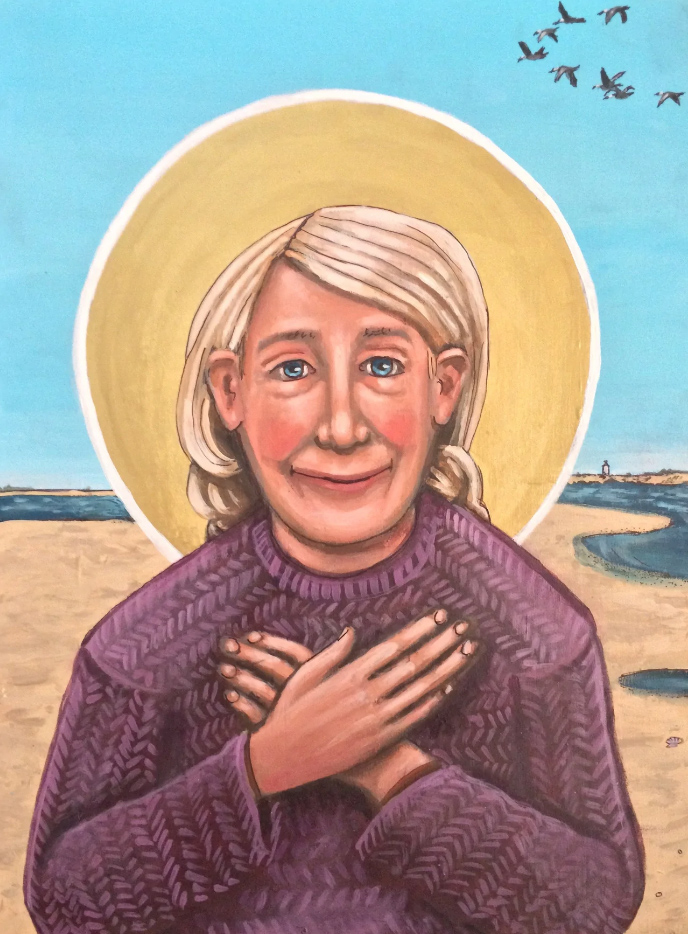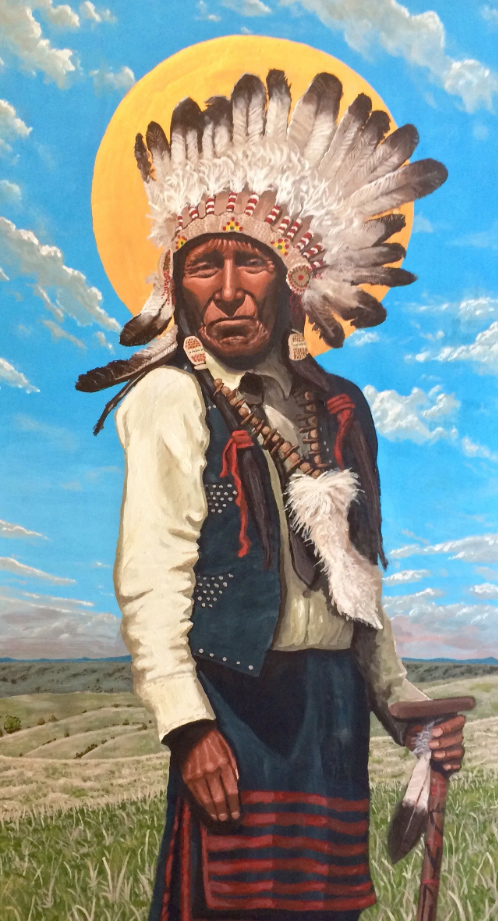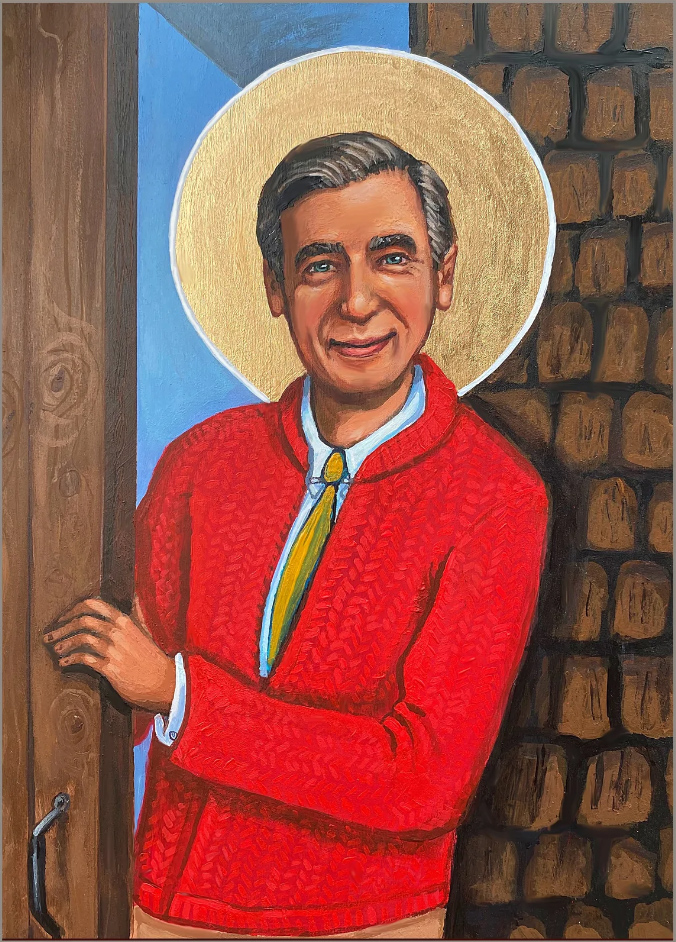 An artist's life is to be more present. For my partner, Evie, and I — and Evie is a big part of the work — we're just trying to be present to what is going on around us. But for me, all of this artwork doesn't really mean much without the relationships that make life worth living. And I think that's so beautiful about iconography; it's a very communal art.
As an artist, I'm entering into this improvisation or this dialogue, which I think doesn't happen in a lot of artists' work. Working on this artwork with churches can be very hard. But what is so gratifying and is a gift to me is that part of the work: the communality, the conversations about images that mean something to them and that want to push them toward communities and push them toward new ways of being in the world and new ways of relating to one another. I wouldn't be able to enter into that if I wasn't doing specifically this work, and so I think it's just about receiving those gifts and doing the best I can to translate that gift [of communality] into the work.
We are just constantly inundated with images. What happens, especially with the social media world, TikTok, Instagram, whatever, is that we can be so quick to speak into something. I hope my art has this potential to teach us to not speak into something but just to learn how to observe, to be still and observe something. And that's my hope for these images, that they can potentially create dialogue. Not only an internal dialogue but also a dialogue between each other. And that just observing and not speaking into something, I think, is the first part of connecting to the piece of art, whether it's art in churches, in this iconography or elsewhere.
What is our church art for? Is it glorified wallpaper, or can it be something that can help us see each other, see in new ways and see God in new ways?
Almost a decade after they committed to reading James Baldwin together, Jamie McGhee and Adam Hollowell are encouraging others to consider the late writer's calls to action.
The two first met when McGhee was a student at Duke University and Hollowell was working at the university's chapel. After the death of Trayvon Martin and the acquittal of the man who shot him, they looked for something that might help them process the moment. McGhee and Hollowell turned to canon, Baldwin's "The Fire Next Time."
Out of the shared experience of reading and then writing together, they have co-authored "You Mean It or You Don't: James Baldwin's Radical Challenge," a book that pairs reflection on Baldwin with an invitation to activism. The authors write about finding the courage to change, embracing a radical moral challenge and looking to a community of collaborators.
"When one helps or when one steps into a different [context], they will end up changing," McGhee said. "Their viewpoints might change, or they'll find things they've never seen before…If you keep going, you're going to be confronted with realities you might have been blind to or opinions that might differ sharply from your own. You will change the person [you are], but the process can be a bit terrifying from the outset."
Hollowell added: "Baldwin often brings readers to a moment of decision and asks for a response. We call that Baldwin's radical moral challenge. You mean it or you don't. But we also wanted to leave the reader feeling like they are a part of a community when they experience that challenge.
"Most of our action prompts involve connecting with other people — looking for groups that are already working in your community or partnering with colleagues, neighbors, friends in work for justice. We wanted to accept the intensity of Baldwin's moral challenge but also equip and empower the reader to feel connected to others in their response to that challenge."
McGhee and Hollowell spoke with Faith & Leadership's Aleta Payne this summer. The following is an edited transcript.
Faith & Leadership: There are a lot of books that are meant for thoughtful discussion. This one is thoughtful discussion — and then you say, "OK, here's what you can do next." What was the impetus behind that?
Adam Hollowell: When we started writing [in conversation] with Baldwin, I was at a church and was writing prayers on a weekly basis for worship, and I was also working in student ministry and was praying with students as a part of my day-to-day job. The first project that [Jamie and I] wrote was a series of prayers, and those felt like an important spiritual resource for this particular moment.
When we returned to the project four years later, the same things were happening in the country over and over. We wanted to write new words that were more focused on concrete actions.
That doesn't mean we are done with prayer, and it doesn't mean that prayer is inaction or inactivity. It means that there are times when you feel like all you can do is pray, and there are times when you feel like praying is not enough. Both of those are important feelings. This book is very focused on concrete action, and it is very committed to helping readers activate in their local communities as a complement to the work of prayer.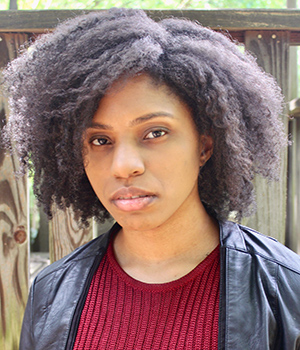 Jamie McGhee: It's not that prayer is inaction, but when people stop at the thoughts and prayers, that is fully insufficient. This book is not replacing the earlier project focused on prayer but rather a step beyond. I do believe a lot of people have really good intentions and either they don't know a lot about a certain subject, such as mass incarceration, for example, or it doesn't directly affect them. They'd like to know more, and if they knew about things, then they could get involved. But they also don't really know how to get involved without causing more harm.
There are so many logistical barriers to entry; this book is an attempt to overcome some of those barriers and invite people with an easy road map of how you get started with the things that you believe and want to do to help.
F&L: You began 10 years ago, and Baldwin predates that. But much of the book feels of the moment; systemic oppression has always been there. It's almost like you all anticipated some of the last few months' issues — the resurgence of book bannings, ahistorical teaching, legislation around gender identity, gender expression, sexual orientation. What is the continuum you see?
AH: We wrote this project with a very attuned sense of the words that were Baldwin's and the words that were ours. Many of Baldwin's writings and speeches feel timeless or eternally relevant in the United States. Baldwin speaks with just enough specificity for you to know that he's speaking directly to you, but just enough generality for decades and decades and decades of readers to connect with his work. We wanted to capture the intensity of Baldwin's perpetually relevant prophetic voice while also doing our work to meet Baldwin in this particular moment.
This book is full of references to community groups, URL links to databases of organizations, switchboard phone numbers for elected representatives, and those specifics won't be relevant forever. We know that. We've written it that way on purpose. Baldwin supplies the connection to American history and the enduring nature of the challenges that we face. We aim to meet Baldwin with a sense of intensity and specificity about the demands of the present moment, right now.
JM: I really like comparing [Baldwin's] earlier work with his later work to see his transformation as a person. One way he really transforms is in his hopefulness or not. I believe in his early writings he directly addressed America: "This is what you need to do; this is what needs to change. I'm very hopeful about what America could do if we just address those things." Then over the span of the next 20, 30 years, he sees continually those things aren't being addressed and the same cycles are continuing and continuing and continuing. And they were continuing through his death in the '80s.
I think Baldwin is a prophet, and he has a wonderful way with words, because words could probably span different cultures and span time periods on their own. On a practical level, a lot of the reason they are still relevant is because, as an American society, we keep continuing the same spirals over and over and over again without really addressing all of the problems. A lot of the same problems we have today are some of the same ones, maybe on a different scale, that Baldwin had when he was writing.
F&L: Could you talk about liberatory horizons?
AH: There's been a public debate in the last few years about Martin Luther King Jr.'s phrase that the moral arc of the universe bends toward justice. Some writers and activists have said that knowing the moral arc of the universe is essential to joining sustainable justice work. Other writers and activists have said that the only way the arc of the universe changes is if we bend it. Sometimes Christians are in the first camp, and sometimes Christians are in the second camp.
For us, liberatory horizons are the things that you hold to when you want to let go of the work. We don't know exactly what those horizons are for each leader. We don't need to know. We don't need to weigh in on the debate about the moral arc of the universe, but we do want readers to identify for themselves what sustains their commitment.
The section on liberatory horizons follows a few paragraphs on activist burnout. We know, both from personal experience and from the research literature, that some people rush into activist work with a brightly burning fire but it doesn't last very long. Some of the longer-term workers on a particular issue can be frustrated, harmed, set back, displaced by that new-activist energy. The section on liberatory horizons is about identifying and connecting with what sustains you in the long term so that your commitment to the work doesn't burn out too quickly, doesn't burn up the people around you, but remains steady for you to approach the horizon as a part of a community.
JM: We emphasize the fact that everyone has their own liberatory horizon, and that's going to look different for everyone. There's no single way to do activism. When I was starting at 16, 17, 18 years old, I thought there was one way to do activism, to be in the street protesting, because that's what I saw. There's a lot going on behind the scenes that I didn't see, and a lot of other small things, a lot of cogs in the giant machine, that I think a lot of people with good intentions aren't really aware of.
Some people do burn out, because they haven't quite found their place, because they don't know all of their options. Finding your own liberatory horizon comes with trying out a lot of different things and then figuring out what, personally, gives you life and then going with that.
A lot of times, it won't just be the [demonstrations]; it won't necessarily just be the protests. It might be, but there are so many other things. And I think the invitation to find your liberatory horizon is also an invitation to explore and to figure out where you fit and want to fit into the wide open.
Baldwin supplies the connection to American history and the enduring nature of the challenges that we face. We aim to meet Baldwin with a sense of intensity and specificity about the demands of the present moment, right now.
F&L: Something Baldwin talks about and that you held up is this notion that there's the individual piece of activism but there's also a community piece, and finding that community. American culture puts so much emphasis on the individual and individualism. Could you speak to community in this?
JM: I think there's such an emphasis on individualism that can be truly detrimental to long-term work. I think community is, at its base, what will change the world. It won't be one person, contrary to the narrative that we are fed, specifically in the U.S. On a practical level, community is there for challenging you on beliefs, planning greater movements. Community is there for people who have done this before, people with experience.
Sometimes it might be easy to get siloed into a single way of thinking or a single way of "I have to do one thing; I have to be the one to change something." Really, it is a larger community effort, whether it's battling burnout or trying to figure out how to mobilize a massive group of people on a national scale.
It really starts with connection, and the connection is what will sustain people, especially at the beginning of their journey into this. I think that's one of the most important elements of long-term sustainability — having people around you who are also doing it with you. So you don't take on the mantle of saving the world by yourself.
AH: It's also important to me that community describes something that's very painful for some people, and community describes experiences of redemption, judgment, pressure, harm. Baldwin knew better than most that there are times when you have to leave the place that you're in in order to save yourself. But that was not Baldwin's final word. In his final days in France, as his body was breaking down, a community of people gathered around Baldwin, and that gathering was a witness to the people who made him the person that he was.
In the book, we aim to honor the reader's need to step away like Baldwin did, but we also try to call the leader into connection, as the people who loved Baldwin called him into connection.
I'll add one more thing. The title of the book is "You Mean It or You Don't," which is taken from an exchange Baldwin had with a student in the '80s. But the last line of the book is, "Either we mean it, or we don't." And that is our subtle nudge to Baldwin — that the moral demand presses us into relationship with one another.
F&L: What more would you like people to know about this book that we haven't discussed?
JM: I think the art-speech aspect of social change can be sometimes undervalued and overlooked. Every time I look, there are so many articles about whether art can be used as activism. What is the role of art in activism?
Baldwin described himself very much as the artist. Some people don't necessarily consider themselves artists but can find an outlet, find something useful, in art. At the end of the book, we do encourage people, just even for themselves, to express whether they're angry, confused or hurt, to take those feelings and put them into something artistic. You don't have to show anyone. It doesn't have to have any wider significance. It doesn't have to change the world. Just make something. Express something.
For me, making art really brings me back into my humanity. If I read something, I'm just so overwhelmed with the state of the world that I have to pause. I primarily write fiction, so making some sort of art, some sort of fiction, even if it's not connected at all to the world, helps me to remember that I'm human, my voice is important, and I can create something. I don't have to lie helplessly and watch the world burn. I can go out, make and create and build beautiful things. Things are being destroyed, yes, but also goodness can be brought into the world.
I also think art is useful for social change. Art can [prompt] subtle changes that might not be immediately apparent. Baldwin, for example, talks about how reading as a child really opened his mind to so many things. I don't think we'd have the fiery Baldwin we have now if his mind weren't opened through all of the many, many books that he went through as a child. Books essentially changed his life; they saved him.
For a lot of people, that is true. You go to a play or see any movie, watch a performance — it might not change anything explicitly. You might not come away from reading "Giovanni's Room" and go, "Wow, I need to go advocate for more LGBT rights now." That's not the point of the book. The point of the book can be to be a more compassionate, humane person, to make you think, put yourself in the shoes of people, to open your mind a bit to the world going on around you and make you more able to see, more able to look for the small details, more willing to accept a reality different from your own.
I think it's a very subtle change that, over the course of time, can lead you into different avenues of compassion and activism. The last chapter of the book, about art, is really just an invitation for people to explore that, play and see what is the art going on in your community. It gets overlooked. It gets undervalued. But I do think it's a beautiful part of this whole process.
I think community is, at its base, what will change the world. It won't be one person, contrary to the narrative that we are fed, specifically in the U.S.
In 2022, one of the most radical acts we can champion is reading together. I know it sounds simple, maybe even boring, but in times like these, we need to read.
We find ourselves in the middle of politically charged arguments about pandemic precautions, reentry into schools and churches, classroom book bans, critical race theory, looming elections, Supreme Court nominations — all filtered through endless Zoom and Microsoft Teams meetings, Twitter chats, Facebook and Instagram feeds, TikTok dances, hybrid conferences, and a wary sense of heightened tension about almost everything else.
We remain in a season of change and unrest. Now more than ever, we need shared exposure to our history, our present and our unknown future. When we read together, we dream together. And we are in desperate need of collective dreaming.
Historically, literacy has been a privilege. Those who are able to read can speak as equal conversation partners with others who have access to written resources.
When we think about the Protestant Reformation of 1517, let it not be lost on us that it was launched by a written document. Martin Luther wrote and posted his 95 Theses to challenge the Catholic Church as it stood at that time. The Reformation was launched by a written document that was read and interpreted during the 1500s. As the Deseret News put it, "Probably the most important engine of rapid intellectual and spiritual transformation during the Reformation was printing and expanding literacy."
For those who weren't able to read, clergy would interpret the medieval art and stained glass among them to explain the biblical stories and teachings orally. While this might initially have been seen as an act of benevolence, it created an imbalanced power dynamic between the literate and the illiterate.
This class divide became painfully evident by the time enslaved Africans had been forced to live in North America under the brutality of slave owners who used their own reading and interpreting of the Bible to justify their horrendous acts of subjugating Black bodies. Howard University political science professor Clarence Lusane, quoted on History.com, has pointed to the increasing sense in the 19th century that "an educated enslaved person was a dangerous person."
Dangerous, certainly, to the status quo. As historian Sarah Roth, the creator of The Nat Turner Project at Meredith College, noted in that same article, "Literacy promotes thought and raises consciousness. It helps you to get outside of your own cultural constraints and think about things from a totally different angle."
We now find ourselves at another literacy-related crossroads. Church members and leaders may continue to be limited in what they read by barriers and boundaries beyond basic literacy — the social climates they find themselves in, the biased algorithms they scroll through, even their own misunderstanding of what kinds of literature Christians should be consuming.
We need look no farther than Florida, Texas, Tennessee and other states to recognize that the power of reading is such a change agent that some leaders have gone to the extreme lengths of banning books on or by Martin Luther King Jr., Toni Morrison, Ruby Bridges and others in an effort to control the scope of the narrative to which children are exposed.
This is why reading groups at our churches are a radical act. We must reclaim the work of exposing our people to liberative texts, engaging our people on their thoughts and ideas, and encouraging our people to push the envelope.
At the start of this year, my faith community, The Double Love Experience Church, launched a book club suggested by one of our members, Brian Lindsey. The group chose to read "All About Love," by bell hooks. We never anticipated what would result from creating a space for people to read together: the depth of the conversations, the camaraderie that emerged, the questions that were raised, the new people in our community that were attracted.
In March, we read poems written by Black women in honor of Women's HERstory Month. What we didn't expect was that our members would also read short stories from writers such as Deesha Philyaw, J. California Cooper and Audre Lorde. I quickly realized that there is a deep hunger among my congregants to read both fictional and nonfictional accounts of lives similar to their own.
And therein lies the revolutionary, radical power of reading groups within Black faith communities. Discovering their own identity and shared experiences in the company of their church family creates another way for people to bring their full and real selves to church. It's another way to support authenticity within a congregational setting.
With so many attacks on people's personhood and self-agency, how powerful would it be for the church to be seen as a safe space again? What might it look like for children who have had texts banned from their classrooms to be taught those books in Sunday school? What might it look like for adults whose days are stretched thin to have Bible studies with their pastors breaking down in one hour the texts they've not had time to read?
Over the past two years, my church has offered Bible studies around books such as: "for colored girls who've considered suicide/when the rainbow is enuf," by Ntozake Shange, "The Fire Next Time," by James Baldwin, "Heavy: An American Memoir," by Kiese Laymon, "Caste: The Origins of Our Discontents," by Isabel Wilkerson, "Too Heavy a Yoke: Black Women and the Burden of Strength," by Chanequa Walker-Barnes, "Joy Unspeakable: Contemplative Practices of the Black Church," by Barbara Holmes, "The Black Christ," by Kelly Brown Douglas, and more.
We paired biblical texts with each book and taught from a theological perspective, allowing the content of the book to be our guide for cultural ethnography and real-time examples of issues that our people currently face. Every time we've dug into one of these books, our members have been radically affected by the intersectionality of this work and the liberative gospel of Jesus Christ.
So be radical. Read together. Expand your canon. Create safe space. Engage your people. Enrich your people. Encourage your people. In the process, you'll engage, enrich and encourage yourself too.
Each time we dive into these texts, we construct a different kind of world for our members to dive into. Churches have done well to read faith-based books, but in this season, I'm calling on Black churches to imagine reading books on our culture and from our writers. I believe there is something revolutionary and reconstructive in this kind of work, because one cannot read without also interpreting.
So read, beloveds. Be radical. We need you.
When we read together, we dream together. And we are in desperate need of collective dreaming.
When I was young, Jesus greeted me every day at my grandmother's house.
A framed ​​print of Warner E. Sallman's "Head of Christ" graced the wall adjacent to her front door. Jesus looked like an elegant surfer dude to me — tanned, with honey-streaked brown hair and blue eyes that gazed benevolently to the heavens.
The Almighty didn't look anything like me, but so what? It certainly didn't make me question my faith or my self-worth, because my religious experience was steeped in the tradition of the African Methodist Episcopal Church.
From the all-Black choir that sang the songs of Zion to the Black mothers of the church who prayed over me to the Black pastor who preached that, yes, Jesus loved my little chocolate self, my Blackness was continually validated. At my grandmother's, I was more concerned about her yelling at me for slamming the screen door than I was about the white Jesus hanging next to it.
But once I became aware of the world and my place in it, I realized that imagery was a powerful tool through which white supremacy operated. Whiteness has always been the default for defining everything America deems worthy: standards of beauty, true patriotism, innovators and intellectuals and stewards of power. Even our most sacrosanct attribute — spirituality — demands that we pray to a God presented as white.
That's why "DeColonizing Christ," a visual arts exhibit that runs through Dec. 19 in Harrisburg, Pennsylvania, is so fascinating. It dares to imagine Jesus Christ as what he was, a person of color. It dares to debunk everything we've been programmed to believe about Christ's appearance while interpreting a historical fact.
As the exhibit draws to a close well into the season of Advent, it has offered opportunities for those who have never deeply questioned their vision of Christ to reconsider the frame through which they have been looking.
What images of Jesus did you grow up with, and how do they align with your vision of Christ now?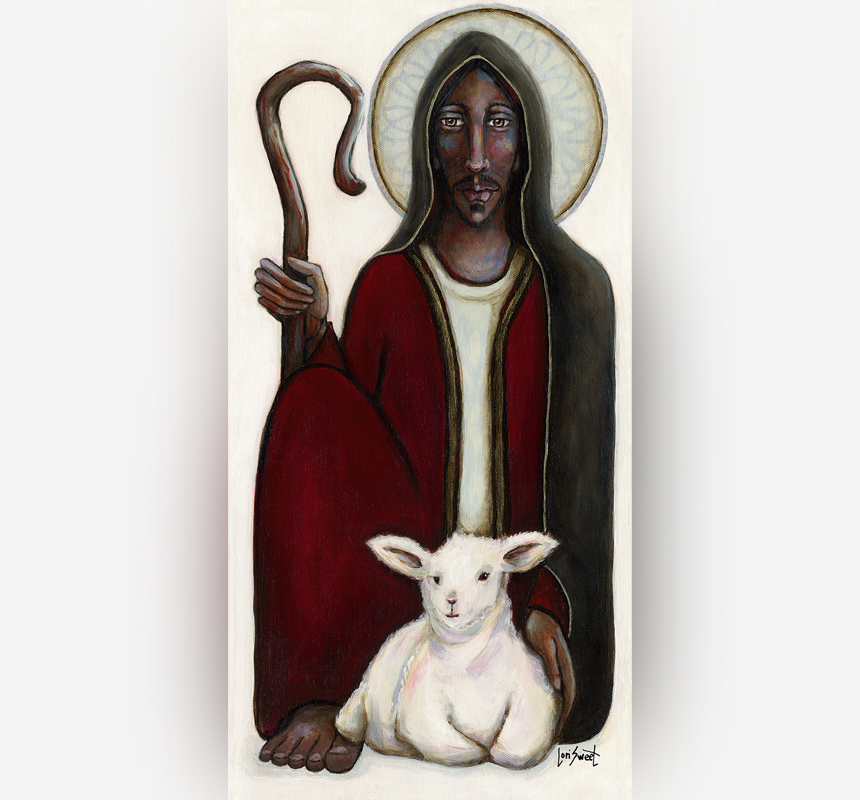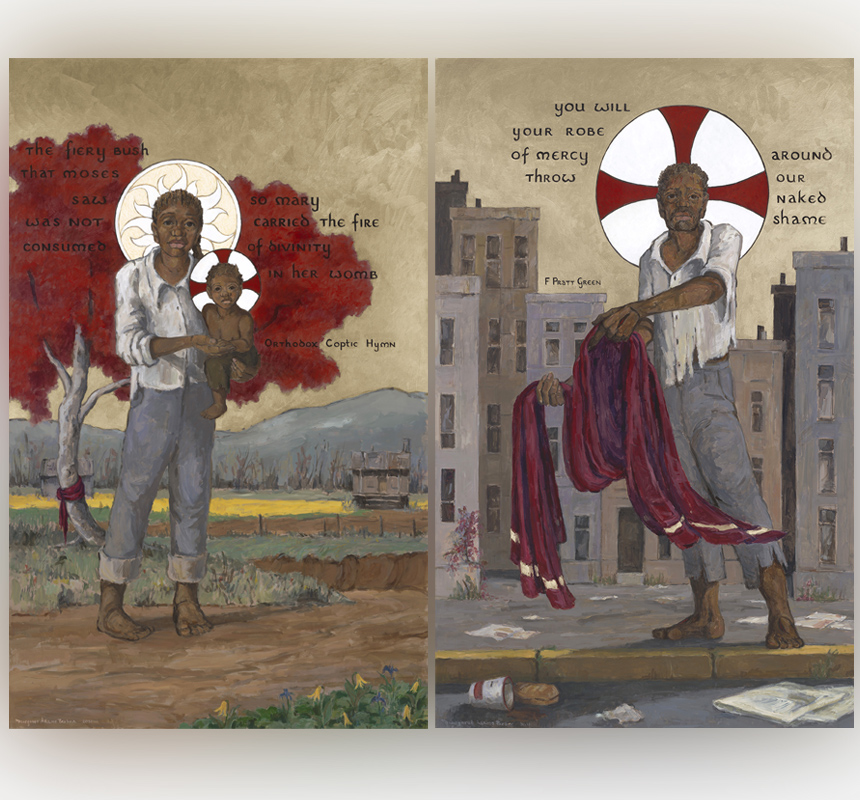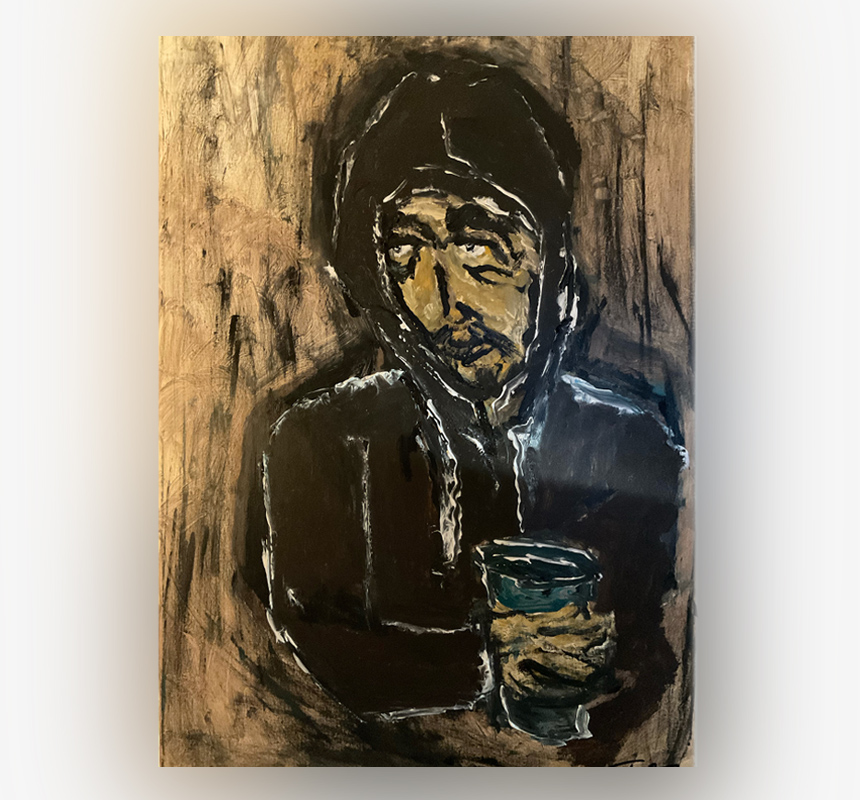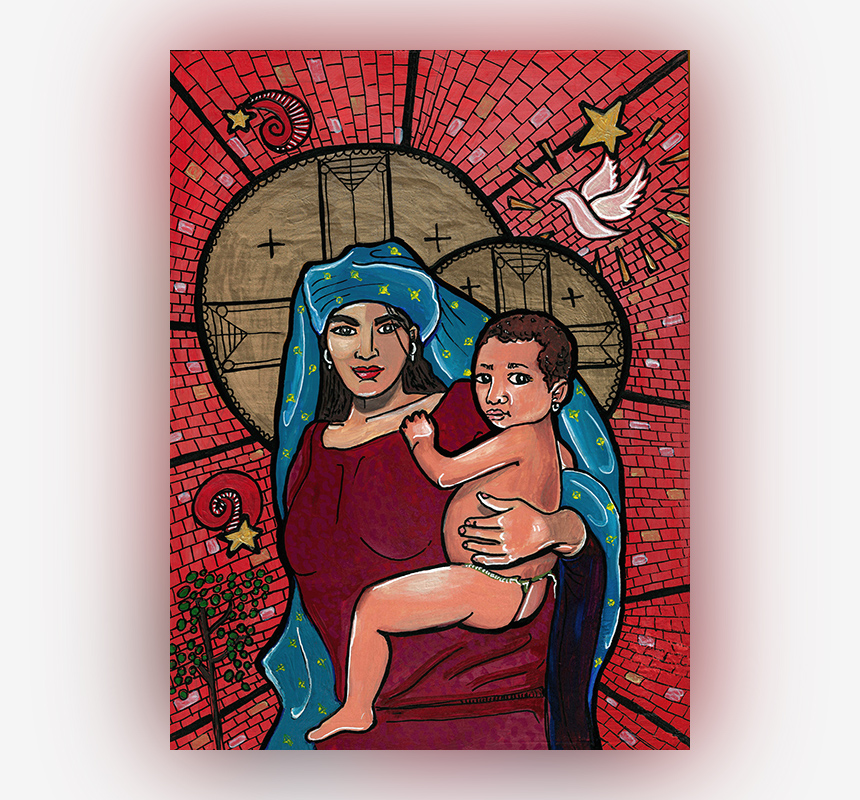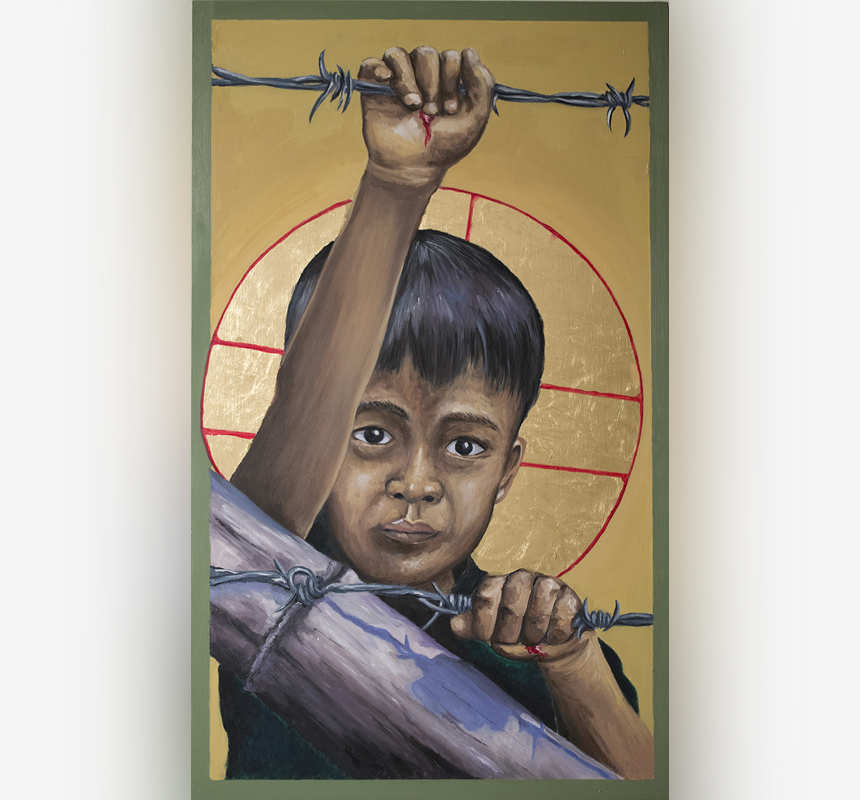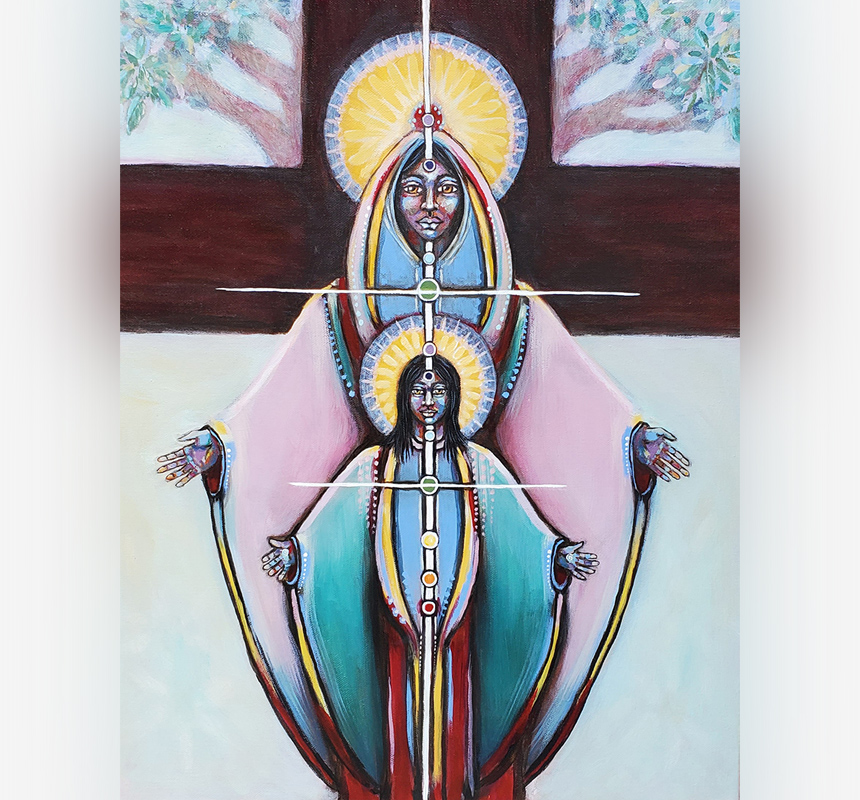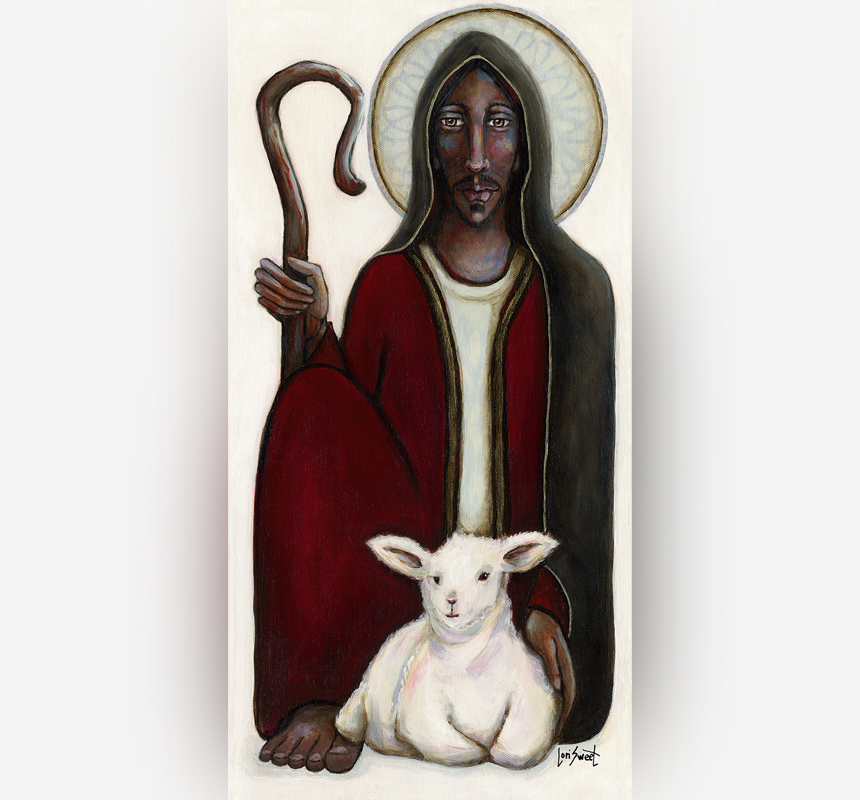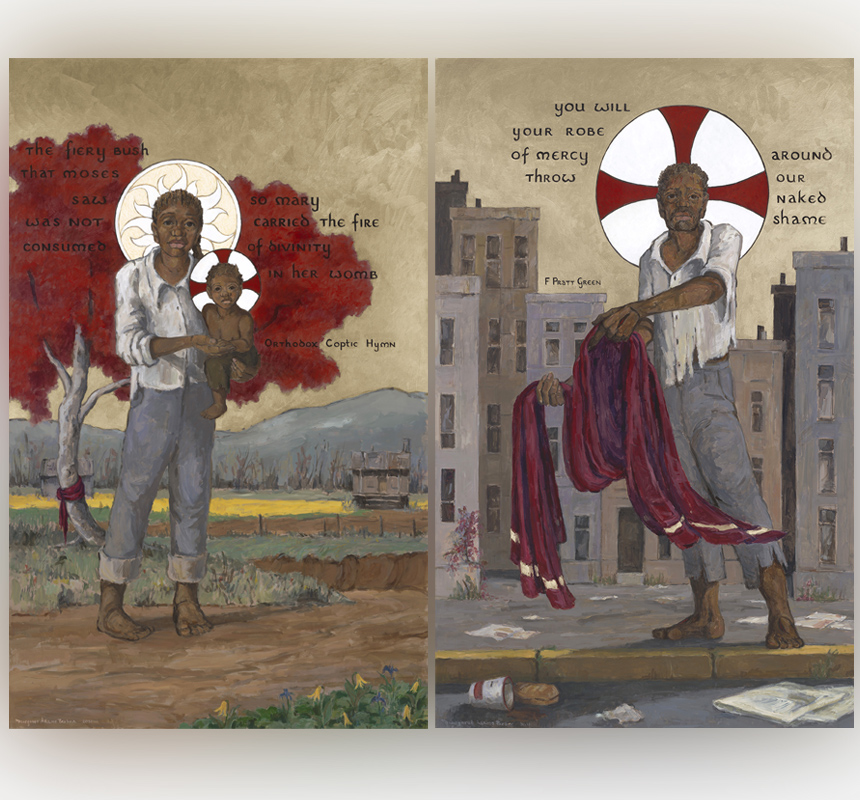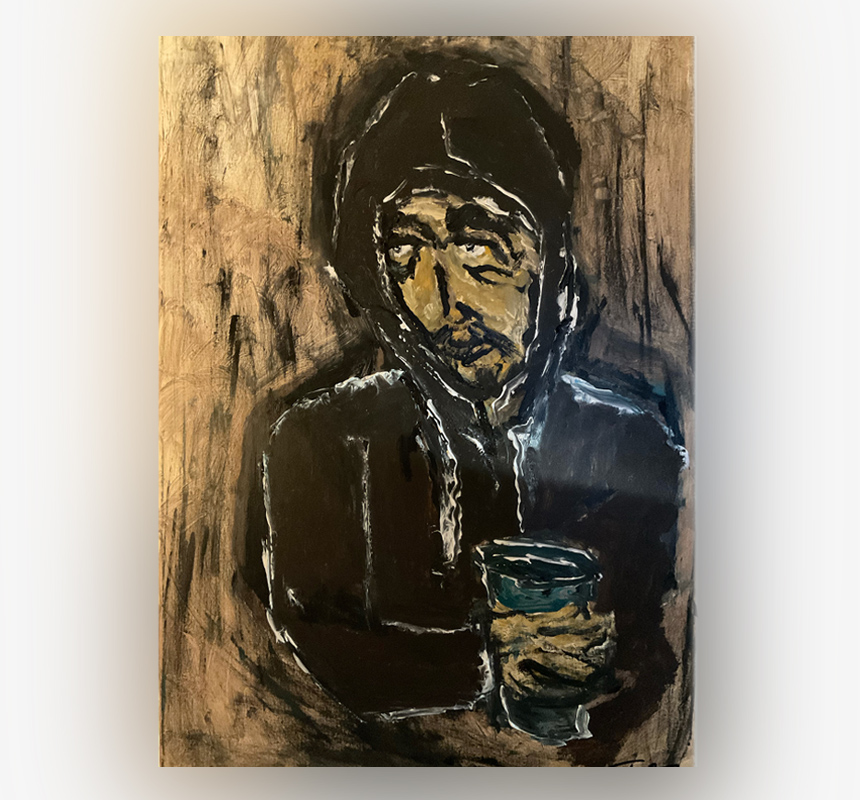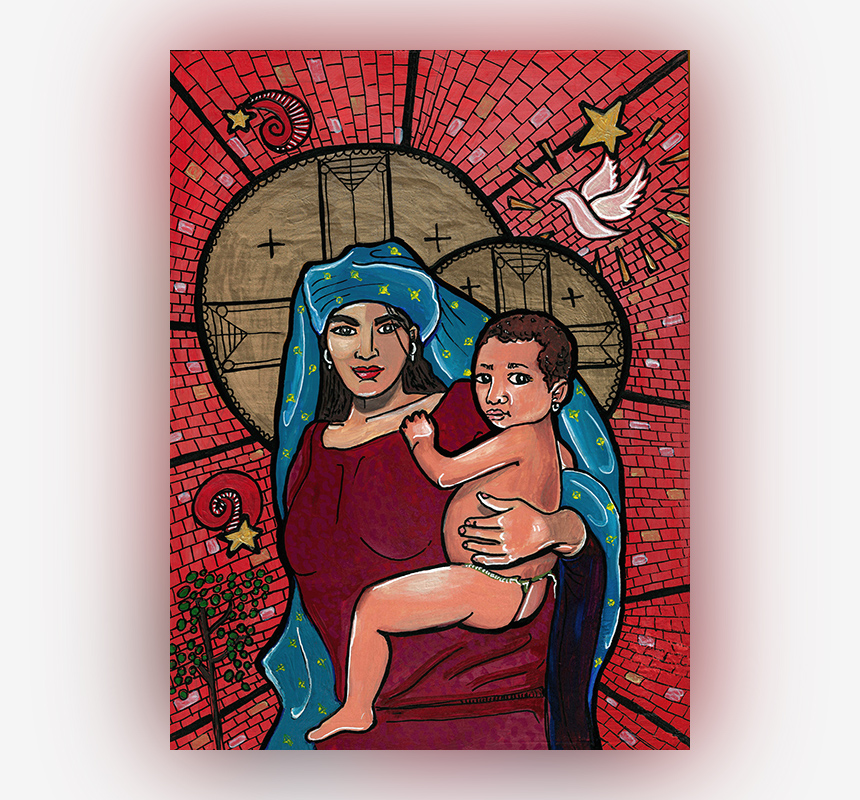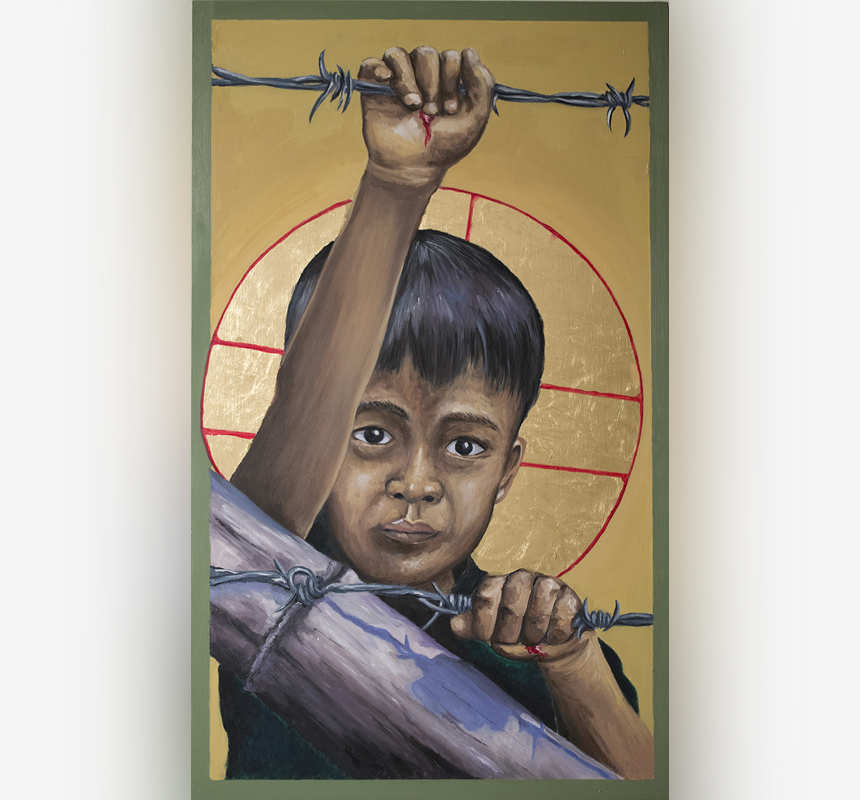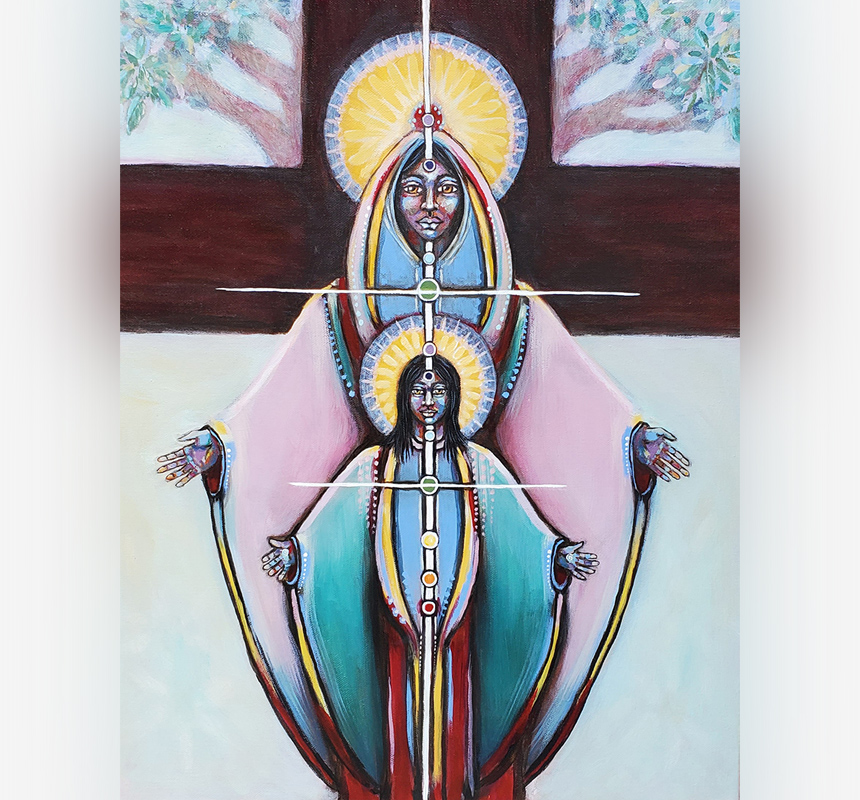 Some of the exhibit's artists took license to envision Christ as a woman, a Latino child, or a brother on the street sporting a halo-shaped afro and smoking a blunt. Each of the 40 pieces invites the viewer to imagine Christ as more provocative and edgy than the sanitized version we're used to seeing.
"There are some people that will deny [that Christ was not white]," said Matt Parsley, of Harrisburg. "But I consider it to be a fact."
On a recent Sunday, Parsley, who is white, viewed the exhibit with friends Helena Felix and Tracy Cisney. "In the long term, this exhibit could have an impact," he said. "That's the whole point of art, is to challenge your way of thinking."
For the Very Rev. Dr. Amy D. Welin, the dean of St. Stephen's Episcopal Cathedral, where the exhibit is displayed, it's not a stretch to think of Christ as someone other than white and ethereal.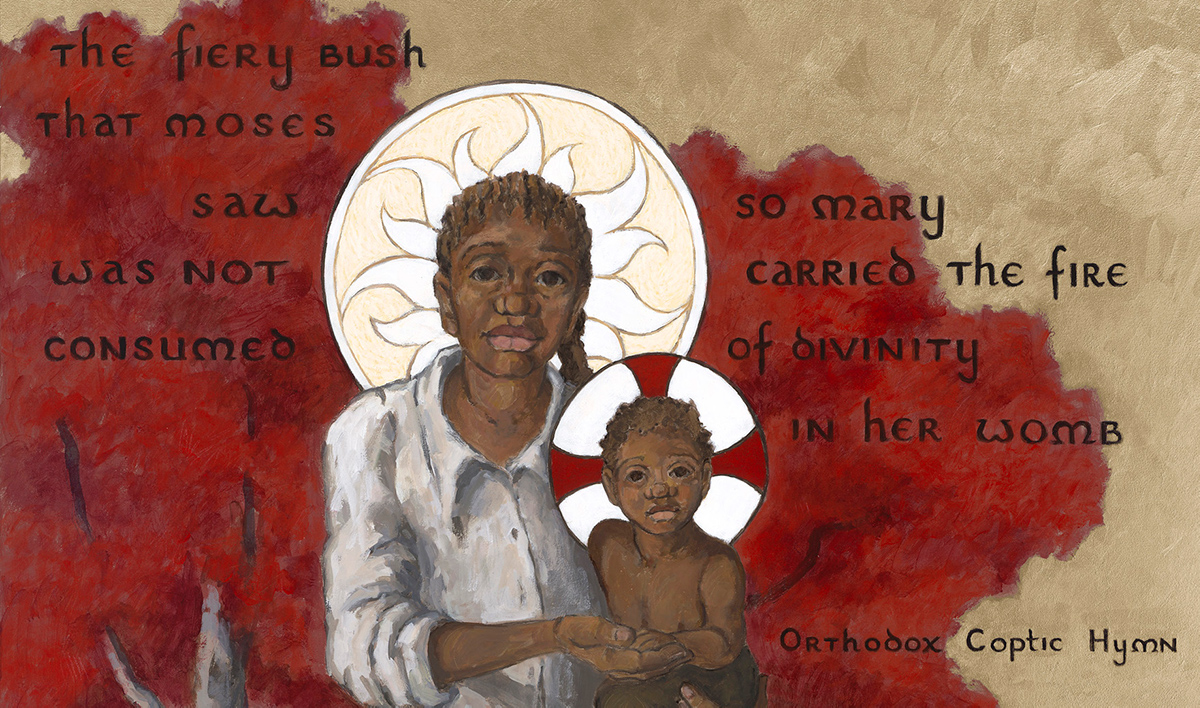 "Christ was edgy, and he hung around with edgy people," Welin said. "We've so emasculated Christ that he's like our pet gerbil. He's not threatening — he's nice. He's the Good Shepherd. But we also see in the Bible that he's kicking ass in the temple; he's turning over tables. So he was good, but he wasn't nice."
We are in St. Stephen's, strolling through the sanctuary, an immaculately reverent space that welcomed an average of 150 congregants every Sunday before COVID-19 hit. The images of "DeColonizing Christ" are juxtaposed with the stained-glass images of Bible characters, all depicted as white, that line either side of the cathedral. Taken together, the disparate images create an interesting theological debate.
"We all enculturate Jesus. Every tribe. We all paint him as one of us, which is fine, because we want to be close to God, and that's what people do," Welin said.
If any of these images challenges you, why do you think that is?
"But then we learn that the images of Jesus were used to silence and oppress people in Latin America and Indigenous people and the enslaved in the United States. So there's this fine line that says we want Christ to be one of us … but we don't want him to be one of you."
The narrative of Jesus being "one of us" was normalized through commercialization of Sallman's "Head of Christ" painting, the one that hung in my grandmother's house. It has been described as the "best-known American artwork of the 20th century."
Sallman, a religious painter and illustrator from Chicago, styled the painting to appeal to 1940s American Protestant audiences, and it was soon printed on prayer cards and circulated by all denominations, regardless of race. The image, which has been reprinted more than 1 billion times, defined the nation's religious culture, creating another white default that most Christians took for granted.
"I always thought Christ looked like one of my people," said Welin, a self-described pale-skinned Irish American. "I went to a Catholic high school, and the images we had in textbooks and religious art were of a Jesus who was definitely European."
It wasn't until she was well into her 30s that the revelation hit her: according to the Bible, Christ was a Palestinian Jew. Even as a medieval history major, Welin was never taught that. Years later, after Trayvon Martin was murdered, she started to consider how white supremacy manifests itself in ways big and small. It wasn't lost on her that public outcry had forced the removal of certain public monuments and other symbols of the nation's racist past. Meanwhile, every Sunday, the stained-glass images in her own church stared at her almost mockingly.
"It became really clear that the image of Christ had been commercialized and promulgated," Welin said.
How could your congregation explore the enculturated history of Christianity as part of formation and worship?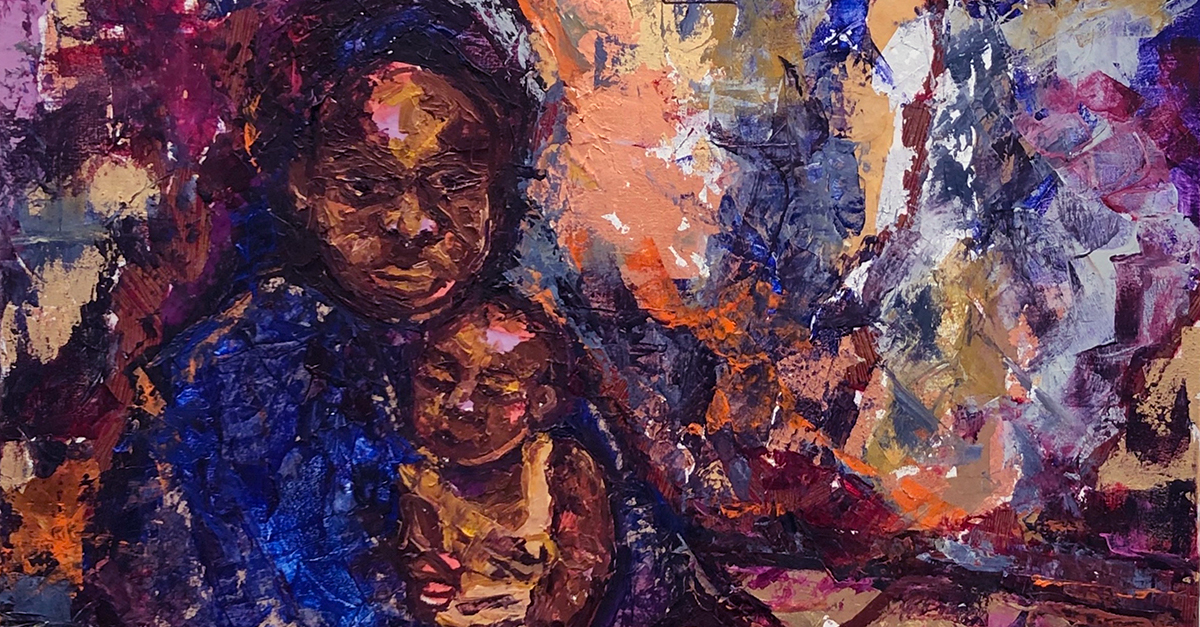 Last year, a parishioner told Welin that if she really was serious about doing the work of diversity and inclusion, she need look no further than her own sanctuary. "Because all of the iconography in the cathedral says this is a white space," he told her.
"And I was like, 'Wow, we need to broaden our palette. This is an opportunity,'" the priest said.
Welin met with staffers at the Art Association of Harrisburg to brainstorm about the concept. One of them pointed out that it seemed the theme of the exhibition should be decolonizing the image of Christ.
"And that's how we got our title," Welin said.
She enlisted the Rev. Mack Granderson, the pastor of Crossroads Christian Ministries Church, also in Harrisburg, to chair the selection committee. A music major from Philadelphia who for years owned a jazz club in Harrisburg before going into ministry, Granderson was well-qualified to lead the project. In the '80s, he served for seven years under then-Gov. Richard Thornburgh on the Pennsylvania Council on the Arts.
The committee reached out to artists, universities and arts organizations in New York, Pennsylvania, New Jersey, Delaware and Washington, D.C. They secured a grant from the Arts for All partnership, a collaboration between the Cultural Enrichment Fund and the Greater Harrisburg Foundation.
In all, the show features 28 original artworks, plus a dozen on loan from private collections. Although the images are unquestionably thought-provoking and confront racism in diverse interpretations, there is a troubling omission. All but seven of the 17 participating artists are white, and two out of three cash prizes awarded in the juried exhibition went to white artists. Michael Reyes, a Franciscan friar and trained artist from the Philippines, won the People's Choice award for his work "Christ the Dreamer."
If some of the most-praised works in an exhibit that seeks to challenge white supremacy are created by white artists, and if lived experience is the biggest informer of personal expression, what does that mean for the exhibit?
It's a question that gets to the heart of the complicated nature of racism, intended or not. The novelist Toni Morrison once noted that she worked hard to write without the intrusive "white gaze," the idea that Black writers must explain cultural references to white readers, must hand-hold and make them feel comfortable.
How does the art in your church reflect your congregation's beliefs?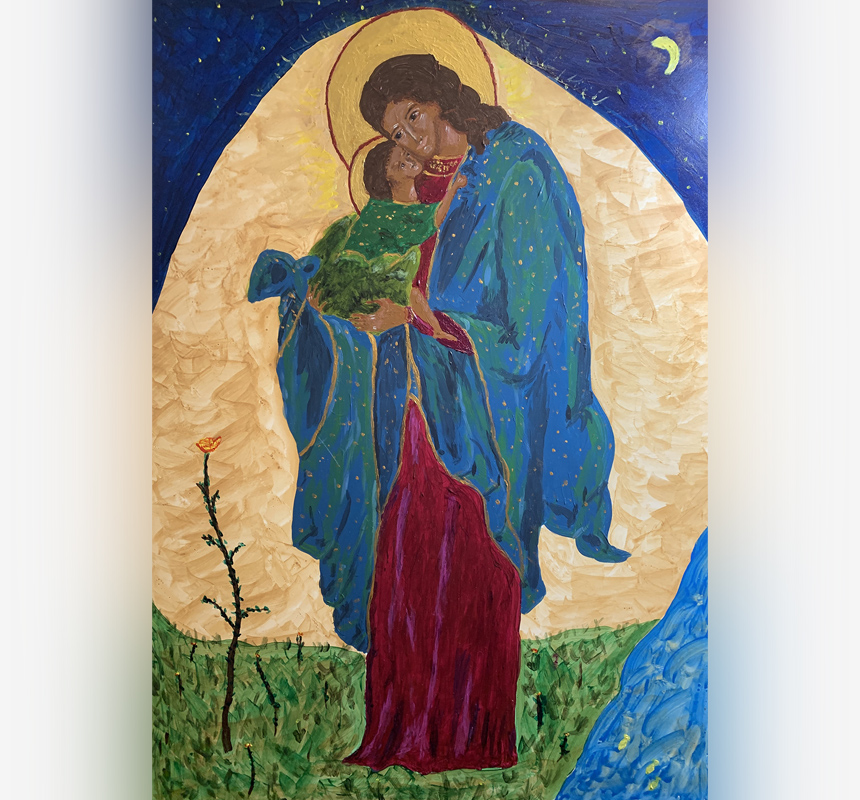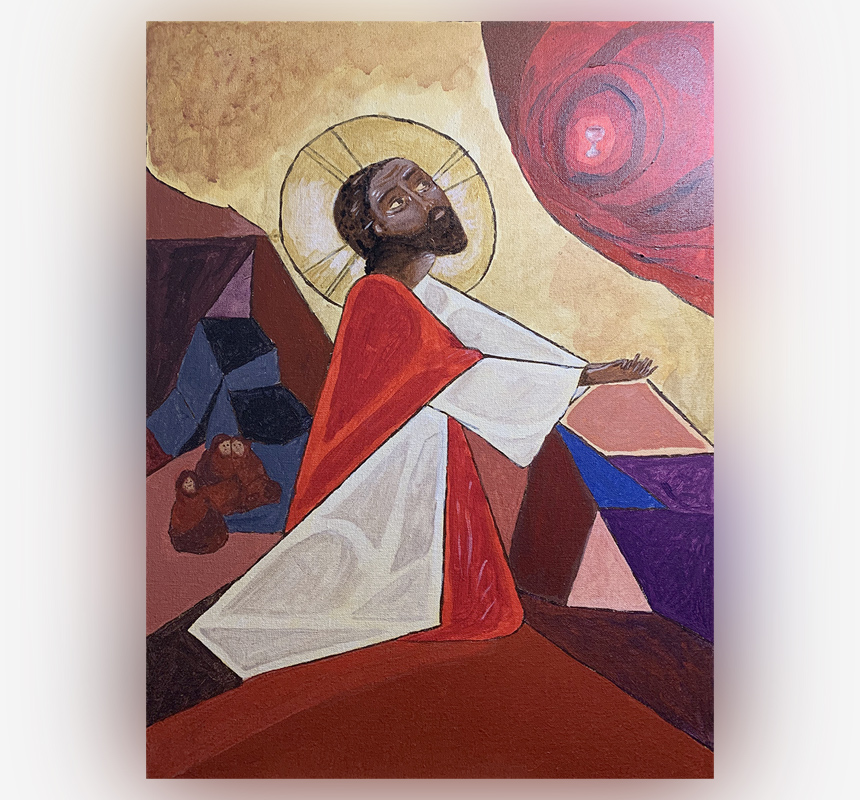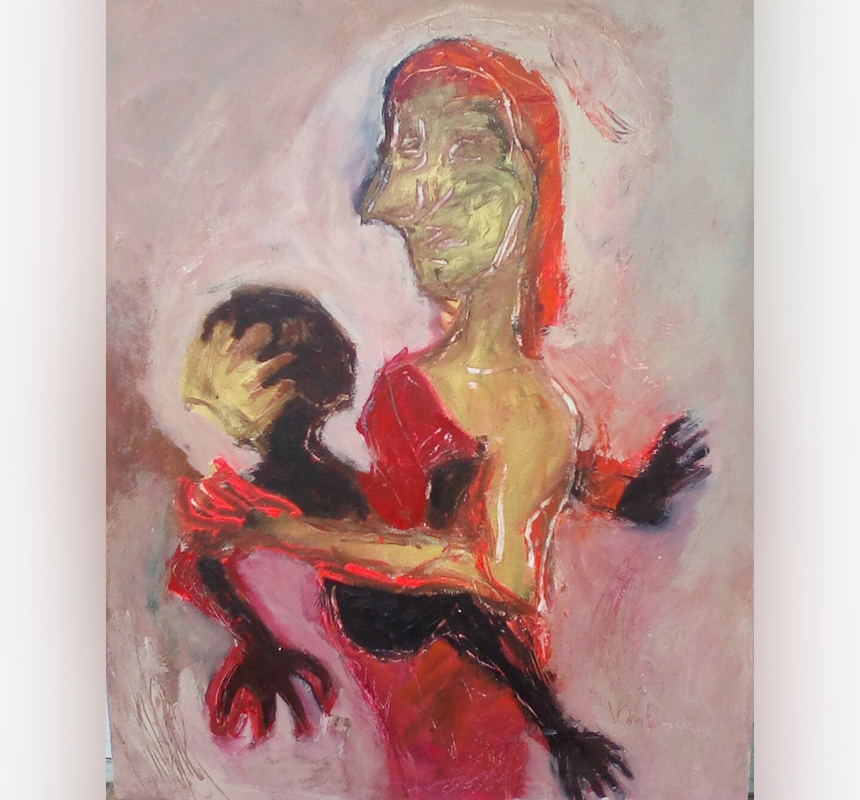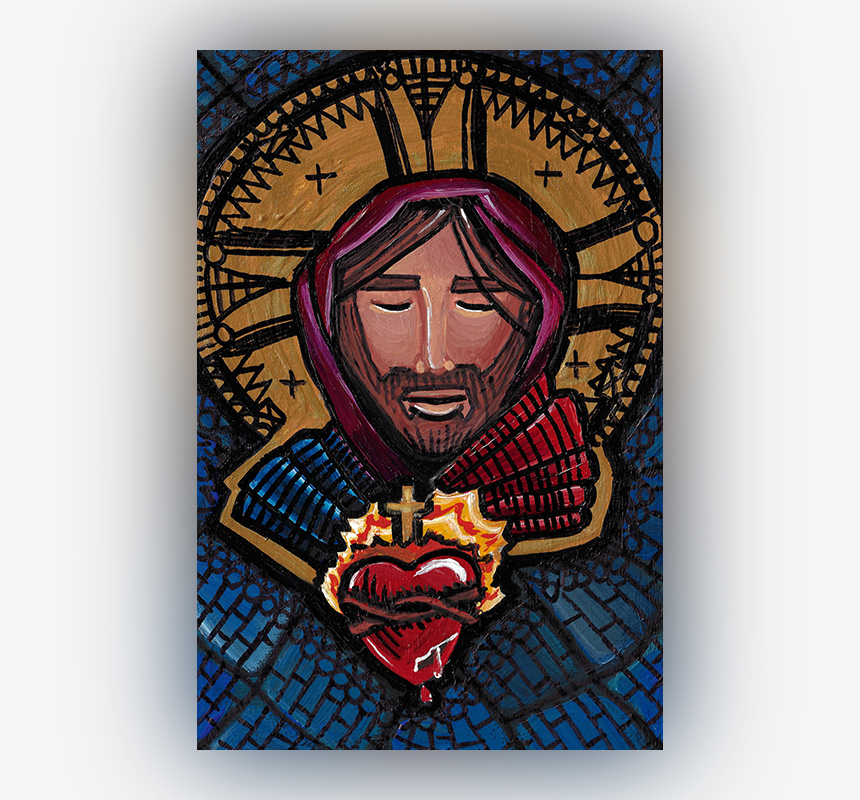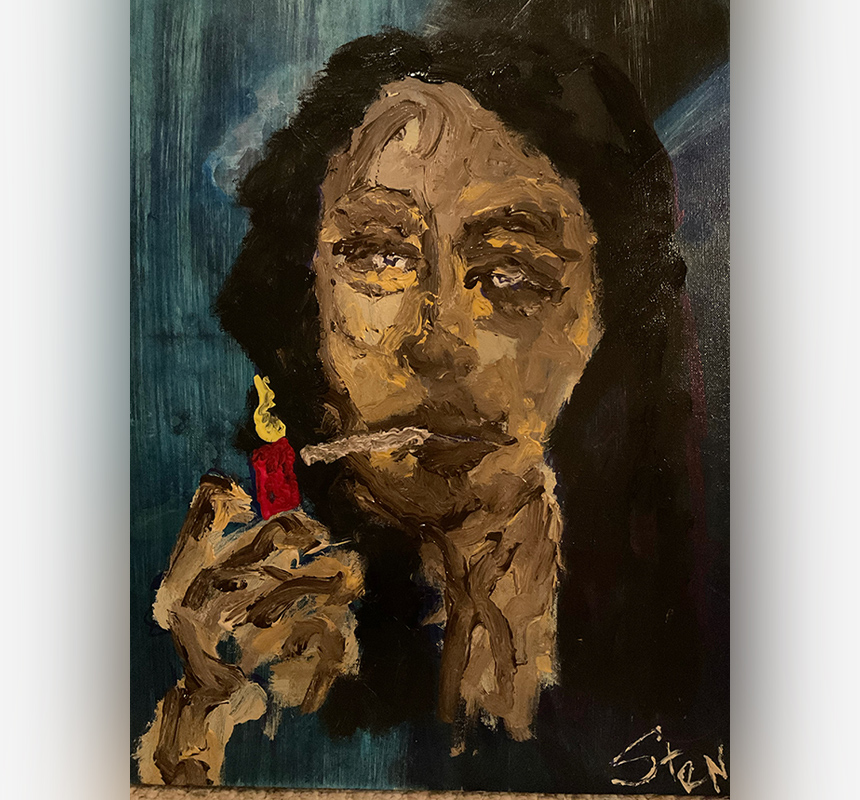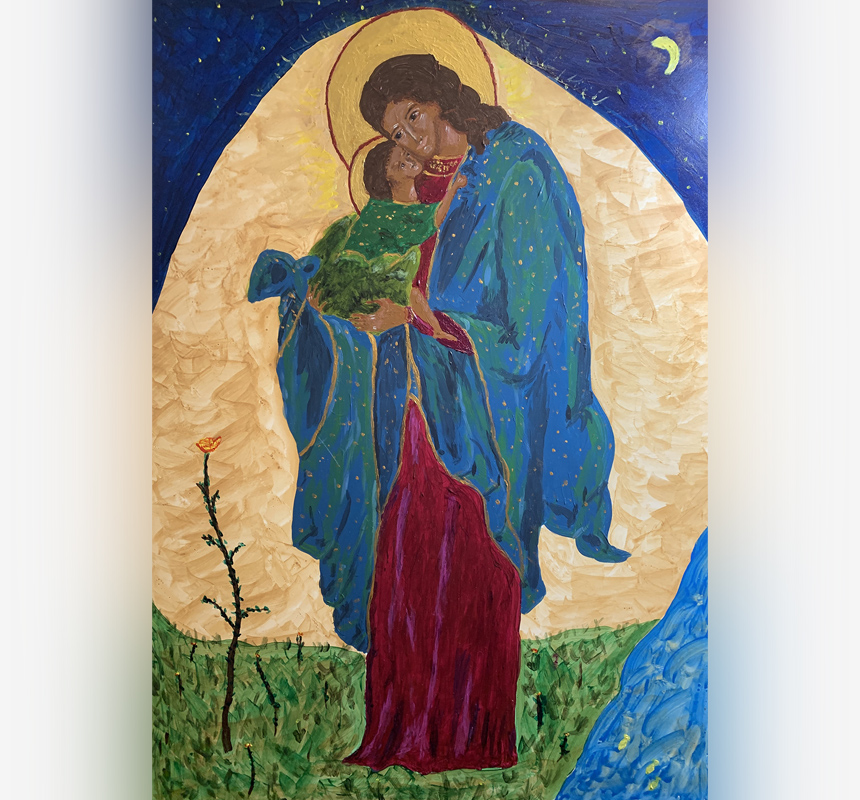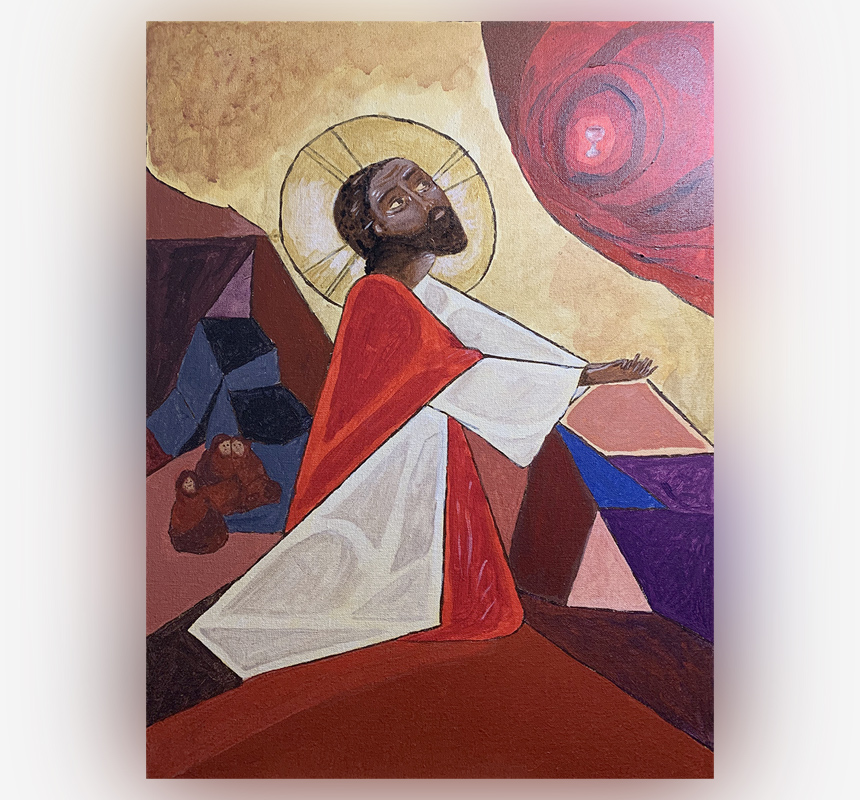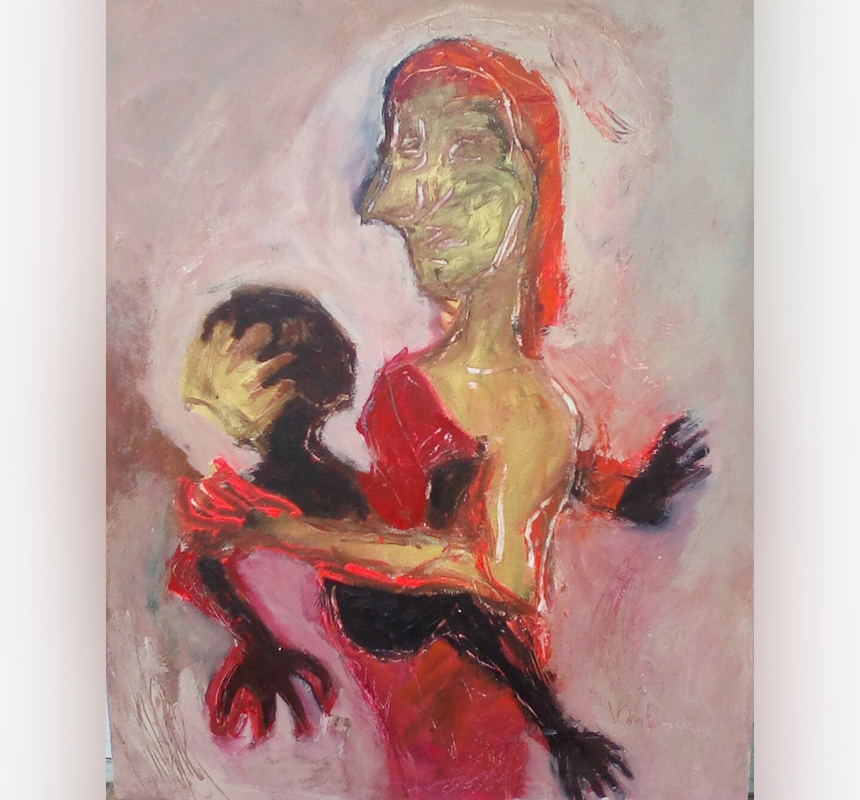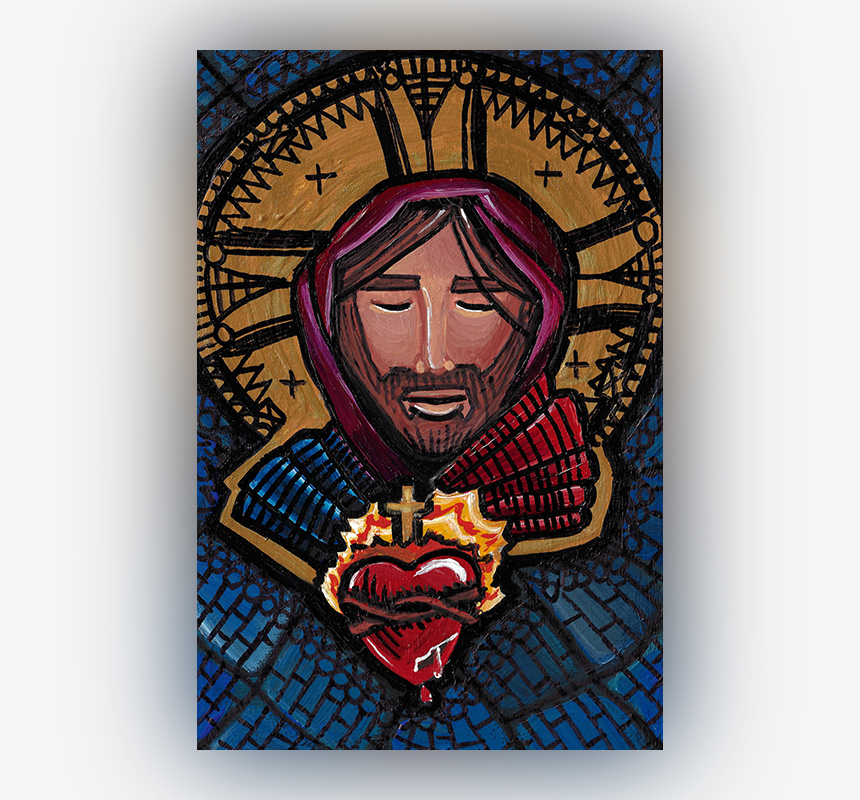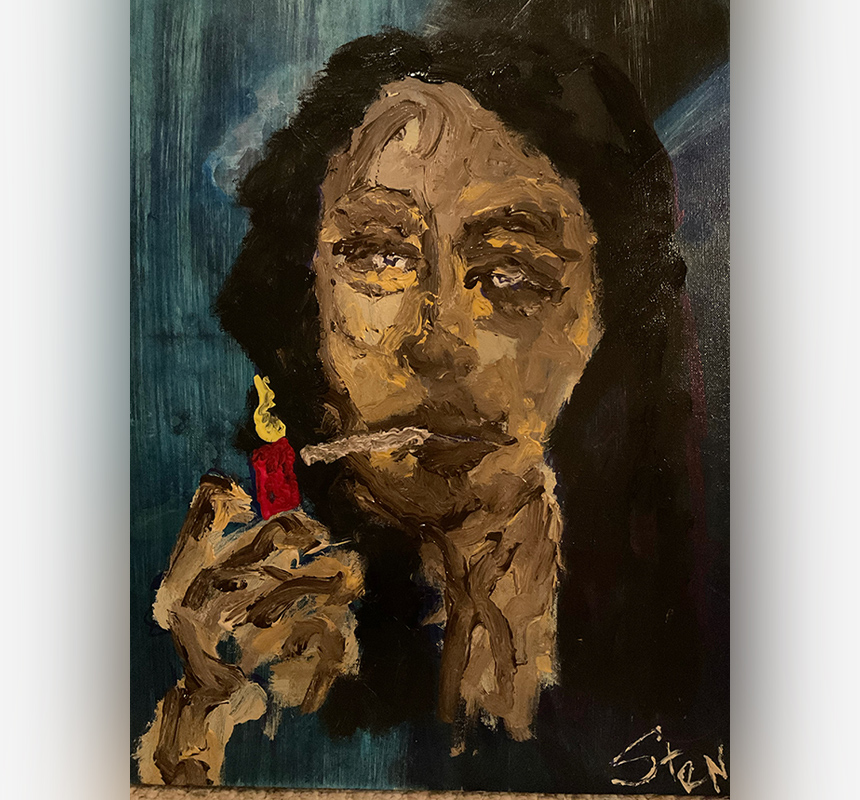 Lori Sweet, of Harrisburg, award winner of the Bishops' Prize for her work "The Healer," admitted that she hesitated to enter a piece in the show because her previous religious works focused more on the feminine and nature. Portraying Christ as a person of color didn't fall into her wheelhouse, in part because she is white.
"I did feel like, 'Who am I to represent this, because this isn't my experience,'" said Sweet, who has a background in social work. "But it's been part of my life's work to stand up and be present for people who are oppressed and suffering and bear witness to that. So I feel honored and grateful that I can stand in solidarity with others on this issue — and it's continuing to inform me."
"The Healer" features an olive-skinned, hooded-robed Jesus. He has a direct gaze and full lips, holding a lamb that represents "not a sacrifice but the true and authentic part of who we are, the delicate and vulnerable part," Sweet said.
"I think when people look at each other, they're seeing the outward appearance," she said. "And I guess I see Christ as being able to look beyond the surface and being able to see the sacred in each of us, and that is healing."
In your church's context, what gaze is missing? How might it be valuable to include that perspective? How might you invite it in an authentic and respectful way?
Best in show went to "Pantocrator in Black and Brown" by Brian Behm of North Carolina.
For Granderson, who is Black, the lack of participants of color was disappointing, though understandable. His years serving on the Pennsylvania Council on the Arts taught him that recognition for artists of color, getting their works displayed in galleries and museums, has been an ongoing struggle.
"But then something came to mind," Granderson said. "I was very excited for white artists, because they would have to go through something internally to create an image of Christ from Palestine. There will also be a reckoning that must take place with the person who is seeing the exhibit. I would hope that kind of conversation, even if it's an internal conversation, must take place."
Not surprisingly, countercultural images similar to those in the exhibit have drawn controversy. St. Louis artist Kelly Latimore's "Mama," depicting a Black Virgin Mary cradling Jesus' body after his crucifixion — with Jesus portrayed as George Floyd — was recently discovered to be missing from a public exhibition of Catholic University of America's Columbus Law School. Officials at the school replaced it with a smaller version.
Latimore, meanwhile, has faced death threats.
"I think, unfortunately, racism is part of a lot of it, especially death threats [that include] derogatory remarks about George Floyd specifically," Latimore told Religion News Service, adding that some of the threats took issue with any depiction of Jesus as Black.
"Really white supremacist, racist stuff — which, theologically, is what racism is: a complete denial of the incarnation of Christ," he said.
It may be that breaking down the barriers of systemic racism starts incrementally, with art exhibits like these. "DeColonizing Christ" not only dares to see Jesus differently but does so with none of the mean-spirited bickering that sullies our public discourse today. In their introspection, exhibitgoers may see themselves differently, too.
With that in mind, Welin is giving serious consideration to hosting rotating exhibits that feature different points of view at her church. "I really like the idea of using our cathedral as an art gallery, because then we could expand our spiritual life," she said.
Harrisburg's diversity — Pennsylvania's capital city is 51% Black — demands that inclusivity be addressed. How to build community within the walls of the church is something Welin is still thinking about.
"This has been a local event," she said. "It is wonderful that this has generated conversation in other churches about the use of art to illuminate matters of social justice. So perhaps the generative outcome is an opportunity to inspire other communities of faith to consider what they can do locally to address issues of justice. Because just like politics, justice is usually a local thing."
As I sat in the sanctuary talking to Welin, it occurred to me that the exhibit was doing exactly what it was designed for — encouraging conversations that allow for expanding our worldview.
The God I know would be pleased.
"We can't make up for 1,000 years of oppression," Welin said, "but we can start to do things differently. And this is a start."
How might different visions of Jesus broaden conversation in your church and community?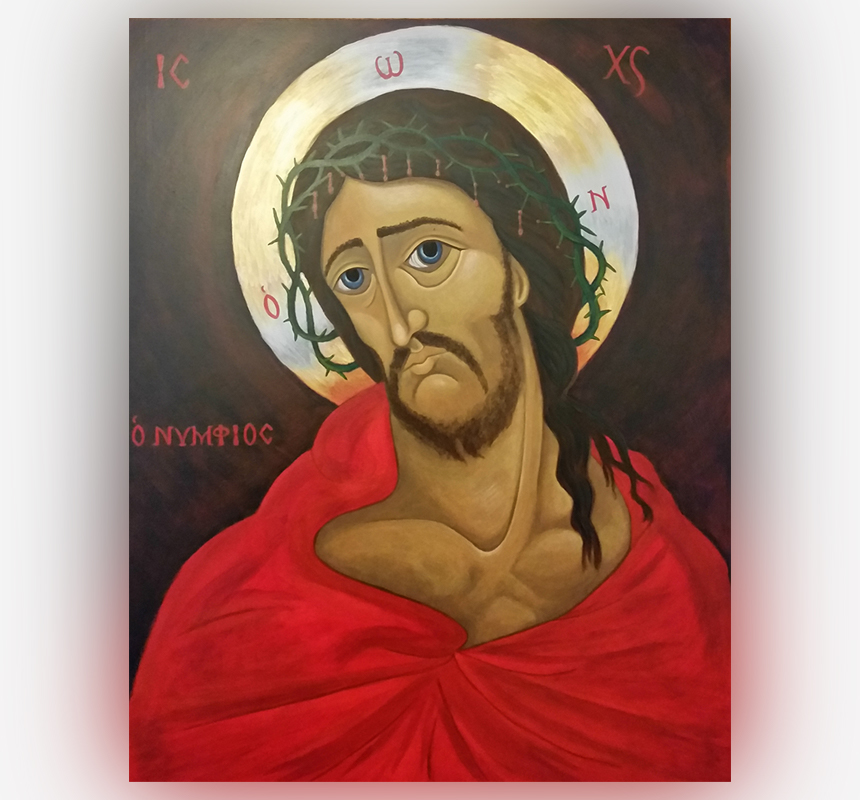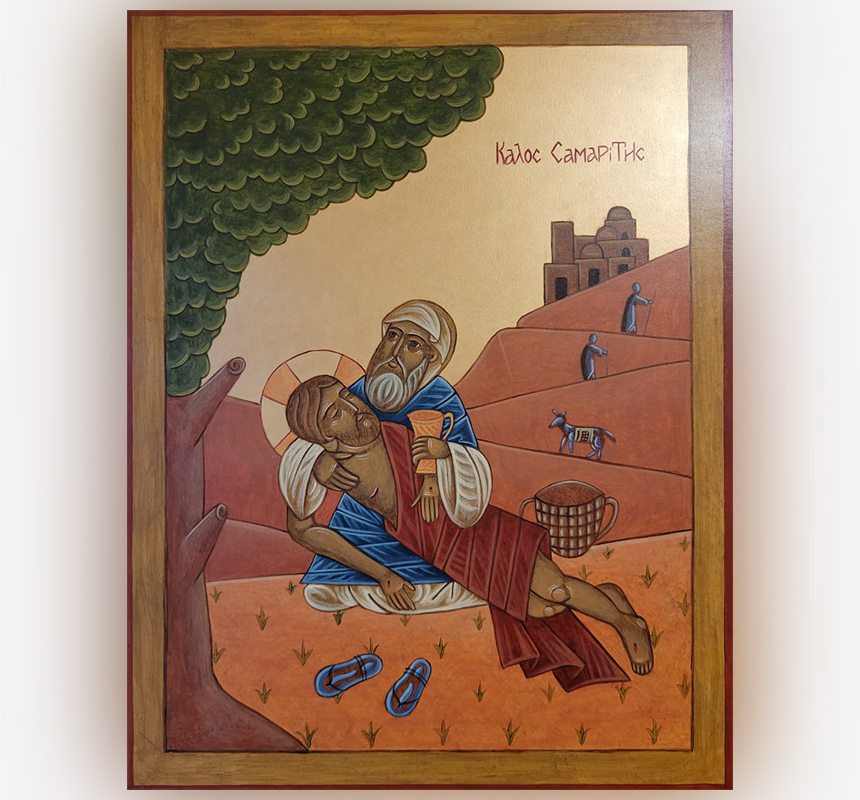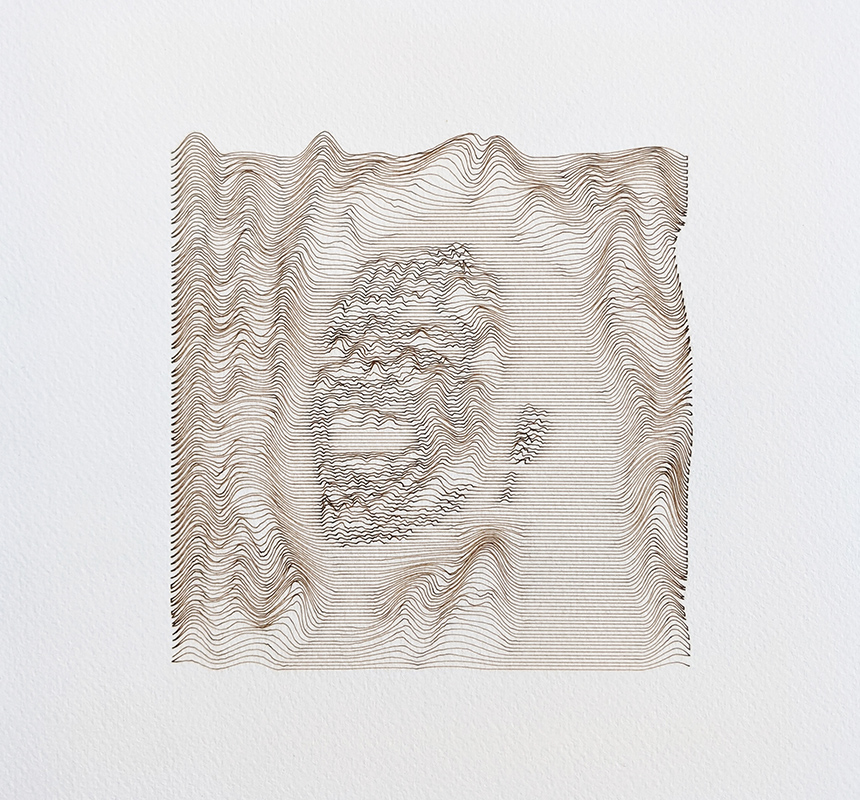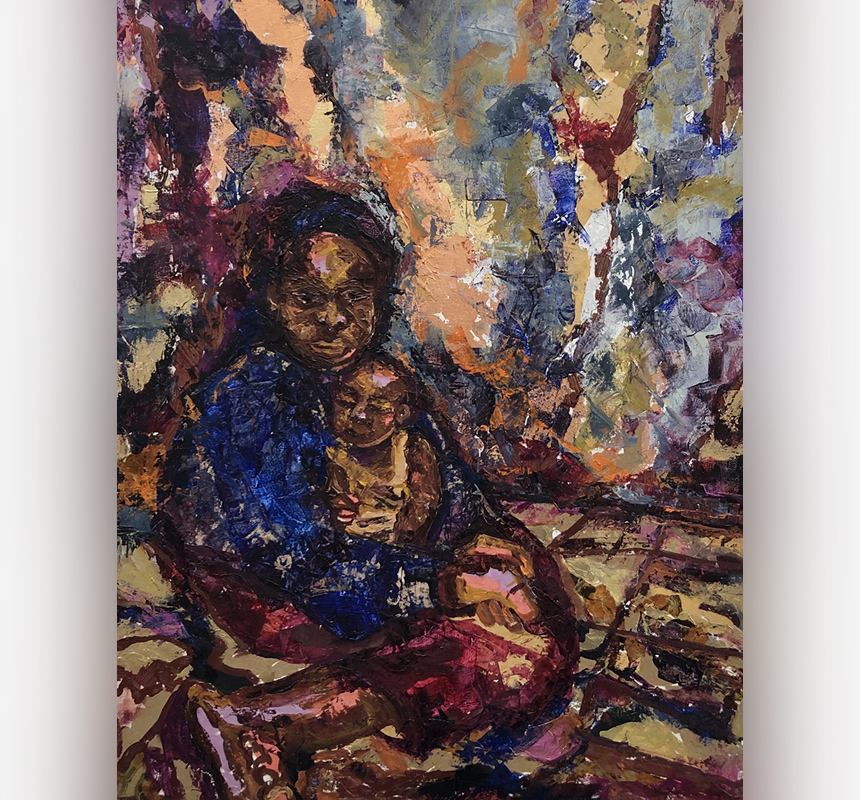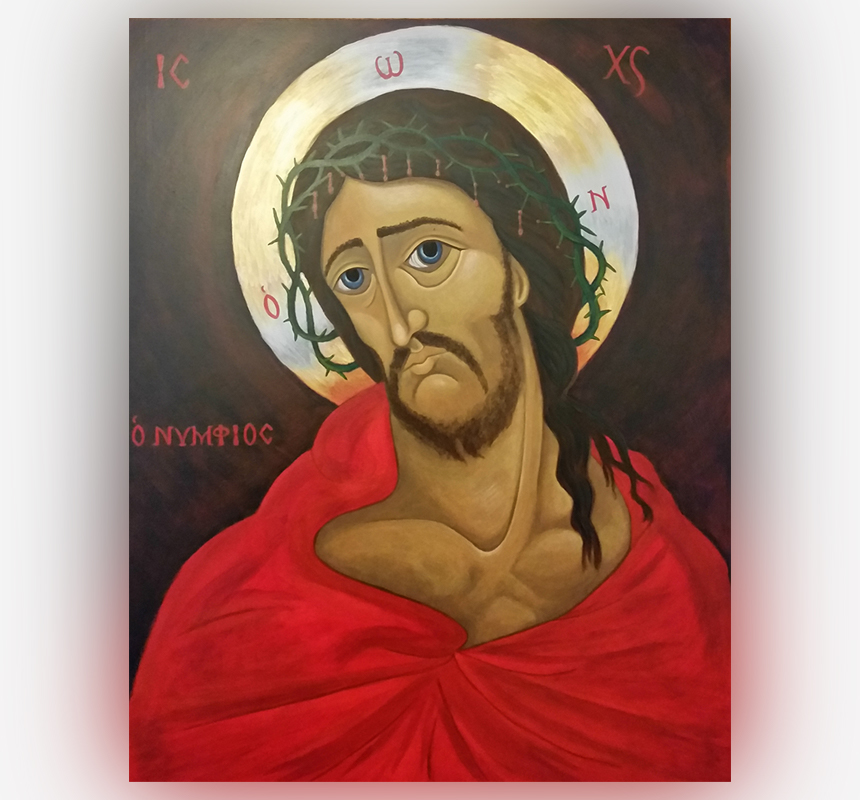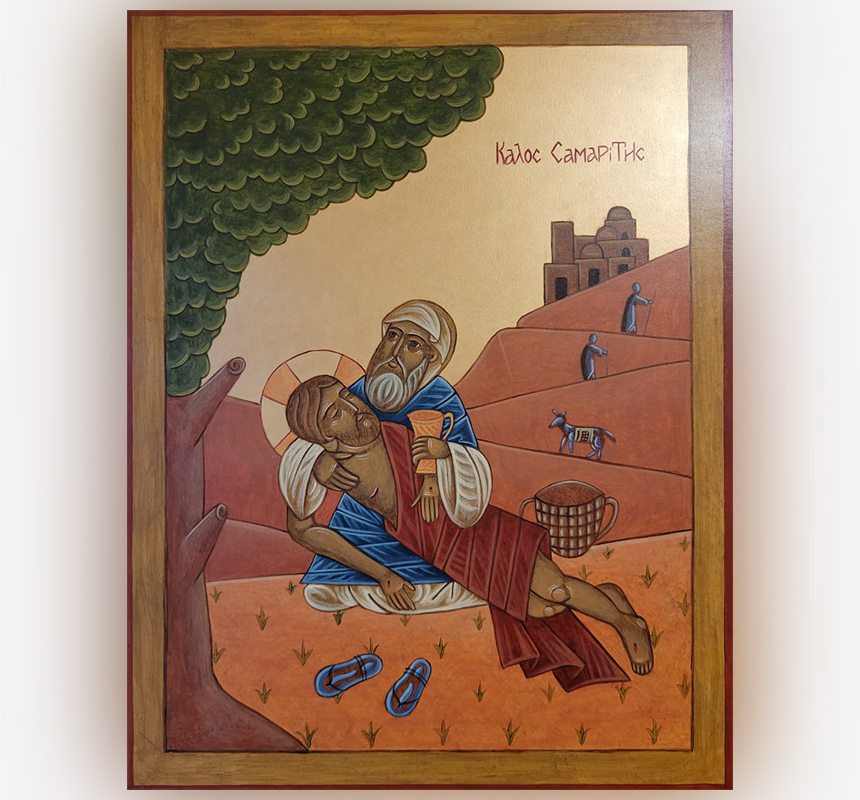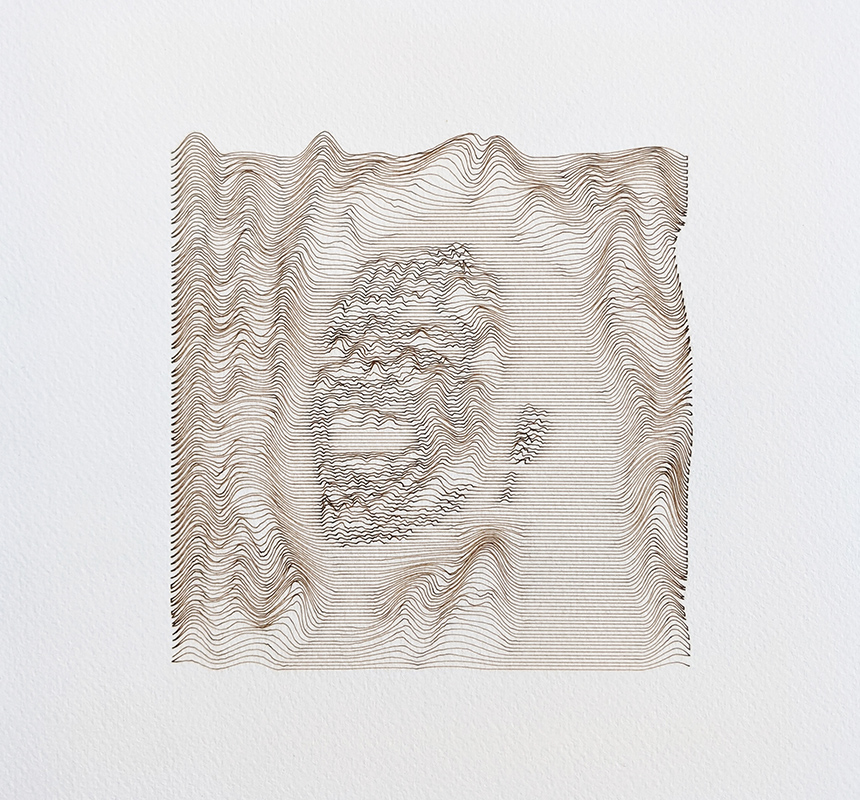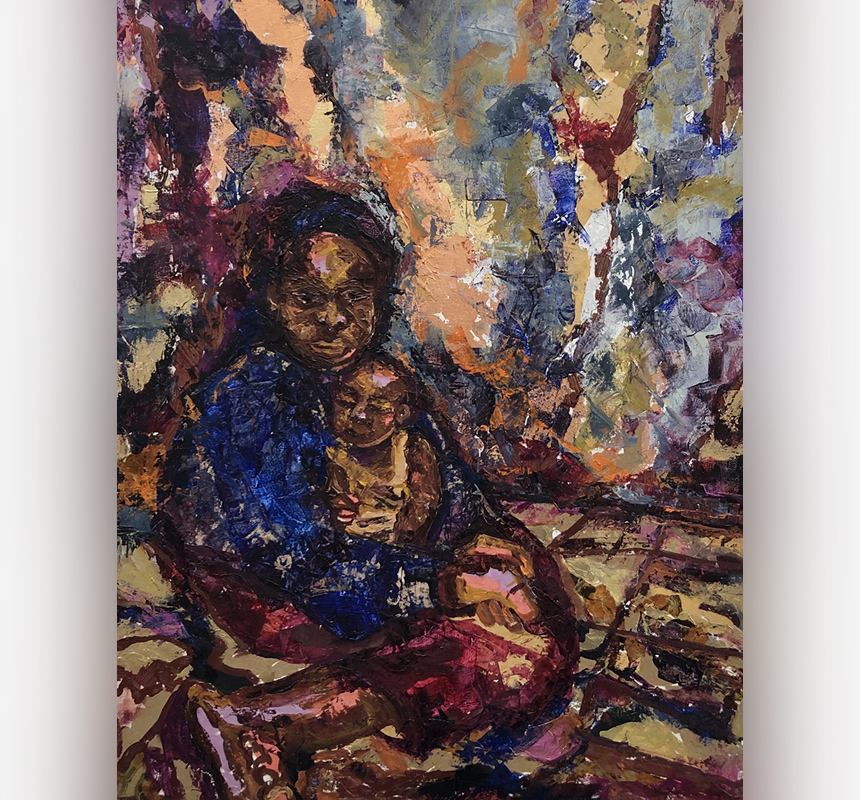 Questions to consider
What images of Jesus did you grow up with, and how do they align with your vision of Christ now?
If any of these images challenges you, why do you think that is?
How could your congregation explore the enculturated history of Christianity as part of formation and worship?
How does the art in your church reflect your congregation's beliefs?
In your church's context, what gaze is missing? How might it be valuable to include that perspective? How might you invite it in an authentic and respectful way?
How might different visions of Jesus broaden conversation in your church and community?