Eight culinary students dressed in black uniforms with chefs' caps are working carefully at their stations in a spacious commercial kitchen. They've already reviewed the proper techniques for cleaning and removing tails from shrimp and cutting fish into filets, best practices for purchasing, and more. Now they've prepared and cooked the recipe of the day: cioppino, a classic stew featuring the shrimp and filets along with leeks, in a rich tomato broth similar in color to the students' red aprons.
As they talk quietly in Spanish, the time comes to present their creations. Culinary instructor and veteran chef Ed McIntosh is not disappointed.
"Beautiful," he says to one student, studying the stew in a silver-toned pan.
McIntosh offers feedback as he tastes, pulling down his mask to take quick bites.
"Good," he says to another student, adding a tip to "just watch your shrimp."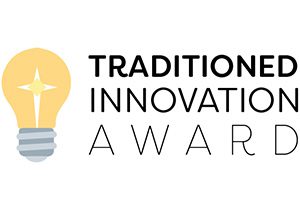 Leadership Education at Duke Divinity recognizes institutions that act creatively in the face of challenges while remaining faithful to their mission and convictions. Winners receive $10,000 to continue their work.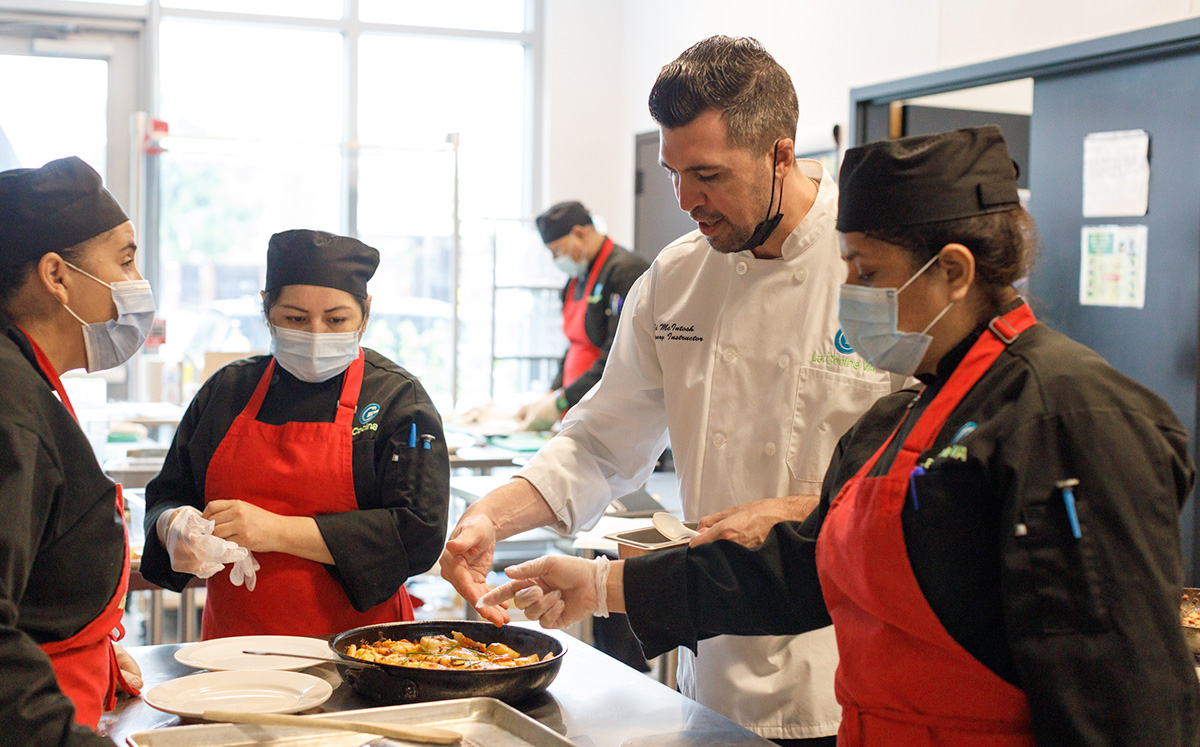 This is a typical day at La Cocina VA, a nonprofit in Arlington, Virginia, that seeks to "use the power of food to create social and economic change in low-income communities." Founded by Patricia Funegra, the organization works with immigrants, refugees and victims of domestic abuse and other trauma to provide support via job training and placement along with culinary certification.
Though La Cocina VA is not a faith-based organization, it has worked closely with two local churches since its founding. Their collaboration shows how churches can join forces with community organizations to bring about change — offering vital support and partnership to existing innovation rather than independently beginning new church-based ministries. It also provides a model for moving beyond direct service to skill building and community empowerment.
Now housed on land that previously belonged to Arlington Presbyterian Church, La Cocina VA has served more than 200 students in English and Spanish and created relationships with more than 40 food and hospitality partners, including restaurants, markets and hotels. Like many in the food industry over the last two years, the organization also has battled COVID-related challenges, but La Cocina VA has still managed to open an expanded location with a cafe that serves the community.
"We know that we are definitely making an impact in the lives of the people that give us the chance to work with them," said Daniela Hurtado, the nonprofit's director of programs and a former chef herself. "There is a huge connection."
What skills, rather than services, are needed in your community? What can your congregation do to go beyond providing a service?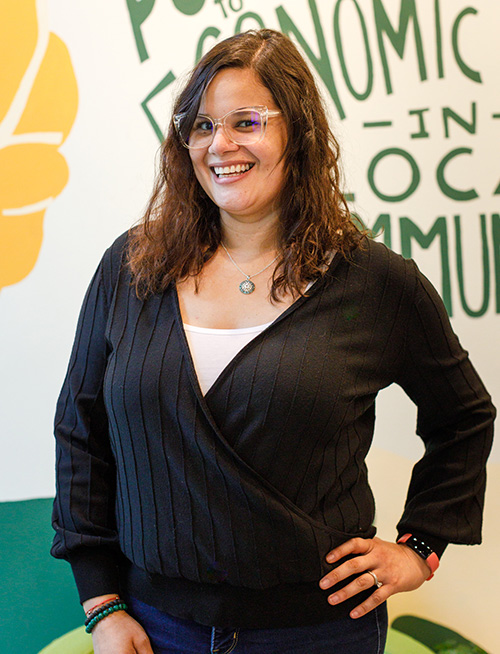 In the beginning
La Cocina VA has raised more than $2.5 million since 2018 to build out its expanded D.C.-area location — complete with a commercial kitchen with stainless steel appliances, a walk-in refrigerator and a variety of supplies. But as is usually the case, things started smaller.
When she first had the idea to create a nonprofit, Funegra — who was born in Peru and moved to the United States in 2007 — had been working in the nation's capital. She was employed at the Inter-American Development Bank, helping contacts in South America, Central America and the Caribbean with projects in workforce development, women's rights and other issues.
But Funegra thought there was more she could do. She began volunteering at DC Central Kitchen, a nonprofit offering culinary programs and job training to formerly incarcerated people.
She started by chopping carrots and onions, and then an idea materialized. She saw so clearly that "this is something that we could offer Latinos, especially knowing the large population of Latino immigrants that work in food establishments," she said. Funegra worked after-hours to network, research and validate her idea even as she held down her day job.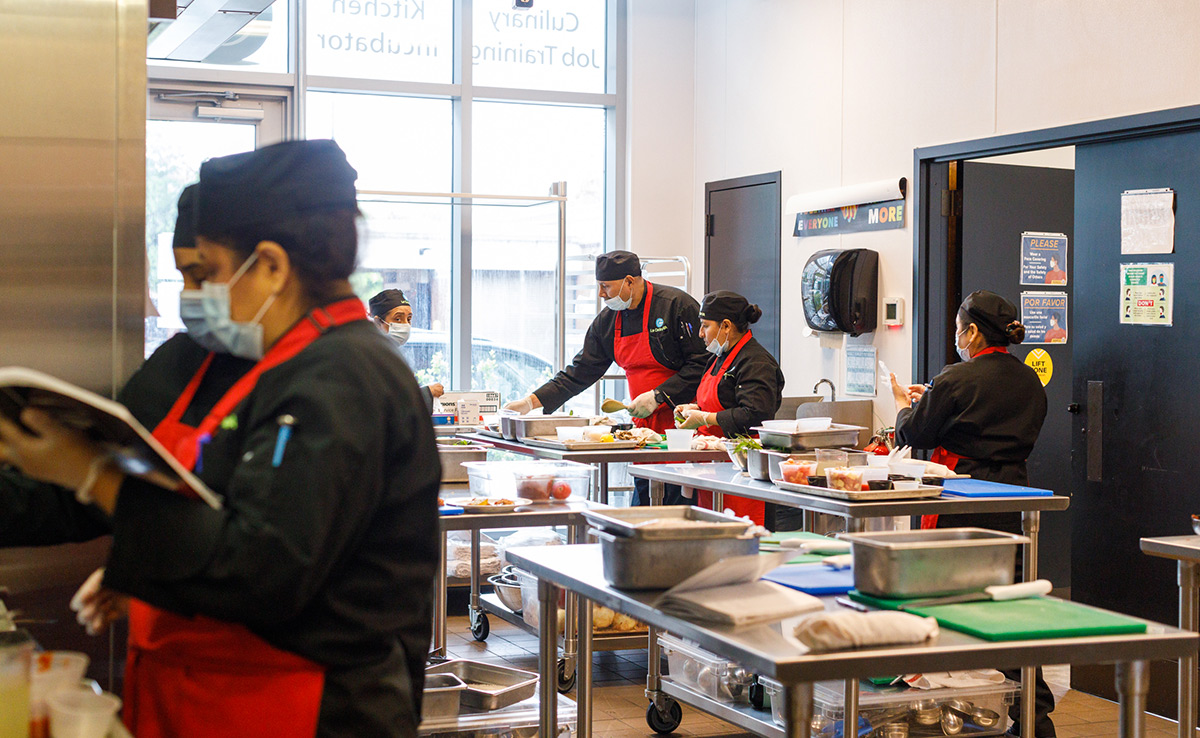 She eventually registered the new organization and went back to connect with DC Central Kitchen. And she built a relationship with a local community college that could offer certificates to graduates. Along the way, Funegra, now La Cocina VA's chief executive officer, realized that a church could be a great partner.
"I learned that churches in the United States, especially the older buildings, have beautiful kitchens that are underutilized," she said. And with that, Funegra was off, knocking on the doors of Catholic churches, Presbyterian churches, "all the different denominations," she said.
When she connected with Arlington's Mount Olivet United Methodist Church, things really started to move.
What resources are underutilized in your church?
An initial 'match made in heaven'
While Funegra was making her rounds, Mount Olivet had already been offering community support, including a ministry to reach out to vulnerable immigrants by providing food.
"But then it became clear that we needed to do more than just provide food," said Marilyn Traynham, the church's administrator. "We needed to provide a skill."
The church had a commercial kitchen, so when Funegra shared her dream, "it seemed like a match made in heaven for Mount Olivet," Traynham said.
To start, the church managed logistics to ensure that there was adequate refrigerated space and insurance coverage for the project and that related needs were met.
"Mount Olivet has three values, and they're very important: inclusiveness, making disciples, and reaching out into the community and world," said the Rev. Dr. Ed Walker, the church's senior pastor. "While there are a lot of good faith-based nonprofits, there are also equally good nonprofits that are not religiously affiliated.
"When there's a need, you want to help find a way to meet that need."
And so they did. La Cocina VA's first cohort started in 2014, operating in the church's basement. For several years, Mount Olivet provided not only space for classes but also lunches for students, gifts at Christmas for students and their families, volunteers to help transfer meals to low-income housing communities, and other support.
"[Mount Olivet staff] were so kind. We never paid a dime, not even for toilet paper," said Hurtado, expressing gratitude to the church.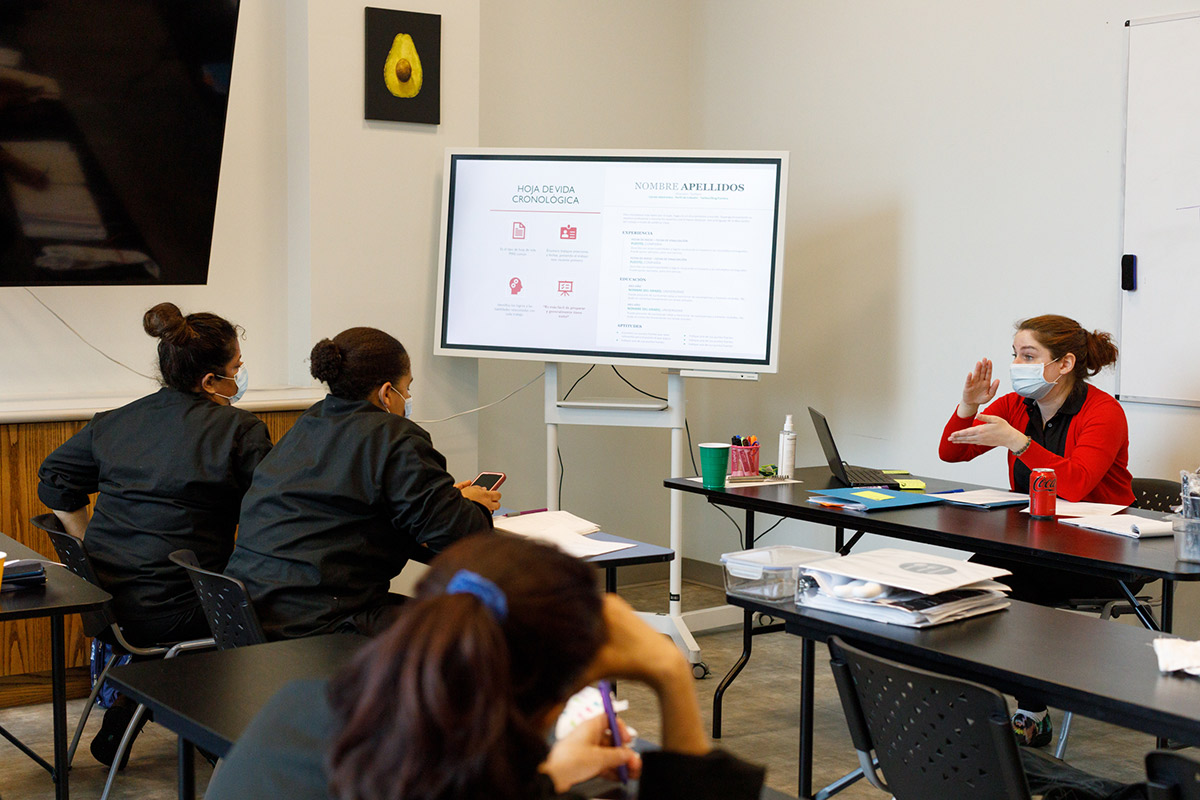 Students also received additional benefits. As Funegra explained, the program offers full scholarships, so students don't have to pay for instruction, uniforms or other needs. The program has offered stipends for students without cars or jobs.
Funegra said this kind of help can be "hard to believe at the beginning" for some members of the immigrant population. Building this sense of care is immensely powerful, she said, explaining that in addition to finding jobs, some women have been able to heal or step out on their own.
But as the program expanded, it began to outgrow its church home. In addition to helping participants with their finances and business development, La Cocina VA staff became interested in growth for themselves.
When the opportunity came to move to another space in Arlington, made available when Arlington Presbyterian Church sold its building to benefit the local community, La Cocina VA staff took it. (The church is a recipient of the Traditioned Innovation Award.)
The nonprofit relocated to its new, built-out Gilliam Place facility during the pandemic, pushing through periods of capacity restriction and at times complete closure due to quarantining. Today, if you stroll through their modern, 4,000-square-foot space, you'd never know what they have endured.
Hurtado called the move to the new training and entrepreneurship center "a big accomplishment." Its new programs include the cafe, which showcases products from the shared-kitchen members as well as La Cocina's own menu, she said.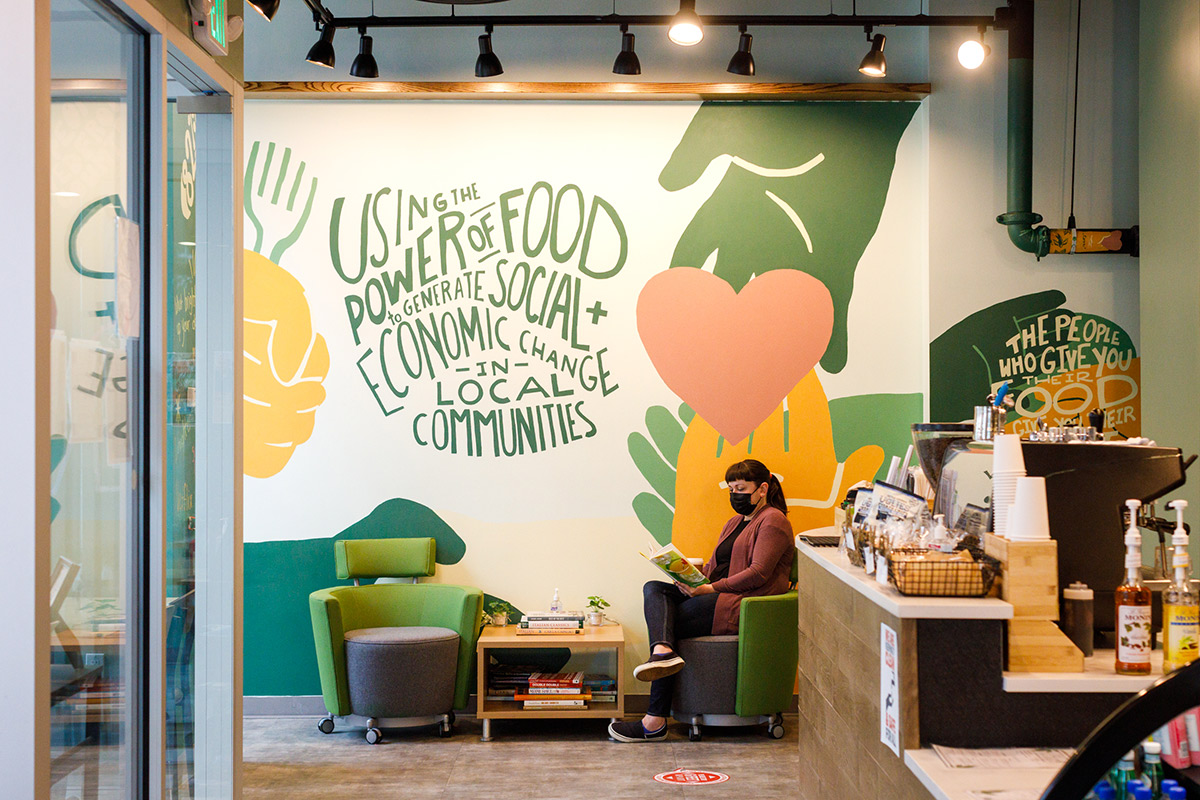 Now, the nonprofit has an operating budget of $1,662,000, according to staff members, an active and diverse board of directors, and a new partner in Arlington Presbyterian, which seeks to welcome all and "serve with compassion."
Mt. Olivet's relationship with the nonprofit continues, too. Funegra "is a very strong leader," Walker said, noting that their partnership has worked well because of how Funegra has managed the program.
For churches considering similar arrangements, he said, "my advice would be, make sure the nonprofit has strong leadership."
When working with this kind of organization, Traynham said, churches should think of the collaborator not as "a building user" but as "part of the ministry."
A present-day partnership
The new partnership that La Cocina VA has forged with Arlington Presbyterian tracks along an innovative arc for both the nonprofit and the church.
Chartered in 1908, Arlington Pres sold its building and land in 2016 to allow for the creation of affordable housing after the congregation repeatedly heard that many people who worked in the city could not afford to live there, said the Rev. Ashley Goff, the church's pastor, who now also sits on La Cocina's board.
The cost of living in Arlington, Virginia, is 44% higher than the national average, and 134% higher when it comes to housing, as PayScale confirms. And in this diverse community, disparities are real, with 6.4% of the population living below the poverty level, according to the 2020 American Community Survey.
The result of the church's rather sacramental gesture is Gilliam Place, the development where La Cocina is now located. The space's 173 affordable housing units serve people with low-income, seniors and those with disabilities — and it includes leased space for Arlington Presbyterian, Goff said.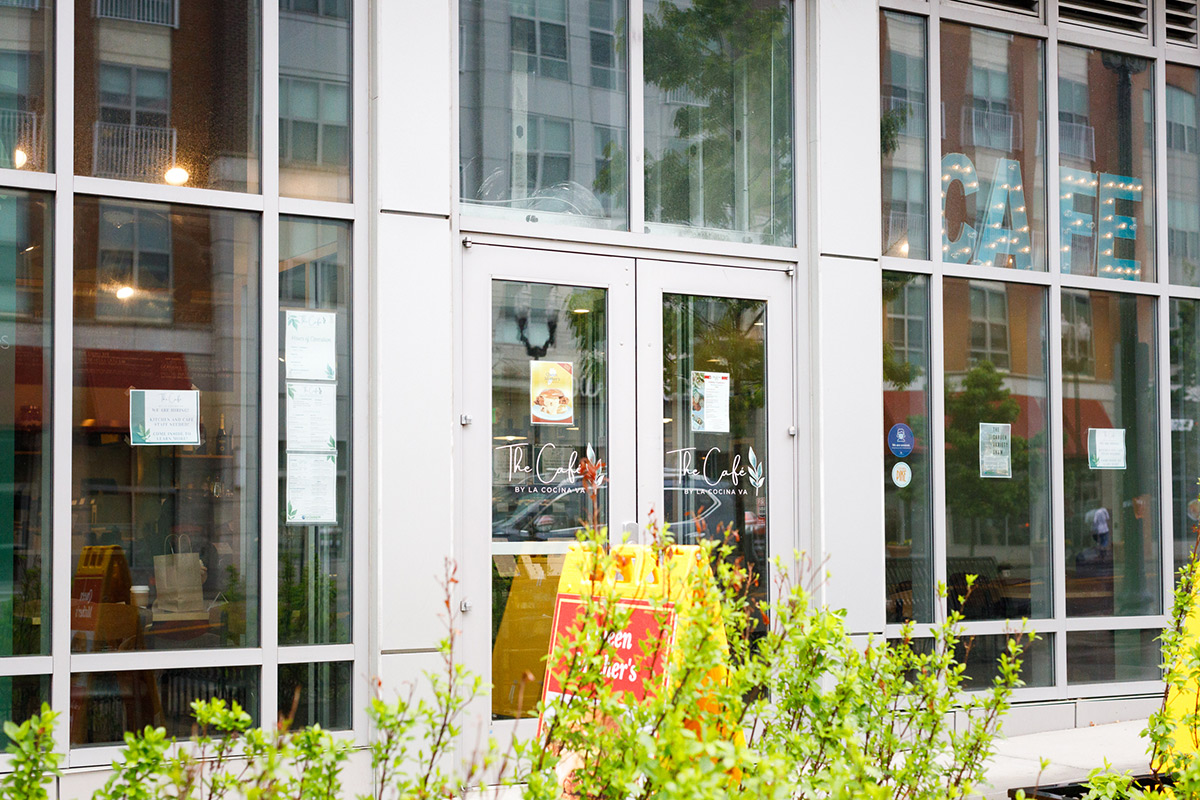 "The call from God to do something about affordable housing was bigger than the building itself, so the building had to go," she said, harking back to a quote from a church member and explaining that the church is there to be a neighbor.
Arlington Presbyterian buys food from La Cocina VA and contributes financially — including a recent gift of $100,000, Goff said. "We actually discover who we are and who God calls us to be the more that we give away."
The donated funds continue to benefit students from a range of backgrounds. For instance, a student named Elizabeth, who chose not to share her last name, said she is a trained veterinarian in her home country, but in the United States, she works as a medication aide.
"I would like to also have other options," she said in Spanish, noting a desire to work independently.
Student Sandra Luz Roman said she enrolled to improve her technical cooking skills, with dreams of opening a little restaurant serving Mexican food.
What might God be calling your church to that is bigger than the building?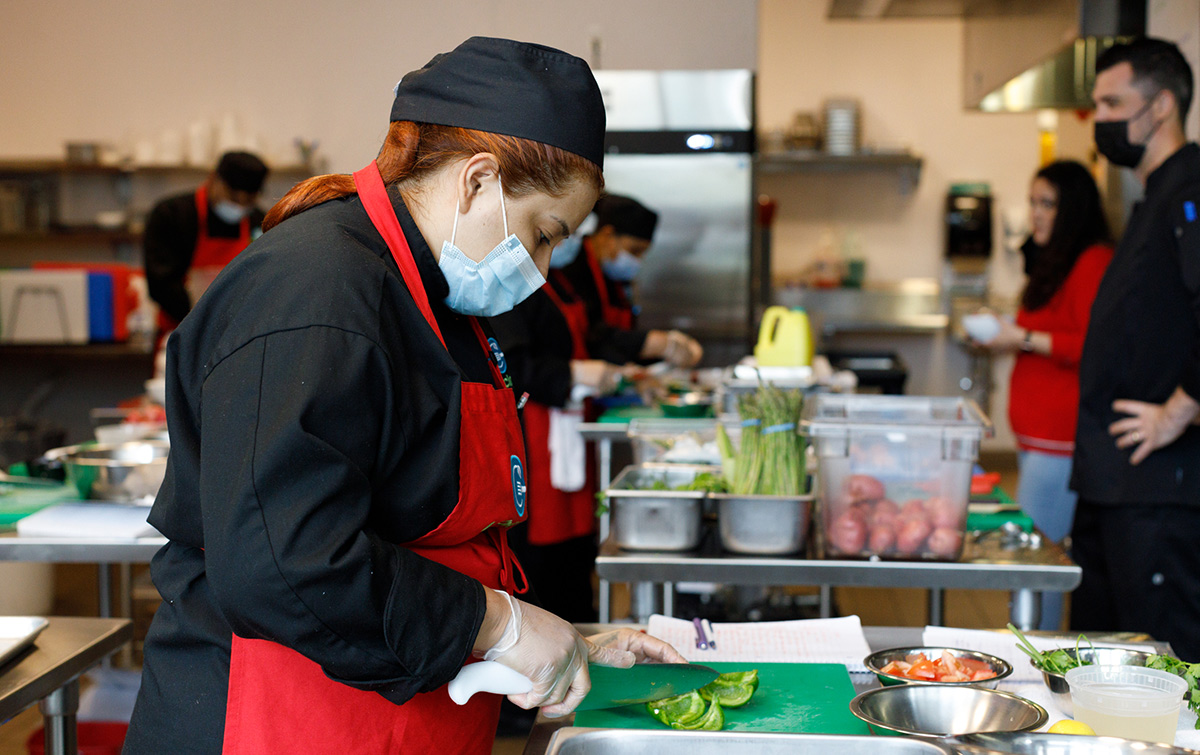 Meanwhile, student Wilmer Mejia said he studied chemistry in Peru but now works as a cook in the United States. He said in Spanish that the program lets him learn and is "offering opportunities."
And those opportunities extend beyond what is taught in the kitchen. For instance, when the morning cooking session of the program concludes on a Friday in May, students straighten up their stations and move to an adjoining classroom to learn about formatting resumes.
When they shift rooms, they leave the kitchen spick-and-span. Bowls are nestled within each other. Large onions are piled in a clear container. Measuring spoons and cups are housed in storage spaces. It's almost as if the students were never there.
How does your congregation discover who God is calling it to be? How do you discover who God is calling you to be?
And yet the impact of La Cocina VA's work, and the churches with which they've partnered, is clear. The program is teaching Spanish- and English-speaking adults. Matching them with jobs. And creating hope.
As this work continues, Hurtado said, their faithful partners have been huge supporters.
"We definitely feel the love," she said. "We have definitely been blessed by these two different churches."
What does a faithful partnership look like for your congregation?
Questions to consider
What skills, rather than services, are needed in your community? What can your congregation do to go beyond providing a service?
What resources are underutilized in your church?
What might God be calling your church to that is bigger than the building?
How does your congregation discover who God is calling it to be? How do you discover who God is calling you to be?
What does a faithful partnership look like for your congregation?
As the Rev. Lisa Friedman of the Unitarian Universalist Church of Minnetonka observes, few people wake up in the morning saying, "I want to read property deeds."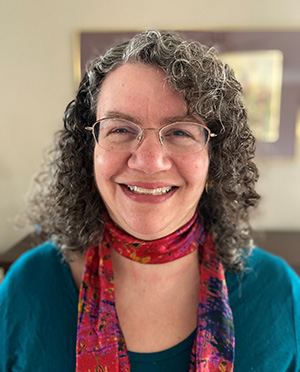 But members of the Minnesota congregation have done just that, going online to join thousands of other volunteers in transcribing racially restrictive covenants from historic property records. These restrictions, prevalent in the first half of the last century, kept people who weren't white from buying or occupying certain property.
Friedman's congregants are far from alone in seeing both the reward and the responsibility of joining in uncovering data that continues to have an impact in the present day. Faith communities across America have found opportunities to offer their help to such projects — and have learned about their own history and locations in the process.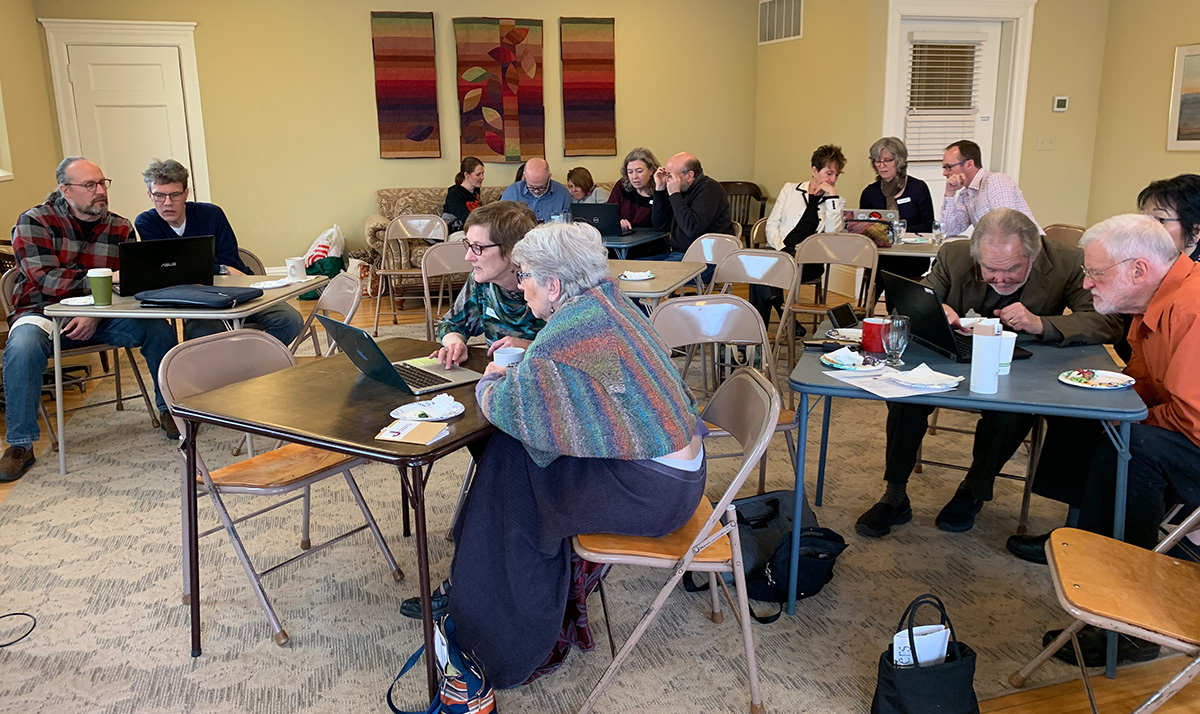 In joining the massive crowdsourcing data effort known as the Mapping Prejudice project, UUCM church members were helping expose the racist practice of land covenants, which drove segregation in Minneapolis, neighboring suburbs and many other U.S. cities. Such housing policies created the foundation for racial disparities in education levels, employment, poverty rates and homeownership across the country, with some of the largest gaps persisting to the present-day Minneapolis-St. Paul metro area. The U.S. Supreme Court held in 1948 that such covenants were unenforceable, yet it wasn't until 1968 that the federal Fair Housing Act made them explicitly illegal.
"We went through a process of learning as a congregation as part of our commitment to racial justice and looking at what it means to repair past harm and how housing impacts so many other things, housing and other inequities," Friedman said. "That learning has rippled out to the neighborhood, to the city and to a larger story. … If we want to be an inclusive, justice-oriented community, it is really important for us to take a stand and raise this awareness."
What projects in your city help uncover community history?

The participation of the Unitarian Universalist Church of Minnetonka in the Mapping Prejudice project is just one example of how churches and their members can contribute to developing data and learning from it. The process can help members and congregations understand their history, manage programs and services to meet changing needs, and take part in or learn from surveys about how their cohorts are responding to the pandemic and other issues.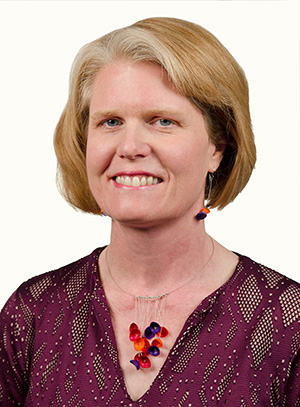 Faith organizations were some of the first to step up to join Mapping Prejudice, according to the project's co-founder and director Kirsten Delegard. Research she found shows that one way to change people's thinking and introduce new concepts is to do so in a place where they feel safe and have trusted relationships with other people.
"There's already a framework [in faith communities] for understanding moral responsibility," Delegard said. "There's an engagement — 'What is my role in the world? How can I make the world a better place through my action?' People are joining a faith community often because they want to put their faith in action. This provides a really good vehicle for that."
Researching local parish deeds for restrictive covenants will be among the subjects of a new online course the United Methodist Church is to begin offering in September, according to Ashley Boggan Dreff, the general secretary of the General Commission on Archives and History for the church.
The Local Church Historian School course will be self-driven over 14 to 15 weeks and will include video and interactive assignments from leading Methodist scholars and archivists on additional subjects such as determining which documents to save and how to archive them, Dreff said.
Are there experts around you who could help you research your context?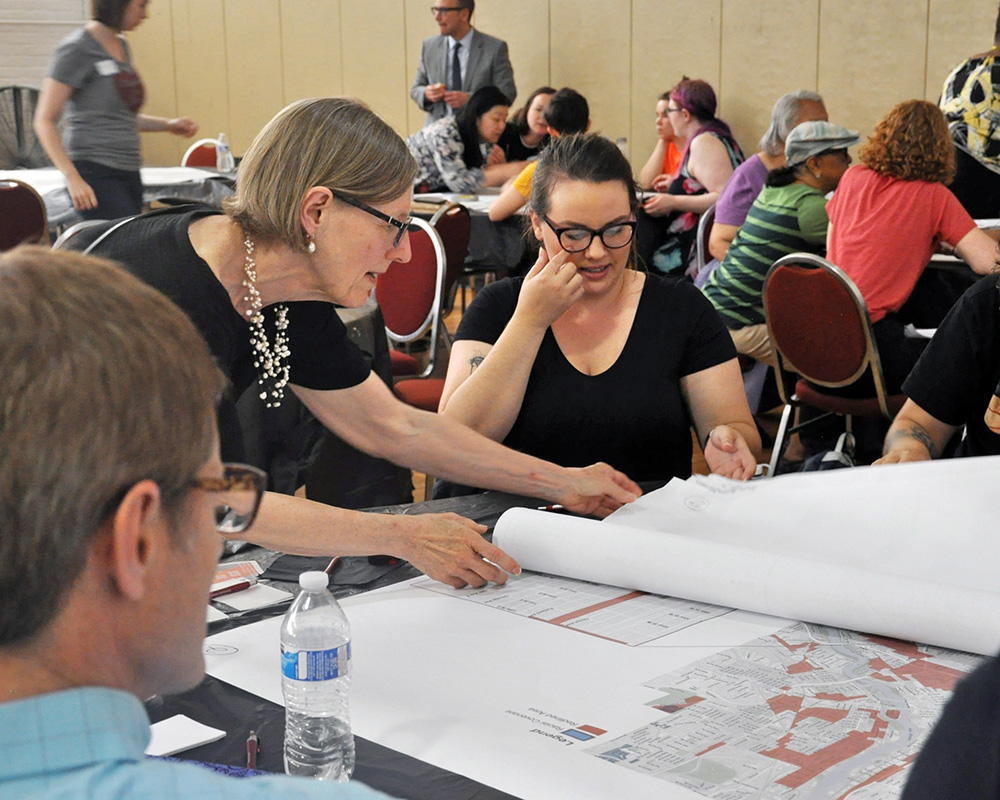 Dreff hopes the new, online format, with opportunities for participants to comment and join in community, will get more members to register for and complete the course. When the church originally offered the course through email in 2020, some 117 graduated of the more than 700 who signed up. The overarching goal is to encourage members to research church history, learning how Methodism has shaped their church and how local congregational history has shaped the Methodist movement.
"It's a way to rebuild community of a local church, to establish yourself not only as a congregation but how your congregation relates to its surrounding community," Dreff said. "What have you historically done to benefit or better the community around you? [And it's important to] explore some of the darker moments in one's past. How has the congregation not stood up for justice or been actively doing harm to those around it? There's a lot of potential in digging this out, both in terms of honoring your past and reconciling the past."
What are some primarily online activities that you could encourage your community to take part in?
When a church owns property with a restrictive covenant, members taking this course could see how the demographics of the community may have shifted from that time to the present, Dreff said. Members also could look into why their church changed locations — whether, for instance, it received the new property as a gift or whether "white flight" lay behind the move.
A supplemental course may focus on the District of Columbia, where in at least three instances, contemporary United Methodist churches with predominantly white or Black congregations are within half a mile of each other, Dreff said. At some point in history, Black members walked out of the white churches, bought their own property and established new, separate congregations.
"What is their contemporary relationship?" Dreff said. "Have they discussed their historical relationship? Has there been any attempt at reconciliation?"
In Milwaukee, several congregations of multiple faiths are eager to identify and find ways to discharge racial covenants in that city, according to Anne Bonds, an associate professor of geography at the University of Wisconsin-Milwaukee.
Members likely will begin transcribing deeds this summer as part of the university's Mapping Racism and Resistance in Milwaukee County project, said Bonds, a leader of the project, which is working in collaboration with the Mapping Prejudice project in Minnesota.
Also interested in taking part are two nearby Catholic parishes, one in a wealthier, predominantly white area, the other in a Black neighborhood.
"They've been trying to come to terms with the differences in their parishes in terms of the racial makeup — how they're so close together yet there's this deep divide racially and also socioeconomically," Bonds said. "They're wanting to know more about the history of segregation in their community and in their neighborhood, and how it happened."
A sense of urgency is driving interest in the project for many congregants.
"There's a recognition of the way in which these communities that are predominantly white have really benefited from these policies of racial exclusion," Bonds said. "Part of it is facing that history, and also a desire to act in faith to address what are seen as moral wrongs that have persisted. The desire and the goal to act on this and use this data is to both understand the history of the communities and to face that history but also to make change."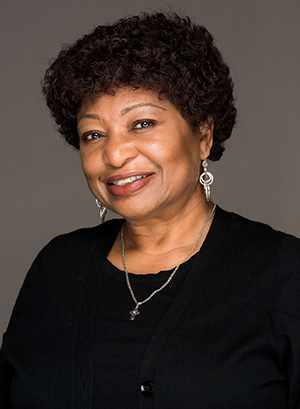 Garlinda Burton, the director of resource development for the General Commission on Religion and Race of the United Methodist Church, devoted an episode of the commission's podcast series to the Mapping Prejudice project, hoping to raise awareness to encourage other congregations to pursue similar data-driven efforts. Burton spoke to Delegard, Friedman and Daniel Pierce Bergin, the producer-director of a Twin Cities PBS documentary about the project, "Jim Crow of the North."
"The thing that we hoped to convey was that institutional and systemic racism is real," Burton said. "That it is having an impact in this very moment on how not only governments operate but how the church operates, how churches are funded, disparities in class, economics and race, education and resourcing — in this country and around the world. And these are the things that Jesus concerned himself with on his earthly walk."
Examining deeds for racial covenants helps expose institutional racism that otherwise can stay hidden, Burton said.
"The message was, 'Where can you start to repair? Where can you start to learn?'" she said of the podcast. "Everyone likes to talk about racial reconciliation. Everybody wants to reconcile, but nobody wants to do the work of repair that is needed for real reconciliation to happen. … Where can we start as a church to undo the things that are not of Christ, that keep us segregated and keep people broken and at war?"
The issues related to racially restrictive covenants hit home for the Unitarian Universalist Church of Minnetonka more than a decade ago when it discovered a covenant on the property it was buying for a new church. The May 2020 police killing of George Floyd, Friedman said, added urgency to the church's commitment to social and racial justice work.
But no clear path for what to do about the covenant appeared until they learned of the Mapping Prejudice project. Beginning in late 2020, several of the church's 300-plus members completed training and began transcribing digitized deeds on an online "people-powered research" platform known as Zooniverse.
Mapping Prejudice revealed that racial covenants were in place throughout the neighborhood of its new church as well as another neighborhood in Wayzata, the small city on the shores of Lake Minnetonka where the church, with more than 300 members today, has served western Minneapolis and its suburbs for some 60 years.
How have you attempted to understand the divisions of race, economics and class in your location?
The congregation had the covenant removed from its property title in February 2021, Friedman said. The church worked with Just Deeds, which provides free legal and title services, under a state law that allows property owners to remove discriminatory language from property titles. The city notified residents of the Wayzata neighborhoods with racially restrictive covenants that it could connect them with Just Deeds to explore their deeds' histories.
The covenant's removal coincided with the church's decision to place a Black Lives Matter banner on the front of its new building, visible to motorists on a busy nearby highway.
"Part of the conversation was that we're not just putting a banner to have a banner. We need to be doing the work to make that statement real," Friedman said.
Are there actions you could take, symbolic or otherwise, that acknowledge the history of the places you serve?
Questions to consider
What projects are in your community that are helping uncover your community's history?
Are there experts around you who could help you research your context?
What are some primarily online activities that you could encourage your community to take part in?
How have you attempted to understand the divisions of race, economics and class in your location?
Are there actions you could take, symbolic or otherwise, that acknowledge the history of the places you serve?
Many houses of worship in America are in a precarious financial condition. Declining membership, increased property costs and pandemic pressures have all conspired against the traditional, steepled structures with which we all are familiar. As one clergy friend said about her church, "We're one new roof away from closing."
Many of us cannot imagine our lives without our houses of worship. Not only do they provide spiritual grounding, inspiration and camaraderie, but they also offer low-rent homes to many of our communities' social services — food pantries, clothing closets, child care centers and self-help groups.
The number of houses of worship closing in the U.S. could climb drastically from the pre-pandemic norm of 75 to 150 per week. An accurate prediction of the number of houses of worship about to close is up for debate. According to our research, some sources foresee a doubling of the rate of closure; others, citing estimates for other service businesses, think as many as 30% may shutter their doors over the next few years. In our surveys, a denomination in one state estimated pre-pandemic that out of 530 churches, 105 (20%) were in critical condition and 40% in serious condition.
A major challenge houses of worship in America face is a mismatch between a big, expensive building and a small, financially stretched congregation. A congregation of a few dozen may own 10,000 (or 100,000) square feet of property, use only a portion of it a couple of days a week, and hemorrhage money trying to keep the property going.
Some savvy houses of worship are trying to stay alive by better using their overabundant, oversized, overly costly properties. Some have leased out portions of their buildings to other congregations, community organizations or businesses. Others have sold their real estate and downsized, merged or liquidated. Still others have tried to redevelop property by joint-venturing with development companies or trying to become real estate developers themselves.
Houses of worship often shy away from looking at innovative uses of their real estate, recalling a past when worshippers filled the pews and anticipating a future when a small, aging congregation will magically turn itself around — or perhaps just feeling overwhelmed, ill-equipped to contemplate make-or-break real estate decisions.
It's a sensitive topic, but there are steps your house of worship can take to think in new ways about its surroundings — to view property a little more like a community asset and a little less like a stand-alone, single-use religious building.
Here are five things your congregation can start doing now.
Tip #1: Learn everything you can about the property and its community.
A Zillow page often has twice as much information about your residence than your congregation knows about its real estate. A congregation needs to know the property's square footage and acreage; number and size of rooms; presence of bathrooms, kitchen, basement, elevators; handicapped accessibility — at a minimum, know what Zillow knows about your residence. It needs to know the major repairs and replacements needed over the next several years and their approximate costs. It should strongly consider a professional appraisal of the property to determine its true monetary value.
Your congregation also needs to know about its community, the place where it is embedded. Who are your mayor, your district council member and your appointed city officials, and does your congregation have a relationship with them? Is your congregation familiar with the official vision and plan for the future of your municipality?
Who leads the neighborhood association, the business association and the preservation organization, and are congregation members active in those groups? How is the house of worship's property zoned, and how is the neighborhood zoned around it? Is your neighborhood part of a hot real estate market or a cool one? Are there restrictions on the property's deed; did someone donate the property with the condition that it always be for religious uses?
Tip #2: Think outside the box about the best possible uses for your property.
It's an underused house of worship today; what could it be tomorrow? Could the education wing be a charter school or child care center? Could the "back 40" be developed into affordable housing? Could the whole property be redeveloped into a mix of uses, including office, retail, housing, with part of it being for a downsized place for worship? These scenarios are not far-fetched notions; all have come to fruition at a house of worship somewhere.
Imagine deeply what your house of worship's property could become in response to meeting the community's needs. The result will be better for your house of worship and better for your community. In today's real estate market, a mix of uses is often a property's most productive use.
Tip #3: Unlock the asset value of your house of worship's real estate.
Houses of worship tend to be real estate-rich and cash-poor. It's not unusual for 90% or more of a house of worship's assets to be locked up in illiquid real estate, just as it's not unusual for more than half of its operating expenses to be spent on keeping the property operating, leaving little money for staffing, worship or mission.
How can your congregation convert its real estate to cash or more liquid investments? Can it sell part of its property to a developer for an alternate use? Can it sell all of its property and lease some of it back for its own use? Can it lease its property to a developer in return for annual payments? Can it enter into a joint venture with a developer?
There may be many other solutions, but the tough nut to crack is turning a building into liquid assets.
Tip #4: Design for the house of worship of the future, not the past.
Hockey great Wayne Gretzky said, "I skate to where the puck is going to be, not where it's been." The house of worship of the future — post-COVID-19 — may bear little resemblance to the one of the past, thanks in part to the effects of the pandemic. Houses of worship will likely:
Be mixed-use, not single-use.
Dedicate space for internet broadcasting studios and community missions (like food and clothing distribution), not just worship.
Have low operating costs and potential for high earned income, not high operating costs and low earned income.
Be transit-, pedestrian- and bicycle-friendly, not surrounded by a sea of parking.
Be green and "clean" in building and grounds, not eco-unfriendly and inconsiderate of public health.
Tip #5: Get help.
In the mid-20th century, it suddenly dawned on railroads, a declining industry, that they owned valuable, underused real estate in many of America's cities — properties that could be used profitably for offices, hotels and residences rather than empty rail yards. But because they knew little about real estate, they engaged experts for help. Houses of worship should do the same. Like the railroads, they need help, because they're in the business of religion, not real estate.
Some have turned to experienced national and regional community development corporations (CDCs), which have begun to eye houses of worship as promising sites for redevelopment. Some denominations have formed their own CDCs. Some have partnered directly with for-profit developers, but only after reaching out to consultants for wise counsel.
Houses of worship often find themselves in a downward spiral when the congregation ages and doesn't attract new members. The number of worshippers dwindles. Contributions decrease, but expenses don't. Congregations run deficits and spend down their cash reserves, leaving insufficient money for full-time staff or building repairs.
Once your congregation falls into such a spiral and visitors don't return, it's probably too late to turn things around; the house of worship should make plans to close. Either a new house of worship needs to be started on-site or the property sold for other uses, with the congregation determining how to distribute its assets.
Many houses of worship throughout the U.S. and beyond have successfully repurposed or redeveloped their property. No two have been exactly alike. What works in a hot real estate market may not work in a cold one. What works with a robust, young congregation may not work with a struggling, elderly one. What works in a progressive community may not work in a conservative one.
We have only begun to experience to what degree worshippers will return in person to their faith communities. In any case, thousands of houses of worship will be closing over the next several years, so the scale not only of closings but also of redevelopment projects will be several times anything we have experienced before. We need our houses of worship to be ready.
Update:The fencing around St. John's Episcopal Church was removed March 1, 2021.
Editor's note: P.A.I.N.T.S. Institute founder John Chisholm, who is quoted in this article, died unexpectedly before publication.
A war-weary Abraham Lincoln sought solace in one of its weathered pews, and Franklin D. Roosevelt prayed for guidance inside its domed sanctuary. In fact, every sitting president since James Madison has attended at least one service at St. John's Episcopal Church, earning the Greek Revival-style house of worship its nickname: "the Church of the Presidents."
Since its opening in 1816, St. John's has also amassed a long tradition of community engagement and equal rights advocacy, something the Rev. Robert Fisher wanted to emphasize when he became rector in June 2019.
So he asked his congregation: How can we let our neighbors know that St. John's is as much a sanctuary for them as for any president?
It's safe to say that barricades and boarded-up windows were not the look they were going for.
Unfortunately, that's been the reality for St. John's since June 2020, after someone set a fire in the church's basement amid protests over the murder of George Floyd. Even then, the church pledged to serve as a safe space for protestors, hosting prayer vigils and providing water, food and hand sanitizer to the thousands who filled the streets in support of racial justice.
But several weeks later, after acts of graffiti and a growing encampment on church grounds, St. John's reluctantly agreed to the district's plans to erect 8-foot fencing around the property.
Although the church's history, location and recent events make it unique, churches in cities across the country struggle with the same issues: how to make the physical space both secure and welcoming.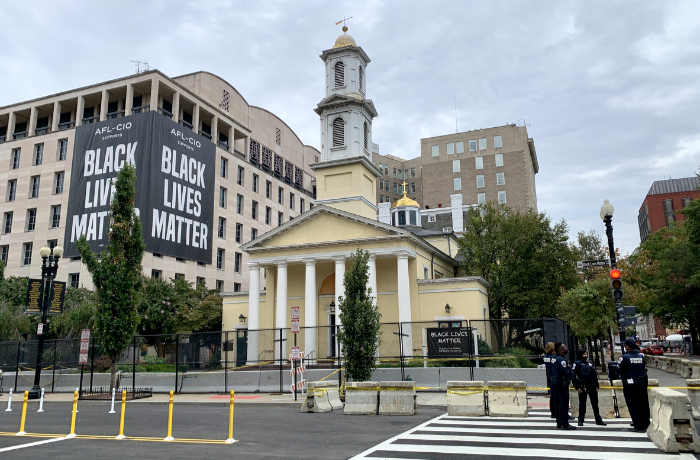 "All of us — the bishop, the wardens, me — hated the idea of a fence and reluctantly said OK because we felt it was the responsible thing. The buildings are a ministry, and we didn't want to see that building go away. It's important to me that it lives to serve future generations," Fisher said. "But it was an extremely uncomfortable thing."
How does your organization negotiate uncomfortable yet responsible decisions?
Since then, Fisher and his congregation have done their best to get out from behind that fence, reaching out to neighborhood activists with offers of support and solidifying relationships with organizations that can help them better serve their community.
That includes a Washington, D.C.-based nonprofit that recruited local artists of color to paint images of healing and hope on the plywood that conceals the church's stained-glass windows.
Eight months after the barriers went up — Fisher still comes and goes through a padlocked gate — the stunning works created by artists affiliated with the P.A.I.N.T.S. Institute are like a salve on an open wound.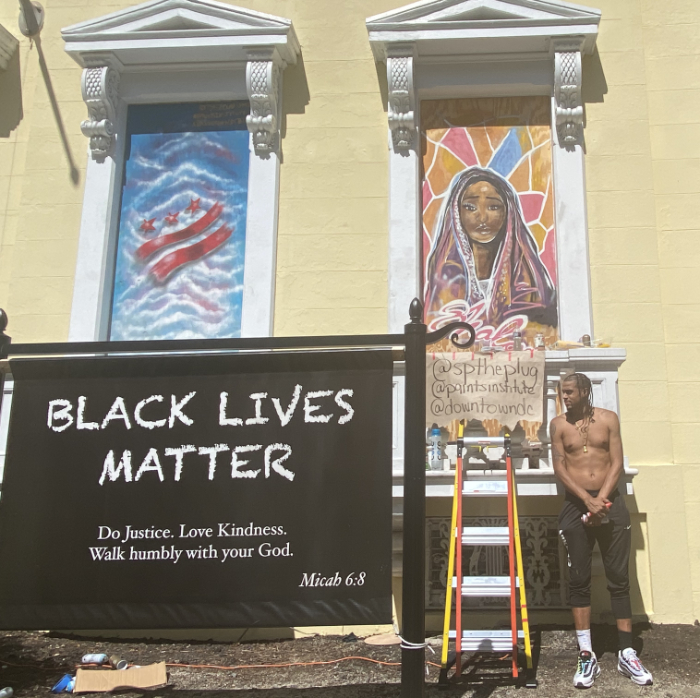 Having barricades around the church has been heartbreaking, Fisher said. But it has also forced the congregation to build bridges where they hadn't previously existed, an effort Fisher called a "heart-opening experience."
What relationships does your organization have that are better than fences?
"Relationships are better security than fences, and we now have deeper and more meaningful relationships than a year ago," Fisher said. "Those bless us and help us be a better church serving the community."
'You've been vulnerable for so long'
A steady presence at 16th and H Streets NW for more than 200 years, St. John's is within sight of the White House. In retrospect, said longtime member Chase Rynd, its location may have given the congregation "a misplaced sense of security," what with FBI headquarters a few blocks away and Secret Service personnel right across the street.
It wasn't as if the church had never thought about safety planning, said Rynd, who is also the retired executive director of the National Building Museum. About a year and a half before the fire, renovations to the church's parish house reconfigured the entrance so visitors would encounter a greeter at a reception desk rather than an empty hallway, and a new elevator was installed that required security badges, said Rynd, who chaired that effort.
The project also added a 21st-century fire protection system, including fire doors that have been credited with limiting damage from the 2020 incident. Federal officials continue to investigate the fire.
A security assessment subsequently underwritten by the DowntownDC Business Improvement District concluded that St. John's had gotten lucky, Rynd said. The DowntownDC BID is one of 11 special taxing districts in the city that support economic development and social services.
"[The assessment] basically said, 'You guys have skirted through history with an enormous amount of luck or protection from God or whatever, because you've been vulnerable for so long,'" Rynd said.
A surreal moment
On June 1, the day after the fire, clergy, parishioners and volunteers from throughout the region gathered on the patio of St. John's to offer first aid, snacks and water to protestors.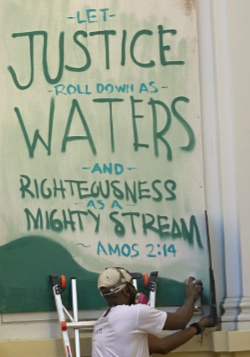 In an interview with Fox News host Martha MacCallum that evening, Fisher was expressing continued support for those rallying for justice when he learned that police were using tear gas and rubber bullets to clear people gathered around the church so then-President Donald Trump could stage a now widely criticized photo op.
"We seek to be a space for grace in this city," Fisher was saying on camera as the surreal moment played out. "We strive to make it so that the space, when you walk in the door, whatever background you may be, you feel that it's a place where you can breathe, where you can experience the Spirit."
The next morning, federal officials began fencing off Lafayette Park across the street, barring access to one of the country's most storied protest sites and essentially pressing demonstrators up against the walls of St. John's. Protestors set up camp on the church's tiny property, next door to the newly established Black Lives Matter Plaza, raising concerns about sanitation, staff access and fire safety, Fisher said.
What is your church's stance toward protesters? What if they came near or on your property? How would you respond?
Church officials planned to sit down with protestors to address some of those concerns, he said, but before that could happen, police forcefully cleared everyone from the property, arresting those who resisted and tossing their tents, bicycles, laptops and other belongings into a pickup truck.
"It was a really tough thing to have happen around our church," Fisher said. "The church hadn't asked for that."
St. John's has been encircled by a fence ever since. No one likes it, but Rynd acknowledged that it has bought some time to come up with a better, more long-term plan.
"The fence just broadcasts such a poor message, but we didn't sort of put up barricades and hide," Rynd said. "We took this as a message that we need to be really attentive and seize this as an opportunity. In the end, the church is going to be better for it, in terms of the look of it and the way we use it."
Rynd is now part of a small task force, which includes a combat veteran and several church members with State Department security training, charged with prioritizing the recommendations made in the church's security assessment.
To ensure that any physical changes to the church's property are in keeping with both its aesthetic and its ethos, Rynd reached out to landscape architect Laurie Olin, whose firm had designed subtle yet effective post-9/11 security improvements for the Washington Monument, keeping the experience of visitors in mind. Olin agreed to create a master plan for the church "for almost nothing," Rynd said.
In addition to physical improvements, the task force is looking at policies governing who has access to St. John's and whether staff and volunteers might benefit from more training on how to spot potential security issues while engaging with visitors.
"This is a really important piece of, 'How do we both address the security of the building and still have our arms wide open and welcome people?'" Rynd said.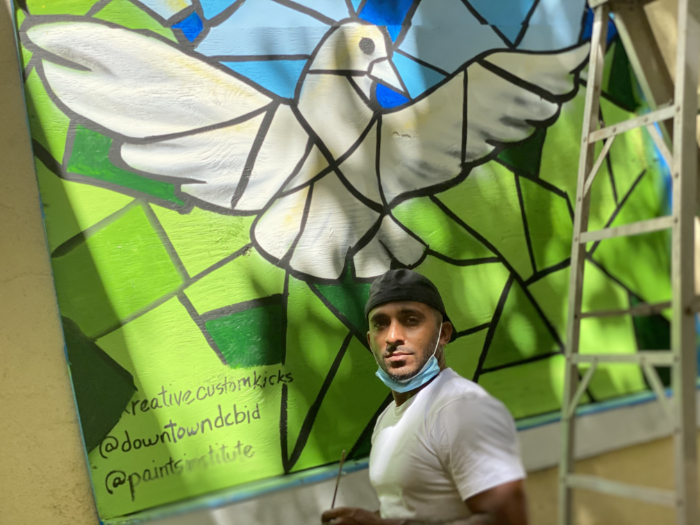 A security assessment to identify vulnerabilities is the right place to start the process, said Mike McCarty, the CEO of Safe Hiring Solutions, an Indiana-based company with a program geared toward ministries.
Security goes beyond physical concerns; in what other ways might your organization be vulnerable?
How do people come and go from the building, who has access, and when? How are children checked in and out of youth programs? Is the congregation prepared for medical emergencies? With so much religious life online during the pandemic, is the congregation cybersecure?
Answers to those questions help congregations focus their efforts, and that kind of forethought allows faith communities to put measures in place that address risks while honoring their culture, he said.
In many cases, including at McCarty's own nondenominational church, congregations create lay-led security teams.
"Being prepared doesn't have to look militant. A lot of times, it's just being educated and having the right team," McCarty said. "A lot of it is more sweat equity than expensive solutions."
Other churches also grapple with security concerns
At Metropolitan African Methodist Episcopal Church, several blocks north of St. John's, hospitality and security have never been mutually exclusive, said the Rev. William H. Lamar IV. As a predominantly Black congregation in America, Metropolitan has always been mindful of who gathers near its 135-year-old building; that's ingrained in the congregation's DNA, he said.
When members of the far-right Proud Boys descended on Washington for pro-Trump rallies in early December, they stole and destroyed the church's Black Lives Matter sign — but never gained access to the building, Lamar said.
"We've been schooled to pay attention, because there is a constant threat," he said. "We've got to be vigilant. … We open our hearts. But we're not going to be sitting ducks."
To that end, Metropolitan AME partnered with a security firm in a way that Lamar describes as more of a relational undertaking than a contractual one. Blowout Security's owner, Leon Russell, was already a longtime friend of many in the congregation, and as head of security at his own Washington church, historic 19th Street Baptist, he understood the balance between securing the premises and preserving its feel as a house of worship.
Russell's security team worships alongside Metropolitan AME's congregants. Team members escort seniors to their cars and are on a first-name basis with worshippers, who have been known to bake them cookies, Russell said. They are vigilant, often armed, and treated as family, he said.
"What we're trying to do here is set everyone at ease," said Russell, a Vietnam veteran. "I don't want uniforms in there and for it to look like it's a fortress. It's a sanctuary. It's where we pray."
McCarty recommends that congregations seek guidance from their insurance companies to establish safety protocols. And both men noted that it's important to communicate regularly to the congregation that safety planning is happening, without broadcasting the specifics — for obvious security reasons.
About three blocks east of St. John's, New York Avenue Presbyterian Church is known for its protestor hospitality. But it, too, has had to balance that hospitality with safety.
In June, members of the church's session, its governing body, met daily via Zoom to discuss how they could safely support demonstrators amid the pandemic, serve as a resource for neighboring congregations of color, and continue to host the popular Downtown Day Services Center, which provides resources including food and medical care and shower and laundry facilities for the city's homeless and vulnerable populations.
"We've been in the thick of it," said the Rev. Dr. Heather Shortlidge, the church's transitional pastor, who recalled helicopters skimming over the church's steeple and "roving packs of law enforcement, some of them un-uniformed and unbadged" at the height of the protests.
What does "Everybody is welcome" really mean?
The session wrestled with who should be allowed inside the church during the unrest and ultimately decided that only unarmed individuals could enter, Shortlidge said. That meant law enforcement could not come inside, an issue that remains "unsettled" for the congregation, she said.
"That's been really sticky for us. You want to say, 'Everybody is welcome,' but we also felt we needed to start to have boundaries," she said.
"Radical hospitality is not 'anything goes,' which is hard for a bleeding-heart liberal congregation to swallow. But it's not radical hospitality if people aren't safe."
'You cannot waste a crisis'
First United Methodist Church in Charlottesville, Virginia, adopted a similar stance in August 2017, serving as a respite for activists countering the Unite the Right rally and a home base for street medics and trauma counselors, said the Rev. Phil Woodson, the associate pastor.
Two years earlier, after a white supremacist shot and killed nine worshippers inside Emanuel African Methodist Episcopal Church in Charleston, South Carolina, clergy in Charlottesville had begun organizing. They created the interfaith Charlottesville Clergy Collective, which began meeting regularly, learning how to engage in nonviolent resistance and work together to keep people safe amid confrontation.
"You cannot waste a crisis. You must grow in these times of trial. Otherwise, you're spiritually dead," Woodson said.
"For as much evil and horror as went on that day, the goodness that came out of it is that relationships have thrived among people in the community. I don't see any future where these Nazis show back up to Charlottesville. But if they did, I'd like to think the people in this place know what to do and how to do it," he said.
At St. John's, Fisher is celebrating new relationships, too. In partnering with the DowntownDC BID to complete the church's security assessment, the congregation was introduced to the broad range of services the organization offers.
Before the protests — and the fencing — several homeless people used to sleep on the church's porch at night, which wasn't a problem for St. John's but "probably wasn't best practice," Fisher said.
In retrospect, he said, those folks might have been better served if the church had connected them with the Downtown Day Services Center, which is managed by DowntownDC BID, at nearby New York Avenue Presbyterian — something they intend to do from now on.
The DowntownDC BID also helped link the church with the P.A.I.N.T.S. Institute, a nonprofit that serves as an incubator for local artists and a support for underserved communities. The murals created by P.A.I.N.T.S. — which stands for Providing Artists with Inspiration in Non-Traditional Settings — are catalysts for conversation, founder John Chisholm said.
Indeed, as the artists toiled in the hot sun outside the church in early September, among the most beautiful of spectacles were the dialogues sparked between the artists and congregants, activists and passersby, he said.
In "normal times," said Fisher, when roughly 400 worshippers would gather in the sanctuary each Sunday, the light streaming through the stained-glass windows would wash over them, bathing them in a swirl of color "like a blessing."
How could art be part of your message to your community and congregation?
In such a time as this, he said, the murals project love and light outward, a sign of God's promise of better things to come and the church's pledge to be part of that. The Smithsonian has expressed an interest in displaying the murals once the stained-glass windows are uncovered, Chisholm said.
"What the paintings do is cause people to look up and find hope. Because if you're not looking up, you're going to be looking down. Despite the barriers, our hearts were never this at any moment," Fisher said, gesturing to the fences. "Our disposition didn't change just because the architecture changed."
Questions to consider
Questions to consider
How does your organization negotiate uncomfortable yet responsible decisions?
Security goes beyond physical concerns; in what other ways might your organization be vulnerable?
What is your church's stance toward protesters? What if they came near or on your property? How would you respond?
The Rev. Rob Fisher said, "Relationships are better security than fences." What relationships does your organization have that are better than fences?
How does your church decide who has access to its buildings and campus?
What does "Everybody is welcome" really mean?
Fisher describes the color of the stained-glass windows as "a blessing" and the murals as "a sign of God's promise of better things to come." How could art be part of your message to your community and congregation?