In 2019, more than 4,000 churches closed in the U.S.
I was given one of the buildings.
Typically when churches shutter, the property ends up being sold to other congregations or ministries. But I'm not a pastor or a director of a homeless coalition or a community activist. I'm a religion journalist.
Ten years ago, I started an online publication covering faith news and commentary in the Spokane, Washington, area. It's called SpokaneFāVS, which stands for Spokane Faith & Values, but we nicknamed it FāVS (as in favorite) because we want it to be everyone's FāV religion news source. That website is why I was given a church. And that property is how my scrappy digital startup came to be a million-dollar news organization.
When I started the site in 2012, I wanted it to be different from Patheos or Beliefnet, which were websites popular with theology geeks like myself at the time. These sites were missing something: community.
Maybe I was being selfish. I wanted to be around the communities I was writing about so I could understand them better, and I hoped others wanted that too. I grew up in a strict religious home that was intolerant of all organized religions, even Christian churches. We isolated by worshipping in our living room and studying teachings about how dangerous all other beliefs were.
Thankfully, I got out of that living room and made my way to a newsroom. Meeting Christians and Muslims and Jews and Buddhists saved me from intolerance, and I had a hunch that journalism could help break down walls for others too.
After I launched the site, it took only a few months to find columnists of all different faith backgrounds and to create a multifaith readership. But I wanted them to talk to each other. The comment section wasn't good enough. Neither was social media.
I racked my brain. How could an online publication create community? I remember pacing my home office and sticking idea-filled pink and yellow Post-it notes to my wall.
I needed to find a way to bring everyone together offline. Book club? Knitting group? Run club? No, I decided. Coffee is what we needed. (It's Washington state, after all.)
Then the Newtown shootings happened. A 20-year-old walked into a Connecticut elementary school and killed 20 kids and six staff members.
I reported on how Spokane-area congregations were responding. FāVS columnists wrote about how it affected their faith. Readers responded in the comment section expressing their sadness and confusion, but mostly their outrage.
This was the time to bring people together.
I quickly organized a community forum at a local coffee shop, dubbing the event "Coffee Talk" and titling the discussion "Angry at God." Five columnists who had written about the shootings agreed to be panelists: a Christian Scientist, a Lutheran, an Episcopalian, a Community of Christ pastor and a Presbyterian.
They sat awkwardly behind two tables I had pushed together in front of a SpokaneFāVS banner I'd taped to the wall. With 10 minutes until the event was set to begin, rows of empty chairs faced them. I thought my idea was a bust.
Anxious, I wandered to the coffee counter in the next room. The line was out the door, and there was a crowd of people waiting for their lattes and mochas and muffins. Christians, Muslims, atheists, seekers and even a few Jews (it was a Saturday morning) began to take their seats.
What followed was a discussion about gun culture, senseless violence, grief, fear, faith. The audience chimed in, sharing personal stories, crying together, comforting one another.
I knew I had to keep these conversations going.
We've been doing Coffee Talks since that first one in January 2013. We've had conversations about faith and technology, freedom of speech, religious misconceptions, ethical protest, and next we'll have one on the evil in this world.
Through these monthly forums, I've seen ecumenical and interfaith friendships formed. I remember going to the 40th birthday party of one of my Jewish columnists and realizing that almost everyone seated around the table was connected to FāVS. I smiled, knowing that my little website had had a hand in bringing this group together.
Six years after that first Coffee Talk, we had outgrown every coffee shop in Spokane. Finding a venue became a challenge, forcing us to hold the events every other month rather than every month. Still, no matter when or where we held our forums, between 30 and 50 people continued to show up.
We had 40 columnists by now, and although I was working full time as a journalism professor, I was still doing all the reporting, editing and event organizing on my own. I was stretched thin and worried that it was reflected in the content on the website.
Members of Spokane's Origin Church had watched FāVS grow over the years. The pastor was a columnist for FāVS, and I had done pulpit supply at the church on a few occasions. One day, I got a text from the pastor: "How would FāVS like a building?"
In later conversation, he explained that the Disciples of Christ congregation had decided to close, ending its 133-year history in Spokane. Four years prior, the church had bought a 3-acre wooded property and erected a modest-sized building with a community garden, hoping the new location would attract more members. But the church didn't grow, and members agreed that they wanted to be good stewards of what they had left.
They believed in our website's mission and wanted us to have a permanent home for our Coffee Talks. The church offered their property, as well as funding for three years.
I was floored. Sometimes, when web traffic was low or donations didn't come in, I had felt like giving up. I wondered whether FāVS was making a difference or whether I was holding on too tightly to a dream. But Origin's offer was a reminder that the safe space we were creating for conversations around faith and ethics mattered. Their belief in me, in SpokaneFāVS, was the fuel I needed to keep going.
I said yes; the FāVS board came up with the idea to use the building as a multifaith community space, which we dubbed the FāVS Center. We held an open house in June 2019, less than a year before the COVID-19 pandemic.
Between 2019 and 2022, we were able to provide a worship space for the Hindu community, a Ukrainian Christian congregation and a Bosnian Muslim group, as well as space for other groups who needed it for special events, such as holidays and birthdays.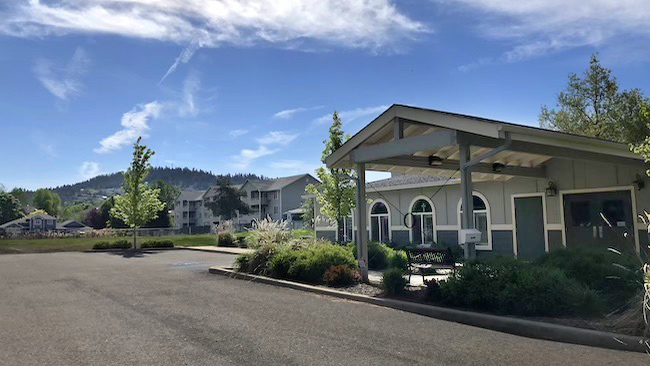 As you can imagine, it was a terrible time to open a community center. When the pandemic hit, we had to shut our doors and move events online. We kept the manager on staff and continued to pay for utilities and grounds maintenance. Our funds were quickly dwindling.
We realized that the pandemic had changed how people gather. The future was hybrid now. The interfaith center wasn't going to succeed and was only taking away from our core mission: meaningful religion reporting. By trying to keep the space open, we weren't being good stewards of the gift we had been given.
After much deliberation and some tears, we decided to sell the FāVS Center. We sought out owners who would value the space as much as we did, and as much as the people of Origin Church had. In the end, we sold the building to a dentist.
Dr. C Dental Partners had helped provide oral health care in Guatemala and hygiene bags to a region in Honduras. They aimed to change the oral health of the Spokane community, and to other communities throughout the nation and the world. The FāVS Center would become their headquarters.
The purchase price was about $900,000, and with the money we still had from Origin and from our recurring donors, FāVS became a million-dollar nonprofit religion news publication. The sale was in July 2022.
What does a niche site like FāVS do with that much money? To find out, I'm back to sticking Post-it notes to the wall, only this time with a consultant, a small staff and a dedicated board contributing ideas. I doubt that our brainstorming will land us a building this time, but my bet is that we'll find new, creative and engaging ways to bring our readers together once again.
It's an overcast October day, but despite the autumnal pall and the chill in the air, a line of visitors files through a fenced-in plot of raised beds at Elijah's Farm near Durham, North Carolina. One by one, they shovel dark, rich soil into the beds where a farmer will soon plant another season's flowers and microgreens.
Just minutes earlier, the Rev. A.W. Shields had exhorted a crowd of about 40 people to make their hands instruments of growth and transformation.
"We don't just talk about liberation," she'd said. Instead, liberation is an embodied practice that requires doing collectively and individually. To the sound of West African drums, Shields reminded attendees that freedom means putting hands, back, mind and heart into the quest for a better world.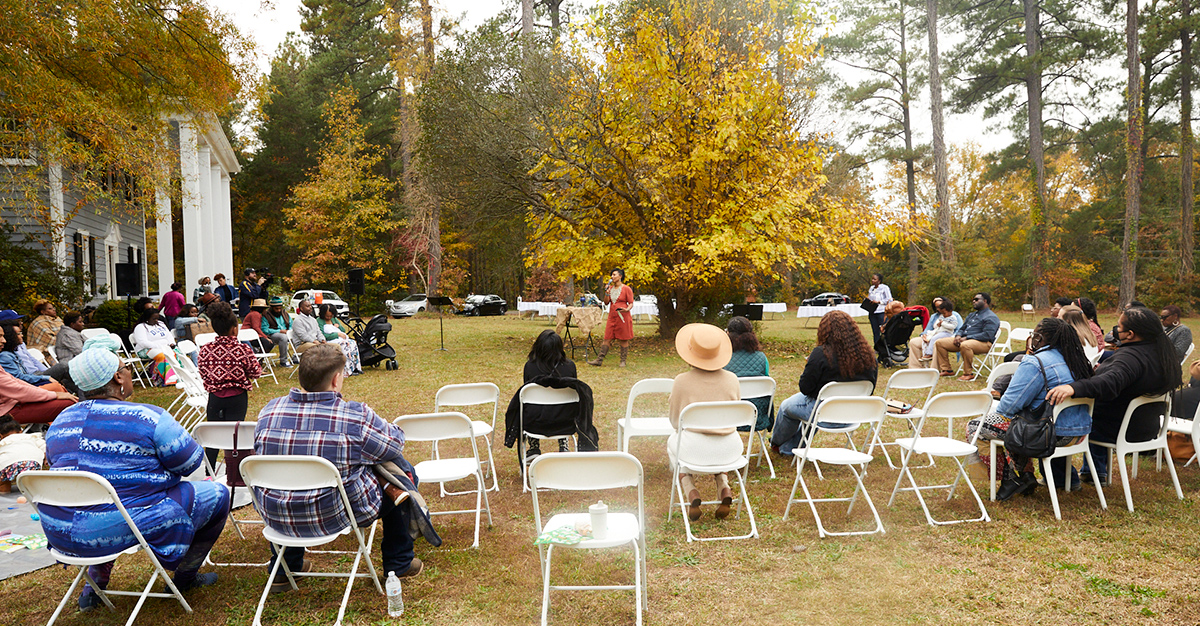 Versions of that message recur throughout this gathering of The Root Church, an intentional community that Shields and partners have created. The "farm service" was only the second formal service for the church, which strives to provide a worship space for Black people, especially Black women, LGBTQ people, and those who want their faith to walk in step with their politics.
The Root Church is an outgrowth of Root Cause Collective, an organization composed of clergy, counselors, social workers, and health experts who offer physical, mental, and organizational health and wellness services.
How does your congregation embody its most important commitments?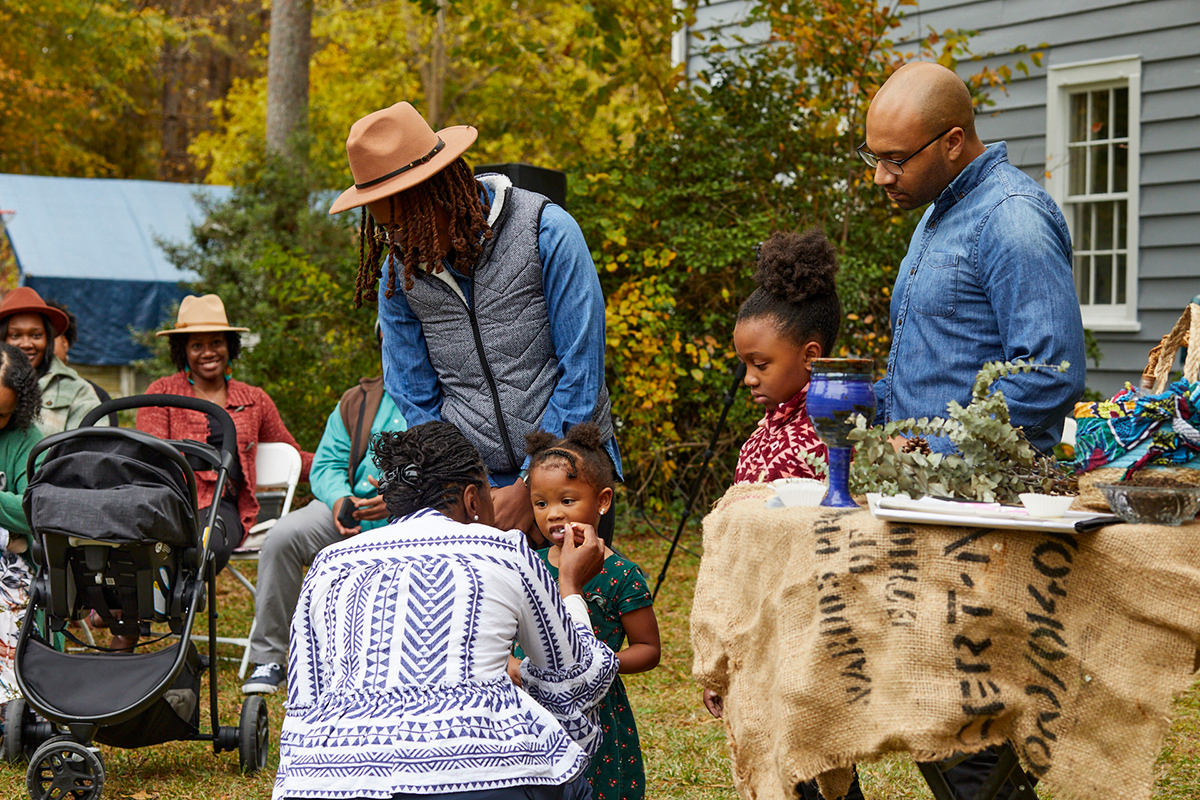 The collective began after Shields and other women convened to study the story of Deborah, a military strategist, prophet and judge whose reach has long been debated because she likely did not have authority over the men of her time. Deborah's story resonated with Shields and her collaborators, mostly high-achieving Black women who experienced loneliness and isolation in churches and professional settings.
Shields formed "trauma-informed spiritual support groups for Black women and queer folks impacted by gender-based, race-based and religious trauma."
The groups found their time so meaningful that they wanted to continue in spiritual formation together which eventually led to the church gatherings like the one at Elijah's Farm.
In Deborah's story of power within patriarchal restraint, of fighting ceaselessly for her people but getting little credit for important victories, "we really read her as a Black woman," Shields said.
The collective and the fledgling congregation are both volunteer run, and in addition to the congregation, the collective has founded a nonprofit wellness center which provides free to low cost mental health and wellness services.
Who in your community is gathering those who are excluded, overlooked and marginalized? Who is trusted to do that holy work?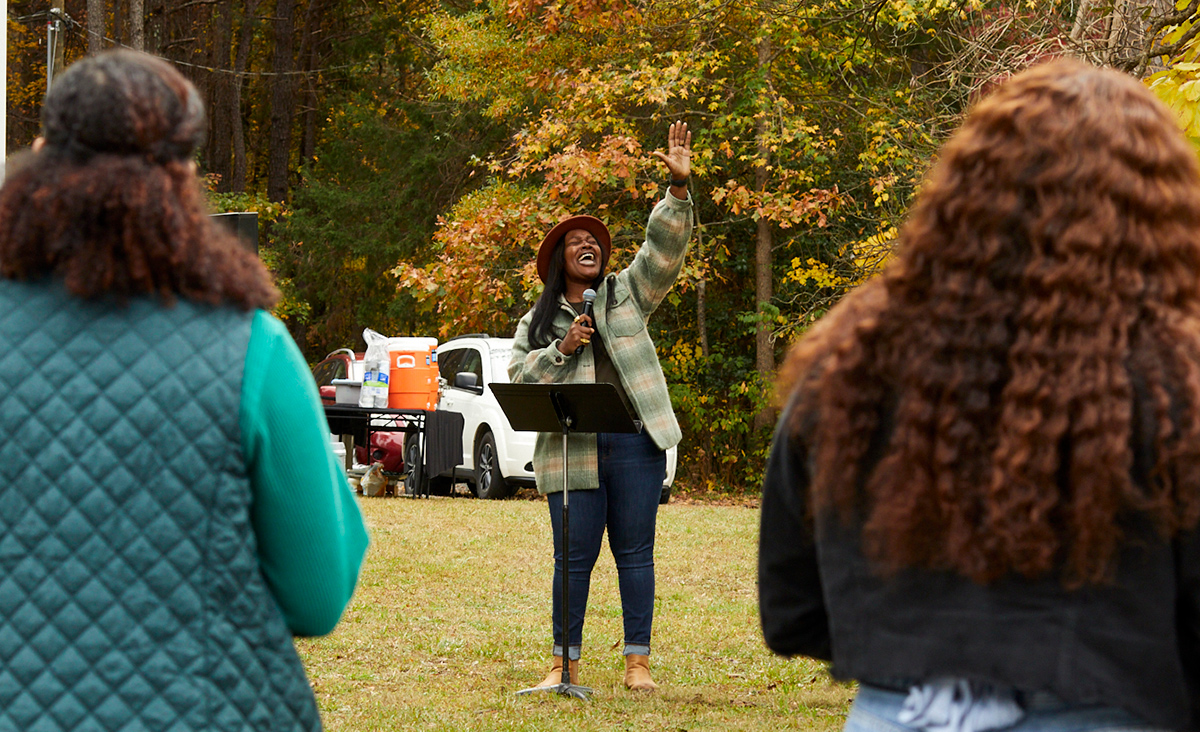 Shields, a graduate of Union Theological Seminary and Columbia's divinity program, also has a master's in social work. Before becoming executive director of the collective, she created one of the nation's first denominationwide mental health programs at the National Benevolent Association, a ministry of the Christian Church (Disciples of Christ).
During her work in church organizations, she couldn't help but see — and couldn't "unsee" — the ways in which religious institutions have either actively harmed people, both inside and outside their congregations, or otherwise not lived up to their missions of spiritual and material care. Shields is a tried-and-true devotee (and former student) of the late James H. Cone, the Black liberation theologian who challenged white supremacist Christianity that justified slavery and segregation, criticized Black churches that depoliticized worship, and recognized Black Christianity's radical potential.
In her career as a social worker, Shields understood that people damaged by churches that dehumanize queer people or expect women to fill the pews but not the pulpit might still seek relief in the church. They have been socialized to want or need a spiritual connection but may be wary about reentering a sanctuary.
So Root Cause Collective morphed into the barely year-old church, which might be best described as an experiment in exploring Black womanism, liberation theology and community building.
The vocabulary and structure of The Root Church defy the conventional. Attendees aren't "members." Services may be called "sacred moments." Participants may read texts such as James Cone's "Black Theology and Black Power"or Katie Cannon's "Black Womanist Ethics."
There is no denominational wing financing a capital campaign to build a brick-and-mortar presence, and rather than serving as a senior pastor from whom all direction flows, Shields pastors with a handful of "community chaplains," all Black women.
According to Pew Research Center data collected in 2019 and 2020, 7 in 10 Black Christians in the U.S. say that combating sexism is key to their faith, and an overwhelming majority of Black Americans (85%) believe that women should be in senior leadership positions in churches. But only 28% of the Black congregants surveyed said they'd heard sermons opposing sexism from the pulpit in the last year.
And while almost two-thirds of Black Americans polled said that homosexuality should be accepted in society, a significant number of Black adults (51%) balked at their clergy officiating same-sex unions.
What Biblical passages resonate with your experience and empower you to act?
That doesn't make for a warm reception for those who identify as Black, queer and believers. And should Black worshippers attend predominantly white or multicultural churches, the disconnect may be different but still quite uncomfortable.
The Rev. Chalice Overy, one of the community chaplains who work with Shields, has seen the disconnection in real time. She began her ordination journey as a 17-year-old preaching in eastern North Carolina and has since occupied positions at both historically Black and predominantly white Baptist churches. During a previous stint at a Black church, she'd meet people and tell them where she pastored but hesitate to invite them to services.
"I didn't think it was the safe place for them, because they were queer or somehow unorthodox in their beliefs. So I didn't invite people, because I didn't want them to have to lay down a part of their identity at the door," she said.
But at the same time, she felt that Black queer Christians would feel out of place at progressive white churches as well.
"At a white church, Black members or would-be visitors would say, 'Let me know when YOU preach, but the worship services are so white,'" she said.
"So in one place they might have to lay down part of their identity, their sexual orientation or their gender identity, or [in another place] they may have to lay down certain aspects of their culture," Overy said. "For about four and a half years now, I've just been like, 'Oh man, we need something else. We need something more.'"
The collective is now inching toward that "something more" by convening like-minded people for events such as the farm service. The Root Church has served about 100 people, linked through an email list and a web of personal connections. Shields had quietly attended a church where Overy pastored for about six months. Amber Burgin-Brothers, the creator of Elijah's Farm, is also ordained and knew Shields through local divinity school circles.
As part of the October plein-air service, attendees gathered at Elijah's Farm. Situated on former plantation land, the farm, a community agricultural ministry, is not far from Durham's well-preserved Stagville state historic site — a once-sprawling antebellum plantation that housed more than 900 enslaved people.
Shields called the service a modern-day "hush harbor," recalling the secret outdoor worship spots where enslaved people would assemble outside the fearful gaze of enslavers and define their own relationship to God.
For Overy, part and parcel of that project is making room for African-descended practices in the lives of worshippers and the theological canon.
"We have accepted the hermeneutic of a very small group of people, white men from Germany, primarily. And we're saying that whiteness and oppressive models have convinced us that those are the only opinions that are valid when it comes to God. But I know God. My people knew God. My grandmother, my grandfather knew God. What did they have to say about who God was?"
Who in your community is silenced or excluded by conflicting commitments? Who notices and includes those who are left out?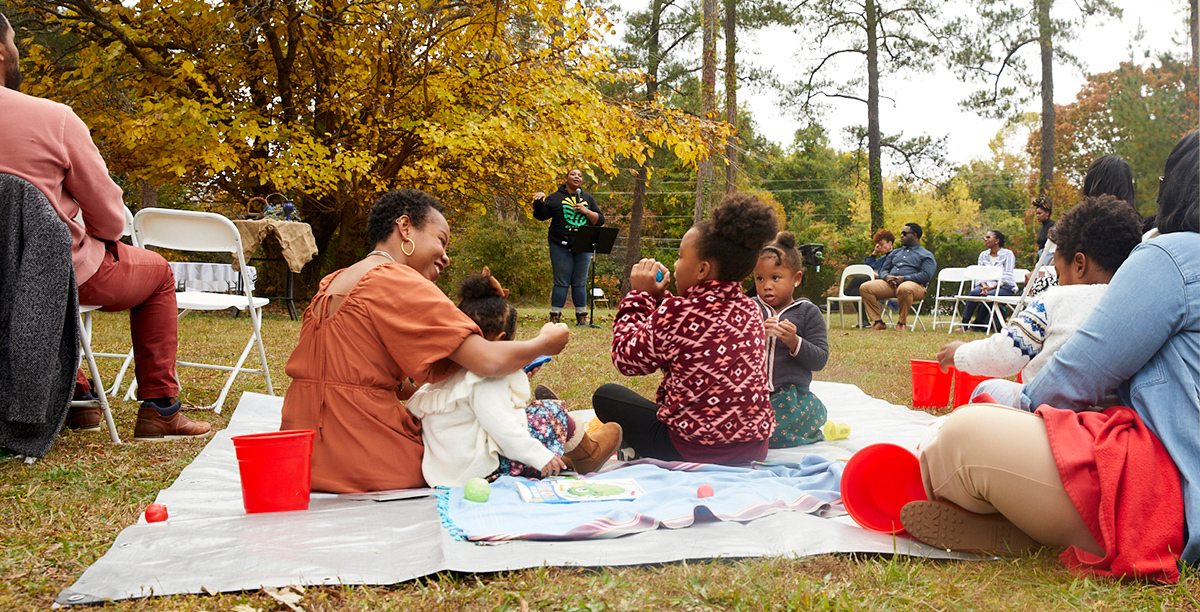 During the farm service, Burgin-Brothers gave her testimony of trying to ignore God's call to become a farmer. She quipped, smiling, that there was never a call she didn't try to ignore first. Knowing laughs reverberated around the yard, as children toddled under the watchful eyes of adults, toting mini-buckets of play tools. And a key component of the farm service was a blessing of children conducted by Wake Forest University professor Melanie Harris. An invitation to the blessing had been extended to all families, but particularly those whose families are often excluded from traditional church settings.
None of the invited queer families came to the blessing, but Shields took that in stride.
"I can't promise that it's a safe space," she said, because safety is relative and she knows well the wounds that churches can leave. But she promised that "safer" is a goal of the utmost importance and that The Root Church, whatever it becomes, wants to listen and learn how not to duplicate the sins of the mainstream church.
How can you create "safer" conditions that invite people to test the welcome you offer?
Later, after participants were invited to roam the property and commune with the soil, a liturgical dancer sketched wide arcs with her legs and arms to the tune of Beyonce's "Bigger," whose chorus echoed The Root Church's focus on growing together:
I'll be the roots, you be the tree
Pass on the fruit that was given to me
Legacy, ah, we're part of something way bigger.
Questions to consider
How does your congregation embody its most important commitments?
Who in your community is gathering those who are excluded, overlooked and marginalized? Who is trusted to do that holy work?
What Biblical passages resonate with your experience and empower you to act?
Who in your community is silenced or excluded by conflicting commitments? Who notices and includes those who are left out?
How can you create "safer" conditions that invite people to test the welcome you offer?
My recent book, "Becoming the Baptized Body," owes its origin to a rather unexpected place: the waiting room of a multidisciplinary pediatric clinic. In this waiting room, where I've met countless families as an occupational therapist over the past decade, I encountered a preteen named Hallie and her mother, Heather (whose names have been changed for their anonymity and whose story is being shared with their permission). Engaging in some introductory small talk, I mentioned to Heather that in addition to my clinical work, I studied and taught theology at Duke Divinity School.
With this revelation of my bi-vocation, something shifted within Heather. Her eyes lit up intensely, and she began to lament her and Hallie's experiences in the church. Hallie loves loud gospel music and being around people. She also uses a wheelchair and has an intellectual disability. Though Hallie is nonspeaking, she communicates her needs and emotions in a rich diversity of ways.
Heather longed for Hallie to be baptized. She recounted to me their family's story of traveling from church to church, seeking a community of belonging. But Hallie and Heather couldn't find this kind of church. Pastors and lay members of congregations told Heather that Hallie's vocalizations were too disruptive during their services. In many churches, Heather recalled, Hallie couldn't access Sunday school or the sanctuary in her wheelchair. And in one conversation Heather had with a pastor, she was told that it wouldn't matter if her daughter were baptized, because Hallie couldn't understand what was happening.
Hallie and Heather's story of seeking a community of baptismal belonging is one among many stories, wounds and questions that disabled Christians in my life have recounted to me over the years. Their stories have shaped me into the kind of theologian I am today — a partner alongside Christians with intellectual disabilities, seeking to uncover how we might grow in love of God and love of neighbor more faithfully.
Over the past several decades, various theologians and Christian leaders have contributed to the field of disability theology. However, in this body of theological literature, perspectives from people with intellectual disabilities are few and far between. As I sat with the pain of Hallie and Heather's story, along with other experiences of rejection from churches among my friends with intellectual disabilities, I resolved to prioritize the perspectives of disabled Christians in my own theological work on disability and the church. I committed to theology done in partnership.
With this commitment, I spent a year visiting Christians with intellectual disabilities around the state of North Carolina. We had meals together, worshipped together, sat in silence together and shared stories together. In short, we did theology together.
My partners included Christians like James, who watches a recording of his baptism on a weekly basis and, with this constant reminder of his baptismal identity, beautifully lives into his life as "God's beloved son."
My partners included Christians like Al, who repeatedly said to me that in baptism, he has truly become "who I am."
And my partners included Christians like Ava, who witnessed to me that the practice of baptism serves for her as a gentle but steady assurance of "knowing who you are, where you belong with Christ."
These partners in doing theology together have transformed my imagination about my own identity as a Christian disciple. Whenever I hear the story of Jesus' baptism in the Jordan River, I think of James' insistence that he, like Jesus, was named as God's beloved in his baptism. And in these moments, I give thanks to James for his witness to me that I, too, am a beloved child of God — a reality that I too often forget.
When people ask me to describe who I am or what I do, I often think of Al's insistence that baptism is the act where God reveals to us who we truly are — people welcomed into God's covenant and equipped by the Holy Spirit with unique gifts for ministry. And when I feel isolated or despairing, I recall Ava's assurance to me that remembering my baptism affirms my belonging with Christ.
Five years later, the fruit of our doing theology together is out in the world in the form of a book: "Becoming the Baptized Body: Disability and the Practice of Christian Community." The book, dedicated to all those like Hallie and Heather who are still seeking a community of belonging, stresses the importance of thinking about how core practices of the Christian faith — prayer, Holy Communion and, most centrally, baptism — are sites where God's action challenges us to take seriously the gifts of all Christians, disabled or nondisabled.
In close conversation with the stories and experiences of my research partners, the book explores disabled perspectives on baptismal practices, disabled interpretations of Scripture on Christian identity, disabled critiques of baptismal liturgies, and the rich possibilities for practicing baptismal preparation, testimony and reaffirmation that emerge from the witness of disabled Christians.
Though the formal work of this theological research has concluded, I remain committed to the work of doing theology together. My co-researchers and I share in decision making about where the royalties from the book will be donated. And as my partners read or listen to the book and offer me their thoughts, I commit to not only following up personally but responding in my ongoing scholarship.
When I speak in academic settings about this work of doing theology together, colleagues often comment on my work with "unlikely" theological partners — Christians with intellectual disabilities. I find myself somewhat puzzled by this characterization of who exactly constitutes an unlikely partner. After all, in my explorations of the intersections of baptismal identity and intellectual disability, I, a person without an experience of intellectual disability, am the unlikely partner in learning and transformation!
I wonder how in our own work we might find ourselves positioned as unlikely partners. I invite you to ponder how developing new ways of being together might expand your perspective, your wonder, and your learnings about love of God and love of neighbor.
Expanding our perspectives can begin as a small practice of asking a new question or seeking out someone we might not initially consider an expert. Becoming an unlikely partner might require us to reflect on the stories and wounds that others have shared with us — stories like that of Hallie and Heather. Reframing our work in the world as something we must do together might be energized by participating in a new kind of gathering, such as an event with L'Arche North Carolina, where people with and without intellectual disabilities flourish together.
May we be open to the transformation that comes in and through unexpected partners in a commitment to doing work, ministry and worship together.
Tito Madrazo spent four years visiting Hispanic/Latinx churches for his research on preaching in North Carolina immigrant churches.
He visited various congregations, using semi-structured interviews, focus groups and participant observation to understand the lives and practices of immigrants in Hispanic/Latinx Protestant churches.
The approach, called collaborative ethnography, allowed him to gather information and understand the culture of the churches while being transparent and working with the people he was studying — his collaborators — to ensure accuracy and to decenter himself.
In particular, he developed an ongoing relationship with "Iglesia Agua Viva," a Pentecostal congregation in the Raleigh-Durham area. (Madrazo uses pseudonyms for the individuals and churches to protect his collaborators.)
His findings have been published in a new book, "Predicadores: Hispanic Preaching and Immigrant Identity." In it, he argues that although there is great variation within and among Latino congregations, the experience of migration itself shapes the pastors' preaching.
"The God they came to know in that time was the God they proclaimed. The aspects of the divine that they found most compelling in their own migration journey became the focus of their preaching," Madrazo said.
He noted that their "ministries are shaped less by perceptions we might have of Hispanic/Latinx evangelicalism and are much more deeply shaped by their own experiences with God in the crucible of migration."
Madrazo, himself an immigrant from Venezuela, a fluent Spanish speaker and an ordained Baptist pastor, conducted this research as part of his doctorate of theology work at Duke Divinity School.
He also earned a master's degree in English from Baylor University and an M.Div. from Gardner-Webb University. Madrazo serves as a program director in the religion division of Lilly Endowment Inc.
Madrazo spoke to Faith & Leadership's Sally Hicks about his research and its implications for the broader church. The following is an edited transcript.
Faith & Leadership: What is your takeaway from your experience of visiting these congregations and hearing the preaching?
Tito Madrazo: Ultimately, it is really the formative experiences of migration and, for many of these individuals, coming to faith through their migration journeys or during their migration journeys.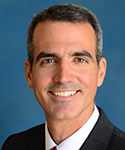 Many of the ministers here experienced conversion. Sometimes that conversion was from a secular background. Sometimes they described it as a conversion from Catholic upbringing to Protestant or Pentecostal identity. But it was almost always connected to their migration journeys as well.
It was the way that they experienced God's deliverance or redemption or help in the midst of that process, or the way that they experienced new community within a church family when they arrived in what for them was an alien landscape.
In that sense as well, their preaching always resonated with the lived experiences of their first-generation congregations. Because of the recency of migration in North Carolina, these were first-generation pastors preaching to first-generation adults and their children — some of whom were native, born in the United States, some of whom were in the situation of DACA recipients.
All of them were still closely connected to this migration experience. For instance, some of them had dramatic stories of God delivering them — sometimes from ICE, sometimes miraculously allowing them to come into the United States against all odds.
When they preached about having a personal relationship with Jesus Christ, there was also this echo of the alienation that they had experienced as a result of migration — the importance of knowing and being known by Christ in a situation in which they felt themselves entirely unknown, in which some of them were denying themselves, using different names.
Church was a place where they could use their real names and they could be known for who they were. There was significant preaching about the role of the community of the church, God regathering God's people in this new place, and that was a strong factor in their preaching.
But along with that, there was also a lot of moralistic preaching, in terms of behavior and sexual ethics, all of these kinds of things.
The way in which I understood that connecting with this experience of migration is when you're forming a new community in a new place — and we see this in Scripture as well, throughout the Hebrew Bible — one of the first things God does is to provide new laws and moral codes to hold together these people that have just come together.
We think monolithically, sometimes, of a Hispanic church. [But] for instance, Iglesia Agua Viva, in which I did most of my participant observation, had members of seven different nationalities. And even from the seven different countries of origin, some were from urban centers and some were from the countryside, and they had had different experiences and different levels of education.
You have just this wild diversity within a church that from the outside just looks like, "Oh, they're all speaking Spanish." Right, but aside from that, so much diversity.
Gerardo Marti writes about the danger of "ethnoracial essentialization" — that sometimes we paint with too broad a brushstroke and we lose sight of the variety that exists within these communities.
F&L: One of the phrases I noticed is that you describe both the preachers and the congregation as "recovering from wounds." What do you mean by recovering from wounds?
TM: I owe gratitude to Mary McClintock Fulkerson, who identifies this in "Places of Redemption."
I focus on the wounds of migration. Again, they're going to connect with some of these preaching themes, because the wound is alienation. The wound is loss of family. In some cases, the wound is a physical one.
There are several preachers in here — one is a paraplegic who was injured because he was thrust into this adult migrant worker world at far too young an age. One young man came to the United States because a family member was wounded in an agricultural operation and they were just looking for someone else to fill his spot.
There's this woundedness, and there are stories of dramatic healing that both inform faith and sometimes authorize ministry.
But the key here is not just the woundedness; Fulkerson talks about these wounds being the site of theological discernment and thinking. So these wounds became places where they were not just damaged by the wound but ultimately they experienced the healing of God in some way.
Sometimes this was physical healing. Sometimes it addressed the social needs in their lives. It always incorporated some spiritual dimension. But it was because their wounds had been healed that they were then able to go into ministry and speak to these particular wounds that they understood.
Again, it was this close connection between the lived experiences of the preachers and the lived experiences of the hearers that made such a powerful dynamic in this preaching.
F&L: You sort of touched on this, but in what ways is the vocational discernment of these preachers particular to their experience in community?
TM: Some of the literature that talks about vocational discernment really centers a predominantly white, graduate school experience.
That's not to say that there's anything wrong with that or that people don't experience calls in those ways. But there's almost this sense of ennui, this, "I'm not doing what I should be doing with my life; I'm looking for meaning; perhaps God is calling me to ministry" that becomes the spark in that direction.
Whereas for some of these ministers, it was much more tangible and much more rooted in lived experience and even exigency. For one minister: "I've experienced dramatic healing, and now they're inviting me to share my testimony. And as I share my testimony about this dramatic healing, I begin to take on the role of a preacher; I can seriously imagine this vocation for myself."
For another: "I've been dramatically delivered from deportation, and this becomes my platform to begin sharing a story."
For others — and this was really interesting — in many of these churches, because pastors are very rarely full time in first-generation immigrant congregations, they are transient to a much greater degree.
I mean, they really are, many of them, itinerant ministers. If their secular job requires a move or if it falls through and they have to find another job, that congregation is looking for a new pastor.
Many ministers from the very beginning start to train their laypeople in pastoral functions. One minister talked about being thrown in the fire. His minister, as soon as he converted him, began teaching him how to preach, along with a few others in the congregation.
They took preaching classes the way that others might take Sunday school classes or Bible studies. Then suddenly when the preacher was gone, moved out of state, the congregation kind of looked at him, and they said, "Well, it's got to be you. You've got the most experience preaching."
Which was terrifying for him, and I imagine it would be terrifying for most of us. But there's nowhere else to turn. There's no pipeline of well-educated ministers who have already discerned this to be their vocation.
Now, I would say that this is becoming more and more the case, not just for first-gen immigrant Hispanic and Latinx churches, but this is happening more and more in lots of churches. So the need for churches to really think about being spaces of vocational discernment for future members — both their own and for wider networks — is important.
F&L: Are the ministers worried about the future of the Hispanic/Latinx church as the second and third generations mature?
TM: It depends. I think that many of them see their own ministry largely as being to the first generation and their families — because in the United States, there has been continuous migration. It's not just one wave. It is an ongoing wave.
But the other thing is, when you look at the growth of the Hispanic population of the United States from 2000 to 2015, only 25% of that is due to continued migration.
Seventy-five percent of that growth reflects a native-born population. So all of [the pastors] were aware, and all of them dealt with the tension of trying to make sure that they were a place where first-generation people could put down roots and grow in faith, but also where they were continuing to be relevant and meet the needs of Generation 1.5 and Generation 2. This was a challenge for them.
Iglesia Agua Viva had its main services in Spanish, but it conducted all of its youth and children's Sunday school and ministry activities in English. Because as children went to school, they became more familiar with English and more comfortable communicating in English, although then those same youth would get up and lead worship in Spanish.
All of them also understood that the church was going to change moving forward. So part of investing in youth was investing in people who, because of their bicultural and bilingual formation, would have that similarly close connection to congregants that they as preachers had to Generation 1 congregants.
You might consider it as new wineskins and new wine as they were moving forward, but with the same spirit of ministry.
They were less concerned that future generations carried the same culture that they did from their countries of origin and more concerned that they carried this culture of Christian faith in which they'd been formed in a congregation.
From the very beginning, churches aren't trying to specifically make a community of faith Hispanic in a particular way or Latinx in a particular way. They're trying to form Christian faith in a particular way while still honoring and giving space for these expressions that more closely reflect Hispanic and Latinx origins.
F&L: As we close, I usually ask people, is there anything I didn't ask about that you would want to add?
TM: There is a feeling that Latin American liberation theology and the tenets of Latin American liberation theology are — or should be — present in this preaching.
I went in, having read much Latin American liberation theology, expecting to find some of it. I did not find it in large part, except among those preachers who had had the benefit of study in Anglo theological schools.
But I think that one of the distinctions here is even though the preaching might be traditional in many ways, it is also still really liberative within these contexts — spiritually liberative, but also liberative in terms of giving Hispanic and Latinx congregants a place to appear and to be valued in the sight of one another and in the sight of God.
That in and of itself is an act of resistance for a population that is experiencing vulnerability and marginalization in many ways. There's a chapter here specifically about female preachers in this context.
There is much liberative work being done by these preachers, even when they're preaching in somewhat traditional ways. I mean, just standing in the pulpit in some of these places is liberative, and naming the worth of women both within the congregation and in the role of preacher and minster.
I think that there's this balance that preaching and ministry can be liberative, even if it is not always liberative according to certain ideals, that there are many ways in which it can be liberative and life giving.