The Rev. Laura Edgar said she's long had the intention of holding conversations with her church's neighbors at nearby Auburn University. But only recently has she learned the language and skills to do that, said Edgar, the associate pastor for youth, college and young adults at Auburn First Baptist Church.
The key, she said, is "to learn what the needs truly are, and not what we think the needs are."
Edgar's congregation is one of 16 to take part in The Vinery: Awakening Faith and Flourishing at the Intersection of Church and University. The program invites congregations close to college campuses that are ready and willing to build or expand relationships with their campus communities into a two-year process of congregational reflection, listening and discernment.
There are about 20 million college students across the United States, and about 5,000 churches located within 2 miles of a campus. We believe that in bringing these two communities together, the torn fabric of American life can begin to be rewoven by forming healthy human beings serving the common good in the likeness of Christ.
In 2021, the college ministry Mere Christianity Forum launched The Vinery to build connections between churches and universities with a grant from Lilly Endowment Inc.'s Thriving Congregations Initiative.
The Vinery does not focus primarily on college ministry programming or increasing attendance numbers of young people in Sunday worship. We do hope that these are manifestations of the inner work of the congregations. But before that work can begin, we invite congregations to practice deep listening.
Why deep listening? Deep listening, in simple terms, is intentionally hearing the needs and interests of others and taking them seriously. It involves listening to what is said and what is not said.
At our 2023 annual Vinery gathering, the Rev. Judy Peterson offered some guidelines. Deep listening is more than being present, having good body language and hearing what others are saying, she said. It entails exhibiting a generosity that invites speakers to talk to us from their hearts — and does not send them signals that we only have time for a summary.
We begin by asking participants to explore how they are listening to God, themselves, their congregations and their campuses. Then we ask how listening more intentionally might help them become better neighbors to the young adults, staff, administrators, faculty and alumni near them. Through their listening process, congregations can learn of needs they hadn't anticipated or sense a call to people they hadn't noticed.
As our first group of congregations finishes its first year, this emphasis on deep listening has made a remarkable difference.
The Rev. Bromleigh McCleneghan of United Church of Gainesville in Gainesville, Florida, said that people have started showing up in her office to talk over concerns about issues on campus and their sense of inadequacy in the face of overwhelming student need.
"Slowly, through deep listening, a nascent vision of what ministry alongside our university neighbors could be is beginning to emerge," McCleneghan said.
Deep listening entails building relationships and allowing our learnings to guide strategic and ministry plans, rather than showing up with agendas preset by boards and councils.
Granted, it's easier to plan a pizza party at the church than to commit to regularly eating in the student dining hall. It takes less effort to build a ministry program from a list of suggestions than to take time to learn what people really want.
But when congregations really listen to their collegiate neighbors, they can serve them better. One Vinery congregation heard from students that buying textbooks was a financial burden; the church created a fund to help them. In another congregation, young adults are finding companionship with a small group of octogenarians who drink tea and knit on Friday afternoons.
Deep listening doesn't stop at listening, though; it merely starts there. The next step after hearing people's needs is making an effort to meet those needs.
McCleneghan in Gainesville said the conversations she's had have inspired her to take that next step.
"It's not what I anticipated, but it certainly feels important. Deep listening is allowing me and the other lead team members to hear God calling us to some new thing," she said.
McCleneghan said she has scheduled a meeting to talk with the folks showing up in her office and sending her texts — an event that will be "just the next stage of this unfolding conversation."
Peterson, in her address to the annual Vinery gathering, said that a deep listening practice isn't just for specific occasions or meetings; how we listen — or fail to listen — in the everyday, mundane moments of our lives creates our listening habits.
The Rev. Elexis Wilson, the pastor at Wayman African Methodist Episcopal Church in Bloomington, Illinois, said at the gathering that we have to discipline ourselves not to mentally multitask by thinking about what's next or how we might fix the problem at hand: "Many times, the task is to just listen."
For Wilson, whose father was a pastor, this practice has particular meaning.
"I do not think I am ever listened to without [listeners] looking for the end game," she said. "As a preacher's kid, I felt like there was no genuine want to know my thoughts unless they wanted something from my father or were being paid. Nobody naturally would sit and hear me."
Deep listening is vital to The Vinery's process. It requires that we be intentional about prioritizing listening, even when it's inconvenient.
Can we teach ourselves not to answer the phone when we're distracted? Can we avoid thinking about laundry or clicking on Facebook during Zoom meetings? Can we learn to say, "I'd like to hear what you're saying, but now is not a good time — could we schedule a conversation later, when we both can focus?"
How do we listen, not only to our congregations, campuses and constituencies, but also to our co-laborers? How might our deep listening make us better disciples, colleagues, leaders and friends?
Yes, it feels terribly inefficient. Yet I know that for my life as a disciple — as well as for congregations — it's crucial. May we help people know that they are cared for and listened to — by us and by God.
Deep listening doesn't stop at listening, though; it merely starts there. The next step after hearing people's needs is making an effort to meet those needs.
When Daniel J. Bernardo took over as interim president of Washington State University in 2015, he had to handle multiple crises — fast.
He and the university community were already grieving the death of their beloved president. FBI agents showed up in his office to tell him that the campus computer network had been infiltrated. A forest fire shut down the airport and threatened to delay the start of the semester. And a Fox News segment about online syllabi prompted a deluge of complaints.
"It's amazing, as you probably know, what a firestorm that type of coverage can cause," he said. "So we just had a whole convergence of things going on in that first month, and it was a trial by fire for sure."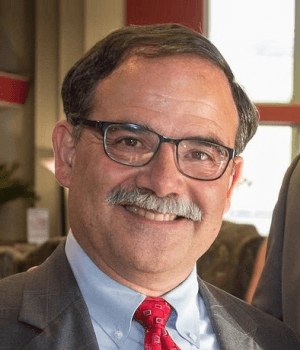 After surviving that initial trial, Bernardo went on to serve the university for the next year, until Kirk Schulz assumed the permanent role in 2016. Bernardo's experience — and other interim roles he's filled — inspired him to write a handbook for others stepping into such a position.
The book, "The Interim: A Guide to Transition Leadership in Higher Education," offers a five-stage plan, structured chronologically from positioning yourself for success to the handoff. Drawn from his own experience and research as well as more than 30 interviews with other interim leaders, it also includes specific advice about things from budget management to time management to developing a 30-day plan.
Bernardo, who now serves as a senior adviser to his successor, spoke with Faith & Leadership's Sally Hicks about his experience as an interim leader and why he thinks that job can make a difference in the life of an institution. The following is an edited transcript.
Faith & Leadership: Explain a little bit about how you became interim president of WSU.
Daniel J. Bernardo: I had been in a couple of interim roles prior to that, but the interim presidency was truly unique. It was an interesting time, a difficult time. We'd had a really charismatic leader — a native of North Carolina.
Elson S. Floyd was president of the University of Missouri System prior to us. [Before that], he was president of Western Michigan. He was a Tar Heel — went up the ranks [at UNC] and also got all his degrees there. Anyway, he was a dynamic guy. Really, really fun to work for. He really elevated us in terms of reputation.
Unfortunately, he contracted colon cancer while he was in office and died rather suddenly. The kind of leader he was, he didn't really take time away from his position to treat his illness. There was only a two-week period between when he stepped down temporarily and when he passed, so there was little preparation. It caught a lot of people by surprise. So it was a very, very fast transition.
F&L: I know you had a rough start. In the end, what did you enjoy about serving in the role of interim president?
DJB: This is my alma mater, so to be interim president of a place that's really special to me, that's truly what I enjoyed most. And I particularly enjoyed the external relations role. And being an alumnus was a huge advantage.
I did ask that question of most people I interviewed for the book. Their answers weren't about things like, "Oh, we restructured this" or, "We introduced this new program." It was really about service to the organization and advancing the culture and moving the organization forward. I think that the challenge of interim positions is fun.
It's exciting. It's exciting and gratifying, because you can really get a lot done.
I look back on each of those organizations that I led in an interim way and I think we set the table nicely. And that's a really important thing — the interim has to set the table for the next person. Even to the extent of, what kind of written documents do you want to hand over?
I feel like I handed over an organization that was much better organized, at least, than the one I inherited. Even though I revered Dr. Floyd, one thing he wasn't particularly good at was annual reviews. He was a relationship guy, right?
Dr. Floyd had 35 direct reports, which he could manage, but no mere mortal could do that. So we got it down to 17, and we did some restructuring in that way.
I think it's gratifying to hand it over to somebody. And in every case, they really appreciated what had been done.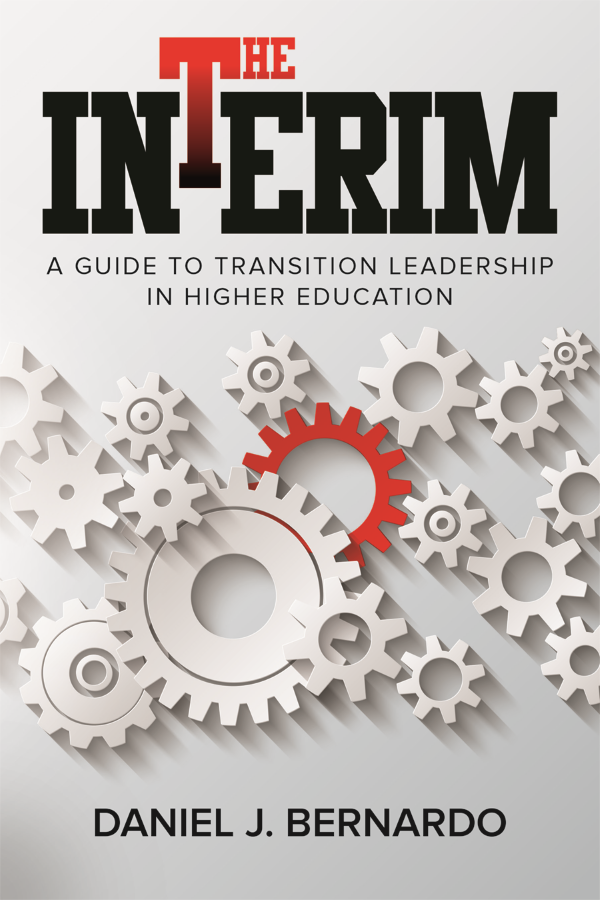 F&L: The central message of your book is that one should not view an interim leadership position as being a caretaker. Talk a little bit about leading with a "bias toward action."
DJB: What I've noticed over the years is that you're asked either officially or informally to be a placeholder. If you adopt that philosophy, it's going to be a significant time of treading water and missed opportunity for an institution. It's not uncommon for institutions to have as much as a quarter of their leadership team led by interims.
And if you just carry that out and think about it just mathematically, if you will, that's a lot of administrative years of opportunity risks, if it's just the status quo.
It really does require that the person appointing the interim make it clear that that person has authority to move forward. That will be challenged by faculty, because they're indoctrinated to the role of the status quo interim. You can quickly render that person ineffective by not being supportive.
Another thing about these interim roles that I found interesting was we think of them as six months to a year. But they can sometimes be indefinite. A good half of the people I interviewed had no time frame provided to them for their appointment. Even those that had a year time frame identified, for the majority of them, their appointments lasted longer than a year.
F&L: You also talk about how it's a unique opportunity and that interim leaders can do things that are needed because they're time-limited. What can an interim do that a permanent replacement couldn't do as easily or as effectively?
DJB: An interim that is not pursuing the job permanently certainly has the ability to make some changes that perhaps somebody coming into the role might be averse to.
Unfortunately, more and more circumstances prevail where interims are in the role of what I call the clean-up-the-mess interim. Those are scenarios in which there are very large problems to address within the college or the vice presidential unit.
And in those circumstances, the interim has the advantage of being able to address those issues aggressively, where a new person might be reluctant to do that. The interim typically comes from that same institution, so they tend to have a much better perspective on the institutional norms.
F&L: What are some examples?
DJB: The most common from the people I talked to and that I've encountered were personnel or culture issues. So certainly, those personnel issues and changing the culture of an organization are areas that an interim can plug into and make some significant progress.
It can be organizational. Some of the people that I talked with were involved in reshaping organizational structure. Interims are often used in establishing new organizations. For example, in a new college or new vice presidential area, there might be an interim there to try to set this organization up.
That can be a really productive use of an interim, because some of those things require people with the institutional knowledge, and also making some tough decisions that allow them to hand off the organization to a more permanent person.
F&L: You lay out five stages of an interim leadership position. There are two things that run through all of them. One is relationships, and the other is communication. Why are those two things important in particular for an interim?
DJB: Those are probably the two critical elements of any leadership position. I think, first of all, with respect to communications, one of the real challenges with an interim position is the time frame and the fact that everything is compressed.
I suggest creating a 30-day plan instead of what's typically thought of as a 100-day plan. So everything is compressed, and that makes it even more important that you invest in relationships and that you invest in communication.
It's very important to prioritize, and it's very important to stop and build relationships along the way, and invest in those relationships on the front end. It's important so that you have your team with you along the way. Some of the challenges an interim has are because of the impermanence with that team.
It's important to be strategic with your communication — not only what you say but what you don't say, because everything you do will be interpreted. In most of these interim situations, there is an information void inherent in the situation. And if people don't know what's going on or don't have the necessary information, they'll make it up, as you know, right?
F&L: One of the things you talk about is diversity, equity and inclusion as being a vital part of an interim leader's work. And you point out that even if there is a DEI plan, it might not really make a difference in the culture. How do you figure that out?
DJB: Again, it's communicating that that's important and talking to people about it, people who might have a perspective on that. The only way to do that is to talk to people who may be affected by that culture.
When I first became a dean, I inherited a place that had real culture problems, especially around women in the workplace. And once I opened that up as an issue and began to talk to people about it, I was pleasantly surprised how many people, once they figured out that we were going to take it seriously, came quickly forward to help identify the issue and help develop some real action steps.
We identified three tenured faculty in the college. We developed a case against each of them where either they were going to resign or we were going to be in court with them, and they opted out. But yeah, it probably will involve some tough personnel actions, because these things don't happen by themselves.
F&L: Another step you advise is making a learning plan. Why?
DJB: This [role] is not only something that's good for the organization; it needs to be good for you, right? So you need to be very conscious upfront about, "What is it that I want to learn from this experience, and how am I going to go about doing that?"
Sometimes you think you don't have time to learn, but if you want to maximize the benefits to yourself in terms of professional development, you need to invest in yourself through this process as well.
For example, one thing that I wish I had done was to keep a daily journal. First of all, to make this book a lot easier! But also, it would remind you of all of those learning opportunities that you went through along the way.
For example, the budget can be a challenge for some interim leaders. Well, this is a chance to learn, "How do I go about taking a budget and implementing it and holding people to that budget?" Those are great skills that a lot of deans and vice presidents have to develop on the fly.
F&L: You have really detailed suggestions, templates for all kinds of actions. And when I read it, I thought, "My gosh, for a person who probably is already overwhelmed by the job, that seems like a lot." But you have also a specific strategy for freeing up time. What do you recommend?
DJB: Time management is one of the real keys to being a successful interim, and I make some very specific suggestions. The first one is don't accept the predecessor's schedule as your own. You have different priorities, and there's a tendency for some interims to go in and keep all the same meetings and try to run the same schedule.
Spend some time analyzing, where does your time go? One of the key suggestions is don't try to have 100% of your 8-to-5 time committed to doing meetings and donor visits and all of the specific activities of the job, and not budget out time for things like email, phone conversations, etc.
That is a ticket to burnout. Many of the people I interviewed suffered that way. They just tried to outwork the job. We all do that.
It's my bias, but I use my administrative staff quite differently than many of my peers. I require a really outstanding administrative assistant — or what I would call chief of staff — and a really outstanding CFO.
And I'd always find it interesting that when people would come to interview, they would talk about the faculty and everybody else but they wouldn't talk about the most important person to me. And that is my chief of staff, my go-to person. You can delegate a lot to that person. And I just think that delegation is absolutely the requirement.
But that burnout is significant. There were four or five people I interviewed that had significant adverse health reactions to their interim positions. They weren't ready for the time demands that they imposed on themselves or the stress of that job. Fortunately, they were able to get out of it in time and get back to some normalcy.
F&L: And when you say use administrative staff differently, you mean invest them with real responsibilities so that your workload is reduced?
DJB: Part of that is that the CFO, for example, and that executive assistant are in every leadership meeting you've got, because they have to know what you're trying to accomplish so that you can trust them to make decisions based upon your goals.
Not everybody treats their CFO that way. They just go in and talk to him or her as needed. I think that an HR person's the same way. A real time sink for administrators is personnel, as you mentioned. And if you have an HR person who is in sync with you, he or she can buy you a lot of time.
F&L: Is there anything I didn't ask you that you would want to add to our conversation?
DJB: A key recommendation that many people should adhere to is do not keep your previous job. Do not try to do two jobs, because you will do two jobs poorly.
I regularly saw that as a significant issue. Either the interim stayed in the former role or they mentally couldn't disconnect from the former role. So you've got to have confidence in the [replacement] and let them do their thing.
And that goes back to the theme that these people have to be empowered. If they're all doing nothing proactive, that's a pretty significant tread-water time for the university.
For more than a decade, master of divinity degree programs have faced downward trends in residential enrollment. Spurred by the pandemic, many institutions have responded by offering more hybrid (blended residential and remote) and fully online programs.
It might be supposed that distance theological education is primarily an alternative form of education, a technological innovation, even a concession of sorts. But a review of the New Testament, and specifically Paul's letters, reminds us that distance theological education has been around since the beginning.
In fact, Paul's letters offer a dynamic view of distance, embodiment and the collaborative formation of the Christian, providing church and academic leaders today a biblical and theological framework for welcoming hybrid and online learning.
Theological distance learning is not new
The apostle Paul formed early Christian communities all over the Mediterranean even though he was unable to be with them in person much of the time.
More than a substitute for his physical presence or a concession to circumstance, Paul's letters were an intentional feature of his teaching, allowing him to be "absent in the body yet present in the Spirit" (1 Corinthians 5:3). While it is true that Paul sometimes wrote letters because of difficult circumstances (several were written during his own "lockdown" period), he also strongly believed in forming Christians from afar.
Indeed, the fact that a significant percentage of our New Testament canon is made up of Paul's outgoing mail tells us that theological formation can and does occur at a distance.
Now, Paul's relationship with the churches he helped form and educate in the faith was, like the state of higher theological education, complex. The apostle visited churches when he thought his physical presence would be helpful for formation.
But by that same logic, teaching remotely allowed Paul to rely on an intricate network of collaborators, including those named as co-authors of his letters, like Timothy and Sosthenes, as well as contacts in the churches' local communities, like those named in the postscript of Romans.
Additionally, Paul's absence in the body empowered young churches to raise up their own leaders rather than rely on a limited circle of apostles. For these reasons, some like theologian Russell Haitch have called Paul the "prototypical distance educator."
Teaching the "body of Christ"
Whether in person or by correspondence, Paul's commitment to forming Christians and leaders found expression in the image he introduced to the world — the "body of Christ."
Imagining people as parts of a body, he declares that a body's feet need its hands just as its ears need its eyes. Members are to treat one another as "indispensable" (1 Corinthians 12:22), that all may belong in Christ, in order to keep the body whole and flourishing.
In terms of theological education, however, restricting the scriptural image of the body to bodies in a physical classroom dilutes our understanding of Paul's formative ministry.
For example, what about all the potential students not able to resign their jobs, sacrifice income in addition to paying tuition, move their families to a new city, and leave their material and spiritual networks behind? Historically, such barriers have especially hindered prospective students of color, those with fewer means, and those in midcareer called to serve churches.
Such would-be students are no less members of Christ's body, even if the physical requirements of a fully residential M.Div. program create distance between them and their inclusion in theological education.
Hybrid and online degree programs are more obviously forms of "distance" learning, but viewed from another angle, they remove distance. That is, by allowing students to remain in their ministry contexts as practitioners, they enable students to learn in context with immediate application of their learning.
Additionally, forms of remote learning often provide greater access and affordability overall. Welcoming remote learners and the programs that support them actually expands our conception of the body of Christ, while reminding us of the limits of exclusively residential models of formation.
Embodiment and embeddedness
In Christian theological education, the default critique of distance learning is rooted in the conviction that God took on human flesh and dwelt among us and therefore did not meet us via Zoom.
Alternatives to residential learning, it is thought, can lead to separating the soul of teaching from its physical embodiment. However, hybrid and online programs do not negate the "embodied" learning of residential models; they reverse them.
Human beings come from local contexts, which rely on specific material and spiritual networks. The best distance education programs recognize the embedded nature of remote learning, drawing on the strengths of learners' contexts. Such learning may take the form of collaboration with local practitioners, field education in a local ministry context, and the immediate application and integration of academic learning.
Thus, while some might be inclined to reject remote learning for its "disembodied" feel, there is sometimes a deeper embodiment among remote learners in their contexts. Indeed, the rise of bivocational (or even trivocational) ministry leadership suggests that the situation most remote learners experience reflects emerging realities in ministry today.
Paul imagined that his "remote learners" had everything they needed to grow where they were — intermediaries to deliver and interpret Paul's teachings, contextual collaborators to equip learners, and a local network of material and spiritual resources.
Certainly, remote learning is not without risk. More agency rests in students' hands. Instruction does not orbit as tightly around institutional faculty members. More educational ground is ceded to practitioners in widely varying contexts.
Risk comes with the trust and choreography required among faculty, staff, practitioners and students to make learning work. Such trust and its inherent riskiness is evident throughout Paul's letters. But Paul's conviction remained steady — namely, that he could teach Christians from afar.
While shared physical space is important for formation, Paul reminds us that just as important are the relationships, networks and influences that compose the contexts in which Christians live and move.
As more theological institutions consider hybrid and online learning modes, new questions arise about the role of local churches and ministry contexts in the formation of theological students.
If churches in the past have been content to send their prospective leaders to faraway schools to be trained, a new era may require theological schools to rely increasingly on churches and their communities to help them equip leaders.
Learning lessons from Paul's teaching by correspondence can help inspire churches to renew their focus on being equipping communities, allocating considerable resources and energy to the next generation of Christian leaders.
As interest (and, likely, angst) around remote learning continues to grow, we can be assured that we are neither alone nor without scriptural precedents. The original distance educator can help equip us to face the challenges of the future.
When the house next door to the parish hall of Grace Episcopal Church came up for sale, it created the opportunity for more than a real estate transaction.
The Rev. Karen Hunter, the vicar of the Nampa, Idaho, parish, had already recognized the need for a local ministry to help support single mothers. With buy-in— both financial and philosophical — from the right people, she believed that the unassuming building could help them serve a new set of neighbors.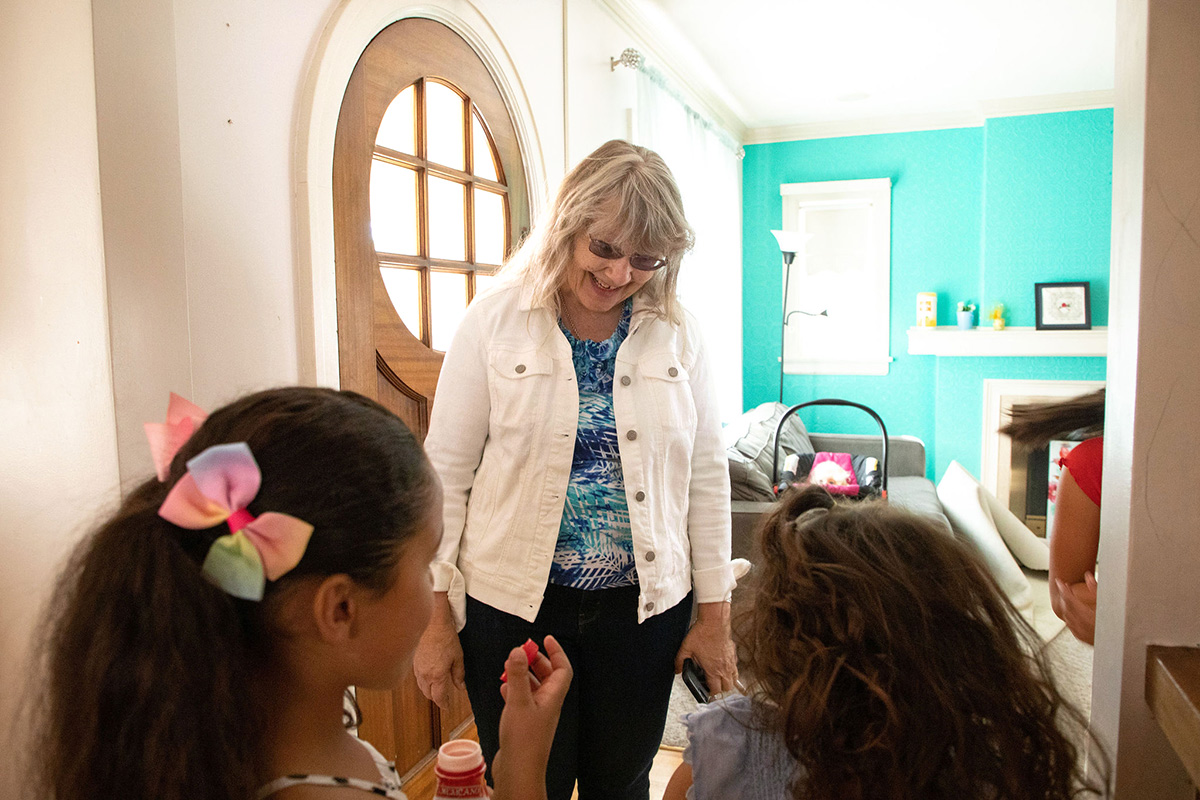 Although the church had owned the property once before, when Hunter and other members of the congregation went to take a look, they discovered a much larger floor plan than they'd realized. Knowing that Grace could not afford to buy the house outright on its own, Hunter reached out to her sister and brother-in-law and pitched them on the purchase with the hope that the church would pay them back eventually.
They agreed, and the plan was discussed further at a congregational meeting.
"There were a number of people who surprised me in being supportive, because something like this is a big undertaking," Hunter said. "We had so many people who had experienced being single moms, or had people close to them who were, I think it really resonated. It was clear that this was a time in people's lives when assistance is really important."
With an eye to housing families led by single mothers who were pursuing their education, the parish established a committee and a board, both of which got to work. The planning for what would be aptly named The House Next Door began in earnest, with next steps that would be familiar to any housing nonprofit: applying for 501(c)(3) status, hiring staff members, bringing in furniture along with the bits and pieces of daily life that would make the empty house a home.
What resources to address a problem are so close that you might have overlooked them? If those resources seem unattainable, what are some creative options to overcome those hurdles?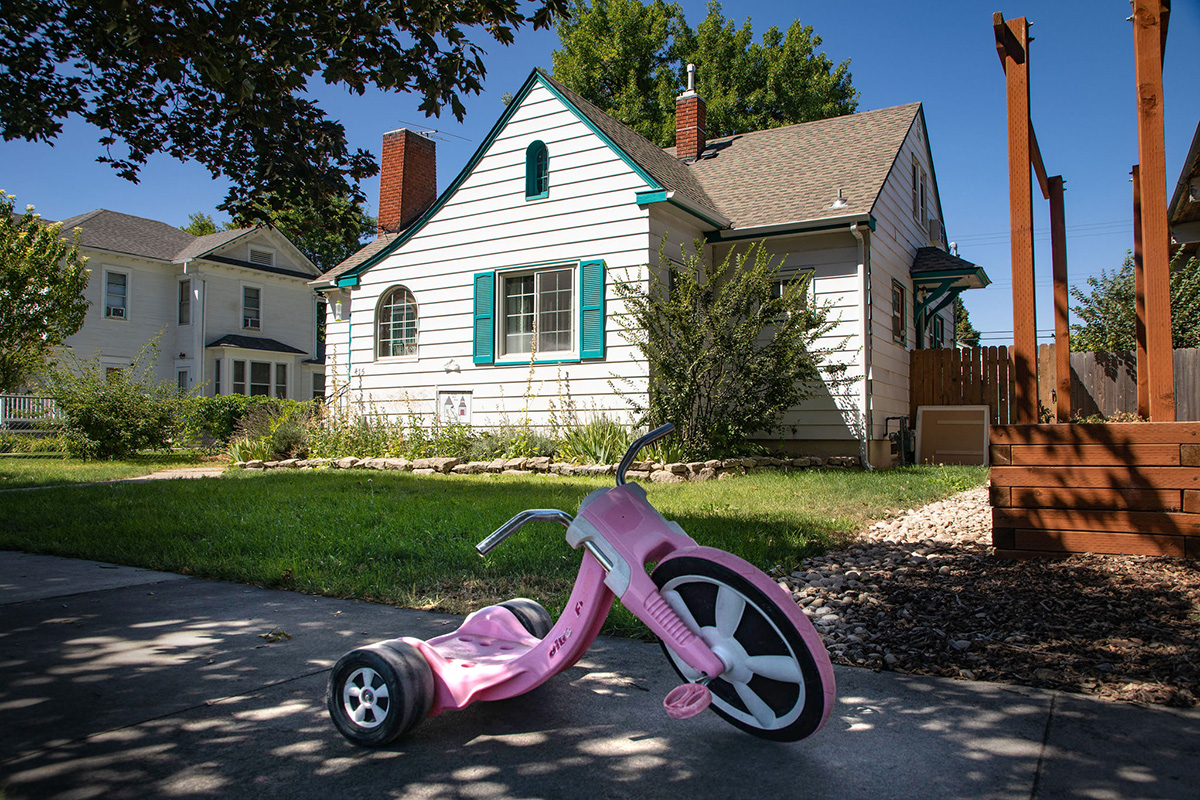 Learning as they go
The House Next Door went on to open in 2015 and has since provided rent-free housing for 16 mothers and 27 children, five of them born while their families were in residence. The qualifications and application process have evolved over the last seven years, mostly in response to new information and unexpected considerations, including deciding what qualifies as pursuing an education.
One of the first residents was pursuing her GED diploma rather than a college degree, as had been stipulated. In response, that requirement was broadened to include any kind of education — from GED studies to heating, ventilating and air conditioning (HVAC) training to an apprenticeship with builders to learn how to frame houses.
Nampa, with a population of roughly 100,000, is located 20 miles west of the state capital of Boise. The city is home to the annual Snake River Stampede Rodeo, abundant parks and walkways, and other attractions. It is also among those municipalities faced with a growing need for affordable housing. For single parents trying to improve their families' circumstances through education, housing insecurity is an additional burden.
Meredith Greif, an assistant research professor of sociology at Johns Hopkins University, said that supporting housing stability and parental education benefits families and communities.
"Anything that can be done to help people to advance their education is going to go a long way in terms of their ability to gain jobs that are helpful to their families, income they earn and, similarly, the housing they're able to secure," said Greif, whose research focuses on race, space and housing.
"Kids will 100% only benefit from that, from the stable environment their parents provide," she said. "Parents are best equipped to be supportive of their own kids when they, too, are in a mentally stable place, when they perceive their quality of life to be good and they're satisfied with their environment. Having parents feel good about themselves and feel engaged in the world and confident only is going to spill over to their kids."
How do you respond when realities shift and your expectations for a project need to change? How might you reframe those changes as opportunities?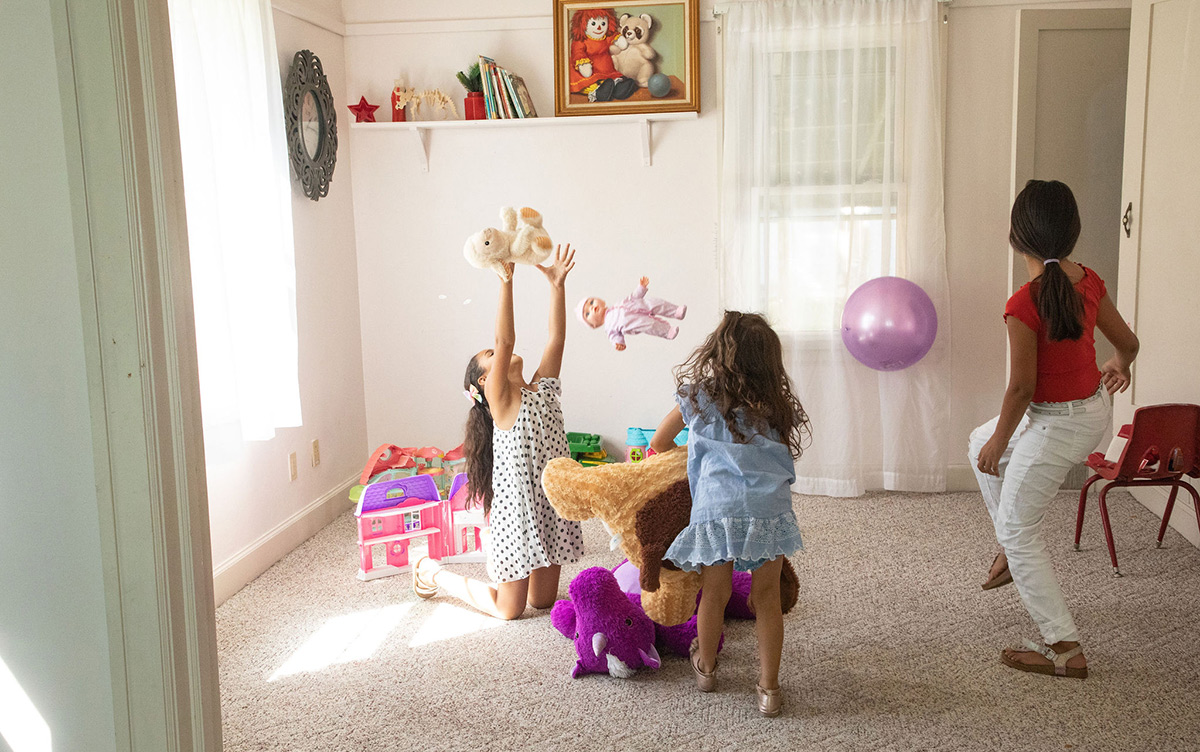 The application process for living at THND includes a list of general criteria: mothers must be 18 or older or legally emancipated; they must be enrolled in educational programming at least part time and be working toward a degree or certification; and they must maintain a minimum 2.0 GPA.
All residents must also agree to abide by the list of house rules, which include no smoking, no drugs or alcohol, and no overnight guests. Mothers with a prior history of addiction must be in recovery for a minimum of six months prior to applying.
Living in the house
The 1930s-era house blends into the neighborhood, with only a small yard sign displaying THND's name and logo.
Thanks to a donor, the house's interior and exterior have just received a fresh coat of paint —bright white inside and out, with teal accents and shutters.
In addition to the four bedrooms and three bathrooms split between three stories, there is a kitchen, dining room, living room, study room and separate playroom. Amenities include a washer and dryer, Wi-Fi, and a large backyard with a patio, storage space, a playground, and an aboveground pool.
Two mothers residing in the house recently spoke about what the experience has meant for them. (The mothers requested that their last names not be used.)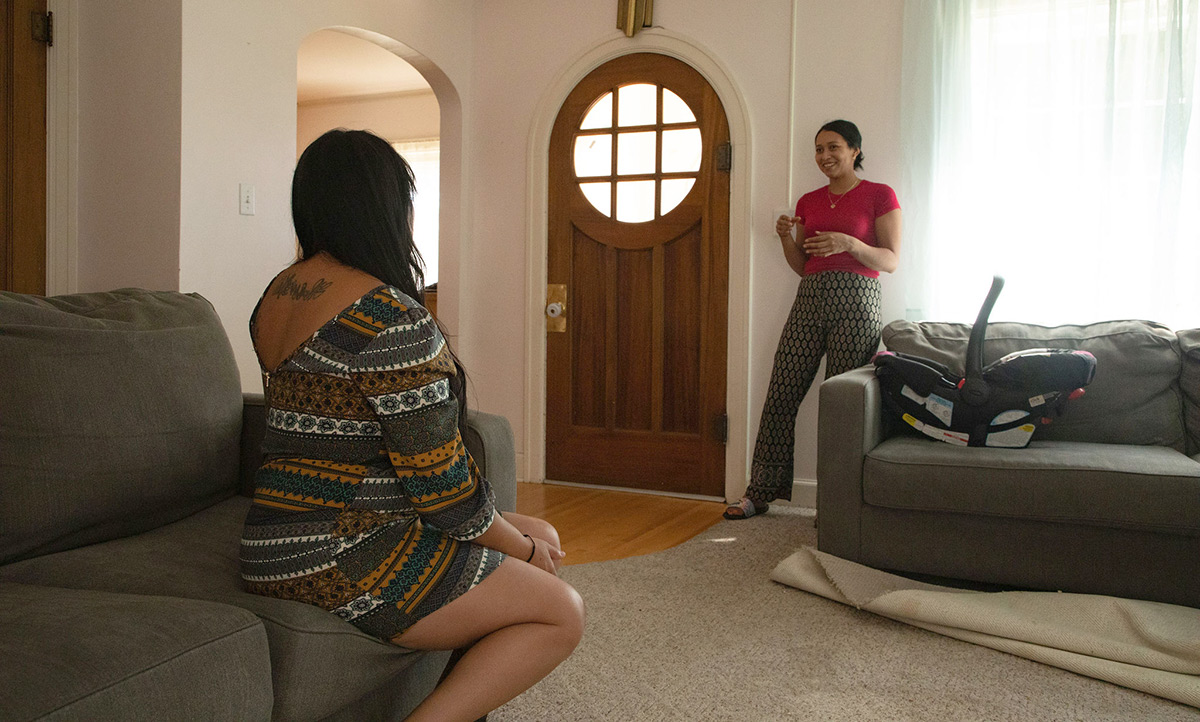 Carolina, 26, has three daughters, ages 2, 7 and 9. Originally from Honduras, Carolina speaks Spanish as her first language, and her interview was conducted through a translator.
She heard about THND through pastors in a church where she and her family had been in a shelter, and they helped her connect. Her family moved into the home in early December 2021, and she has been working on English classes and getting her GED certificate since then.
Jamilet, also from Honduras, learned about THND from Carolina through their work harvesting grapes. She is 22 with a 1-year-old and a 6-year-old. Before moving into THND in early February, Jamilet and her children were living in her aunt's living room. She already has her GED diploma and is taking English classes so she can attend college and pursue a career in nursing.
Jamilet said she feels safe and at peace living with her daughters at THND. She is glad the people there are helping her succeed. She also said it was challenging at first to establish a routine in the house between school, working, taking care of the kids and other responsibilities but that she feels more established in the home now.
The communal living established by THND is intentional, as it means more help with child care, house cleaning and general support. All are important factors while trying to juggle school and single parenthood. Each family pays $80 per month toward its share of the utilities and other necessities of the house. Residents also cover their own costs for food, insurance and personal expenses.
Building supportive relationships
When have you been surprised by someone's generosity, compassion or empathy? How can that shape your vision for what is possible?
Melinda Romayor, who became THND's new executive director in March 2022, has a background in advocacy against sexual violence through the Women's and Children's Alliance. She has almost a decade of experience running shelters and advocating for clients, a background that is useful for leading the work of The House Next Door. While THND is not a shelter for women affected by domestic violence, many who stay there have had similarly traumatic experiences.
Romayor's arrival came during a time of staff turnover, in both the executive director and the house manager position.
"There was a lot of change for the residents in terms of someone checking in," Romayor said. "They were used to just living there, doing their thing and not really being supported."
Romayor has been working to change that relationship, visiting with the women and helping them utilize all the resources THND has that they might not have been taking advantage of before. She has also been working to get the community more involved in opportunities for engagement, like sponsoring a room or a service project, such as the recent house painting, so that more people feel a part of THND and its success.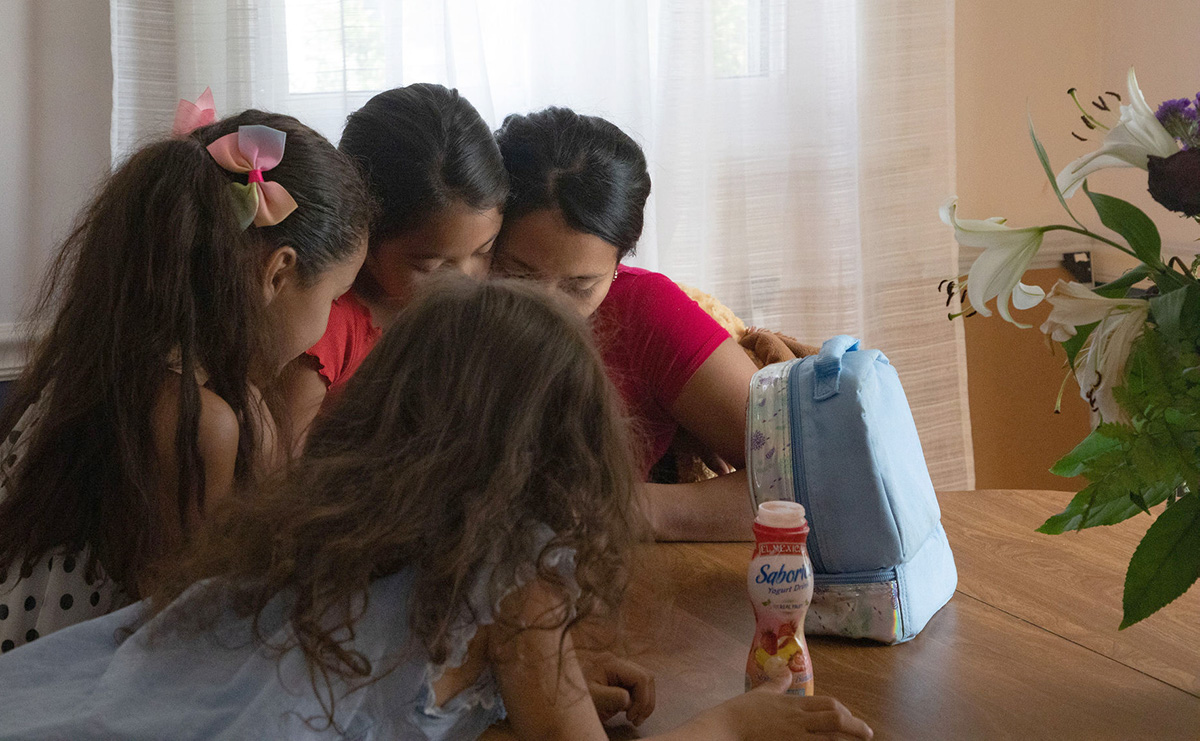 Each project done to renovate and upgrade THND — from replacing the 80-year-old original windows in 2016 to renovating the downstairs after a flood in 2017 to installing a new HVAC system in 2020 — has been through the support of volunteers, donors and grant money.
Grace Church has managed to secure funds for THND through a variety of endeavors, including a social enterprise to make priest's stoles and annual fundraisers, together with donations and grants.
The organization's budget goes primarily to maintenance of the house, Romayor's and the house manager's salaries, insurance, and the mortgage. They rely heavily on volunteers for supportive roles, especially for babysitting. Then there are the little things throughout the year that don't necessarily cost that much but have a big impact, such as gift cards for the residents on their birthdays.
There seems to be a natural rhythm to those coming and going from THND; there have been a few times when someone was wait-listed, but typically, as one woman moves out, another happens to apply. Grace Church and THND have received many requests over the years to open a house for single fathers. But for now, given the price of real estate in the area and the need to finish paying for the current house, the focus remains on the small home in Nampa, making a difference in single moms' lives.
Who are the people you need to bring on board for your next big project? What are some ways you can contribute to a larger endeavor in your community without being the one in charge?
Questions to consider
What resources to address a problem are so close that you might have overlooked them? If those resources seem unattainable, what are some creative options to overcome those hurdles?
How do you respond when realities shift and your expectations for a project need to change? How might you reframe those changes as opportunities?
When have you been surprised by someone's generosity, compassion or empathy? How can that shape your vision for what is possible?
Who are the people you need to bring on board for your next big project? What are some ways you can contribute to a larger endeavor in your community without being the one in charge?