Low-status neighborhoods need talent retention. Instead, what they get is talent extraction, says Majora Carter.
"You are led to believe you need to leave — you need to measure success by how far you get away from there," said Carter, a real estate developer and consultant who does work in her hometown neighborhood of Hunts Point in the South Bronx.
Carter, whose own family has experienced some of the ill effects of gentrification and predatory practices, has dedicated her efforts to building up her neighborhood and others.
Her projects include a local park and a coffee shop. In 2001, she founded Sustainable South Bronx, which aims to "achieve environmental justice through economically sustainable projects informed by community needs." She also co-founded the Southern Bronx River Watershed Alliance and has been involved in numerous environmental and green jobs initiatives.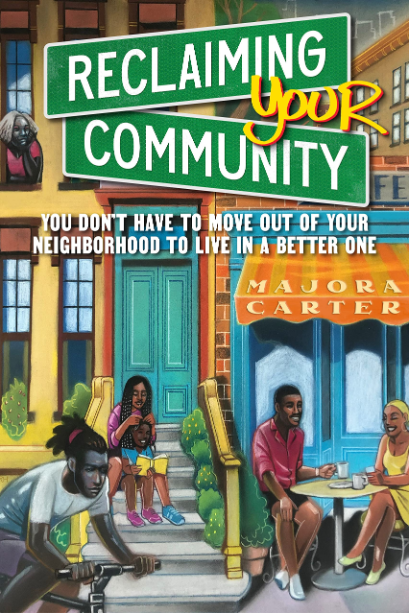 Carter wrote the book "Reclaiming Your Community: You Don't Have to Move Out of Your Neighborhood to Live in a Better One" — which was endorsed by Lin-Manuel Miranda and Seth Godin — and gave a 2022 TED Talk on the same theme.
She is president of the Majora Carter Group, which offers consulting services in environmental assessment, compliance and planning. She has received many awards, including a 2005 MacArthur Foundation "genius grant" that described her as "a relentless and charismatic urban strategist" and New York University's Martin Luther King Jr. Award for Humanitarian Service.
She spoke with Faith & Leadership's Sally Hicks about her work in the South Bronx. The following is an edited transcript.
Faith & Leadership: Talk a little bit about the neighborhoods you work in and write about. You use the term "low-status" rather than more typical descriptors, and you actually begin your book with a glossary. Why?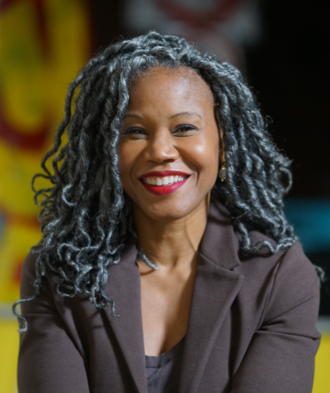 Majora Carter: Most folks, when they use "poor" or "underprivileged" or "underresourced," blah, blah, blah — it implies poverty is there. "Low-status" implies something much larger and deeper is at work. There's a high status and there's a lower status, and inequality is simply assumed.
It's the places where the health outcomes are lower, where the educational attainment is lower. Yes, poverty exists more frequently in those areas as well, and there's often a lack of hope in terms of the future of the community, both for people in the neighborhood and outside it.
And it can be anywhere. Urban, rural, suburban. It can be inner cities, Native American reservations, white towns where there was some industry and it's long gone.
What we see happening all the time is that the bright kids, the ones who are academically or artistically or even athletically inclined, are led to believe that they need to grow up and get out of those neighborhoods. That's really the underlying thing that just everybody gets. I don't care where they're from.
That's why our approach to community development is a talent retention strategy, really.
F&L: Part of this mindset is what you call the perception of "poverty as a cultural attribute." The community can't change — it isn't changeable — and therefore the only solution is leaving.
MC: It's baked in, this idea that poverty is part of the culture. So that's what you plan for, whether you're an elected planner, whether you're an elected official or part of the "nonprofit industrial complex." That is what you're planning for.
There are several industries essentially that profit off that, and that's what we're trying to work against.
F&L: You use the term "nonprofit industrial complex." What's your critique of investment done according to traditional means?
MC: It's a structure that was designed to take care of needs. But if we understand that and then we look at the money that's being spent and we don't see that the amount of money we spend is actually reducing all those social ills, then you kind of have to wonder, "Is it working?"
I'm not saying that [the nonprofit sector] doesn't play a great role. It does. I'm just saying let's just ask that question. Stop doing the exact same things over and over and over again.
Huge amounts of government-subsidized affordable housing [are built] for the lowest income bands. You're not building economic diversity in any of the housing.
Health conditions happen because of the environmental abuses in the same neighborhoods, and we don't address any of the underlying things but are managing the health conditions that are here, whether they're diabetes, obesity, heart conditions. Then we are surprised that those numbers stay the same?
We all seem to be surprised every single year. It's mind-boggling to me. I know I'm not the only person who sees this.
We're managing poverty. We have plenty of systems to manage people and their poverty. It's an incredibly paternalistic system that definitely has its roots in white supremacy that says, "You really will never be better, so we're going to help you — not that much, but just enough."
We keep seeing that over and over again, and yes, it does bother me very much.
F&L: What have you done in your own neighborhood, and what were you trying to accomplish with your projects?
MC: Ultimately, what I try to do is to help folks in my community, and communities like it, to not believe the narrative that our communities are places that are meant to be escaped from. We actually do have the capacity to revitalize our community from the inside out.
It started in my early work, when I was in the nonprofit sector for a number of years. I've always done project-based community development, because I've always felt the people needed to see and experience something different from what only screams poverty.
Again, the environment of our neighborhood literally often does say that. People know they need to leave their neighborhood in order to experience a nice park or a decent supermarket or a nice place to have a cocktail or a coffee with their friends.
What does it say about where you're from? It says, "You don't really need to be here if you have any sense of aspiration for yourself." And most people do.
What I've tried to show is that we have wonderful things to offer people within our neighborhoods. The projects range from spearheading the development of the first waterfront park our neighborhood's had in over 60 years. It was the only park — waterfront or not — that actually had grass and trees and the kind of places that made people feel, "Oh wait, this is a really special place to be."
Then we did some work where we helped people have both a personal and a financial stake in the improvement of their environment. So we've created green-collar job training and placement systems.
F&L: Tell me about the cafe; that you're sitting in right now while we're talking on Zoom.
MC: In the early days, our work was more focused on consulting, but then it didn't take us long to realize that it was really real estate development that we needed to be focused on.
We started in small multifamily [housing], and then we realized the other piece was lifestyle infrastructure. In part, we did that because it was nearly impossible for us to get the kind of financing that we needed to do larger projects. I didn't really know much about real estate development, frankly, at the time.
But when we realized that what people were leaving the neighborhood to experience was places like cafes and coffee shops and things of that nature, we actually sort of used our own good credit. We made relationships with some of the local landowners that had businesses and got very, very reasonable rents on a couple of spaces in the commercial storefronts of their buildings.
We really wanted a cafe, because, again, we did an enormous amount of market research in the form of surveys and focus groups to understand what was it that made people feel good about being in their own neighborhood or not. Why were they leaving the neighborhood to experience something good?
So we got a lease, and we realized that most of the folks who wanted to build a cafe did not have the capacity to do it. We went to Starbucks, actually, and they were just like, "Nah. Your market is too emerging."
That was really hard to hear, but then we ended up partnering with this awesome group called Birch Coffee, and we did a joint venture with them to open up our very first coffee shop. But it was also clear that we needed to be more about our own culture from the cafe's perspective, and so that's why we branched off into the Boogie Down Grind Café [in 2017] and rebranded ourselves.
It's like an homage to hip-hop. Where I'm sitting right now, you take off the cushion and it becomes a stage, with a great big plate-glass window behind me so people can see it, for open mics or all sorts of wonderful things.
The day we were protested, we were hosting a workshop in this space for people who wanted low and 0% interest loans for either homeownership or for business development. It was kind of tragic and sad but ironic. But that's what we did.
But those types of things — building out a space so that the community could come in and fill it and be seen in a cool place where people felt really good about how they looked — it was really fun, and we had a really nice time with it.
F&L: You mentioned a protest. You've gotten recognition for but also criticism of your work. Why do you think that is?
MC: Because Black girls from neighborhoods like this are not supposed to do this. I am acting way above my station, and I'm not supposed to do it.
We are just so duped into this idea that the only thing we can really be is just managed where we are, and that's why [the detractors] behave that way.
I don't know what they thought or what they think they're getting out of it, but I no longer wish to continue to allow the idea that only a few companies around the country, in any city that you're in, are the only ones. They're almost always led by white men.
That's why our communities are the way they are. I don't feel that's the only way our communities can develop — and why don't we have that conversation?
But yeah, being a Black woman just paints another target on my head from everybody concerned.
F&L: I wanted to ask you just to clarify one thing. Several times you've said, "We did this. We did that." When you refer to the "we," are you referring to a development company?
MC: My company, yes. It's interesting that I get that question. I really do think that it's still hard for people to believe that I do this as a Black woman from a neighborhood like this. Of course I have a company. It's small, but of course I have a company. I'm long on vision and short on balance sheet, but even functioning in that way, it's still us, still doing the work of a developer.
F&L: What projects are you working on now?
MC: We're redeveloping a commercial property, which is a former rail station. It's a feasibility study to do an assemblage, which would be roughly 1,000 units of mixed-income housing, including homeownership, and about 400,000 to 500,000 square feet of manufacturing and commercial space.
That's my dream. Literally, I want to be able to co-lead that project, and then I'll retire. I will show that it can be done by someone who looks like me, and then I'll walk. That is my prayer. Because I'm just too old. I'm going to be 60 in a few years, and I'm done. I'm not going to lie.
F&L: Even on Zoom, you do not look like someone who's talking about retirement.
MC: Oh no, I am. I swear I've aged a lot over these past few years. I'm grateful. I know I'm blessed that I have the ability to do what I do. I'm still here, despite being smacked around as much as I've been. I can still smile and laugh about most of it — it makes me super, super happy — so that's great.
F&L: If a congregation wants to do this kind of work, what would you recommend? I know you've worked with the Parish Collective organization.
MC: I was at the last Parish Collective [event]. I had actually been talking to a lot of them about, "What are the roles churches can play in development?"
If they do have property, how are they using it to support folks? More economically diverse communities are actually safer economically, socially. Spiritually as well.
But also really paying attention to predatory speculation. How do we support the homeowners that are already in those communities to keep them from falling victim to predators? I think churches can play a huge role in that, and so some of us are actually starting to have those conversations around it, which is great.
F&L: Do you come from a faith background?
MC: No, no. I am a Christian, definitely a follower. [But] I didn't become a Christian until years later. I do feel like this is my ministry. And my ability to love my neighbor — I feel like this is my contribution. This is how I can give, and I love it.
On a warm mid-September Saturday, a handful of volunteers sporting casual clothes, orange safety vests and face masks load a wagon with fresh fruit outside Mount Olive Baptist Church. In this secluded Arlington neighborhood mere minutes from the Pentagon, people drive up, and a few walk up, to a folding table in front of the church.
What's the draw? Church volunteers have gathered to distribute 150 reusable shopping bags filled with fresh cabbage, rice, carrots and whole chickens as part of Mount Olive Baptist's Olive Cart ministry.
Since early 2020, even as it had to close its doors to in-person worship during the pandemic, Mount Olive has prioritized its food ministry and work with the community. They have seen a need for this help, the church's senior pastor, the Rev. Dr. James E. Victor Jr., explains, because the food insecurity of some church members and people in the surrounding community has grown.
On this Saturday, as event visitors pick up their items, usually within a few seconds, the residential neighborhood in Arlington, Virginia, is more or less quiet — apart from the friendly chatter of church volunteers and the sound of the occasional plane rumbling overhead.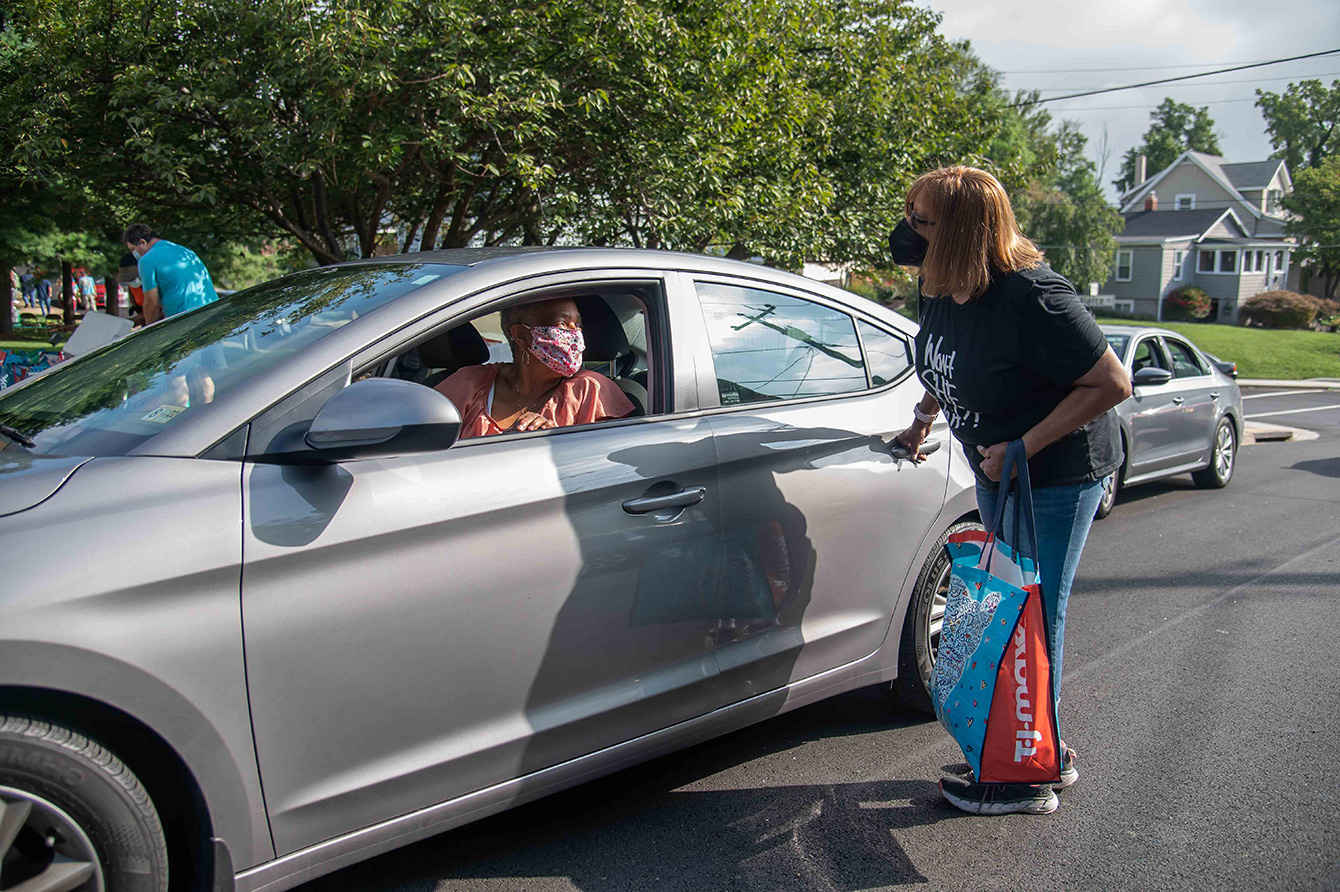 The volunteers (about 20 in all) have their tasks nearly down to a science, perfected over the many food distributions they have completed since August 2020. The day before, they had gathered at the church to load reusable shopping bags with fresh cabbage, rice and carrots from a local food bank. And they'd stored dozens of accompanying whole chickens, to supplement the food bank offerings, in the freezer.
That prep work paved the way for the seamlessly choreographed final assembly atop green and blue tarps, in a process designed to help recipients get in and out quickly. When the food is all set, the volunteers bow their heads, praying for blessings for the people who will come.
At 10 a.m., when the giveaway event officially begins, cars begin to trickle in, eventually building to more of a flow. The volunteers know exactly what to do.
Seeing the need and taking action
Service is a thread that has run through Mount Olive's ministries since well before the pandemic, but the pandemic crisis has clarified the community's needs.
Victor, the senior pastor, says the church serves the community without judgment.
"It's important, during this unprecedented time in our lifetimes, that the church be at the forefront of serving others in whatever capacities they can," he said.
The food giveaways are open to everyone, Victor said, calling that work a "sacred act of caring for our neighbors who may be in need."
The care starts with good quality food. The church either buys produce from a local farm or uses donations from a local food bank, and then purchases protein such as chicken or turkey to supplement the offerings.
What listening practices attune your faith community to the needs of your neighbors?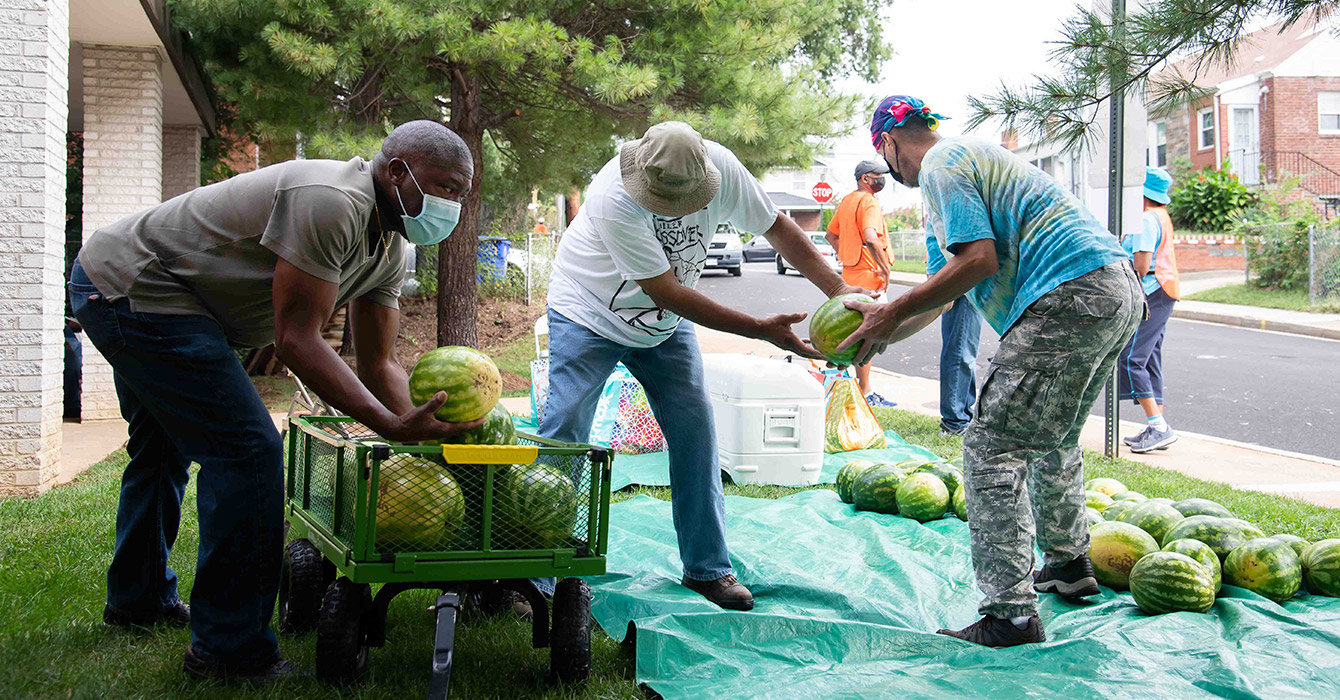 This year's September event marked Mount Olive's ninth food giveaway, said Kimberly Taylor, an associate minister at the church and a key organizer for the food effort. The church held three events in 2020, with the first in August and the second and third for Thanksgiving and Christmas.
In 2021, monthly events have occurred from April through September, and Taylor anticipates two more, again for Thanksgiving and Christmas.
While the food giveaways started during the pandemic, they did not emerge from thin air. Mount Olive sets aside thousands of dollars each year for missions work and offers a variety of programs under its hospitality, outreach and service ministries, with staff seeking to make the church a warm and welcoming place for both congregants and the community.
This work includes ministries for intercessory prayer, sign language services, cooking and fellowship hosting, and more. The church has also provided rental assistance, legal assistance and more to its members, Victor said.
So when the coronavirus pandemic set upon the nation in early 2020, the church's leadership and members wanted to help. As people lost their jobs, it became clear that many needed a hand with basic necessities like rent and, of course, food.
Victor — a pastor with 30-plus years of experience, with roots in Kentucky — said he and the staff had become aware of certain needs even before the crisis. For instance, when they learned that some local college students were facing food insecurity, the church distributed food like shelf-stable milk and cereal to a Washington, D.C., university.
What sacred acts is God calling your faith community to do with and for your neighbors?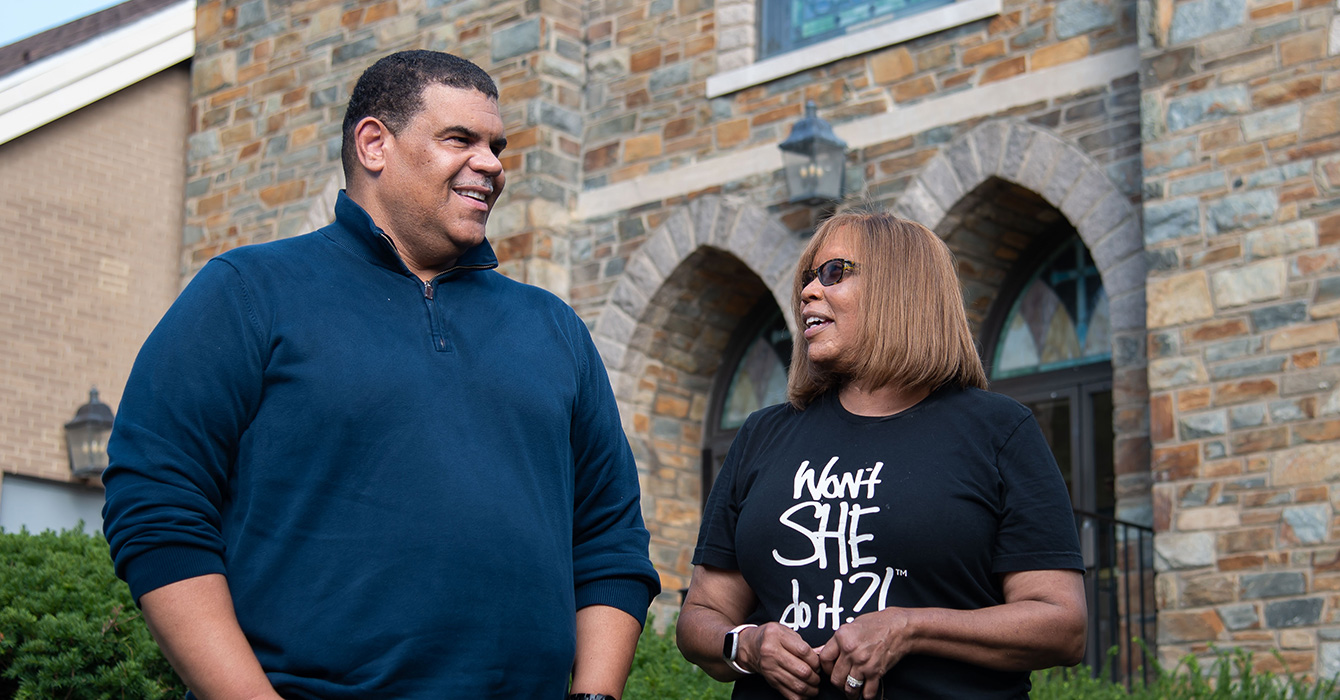 Their pandemic-related mission became clear in April 2020 when Mount Olive was awarded a grant of $10,000 from the Arlington Community Foundation to provide "emergency assistance to low-income and food-insecure residents, including … help with urgent bills."
Mount Olive staff initially decided to use the grant for food donations and rental assistance. But, as Victor explained, when the 2020 eviction moratoriums kicked in, church staff discovered that the real need was food.
Families had lost wages and employment. Some people were having trouble even getting to the grocery store, and more were having trouble paying for the groceries themselves.
Mount Olive started buying grocery store gift cards for community members who needed food. It was a multigenerational project: they paired older adults and immunocompromised people with younger members who could do their grocery shopping and deliver the food directly to their homes, allowing recipients to avoid being in crowded indoor spaces.
The grant money funded this initial effort, helping 88 households and nearly 200 people in all, Taylor said, but the $10,000 was exhausted within weeks.
Seeing the impact of the food program, and the financial need, church members began donating to the effort to keep it going. And as the need continued and racial injustice issues captured the nation's attention, the church sought to work with Black farmers who could provide fresh food.
In August 2020, Mount Olive held its first giveaway with farm-fresh produce. Volunteers took careful safety precautions — wearing masks, asking recipients to stay in their cars as food was placed in their trunks, for instance, to avoid close contact. But, Victor said, they also prioritized caring for their neighbors.
"It was a way to balance our faith with the reality of what was going on," Taylor said, in a community and nation that had been facing not only a pandemic but persistent racial injustice.
The Black farmer connection
The Rev. Palmer Bunting is a Black farmer who inherited his farm, Bunting Farms, from his grandfather Eddie Palmer. In August 2021, a year after that first giveaway event, Bunting shared some thoughts from his tractor while cultivating sweet potatoes.
How can you attend to racial injustice and other systemic inequities while meeting local needs?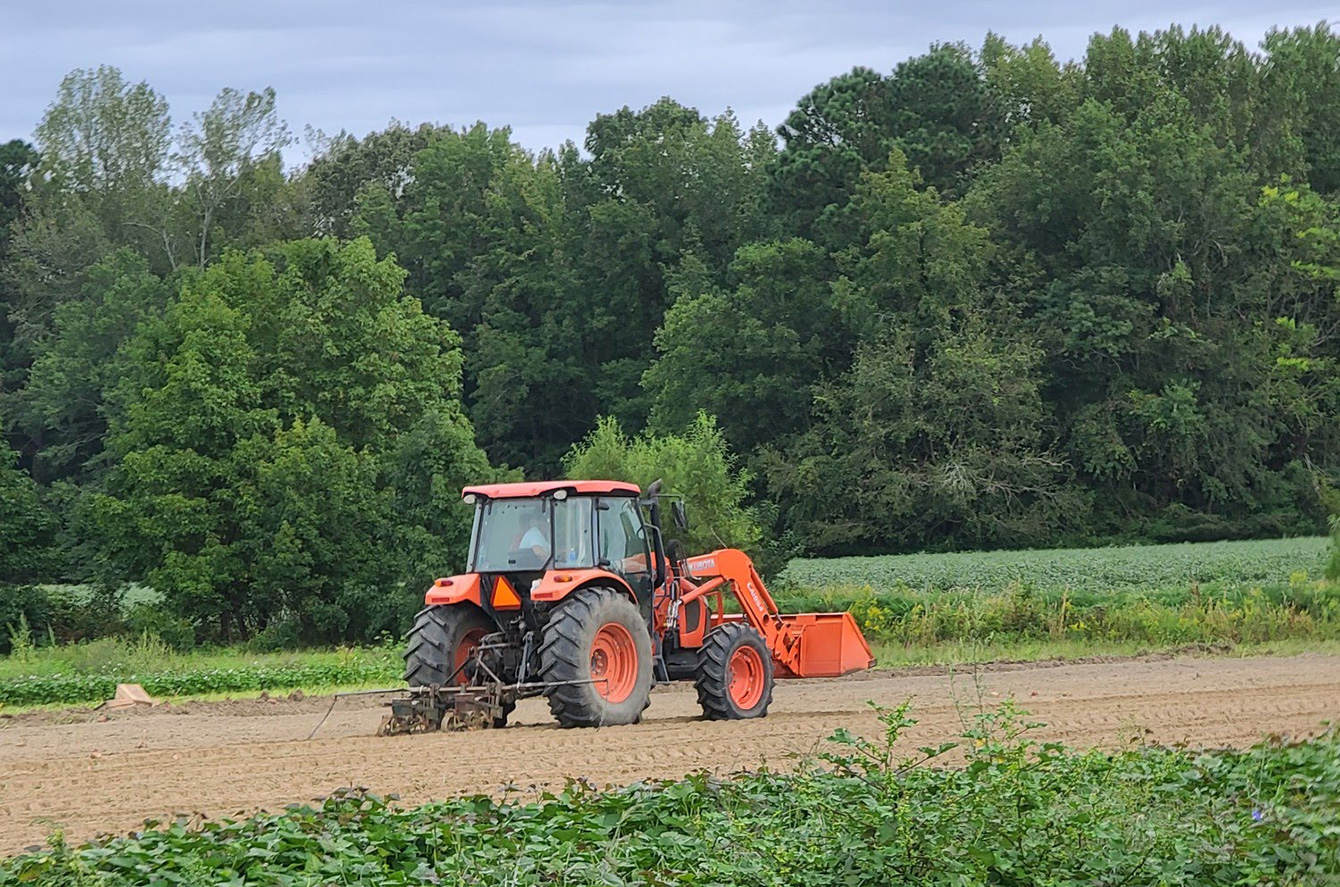 Bunting's farm is in Onancock, Virginia, a coastal area more than three hours by car from the church. He began working with Mount Olive in 2020, as Victor looked to partner with Black farmers so the church could help another population affected by the pandemic.
Bunting's farm — which also grows collard greens, kale and more — typically sells to churches, grocery store chains, farmers auctions and farmers markets. But when restaurants, markets and churches are closed or at partial capacity, the business can suffer.
"Farming has always been difficult for all farmers, but especially Black farmers," Bunting said. "Black farmers have not always had access to the resources, the credits or the education that was made easily available to our counterparts."
Where is God calling you and your faith community to give heartily and generously?
When Mount Olive works with farmers, it matters.
"When they purchase produce from Bunting Farms, it keeps persons employed, it provides revenue for my farm, and it also provides produce to those persons in that community at Mount Olive who are in need of fresh vegetables," Bunting said.
Bunting Farms staff pack and transport the produce by trailer right to the doorstep of Mount Olive.
For Bunting — a pastor himself who has served at Ebenezer Baptist Church in Exmore, Virginia, for nearly 20 years — the exchange resonates.
"In the season in which we are living, we need to utilize the faith that we have in God to provide us all of our needs," he said, noting that he is open to working with other churches as well.
"Faith is what produces the crops that I have. … This whole farming operation is one big faith walk."
By working with Mount Olive on its food program, most recently providing fresh produce for the church's July distribution, Bunting has seen that faith walk come full circle, he said.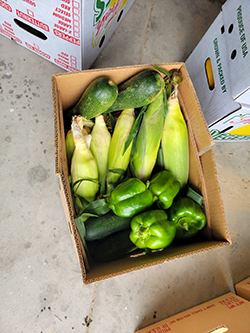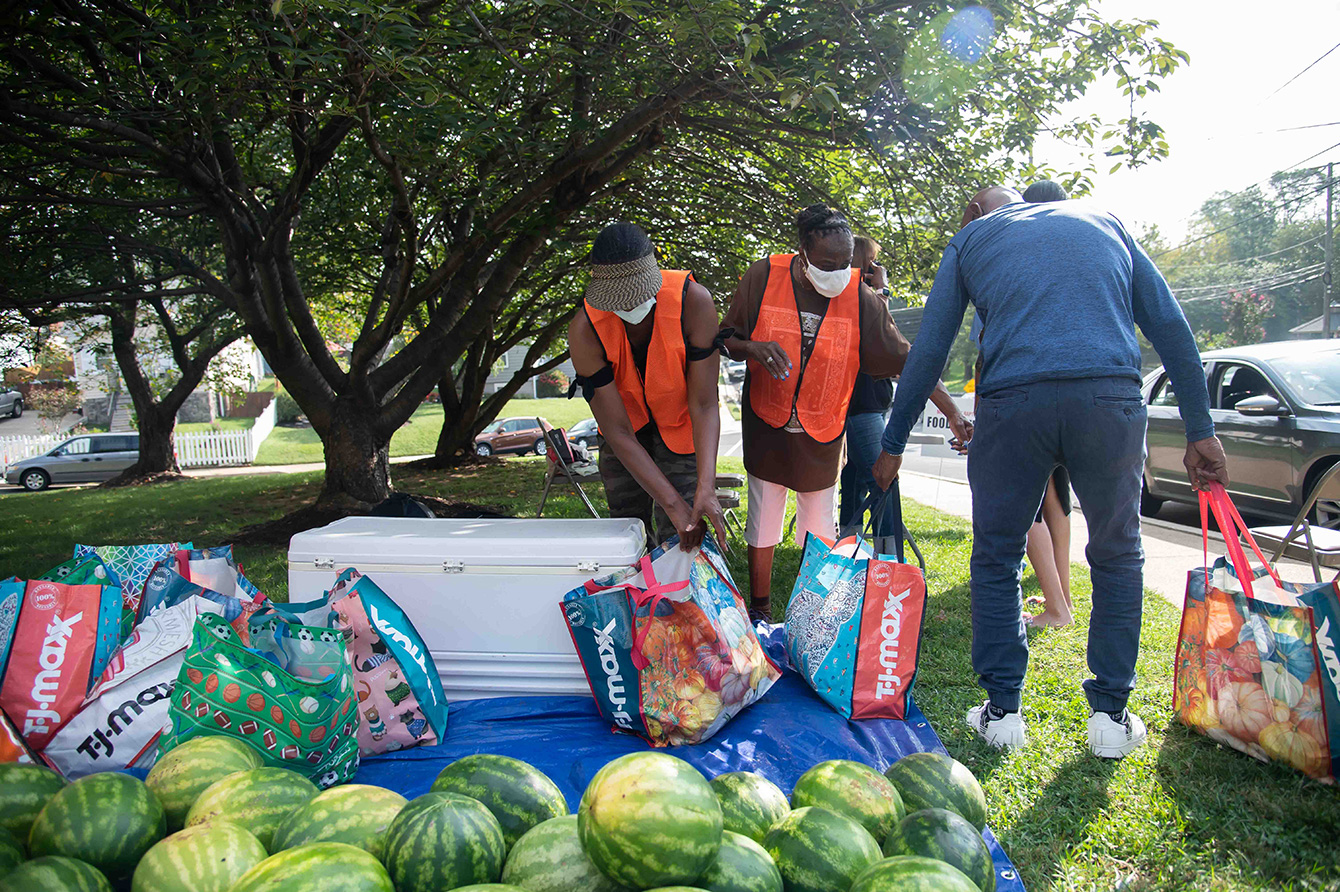 Making a difference
During the food distribution event in September, a home health aide and church member named Linda arrived to pick up some donated food.
Wearing blue scrubs, sneakers and a face mask, she made her way to the front of the church. After greeting the volunteers, she retrieved food for herself as well as some older adults with no transportation.
She explained that the donation would help feed her seven grandchildren who come to visit. The food in her bag would last for about "three cookings, about three different servings," she said.
Linda would also share the items in her bag with her sons and their families.
"The watermelon — we'll probably cut it up and we'll split it," she said, and they'll figure out who should receive the chicken. "It's just a blessing to be able to come and get this food, and then it's a blessing to be able to serve — help someone else."
Three servings of food certainly can be helpful, and bags can last even longer for smaller households. These packages — including those given for Thanksgiving in 2020, when the lines of people in need extended for blocks beyond the church — tend to be hearty.
Depending on what the church obtains from suppliers (whether it purchases from Bunting Farms or receives donations from the Capital Area Food Bank), the bags contain fresh vegetables like collard greens, turnip greens, corn and potatoes, along with some shelf-stable products. One giveaway included 25-pound sacks of sweet potatoes.
The church uses donations to make sure there is some form of protein in the bags, including turkey for Thanksgiving 2020, Taylor said.
And if the church doesn't give all food away during the events on-site, they donate it to people in nearby communities.
"This year, we've served over 875 families," Taylor said, noting that the church has helped more than 3,000 people. And while the number of people served has gone down as some have returned to work, the need is still there.
"If people need to eat," Taylor said, "we're still providing food."
How are the needs in your community changing with the seasons of the pandemic? How can you adapt your responses?
Questions to consider
What listening practices attune your faith community to the needs of your neighbors?
What sacred acts is God calling your faith community to do with and for your neighbors?
How can you attend to racial injustice and other systemic inequities while meeting local needs?
Where is God calling you and your faith community to give heartily and generously?
How are the needs in your community changing with the seasons of the pandemic? How can you adapt your responses?
Over the past decade, a cadre of African American pastors have stepped up their commitment to environmental stewardship. One of the leaders of this movement is the Rev. Otis Moss III, the pastor of Chicago's Trinity United Church of Christ.
After succeeding the Rev. Jeremiah Wright to become senior pastor of the 8,000-member South Side megachurch in 2008, Moss began to cast a vision for protecting the environment and retooling for resilience in the wake of climate change.
It wasn't easy. Many church members grew up in an urban environment, far removed from that of their ancestors — many of whom were sharecroppers, and before that, worked the land as enslaved persons.
But over the past 12 years, Moss has led the church to plant the George Washington Carver community vegetable garden, which also teaches youth about gardening, and to start a Black farmers market.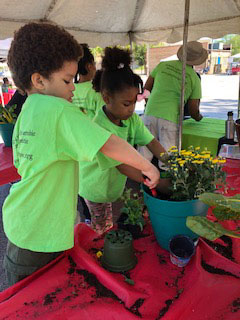 He helped raise millions of dollars to build a green roof — covered in vegetation to absorb rainfall and regulate temperature — that also incorporates solar power. In 2017, he dedicated the site of a 27-acre "green" intergenerational community called Imani Village.
Faith & Leadership contributor Yonat Shimron talked to Moss about the challenges of reconnecting to the Earth and its habitat. The following is an edited transcript.
Faith & Leadership: When did you first make the connection between care for the environment and your calling as a minister?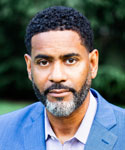 Otis Moss III: It began in connection with my home church in Cleveland, Ohio. I was at Olivet Institutional Baptist Church, where my father pastored. My father was from Georgia, right outside LaGrange. As the son of a sharecropper, he was tied to the land and had a special affinity for the land and what we would call today holistic health.
That continued with my relationship with my wife, who is also from the South. Her family had a deep tie to the land and the lessons she learned from her grandmother. They lived on a peanut farm. Part of her ethic was, "You take care of the land; the land takes care of you."
Coming to Chicago, we realized the great migration had created a break. People who had deep connection to the land were disoriented and living in spaces of rapid urbanization. When we took hold of a piece of property across the street from the church to create a garden, that was a catalyst for us moving in a green and sustainable direction.
F&L: What was that piece of property like?
OM: It wasn't much of anything — just a little lot. We turned that into a community garden with a small grant from a group called Faith in Place. We received another grant to train young people to be gardeners and hired a master gardener to be their teacher.
From there, we expanded to a farmers market and built a relationship with a coalition of African American farmers in Pembroke, Illinois. Pembroke is primarily a rural African American community where the first people of African descent migrated from North Carolina, prior to emancipation, for a better life.
We built a relationship with this community where you had fourth- and fifth-generation farmers living in this area.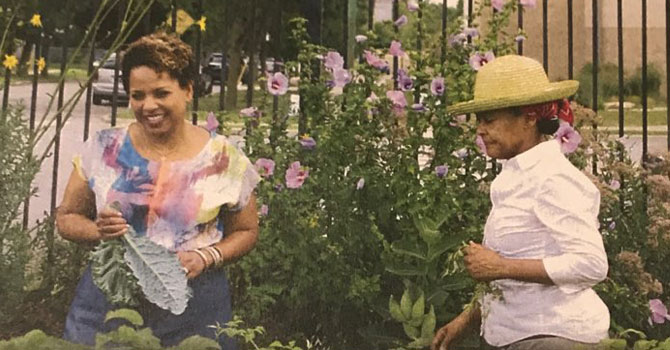 From there, we made a decision to be a sustainable church.
When we reached the point where we needed to do a church renovation, we made the decision it would be a green renovation. We would seek to hire returning citizens who were formerly incarcerated. The contractors would be from our community.
Those were the principles we used: green, dismantling mass incarceration and economic empowerment.
F&L: Was it a hard sell for the congregation? Did you have to convince the board of directors?
OM: There's a funny story around that. I remember the first presentation I gave to the congregation. It was pretty quiet. Many times when people are quiet, people are thinking to themselves, "I'm not going to support this, because I don't understand what the minister is talking about." They have to take it home and sit with it.
I went to go get my hair cut later that week, and my barber told me that one of the elders came into the barbershop and was fussing about the new minister and his church.
We had been talking about doing a green roof. The person in the barbershop was quite upset with me for wanting to put a putting green on top of the church.
When he heard "a green roof," he only associated it with a putting green on top of the church. He didn't have any concept of what a green roof was.
Because of that encounter, I went back to the board of directors and said, "We made a huge mistake. We have not educated the congregation appropriately. They have no idea what we're talking about."
From there, we instituted an education program with small groups, sharing, "What does green mean?
"Your grandmother was green because she had a quilt that recycled pieces of cloth. Your grandmother made gumbo, which is essentially a culinary form of recycling. Your grandmother grew food behind the house and you never went without."
Once we did that and the elders had the language and vocabulary, it was easy to make the next step. They became the ambassadors for it: "We must go green. This is our responsibility and our heritage."
F&L: Do you now encourage other churches?
OM: We do. I've been asked multiple times to give presentations about our work. Our community development corporation became evangelistic for green design, sustainable design and partnering with organizations that put to work people who are returning from prison.
We were part of the renovation for our local library, several blocks down the street, the Carter G. Woodson Regional Library. It's a repository for African American literature in the Midwest.
The building was falling apart. We wanted a green renovation using people from the mass incarceration system and contractors from our community.
We were able to negotiate with the city — it was about 10 different organizations that got together — and we were able to receive $10 million from the state for a full-service renovation that was green.
It's the crown jewel of our community. It's a beautiful structure now that was built and organized by community partnership.
Then we purchased 27 acres down the street and we built a medical facility. We're planning housing, along with an urban farm and workforce development with people coming out of mass incarceration, and a fitness facility. And the entire design, from the ground up, is a green design.
It's in partnership with the Nature Conservancy, and we're putting together what's called a healing garden, which will be a beta test for prescribing nature over traditional chemical medication.
It's a new way of looking at revitalizing and building communities in areas that have traditionally had no investment or have been divested over the years.
F&L: African American churches are dealing with so much right now — police brutality, health disparities, unemployment. Have you seen this issue gain much traction?
OM: The challenge in America and in the West in general is that we compartmentalize issues. Environment is over here; mass incarceration is over there.
But we approach it all as intertwined.
If you live in [some sections of] Chicago, you live in a food desert. You have corner stores. The reason you have corner stores is because no one has invested there or these areas have been redlined due to government policies.
These corner stores do not serve healthy food. They serve highly processed food. That then becomes the diet for children in that area.
Then they're diagnosed by a public school system with attention deficit disorder or some other type of challenge that needs to be fixed by medication. It's directly connected to how children are perceived in our community.
We do a lot of work helping people see the connections between a food desert and mass incarceration and economic disparity and the way police are deployed to occupy rather than being community partners.
All of it is interconnected with systematic racism. And helping people see the connection, they then understand, "Oh, creation and the land is also connected to my transformation and liberation."
F&L: Have you seen congregants make changes in their lives?
OM: We use our farmers for the food that's prepared at the church so you know where it's coming from. We push this idea that you should know your farmer. When you invest with a farmer, you know his or her entire family.
You have this community that's created where people are witnessing children learning about farming and building a relationship with a person who's raising the food.
A change in eating can also change a community, economically and socially. There is now data that shows that community gardens reduce violence in impoverished neighborhoods. It's a pretty simple reason: community gardens create community.
They have people working in the gardens who get to know each other. They become quasi block clubs and watch clubs. People become interested in each other and their challenges and celebrate their victories together, all because we put our hands in the same soil.
F&L: How do you tie it in to the Christian message?
OM: The exodus story is near and dear to people of African descent. We see ourselves in the exodus story. Moses tells Pharaoh to "let my people go" — not "that we may build an ark," but "so we may go to a land where we may worship God," where we may have this relationship we used to have prior to the enslavement moment.
We share that narrative that we are displaced, that we have been disoriented from the land. Exodus is about reorientation and the Jewish people becoming landed people from a landless people. We share that same narrative.
When we move to the New Testament, Jesus is a country preacher, a rural preacher. Paul's urban; Jesus is a landed preacher.
The parables are told from the perspective of someone who knows about the land. That's why you have a parable of seed falling upon the land or the parable of the prodigal son, of someone who has been hired out to care for pigs.
They are rural stories, stories that connect people to the land.
The Bible is rich in imagery that connects us to the land. There's a list of 100 scriptures beloved by people of African descent. Many of the most beloved are those that are landed.
For example, the Twenty-Third Psalm speaks in rural language. The Isaiah text of "they that wait upon the Lord shall renew their strength; they shall mount up with wings as eagles" (Isaiah 40:31 KJV) speaks, again, out of this landedness. The Amos text of justice rolling down like waters (Amos 5:24).
The creation metaphors, the rural metaphors speak to a community that still has a deep memory of being in the South migrating to the North, but it still rings so true to us.
On a hot, humid summer afternoon in Atlanta, children at Camp Beech Grove are enjoying their daily hike down to the creek. Here, in the nature preserve of Central Congregational United Church of Christ (CUCC), they find relief from the sizzling sun, surrounded by a canopy of trees — many of them beech, the camp's namesake. In these woods, a butterfly goes by, a frog makes a splash, and children learn about the native plants that surround them.
Today, the children can enjoy all that nature has to offer here. But that hasn't always been the case.
For five years, the 450-member congregation at CUCC has been working to restore the 8 acres of woods surrounding the church. A certified wildlife habitat by the National Wildlife Federation (NWF), the woods offer a magnificent view through the floor-to-ceiling windows of the church's sanctuary. It was there that Ron Smith, gazing out those windows, had a vision.
"These woods were a mess," said Smith, who initiated the project. "Nobody went out there. They were overgrown, and they weren't inviting. And I thought to myself, 'I want to change that.'"
Smith set out to reverse decades of neglect and to rehabilitate the surrounding woods, where he says he can be closer to the Creator.
"God is speaking in nature, and we're losing something when we don't make nature a part of the community or when we don't show respect for it. He created all of this. All life is sacred, and all of nature is sacred," Smith said.
Active with the church since 2010, the year he retired from his 60-hour-a-week corporate job as a CPA, Smith knew that creating a sustainable wildlife habitat would also provide ecological benefits, including the preservation of native species and better air and water quality. What he didn't know is that his vision would ultimately bring an awareness of and connection with the surrounding community, providing an urban oasis and a place for the church's neighbors to be closer to God.
It started with a trail
Smith had learned to love the outdoors at a young age. He grew up in a farming area of Pennsylvania, and his mother had vegetable gardens and an infectious love of nature. From these influences, Smith said, he knew he would be a gardener when he retired. He first tackled the overgrown yard of a home he and his wife purchased in nearby Decatur before setting his sights on the distressed woods at CUCC.
"The times I accompanied my wife, Martha, to church, I would notice the magnificent trees that were dying from the oppression of invasive species," said Smith, who is a member of the Georgia Native Plant Society. "The woods needed care, and I knew they offered a place of sanctuary for me."
In spring 2011, Smith told his wife he wanted to work in the CUCC woods. He joined the congregation's Garden Team, which meets once a month to work on the church grounds. As Smith worked, he realized that a path through the woods would not only invite people in but also provide the access needed to remove and replace unwanted plants.
In what ways would this be a useful attitude in your church or institution?
With no church budget, Smith personally purchased the first equipment and plants and began clearing a path to the creek, thinking, "If I build a trail, people will come." And he was right.
Since then, much has happened to the neglected wooded area. Nature trails have been created. Trash and debris have been removed from the creek. Invasive plants — aggressive species that grow outside their natural range and crowd out the native plants — have been removed and replaced with species indigenous to the area. Meadows and gardens have been established.
Over time, more people from the congregation have showed up to help: working, bringing plants or donating money. Local businesses and nonprofits have joined the effort, too. In 2012, Trees Atlanta donated 40 trees, while Hands On Atlanta sent 30 volunteers to help plant, clear ivy and mulch trails. Members of the Native Plant Society have also donated trees and shrubs, helped Smith identify appropriate grasses for the creek area and assisted with transporting the plants. The Garden Team and its supporters continue to invest their time and money to support the forest restoration and gardens as well.
And this past spring, reinforcements were brought in — 12 sheep stayed for two months, eating the English ivy that overran the grounds. This literal flock was a big hit with the metaphorical one.
"The congregation fell in love with the sheep," said the Rev. Ginnie Ferrell, the associate minister for children and youth at CUCC. "We can be so separated from creation that sheep … give us warm fuzzies."
It's bridging this separation from nature that inspires Smith and Ferrell to continue their efforts and watch the project evolve.
"Love is the greatest gift any of us can give," Smith said. "It is an act of love to care for God's creation. Humans do not and cannot exist in isolation from plants, animals, water, air or soil. Our earth is in peril. What greater mission could there be than to take care of all creation?"
Drawing from the congregation's beginnings
At this liberal, progressive, mission-oriented church, Ferrell says, there's a history of people wanting to worship in a natural setting.
When the CUCC congregation moved from downtown Atlanta in the late 1960s to what was then considered the suburbs, it chose to build the church in the middle of an 8-acre forest. Today, that property is surrounded by an urban landscape. It's just minutes from downtown, located on a major four-lane road.
The congregation continued to enjoy the leafy view from the sanctuary, but over time, the land — like many urban forests — became overgrown. Every urban woods, forest and preserve fights invasive plants, Smith said; the deterioration is slow and organic.
The church started to take notice and reverse this decline shortly after Ferrell joined CUCC in 2008.
What natural resources could your institution protect, nurture, share or explore in order to cultivate a sense of wonder about God's creation?
Wanting to create manageable volunteer opportunities to help with care for the church's gardens, Ferrell established the Garden Team.
The team divided the land into 35 sections. Members were asked to adopt a section, which they tended on their own time. This worked well, and the team took steps to have the forest designated as an NWF wildlife preserve. This is significant, Smith said, because the certification is a badge telling people the land has intentionally been set aside to be cared for in order to provide refuge for wildlife.
Now, on any given day, members of the church and surrounding community can be found walking the nature trail, which starts at a memorial garden just outside the sanctuary. At the creek, 700 feet down the path, they've built a fort for children out of the remnants of Chinese privet, an invasive plant that was removed from the forest.
Girl Scouts and Boy Scouts spend time in the woods, now referred to as the nature preserve, to plant, work on trails and visit the award-winning pollinator garden, which is designed to attract insects that feed on and pollinate surrounding plants. Children, from the on-site preschool and the summer camp, are out in the woods almost every day of the year.
This, according to Ferrell, is how it should be. Worship and outreach are amplified to include the earth, she said.
"When we walk out into a forest or step into a creek, we are reminded that we are a part of the natural world," Ferrell said. "Our time watching a bee sleep on a flower or a goldfinch sitting on the tiniest stem brings us in touch with the gifts of our Creator. The forest helps us to remember the incredible gift of life, all life, on this planet.
"If people realize from an early age that they are a part of nature, will they grow up to live more sustainably and to invent things that are more compatible with the natural world?"
According to Richard Louv, the author of "Last Child in the Woods: Saving Our Children from Nature-Deficit Disorder" and co-founder of the Children & Nature Network, the answer is yes.
"Smart religious leaders of all faiths, and many nonbelievers as well, intuitively understand that all spiritual life begins with a sense of wonder, and that sense is usually formed early in childhood, often in natural settings. Most religious traditions and, especially, indigenous cultures offer ways to discover the divine in the natural world. In these cultures and faith-based communities, individuals, families and religious organizations can play an important role in helping children and adults know the world and beyond through nature," Louv said.
There is also an expanding body of scientific evidence linking experience in the natural world to better physical and mental health and enhanced cognitive abilities, Louv said. How can we tap into this for ourselves and our children? The answer, according to Louv, is to rethink nature within cities. And CUCC is doing just that.
Authentic mission
When Smith looked out the sanctuary windows that Sunday in 2011, his desire was to heal the earth. But this mission has also helped the congregation cultivate relationships in the community, largely through the preschool and the summer camp.
"Camp Beech Grove and the preschool would not be here today without the trail," Ferrell said. "They are both nature-oriented, and without this land, we couldn't have done it."
Since 2012, the church has hosted Turning Sun School, a place-based preschool that emphasizes the local community and natural environment as an extension of the classroom. The children have fun with activities such as the fall lantern walk, a nighttime family hike along the trail, illuminated by lanterns they have made, and the spring fairy breakfast, for which they create their own fairy houses.
"Having the nature preserve outside our windows and within our reach has been such a great resource to our school," said Alicia Karpick, the school director. "Children need to be able to play and experience nature with all their senses. If we want children to be environmental stewards, we need to give [them] the freedom and space to love and understand nature."
Ferrell echoes this sentiment, which is why she, along with the CUCC Board of Christian Education, created Camp Beech Grove, a summer camp offering six one-week sessions focused on learning about the outdoor world and the sacredness of creation. For years, Ferrell and the board discussed this idea, hoping to create a way for children and families of the community to be connected to the church, and after five years of rehabilitating the nature preserve, Ferrell knew they could offer something great.
"Stepping into a cool and shaded forest, we feel like we are walking into a mysterious and healing space where we are cradled by the trees and the land," Ferrell said. "That is what we hope children will feel as they walk through the forest at church, or anywhere in nature — that they are held by God's gift of the whole earth."
The camp, held in June and July, had 61 campers this first year. The church offered 45 scholarships to children in a nearby neighborhood. Campers began each morning with a sacred story before a daily hands-on nature lesson. This type of learning was especially beneficial to 6-year-old Gabe Narducci, who attended all six weeks of Camp Beech Grove.
"He is an outdoors kid, so we knew this camp would be perfect for him," said Donna Narducci, Gabe's grandmother, who found out about the camp from a community email list. "The things he learned on the nature walks were really interesting, and he would come home and tell us about a bird or bug or something growing there. It really allowed us to engage with him and find out more about how much he learned and retained."
And Camp Beech Grove is just a first step. As the project continues to evolve, Smith has plans for more trails and gardens, including a community vegetable garden, where neighbors can participate in growing their own produce.
"The preserve keeps us alert to the hope of nature's ability to heal and to our need as humans to heal and restore the earth in all the ways we can," Ferrell said. "As humans, it is more clear every day how much we have impacted all life and the very ground on which we live. The whole church is called to remember this sacred planet, our home. If we want to have a healthy planet for future generations, then the whole human community needs to learn to live sustainably."
Questions to consider
Questions to consider
Ron Smith began his work on a path through the woods surrounding his church by thinking, "If I build a trail, people will come." In what ways would this be a useful attitude in your church or institution?
Why did this nature preserve project attract the attention and resources of the wider Atlanta community? What project are you excited enough about to share with your community?
Smith and the Rev. Ginnie Ferrell note that the woods foster a sense of wonder. What natural resources could your institution protect, nurture, share or explore in order to cultivate a sense of wonder about God's creation?
What resources — natural or made by people — are abundant in your setting or organization? How might you use them to cultivate a thriving community?