It's an overcast October day, but despite the autumnal pall and the chill in the air, a line of visitors files through a fenced-in plot of raised beds at Elijah's Farm near Durham, North Carolina. One by one, they shovel dark, rich soil into the beds where a farmer will soon plant another season's flowers and microgreens.
Just minutes earlier, the Rev. A.W. Shields had exhorted a crowd of about 40 people to make their hands instruments of growth and transformation.
"We don't just talk about liberation," she'd said. Instead, liberation is an embodied practice that requires doing collectively and individually. To the sound of West African drums, Shields reminded attendees that freedom means putting hands, back, mind and heart into the quest for a better world.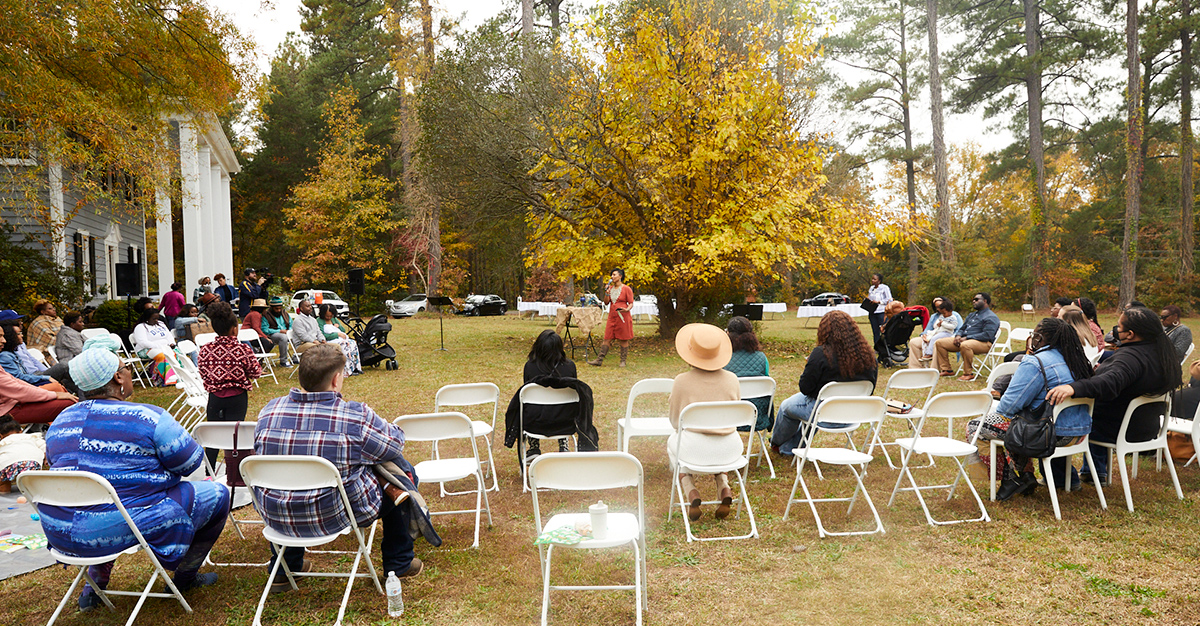 Versions of that message recur throughout this gathering of The Root Church, an intentional community that Shields and partners have created. The "farm service" was only the second formal service for the church, which strives to provide a worship space for Black people, especially Black women, LGBTQ people, and those who want their faith to walk in step with their politics.
The Root Church is an outgrowth of Root Cause Collective, an organization composed of clergy, counselors, social workers, and health experts who offer physical, mental, and organizational health and wellness services.
How does your congregation embody its most important commitments?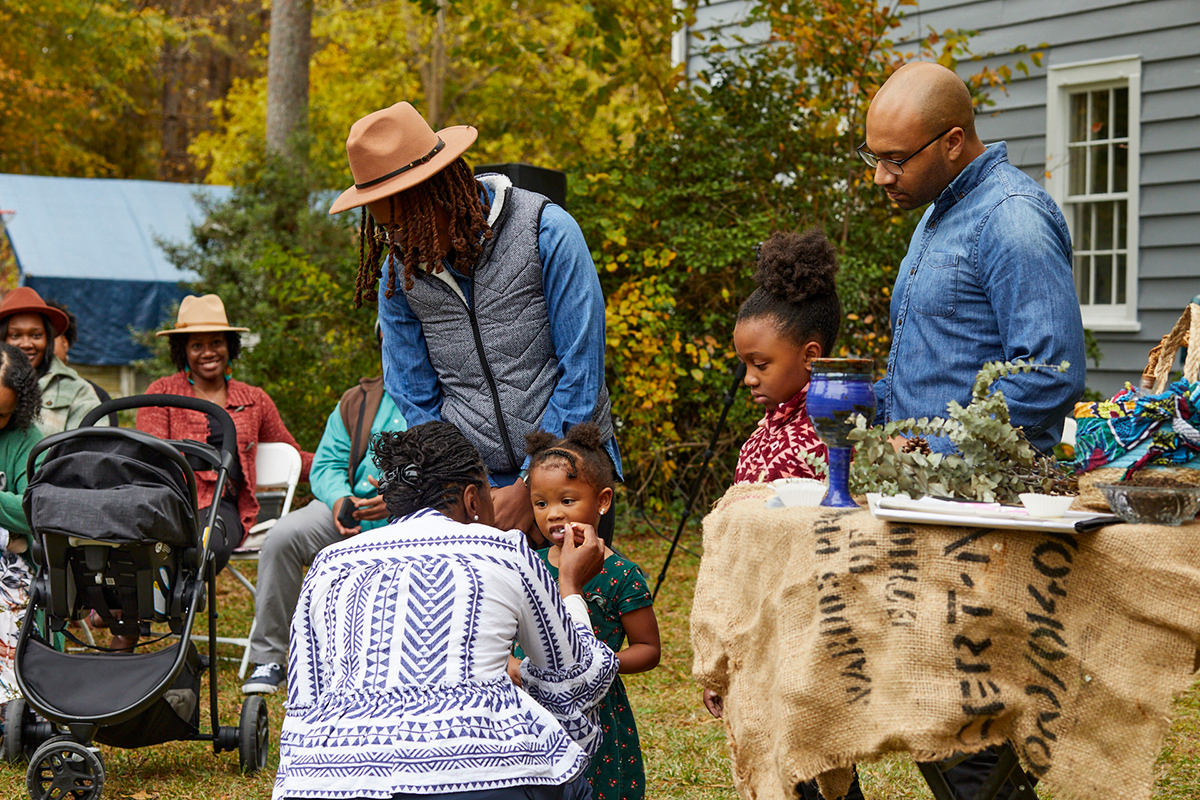 The collective began after Shields and other women convened to study the story of Deborah, a military strategist, prophet and judge whose reach has long been debated because she likely did not have authority over the men of her time. Deborah's story resonated with Shields and her collaborators, mostly high-achieving Black women who experienced loneliness and isolation in churches and professional settings.
Shields formed "trauma-informed spiritual support groups for Black women and queer folks impacted by gender-based, race-based and religious trauma."
The groups found their time so meaningful that they wanted to continue in spiritual formation together which eventually led to the church gatherings like the one at Elijah's Farm.
In Deborah's story of power within patriarchal restraint, of fighting ceaselessly for her people but getting little credit for important victories, "we really read her as a Black woman," Shields said.
The collective and the fledgling congregation are both volunteer run, and in addition to the congregation, the collective has founded a nonprofit wellness center which provides free to low cost mental health and wellness services.
Who in your community is gathering those who are excluded, overlooked and marginalized? Who is trusted to do that holy work?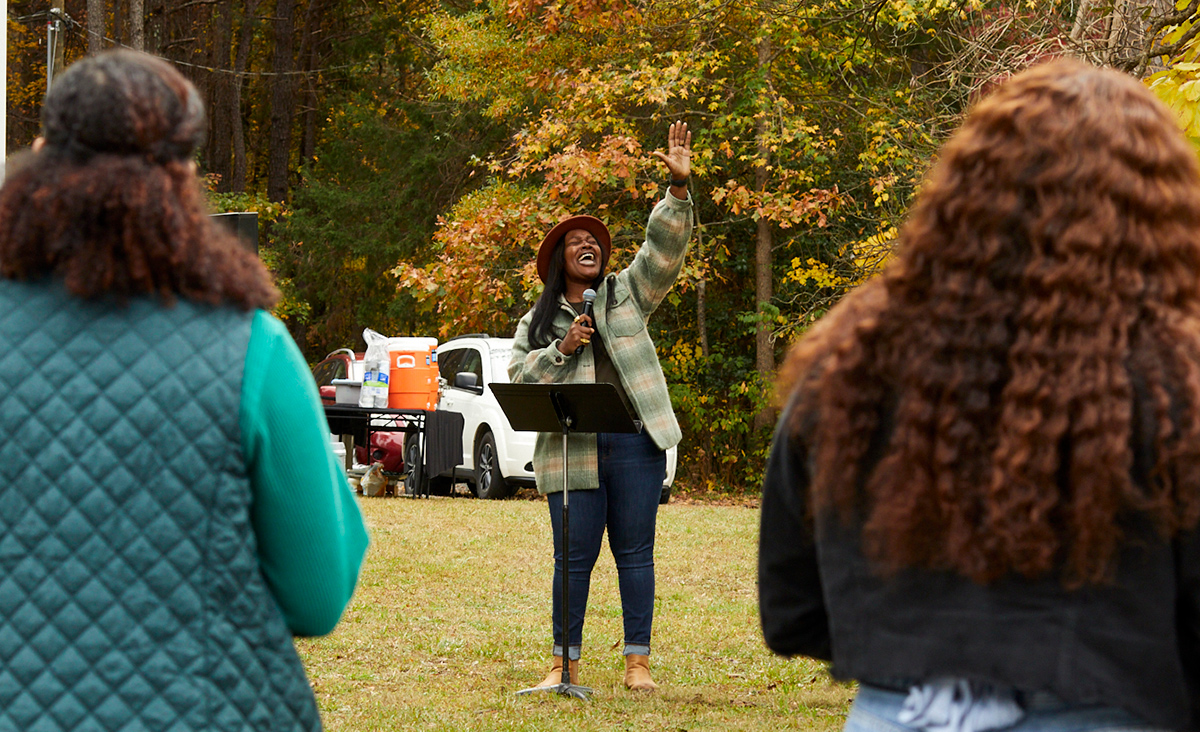 Shields, a graduate of Union Theological Seminary and Columbia's divinity program, also has a master's in social work. Before becoming executive director of the collective, she created one of the nation's first denominationwide mental health programs at the National Benevolent Association, a ministry of the Christian Church (Disciples of Christ).
During her work in church organizations, she couldn't help but see — and couldn't "unsee" — the ways in which religious institutions have either actively harmed people, both inside and outside their congregations, or otherwise not lived up to their missions of spiritual and material care. Shields is a tried-and-true devotee (and former student) of the late James H. Cone, the Black liberation theologian who challenged white supremacist Christianity that justified slavery and segregation, criticized Black churches that depoliticized worship, and recognized Black Christianity's radical potential.
In her career as a social worker, Shields understood that people damaged by churches that dehumanize queer people or expect women to fill the pews but not the pulpit might still seek relief in the church. They have been socialized to want or need a spiritual connection but may be wary about reentering a sanctuary.
So Root Cause Collective morphed into the barely year-old church, which might be best described as an experiment in exploring Black womanism, liberation theology and community building.
The vocabulary and structure of The Root Church defy the conventional. Attendees aren't "members." Services may be called "sacred moments." Participants may read texts such as James Cone's "Black Theology and Black Power"or Katie Cannon's "Black Womanist Ethics."
There is no denominational wing financing a capital campaign to build a brick-and-mortar presence, and rather than serving as a senior pastor from whom all direction flows, Shields pastors with a handful of "community chaplains," all Black women.
According to Pew Research Center data collected in 2019 and 2020, 7 in 10 Black Christians in the U.S. say that combating sexism is key to their faith, and an overwhelming majority of Black Americans (85%) believe that women should be in senior leadership positions in churches. But only 28% of the Black congregants surveyed said they'd heard sermons opposing sexism from the pulpit in the last year.
And while almost two-thirds of Black Americans polled said that homosexuality should be accepted in society, a significant number of Black adults (51%) balked at their clergy officiating same-sex unions.
What Biblical passages resonate with your experience and empower you to act?
That doesn't make for a warm reception for those who identify as Black, queer and believers. And should Black worshippers attend predominantly white or multicultural churches, the disconnect may be different but still quite uncomfortable.
The Rev. Chalice Overy, one of the community chaplains who work with Shields, has seen the disconnection in real time. She began her ordination journey as a 17-year-old preaching in eastern North Carolina and has since occupied positions at both historically Black and predominantly white Baptist churches. During a previous stint at a Black church, she'd meet people and tell them where she pastored but hesitate to invite them to services.
"I didn't think it was the safe place for them, because they were queer or somehow unorthodox in their beliefs. So I didn't invite people, because I didn't want them to have to lay down a part of their identity at the door," she said.
But at the same time, she felt that Black queer Christians would feel out of place at progressive white churches as well.
"At a white church, Black members or would-be visitors would say, 'Let me know when YOU preach, but the worship services are so white,'" she said.
"So in one place they might have to lay down part of their identity, their sexual orientation or their gender identity, or [in another place] they may have to lay down certain aspects of their culture," Overy said. "For about four and a half years now, I've just been like, 'Oh man, we need something else. We need something more.'"
The collective is now inching toward that "something more" by convening like-minded people for events such as the farm service. The Root Church has served about 100 people, linked through an email list and a web of personal connections. Shields had quietly attended a church where Overy pastored for about six months. Amber Burgin-Brothers, the creator of Elijah's Farm, is also ordained and knew Shields through local divinity school circles.
As part of the October plein-air service, attendees gathered at Elijah's Farm. Situated on former plantation land, the farm, a community agricultural ministry, is not far from Durham's well-preserved Stagville state historic site — a once-sprawling antebellum plantation that housed more than 900 enslaved people.
Shields called the service a modern-day "hush harbor," recalling the secret outdoor worship spots where enslaved people would assemble outside the fearful gaze of enslavers and define their own relationship to God.
For Overy, part and parcel of that project is making room for African-descended practices in the lives of worshippers and the theological canon.
"We have accepted the hermeneutic of a very small group of people, white men from Germany, primarily. And we're saying that whiteness and oppressive models have convinced us that those are the only opinions that are valid when it comes to God. But I know God. My people knew God. My grandmother, my grandfather knew God. What did they have to say about who God was?"
Who in your community is silenced or excluded by conflicting commitments? Who notices and includes those who are left out?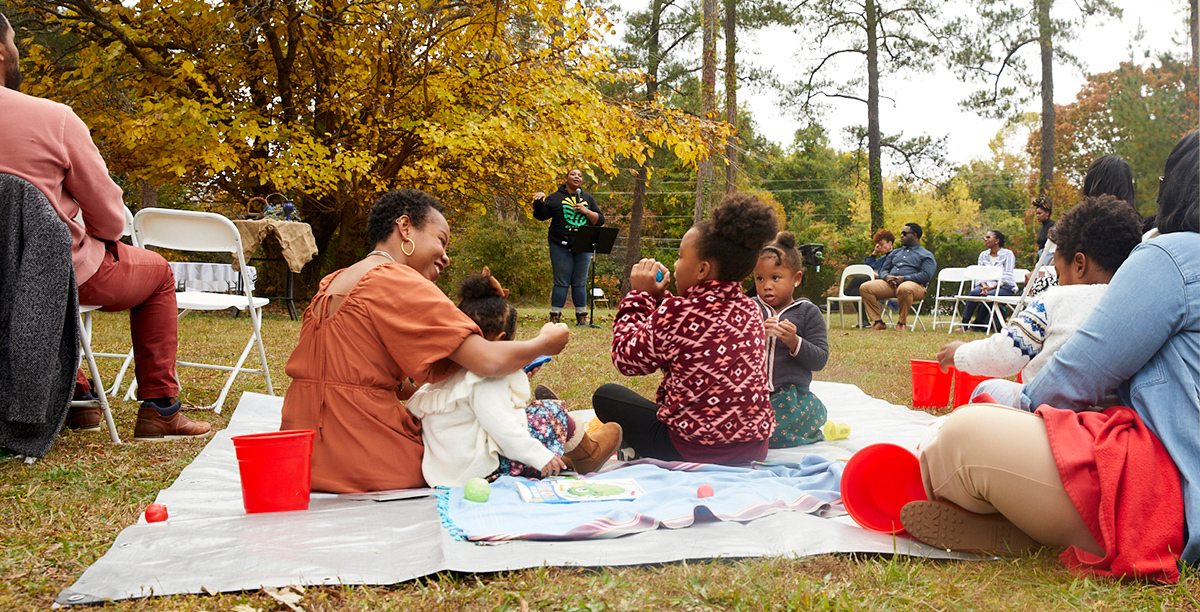 During the farm service, Burgin-Brothers gave her testimony of trying to ignore God's call to become a farmer. She quipped, smiling, that there was never a call she didn't try to ignore first. Knowing laughs reverberated around the yard, as children toddled under the watchful eyes of adults, toting mini-buckets of play tools. And a key component of the farm service was a blessing of children conducted by Wake Forest University professor Melanie Harris. An invitation to the blessing had been extended to all families, but particularly those whose families are often excluded from traditional church settings.
None of the invited queer families came to the blessing, but Shields took that in stride.
"I can't promise that it's a safe space," she said, because safety is relative and she knows well the wounds that churches can leave. But she promised that "safer" is a goal of the utmost importance and that The Root Church, whatever it becomes, wants to listen and learn how not to duplicate the sins of the mainstream church.
How can you create "safer" conditions that invite people to test the welcome you offer?
Later, after participants were invited to roam the property and commune with the soil, a liturgical dancer sketched wide arcs with her legs and arms to the tune of Beyonce's "Bigger," whose chorus echoed The Root Church's focus on growing together:
I'll be the roots, you be the tree
Pass on the fruit that was given to me
Legacy, ah, we're part of something way bigger.
Questions to consider
How does your congregation embody its most important commitments?
Who in your community is gathering those who are excluded, overlooked and marginalized? Who is trusted to do that holy work?
What Biblical passages resonate with your experience and empower you to act?
Who in your community is silenced or excluded by conflicting commitments? Who notices and includes those who are left out?
How can you create "safer" conditions that invite people to test the welcome you offer?
More and more churches are looking at new ways to generate revenue beyond the offering plate. This might take the form of renting rooms in a church building to a community partner, starting a new social enterprise like a grocery co-op, building affordable housing — anything that generates earned income.
There is a lot of promise in these activities, and through them many churches may not only generate revenue but also engage in new and meaningful expressions of ministry that serve vital needs in their communities.
But making money from earned revenue activities raises new questions and concerns about something most churches have largely ignored: taxes.
Does a church renting out rooms need to pay income tax or property tax? Does a church selling coffee need to charge sales tax? Is a church's new development project subject to property tax? And could too much "business activity" jeopardize a church's tax-exempt status?
We have experience with church-based social enterprise and taxation from both the academic and the practitioner side. Andrew McGannon recently wrote a thesis on tax implications for faith-based social enterprise in the U.S., and Mark Elsdon is the executive director of Pres House, a $2.4 million-per-year faith-based social enterprise, and consults with churches throughout the country on revenue generation and social entrepreneurship.
While this article cannot answer tax questions for any specific situation, we offer the following suggestions to keep in mind for churches generating new revenue.
Do we need to worry about paying taxes?
Yes and no. Ironically, perhaps, the two broad risks related to taxation are to not worry about taxes enough … and to worry about taxes too much.
Generating revenue can, and often does, trigger some taxation, through unrelated business income (UBI) tax at the federal level, sales tax at the state level and/or property tax at the local level (see decision tree below).
Churches generating revenue from income-producing activity should not ignore taxes. It is our legal and ethical responsibility to understand and comply with applicable tax law.
On the other hand, worry about taxation and fear of trying anything new can stifle innovation in congregations. Taxation should not prevent a congregation from creating innovative ministries using a social enterprise. Most concerns can be addressed through careful decision making. And paying some taxes on a socially and financially valuable enterprise isn't the end of the world.
Is our tax-exempt status at risk?
Earning revenue through a social enterprise may incur taxes, but it is unlikely to result in a loss of tax exemption given proper planning and consideration.
Some key considerations in determining whether a new activity fits within an existing nonprofit exemption include the scale of the social enterprise as well as the relevance to the core mission of the organization as expressed in its mission statement.
If revenue from the social enterprise becomes significant relative to the rest of the income of the church, especially if the social enterprise is not specifically relevant to the mission of the organization, changes to the legal structure may be necessary.
Churches can often benefit from creating an affiliated limited liability company or an entirely separate nonprofit organization to house a social enterprise and its revenue. Proper planning and consideration around the financial and legal implications for a social enterprise, with assistance from tax experts, will likely prevent any risk of loss of the tax-exempt status.
Again, don't let fear of losing your tax-exempt status stop you from innovating.
So what has been done? Two examples.
Affordable housing
St. Paul's Commons is a mixed-use affordable housing apartment complex located in Walnut Creek, California. Building upon a long legacy of ministry around housing insecurity, St. Paul's Episcopal Church is providing, with this enterprise, 44 units for individuals who were formerly experiencing homelessness.
They also rent space to other nonprofits that engage in case management, employment services and related programs. The St. Paul's Commons space opened in March 2020, just as COVID lockdowns were beginning. One of the leaders recalled that moment, saying, "It's ironic: just as the world was shutting down, I was handing out keys to people's homes."
St. Paul's Episcopal Church owns the land on which the complex sits, but the new building is owned by Resources for Community Development, a nonprofit focused on developing affordable housing.
Through careful legal structuring and accounting, St. Paul's Episcopal Church has developed a way to serve their community with a tangible and much-needed service without jeopardizing their tax-exempt status or becoming overly burdened by tax liability.
Coffee shop
Coffee shops have been a popular option for churches interested in offering alternative programming and generating additional revenue. Union Coffee Dallas is an experimental model that advances a hybrid social enterprise and worship space.
Rather than a coffee shop within a worship space, Union is a worship space within a coffee shop. They aim to cultivate a nontraditional worship space for individuals who are looking to develop their spiritual faith but do not necessarily identify with the mainline traditions.
By regularly donating a percentage of revenue to other nonprofit organizations, Union lives out their tagline: "The Most Generous Cup of Coffee in Dallas." They hold worship events, writing workshops and narrative storytelling performances in the space.
Union was started in 2012 as a ministry of University Park United Methodist Church. In fall 2021, they officially chartered with the North Texas Conference as a missional congregation. The property and building where Union is housed is owned by Oak Lawn United Methodist Church.
Union Coffee House Ministry brings in three different types of revenue: traditional coffee shop income (coffee shop goods, merchandise and room reservations), donations and fundraising events, and foundation grants for specific projects.
With help from an accounting firm that specializes in nonprofit accounting, they are able to keep track of the different streams of revenue and the tax implications of each. They also pay property taxes per the applicable Dallas property tax code. Union is exploring how to expand to different locations and may create an additional limited liability company to provide the flexibility needed for expansion.
Where can I find additional resources?
Our organization RootedGood has facilitated the production of a number of resources, including a training video with experts on church taxes and a more comprehensive decision tree tool that assists congregational leaders in navigating the complexities of social enterprises and income-generating activities.
These resources begin to address some of the major questions that congregational leaders have around the topic of taxation and revenue generation. Congregational leaders are also encouraged to reach out to legal and accounting expertise in their local contexts to answer questions and set up structures well. Problems can often be avoided by some up-front investment in expert assistance.
The information contained in this piece is provided for informational purposes only and should not be construed as legal advice on any subject matter. You should not act, or refrain from acting, on the basis of any content included in this piece without seeking legal or other professional advice.
Some content for this article is drawn from a thesis researched and written by Andrew McGannon for RootedGood, which includes additional case studies and the broader legal context around revenue generation and taxation within congregations. Used with permission.
Editor's note: This essay has been adapted from a longer version.
As I ponder the future of congregational life in America, I am filled with hope. I find the future to be exciting, because it is a mix of challenge, change, uncertainty and creative possibilities.
More importantly, my hope is invigorated by the young clergy I have come to know and walk alongside in recent years; they are more than up to this challenge. Indeed, if I could, I would turn back the calendar of my life 60 years and begin again.
Two years ago, just as we began to settle into the long winter of COVID, this haunting quote from Andy Crouch, the Praxis partner for theology and culture, froze my attention: "From today onward, most leaders must recognize that the business they were in no longer exists. This applies not just to for-profit businesses, but to nonprofits, and even in certain important respects to churches."
True indeed! The great pandemic has brought church life as we know it to a halt. It has roused us from a deep sleep and waked us up to seismic cultural and religious realities we too long ignored. This shift has left many pastors and congregations in a quandary, depressed and paralyzed.
My sense of church has been shaped by the nearly 40 years I spent as a parish pastor and the 12 years I spent at a public university as the founding director of the Lake Institute on Faith & Giving at Indiana University. During those 12 years, it was my privilege to work with nearly 3,000 congregations reflecting the diversity of congregational life in America.
What I discovered was this: most congregations have difficulty thinking about their future. For many, trapped in a one-year-at-a-time survival mode, their tomorrow is but a blur. I also observed that savvy pastors recognized that they dare not sit back permitting fate to run its course if their congregations are to have a tomorrow.
Their quandary is this: how do you plan for tomorrow in a fractured, fast-moving and ever-evolving world?
I think there are three questions clergy and congregations should address as they contemplate their tomorrows:
How do we plan for an uncertain future?
How can we best manage the messiness of change and innovation?
What are the questions we should be asking as we face the future?
In exploring these questions, I discovered several wise and insightful resources to share; clergy need conversation partners to walk alongside them as they navigate the murky shoals of congregational life:
How do we plan for an uncertain future?
In their book "The Great Upheaval: Higher Education's Past, Present and Uncertain Future," Arthur Levine and Scott Van Pelt lay out a tripartite methodology — a three-way mirror — that enables organizations to address this question. To gain insight into the future, they write, it is essential to look in three directions: backward, forward and sideways.
The look back unveils something as to the DNA of a congregation. How has it managed change in its past? The look forward focuses on the forces changing America,providing a window into the issues framing the horizon: demographic, economic, technological. The look sideways reveals the way other organizations have managed change.
How can we best manage the messiness of change and innovation?
Ronald Heifetz, senior lecturer in public leadership at the Harvard Kennedy School, has created a process by which institutions may redemptively address change and innovation: the practice of adaptive leadership.
What is adaptive leadership? It is based on the conviction that difficult problems are best solved with input from the entire organization. The adaptive process begins with the creation of a guiding coalition. This is a task force that serves as a think tank — in the case of a church, a congregation-based leadership laboratory.
What are the questions we should be asking as we face the future?
Ecclesial questions have to do with the forms and functions of the church and our life together. Institutional change usually falls into two buckets: the adaptive bucket and the disruptive bucket.
Adaptive congregations embrace change but believe that the church will essentially remain as it has always been. Today's more disruptive voices believe that the church as an institution or denomination is passe.
Both visions raise ecclesial questions, questions for both established congregations and new emergent faith communities to wrestle with in fidelity to their heritage, calling and purpose.
What is a church? What purpose do congregations serve?
How do emerging new forms of congregational and community life fit into the more traditional and denominational understandings as to what a congregation is?
How do stand-alone faith communities see themselves; to whom are they accountable?
What ultimately shapes the purpose and identity of faith communities primarily built around personal interests, political values or social values?
How will online congregations administer the sacraments, nurture faith formation, build a sense of community and mirror the kingdom of God?
We also must be asking theological questions in our secular context. The church exists to witness to God's redemptive presence in the world. However, the world in which the church now lives is not the world in which many of us grew up. As the philosopher Charles Taylor writes, we are living in "a world of secular time."
A secular world is not a world without religion; it is a world where belief in God is understood to be but one option among others. In a world where is it assumed that God is absent, where unbelief is normal, little or no connection is perceived between God and everyday life. In short, it is a world shorn of any sense of transcendence, any sense of God.
Ministry in a secular age offers a rare opportunity for congregations to reframe the good news as they pour the aged wine of the gospel into new wineskins. In short, the challenge facing congregations today is how they will breathe new life and meaning into an old and oft-abused word: evangelism!
To ignore these questions, I fear, is to be in danger, as congregations, of becoming little more than nesting places for preexisting Christians.
The role of the pastor in a secular world is to be more than an "institutional curate," as Root writes in "The Pastor in a Secular Age." It is to be a shepherd who leads people into "experiences of the ministering God."
The mission of the congregation in a secular world is to focus on resonance, not relevance, on revelation, not innovation. A resonant congregation seeks "a narrative of connection to the world and those in the world who call out to us," Root writes in a companion book, "The Congregation in a Secular Age." It is sensitive to the yearnings of the secular soul that longs to live life more fully and find meaning in everyday life. It is a visual and experiential catalyst as it exposes the sacred ever lurking amid the nooks and crannies of everyday life.
I have found congregations to be amazingly resilient. They may be on life support, but they refuse to throw in the towel. They may be chronic one-year-at-a-time congregations, but they refuse to shutter their doors.
What is the source of their tenacious hope? That hope is rooted in their sense of calling and their trust in a slow God who nonetheless shows up.
I have not offered any answers to the questions I posed; to do so would be presumptuous, if not downright impertinent. The questions are intended to serve as channel markers for clergy and congregations as they traverse their uncharted future. They are questions to be addressed by congregations in the light of their particular ecclesial traditions and theological orientations.
The changes blowing in the wind are clearing out the cobwebs of stale church life. That wind is more than the howl of secularism. The blowing wind is the ruach — the wind, the breath, the spirit of an uncaged God. To a confused and bewildered Nicodemus, Jesus whispered this wisdom: "Listen to the wind, Nicodemus, listen to the wind!" The challenge of congregations grappling with an uncertain future is to listen. To listen, then dare to pour the new wine of a living God into new wineskins.
The changes blowing in the wind are clearing out the cobwebs of stale church life.
It was an hour before the doors would open. I was beginning to panic. The chairs were set, the sound check was done, and the speakers were ready. All I had left to do was set up the giant TheoEd letters on the stage. The problem was, the lowercase e would not stay in place. It leaned a little to the left, a little to the right, and sometimes it would flop over on its side.
After 18 months of planning and promoting, I thought, this e was about to ruin everything! In truth, it was the least of my concerns.
What I was trying to pull off back in 2017 was risky. At that time, I was a scholar-in-residence at a large church in Atlanta, and I was working with a group of lay leaders to re-imagine the congregation's annual sermon and lecture series.
We wanted something fresh, something that could reach out into the community. We wanted to make the best learning available in a format that was accessible and engaging to a broader audience.
We wanted to bring a little bit of TED to church.
But could we really pull it off? Would leading thinkers in the church and the academy be willing to give the talk of their lives in 20 minutes or less, as TED Talks do? Would audiences show up? Could we produce the whole thing with the impeccable quality of TED?
We sold out that first TheoEd event, the speakers were fabulous, and the e stayed put.
Since then, we've put on seven TheoEd shows, with several thousand in attendance and more than 100,000 viewing our talks online. We have developed discussion guides to go along with each talk and a prize for graduate students. For the first time this February, we took TheoEd on the road, visiting Charlotte, North Carolina.
Through TheoEd, we've tried to do for the Bible, theology and spirituality what TED has done for technology, entertainment and design. In the process, we have been learning a lot about what it takes to engage public audiences in conversations about God, religion and the power of faith to shape lives and communities.
Here are three discoveries and how they might help churches and seminaries rethink their approach to education.
Re-imagining the sage on the stage
Conventional wisdom has it that the sage on the stage is dead. At least, that's what I took away from Parker Palmer's "The Courage to Teach" when I read it in seminary. Palmer describes a "community of learning" in which the expert is displaced from the center of attention and learning happens through a nonhierarchical web of relations between students, subject and teacher. I love this model and use it in the seminary classes I teach.
Much like Palmer, the TED organizers are convinced that the traditional academic lecture is not an effective vehicle for engaging most audiences. What Palmer solves through decentered, discussion-based learning, TED solves through well-coached speakers, compelling short-format talks, an attractive stage and high-end production.
We've followed a similar path in TheoEd. Getting there isn't easy, as most of our speakers are more comfortable reading lectures from a lectern or delivering sermons from a pulpit. If there's a secret sauce to TheoEd, it's the insistence on the highly polished, no-notes, short-talk format that TED popularized.
What TED reminds us is that the church and the seminary of the future will need new wineskins, not just good ideas. We'll have to let go of some well-established models of education, and we'll have to lean into creative experiments. Some of those might look like what Palmer describes. Others might, like TED, try to re-imagine the role of the sage and the design of the stage.
Reaching the second audience
What sets TED apart from most speaker series is that its primary audience is not the people who attend in-person conferences. Rather, TED is all about the "second audience" — those who experience its content only digitally. Focusing on the second audience doesn't just involve remembering to turn on the camera and set up the livestream. From how the speakers are coached to where the cameras are placed, the whole point of TED is to make the second audience feel like the primary audience.
We try to do the same with TheoEd. A case in point: During our February 2020 event, a speaker's microphone malfunctioned during the first few minutes of the talk. The in-person audience could still hear the speaker, but the malfunction would render the digital recording unusable. Having prepared for this scenario, we paused the talk, fixed the microphone and asked the speaker to start over.
It was a bit awkward for the in-person audience, but we were convinced that this was worth it, because we knew that far more people would eventually listen to this talk through our website than were actually in the room that day.
If churches and seminaries are going to get serious about using digital media to reach new audiences, they will have to start designing offerings with the second audience squarely in mind.
How will that change things? It will mean paying more attention to elements like lighting, sound quality, camera angles, stage design and run of show. It will also mean making strategic decisions about which offerings should be online and which should not — doing less might well be the key to doing better when it comes to reaching the second audience.
Creating communities of curious souls
The look and feel of TED is inviting and inquisitive. The talks prompt the audience to ask questions and to consider new ideas — or to revisit old ones. The point of TED, as its website says, is to create "a community of curious souls."
Isn't that what a church should be — a community of curious souls? Becoming such a community will mean valuing questions over creeds, dialogue over dogmatism (whether conservative or liberal) and wrestling with difficult texts over trying to protect God from people's doubts.
It will also mean rethinking where education happens. We've chosen to hold TheoEd in community centers and performance venues rather than church sanctuaries. We've found that these spaces can be more inviting to those for whom the institutional church has ceased to be a place of meaningful belonging.
Rather than inviting people to their buildings, perhaps it's time for churches and seminaries to do their work out where their audiences are already gathering — coffee shops, pubs, community centers, art venues, gyms, parks.
Taking TED to church is no panacea for all that ails traditional models of Christian learning and theological education. But learning from TED is, as their tagline puts it, an idea worth spreading.
What TED reminds us is that the church and the seminary of the future will need new wineskins, not just good ideas.