First United Methodist Church of Miami was Audrey's second pastoral appointment. She left a deeply challenging and meaningful missional ministry in South Miami to come to the big, shiny downtown church and find some rest, security and stability. She thought.
It didn't take long to notice that the exterior cross was not shiny but rusty, the roof was leaking, and the sanctuary pulpit had been eroded by termites. The building maintenance list was twice as long as the hospital visit list. So much for rest!
This is the reality of most of our beloved "Old First Churches." Because First Churches — often, the first of their denominations to be established in a city — are in strategic locations and have significant influence, they have long drawn the attention of observers.
In 1974, Ezra Earl Jones and Robert Wilson wrote a book titled "What's Ahead for Old First Church?" In their research, they focused on the role of the downtown church in the civic, religious and social life of a city, region and denomination. They noted a number of common traits of Old First Churches — quality, prestige and leadership.
And yet reading their work almost 50 years later, we were struck by the undeniable sense that already in the early '70s the Old First Church was in decline.
The disestablishment of mainline religion was underway; the function of downtown areas was shifting, especially as the suburbs were growing; and the aberrant patterns of convergent and cohesive communities that had occurred in the post-World War II 1950s were giving way to divergent patterns of social life.
Audrey's church fit this model, which we included in our 2020 book, "Fresh Expressions of People Over Property." First UMC Miami's history is deeply linked to its origins as a downtown church with multiple locations, narratives and identities.
Miami is magical, especially at night. This was not the case 126 years ago, when First United Methodist Church was birthed. The location on the Miami River had been occupied for thousands of years by Native Americans and had been visited by Ponce de Leon in the 1500s; the city itself was incorporated in 1896.
At that time, it wasn't much of a city, comprising wooden structures, mangrove trees and mud. Many of our early members imagined more; the people who built the city were also the founders of White Temple ME Church (in the northern faction of the Methodist Episcopal denomination) and Trinity ME Church South (in the southern one).

Both churches started in houseboats, then upgraded to buildings and eventually erected their sunbathed sanctuaries just two blocks from one another. The churches had been in their new downtown buildings only about 20 years when the northern and southern Methodists reunited.
Although the two churches were now under the same denominational umbrella and less than a mile apart, they never spoke of merging — they were too big. The growth continued until the '60s and '70s. But perhaps spurred by a damaging fire at White Temple, the two churches merged in 1966, meeting at the Trinity campus for several years before constructing a new building on Biscayne Boulevard, completed in 1981.
White flight continued, and by the '90s, most mainline churches in Miami had lost 50% of their membership. Many wondered what was ahead.
Urban theorist Richard Florida has noted that suburbanization "accentuated [the] fissure of urban areas into separate zones for working and living." Many of our downtown structures were defined and built for an earlier way of life. But church leaders were slow to adapt to change.
Still, adaptation would come. Many downtown churches simply followed their people to the suburbs; as we know, systemic racism was and is a factor in real estate markets.
Alongside the change came a nostalgia for the past — when sanctuaries and Sunday school classes were filled with people, when prominent preachers held esteemed positions in the community, when political and civic leaders of influence sat in the pews and were active as members.
This selective memory does harm to leadership in the present, lowering morale and increasing anxiety and stress.
When Audrey arrived as pastor of FUMC Miami in 2015, some members still identified themselves as "Templers" or "Trinity." Many carried with them the nostalgia and prestige passed on to them by the ancestors who had built the city and had stayed when so many others left.
Not all were longtime locals, of course. The faithful folks she inherited were from more than 25 countries around the world, and they also embraced FUMC's identity "in the heart of the city with the city in its heart."
The men's group started a powerful ministry with the unhoused. Many members started tutoring at local elementary schools. The church became a leader in Miami's People Acting for Community Together and took on many social issues downtown. FUMC's music was far from contemporary, and its sanctuary bore no screens, but each year new people trickled into the church.
Like many bighearted downtown churches across the country, First UMC found that love was not enough to pay the bills and do new things. Solutions such as budget cuts and renting out space helped for only so long. The church was looking at half a million dollars in upgrades, such as improving bathrooms and organ pipes — expenditures that were necessary but did not bring in new people.
For many churches, large property decisions arise from two main drivers: declaration and desperation. First UMC was motivated by both.
The congregation wanted to stay downtown to declare the gospel and serve the homeless. They also were becoming desperate. Audrey spent her first few months at FUMC crunching numbers. How much square footage was used for ministry? How many of the top 25 givers were over 65? (Answer: too many.)
The questions and the data led to a decision: They had to do something.
How could First UMC remain an Old First Church, willing to understand its past and appreciate its traditions, yet discern what in all of that could be released and repurposed for mission in a changed landscape?
The church formed an exploratory development committee, which created a plan and process to partner with a developer. It then sold a little over an acre to a developer who is building two towers on the property. The church will occupy 20,000 square feet on a corner of one building, and the rest of the building will have 696 microunit apartments, 40 of which will be used as a hotel. The second tower will be residential.
The income received from the sale is being used to buy and build the church's portion of one building. The rest will be in an endowment to fund the church in perpetuity.
The vision is to have a hub in downtown and spokes in the city. The spokes will be created by the missional and faith needs in their locations, such as a new brunch church directed toward the LGBTQ community or missional ministry with veterans.
FUMC of Miami does not want to stop following God where God might lead them now that they are building a beautiful home. Each year, they're working to live into a new future for their beloved — new — First Church.
Recently, after many years away and numerous COVID-related delays, I made my way back to the place of my childhood. I grew up along the winding Guadalupe River in the Hill Country of Texas, in the city of Kerrville, to be exact — a small town where I inhabited 11 different houses as a child.
Not only is this the place I grew up, it is also the place where I planted a church called the Soul Cafe in the late 1990s. I had anticipated going back for quite some time, and to my surprise, I found that not much had changed.
I was comforted to find a vibrant main street where I could still eat breakfast tacos on tortillas made fresh that morning. It was nice to sip coffee at Pax, have lunch at Francisco's and enjoy the region's wine at Grape Juice, all locally owned and operated.
I drove over low water crossings, remembering the thousands of trips down these roads in my 1985 turquoise-blue Camaro. I swam in the river and basked in the early-autumn sun below an enormous swarm of vultures circling overhead.
It can be easy to look back at the past, full of nostalgia, with rose-tinted glasses, but my childhood was more thorny than rosy, and that spilled into my experience of church as well. When I was a young teen, I endured a season in which my mother dropped my brother and me off at a different church each Sunday, hoping we would find one we liked. It was painful.
Despite an expressed emphasis on being welcoming, the churches I experienced felt anything but that. Awkwardly, I would enter, looking for a familiar face but sensing only impermeable boundaries roped off with pleasant smiles and perfect-looking family units.
My family was far from perfect. Dad had left when I was 5. Mom cycled through a series of relationships that kept us moving. My brother started using drugs at 13. Entering church on Sunday mornings, I stood out like a ragamuffin. I could find nowhere to hide, and it was impossible to blend in.
I ended up choosing the church where Regina went. A friend from school, Regina saw me at once and ushered me in to sit with her and her family. She truly and personally invited me in. Regina is someone who knows the art of friendship — someone I am still friends with today, over 30 years later.
In fact, she and her husband were part of Soul Cafe, the church I planted to reach young adults. Soul Cafe closed its doors several years ago, but there is still a group of people who are deeply connected by the experience of shared community it offered. These are the people I was keen to see on my visit.
On a Sunday night in late September, we gathered for a "come one, come all" potluck. In a familiar backyard under the stars, we jumped right back in with one another. We shared stories from the past, conversations about people who had moved away, photos and tall tales from weddings and other special events. We visited with young adults who had been babies back when Soul Cafe started, and we shed tears over the people who are no longer with us.
As I sat listening to stories and taking in the laughter, I just kept thinking: This is a holy space. This is what endures.
Several people have asked over the years what made Soul Cafe so special. My answer is always the same: community. It wasn't that the worship was awesome (it was!) or that we were pioneering the coffee shop church movement (we were!). It was the way we did life together.
We were friends, loving one another in good times and bad — and there were plenty of both — supporting each other, holding one another accountable, wrestling across differences, including political ones. Yes, both Democrats and Republicans live in Texas!
Soul Cafe ended after 11 years. At the 10-year mark, the elders decided to pause for one year to discern whether or not to keep going. You see, it had started as a church for unchurched young adults but had grown to be a family church. Because family churches abound in Kerrville, the leadership thought perhaps new things needed space to emerge.
Soul Cafe ended with no conflict. The leadership distributed its ample resources into ministries that had sprouted out of the church. Soul Cafe as a noun, a place, ended — but the community, the doing, the depth of friendship certainly didn't end. We'd been woven together, stitched into a sacrament with invisible threads. This rich community fed my soul back in the '90s and sparked my imagination on my recent trip back home.
It left me wondering: Do we make church more complicated than it needs to be? Do we underestimate the power of friendship?
After all, the gospel was lived out in the company of friends. Jesus walked with his friends; he ate with his friends; he performed miracles at events with his friends. It was his friends who lamented when he died and who shouted from the rooftops when they realized the grave couldn't contain him.
Scripture tells us people will know us by our love for one another (John 13:35). It is not the isolating holy huddle but the connecting act of radical friendship that counters the cultural norm of every-person-for-self.
What if friendship re-imagined is the crucial element the church needs to embrace? Not just friendship among people who are alike but friendship defined more broadly. Deep, engaging one-on-one time that breeds responsibility and care, not only for each other, but for a widening circle of concern.
We are living in a time when people of all ages — especially the young — are experiencing excruciating isolation. One study shows that 1 in 3 young people feel alone most of the time and that 40% say they don't have anyone to talk to. What if more gospel-infused friendships called us to create pop-up dinner parties and backyard barbecues that lived out abundance for everyone — the recently unemployed neighbor, the young person struggling with addiction, the lonely older person who lives down the street?
As a social innovator who often trailblazes new forms of community out of necessity, I've repeatedly felt ready to throw in the towel. Time and again, though, my community has showed up to sustain me. People have buoyed me along the way. Like Aaron and Hur, who held up Moses' hands when he grew tired, people have appeared at my side to lift me up.
They have called me to return to radical action; they have stirred up new reservoirs of empathy, encouraging me to keep taking risks and keep imagining new tributaries where the Spirit is flowing.
At our backyard gathering in Texas, we took a moment to share a ritual. We drank from a common glass of red wine, passing it from one to another, communion-style, each blessing the next with one word of heartfelt affirmation. Words such as "passion," "steadfastness," "integrity," "joy" and "loyalty" emerged to describe the ways people are showing up for life. These affirmations echo in my memory and call me to imagine.
Encouraged in the possibility of a church reawakened by focusing on a broad, expansive charge to befriend more boldly, I embrace this blessing by poet, mystic and soul-friend advocate John O'Donohue:
May you be blessed with good friends.

May you learn to be a good friend to yourself. …

May you be good to [your friends] and may you be there for them. …

May you never be isolated.
During the first few months of the pandemic in 2020, it became apparent that the way people worship would significantly change. But it was not clear how congregations would emerge as a result of prolonged shutdowns, social distancing and virtual services.
Recent findings from an ongoing five-year landmark study, Exploring the Pandemic Impact on Congregations (EPIC), are now revealing both opportunities and significant challenges. While technology has expanded many churches' ability to connect with individuals far beyond their neighborhoods, a decline in volunteerism has hampered efforts to resume many Christian educational programs, such as Sunday school, vacation Bible school, and other adult and youth classes.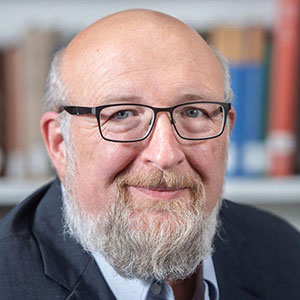 "Congregations run on volunteers," said Scott Thumma, the principal researcher for the EPIC study and director of the Hartford Institute for Religion Research, which led the study. "There's no congregation, whether it's a megachurch or a church of 50, that has enough staff to do everything the congregation needs to do."
While 90% of congregations surveyed had returned to face-to-face worship by the spring of 2021, 57% of churches reported not being able to host religious educational programming at pre-pandemic levels. Some churches, especially smaller churches, reported having discontinued youth programming entirely.
For example, prior to the pandemic, 36% of churches had offered VBS during the summer. In 2020, the number had dropped to 17% of congregations. Although the number returned to 36% for the summer of 2021, only 31% of churches reported that they planned to offer VBS in 2022.
Many churches noted that their ability to continue educational programs was directly tied to a shortage of volunteers. According to the EPIC report, volunteerism dropped from about 40% of membership in early 2020 to 20% in March 2022.
Thumma said a drop in volunteerism is more significant for a church than a drop in church membership.
"Having fewer people in worship service doesn't impact a congregation as much, because you still can have the worship service," he said. "But when you don't have the number of volunteers you need, that has an immediate effect."
The EPIC series of surveys and research, which is supported by a grant from Lilly Endowment Inc., is continuing to shed light on various aspects of church work — which seems to be constantly evolving, said Thumma, who travels throughout the United States and internationally to meet with pastors, scholars and other individuals interested in the research findings.
"Every time we talk with church leaders, even with these megachurch pastors, they are saying, 'We're doing as much Christian education as we can with the people we have,'" he said. "They realize they are limited by the number of people who are volunteering."
Not all churches experienced the same level of disruption caused by the pandemic, according to the EPIC research, which showed distinct differences between congregations that quickly returned to in-person educational programs and worship and those that maintained only online services and programs for extended periods.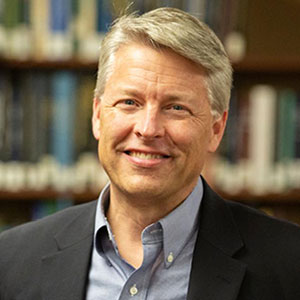 John D. Witvliet, the director of the Calvin Institute of Christian Worship, who recently led the annual Calvin Symposium on Worship, said many congregational leaders are exploring creative ways to cultivate deeper engagement online.
"It's one thing for a congregation to livestream a service or event to a largely passive audience," he said. "But it's another thing to have a congregation that actively engages people, whether that's through a chat on Zoom, an email exchange or calling someone who has just watched a service. Churches are engaged in all types of experiences on how to enhance and deepen engagement online."
Churches that continued to meet in person during the pandemic — either outdoors or in small groups with social distancing — had the least disruption in participation in church programs. Congregations that closed their religious education programs for extended periods experienced the greatest decline in educational involvement once they resumed classes.
According to the survey, 75% of Catholic/Orthodox and 68% of evangelical congregations continued in-person meetings for youth religious education, while only 29% of mainline churches did so during the early stages of the pandemic in 2020.
"Those congregations that opened up very quickly — either in defiance of government or in creative ways to allow for social distancing — not only allowed their people to come quickly back to a normal Sunday morning routine, but they attracted people from other congregations who may have wanted an in-person expression of faith," Thumma said.
"About 25% to 30% of congregations reported growing. Some of that may have been because of people tuning in online, but some of it may be attributed to attracting people who wanted to get back into a routine more quickly," he said.
Still, for churches who had declining rates of volunteerism, not only has it affected their ability to offer educational programming, but it also has led to congregational leaders and volunteers reporting higher rates of exhaustion and stress, Thumma said.
"Pastors have told us that they're exhausted and stressed. And the volunteers who do show up are often doing double duty," he said. "How long can they keep that pace up? It's probably the most concerning phenomenon that we've uncovered."
Thumma said future research may provide deeper insights into why many people have stopped volunteering. However, some assumptions can be made from the demographics of many volunteers. According to Pew data and other research, a majority of volunteers in churches are typically retirees, Thumma said.
"They also are the most vulnerable group [to COVID]. So when given the opportunity to participate online — many of those people are older folks," he said. "That means they're not at the church to volunteer as a greeter, an usher or a Sunday school teacher."
It's an overcast October day, but despite the autumnal pall and the chill in the air, a line of visitors files through a fenced-in plot of raised beds at Elijah's Farm near Durham, North Carolina. One by one, they shovel dark, rich soil into the beds where a farmer will soon plant another season's flowers and microgreens.
Just minutes earlier, the Rev. A.W. Shields had exhorted a crowd of about 40 people to make their hands instruments of growth and transformation.
"We don't just talk about liberation," she'd said. Instead, liberation is an embodied practice that requires doing collectively and individually. To the sound of West African drums, Shields reminded attendees that freedom means putting hands, back, mind and heart into the quest for a better world.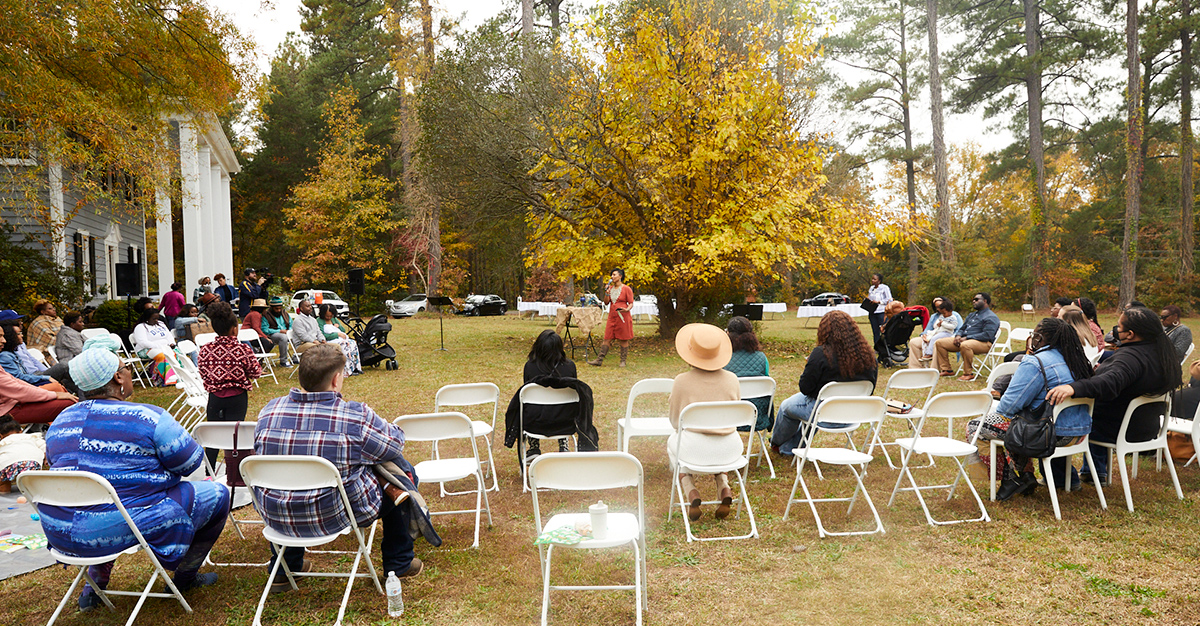 Versions of that message recur throughout this gathering of The Root Church, an intentional community that Shields and partners have created. The "farm service" was only the second formal service for the church, which strives to provide a worship space for Black people, especially Black women, LGBTQ people, and those who want their faith to walk in step with their politics.
The Root Church is an outgrowth of Root Cause Collective, an organization composed of clergy, counselors, social workers, and health experts who offer physical, mental, and organizational health and wellness services.
How does your congregation embody its most important commitments?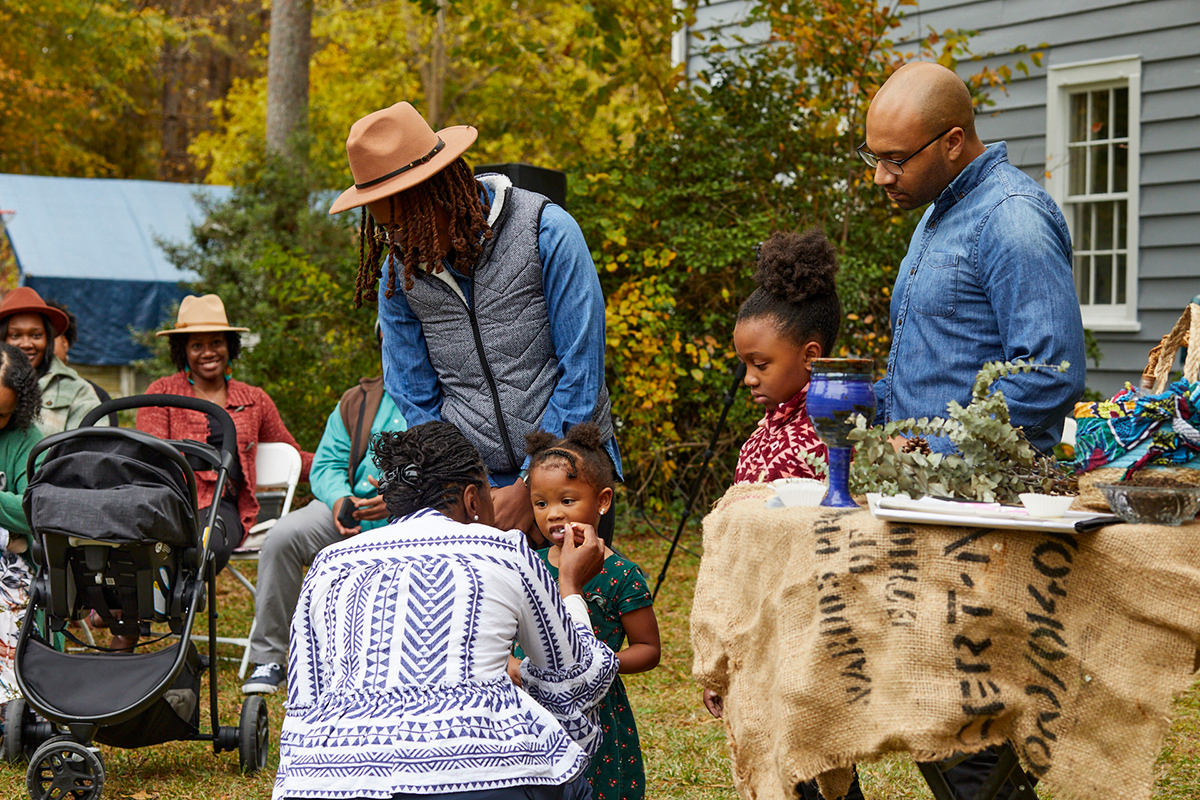 The collective began after Shields and other women convened to study the story of Deborah, a military strategist, prophet and judge whose reach has long been debated because she likely did not have authority over the men of her time. Deborah's story resonated with Shields and her collaborators, mostly high-achieving Black women who experienced loneliness and isolation in churches and professional settings.
Shields formed "trauma-informed spiritual support groups for Black women and queer folks impacted by gender-based, race-based and religious trauma."
The groups found their time so meaningful that they wanted to continue in spiritual formation together which eventually led to the church gatherings like the one at Elijah's Farm.
In Deborah's story of power within patriarchal restraint, of fighting ceaselessly for her people but getting little credit for important victories, "we really read her as a Black woman," Shields said.
The collective and the fledgling congregation are both volunteer run, and in addition to the congregation, the collective has founded a nonprofit wellness center which provides free to low cost mental health and wellness services.
Who in your community is gathering those who are excluded, overlooked and marginalized? Who is trusted to do that holy work?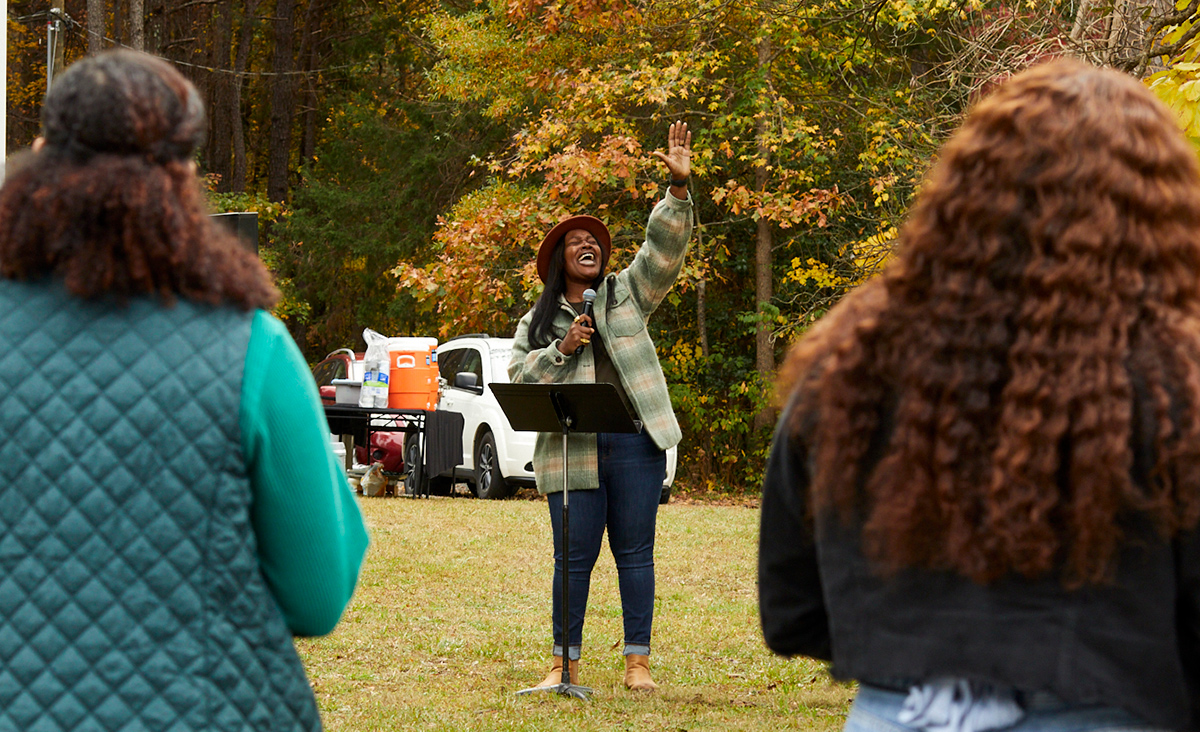 Shields, a graduate of Union Theological Seminary and Columbia's divinity program, also has a master's in social work. Before becoming executive director of the collective, she created one of the nation's first denominationwide mental health programs at the National Benevolent Association, a ministry of the Christian Church (Disciples of Christ).
During her work in church organizations, she couldn't help but see — and couldn't "unsee" — the ways in which religious institutions have either actively harmed people, both inside and outside their congregations, or otherwise not lived up to their missions of spiritual and material care. Shields is a tried-and-true devotee (and former student) of the late James H. Cone, the Black liberation theologian who challenged white supremacist Christianity that justified slavery and segregation, criticized Black churches that depoliticized worship, and recognized Black Christianity's radical potential.
In her career as a social worker, Shields understood that people damaged by churches that dehumanize queer people or expect women to fill the pews but not the pulpit might still seek relief in the church. They have been socialized to want or need a spiritual connection but may be wary about reentering a sanctuary.
So Root Cause Collective morphed into the barely year-old church, which might be best described as an experiment in exploring Black womanism, liberation theology and community building.
The vocabulary and structure of The Root Church defy the conventional. Attendees aren't "members." Services may be called "sacred moments." Participants may read texts such as James Cone's "Black Theology and Black Power"or Katie Cannon's "Black Womanist Ethics."
There is no denominational wing financing a capital campaign to build a brick-and-mortar presence, and rather than serving as a senior pastor from whom all direction flows, Shields pastors with a handful of "community chaplains," all Black women.
According to Pew Research Center data collected in 2019 and 2020, 7 in 10 Black Christians in the U.S. say that combating sexism is key to their faith, and an overwhelming majority of Black Americans (85%) believe that women should be in senior leadership positions in churches. But only 28% of the Black congregants surveyed said they'd heard sermons opposing sexism from the pulpit in the last year.
And while almost two-thirds of Black Americans polled said that homosexuality should be accepted in society, a significant number of Black adults (51%) balked at their clergy officiating same-sex unions.
What Biblical passages resonate with your experience and empower you to act?
That doesn't make for a warm reception for those who identify as Black, queer and believers. And should Black worshippers attend predominantly white or multicultural churches, the disconnect may be different but still quite uncomfortable.
The Rev. Chalice Overy, one of the community chaplains who work with Shields, has seen the disconnection in real time. She began her ordination journey as a 17-year-old preaching in eastern North Carolina and has since occupied positions at both historically Black and predominantly white Baptist churches. During a previous stint at a Black church, she'd meet people and tell them where she pastored but hesitate to invite them to services.
"I didn't think it was the safe place for them, because they were queer or somehow unorthodox in their beliefs. So I didn't invite people, because I didn't want them to have to lay down a part of their identity at the door," she said.
But at the same time, she felt that Black queer Christians would feel out of place at progressive white churches as well.
"At a white church, Black members or would-be visitors would say, 'Let me know when YOU preach, but the worship services are so white,'" she said.
"So in one place they might have to lay down part of their identity, their sexual orientation or their gender identity, or [in another place] they may have to lay down certain aspects of their culture," Overy said. "For about four and a half years now, I've just been like, 'Oh man, we need something else. We need something more.'"
The collective is now inching toward that "something more" by convening like-minded people for events such as the farm service. The Root Church has served about 100 people, linked through an email list and a web of personal connections. Shields had quietly attended a church where Overy pastored for about six months. Amber Burgin-Brothers, the creator of Elijah's Farm, is also ordained and knew Shields through local divinity school circles.
As part of the October plein-air service, attendees gathered at Elijah's Farm. Situated on former plantation land, the farm, a community agricultural ministry, is not far from Durham's well-preserved Stagville state historic site — a once-sprawling antebellum plantation that housed more than 900 enslaved people.
Shields called the service a modern-day "hush harbor," recalling the secret outdoor worship spots where enslaved people would assemble outside the fearful gaze of enslavers and define their own relationship to God.
For Overy, part and parcel of that project is making room for African-descended practices in the lives of worshippers and the theological canon.
"We have accepted the hermeneutic of a very small group of people, white men from Germany, primarily. And we're saying that whiteness and oppressive models have convinced us that those are the only opinions that are valid when it comes to God. But I know God. My people knew God. My grandmother, my grandfather knew God. What did they have to say about who God was?"
Who in your community is silenced or excluded by conflicting commitments? Who notices and includes those who are left out?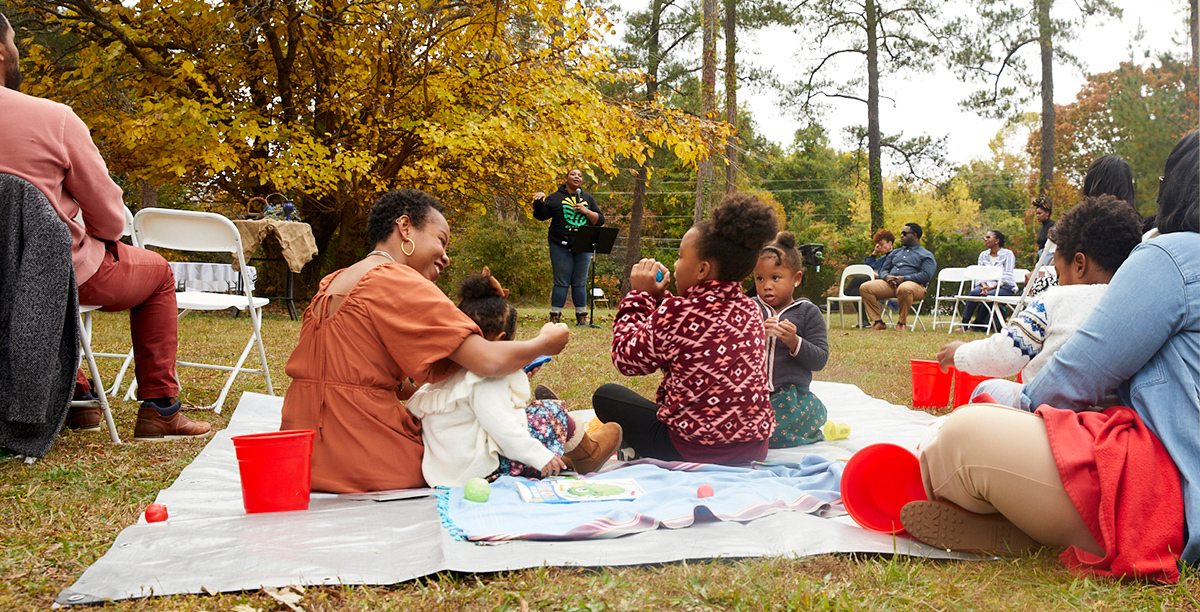 During the farm service, Burgin-Brothers gave her testimony of trying to ignore God's call to become a farmer. She quipped, smiling, that there was never a call she didn't try to ignore first. Knowing laughs reverberated around the yard, as children toddled under the watchful eyes of adults, toting mini-buckets of play tools. And a key component of the farm service was a blessing of children conducted by Wake Forest University professor Melanie Harris. An invitation to the blessing had been extended to all families, but particularly those whose families are often excluded from traditional church settings.
None of the invited queer families came to the blessing, but Shields took that in stride.
"I can't promise that it's a safe space," she said, because safety is relative and she knows well the wounds that churches can leave. But she promised that "safer" is a goal of the utmost importance and that The Root Church, whatever it becomes, wants to listen and learn how not to duplicate the sins of the mainstream church.
How can you create "safer" conditions that invite people to test the welcome you offer?
Later, after participants were invited to roam the property and commune with the soil, a liturgical dancer sketched wide arcs with her legs and arms to the tune of Beyonce's "Bigger," whose chorus echoed The Root Church's focus on growing together:
I'll be the roots, you be the tree
Pass on the fruit that was given to me
Legacy, ah, we're part of something way bigger.
Questions to consider
How does your congregation embody its most important commitments?
Who in your community is gathering those who are excluded, overlooked and marginalized? Who is trusted to do that holy work?
What Biblical passages resonate with your experience and empower you to act?
Who in your community is silenced or excluded by conflicting commitments? Who notices and includes those who are left out?
How can you create "safer" conditions that invite people to test the welcome you offer?