In the early days of the pandemic, a highlight each day at my house was pulling up John Krasinski's "Some Good News" as dinnertime viewing. My laptop joined us at the table each evening to provide a few bright spots amid the dire headlines. The stories of COVID patients being discharged from the hospital to cheers and applause, Zoom singalongs with the cast of "Hamilton" — in the spring of 2020, these bits of brightness felt like a lifeline to me.
And I'm not alone: a recent study from psychologists in the U.K. dug deeper into the "why" behind the seemingly obvious phenomenon of the positive effects of good news on our well-being.
The implications of that "why" should spark our imaginations for the way we tell stories about our work in the world. Your ministry might be changing lives in all sorts of ways — but the stories you share about your ministry might be doing that, too.
Research has long confirmed the effects of seeing bad news on our minds and our health. On the one hand, it makes us feel worse — but on the other, thanks to evolution, we're wired to pay attention to anything that might threaten us.
This particular study, though, looked at the effects of seeing good news stories after bad news stories, as a kind of counteractive antidote.
"The group that was shown negative news stories followed by positive ones fared far better than people who were only shown a negative news story," writes one of the researchers on the study. "They reported less decline in mood — instead feeling uplifted. They also held more positive views of humanity generally."
The good news that made the biggest difference for this group? Stories of kindness, of human beings showing up for each other.
The researchers tried out other kinds of positive news, seeing "how people exposed to a negative news story followed by an amusing one (such as swearing parrots, award-winning jokes or hapless American tourists) fared." But when it came to overall uplifting effects on participants' mood and hope for humanity, parrots and tourists were no match for acts of kindness — stories "such as acts of heroism, people providing free veterinary care for stray animals, or philanthropy towards unemployed and homeless people."
The research pointed to several reasons why seeing stories of kindness may help counteract the doom and gloom of the 24-hour news cycle — for example, the writer notes, it can "remind us of our connection with others through shared values" and can act as a kind of "emotional reset button, replacing feelings of cynicism with hope, love and optimism."
In the conclusion to her news piece on this study, the researcher writes, "Perhaps including more kindness-based content in news coverage could prevent 'mean world syndrome' — where people believe the world is more dangerous than it actually is, leading to heightened fear, anxiety and pessimism."
Of course, the world is incredibly dangerous for many, many people — and positive headlines are no match for the harsh reality some of our neighbors have to face each day. The simple act of reading good news is not, in itself, the way to a better world. I think, though, that the researcher's article on this particular study intends to critique the way news coverage takes advantage of our threat-detection wiring. The researcher wants to push those working in news media to consider balancing their coverage and including true stories of kindness along with the bad news.
I think, too, that there is a challenge here for all of us who work in Christian institutions, whose job it is to share the good news we've been given.
"The Good News Jesus embodied was news. Something to share, to proclaim," writes Debie Thomas in a piece for The Christian Century provocatively titled "Reclaiming the E word" (the "E," in this case, being "evangelism"). "We've become so adept at articulating who we are not and what we reject. But can we also articulate who we are? What we affirm?" she asks.
Can we share the good news of how we strive to embody the good news?
Of course, we should be thinking about the logistics, the concrete results, the returns on investment, the actual tangible work that we are doing and the difference that we are making. There is something, though, that I don't want us to lose sight of — the fact that the way we share about our ministries matters, because the effects on the people who see our stories might be greater than we can imagine.
I have the immense privilege and joy of getting to work with various teams here at Leadership Education at Duke Divinity and hear about the impact our grantees and partner organizations are having in the church and the world.
Seeing their inspiring stories, acknowledging the hope they give me, stirs up in me a greater urgency and a heightened awareness of the stakes in my communications work. How can I help get the word out about these incredible ministries, not to boost web traffic, but to help change hearts and lives?
The stories we tell about our ministries matter. We never know who might be listening, watching, hoping for the relief of seeing an act of love on a loveless day.
Here's what I want to know: How do you share the stories of kindness and care that come out of your ministry? Send me a note — I always enjoy more good news.
Low-status neighborhoods need talent retention. Instead, what they get is talent extraction, says Majora Carter.
"You are led to believe you need to leave — you need to measure success by how far you get away from there," said Carter, a real estate developer and consultant who does work in her hometown neighborhood of Hunts Point in the South Bronx.
Carter, whose own family has experienced some of the ill effects of gentrification and predatory practices, has dedicated her efforts to building up her neighborhood and others.
Her projects include a local park and a coffee shop. In 2001, she founded Sustainable South Bronx, which aims to "achieve environmental justice through economically sustainable projects informed by community needs." She also co-founded the Southern Bronx River Watershed Alliance and has been involved in numerous environmental and green jobs initiatives.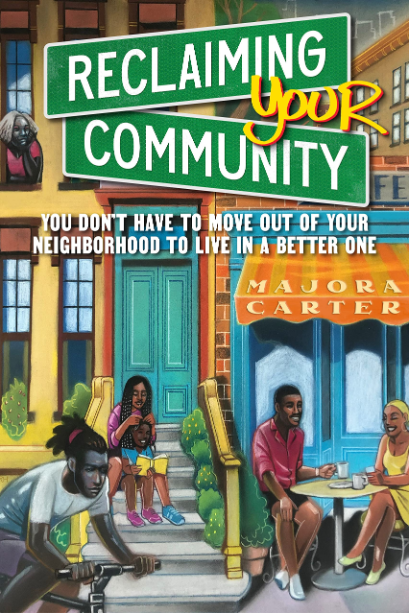 Carter wrote the book "Reclaiming Your Community: You Don't Have to Move Out of Your Neighborhood to Live in a Better One" — which was endorsed by Lin-Manuel Miranda and Seth Godin — and gave a 2022 TED Talk on the same theme.
She is president of the Majora Carter Group, which offers consulting services in environmental assessment, compliance and planning. She has received many awards, including a 2005 MacArthur Foundation "genius grant" that described her as "a relentless and charismatic urban strategist" and New York University's Martin Luther King Jr. Award for Humanitarian Service.
She spoke with Faith & Leadership's Sally Hicks about her work in the South Bronx. The following is an edited transcript.
Faith & Leadership: Talk a little bit about the neighborhoods you work in and write about. You use the term "low-status" rather than more typical descriptors, and you actually begin your book with a glossary. Why?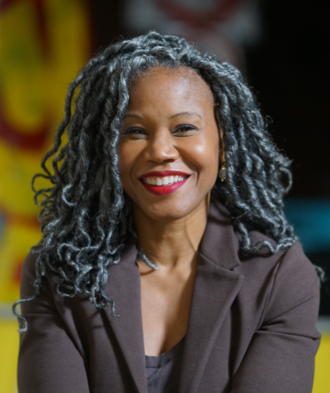 Majora Carter: Most folks, when they use "poor" or "underprivileged" or "underresourced," blah, blah, blah — it implies poverty is there. "Low-status" implies something much larger and deeper is at work. There's a high status and there's a lower status, and inequality is simply assumed.
It's the places where the health outcomes are lower, where the educational attainment is lower. Yes, poverty exists more frequently in those areas as well, and there's often a lack of hope in terms of the future of the community, both for people in the neighborhood and outside it.
And it can be anywhere. Urban, rural, suburban. It can be inner cities, Native American reservations, white towns where there was some industry and it's long gone.
What we see happening all the time is that the bright kids, the ones who are academically or artistically or even athletically inclined, are led to believe that they need to grow up and get out of those neighborhoods. That's really the underlying thing that just everybody gets. I don't care where they're from.
That's why our approach to community development is a talent retention strategy, really.
F&L: Part of this mindset is what you call the perception of "poverty as a cultural attribute." The community can't change — it isn't changeable — and therefore the only solution is leaving.
MC: It's baked in, this idea that poverty is part of the culture. So that's what you plan for, whether you're an elected planner, whether you're an elected official or part of the "nonprofit industrial complex." That is what you're planning for.
There are several industries essentially that profit off that, and that's what we're trying to work against.
F&L: You use the term "nonprofit industrial complex." What's your critique of investment done according to traditional means?
MC: It's a structure that was designed to take care of needs. But if we understand that and then we look at the money that's being spent and we don't see that the amount of money we spend is actually reducing all those social ills, then you kind of have to wonder, "Is it working?"
I'm not saying that [the nonprofit sector] doesn't play a great role. It does. I'm just saying let's just ask that question. Stop doing the exact same things over and over and over again.
Huge amounts of government-subsidized affordable housing [are built] for the lowest income bands. You're not building economic diversity in any of the housing.
Health conditions happen because of the environmental abuses in the same neighborhoods, and we don't address any of the underlying things but are managing the health conditions that are here, whether they're diabetes, obesity, heart conditions. Then we are surprised that those numbers stay the same?
We all seem to be surprised every single year. It's mind-boggling to me. I know I'm not the only person who sees this.
We're managing poverty. We have plenty of systems to manage people and their poverty. It's an incredibly paternalistic system that definitely has its roots in white supremacy that says, "You really will never be better, so we're going to help you — not that much, but just enough."
We keep seeing that over and over again, and yes, it does bother me very much.
F&L: What have you done in your own neighborhood, and what were you trying to accomplish with your projects?
MC: Ultimately, what I try to do is to help folks in my community, and communities like it, to not believe the narrative that our communities are places that are meant to be escaped from. We actually do have the capacity to revitalize our community from the inside out.
It started in my early work, when I was in the nonprofit sector for a number of years. I've always done project-based community development, because I've always felt the people needed to see and experience something different from what only screams poverty.
Again, the environment of our neighborhood literally often does say that. People know they need to leave their neighborhood in order to experience a nice park or a decent supermarket or a nice place to have a cocktail or a coffee with their friends.
What does it say about where you're from? It says, "You don't really need to be here if you have any sense of aspiration for yourself." And most people do.
What I've tried to show is that we have wonderful things to offer people within our neighborhoods. The projects range from spearheading the development of the first waterfront park our neighborhood's had in over 60 years. It was the only park — waterfront or not — that actually had grass and trees and the kind of places that made people feel, "Oh wait, this is a really special place to be."
Then we did some work where we helped people have both a personal and a financial stake in the improvement of their environment. So we've created green-collar job training and placement systems.
F&L: Tell me about the cafe; that you're sitting in right now while we're talking on Zoom.
MC: In the early days, our work was more focused on consulting, but then it didn't take us long to realize that it was really real estate development that we needed to be focused on.
We started in small multifamily [housing], and then we realized the other piece was lifestyle infrastructure. In part, we did that because it was nearly impossible for us to get the kind of financing that we needed to do larger projects. I didn't really know much about real estate development, frankly, at the time.
But when we realized that what people were leaving the neighborhood to experience was places like cafes and coffee shops and things of that nature, we actually sort of used our own good credit. We made relationships with some of the local landowners that had businesses and got very, very reasonable rents on a couple of spaces in the commercial storefronts of their buildings.
We really wanted a cafe, because, again, we did an enormous amount of market research in the form of surveys and focus groups to understand what was it that made people feel good about being in their own neighborhood or not. Why were they leaving the neighborhood to experience something good?
So we got a lease, and we realized that most of the folks who wanted to build a cafe did not have the capacity to do it. We went to Starbucks, actually, and they were just like, "Nah. Your market is too emerging."
That was really hard to hear, but then we ended up partnering with this awesome group called Birch Coffee, and we did a joint venture with them to open up our very first coffee shop. But it was also clear that we needed to be more about our own culture from the cafe's perspective, and so that's why we branched off into the Boogie Down Grind Café [in 2017] and rebranded ourselves.
It's like an homage to hip-hop. Where I'm sitting right now, you take off the cushion and it becomes a stage, with a great big plate-glass window behind me so people can see it, for open mics or all sorts of wonderful things.
The day we were protested, we were hosting a workshop in this space for people who wanted low and 0% interest loans for either homeownership or for business development. It was kind of tragic and sad but ironic. But that's what we did.
But those types of things — building out a space so that the community could come in and fill it and be seen in a cool place where people felt really good about how they looked — it was really fun, and we had a really nice time with it.
F&L: You mentioned a protest. You've gotten recognition for but also criticism of your work. Why do you think that is?
MC: Because Black girls from neighborhoods like this are not supposed to do this. I am acting way above my station, and I'm not supposed to do it.
We are just so duped into this idea that the only thing we can really be is just managed where we are, and that's why [the detractors] behave that way.
I don't know what they thought or what they think they're getting out of it, but I no longer wish to continue to allow the idea that only a few companies around the country, in any city that you're in, are the only ones. They're almost always led by white men.
That's why our communities are the way they are. I don't feel that's the only way our communities can develop — and why don't we have that conversation?
But yeah, being a Black woman just paints another target on my head from everybody concerned.
F&L: I wanted to ask you just to clarify one thing. Several times you've said, "We did this. We did that." When you refer to the "we," are you referring to a development company?
MC: My company, yes. It's interesting that I get that question. I really do think that it's still hard for people to believe that I do this as a Black woman from a neighborhood like this. Of course I have a company. It's small, but of course I have a company. I'm long on vision and short on balance sheet, but even functioning in that way, it's still us, still doing the work of a developer.
F&L: What projects are you working on now?
MC: We're redeveloping a commercial property, which is a former rail station. It's a feasibility study to do an assemblage, which would be roughly 1,000 units of mixed-income housing, including homeownership, and about 400,000 to 500,000 square feet of manufacturing and commercial space.
That's my dream. Literally, I want to be able to co-lead that project, and then I'll retire. I will show that it can be done by someone who looks like me, and then I'll walk. That is my prayer. Because I'm just too old. I'm going to be 60 in a few years, and I'm done. I'm not going to lie.
F&L: Even on Zoom, you do not look like someone who's talking about retirement.
MC: Oh no, I am. I swear I've aged a lot over these past few years. I'm grateful. I know I'm blessed that I have the ability to do what I do. I'm still here, despite being smacked around as much as I've been. I can still smile and laugh about most of it — it makes me super, super happy — so that's great.
F&L: If a congregation wants to do this kind of work, what would you recommend? I know you've worked with the Parish Collective organization.
MC: I was at the last Parish Collective [event]. I had actually been talking to a lot of them about, "What are the roles churches can play in development?"
If they do have property, how are they using it to support folks? More economically diverse communities are actually safer economically, socially. Spiritually as well.
But also really paying attention to predatory speculation. How do we support the homeowners that are already in those communities to keep them from falling victim to predators? I think churches can play a huge role in that, and so some of us are actually starting to have those conversations around it, which is great.
F&L: Do you come from a faith background?
MC: No, no. I am a Christian, definitely a follower. [But] I didn't become a Christian until years later. I do feel like this is my ministry. And my ability to love my neighbor — I feel like this is my contribution. This is how I can give, and I love it.
Most of us have probably heard that self-care is important for our mental health. And it's true! Self-care is a critical part of our plan for working toward mental wellness.
Mental health has become an everyday, mainstream topic of conversation in recent years. And that's a good thing. There are now many resources at our disposal to help us think about how to be as healthy and whole as possible.
But the challenge of this conversation becoming mainstream is that certain critically important pieces of our mental wellness can become so diluted as to be almost unrecognizable.
One area in which the wellness industry often misses the mark is self-care. Most of the imagery we see related to self-care essentially equates to pampering, luxury and disconnection: indulgent spa days, expensive trips with friends to Cabo, binge watching TV.
While these things may feel good — and we all deserve to feel good — self-care is much bigger and broader than simply self-soothing or enjoyment, especially for Christians.
Self-care is a multifaceted act of stewardship, which attends to multiple life demands. Self-care entails building a system of practices to support our living the rich and satisfying life that Jesus talks about in John 10:10. It is an evolving process, in conversation with the Holy Spirit, that honors the whole person.
Self-care is, first, recognizing that we are God's creation, made in God's image, and thus good and valuable and deserving of care. This means we have a responsibility to get curious about what we need to thrive, recognizing that that is different for each of us and that it changes over time as we grow and evolve.
We live in a world that does not often encourage us to care for ourselves in the ways that count. Our capitalist society can leave us feeling overworked, underpaid, sleep-deprived and going through the motions.
In the light of this reality, self-care might mean saying no to a paid opportunity in order to rest or spend time with your family. Self-care might mean prioritizing your exercise and sleep to support your overall physical health, even if you're more interested in doing other things. Self-care might mean going to your therapy appointments, even when they are hard and uncomfortable.
Self-care might mean committing to a devotional practice, even when the timing feels inconvenient, because you know you feel and live better when you are spiritually grounded. Self-care might mean committing to a routine that helps you feel more balanced, even when your preference is to be totally spontaneous. Self-care might mean saying no when it's easier and less scary to say yes.
To be invested in self-care is to wonder, "Is this action or routine getting me closer to where I want to be or further away from it?" Real self-care considers the bigger picture and has the end goal in mind.
The reason that self-soothing is so much more popular than actual self-care is that it addresses an immediate issue. Simply put, manicures and binge watching and emotional eating usually help us feel better in the moment. But it's important to remember that they are temporary Band-Aids. While self-care can include some of these things, it prioritizes long-term healing.
Self-soothing does not do enough to care for ourselves in holistic ways. Emotions can be powerful motivators, and it's our natural human tendency to avoid bad feelings and prioritize good ones.
As a mental health professional, I am a firm believer that our emotions are a key part of our experience in the world. It's important that we attend to them, but we must not be ruled by them. Emotions can be intense, fleeting and ever-changing. They are not the whole story, so they can't be all the information we use to navigate the world. They are a piece of the larger puzzle.
Other parts of that puzzle include our relationships with others, our physical health and wellness, our spiritual wholeness, our work and vocational responsibilities, and our communal commitments. A self-care plan (key word: plan!) considers the whole of who we are and attends to those internal and external demands.
I'm aware that by now self-care might sound a bit bigger than you bargained for. This is why the encouragement is to invite the Holy Spirit into the process. In Romans, Paul reminds us: "The Spirit helps us in our weakness. We do not know what we ought to pray for, but the Spirit himself intercedes for us" (Romans 8:26 NIV).
The truth of the matter is that sometimes our lives get so complicated that it is hard to figure out what we need to do to care for ourselves. But what we do know is that God is invested in the totality of us — mind, body and spirit.
God equips all manner of professionals to help us identify healthy practices, and God sends the Holy Spirit to help us discern which ones we are called to. Take a moment and look at the big picture of your life, with its twists, turns and intricacies. What are the key issues you're feeling called to attend to right now, and what commitments can you make in that regard? As you discern and then implement, remember that the Spirit is present to help you along the way.
There's more to the story about religion in America than what polls and surveys indicate — especially among young people.
Consider two recent statements made by one of America's most prolific religious demographers, Daniel Cox. On the one hand, in a report examining Gen Z's religious attendance and affiliation trends, he wrote: "In terms of identity, Generation Z is the least religious generation yet."
On the other hand, in a co-written report about faith after the pandemic, this: "Increasingly, religious affiliation may tell us less about the full range of religious and spiritual experiences Americans have and the extent of their theological commitments."
Our research findings confirm this tension: Gen Z expresses religiosity and spirituality, but in ways that defy traditional polling measures.
In this new reality, faith leaders can accept existing data as evidence of declining demand for religion among young people and just keep trying to get them back in the church building.
But we firmly believe that the decline narrative is not the full story. We think the better option for faith leaders is to transform their approach to young people in a way that recognizes how they actually are engaging with faith and spiritual practices.
At Springtide Research Institute, we are discovering that in reality, a majority of America's "least religious generation" identifies as religious (68%) or spiritual (77%) — a fact that changed little even as their already low religious attendance dropped off further during the pandemic.
Gen Z expresses religiosity and spirituality, but in ways that defy traditional polling measures.
So what's going on with young people?
For decades, sociologists and demographers have looked to two primary indicators of religiosity in individuals or society: affirmed beliefs (e.g., "Do you believe in God with no doubts?") and frequency of attendance at religious services.
A recent article based on these indicators, for example, doubles down on the thesis that the U.S. is undergoing a process of secularization.
But it's important to look more closely. This same article notes: "Of course, compared to most other wealthy countries, the U.S. is quite religious. Fifty-five percent of Americans, for example, say they pray daily, compared to an average of 22% of Europeans."
This includes 47% of Gen Zers who pray at least weekly, according to Springtide's 2022 annual State of Religion & Young People report.
With Gen Z, traditional indicators of affiliation and attendance no longer explain what's happening. Cox and his co-authors call this the "decoupling of identity and experience."
There are far too many voices pronouncing God "dead" (or at least dying) for Gen Z without the full range of evidence needed to back up such a claim.
Those indicators cannot tell you, for example, that numerous young people engage with crystals and herbs, anime, activism and politics, tarot, and nature as spiritual exercises.
Before dismissing these practices as New Age frivolities, consider that young Latter-day Saints and Muslims — groups that traditionally hold more conservative/orthodox religious beliefs — were among the most likely to engage with tarot or other forms of divination on a regular basis (38% and 35%, respectively).
Gen Zers engage in these practices even as they tag along with mainstream religious traditions. We also know that young people who engage in practices like these reap some of the benefits that accompany traditional religious behaviors and expressions.
For example, while 17% of all young people say they are flourishing in their faith, this number increases for young people who engage spiritually with crystals and herbs weekly or daily.
Similarly, while 24% of all young people say they're flourishing in their mental and emotional health, this number increases for young people who engage with crystals or herbs weekly.
We're not arguing that Christian churches should replace liturgy with crystals. But a deeper understanding of young adults' faith and practices can help churches connect with them.
Some faith communities have picked up on Gen Z's unconventional spiritual quest, dumping traditional programs in favor of eclectic, peer-driven activities that promote what Gen Z says it lacks most: a sense of belonging.
One example is Table Bread, a ministry of The Table United Methodist Church in Sacramento, California. The church discovered that the baking and breaking of bread created community for young people that helped alleviate their isolation and loneliness. As they form authentic relationships around baking bread, the participants have rich and honest conversations centered on Wesleyan concepts and questions.
The project eventually evolved into a youth-led social enterprise that is forming an intergenerational community through farming and bread making. Yet a young person's participation in these initiatives might not register under traditional survey measures of religious identity and attendance.
And take a look at what happened in February 2023 at Asbury University, where a garden-variety chapel service ignited a two-week, continuous revival, drawing nearly 50,000 students and visitors from around the country. It also sparked similar events on other campuses.
Daniel Darling, a bestselling Christian author and pastor, wrote in response to the Asbury revival:
"I'm bullish on Gen Z. God is doing something. I've seen it on our own campus. I've seen it on campuses where I've preached. We need wisdom and discernment, but I don't want to be the cranky old guy who obsesses over trend lines, nitpicks away and misses a movement of the Spirit."
To be sure, the revival has its skeptics. However, whether one is a doubter or a believer in the Asbury revival, the event at least suggests that maybe the experts don't have the full story on where young Americans are headed with religion. In fact, one could argue that we simply cannot know for sure right now.
Returning to the findings of researcher Daniel Cox: "What most distinguishes Generation Z from previous generations is not that Gen Zers are more likely to leave their childhood religion, but rather that many of them lacked a religious upbringing."
Cox notes that 15% of Gen Zers report being raised in nonreligious households, more than twice the rate of Gen Xers (6%) and five times the rate of baby boomers (3%).
Many of them say they don't know how to connect to communities of faith. Almost 40% of young people in Springtide's 2021 annual State of Religion & Young People report agreed with the statement, "I would not even think to go to a faith community because it is not something I've ever gone to before."
More than half said, "I'm not sure how to get connected to a new faith community."
The decline of institutional trust, the increase in demographic diversity and the rise of social media, among other factors, mean that young people are operating in a different social environment than the one that gave rise to the successful program-driven models of youth engagement over the past 50 years.
What can faith leaders do in place of programs? They can invest in building trust through authentic relationships with young people rather than relying on institutional authority to do the lifting. They can promote belonging to the same degree as believing. They can address the issues that young people care about, like racial and ethnic identity and mental health. They can bake and break bread.
At Springtide, we know that there are more examples of innovative approaches to engaging young people, because young people tell us about them all the time.
With a new grant from Lilly Endowment Inc., we are excited to spend the next three years identifying the who and the what behind those approaches and why they are so successful with young people, with the goal of developing frameworks that can be adapted and applied in faith communities everywhere.
We are excited to tell a new story — perhaps even the true story — about the spiritual potential of young Americans. Among the epitaphs written about young people and the church, we hope to announce new births — and to normalize a posture of hope and anticipation for the exciting places young people will take religion in the years to come.