Churches have moved out of pandemic management mode in 2023 into a post-pandemic pattern of life. In this time, one question stands out: how — or whether — they should continue to use technology in the long run.
To consider this question, we need to take a hard look at the challenges highlighted by online worship, especially congregational responses to the digital divide.
The digital divide is a term used to describe individuals' or groups' lack of access to digital resources or their lack of knowledge and understanding about that technology. In March 2020, many churches bumped into this issue for the first time when they scrambled to figure out what it would take to get online.
In the Tech in Churches During COVID-19 project, we have been studying how churches in Indiana have adopted technology and adapted to online worship services between 2020 and 2023. We have documented many successes in how churches helped one another, shared resources, built new ministries and even expanded their congregations during the pandemic because of their work online.
However, we have also noticed two groups in some congregations that made this work more difficult: the technologically hesitant and the digitally reluctant.
The technologically hesitant were individuals who expressed strong doubts about moving services online and were slow in making decisions regarding technology. These were often older members of congregations or leadership teams who were unfamiliar with digital media and therefore felt uncomfortable and unqualified to make decisions about what technology to purchase or use.
One pastor clearly expressed this hesitancy when he said, "When your average [member] age is 70 years old, it's hard to make changes. Technology can be seen as a threat, not an opportunity."
This technological hesitancy created a generational digital divide. While younger church staff or members were often excited about technology solutions, older members with limited digital experience saw these solutions as one more uncertainty they were forced to adapt to during the pandemic.
Churches that were able to swiftly identify and address these concerns were able to overcome members' technological hesitancy more quickly. Some solutions included purchasing tablets that could be loaned to members and pairing young people with seniors as tech tutors to help them learn how to access online services.
The second group that made this work of adaptation to change more difficult were the digitally reluctant. The digitally reluctant were actively resistant to using digital media, even when technologies were available and offered an easy solution to a problem. The digitally reluctant would also try to dissuade others from using digital resources, often because of ideological concerns about the nature or impact of technology on the church.
For example, one pastor described himself as more than just reluctant. When a congregant first asked him about using Facebook for online services, he said, he responded, "That's the stupidest idea I have ever heard!"
In some churches, leaders and members in the early days of the pandemic actively opposed online service options. Digital reluctance — by either a single person or a small group — reinforced a digital divide for the whole congregation.
In many cases, the digitally reluctant were forced to give in to online worship when it proved to be the only viable option. Still, digital reluctance remained and was used by many to argue for the return to in-person worship as soon as possible.
There's an important distinction to draw here. Our research shows that technological hesitancy is based on a fear of the unknown. When the cause of hesitation was addressed head-on and churches helped the fearful overcome tech concerns, leaders said, congregations accepted and seemed to adapt positively to the changes required.
Digital reluctance, however, is based on personal preference rather than a lack of tech access or training. It represents a mindset that is generally resistant to change.
Digitally reluctant individuals made church leaders' work more difficult and stressful. Often exhausted by having to constantly adapt to technology, pastors, staff, volunteers and leaders were further hindered by congregants who were proud of being tech-free or anti-technology.
This resistance not only undermines the time and financial investments churches put into developing online ministry opportunities but also reveals the broader unwillingness of some to adapt to shifts in culture, even when it is a necessity.
Digital reluctance is often inward-looking, based on individual preferences rather than what is best for the whole community. A digitally reluctant individual or small group can deny the larger community the opportunity to gain from technology — just because they don't want to.
This speaks to the need for churches to recognize and deal directly with digital reluctance. Indeed, we believe it is an issue of digital justice.
Digital media is not always a democratic or unbiased space. However, we found that offering digital access meant that some inequities that prevented people from safely gathering were removed, creating a space for digital equity and justice. By catering primarily to the digitally reluctant, churches close off pathways for those who cannot attend in person.
As hybrid worship and ministry options become more pervasive and even desired by some sectors of the church in a post-pandemic landscape, we cannot let technological hesitancy or digital reluctance hijack churches' use of digital media.
We are still in a season of change. Many congregations are trying to determine the best ways to integrate digital ministry options for the long haul. Churches unwilling to continue to experiment and change will miss out on new opportunities — for growth, outreach and justice.
Digital reluctance — by either a single person or a small group — reinforced a digital divide for the whole congregation.
As a professor of theology and ethics at a divinity school as well as a layperson with experience in African American churches, Nigerian immigrant churches and predominantly white churches over the course of my life, I know this much to be true: there are numerous Christianities in the world that, despite their diversity, are intricately intertwined.
Those of us who are products and members of the Christian church are not as disconnected as some may think. In fact, suffice to say, church history is not necessarily about grasping doctrinal beginnings and parsing theological foundations but mainly about recognizing where people and their beliefs come from.
History is integral to a perceived Christian togetherness. Consistently recognizing the details of such history, especially the forgotten or forgettable ones, is what etches itself into a healthy church's ecclesial memory and function.
Within the United States, a common detail many do not know what to do with, or would rather not truly grapple with, is race. Where does race fit into a church's history, and what needs to be recognized and named for it to be accounted for properly?
Racism in U.S. churches is a problem created by whiteness. Are white churches ready to recognize and do something about this?
What is white people's responsibility if their Christianity, knowingly or unknowingly, takes its cues from whiteness? What is their responsibility if the veins of their ecclesial rhythms are historically connected to a heart intent on doing good in the world that has instead cauterized the lifeblood of God's creative diversity?
Only time will tell — and in this short life, the only thing we have time for is the truth.
Whiteness, the superiority complex attached to having white skin or white European ancestry, has done a fantastic job of making itself appear to be a theological category.
Whiteness has tricked too many people into mistaking white people for purity, white cultural Christianity for righteousness, a European interpretation of piety for goodness. Whiteness overvalues European-based ideology and anoints it as holy, then goes on a crusade to convince the world, through violence and force, that clinging to rigid Europeanness signals the right way of living.
Black culture knows about white ethnocentric rules: anyone who does not agree with these rules is under threat. White Christianity becomes "right Christianity."
It is the responsibility of white Christians to stop the oppressive piety, to stop the spiritual bullying, the shutting off of their ears to "others," or worse, the appreciation of "others" and their practices as distant ideas that have nothing to do with their white community.
Historical examination and acknowledgment are a start to taking responsibility.
White Christian churches, their leaders and parishioners, their individuals and families, their theologically progressive, moderate, and conservative minds, must never stop learning about the history of the United States from minoritized perspectives, because history is still happening!
History must become like liturgy. It must be given a permanent space in the rituals of white ecclesiology.
And it must become so because it is a burden. It is already a burden for Black and other minoritized communities to bear what white parishioners and pastors and their ancestors have historically been involved in, advocated for, benefited from or remained silent about.
It is time for white churches to carry, for the remainder of their lives, the burden they have created for others, even those whose families never owned slaves, even those who are aware of their privilege and are already doing the best they can.
Whiteness has bestowed on all white people a gift — the gift of being perceived as pure, fundamentally correct and morally right-standing. This gift that was given to a blossoming whiteness established centuries ago continues to work hard to blanket the world in the same false perceptions today.
Taking on the burden of not turning away from or denying whiteness's historical actions forces white Christians to choose: acknowledge history and walk in truth (one completely unsteadying to what they may "know") or downplay history as a weapon minoritized communities or political pundits wield to make white people feel bad.
Remembering this truth, all of it, incites affect, feeling. White Christianity is grounded in a foundation of positive feeling — about one's understanding of spiritual wellness and right living in the world. If it does not feel good, white Christians are convinced it isn't God.
Upend feeling good with a dose of historical truth, and white Christianity becomes unrecognizable and — dare I say it — unwanted. But if white Christians pay attention to the messages of how one group should live well or rightly with another in Scripture, it hardly feels good.
It feels hard. And for many, it is difficult to equate "hard" with "right."
The call to adjust and learn a wider way of being in the world is constant throughout the scriptural text. Hardly anyone lands on feeling good; they do, however, land on learning God.
Concretizing the hard truths of history permanently into the rhythm of the white church is a critical responsibility for white churches.
They will soon learn that being changed by the truth in this way will provide enlightenment about what must come next — whether it be dismantling denominational loyalties, revising practices of ecclesial and social community, talking about the immorality of land ownership, or insisting that the undoing of whiteness requires the building up of all minoritized communities historically affected by whiteness.
White churches serious about being Christian will begin to see what whiteness has done for and meant to them and will, hopefully, be horrified into leading a different type of existence.
How do white Christians jar themselves loose from a stagnant posture and live in the uneasiness?
They concede decision making and control over their churches, their land, their money, their social ideals, their government and their schools to imaginative, forward-thinking, liberation-minded and willing Black or other minoritized women and persons. They grant them power over white spaces and, in this, gladly welcome the erosion of such spaces. White churches must be OK with, even excited about, their disintegration.
It sounds drastic because it is. Whiteness has ensured that any equitable world sounds like an impossibility.
For those of you I may have lost with my words, I invite you back in. And I invite you to dig in to what is being offered here: there is no easy way to bring in a new world if the old one stubbornly insists on the benevolent parts of itself.
Loosening the grip on "how we've always done it" is the best place to start.
Truth and history must make their way into the lifeblood of a church. In liturgy, litanies of truth telling and repentance can become a common practice. In a church's financial life, permanently supporting minoritized communities on whose land and in whose lives the church's presence has trespassed — in ways that the minoritized communities themselves designate — is a risk worth taking.
In everyday life, outside of the sacred meetings together on Sundays or Wednesdays, every soul of the church should ask: "What hard and risky action am I taking today to make right the complicated history within me?"
Then, even if it is painful, they should make that shift.
For those of you I may have lost with my words, I invite you back in.
The wave of white Christian nationalism sweeping through various levels of government in recent years is showing up prominently in education. Proposed and passed legislation constrains or prohibits public schools from teaching children about our nation's history of racism and racialized violence and how society can address racial inequities and racial justice. Books have been taken off public library shelves.
In the face of these realities, what can churches do to infuse their spiritual formation curricula for children and youth with a robust anti-racist theology? I'd suggest three shifts that churches, faith leaders and volunteers can and should make to be more explicitly anti-racist: epistemological, material and structural.
Epistemological shifts
Before making any material or structural changes, those involved in spiritual formation must make some epistemological (or cognitive) shifts in their own understandings of race and racism. This means beginning to evaluate their unexamined assumptions of race, how racism works at individual and societal levels, and how predominantly white culture influences the reading and understanding of the Bible.
First, they must learn what "race" is and how race categories shape people's life experiences. There is an abundance of materials out there that can assist in accomplishing this. One resource I've found helpful is "So You Want to Talk About Race," by Ijeoma Oluo. This book is easy to read and addresses many common questions around race and racism with a targeted yet graceful poignancy.
Second, those involved in spiritual formation must begin to see the relationship between interpersonal racism and structural racism. One of the definitive studies on children's socialization into race is "The First R: How Children Learn Race and Racism," by Debra Van Ausdale and Joe R. Feagin.
Van Ausdale's research shows that children as young as 3 use race and skin color to categorize, include and exclude other children in play. Further, she found that young children learn to employ racialized rhetoric from the larger culture beyond the direct influence of family and school.
Third, spiritual formation practitioners must learn how their cultural standpoints shape their reading and understanding of the Bible. Esau McCaulley's "Reading While Black: African American Biblical Interpretation as an Exercise in Hope" challenges readers to see the Bible through the lens of Black church tradition to connect messages in the Bible with Black experiences and questions.
As churches, faith leaders and volunteers do the work of shifting their perspectives on race and racism, they become better equipped to tackle more material shifts in their formation practices.
Material shifts
My research has found an overwhelming lack of diverse racial and ethnic representation in illustrations, pictures and media. Further, Montague Williams shows in his book "Church in Color: Youth Ministry, Race and the Theology of Martin Luther King Jr." that conversations about race and racism are typically either avoided or restricted within youth formation spaces.
Among the simple things churches can begin to do: diversify their materials. This goes beyond being "historically accurate." Through the centuries, multiple cultures have depicted biblical characters and stories through the lens of their own ethnicities. Alongside white representations of Bible stories, those involved in spiritual formation can include renderings that are African American, Korean, Guatemalan, Navajo, etc.
They can draw from Bibles and storybooks with different racial, ethnic and cultural representations in illustrations and perspectives. These materials can easily be found through searching online or reaching out to diverse networks of practitioners in spiritual formation.
In addition to diversifying representation in materials, churches need to normalize conversations about race and racism as part of spiritual formation. There have been scant attempts at creating lessons that deal specifically with race and anti-racism. While any such attempts are a good start, anti-racist conversations must go beyond special topics or series.
Anti-racism needs to be woven throughout the practice of spiritual formation. As churches teach through the Bible, Scripture must be allowed to speak for itself on issues of race, racism, anti-racism and racial justice. They may find it helpful to use supplemental materials like "The Gospel in Color," by Curtis A. Woods and Jarvis J. Williams (there are versions for kids and parents).
Finally, churches can tell stories of racially marginalized Christians, their histories and their experiences. Churches predominantly made up of racially marginalized people can tell their own stories of encountering God as a racially marginalized group and how their racial and ethnic identity forms them spiritually. Other good sources for stories include materials like People of Color Who Inspire, from the Godly Play Foundation.
Structural shifts
After doing the work of making epistemological and material shifts, churches need to implement some structural shifts to sustain anti-racist spiritual formation practices beyond the immediate public crisis we find ourselves in.
These structural shifts include creating external accountability to maintain anti-racism as part of the explicit spiritual formation curriculum, such as joining or creating networks of racially and ethnically diverse spiritual formation practitioners. This has become easier in the past couple of years as we've navigated a steep learning curve to connect virtually in various ways.
Another structural shift is to include racially and ethnically diverse voices in the leadership, teaching and oversight of spiritual formation. Predominantly white congregations can seek out such diverse voices, through books, podcasts, trainings, etc., can spiritually form and influence how congregations approach the spiritual formation of their children and youth.
Most importantly, churches need to pray for God's help to make these shifts. They can pray for wisdom, courage and insight on providing youth and children with a robust anti-racist theology in their contexts. They can pray for opportunities to stand alongside parents as they partner in the spiritual formation of children and youth. They can pray against the sin of racism in their communities and for ways to push back on the forces that would erase the experiences of racialized minorities in the public square.
Anti-racism needs to be woven throughout the practice of spiritual formation.
After being expelled from the Tennessee House of Representatives for engaging in protest for gun reform, Rep. Justin J. Pearson demonstrated that his work is not just on behalf of the people or even just with the people; his work is Black faith embodied.
The Sunday following his expulsion, Pearson preached an Easter sermon in which he made clear that he'd mastered the homiletical genius and the sociopolitical hermeneutic of hope often found in conscious or prophetic Black preaching. And he is in good company.
He is a descendant of liberating faith traditions that have marked their identity by the life of a revolutionary Jesus resurrected in these contemporary civil rights movements.
Across generations, Black preachers have often been the voice, face and front-line leaders of freedom struggles. That truth remains evident in Pearson's work as grassroots organizer, nonprofit founder, state representative and invigorating preacher whose audience crosses socioeconomic and racial lines.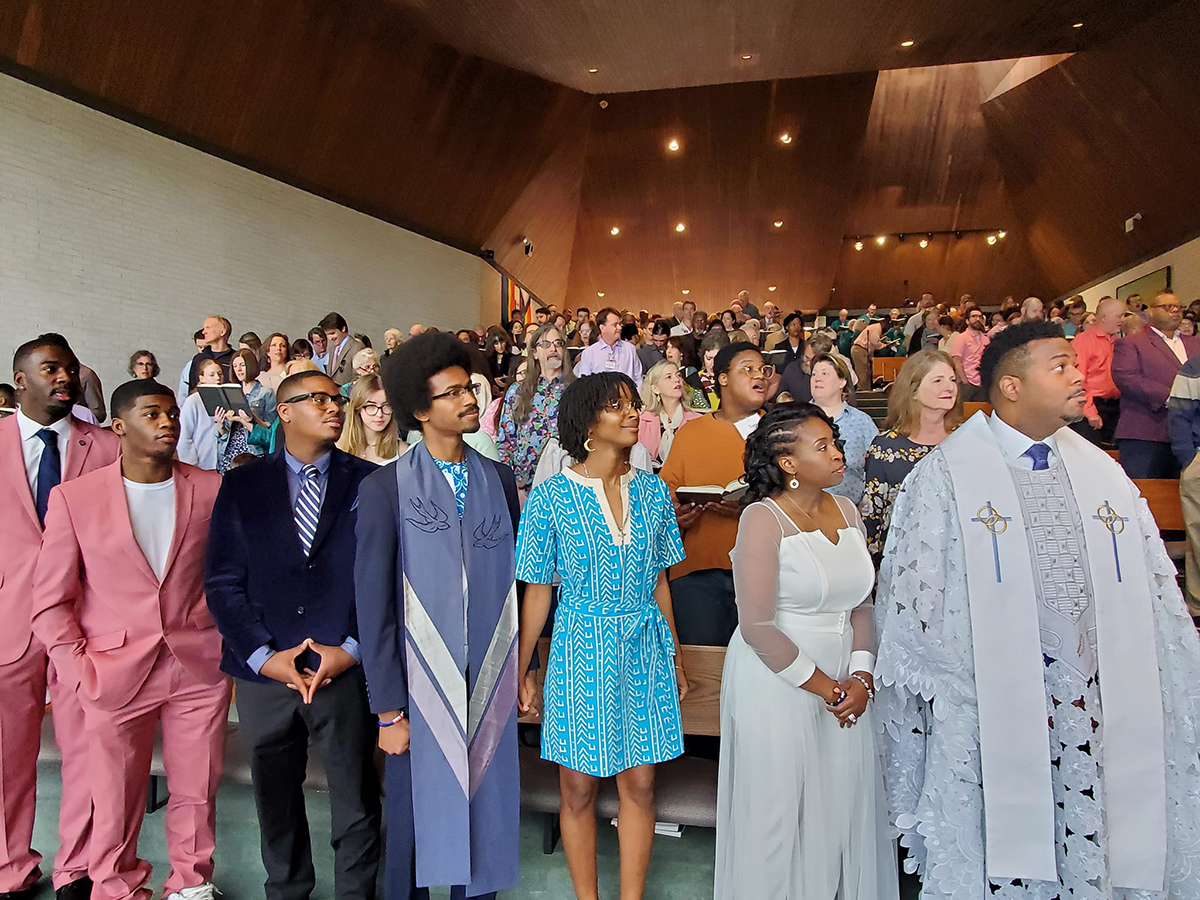 Pearson appears to recognize this truth, as he began his sermon by calling the names of his own ancestors — Annie Ruth, Flossie, Evaline, Lavenia, Gwen, Kimberly, Jason — and the great cloud of witnesses who have taught us what it means to believe that "the true measure of a [person] is not how [that person] behaves in moments of comfort and convenience but how [that person] stands at times of controversy and challenges."
Though the myth of inevitable progress coupled with our violent realities may make the future appear bleak, I am encouraged by the voices of my peers across the nation, including the public faces such as Pearson and his fellow state representative Justin Jones, as well as by the quieter workers who are also making major contributions to freedom struggles.
I've personally worked with leaders such as the Rev. Kazimir Brown of the Poor People's Campaign and the Rev. Kendal McBroom, the director of civil and human rights at the General Board of Church and Society of the UMC. They are the evidence that the spirit of Black liberation theology is still moving among us.
I'm inspired by what I am witnessing.
I watched the events in Tennessee unfold, and it seemed as if half the world stopped. I was reminded of the power and purpose of our proclamations, the possibility of realized liberation as a result of liberating theologies.
Many people are moved by the sounds of Black preaching, the oratorical passions and homiletical theater of it all. But in these traditions, the words must be embodied. The Black preaching tradition is a matter of prophetic proclamation that begins in individual study and does not conclude unless or until the sermonic moment has been embodied. Both speaker and hearer become the word daily lived into the world as co-laborers with God in efforts to usher in a more just world.
No matter where we find ourselves after the Sunday morning gathering, what we believe about who God is and how God is at work in the world as a result of that moment will dictate how we engage the world around us. Engaging that experience responsibly is especially weighted for Black faith leaders who have positional authority in particular occupations.
Though the House floor is not an inherently spiritual space (or prophetic in its intended work), there is a spirit that is inextricably linked to the faith in public witness that Black leaders carry with them into diverse occupational spaces, because our proximity to power never saves us from death-dealing politics and policies. Therefore, to be a politician and descendant of Black preaching is also to be the personification of prophetic witness in the face of injustice.
The March 27 shooting at The Covenant School in Nashville is not only one of 163 mass shootings in the U.S. as of this writing in 2023, but it is couched within a history and culture of gun violence across generations. Be it by the bullets of police, of neighbors, of racist vigilantes, of white supremacists with Nazi manifestos, of hooded evangelicals or of "friends" on camping trips, Black people are familiar with the violence being inflicted upon the nation right now.
Furthermore, we are familiar with the apathy and inaction of legislators who serve as co-conspirators with the lobbyists, corporations and millionaire classes that benefit from the crosses we're all being forced to carry.
While it is imperative that we recognize the unique struggle of children being gunned down in schools, it is also important for us to recognize the interconnectedness of our suffering and the shared source of that suffering.
In the words of the Rev. Dr. Martin Luther King Jr: "Whatever affects one directly, affects all indirectly. … This is the interrelated structure of reality."
Our hope, therefore, may be found in our collective will not to stand down. What took place in the Tennessee House is evidence of what could and should take place across the U.S.
The expulsion of Pearson and Jones from the legislative body coincided with Holy Week and Resurrection Sunday and signifies the hope we embody when we choose to reject the cross in all its death-dealing variations.
We are surrounded by crosses, and those crosses must be dismantled. Second Amendment crosses upon which our nation's children are sacrificed. Crosses of capitalism upon which the poor and dispossessed are hung. Crosses of white supremacy upon which those who voice dissent are nailed.
Black and brown people who are being sacrificed on the altar of power for the sake of the crosses of dominion must be saved. We are living in existential hells from which we can be redeemed only when we choose to resurrect the spirit and ideology of a crucified but resurrected Jesus.
Pearson and his colleagues are standing within a lineage and legacy of Black faith leaders who have done just that. They are doing the work of moving the pulpit into the public sphere.
This begs the question: Who are we when the hour of "worship" has ended and we are surrounded by the spirits of Golgotha's hill? When we find ourselves drunk with congregational praise, visions of Calvary should sober us into righteous indignation — until freedom.