In February 2020, I attended Super Bowl LIV amid early chatter about a virus in China. I was not alarmed when I developed a fever, lost my ability to taste and became bedridden days after my return to New York. However, just weeks later, I found myself on the phone with a member of our church who is a doctor of infectious diseases. That conversation informed our church's decision to cancel in-person worship services, two weeks prior to New York state's required lockdown.
New York's Black church leaders expressed a mixed response to the lockdown. Some saw then-Governor Cuomo's order to cancel in-person worship as going too far. They regarded this restriction as an opportunity to stand against an evil attempt to silence the church by continuing in-person worship. Others, including Hope City Church, where I serve as senior pastor, used the order as an opportunity to expand our reach.
I never saw the order as a mandate against being in the church. Instead, I saw the pandemic as an opportunity to be faithful to my calling. Paul speaks to this in the book of Ephesians, in which he outlines what I regard as the pastor's job description — to "equip the saints for the work of ministry" (Ephesians 4:12 NRSV).
He also explains in 2 Timothy 3:17 (NKJV) that our goal is "that the man of God may be complete, thoroughly equipped for every good work." According to Paul, Scripture is to be used in preparation for preaching and ministry work. I believe that this "good work" is ministering to the needs of our community.
A decade ago, Eddie Glaude argued that the Black church is dead and offered reasons to explain the demise of its centrality to Black life in America. However, I was birthed in and profess homage to the Black church that is not restricted to a physical place but speaks to a collective experience that has moved through American history. This Black church, conceived in our African origin, delivered by the midwife of Jim Crow and matured during the civil rights era, now continues to grow through the Black Lives Matter movement. This Black church, in the spirit of Delores Williams, "is invisible" yet becomes visible through its impactful work.
As I reflect on the work of the Black church over the past three years, I would argue that the proof of life for the Black church is the thousands of lives that its work saved during the pandemic.
In addition to moving our worship services online in March 2020, my church went to work by implementing a three-phased initiative we called Alleviate, Educate, Activate (A.E.A.).
The community we serve in East New York (ENY) Brooklyn was caught off guard by the magnitude of deaths it experienced because of the COVID-19 pandemic. Like other underserved communities, ENY residents face high living costs, increased crime rates, co-morbidities and decreased access to resources. ENY's high population density (nearly 30,000 people per square mile), coupled with residents' distrust of the government, exacerbated the spread of the virus and misinformation. A lockdown for our community meant no work and no way for residents to feed their families or pay their bills, which increased financial stress. So the church went to work.
Alleviate. To alleviate the financial stress in our community, I made a decision to model Christ and not the church. We made decisions by first asking, "What did Jesus do?" and then doing that. Our finance team created a system that invited anyone who needed financial assistance to text "HELP" to the church. Eligibility for this program was based solely on need rather than church membership or being a Christian. But this did not go far enough in relieving the pain that our people were experiencing. We went further and started working to address the distrust and misinformation in our community.
Educate. We used sermons to speak to the needs of our community members by providing present-day application of God's word. Instead of using Scripture to explain the pandemic, our sermons illuminated God's desire for how the church should work to address the community's needs during the pandemic.
In addition, we hosted virtual open forums with local pastors and health experts. These events allowed the community to voice their concerns in guided discussions that dispelled myths about theology, the Black church, and the COVID-19 virus, tests and vaccines.
Finally, we made health professionals available at our church to answer questions and promote COVID-19 testing and vaccinations. It became common for community members to return with friends and family to walk them through the testing or vaccination experience after speaking with us.
Activate. We repurposed our physical spaces to combat distrust by activating community members to serve our community. We converted our sanctuary into a vaccination and testing clinic that saw thousands of people. We also provided free mental health services to address trauma in our community.
Faced with increased food insecurity, we transformed a building purchased months before the pandemic into a food distribution center. We designed a text-based contactless system that enabled us to keep our volunteers and our most vulnerable community members safe as we met food needs. In the summer of 2020, we fed over 100,000 people.
Black people no longer top the list of those dying from COVID-19, a reality that I believe churches like mine helped make possible. The Black church is not dead, and the lives saved as a result of our work during the pandemic serve as the pulsating proof of our impactful existence.
This Black church, conceived in our African origin, delivered by the midwife of Jim Crow and matured during the civil rights era, now continues to grow through the Black Lives Matter movement.
Christianity is not the white man's religion. A tradition of Christian faith and practice emerged from the underside of America, from enslaved Africans in the antebellum South. There were no steeples, stoles, or stained glass. This tradition had no such luxuries. The Christianity of enslaved Africans was not a religion of privilege and position. It was a religion of freedom and revolution. Deep in the wilderness of the plantation slavocracy, enslaved Africans would escape to practice a communal spirituality that challenged them to love their bodies and their heritage, and to refuse any conditions that said otherwise. Welcome to the hush harbors, the invisible gathering places where enslaved Africans met to praise the God of the oppressed, pay attention to one another's needs, and plot the abolition of slaveholding Christianity and the plantation economy. Hush harbors are a place to turn to refashion for our times a Christian community shaped by risky love.
The Terror of the Plantation Economy
The environment of chattel slavery was no walk in the park. Cultural artifacts like the film Birth of a Nation depict Africans as happy with being slaves. Such propaganda numbed and concealed what really took place in the plantation economy. Africans in America were legally and politically considered not fully human. They had no rights that white people were expected to respect and uphold. Any deference given to Black people was out of respect for them as the property of a white master. Black people were legally denied access to the kinds of privileges that uplifted and bettered white people, like government programs, economic self-determination, and voting. Without the honor of human dignity and any rights to ensure their well-being, as property of the plantation economy, enslaved Africans were treated for how they could meet white pleasures. Rape, forced "breeding," mutilation through beatings, and lynching were only some of the violent bodily tactics white people used to punish and control enslaved Africans. Even the mundane parts of enslaved Africans' lives were not respected. Enslaved Africans were forbidden to gather or assemble together except under the supervision of white folks. They had curfews to prevent their escape at night. Their leisure was policed to control as much of their time for work on the plantation and to ensure the leisure of the white master and his family. Even the term plantation does not do justice to the racialized economic exploitation Black people faced. Author Nikole Hannah-Jones in her book 1619 calls these Southern sites of oppression "labor camps." The terror of the plantation economy was a totalizing vision. Every part of the lives of enslaved Africans was expected to be under the gaze of white supremacist, patriarchal capitalism.
Theology and Worship on the Plantation
What enables a race of people to exploit the labor of another race? To see them as their property? To colonize the land of Natives and the consciousness of Africans? What must a people believe about themselves to enact terror on another people and on the planet? "Slaves, obey your earthly masters in everything … , with reverence for the Lord" (Col. 3:22). These words summarize the theology of slaveholding Christianity. And from these few words emerged an entire culture and history of violent desecration of land and peoples. Enslaved Africans had regular opportunities to worship on the plantation in racially integrated churches led by white folks. These integrated plantation churches operated by a separate and unequal rule: Black people and white people sat in the same sanctuaries, but everything else about the worship experience was separated by race, from using different restrooms to separate seating, prayer and Communion rituals, and burial grounds and baptismal waters. Enslaved Africans could also attend segregated gatherings led by Black preachers under the supervision of a white minister and white religious customs. Worship in both of these plantation churches accommodated the terror of the plantation economy and slaveholding Christianity.
The theology of the plantation said that God works through white men to bring the world into order and submission. Most white plantation owners used Christianity, especially the words of Paul, to make Africans docile and numb to their plight, to believe it was God's will for them to be slaves. Other white plantation owners forbade the enslaved to be taught Christianity because they were worried biblical themes would incite revolution. How can Christianity hold within it these two contradictory possibilities? Race was the theological myth used by wealthy, white, male plantation owners to uphold the chattel slavery economy with a whitewashed, domesticated, heretical Christianity. Only a small percentage of wealthy, white, male plantation owners were actually at the top of the caste. When the owner was not around to be in charge of the plantation economy, wealthy white women were in control. When the owner's wife was not there, either a poor white man or woman or an enslaved Black man was in charge. Black women and children were always at the bottom. All Black lives were disposable. Race is a powerful myth because the racial caste system has never been consistent. Myths are only as true as people give credence to them and as they function to maintain the status quo. From the beginning of the chattel experiment, poor and working-class white people have shared more in common with Black and Native people than with the white elite. The power of the slavocracy system was that it operated at the intersection of white supremacy, white patriarchy, racialized capitalism, and the theological heresy of slaveholding Christianity.
Hush Harbors and the Plantation
Even if only temporarily, enslaved Africans escaped the plantation economy and slaveholding Christianity by organizing hush harbors. Drawing especially from documented slave narratives, hush harbors have been a treasure trove of study for religion scholars and theologians. The literature on hush harbors has centered two rich debates. First, there is the debate of erasure versus retention of African cultures or Africanisms. Much of the early literature about the period of slavery in the US claimed that the psychic and bodily trauma of the Middle Passage — of Africans being violently forced from their homelands in Africa by European settler-terrorists on ships under the most inhumane of conditions — stripped the first generation of enslaved Africans of much if not all of their memories of their African cultures and customs. Certainly, this cultural knowledge was not passed down to successive generations, the argument went. This psychological and cultural violence was strategic in making African peoples more susceptible to being chattel for white plantation owners. Other scholars contended that hush harbors provided evidence to oppose the erasure thesis. Hush harbors depicted a rich continuity of Africanisms — music, language, religion, stories, and more — that enslaved Africans disguised for their own safety when under white surveillance. Because of the need to disguise Africanisms, the unaware observer could not readily see how enslaved Africans did in fact retain a variety of African customs and practices.
The second debate is over the nature of the Christianity that enslaved Africans practiced. Did enslaved Africans practice the Christianity of the slaveholder, which accommodated their own oppression? Christianity was an empire religion that accommodated the status quo. For enslaved Africans, to accept Christianity was to accept their plight on earth as they awaited their true freedom in the afterlife. Again, by peering into hush harbors, this thesis has been contested. Through the testimonies of enslaved Africans themselves, scholars discovered that Africans in the Americas not only practiced an otherworldly Christian religion that accommodated their oppression; hush harbors that enslaved Africans organized were sites of protest against the dominant Christianity of the slaveholder. In hush harbors, enslaved Africans made plans for permanent escape to the northern parts of the US. Additionally, enslaved Africans carried a hush harbor mindset of freedom with them onto the plantation to both cope with daily terror and plot for abolition without being caught by white plantation owners. This mystical hush harbor was as much a site of interior protest as the material hush harbor was a site of physical protest. These protest actions and mindsets were rooted in particular Christian beliefs that enslaved Africans initially discovered from slaveholding Christianity and then reinterpreted toward revolutionary ends.
These debates have unearthed a rich legacy of the genius of enslaved Africans' beliefs and practices. In recent times, however, Black prophetic leaders have grappled with the importance of hush harbors not only for their historical relevance but also as a site of contemporary reflection on a more radical model of church and activism.
From "Buried Seeds," by Alexia Salvatierra and Brandon Wrencher, ©2022. Used by permission of Baker Academic.
In August, Ronan Rillovick boarded a Red Line subway toward Boston's sprawling Dorchester neighborhood, a working-class bastion of triple-deckers, gentrification-spawned condos and a smattering of majestic Victorians.
The 30-year-old university sophomore and part-time shoe salesman had been on what he described as a long journey in life. He grew up in Wakefield, Massachusetts, a suburb in the state's North Shore, in a "typical nuclear family." But after years of what he called being untethered, and with his family no longer around, he was headed for the closest arrangement to his experience growing up.
"I wanted community with people. I don't have a lot of family here anymore, so I just wanted to have a similar sort of community that's sort of like a family," he said.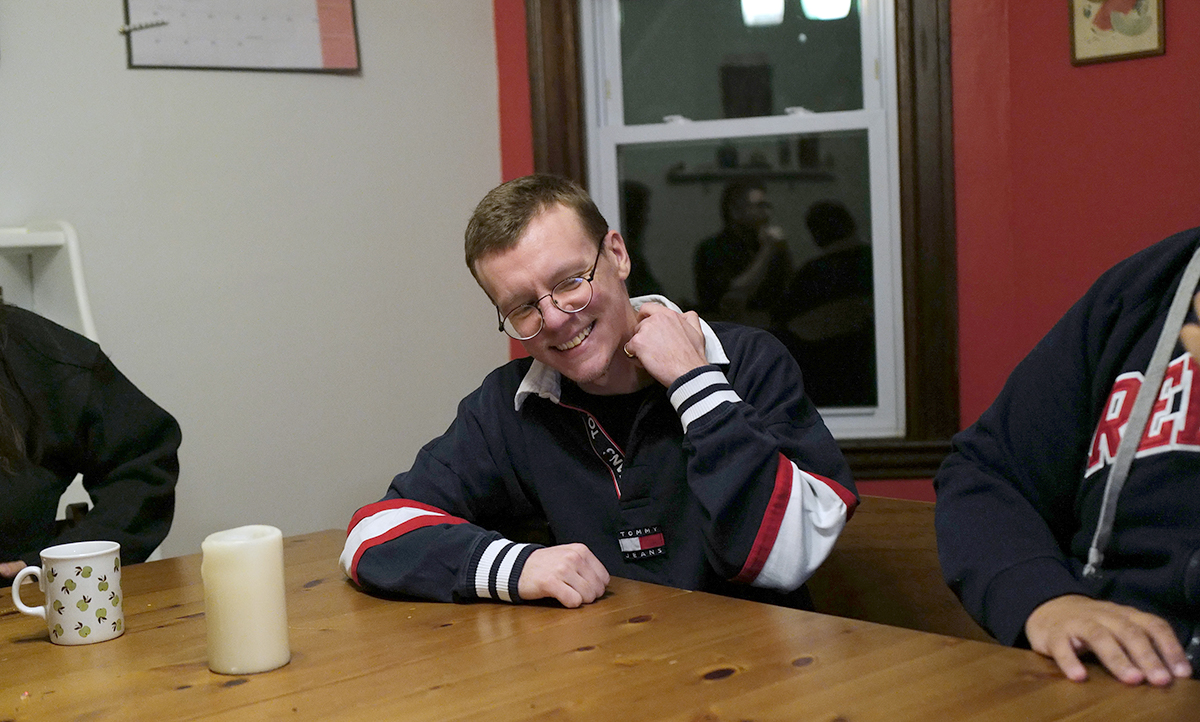 This would be his first day at St. Mary's House, a butter-colored single-family home a block from the coincidentally named Ronan Park, and one of four intentional communities started by the Charles River Episcopal Co-Housing Endeavor.
The nonprofit, CRECHE for short, describes itself as creating "a community-focused alternative to the for-profit housing market that is rooted in relationship and mutuality: co-housing communities in which people live like families, sharing meals, common spaces, and the rhythms of home care."
Residents in CRECHE households are chosen using a multitude of criteria, including spiritual cohesion rather than haphazard cohabitation. Participants in these intentional communities, as an alternative to protracted battles over responsibility for dirty dishes and control of the TV remote, commit to negotiating through conflict.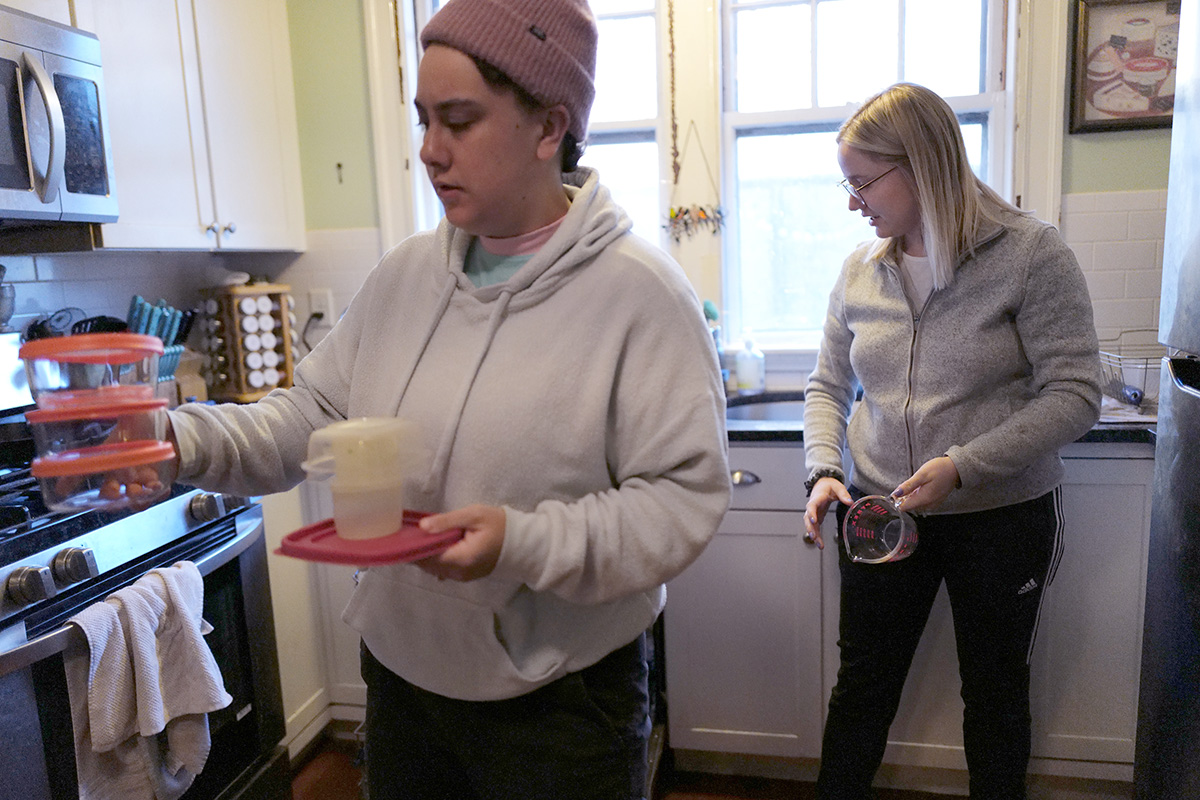 Intentional communities are rooted in ancient teachings that describe a voluntary residential community designed from the outset to have a high degree of social cohesion and teamwork.
"It's a group of people choosing not only to live together but to intertwine their lives relationally and to invest in each other emotionally," said the Rev. Isaac Everett, CRECHE's executive director.
Standing on the porch of another site in the network, Emmanuel House in the Allston neighborhood, he explained that the people here "grow together into the best versions of themselves by committing themselves to the discipline of co-living."
Everett, a 41-year-old musician by training, has lived in an intentional community with his girlfriend in the Jamaica Plain neighborhood since moving to Boston from New York more than 12 years ago. He found the concept to be popular, with high demand from friends and congregants who wanted in, but there was nowhere to go. So he met with a group of "collaborators" in the Episcopal Diocese of Massachusetts to raise money and replicate where he lived. CRECHE was the result.
What intentional practices could you bring into your community interactions?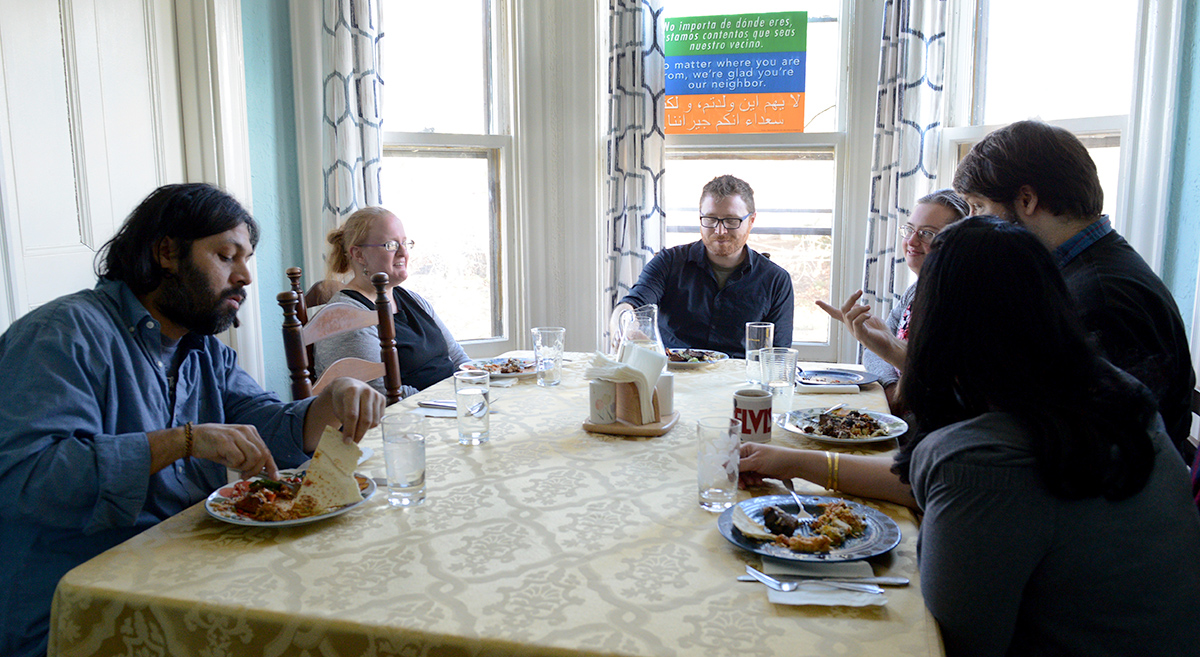 More than roommates
Since its incorporation in 2018, CRECHE has leased or purchased residential properties in the Greater Boston area, including the Allston and Dorchester neighborhoods, as well as the suburban city of Newton. Residents range from a cluster of four per house to six in the largest dwelling.
A fourth community was launched in November in cooperation with an African Methodist Episcopal Church. It is the first CRECHE partnership outside the Episcopal Church and the second with a Black-led congregation in Dorchester, Boston's largest neighborhood.
Finding a place to live in the Boston area is more challenging than almost anywhere in the United States. In recent rankings, Boston tied with San Francisco as the second-most expensive U.S. rental market in the country, according to Zumper, a rental listing company. The average monthly cost for a one-bedroom is $3,000.
The average CRECHE household rent is $600 per person. The nonprofit calculates total rent for each house at $580 per person when a house is full and $640 per person when it's not. Each household then divides that according to income, but the total for a four-person household is still no more than $2,560.
Affordability in a sea of housing instability is a major concern for church leaders, but it is not the determinative issue for who is selected as a resident. The arrangement is not for everyone, and the nonprofit is mindful about whom they select for the limited spaces available.
Residents are expected to cultivate relationships with their housemates and share meals, spiritual practice and decision making. They also are expected to engage with the surrounding neighborhood and in the life of the sponsoring parish.
How do housing costs affect the possibility for interaction where you live?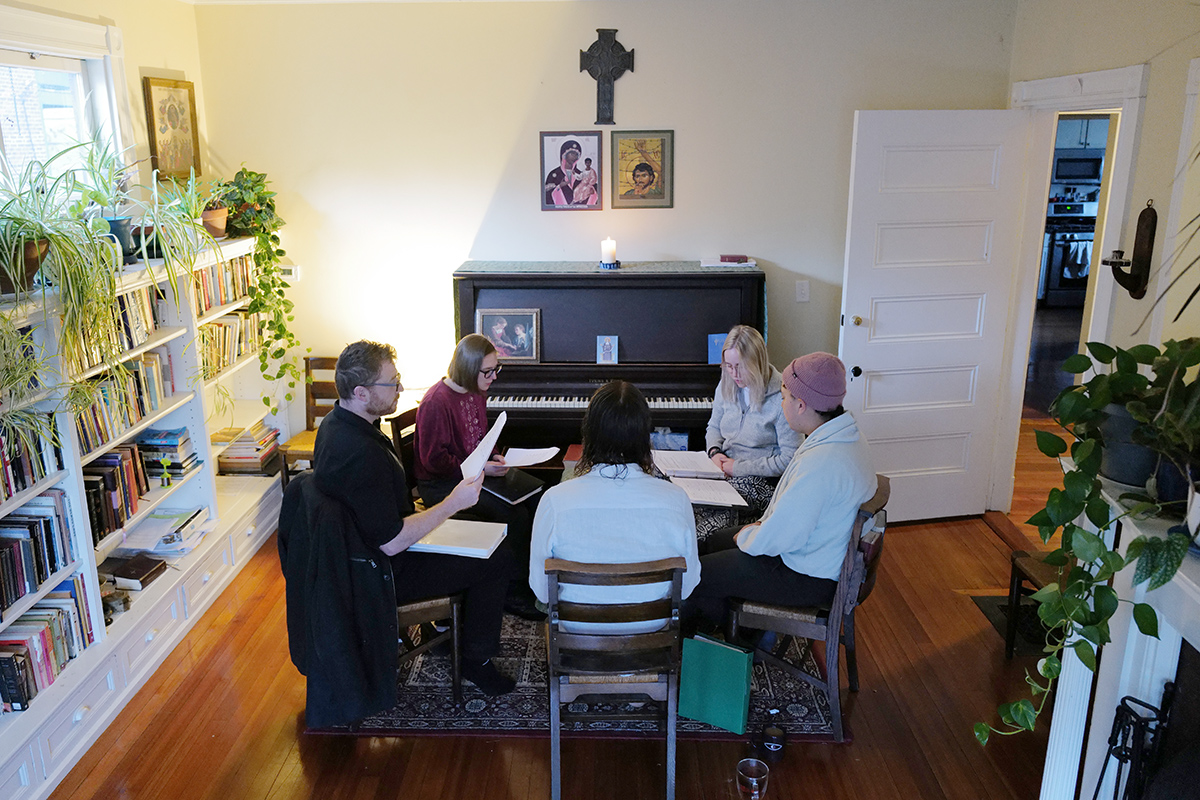 CRECHE does not advertise. It does not need to. Word-of-mouth is strong.
"We work with an existing social network and neighborhood networks to create our houses," Everett said. "We get probably five or six applications for every empty room. And we have a fairly long discernment process that we do with them involving multiple visits and a lot of conversation, because it's really important to find someone who's a good match for the culture of the house."
Trinity House in Newton, for example, is designated for graduate students and rarely has an opening. Residents there, like all the other CRECHE households, are involved in their neighborhood. They host end-of-semester study days at the nearby Church of the Redeemer in Chestnut Hill, prepare free healthy food for some of the poorest students in area colleges and universities, provide free printing, and offer meditative compline services.
While housemates in the CRECHE communities range in age from 16 to 61, the average age falls between 25 and 35. A CRECHE study of intentional communities nationwide found that young adults are the most likely demographic to join and that once they come on board, they tend to stay.
Building trust
On a crisp November morning, residents of Emmanuel House clasped hands and bowed their heads in prayer, as they do every weekday at that time. It's a community that comes together around devotion and trust.
"It's sort of this way of life," said resident Matisse Peppet, 23, who has lived there for one and a half years. "I think living at the Emmanuel House in particular, we have kind of these structures and scaffolding that I've found really helpful in terms of living a life that is being spiritually directed."
What spiritual opportunities beyond traditional worship and formation does your faith community offer?
Offering a tour, Peppet lingers in a kitchen large enough for communal cooking, surveys the chapel setup for morning prayer, and ends in a living room decked with couches and cushy pillows.
In her senior year of college, Peppet started attending Emmanuel Church, a historic Episcopal institution located on Newbury Street in one of the wealthiest areas of the state, the cornerstone of the diocese. Peppet, now a financial systems analyst, said she had felt unmoored and had moved home to Cincinnati but found herself drawn back to the Northeast, returning to Boston.
"I rejoined the church. They had a little advertisement that the Emmanuel House is looking for housemates. I actually had known of CRECHE, but I had never realized that CRECHE had a house that was affiliated with Emmanuel Church," she said. "That was very exciting."
Getting to know the person in the next room not as a mere companion but as a member of the family builds trust. And this sense of community is expected to extend beyond the house to the immediate neighborhood. Outreach is a mandatory requirement in CRECHE housing.
"We don't just exist for our own benefit. We're trying to serve our neighborhoods as well. The people who live within walking distance of our houses know that we exist. But are we improving their lives also? That's a huge question that we ask," Everett said.
The garden outside Emmanuel House sits in the shadow of St. Luke's, a long-abandoned church that occupies the entire right intersection of busy Brighton Avenue. This patch of green is viewed as a living example of the household's commitment to community. Though on this November day the grass has turned mushy brown and the trees are bare, the remains of carrots, green beans and corn from spring planting are still discernible in the garden beds.
Residents dine together most nights, and salad ingredients are plucked from the ground outside their door when the garden is in bloom. Produce is grown by both residents and neighbors living within a two-block radius.
"It's a neighborhood starved for green space," Everett said. "This has become the pivot from being just sort of a bit of a blight on the neighborhood to being a real center for the neighborhood, especially during the pandemic, when there was just a real lack of safe places together. Being able to offer an outdoor green space to the neighborhood has just been tremendous."
Not long after arriving, Emmanuel House residents took over the empty church's unused outdoor space. Working as a team, they pulled weeds, removed bottles and cans, and slowly watched the ground transform. They also built a lending library outside the house and added a doggy waste bag dispenser. A sandwich board announcing the availability of garden plots leads locals to this oasis in a neighborhood caked in concrete and teeming with car dealerships and detail shops.
How might you determine what your neighborhood is starved for?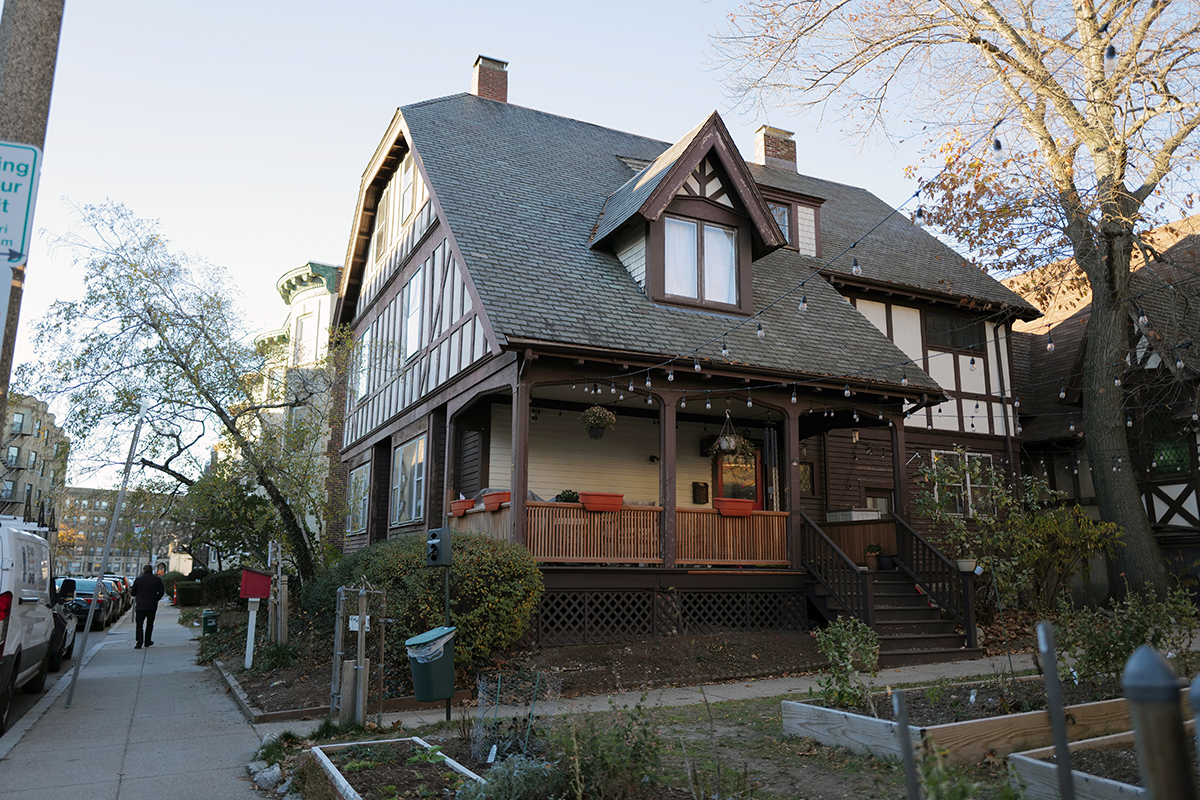 "You know, every time I come by here, there is someone in this space either studying or gardening or watering their plants or taking engagement photos or doing yoga or walking their dog," Everett said.
In 2021, CRECHE banded together with the diocese, which owned St. Luke's, and Boston University School of Theology to reconstruct the long-boarded-up structure, relying partly on the Community Preservation Act for financing.
Plans for the space include turning the building into a collaborative ministry, where it will serve mainly as a safe space for queer and trans people of color, said Everett.
CRECHE leaders also envision a host of community activities taking place there, an extension of the house itself. Residents have volunteered to lead workshops on topics ranging from Sicilian folk songs to yoga to gardening for toddlers.
An alternative to isolation
When word went out this year that a rare spot had opened at St. Mary's House, dozens of would-be roommates jumped at the chance to move in. It wasn't just affordability and proximity to the subway or the massive backyard and wide, angled front porch that fired up interest. A critical selling point for some was that the six-bedroom house also comes with a sauna in the basement.
"Ha! That was definitely a selling point," Rillovick said. But so too was the church, he said.
His reference was to St. Mary's Episcopal Church, the house's partner congregation and namesake, a 25-minute walk away.
"I'm Catholic, but I participate in the Episcopal church that we're associated with, or I'm starting to," he said.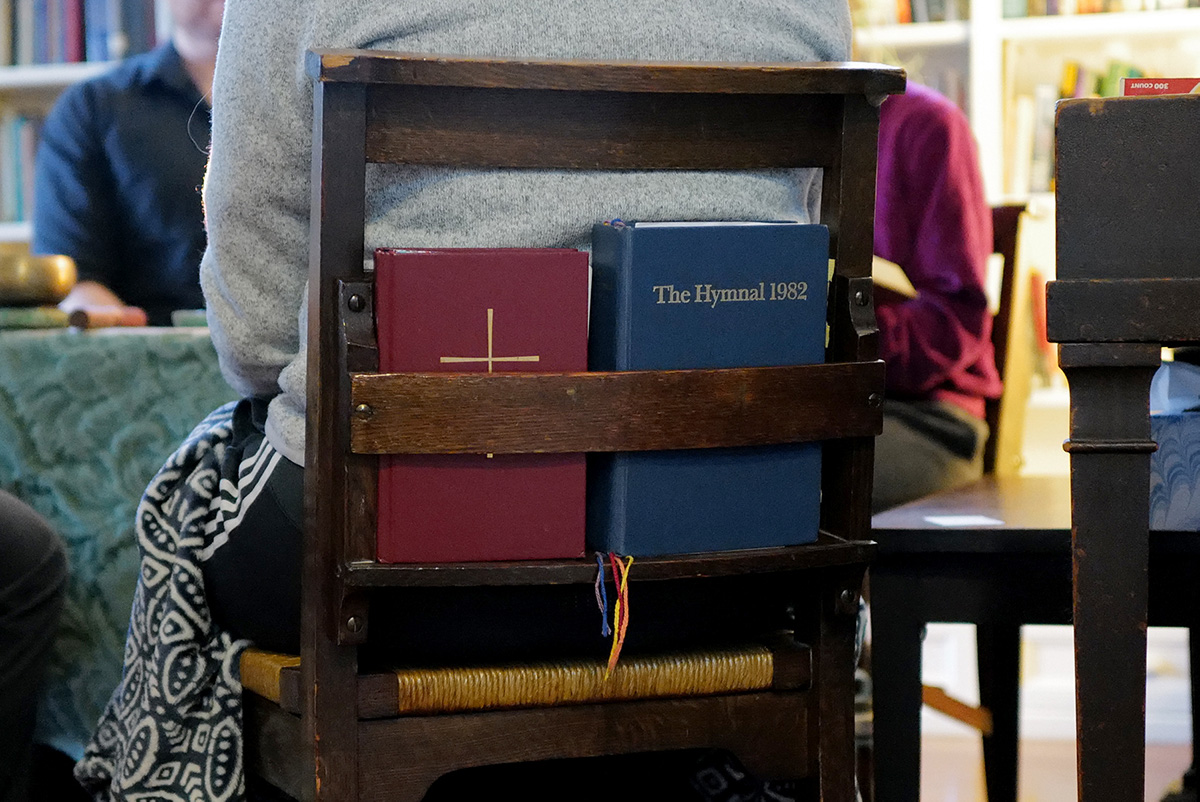 The four-member household interviewed several eager applicants before selecting Rillovick to live there. He said his housemates have helped him get around and adjust to his new home, which he has especially appreciated since a recent running accident left him using a cane.
It also helps that one household member is a physician. Dr. Sharif Tanyos is originally from Egypt and grew up in Oregon. He moved in last January after living in other intentional communities for nearly a decade.
"I think about how we live together in ways that are not isolated that I think counteracts the isolation of the nuclear family — that sort of rebuilds village life in a society that's pretty atomized," he said.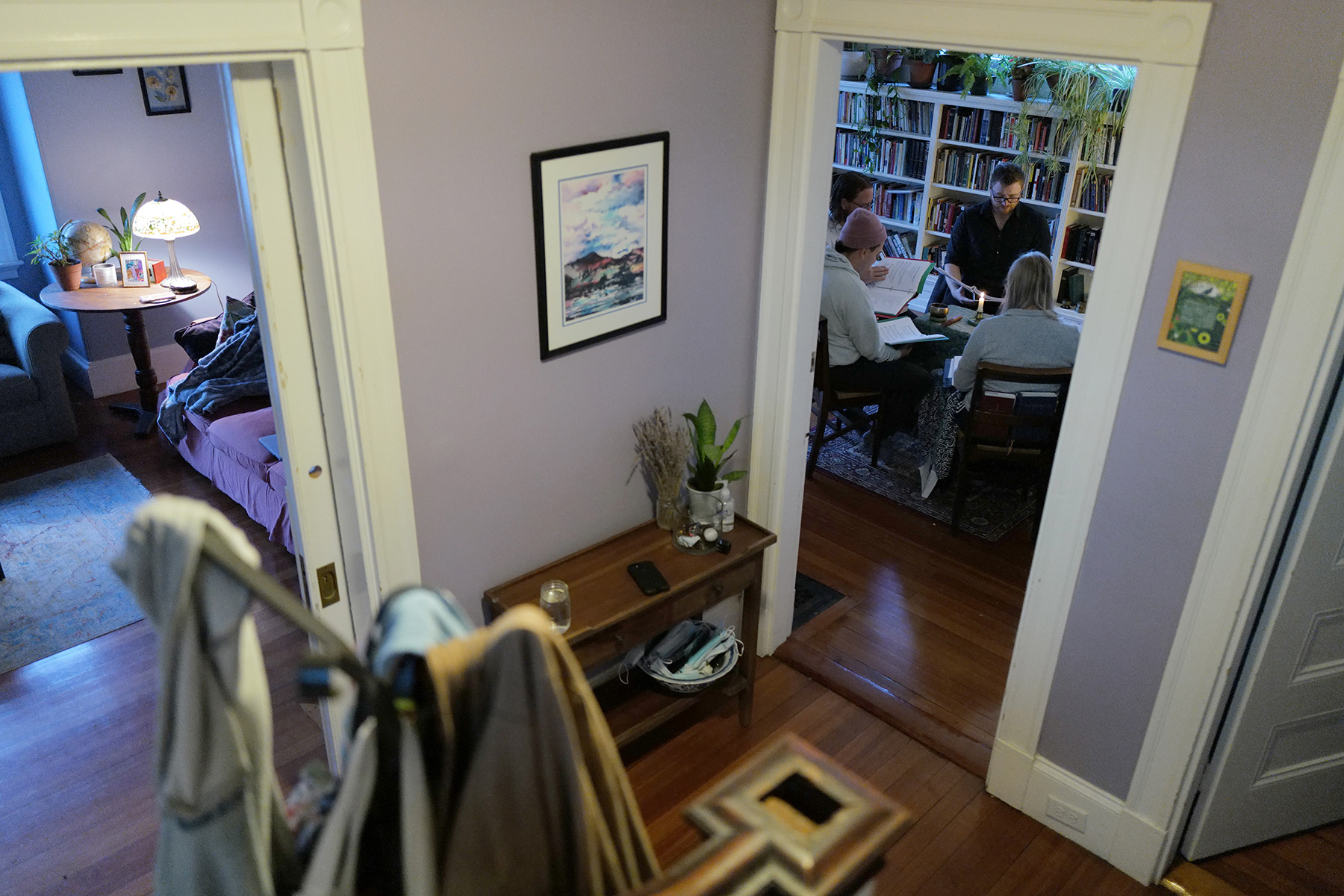 Tanyos met Everett at The Crossing, a Cambridge-based intentional community before that house was sold by the owner.
"So I reached out to Isaac , and he said there was an opening in this place, and I attended St. Mary's Church and thought it would be a good fit."
The church is attended by mainly Black and immigrant worshippers. Tanyos relates to many of their familial experiences.
"Egyptians are much more likely to live in big extended families with aunts, uncles, grandparents, and not in the kind of isolated nuclear families that the U.S. has more commonly," he said.
When his family moved to the U.S., that all changed. They relocated to a suburban community in their pursuit of the stereotypical American dream, a house with a white picket fence and little contact with neighbors.
"And that experience was hard. It's hard for any kid growing up in an isolated nuclear family," Tanyos said. "I remember as a child playing alone in my lonely suburban American house and not having the warmth of a big extended family around us. That experience shaped me a lot. Right now, we're in a mental health crisis that is driven by a lot of things. But one of them is isolation, for sure."
He does not view intentional communities as utopian but believes from his experience that they come close to being imperfect antidotes to isolation.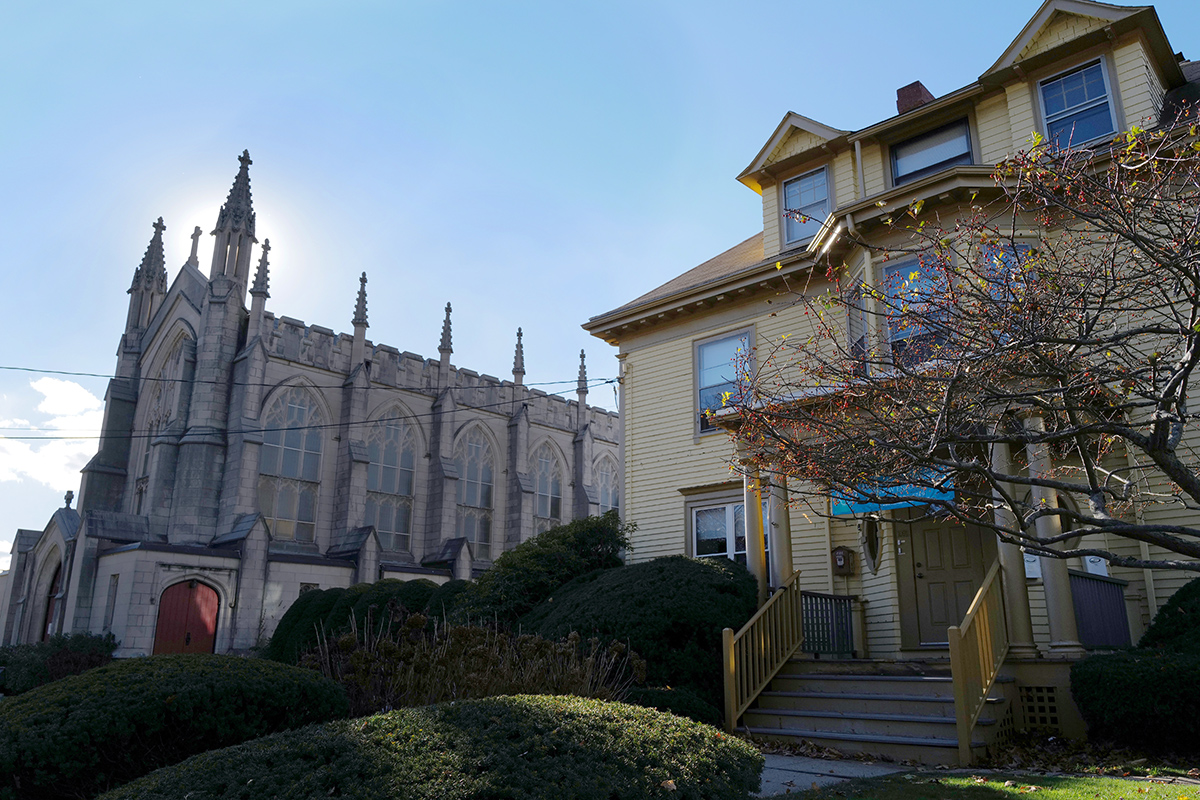 Collaborating on a fourth house
Gentrification in Boston has made block after block unaffordable for an estimated 1 out of 4 residents, even with full-time jobs. During the height of the COVID-19 pandemic, the rent crisis worsened.
Intentional communities are on a scale much too small to serve as solutions to significant housing displacement, but proponents view them as exemplars of community cooperation and engagement. CRECHE's latest project is the Jubilee House in Dorchester, where increasing numbers of Black and brown residents find themselves without homes.
Last year, the Rev. Mariama White-Hammond of New Roots African Methodist Episcopal Church reached out to her old friend Everett for assistance after her church decided to pursue a collective dream of establishing an intentional community.
"I was thinking, 'I wish we could have a house where people could live and not be gentrified out of our neighborhood and, you know, live in community with each other,'" White-Hammond said.
A church committee looked at dilapidated houses nearby and explored purchasing a farm in New Hampshire, but all fell through. The plan was to find a house within a five-year period. But White-Hammond recalled, "One of our stewards said, 'Why do we have to wait five years?'"
That's when she contacted Everett.
The timing was perfect. CRECHE's executive team had convened its annual board retreat to consider plans for expanding the organization's engagement with marginalized communities. Everett recalls the moment.
"I get back from that retreat and I open my email and there was an email from New Roots saying, 'We've been discerning a desire to do intentional community for the better part of a year now. Would CRECHE be interested in partnering with us?'"
They told Everett, "We've got the vision, we've got the passion, we've got the interest, we've got the culture. But what we don't have is a home."
Within a year, they did, and Jubilee House opened its doors last month, made possible by a combination of good timing and financial wizardry.
"I feel like it can only be God, the way that it aligned," White-Hammond said. "And I'm really happy as someone who lives in the neighborhood and has seen so many houses flipped to turn into condos that are unaffordable for people."
CRECHE moved fast over the summer to prevent speculators from grabbing the 1885 Victorian that would become Jubilee House. The unsung hero of this story is a longtime resident of a nearby co-op who late last year noticed that the house — which was badly in need of repair — was for sale.
"She had been watching all these big, beautiful houses on the block get sold to developers and flipped into luxury condos," Everett said. "And she was like, 'I can't have that happen next door to me.'"
"She knew the seller and asked if she could buy it before it goes on the market. So she liquidated a bunch of her retirement savings, paid cash for the house, then held on to it for three months while we did our fundraising and then sold it to us at a discount. We just closed the beginning of September. And that's the kind of network, 'knowing your neighborhood and your neighbors' kind of strategy that we have to employ in order to get ahead of the developers."
Prices in Boston's housing market are skewed by the purchasing power of corporate real estate companies and developers. Prime properties are scooped up minutes after going on the market. A recent investigation by WGBH's Jenifer McKim found that in 2021 alone, business entities purchased some 6,600 single-family homes across the state, nearly 10% of all single-family homes sold. "That's nearly double the rate of such purchases a decade ago, according to a GBH News analysis of data provided by the Warren Group, a real estate data analysis firm," McKim reported.
Investors and other businesses spent more than $5.6 billion last year in Massachusetts buying these properties, most in cash, the investigation found. And therein lies the biggest lesson, said Everett: the importance of purchasing property rather than leasing, if at all possible.
CRECHE rents Emmanuel House and Trinity House from the diocese but owns St. Mary's outright. Purchasing real estate in the Boston market on behalf of the intentional communities and those who can least afford rent will continue to be a major challenge for CRECHE's leadership moving forward.
What are some collaborations that your faith community is being called to? What are some creative possibilities for resources?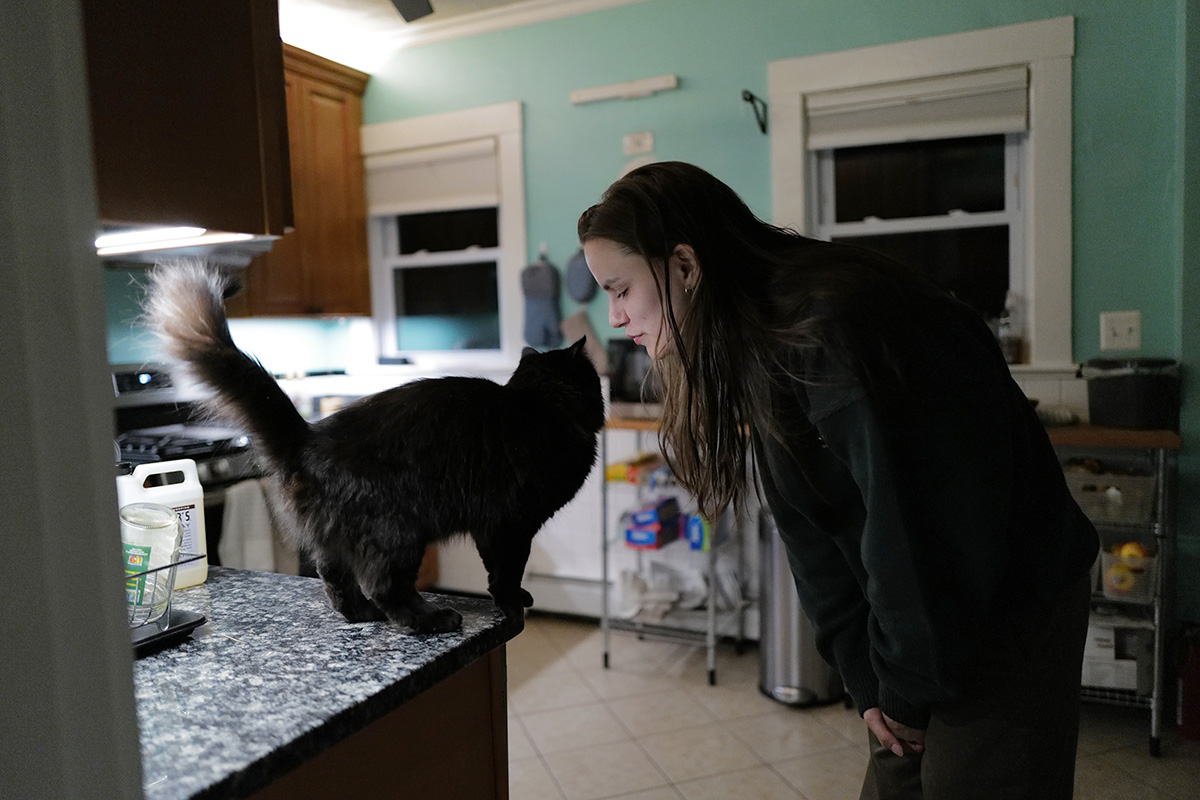 Meeting a deep need
Everett said his faith and motivation began with an epiphany when two commercial airliners crashed into the Twin Towers in New York on Sept. 11, 2001.
"I was 19 years old, working as a musician at the church across the street from the World Trade Center. And that was kind of my introduction to church work. I got to see in that environment the greatest service. And in the church, in all of its glory and all of its pathos, I saw what it means to rally for a community to respond to trauma and to care for one another."
He said that care extends to the issue of housing and points to Episcopal Church teachings. At its 79th General Convention, the Episcopal Church declared housing to be a human right. But Everett does not believe that the church is doing enough to address the crisis brought on by soaring rents.
Is your faith community addressing housing as a human right? Is there more that you could do?
"The Episcopal Church and most churches are not growing in urban centers or even generally. Church attendance is on the decline. But we have just as much real estate, for the most part, as we've ever had, much of it that we've had for centuries. So we have this whole culture and organization that doesn't have a ton of people and doesn't have a ton of energy, necessarily, but does have a ton of real estate. What if we used what we have to meet this deep need and, instead of merely talking about justice, we actually put people in homes?"
Peppet, the Emmanuel House resident, also thinks about the intersection of social justice and co-habitation, but in more personal ways.
"It's just fun living in a community," she said. "This sense of getting to know people as they are and learning what it takes for my housemates to feel connected, and to figure this out together."
Questions to consider
What intentional practices could you bring into your community interactions?
How do housing costs affect the possibility for interaction where you live?
What spiritual opportunities beyond traditional worship and formation does your faith community offer?
How might you determine what your neighborhood is starved for?
What are some collaborations that your faith community is being called to? What are some creative possibilities for resources?
Is your faith community addressing housing as a human right? Is there more that you could do?
The 12th-century philosopher Moses Maimonides writes in his "Mishneh Torah" that the work of restorative justice begins with the public confession of harm. The challenge of naming and owning harm is one that pastors regularly face when repairing relationships within their congregations.
But the stakes of such mediation are much higher when harm is embedded in the church itself. How do pastors and lay leaders navigate the work of repair when the history of their own church is implicated?
We're a pastor (Lauren) and a sociologist (Gerardo) who, respectively, have participated in and witnessed this difficult journey of reparation at Highland Baptist Church in Louisville, Kentucky. Gerardo watched this process unfold over the past year while on sabbatical, and Lauren has been involved with the process as an associate pastor at Highland.
In 2018, Highland was faced with a shocking discovery. In front of a citywide crowd at a racial justice gathering, a recently retired pastor reflected on the stained-glass windows of his former parish. He marveled that the windows showcased two enslavers, James Boyce and Richard Furman, and one radical segregationist, E.Y. Mullins. Even more, the church's painted fellowship hall windows portrayed an additional enslaver, Basil Manly Jr.
Congregants in the room that day perked up at the mention of their church, only to realize that their former pastor had just publicly said something they had not known. They learned that their beautiful windows commemorated leaders committed to racist ideals.
Not only was the news startling — a true revelation to the current congregants and pastors — but it also conflicted with the church's understanding of itself and its ongoing anti-racism efforts.
News of the windows and the enshrined enslavers spread quickly. Members asked questions, wanting to find out specifically which people in which windows owned slaves and when the windows were installed.
They found that the stained-glass windows in the sanctuary were installed in the early 1970s, and the fellowship hall windows were painted even more recently, in the mid-1990s — not at all in the distant past. How could this be? As the buzz about the windows gained momentum, the church's anti-racism team, which had formed in 2017, petitioned the lay leadership body to appoint a task force to officially study the windows.
Before the windows task force first convened, it became apparent that Highland's work on the windows needed a broader scope. Around the country, unarmed Black people were being killed while jogging in a white neighborhood, sleeping in their own apartments or selling knockoff cigarettes.
Further, a national debate was stirring around the removal of Confederate monuments. Highland members wondered about their own windows and how the church benefited from white supremacy more generally. Thus, the ministry council created a reparations task force, in which the windows were one focus of four.
Starting in 2020, dedicated lay leaders, with support from me (Lauren) and my ministerial colleagues, considered alternatives for addressing the enslavers in the windows, the call to a congregational confession and repentance, the obligation to offer financial repair from the congregation's budget, and strategies for ongoing advocacy at both a local and a national level for the study and gifting of reparations.
The task force wrestled together about the best path forward. Even as the COVID-19 pandemic continued, the group persisted on Zoom. First, we revisited our own history. In doing so, our objective was to consider how the church has benefited from racist systems, past and present, and to recommend a path of response.
Together, we produced a report, titled "Grant Us Wisdom, Grant Us Courage: A Historical Summary of Highland Baptist Church; Louisville, Kentucky; and Race, 1893-2021," which tells Highland's narrative through a lens focused on racial inequities.
Second, the task force wrote a report detailing all of the subjects depicted in the windows, especially noting the troubling figures involved in slavery. Considerations in addition to racism arose, and figures were examined in terms of antisemitism, homophobia and other forms of colonization.
We took care that our research was honest, without judgment. It was hard to acknowledge so much pain peppered throughout the windows' design.
With new revelations over the months of research and writing, polarizing viewpoints were expressed privately among members of the church, and the murmuring complicated the work of the task force and concerned the ministers.
Anxiety threatened relationships in the congregation, raising the potential for real division. Some folks unknowingly sought to maintain the status quo. "Touching those windows would be an affront to the art and artist who created them," they argued.
"They tell our story, even the parts of the story we do not like — do not mess with them," others said.
Others focused on the money that would be spent if the windows were amended or contextualized. "Money spent on [changing] the windows would be better spent in the Black community," some argued.
"Dismantle and destroy the enslavers immediately," those distressed by the windows insisted.
Ultimately, the enslavers in the windows put our church at risk of losing members, as some indicated they would leave the church. "I cannot worship in a sanctuary that venerates people who owned other people," they said.
Further, we hired consultants, leaders in Louisville's Black community, for their feedback; naturally, their opinions differed as widely as those of the congregation. However, they unanimously agreed that the white Jesus figure in the revelation window needed to be darkened.
As the palpable discomfort among church members grew, our lead pastor, the Rev. Mary Alice Birdwhistell, and I (Lauren) preached on the controversy, but our messages did not readily alleviate tensions. For example, I preached two sermons in the summer of 2021 that spoke to the killings of George Floyd, Breonna Taylor and David McAtee.
In one sermon, I invited people to turn and look up at the figures who watched over the sanctuary. In so doing, I emphasized that the task force would and must continue discussing the windows, specifically the ones depicting Boyce, Furman and Mullins.
Though the sermon was an attempt to assure folks that the church would work together as a community to consider options, the effect was further division and angst. Contradictory pressures on the reparations task force emerged, with urging by different congregants to hurry up and to slow down, to stop and to keep moving. Even members of the task force were not in agreement. Zoom meetings were occasionally emotional and intense.
At this point, Mary Alice and I (Lauren) committed to communicating explicitly and frequently that the church would work through these issues together: by listening to one another, studying reparations in community and (in the words of the church hymn) being "brave of foot" in the race set before us.
In affirming the call to accomplish this work together, we began sharing with the church the benediction we co-wrote to conclude each task force meeting:
MAB: Friends, may God bless us with restless discomfort
in the work of reparations.

LJM: May God bless us with holy anger at the injustices around us, and even within us.

MAB: And may God bless us with grief to honor all that has been lost along the way.

LJM: Until we meet again, may God continue guiding us toward liberation.

MAB: May Christ continue showing us the way of love.

LJM: And may the Spirit continue provoking us in this hard and holy work.

MAB: For even as this work challenges us, know that we are equipped and suited precisely for it.

LJM: Go in peace. Amen.
Highland's leaders took collective responsibility for the church's association with white supremacy, so we patiently urged a corporate response from the congregation.
In their book "Reparations: A Christian Call for Repentance and Repair," Duke Kwon and Gregory Thompson write, "Some may insist that individuals and discrete institutions alone are responsible for the aforementioned failures, but this line of reasoning simply will not do. These sins are our sins."
Calling out, initiating dialogue, responding to new knowledge — these are the practical steps we sought to enact ecclesially. As Kwon and Thompson state, "The church, after all, is one body, and its members are irrevocably bound to one another in Christ by covenant."
Conversations continue with pastoral and lay leaders dedicated to accomplishing the work in community. The task force hosted three congregational listening and processing conversations. The first, in 2021 via Zoom, oriented around reading and discussing the history report. The second, in late 2021, also via Zoom, conveyed the four-prong approach adopted by the task force and solicited general thoughts on reparations. In 2022, a third conversation offered the opportunity to attend in person.
With repeated reassurances from many directions that the task force is not a decision-making body, members were able to participate in a hybrid meeting with earnestness, even amid uneasiness.
The task force presented its findings, and congregants asked meaningful and thoughtful questions. Members expressed their viewpoints with grace, and most importantly, all those present deeply listened to one another. The tenor of the meeting built up the confidence of the task force for its next steps.
Highland's process to date reveals how the work of restorative justice is challenging for congregations dedicated to working in unison.
Our pastoral team and lay leaders are moving through the process of repair in a manner that includes all stakeholders without jeopardizing anti-racist values. At this point, the church has established a designated fund to receive donations specifically for reparations, and the church will commit 1% of its budget to the fund annually.
Further, the anti-racism team is researching the options of installing plaques that explain the church's lament over the figures and why they are darkening the skin tones of the biblical figures, including the Christ figure.
Although no final decisions about the windows have been made, the reparations work continues taking shape on the racial justice journey. As a consequence, the leaders of Highland have achieved greater confidence in the capacity of our congregation to address controversy directly and to confront injustices in the world without compromise.