Jonathan Brooks is convinced that if churches work together with the people in their neighborhoods, "that will give us the greatest witness in the world."
He's part of a "parish movement" across the country to help congregations connect and act locally, wherever they are, to become the "neighborhood-based incarnation of the gospel."
"It's not just about how we worship together. It's not just about what songs we sing together. It's about how we live together," he said.
But how can a pastor or congregation get started? Or what if you've gotten started but don't know where to go from there? Perhaps your congregation or neighborhood has changed and you don't know how to connect anymore.
The Parish Collective, an organization that connects people who are committed to the idea that neighborhood plus church equals parish, has created a free online tool to help.
Five Signs of the Parish Movement is an online quiz that helps congregations discern where they are in the journey of becoming a parish-minded church. In addition, it offers next steps and videos that explain the parish movement and help leaders guide others along the path.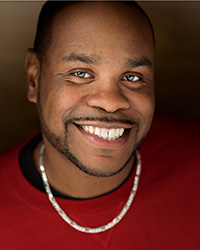 Brooks, who is the board chair and a fellowship member of the Parish Collective, has helped revamp the quiz to focus more on equity and justice as part of being a parish.
He currently serves as co-lead pastor at Lawndale Christian Community Church in the North Lawndale neighborhood in Chicago. He previously served as senior pastor at Canaan Community Church in Chicago's West Englewood neighborhood — where he grew up — for 15 years.
Brooks spoke with Faith & Leadership's Sally Hicks about the Five Signs quiz and the parish movement.
Faith & Leadership: What's the vision of the parish movement?
Jonathan Brooks: The way we define parish is neighborhood plus church. Your parish becomes your parish when your church is concerned about that neighborhood, so it becomes a church parish.
We believe — and I've always held this central to my theology — that geographic location is the one marker that can really hold the container for the diversity of the Christian world.
We try to gather ourselves around values sometimes, or we try to gather ourselves around shared beliefs, or we try to gather ourselves around doctrinal stances. All of those things — at some point, they get frayed.
But when I live down the street, the same issues and concerns that I have are the same issues and concerns [that my neighbors have], even if our values are different, if our theology is different.
It brings us into questions about equity — around race, around gender, around orientation, all these ways that we chop and divide ourselves up.
When you look at the way Jesus gathered his 12 disciples, they were all over the spectrum in their belief systems, but they all had a geographically shared idea in this little area the size of New Jersey.
They all lived there. They all understood the culture of what was happening there. They were marginalized folks living in a Roman-occupied space, and everything they did was about this space — and it grew.
What we're inviting people into is a new way of understanding the importance of this idea of church/neighborhood/parish combined.
What we're trying to get folks to recognize is we're not creating something new. We're rekindling what has been the most powerful part of the church: that the church is the tangible representative of God in a local place so that the people in that place know that God is concerned about their specific needs, gifts, concerns and well-being.
We invite people back into that to stop church shopping, to stop church hopping, to stop trying to look for the greatest place to go visit, where you feel most comfortable.
F&L: Were you inspired by the Catholic idea of the parish?
JB: 100%. The language of "parish" was intentional, because we believe that the Catholic Church and the way they've organized their parishes had it right — that idea that you don't go to the "best" Catholic church in the city; you go to your local parish. And if you move neighborhoods, that now becomes your local parish over there.
We use the word "parish" on purpose. It helps people that have Catholic backgrounds to connect to it, but it also helps people to understand when we talk about [church as neighborhood-based].
F&L: What do you mean by signs? How do they help congregations or individuals interested in the parish?
JB: First of all, we chose the language of "sign" because these are the ways we would describe what we see, what's visible, what's tangibly happening when you see people pressed into being the church in their specific contexts.
These are five expressions, or markers, in a very general sense, because there can be more than that. What I don't want people to believe is that it's exhaustive.
We're rekindling what has been the most powerful part of the church: that the church is the tangible representative of God in a local place so that the people in that place know that God is concerned about their specific needs, gifts, concerns and well-being.

The first one is, of course, a centering on Christ. We want to make sure our lives are centered on Christ as a collective expression of the love of God in our place. It's this idea that when we focus on who Jesus is and who Christ is in this specific place, there's a certain kind of expression of Jesus' love that will come.
This is how churches end up having different emphases or different ways of being the church in a specific place.
Those shouldn't come from boardrooms, where we sit down and have strategic planning sessions to say, "This is the kind of church expression we want to be."
They should come out of a real love for the place and a real experiential kind of knowledge of the place that allows us to say, "Who do the people of God, who do Jesus' followers need to be in this specific place?"
The second one is inhabiting our parish. We want to actively inhabit our neighborhoods, not just live in them, not just have houses in them.
In that place, who has been marginalized or pressed that needs to be liberated in that space? What is our response? What things do we need to do for our place and its inhabitants to live out the liberative story of God?

The third sign is gathering together. But not just gathering together, because churches are good at doing gatherings. It's gathering to remember. When we gather, we weave our parish — where we're living — into the larger story of our faith. This means that now our parish has an integral part in the massive story of God from the beginning of time to the end of time. Our parish has a part, and it's woven into that story.
Remember the past; remember the present; think about the future. What has the history of this place been? How do we factor into the history of the place? Do we really understand it?
Worship is not limited to being in a church building. You worship in the aisles of grocery stores and in cafes and on the corners. We gather as much as possible: gather at block parties, gather at people's homes, gather around the table, gather in church services — gather, but remember that all of that is a part of God's story.

The fourth sign is collaboration. We say it this way: "collaborating for renewal with God." It's not just about doing things together; it's about how do we step into God's story and reconciliation and renewal.
We trust that God will always invite us into new relationships and weave us into new relationships but also invite us into relational and collaborative projects that should be for the common good.
A lot of why the church grew in its infancy was because when people looked at the church, they were like, "Man, they're helping the society. People's lives are changing." When a church abandons that common good and really turns internally on itself, that's when we lose our impact in society.

The last one is what we call linking. Now, I added the word "across" to the sign: linking across. I wanted to make sure people understood that it's not the linking of people in your neighborhood together if you link only with people that you're most comfortable with or that you have a lot in common with.
We had to add "across" because we wanted people to be compelled to this unity in difference; we don't all have to be the same. We don't all have to have the same beliefs. We don't have to have the same political beliefs. We don't have to have the same theological beliefs or any of that.
We need all of that difference, because that's the only way we'll be unified. If we're all the same, it's not unified; it's uniform.
How do we actively connect across our parishes, across our congregations, across our cities, across our countries? How do we engage each other by linking and growing together using our unique but local expressions mixed with other expressions outside of our own?
Those are the five signs. And as you can see, we've tried to make sure that there's also a real deep equity and reconciliatory lens to this idea of being a church in a neighborhood as well.
F&L: What will people learn from taking the quiz?
JB: The goal is to let you self-diagnose where you think you are and then give you some action steps that can get you to where you would like to be. So it's very practical. That's why I like it. It's extremely practical.
The goal is to try to get people engaging with the signs to ask themselves, "Where are we now? What would we like our future engagement to look like in our parish?"
The goal is to get people activated, where they're starting, not to say, "Well, just work on getting here, and then we can help you."
No. It's, "Where are you now? Where's your congregation now? Where's the expression of the church now?"
Then we say, "Here's the first step." Maybe it's just researching some spiritual practices that will get you connected more to your parish. Or maybe it's a time to literally get with some friends and do a walk in your parish and get to know it better.
F&L: Do you have a recommended process?
JB: There's no pattern. There's no formula. This is an opportunity for you to engage and then create. We believe that creation will come from your place. All we're trying to do is activate your ability to create what you need in your space.
Really, we see this thing as a flywheel. What American churches have a tendency to do is to set things up in more of a step-by-step process. This is more of a flywheel, with parish at the center.
F&L: If a congregation is already engaged in this work, is this quiz still useful?
JB: I believe it's still beneficial, mostly because no one has "arrived" at doing parish ministry. You know what I mean? There's no point where you've just got this down pat. Communities change. Things become different.
I'm in Lawndale, where we've been doing this for 45 years now, and we've [still] got to be listening, because North Lawndale is changing. There are new things happening, new ideas, new ways of being.
As Lawndale was growing, quantitative measures was the way to go: How many people come to Bible study? How many people come to church? How many people are we calling on a weekly basis and checking in with? All those things were great.
The younger generation is coming up now. It's not about numbers. I mean, COVID has shown us that if you're trying to count numbers of people coming to church, that might be obsolete at this point.
Now we look at qualitative measures: How are people's lives improving?
My youth pastor has to give me a report every week on qualitative measures around the young people he's working with. What decisions are they making? What is their life looking like?
He sends me stuff like, "Oh, this young man is dating this young lady, and he's been sexually active, but he's decided he's not going to be sexually active with this young lady. He wants to do it God's way."
That's a qualitative measure. And it means a lot more to these young folks — that we're praying for their life changes — versus, "Lord, would you send 40 kids to our Bible study?"
Eight culinary students dressed in black uniforms with chefs' caps are working carefully at their stations in a spacious commercial kitchen. They've already reviewed the proper techniques for cleaning and removing tails from shrimp and cutting fish into filets, best practices for purchasing, and more. Now they've prepared and cooked the recipe of the day: cioppino, a classic stew featuring the shrimp and filets along with leeks, in a rich tomato broth similar in color to the students' red aprons.
As they talk quietly in Spanish, the time comes to present their creations. Culinary instructor and veteran chef Ed McIntosh is not disappointed.
"Beautiful," he says to one student, studying the stew in a silver-toned pan.
McIntosh offers feedback as he tastes, pulling down his mask to take quick bites.
"Good," he says to another student, adding a tip to "just watch your shrimp."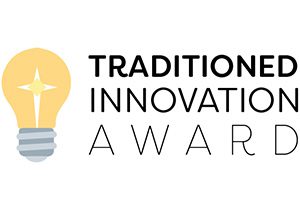 Leadership Education at Duke Divinity recognizes institutions that act creatively in the face of challenges while remaining faithful to their mission and convictions. Winners receive $10,000 to continue their work.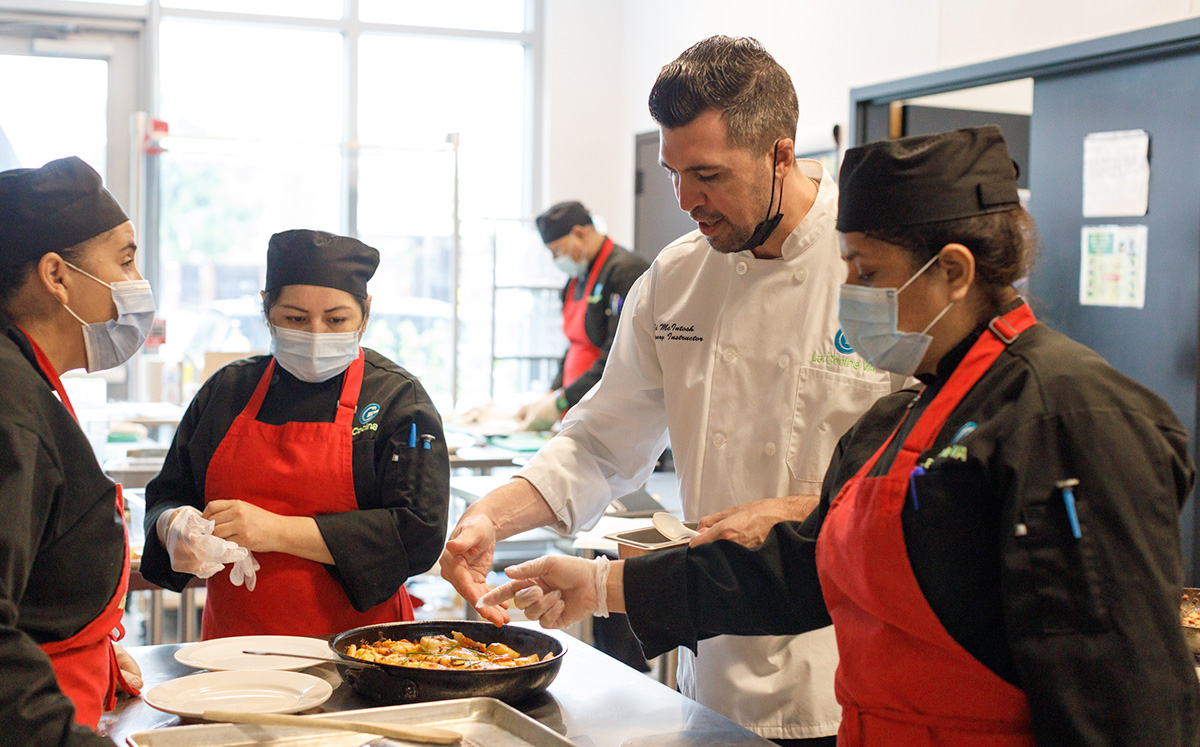 This is a typical day at La Cocina VA, a nonprofit in Arlington, Virginia, that seeks to "use the power of food to create social and economic change in low-income communities." Founded by Patricia Funegra, the organization works with immigrants, refugees and victims of domestic abuse and other trauma to provide support via job training and placement along with culinary certification.
Though La Cocina VA is not a faith-based organization, it has worked closely with two local churches since its founding. Their collaboration shows how churches can join forces with community organizations to bring about change — offering vital support and partnership to existing innovation rather than independently beginning new church-based ministries. It also provides a model for moving beyond direct service to skill building and community empowerment.
Now housed on land that previously belonged to Arlington Presbyterian Church, La Cocina VA has served more than 200 students in English and Spanish and created relationships with more than 40 food and hospitality partners, including restaurants, markets and hotels. Like many in the food industry over the last two years, the organization also has battled COVID-related challenges, but La Cocina VA has still managed to open an expanded location with a cafe that serves the community.
"We know that we are definitely making an impact in the lives of the people that give us the chance to work with them," said Daniela Hurtado, the nonprofit's director of programs and a former chef herself. "There is a huge connection."
What skills, rather than services, are needed in your community? What can your congregation do to go beyond providing a service?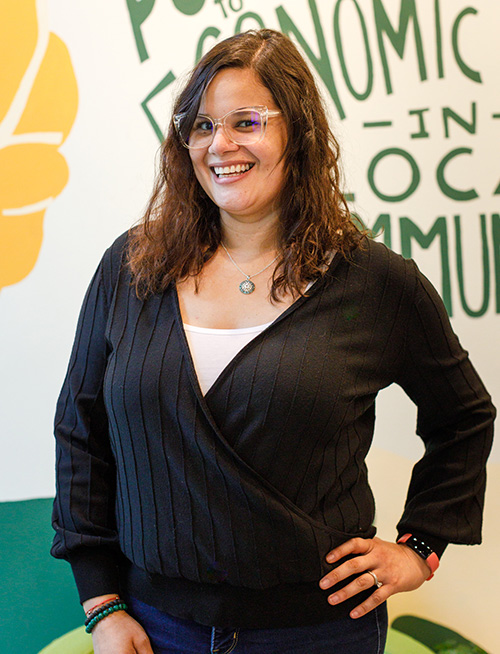 In the beginning
La Cocina VA has raised more than $2.5 million since 2018 to build out its expanded D.C.-area location — complete with a commercial kitchen with stainless steel appliances, a walk-in refrigerator and a variety of supplies. But as is usually the case, things started smaller.
When she first had the idea to create a nonprofit, Funegra — who was born in Peru and moved to the United States in 2007 — had been working in the nation's capital. She was employed at the Inter-American Development Bank, helping contacts in South America, Central America and the Caribbean with projects in workforce development, women's rights and other issues.
But Funegra thought there was more she could do. She began volunteering at DC Central Kitchen, a nonprofit offering culinary programs and job training to formerly incarcerated people.
She started by chopping carrots and onions, and then an idea materialized. She saw so clearly that "this is something that we could offer Latinos, especially knowing the large population of Latino immigrants that work in food establishments," she said. Funegra worked after-hours to network, research and validate her idea even as she held down her day job.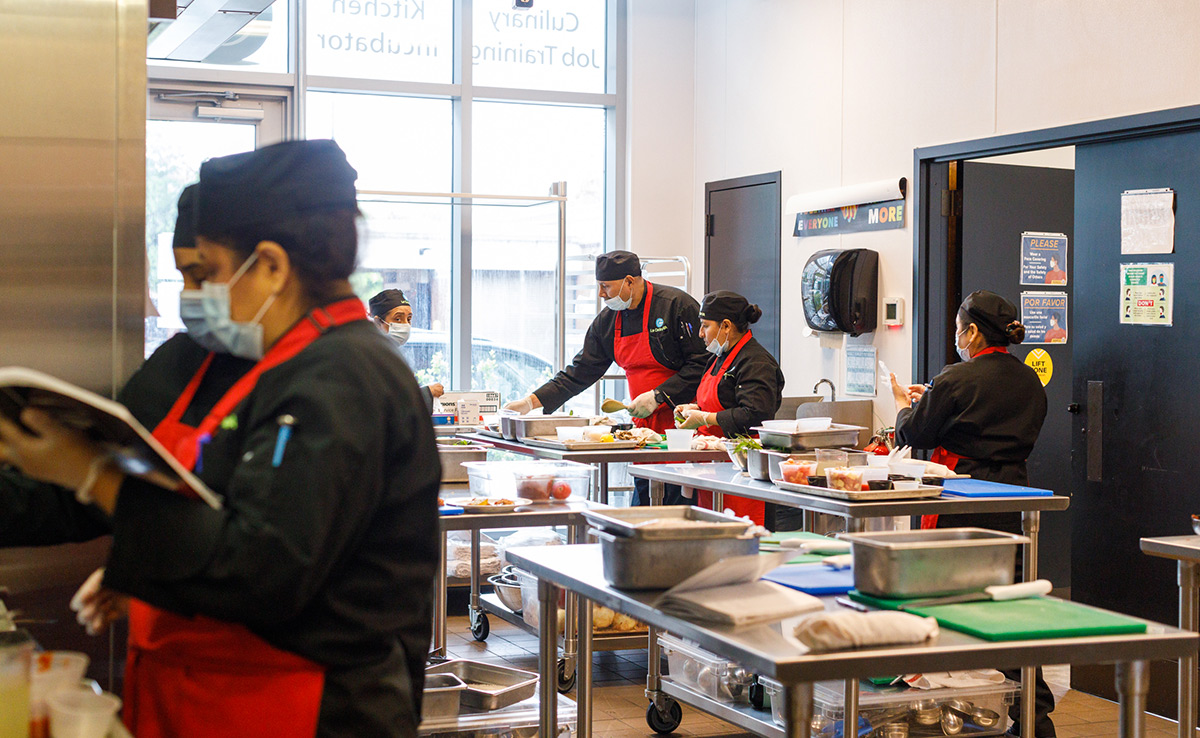 She eventually registered the new organization and went back to connect with DC Central Kitchen. And she built a relationship with a local community college that could offer certificates to graduates. Along the way, Funegra, now La Cocina VA's chief executive officer, realized that a church could be a great partner.
"I learned that churches in the United States, especially the older buildings, have beautiful kitchens that are underutilized," she said. And with that, Funegra was off, knocking on the doors of Catholic churches, Presbyterian churches, "all the different denominations," she said.
When she connected with Arlington's Mount Olivet United Methodist Church, things really started to move.
What resources are underutilized in your church?
An initial 'match made in heaven'
While Funegra was making her rounds, Mount Olivet had already been offering community support, including a ministry to reach out to vulnerable immigrants by providing food.
"But then it became clear that we needed to do more than just provide food," said Marilyn Traynham, the church's administrator. "We needed to provide a skill."
The church had a commercial kitchen, so when Funegra shared her dream, "it seemed like a match made in heaven for Mount Olivet," Traynham said.
To start, the church managed logistics to ensure that there was adequate refrigerated space and insurance coverage for the project and that related needs were met.
"Mount Olivet has three values, and they're very important: inclusiveness, making disciples, and reaching out into the community and world," said the Rev. Dr. Ed Walker, the church's senior pastor. "While there are a lot of good faith-based nonprofits, there are also equally good nonprofits that are not religiously affiliated.
"When there's a need, you want to help find a way to meet that need."
And so they did. La Cocina VA's first cohort started in 2014, operating in the church's basement. For several years, Mount Olivet provided not only space for classes but also lunches for students, gifts at Christmas for students and their families, volunteers to help transfer meals to low-income housing communities, and other support.
"[Mount Olivet staff] were so kind. We never paid a dime, not even for toilet paper," said Hurtado, expressing gratitude to the church.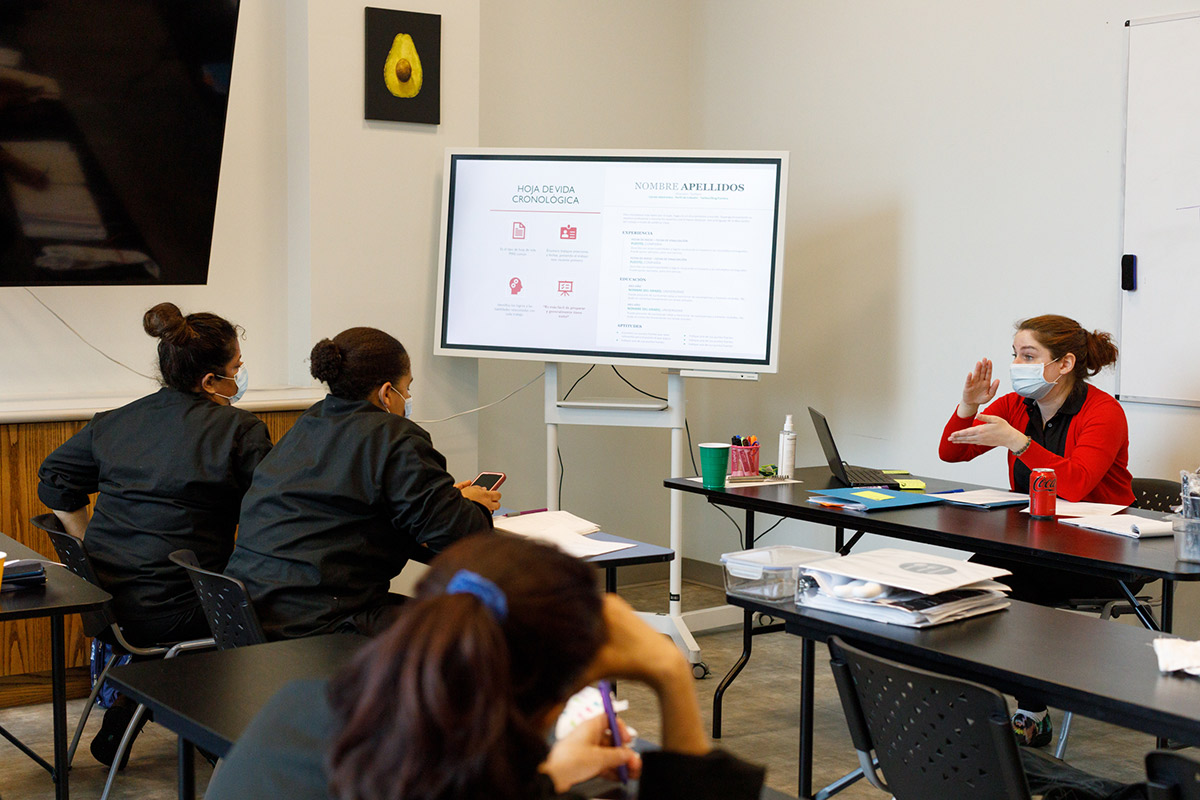 Students also received additional benefits. As Funegra explained, the program offers full scholarships, so students don't have to pay for instruction, uniforms or other needs. The program has offered stipends for students without cars or jobs.
Funegra said this kind of help can be "hard to believe at the beginning" for some members of the immigrant population. Building this sense of care is immensely powerful, she said, explaining that in addition to finding jobs, some women have been able to heal or step out on their own.
But as the program expanded, it began to outgrow its church home. In addition to helping participants with their finances and business development, La Cocina VA staff became interested in growth for themselves.
When the opportunity came to move to another space in Arlington, made available when Arlington Presbyterian Church sold its building to benefit the local community, La Cocina VA staff took it. (The church is a recipient of the Traditioned Innovation Award.)
The nonprofit relocated to its new, built-out Gilliam Place facility during the pandemic, pushing through periods of capacity restriction and at times complete closure due to quarantining. Today, if you stroll through their modern, 4,000-square-foot space, you'd never know what they have endured.
Hurtado called the move to the new training and entrepreneurship center "a big accomplishment." Its new programs include the cafe, which showcases products from the shared-kitchen members as well as La Cocina's own menu, she said.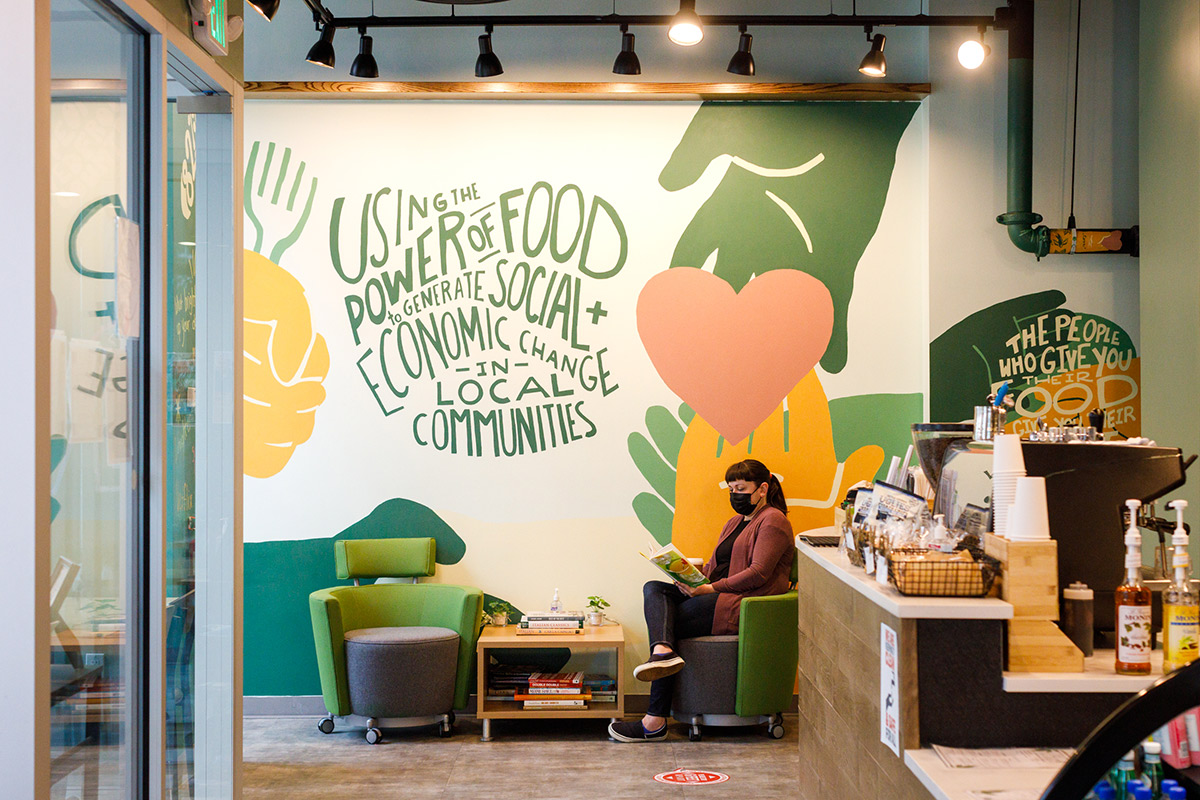 Now, the nonprofit has an operating budget of $1,662,000, according to staff members, an active and diverse board of directors, and a new partner in Arlington Presbyterian, which seeks to welcome all and "serve with compassion."
Mt. Olivet's relationship with the nonprofit continues, too. Funegra "is a very strong leader," Walker said, noting that their partnership has worked well because of how Funegra has managed the program.
For churches considering similar arrangements, he said, "my advice would be, make sure the nonprofit has strong leadership."
When working with this kind of organization, Traynham said, churches should think of the collaborator not as "a building user" but as "part of the ministry."
A present-day partnership
The new partnership that La Cocina VA has forged with Arlington Presbyterian tracks along an innovative arc for both the nonprofit and the church.
Chartered in 1908, Arlington Pres sold its building and land in 2016 to allow for the creation of affordable housing after the congregation repeatedly heard that many people who worked in the city could not afford to live there, said the Rev. Ashley Goff, the church's pastor, who now also sits on La Cocina's board.
The cost of living in Arlington, Virginia, is 44% higher than the national average, and 134% higher when it comes to housing, as PayScale confirms. And in this diverse community, disparities are real, with 6.4% of the population living below the poverty level, according to the 2020 American Community Survey.
The result of the church's rather sacramental gesture is Gilliam Place, the development where La Cocina is now located. The space's 173 affordable housing units serve people with low-income, seniors and those with disabilities — and it includes leased space for Arlington Presbyterian, Goff said.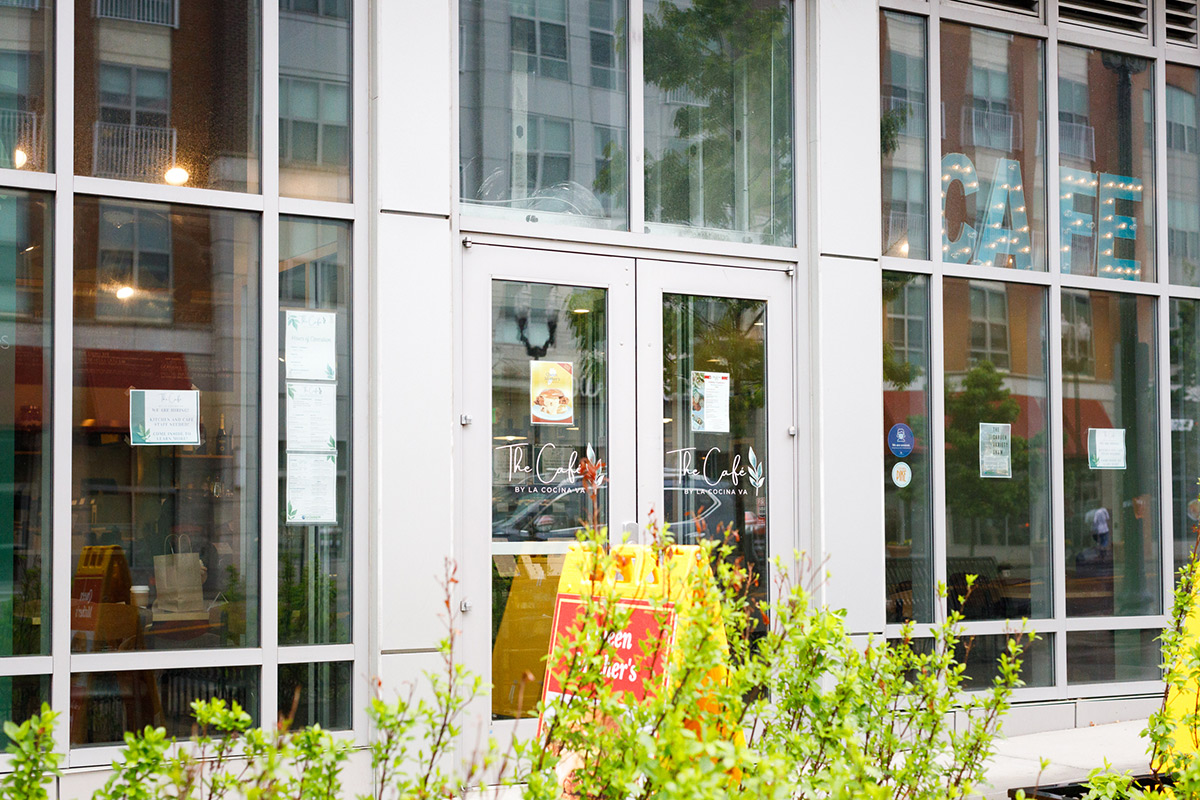 "The call from God to do something about affordable housing was bigger than the building itself, so the building had to go," she said, harking back to a quote from a church member and explaining that the church is there to be a neighbor.
Arlington Presbyterian buys food from La Cocina VA and contributes financially — including a recent gift of $100,000, Goff said. "We actually discover who we are and who God calls us to be the more that we give away."
The donated funds continue to benefit students from a range of backgrounds. For instance, a student named Elizabeth, who chose not to share her last name, said she is a trained veterinarian in her home country, but in the United States, she works as a medication aide.
"I would like to also have other options," she said in Spanish, noting a desire to work independently.
Student Sandra Luz Roman said she enrolled to improve her technical cooking skills, with dreams of opening a little restaurant serving Mexican food.
What might God be calling your church to that is bigger than the building?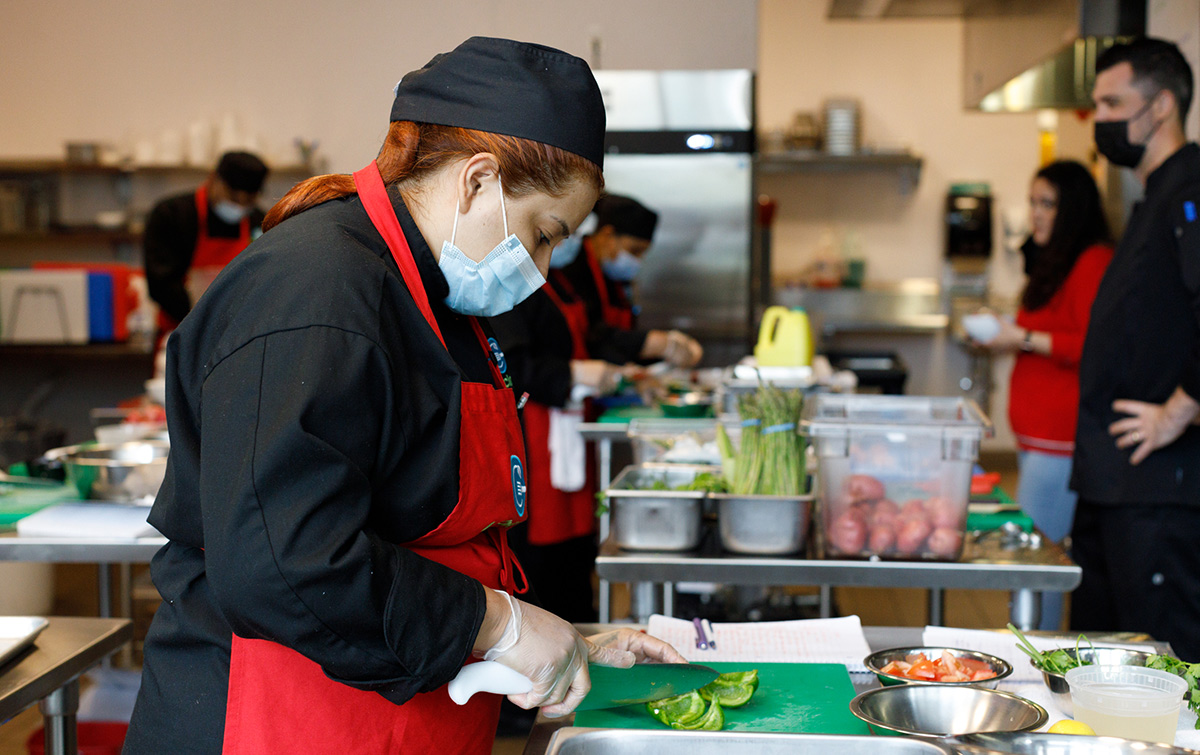 Meanwhile, student Wilmer Mejia said he studied chemistry in Peru but now works as a cook in the United States. He said in Spanish that the program lets him learn and is "offering opportunities."
And those opportunities extend beyond what is taught in the kitchen. For instance, when the morning cooking session of the program concludes on a Friday in May, students straighten up their stations and move to an adjoining classroom to learn about formatting resumes.
When they shift rooms, they leave the kitchen spick-and-span. Bowls are nestled within each other. Large onions are piled in a clear container. Measuring spoons and cups are housed in storage spaces. It's almost as if the students were never there.
How does your congregation discover who God is calling it to be? How do you discover who God is calling you to be?
And yet the impact of La Cocina VA's work, and the churches with which they've partnered, is clear. The program is teaching Spanish- and English-speaking adults. Matching them with jobs. And creating hope.
As this work continues, Hurtado said, their faithful partners have been huge supporters.
"We definitely feel the love," she said. "We have definitely been blessed by these two different churches."
What does a faithful partnership look like for your congregation?
Questions to consider
What skills, rather than services, are needed in your community? What can your congregation do to go beyond providing a service?
What resources are underutilized in your church?
What might God be calling your church to that is bigger than the building?
How does your congregation discover who God is calling it to be? How do you discover who God is calling you to be?
What does a faithful partnership look like for your congregation?
Cities are often seen as the center of sin in the world, but H Spees encourages Christians to look at them differently.
"When you look at the cities with prophetic imagination, cities are gifts from God," Spees says, pointing to the city of God in the book of Revelation.
Instead of letting a city become a place of suffering, our responsibility as a community is to make sure that the city works for everyone.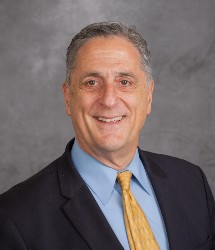 Drawing on his background of faith and work with civil rights leader John Perkins, Spees sees great opportunity for Christians to put their faith to work in their communities and make sure that no one is neglected.
Spees has worked for the city of Fresno since 2017, and before that, he worked for 40 years in community-based organizations. He is also an ordained minister.
Spees spoke with Faith & Leadership's Chris Karnadi about how his faith informs his work and how Christians should approach cities. The following is an edited transcript.
Faith & Leadership: You've worn many hats throughout your career. What brought you to working for the city of Fresno?
H Spees: What brought me here most directly was my run for mayor of Fresno in 2016. I ran on a platform of community development, especially with investing in marginalized neighborhoods. According to the Brookings Institution, we [range] between first and fifth in terms of cities in America with the highest percentage of concentrated poverty neighborhoods.
I came in third in the primary, and then I supported the guy that came in second. He won, and then surprisingly, he turned around and said, "Look, you get this community stuff, and I get finances and the business side; let's team up."
So I became director of strategic initiatives for the Lee Brand administration. And then when Jerry Dyer, our current mayor, took over, he asked me to focus on one thing: homelessness.
So that's basically how I have ended up here.
Before that, as my wife would say, we got severely off track. We grew up in Los Angeles. We were high school sweethearts. Because of her, I went to church and I had an encounter with Jesus Christ as a senior in high school.
About a year and a half or so later, when I was a student at USC, a civil rights leader by the name of John Perkins came to speak at our church. John challenged a group of us to come South for the summer. So I did an internship in Mississippi in 1972, came back and got married.
We went back to Mississippi and led a team from our church for a second summer, in '73. And that summer stretched into 11 years. We spent 11 years living under the mentorship of John and Vera Mae Perkins. And in the last six of those years, I was setting up health centers in towns that didn't have physicians, recruiting doctors and dentists and nurse practitioners to basically deliver health care.
I joke that everything I learned about urban development I learned in rural Mississippi, because the dynamics there are all the same that I deal with today — the issues of poverty and especially race and resource development in underresourced communities.
F&L: What were some of the lessons you took away from that time that you find are directly applicable right now in your work?
HS: The most profound takeaway for us was the concept of incarnational ministries and proximity. I think a shortcut for somebody like myself — who's a boomer and the product of upwardly mobile post-World War II — to see what's going on in the world is proximity and embedding, having the opportunity to live in the community, because everything else gets put into perspective.
In our experience in Mississippi, one of the things that was really profoundly undoing was really seeing how a group of African American folks coming out of Jim Crow that didn't have the resources or the educational qualifications simply nailed their shoes to the floor and said, "We aren't going to move until God uses us to change our community."
And standing with the Rev. Perkins and Vera Mae, but also the older African American leaders that supported them, put my life into perspective. These are folks that had carved 150 acres of farmland out of red clay soil while basically being sharecroppers until they saved enough money to purchase their own farm.
Standing next to people like that, my inner life basically said, "My faith looks very superficial by comparison." And that posture, that opportunity, being mentored and having a chance to walk alongside profound leaders like that — it impacts you.
F&L: How do you find your faith informing your work in homelessness?
HS: Two things that come to mind are the value of the human person — imago Dei — and shalom.
The challenge that any city has in America today, especially on the West Coast, is how you balance the tension between affirming the dignity of every person on the street and at the same time assuring the quality of life for residents and businesses that are severely impacted by encampments.
Those two values, holding those two things in tension, is a big deal. Theologically, to realize that Jesus identifies with that person on the street, that the whole Matthew 25 statement focuses on the least of these, the radical identification that Jesus made with humanity, but especially marginalized humanity, is breathtaking. And I think that drives the work.
One of the things that we do is encampment resolution. So when you see a young woman with meth scars on her face, beautiful young person in the grip of addiction, dragging all of her life's belongings of today in a blue tarp along the street as her encampment is being relocated — at that point, imago Dei is very important, critical. And at the same time, there's shalom.
Theologically, shalom is right relationship: relationship vertically with God, and vertically with the Earth and the environment, and horizontally with people across racial, cultural, economic, all barriers. Shalom from a civil society perspective is when all the systems and structures in the city work for everybody all the time and nobody's left out.
Those two theological truths and energy sources, imago Dei and shalom, I think really drive our work around homelessness. And homelessness is the No. 1 social moral issue of our day.
We put together a thing called HART, the Homeless Assistance Response Team, made up of 18 outreach workers from an organization called the Poverello House. Those outreach workers are from every background, every gender identity, every ethnicity. Many of them have lived experience [with homelessness]. Many of them have themselves come through recovery.
They're the ones that are engaging our most toxic, difficult encampments as we seek to offer housing and services for folks to resolve encampments in our community, one encampment at a time.
F&L: How do you think Christians should participate in the life of their cities?
HS: One of the things I've learned is how important it is to see cities as playgrounds rather than battlegrounds. Cities are a gift from God.
There are themes in literature and in our culture that paint the city as the repository of everything evil and tempting, and the rural, the bucolic, as somehow more virtuous.
But really what started in the garden in Genesis becomes a city in Revelation. It's how we steward them that's important. They can be the beloved communities we talk about. But also, they can become a catch basin for human misery.
I think it was in 2008, when I was doing my doctorate program — or 2009 — when worldwide there was one more person living in a city than in a rural area. It's when the global reality shifted to being more urban. By 2050, 68% of the global population will live in cities. We must address the city, but we should address it through the lens of gift and the opportunity to see cities as playgrounds rather than battlegrounds.
I look at the city as a kind of circle that has three thirds: the private sector, the public sector and the nonprofit sector. The nonprofit sector is the one that's sometimes the fastest growing, at least in the U.S. over the last several decades. But at the center there's another sector, which is the community sector. This comes out of the work of John McKnight, who talks about asset-based community development. That's where people actually live. That's where mediating institutions, which is a civil society term for informal, voluntary associations, really come together.
The family, the local elementary school, the PTA, the sports teams, the small butcher shop — all of those things that make up a neighborhood. And I think, from the perspective of someone of faith, the question is, "Where is the church in that picture?"
I think that too often, Christians have oversimplified their view of the city, where they say that here's the city and here's the church in the center, and that if people would just come to Jesus then everything would be fine.
The reality is that the more complex picture of the city with the four sectors, three being institutional and one being community, really gives a much more robust opportunity for people of faith to engage.
If the community sector is the neighborhoods in the city, the people of God are already there. There are a million ways that folks are there, and the arrogance of a church that would say, "We're going to take faith into the city" just completely overlooks the fact that it's already there.
People of God are placed in positions in every one of the institutions making up the other sectors, whether it's in public education or law enforcement or business or journalism or at the United Way or in the synagogue or part of the Islamic cultural center. Wherever it is, the people of God are positioned in all those spaces.
The Spirit is already there at work. And our job is to join.
When Jess Lowry was hired eight years ago as family minister at Sunset Ridge Church of Christ in San Antonio, Texas, she faced some of the problems that arise in longtime congregations.
Although its historic stone chapel and the giant oak tree on the grounds were beautiful, the congregation's buildings were underutilized and badly in need of updates. Despite "little programmatic sparks" that occasionally boosted attendance, the congregation was burned out and disconnected from its local community, Lowry said.
"The neighborhood is very active, with many dogs and walkers, and it's a place where you get a strong sense of community and belonging," she said. Young people were moving into several apartment buildings next door.
The problem? The church's congregation of around 150 was insular, and none of the members lived in the area or knew the neighbors.
Where is God already at work in your neighborhood?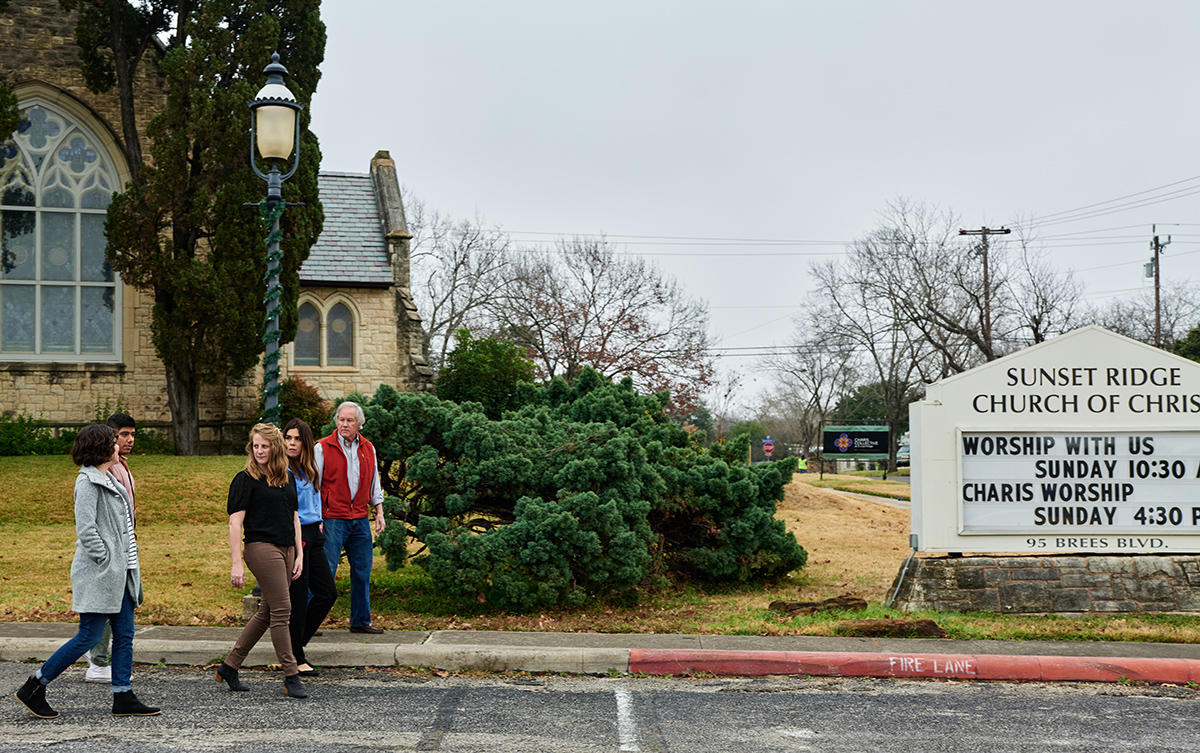 As Lowry and her team struggled with these issues, they also began to think about the untapped potential of their physical space. They could imagine all kinds of wonderful things: a park, a co-working space, a renovated wedding chapel. But they needed help to realize this vision.
Lowry found a partner in The Impact Guild, a mission-minded team that calls itself "a design lab for good." Founder Sarah Woolsey and community development director Aaron Villarreal had spent years building their own social enterprise, a co-working space.
Now they were ready to help others — starting with Sunset Ridge — transform underused assets, engage with their neighbors and re-energize the church community.
"How do we bring people along on this journey and really help them see what it means to love your neighbor and your city and your geographic neighborhood?" Villarreal said. "We're inviting people to that conversation."
A new investment in the neighborhood
In 2015, Woolsey was employed at a design agency in San Antonio. She also was a member of The Park Community Church, with a strong interest in community building, and she felt called to integrate these parts of her life.
Through her job, she traveled to London to take part in a training with Shannon Hopkins of RootedGood, whose work focuses on the intersection of faith, social enterprise and local communities.
"It blew open my imagination for what this intersection could be of faith and entrepreneurship — and I wouldn't have said it then yet, but also the activation of property," Woolsey said.
She defines "activation" of property as its adding value to the community — for instance, as a hub for connection or economic opportunity or culture through food and art.
Does your organization's property add value to your community?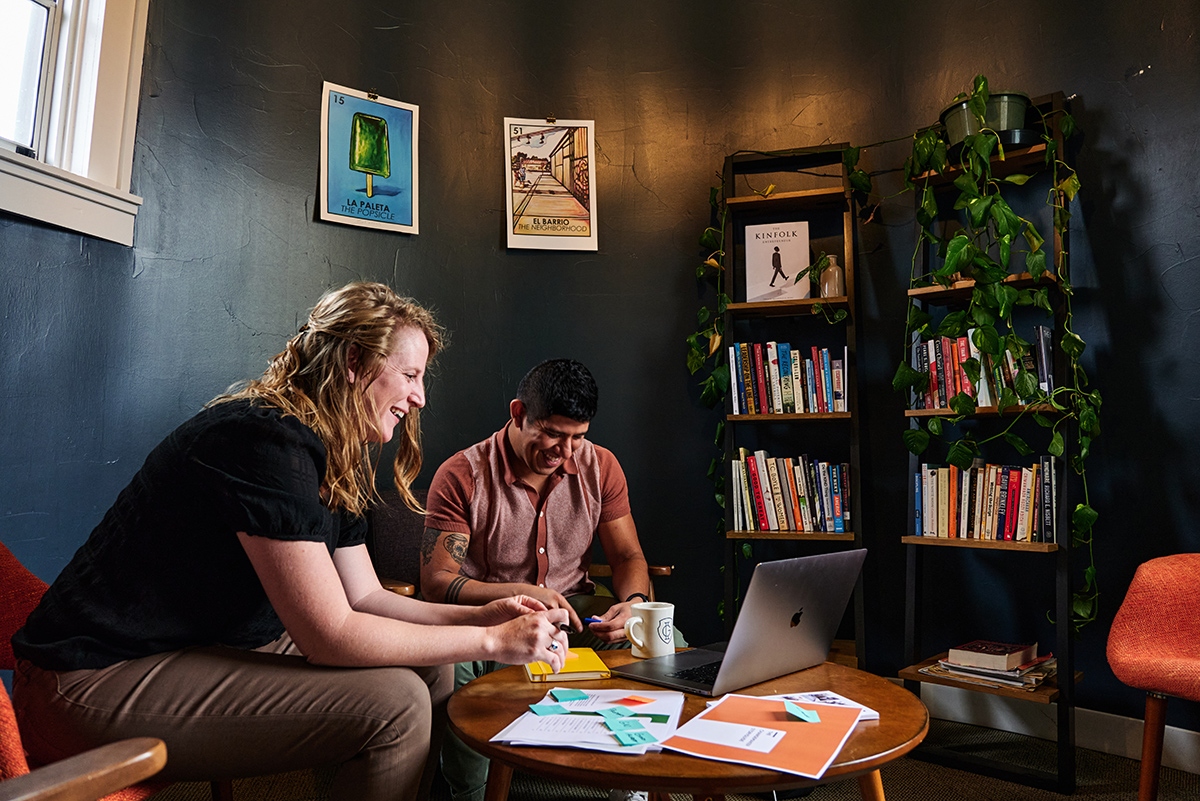 She returned to England a second time to work with Hopkins again, this time to explore launching her own social enterprise.
"I was in a beautiful manor in the English countryside in Devon, working with a community of people asking the same questions," Woolsey said. Then, in what she calls a divine moment, an unexpected message arrived.
It was an email from the leadership of her church. They were offering her a building to bring her vision to life.
Congregants Darrell and Jodi Kirksey had purchased a commercial property in Beacon Hill, where The Park Community Church focused its efforts. The Kirkseys needed the rear warehouse for their business, Allied Hand Dryer. But they didn't need the quirky, historic 6,000-square-foot building at the front of the property and offered The Park a decadelong lease for $1 per year.
The church needed office space, and they also wanted to see the property used for the community.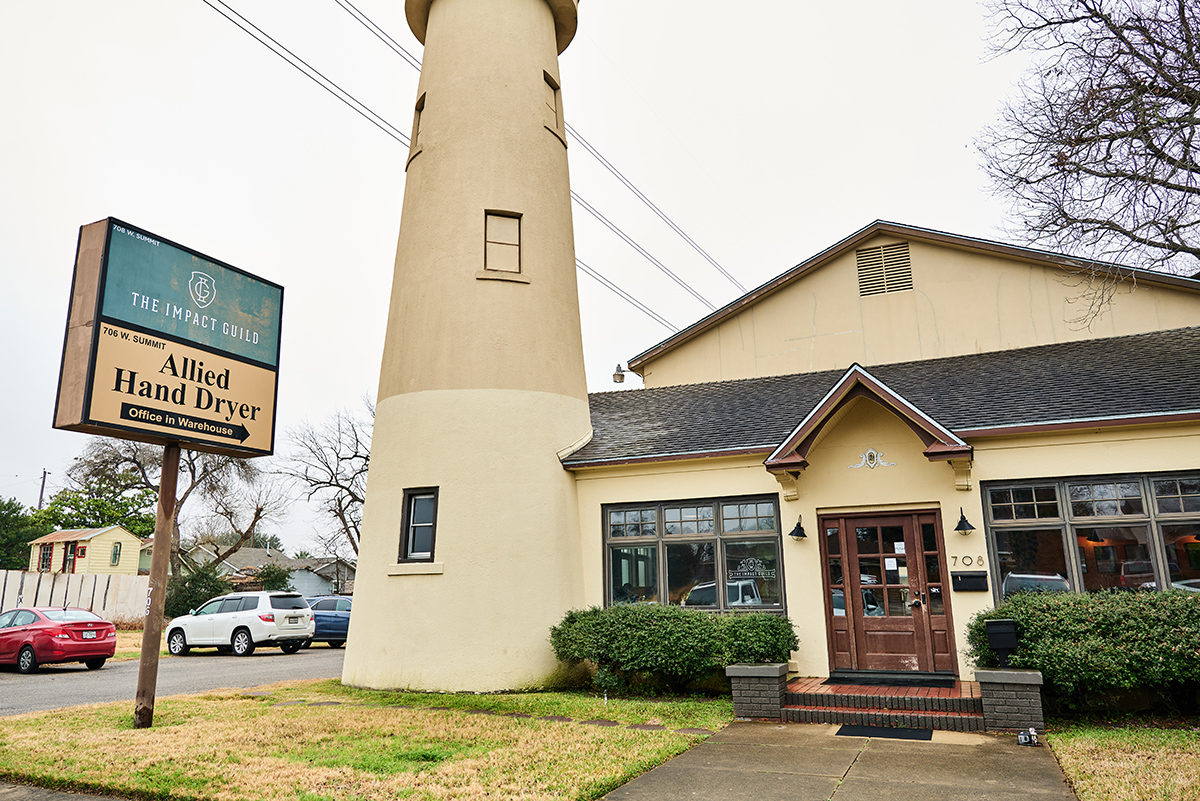 "The Park had been looking to engage the city of San Antonio in new and entrepreneurial ways, and Sarah had recently been developing her expertise in leading new social enterprises," said Chris Nikkel, a co-founder and pastor of The Park and a founding board member of The Impact Guild.
Woolsey jumped at the chance. The commercial building was constructed in 1922 alongside railroad tracks, with a three-story lighthouse — a beacon — built into one corner. There were also other unique historic features, like a metal vault door.
But before the building could become operational, it needed a $400,000 overhaul. The Park footed the bill through existing resources and a capital campaign. Woolsey kept her day job but started working part time on the build-out. The Park saw this as an important upfront investment and paid her a stipend for the work, she said.
The space opened in 2017. The round room at the bottom of the lighthouse was furnished with cozy chairs and shelves of books, and the vault door was kept as the entrance to an intimate meeting room. Restored wood and brick give it a living-room feel.
The space was not branded as a Christian enterprise, and Nikkel describes The Park as a "silent investor," since part of its mission is "to be a light in the city of San Antonio" and provide a space for collaboration on citywide initiatives.
In what ways is your church a "silent investor" in local initiatives?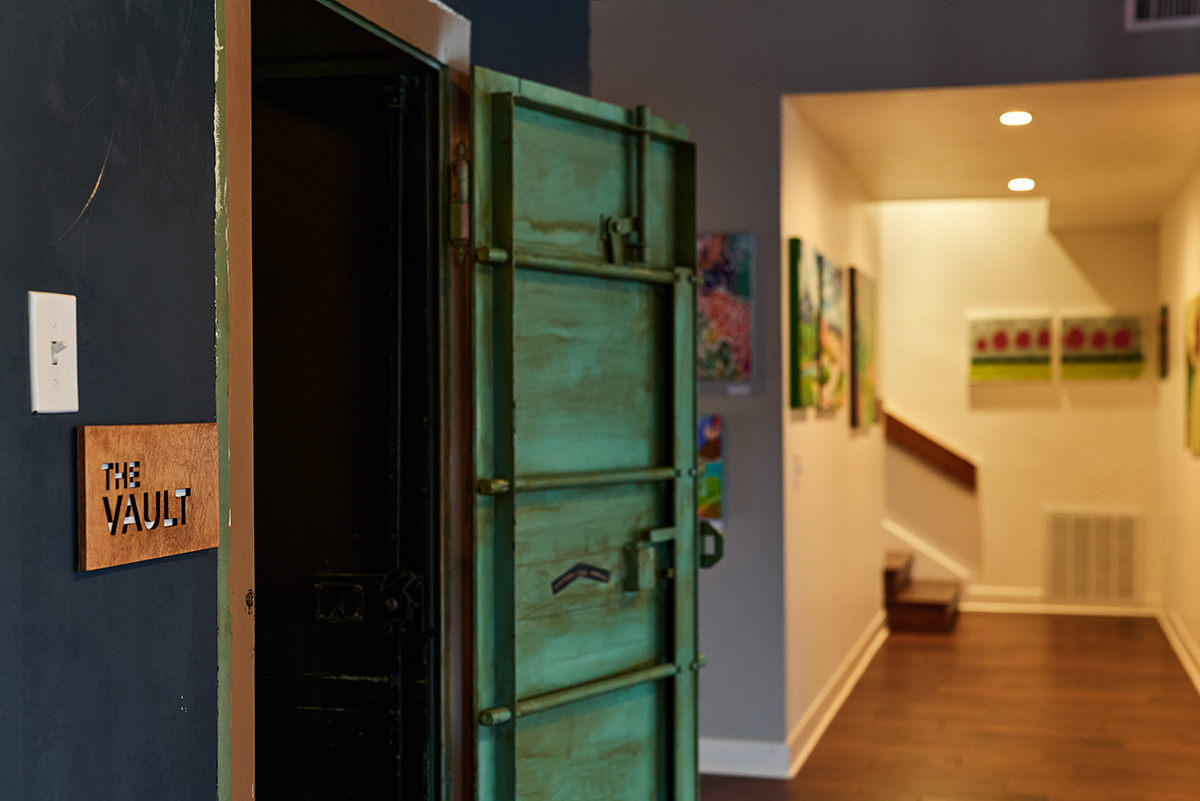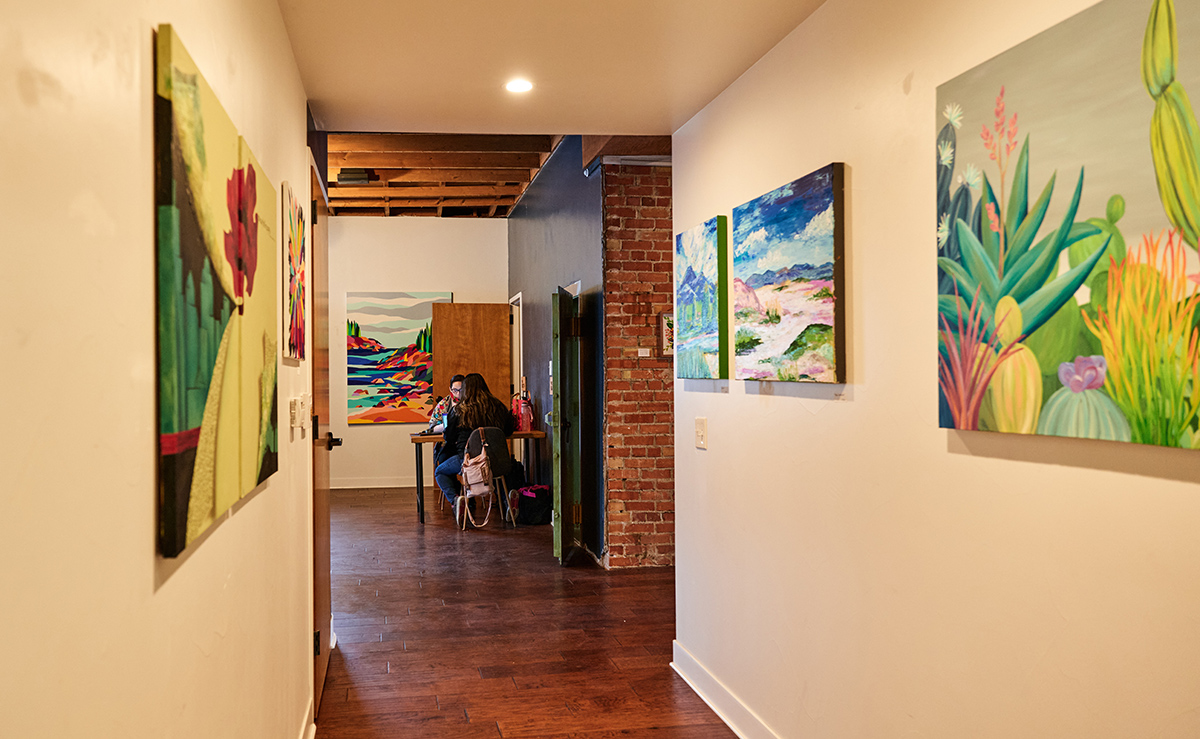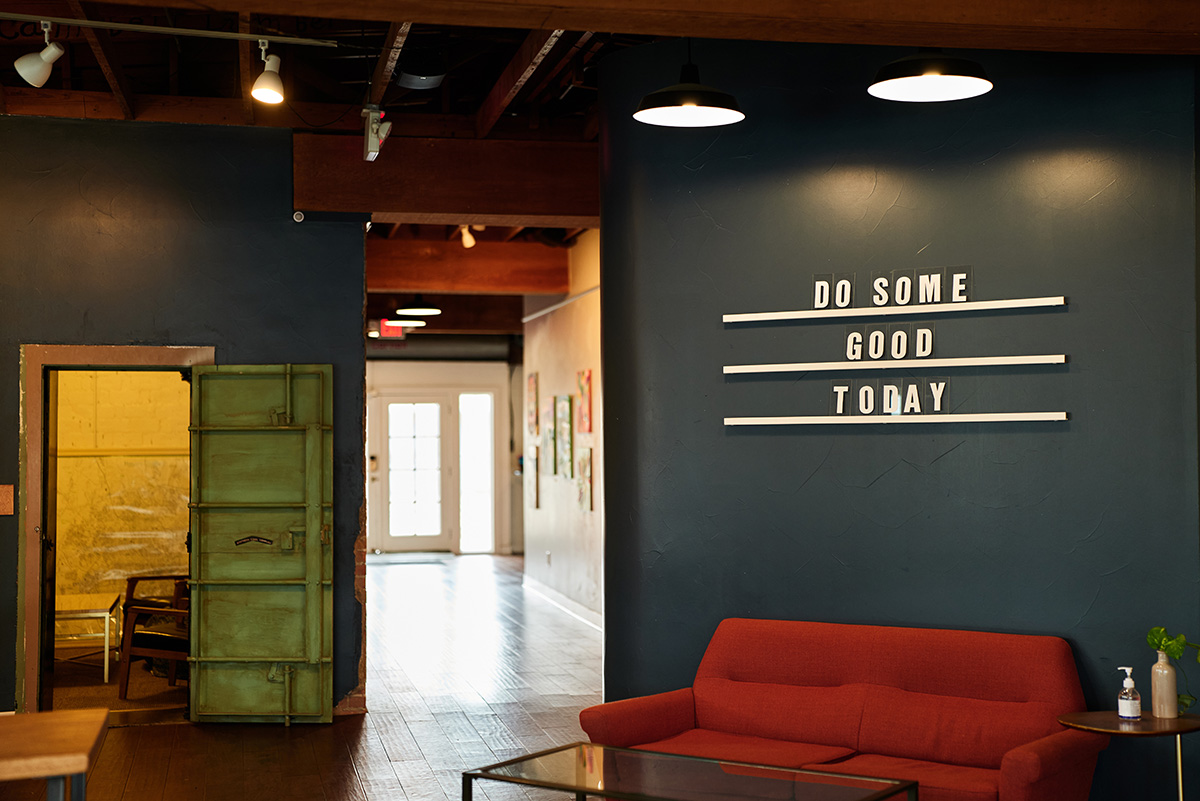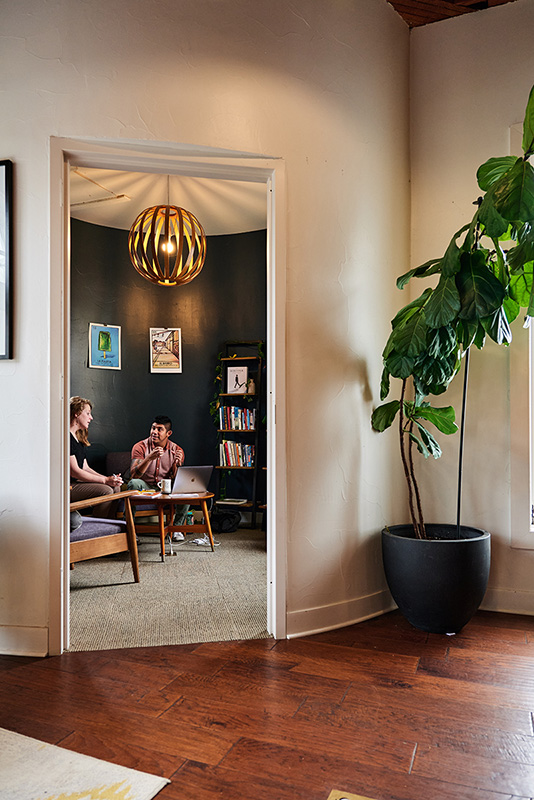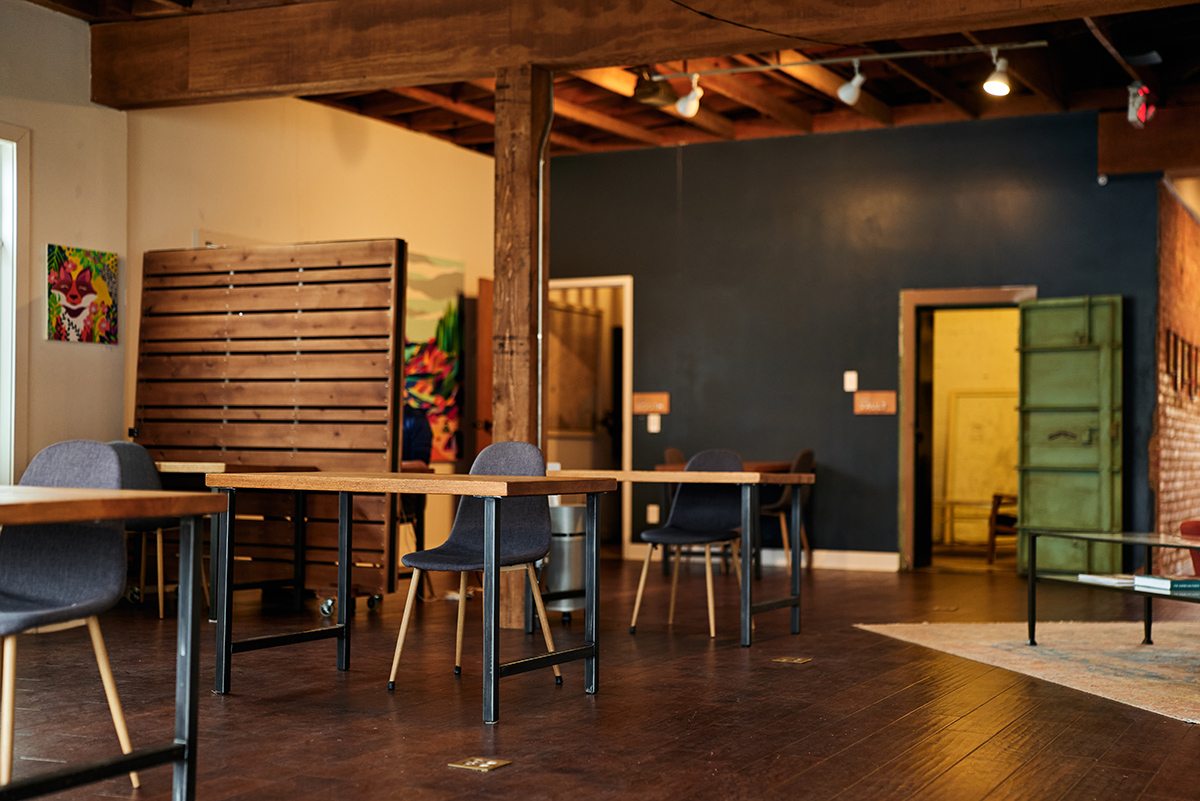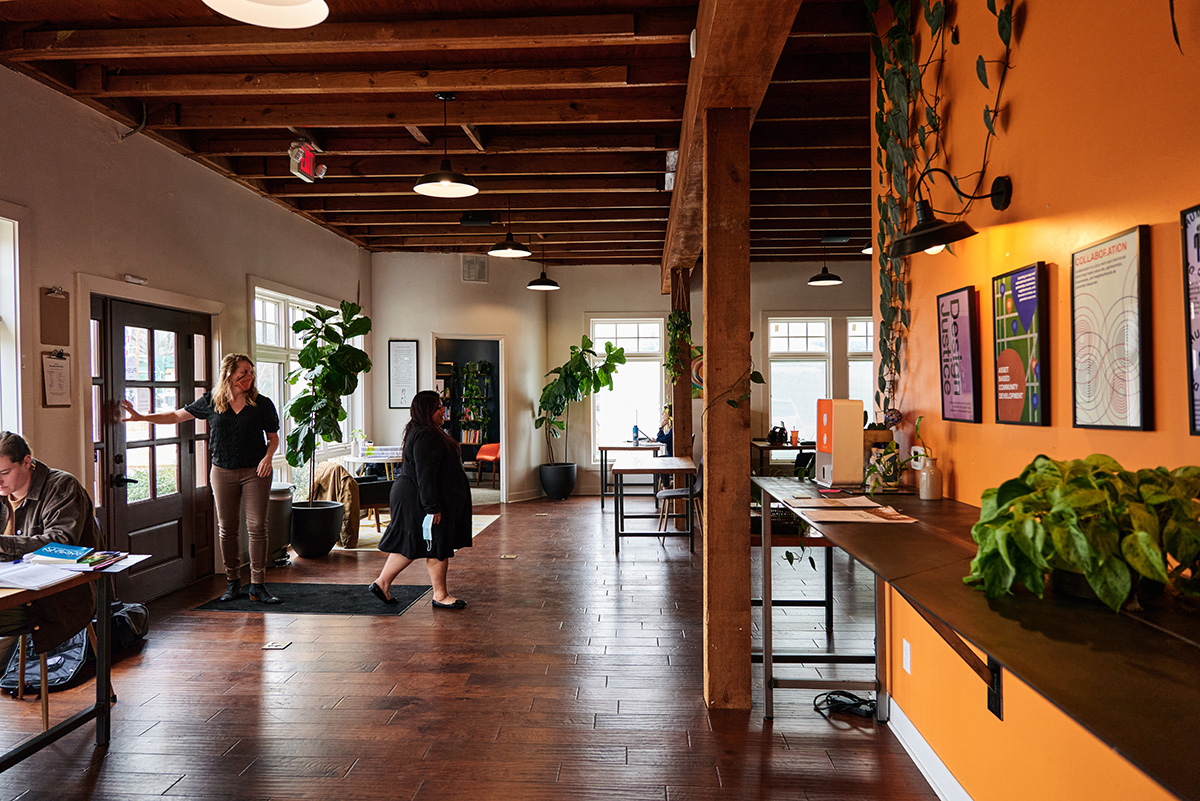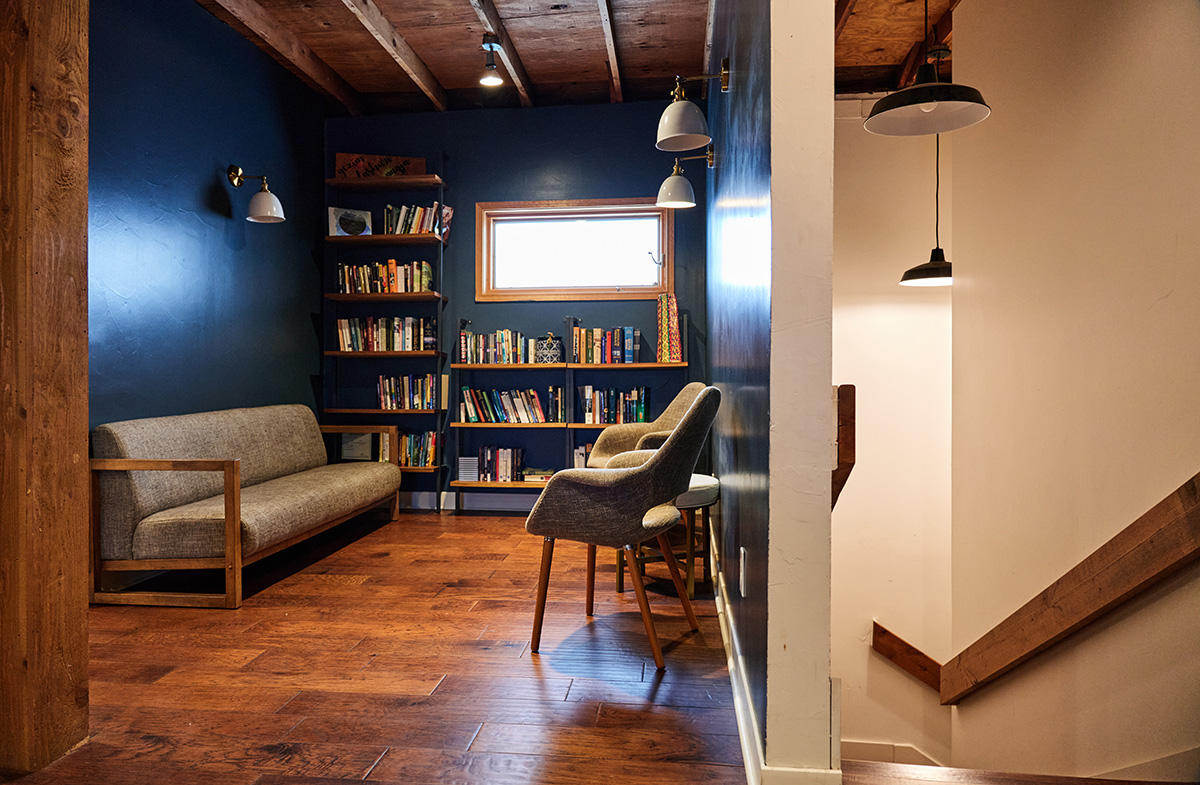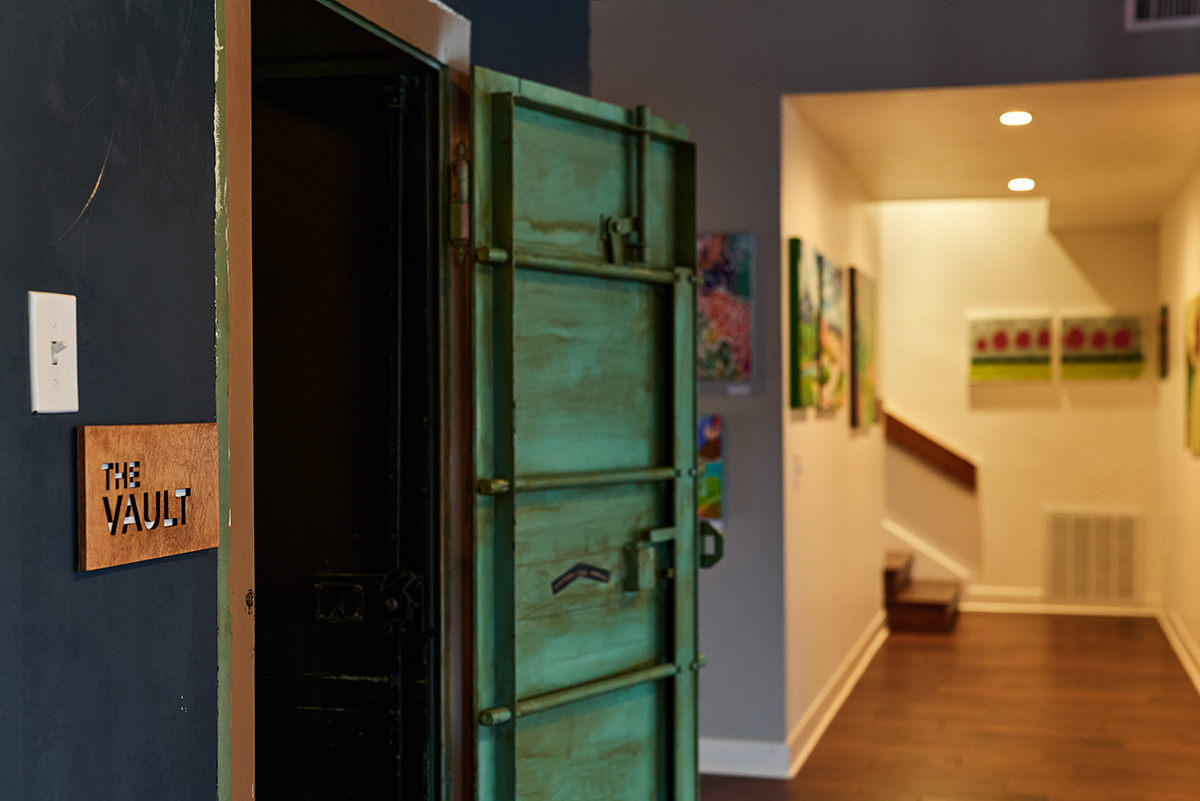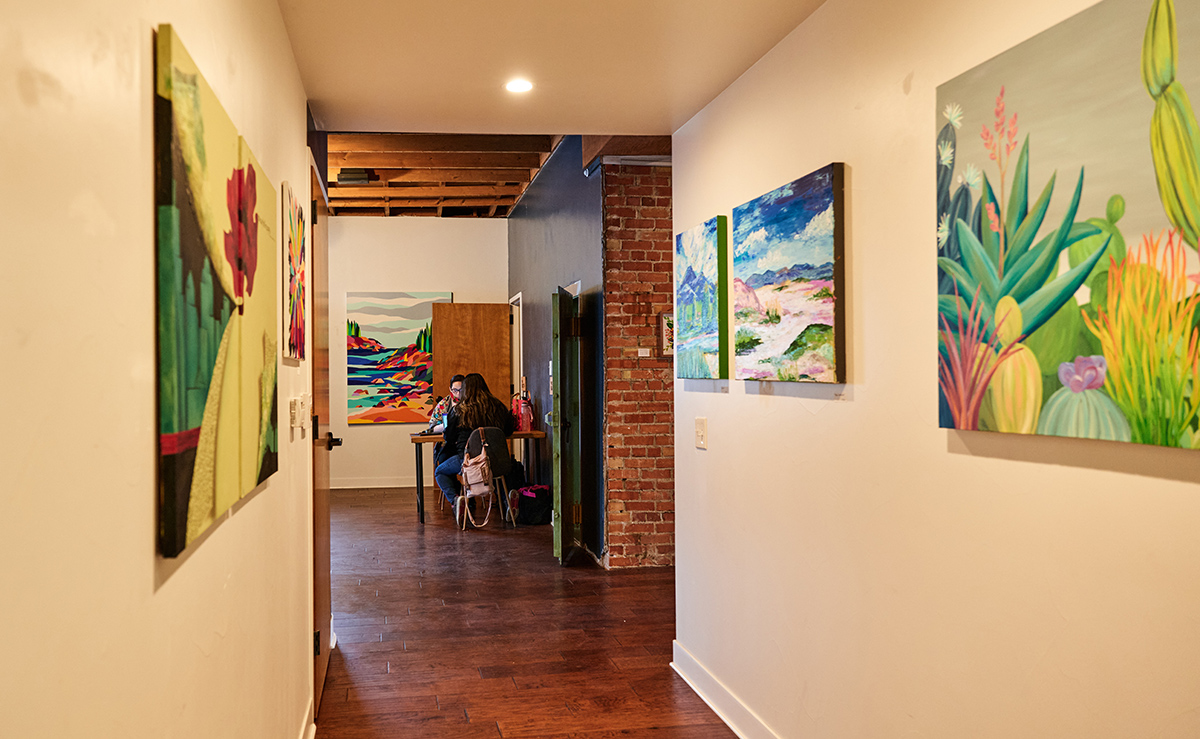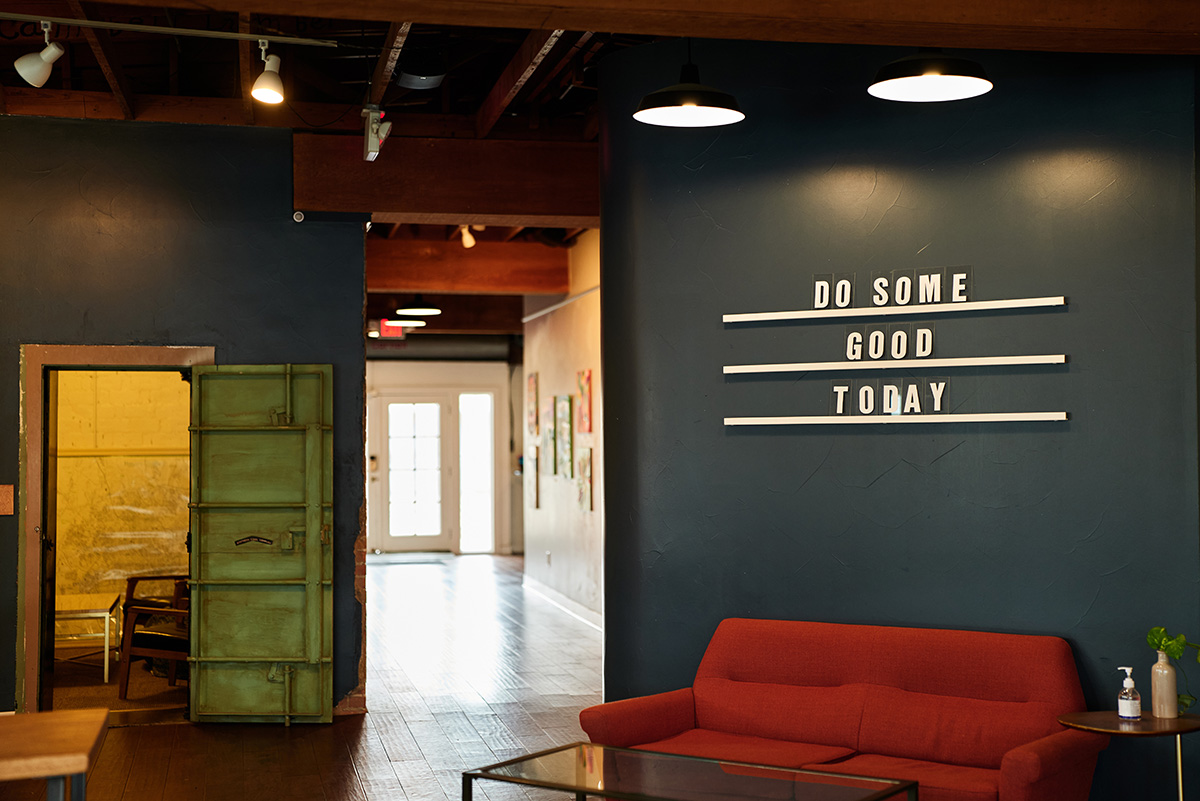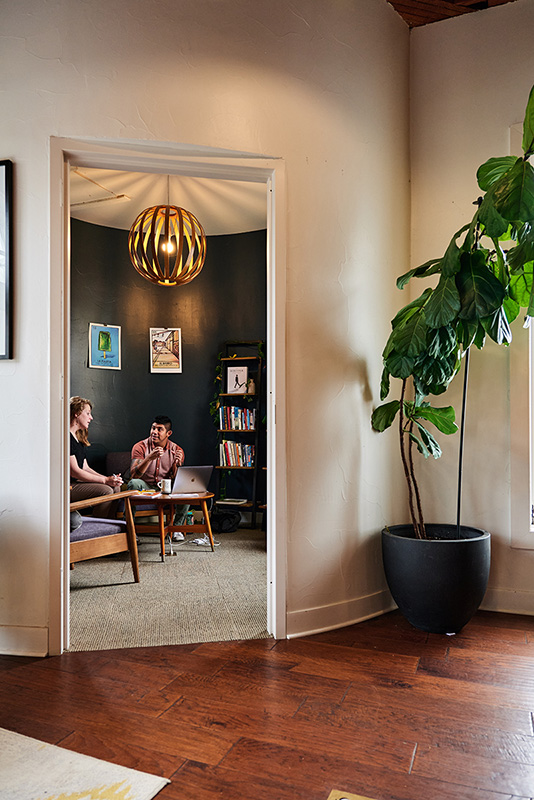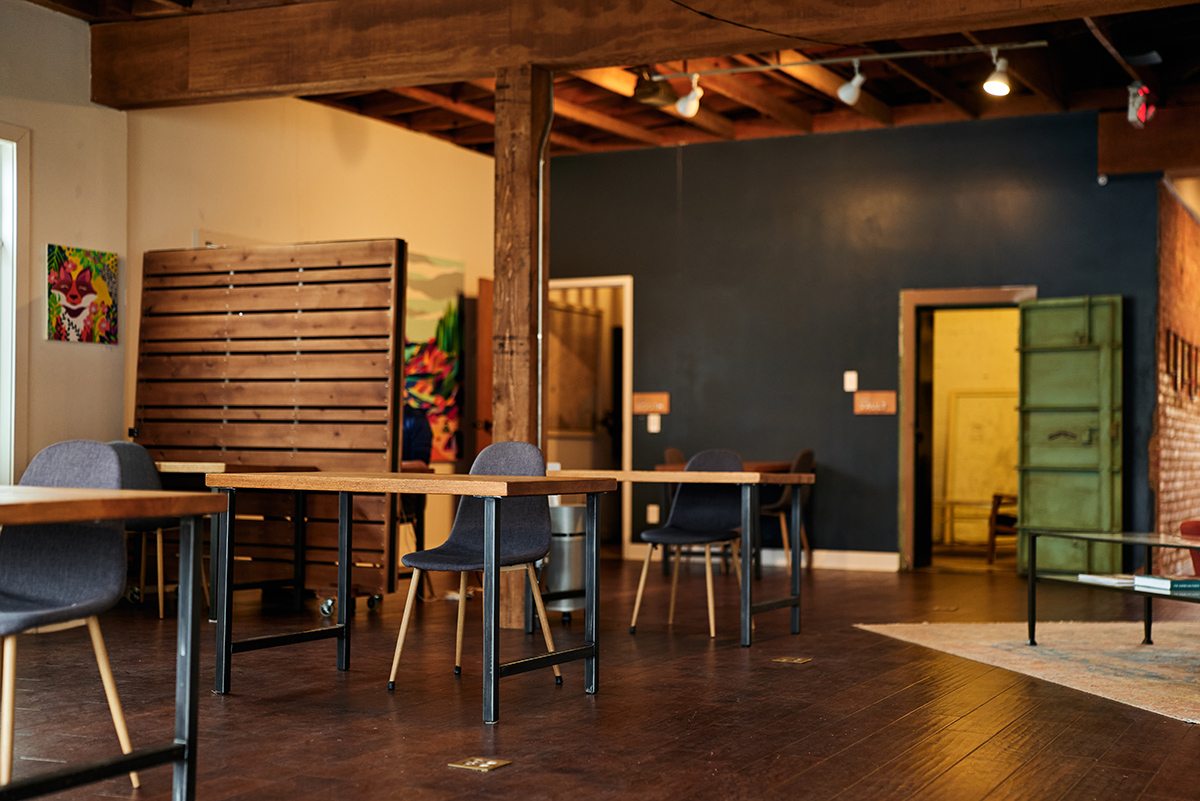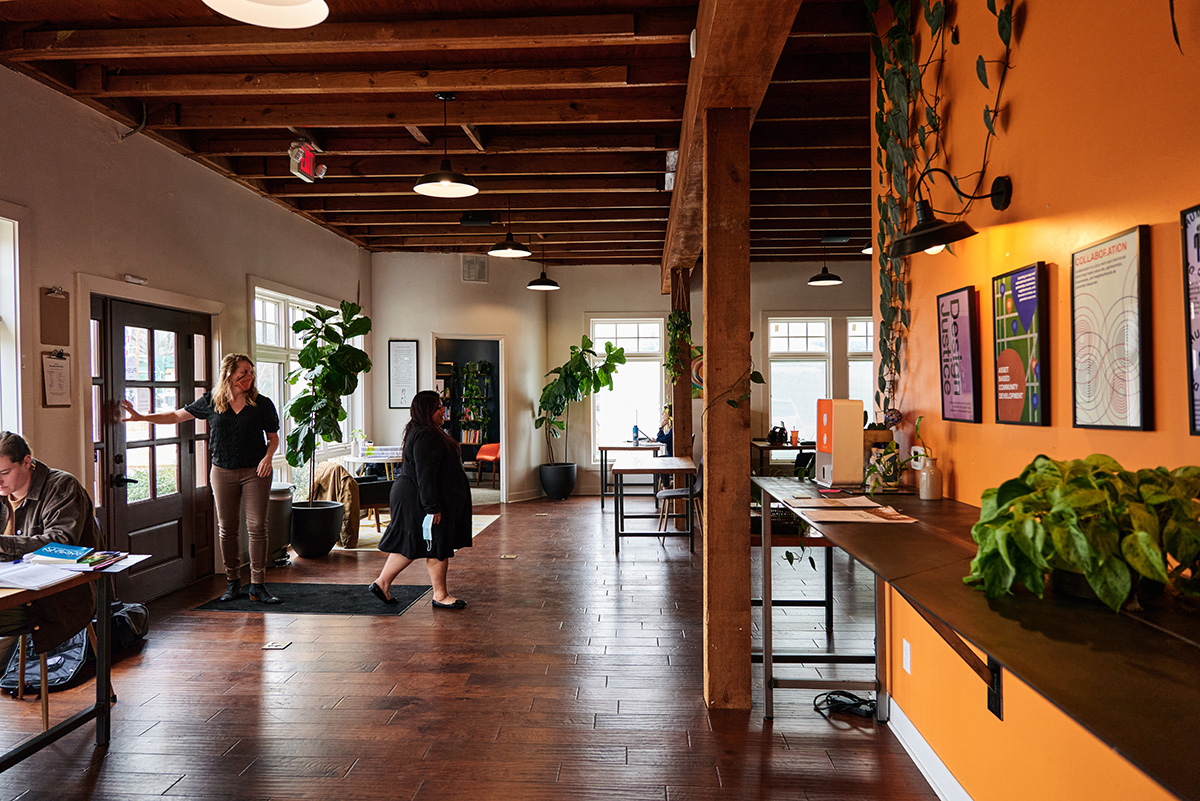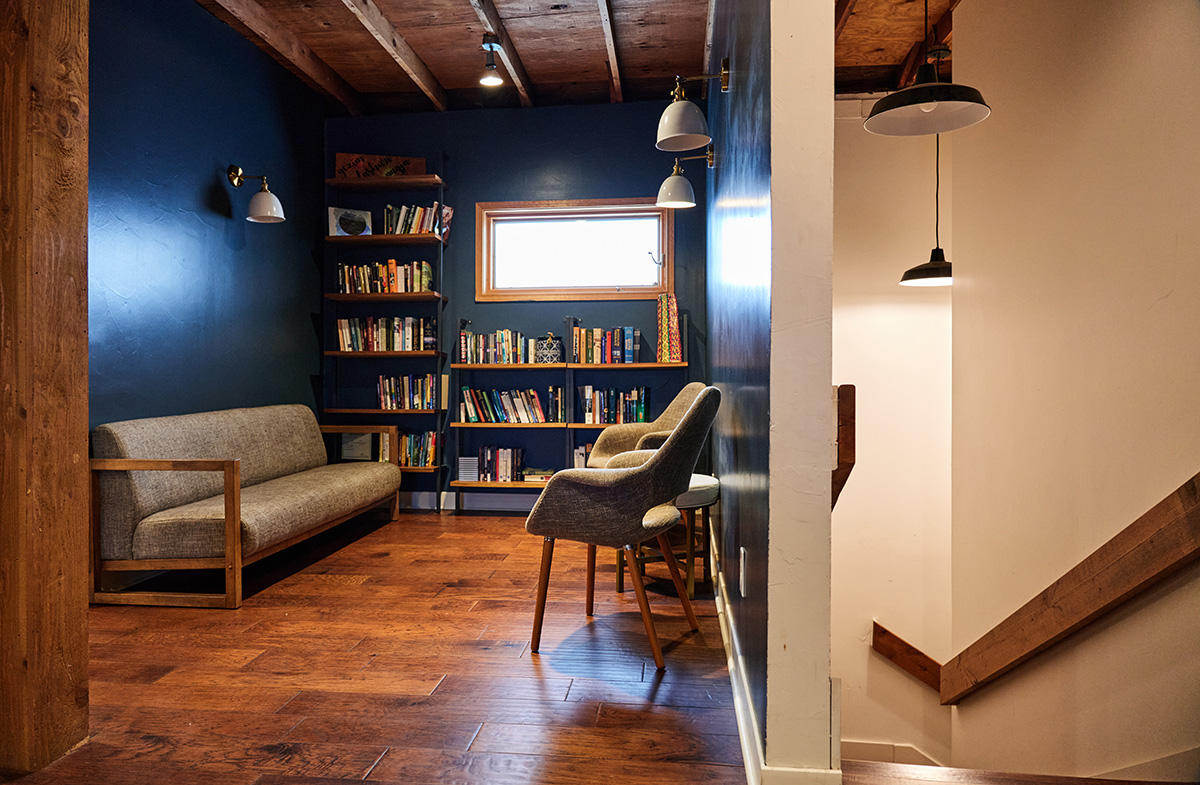 The partnership was structured so that as The Impact Guild's revenue grew through donations, coworking memberships and event bookings, it would help offset operating costs on a sliding scale. This model worked from 2017 to 2020, but revenue took a hit during the pandemic.
"In conversation with The Park, they were willing to go back to us contributing basically nothing for a while, and that's what allowed us to make it through the first two years of the pandemic," Woolsey said.
The parish model
Woolsey also found support in Villarreal, who now serves as The Impact Guild's director of community development. Villarreal had grown up nearby. After six years in Lubbock, he moved back and saw how the Midtown San Antonio area — once predominantly Mexican neighborhoods — was in the throes of gentrification.
"Increasing development has brought house flippers, above-market-rate condos, expensive boutiques, and has displaced people who lived in this area for decades," he said.
He was drawn to The Park, where he began attending and soon started working full time, on track to become a pastor. "This parish model of taking spiritual responsibility for a neighborhood and being invested in a neighborhood was really attractive to me," Villarreal said.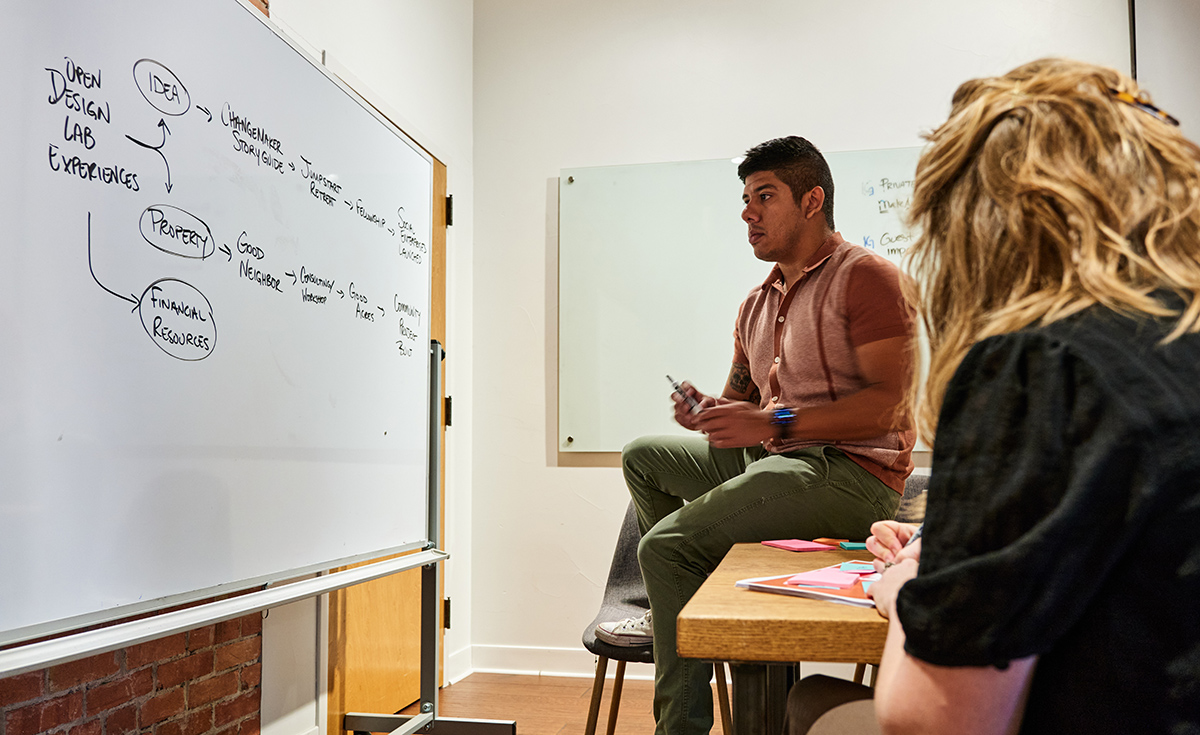 He got to know Woolsey through the partnership. Once The Impact Guild's building opened, he worked upstairs in the church offices, with Woolsey downstairs running the operation. When the pandemic sent church services online and The Park needed fewer pastors, Villarreal joined Woolsey's staff full time.
The two have deep experience in the church world and speak the language, Villarreal said, but not being on a church staff enables them to operate as a more nimble, agile organization.
Hopkins, of RootedGood, said that what Woolsey and Villarreal are doing is "something for us to watch."
"We're going to see with frequency in the next five to 10 years billions of dollars of assets from churches that are closing or being sold," Hopkins said. "There's this window of opportunity for churches to re-imagine why they exist and to serve their communities in different ways."
Shifting from doing to teaching
Over time, Woolsey and Villarreal began to see their mission more broadly. What if the building and co-working space weren't the final goal but a pilot project for a larger effort?
To this end, they created resources and programs to share their knowledge. Good Neighbor, a field guide for community engagement, was co-written with Elizabeth Coffee, a founding member and board member of The Impact Guild.
The Toolkit offers a suite of courses and resources, and the Make Good Fellowship is a three-month accelerator for faith-based social entrepreneurs licensed from RootedGood.
The most recent addition to the offerings is Good Acres, a program to empower churches to transform underutilized property for community good.
The next step was to help a church execute a project.
Transforming a parking lot back into paradise
Meanwhile, Lowry and fellow leaders at Sunset Ridge were still grappling with how to revitalize their congregation and underused real estate assets.
"We were asking questions and wondering, What is God calling us to do with all this?" Lowry said.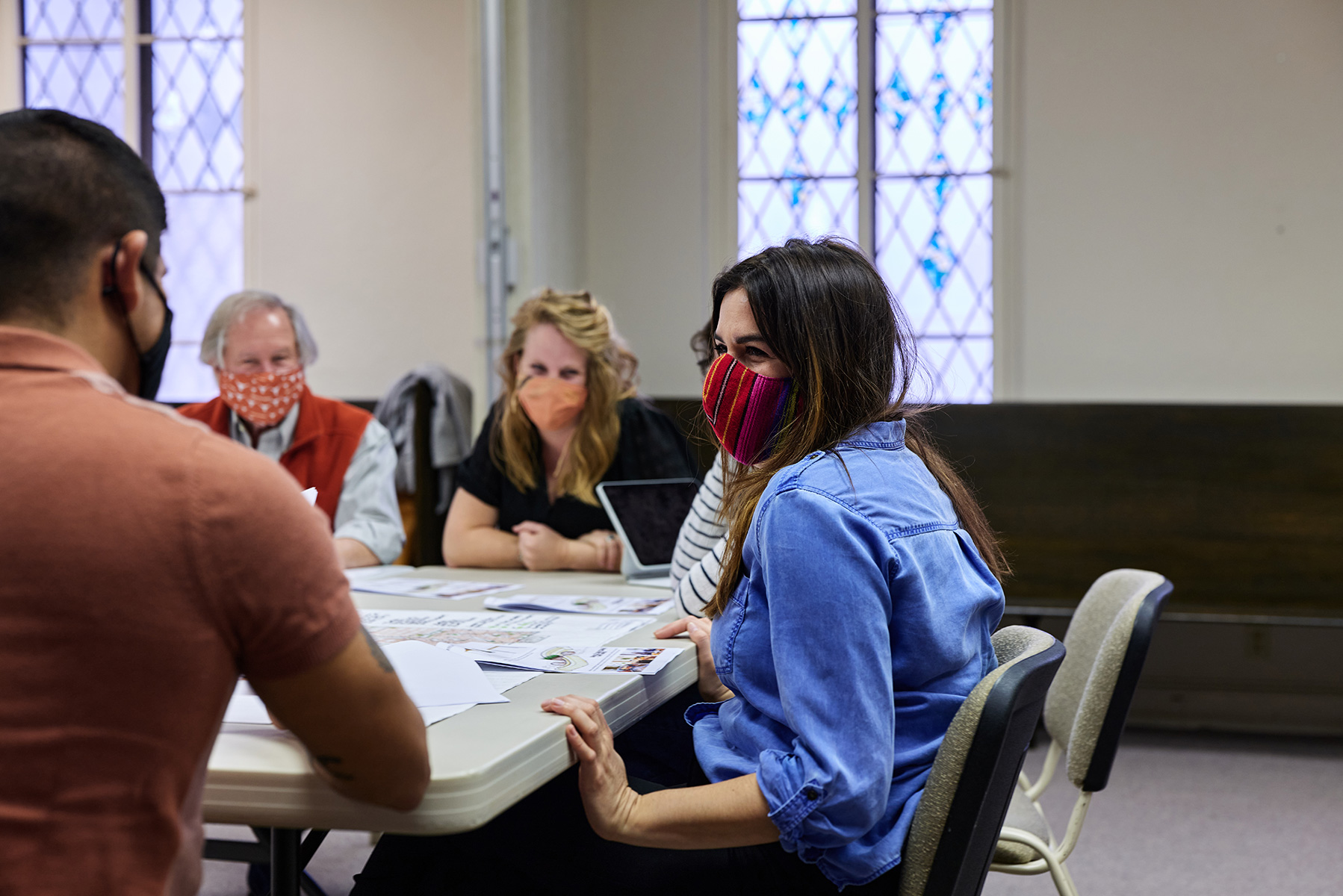 With help from 30 congregants plus consultants from Abilene Christian University, they assembled a vision team to contemplate. Lowry and her team began using Impact Guild resources, and a few months after the vision team concluded, she and two colleagues started the Make Good Fellowship.
Through working with The Impact Guild, Villarreal said, Sunset Ridge began to see the possibilities of having not just an expression of ministry but a vision of wider philanthropy for their neighborhood.
"I've been incredibly encouraged to see them really change their mindset," he said. "From 'How do we continue to survive as a church and grow membership and thus grow the tithe money?' to 'What is the right thing to do for our neighbors, and how do we do this in collaboration with our neighborhood?'"
The fellowship process sparked some exciting ideas. What if they created their own co-working space? What if they transformed their overflow parking lot into green space? The church got weekly requests for weddings in its historic stone chapel. What if they restored it to its former glory and used it to train underresourced women in the wedding industry?
To explore options, Lowry's team did asset mapping, a creative exercise for seeing the resources in a local community and minimizing the likelihood of duplication of or competition with something that already exists.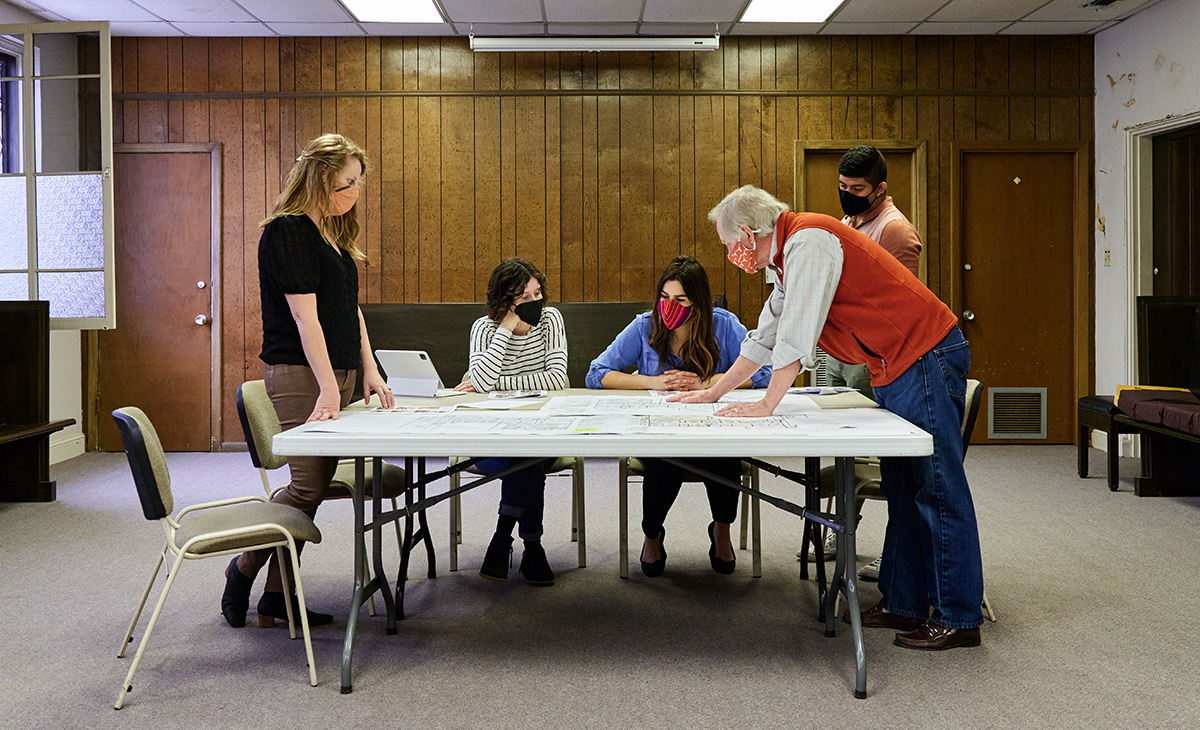 The church is in Terrell Heights, an eclectic area tucked within a very wealthy Zip code and dotted with modest midcentury ranch homes and several apartment buildings and well-supported small businesses.
When they looked at the neighborhood, Sunset Ridge members determined that there was already a playscape and community garden but no green space — something that might benefit the next-door apartment dwellers in particular.
While ideas such as the wedding chapel/training program would align the church's resource model and financial model with their mission — an Impact Guild core teaching — they realized that it would be too time consuming and expensive to pursue right away. The other ambitious projects also would take time and energy to bring to fruition.
Eventually, they focused on creating a co-working space out of their administrative building — which would bring in revenue — and creating a lush park in the overflow lot. But that project still would be complicated, involving workshops to gain diverse input, a capital campaign and other steps.
The Impact Guild could help with that as well. Beyond developing ideas, their consulting work extends to designing and building projects, including liaising with landscape architects, engineers and technical real estate experts to bring them to fruition.
As a small nonprofit without outside funding, The Impact Guild has to charge for its work. However, they're exploring how they could attain capital to launch projects in parts of the city that need this level of investment and might have fewer resources to contribute, Woolsey said.
Lowry now laughs at how many of her plans and timelines went out the window, while other, unexpected developments took her in the right direction.
Early in the pandemic, a church member turned a small patch of grass on the church grounds into a wildflower garden.
"It became a source of beauty and representative of the hope we all shared — that with small, faithful, daily work, we could begin to realize the dream we felt God planted in each of us: a place of flourishing for all people," Lowry said.
Then, last summer, a neighbor who didn't yet know about the park idea contacted Lowry about renting space for a coffee truck in the parking lot. Knowing there were no coffee shops within walking distance, Lowry said yes.
Rose Hip Coffee set up its trailer and small tables in the parking lot this fall, and it's already become a neighborhood gathering place, with daily regulars. Lowry said she's met more neighbors there than in the previous eight years at the church.
"In Christian leadership, we have these big pictures in our head, and we want to be the person who does this great big thing," she said. "As we went through the fellowship, we realized that God was calling us to something very small."
This "small" thing, she said, turned out to be doing relationship work in the neighborhood to create a community space and transform a large, unnecessary piece of asphalt back into nature.
What big issues can your church address by starting small?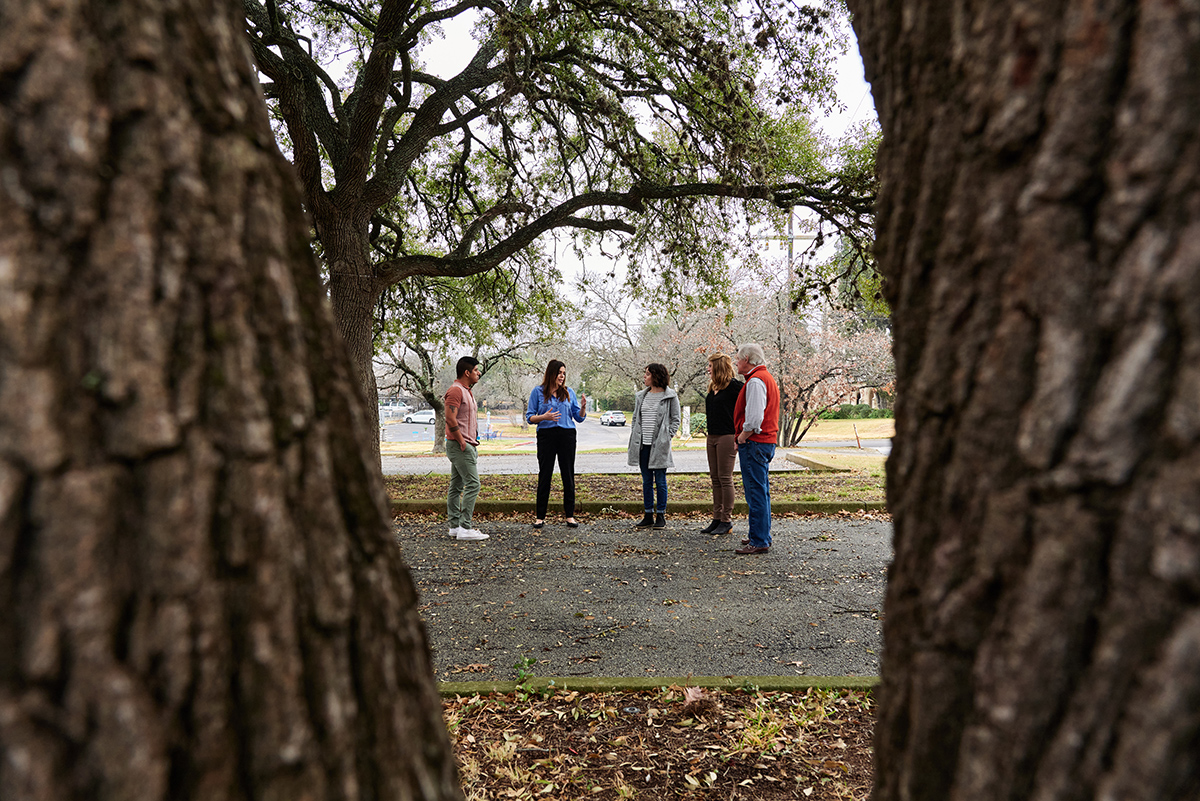 The environmental benefit of the park was compelling to Kate Jaceldo, who's lived down the road from Sunset Ridge for 20 years. While she was always aware of the church's presence, she had never been inside.
Jaceldo, who co-owns Compost Queens, a compost recycling program, knew Woolsey as a member of The Impact Guild co-working space. And even though she's not a congregant, Jaceldo helped organize a letter-writing campaign to the city advocating for a code change. She then joined the committee that put together the request for proposals for the park's landscape architects.
"By creating a gathering space and developing programming that will include the whole community, … I think more relationships will be able to develop and flourish," Jaceldo said.
Villarreal said involving neighbors such as Jaceldo in the process is crucial.
"If the only people invited to this process is the church, then you're just doing church by a different name," he said. "If you want it to be long-term sustainable, there needs to be community ownership and rethinking what it means to have investors in your project."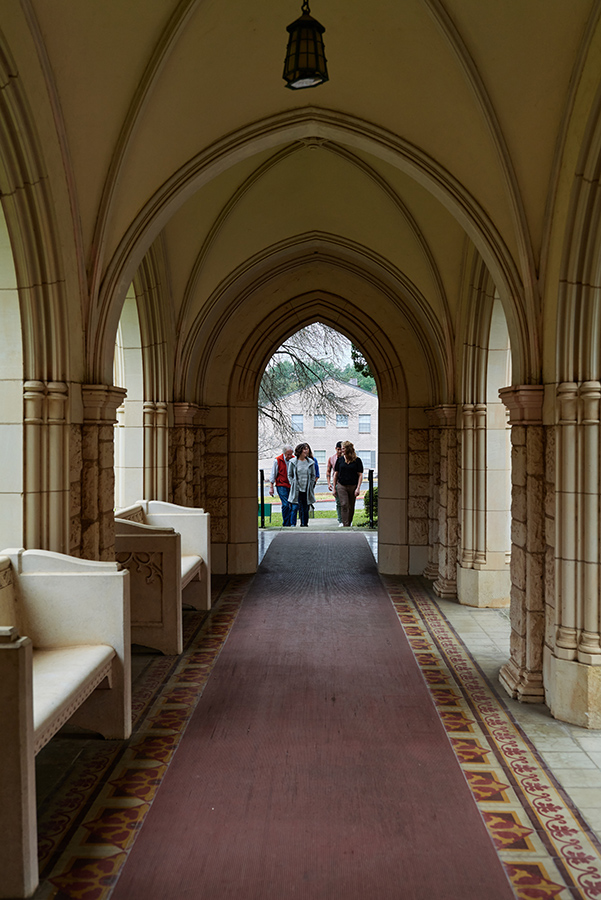 Starting small to make a big impact
A crucial principle for Christian leaders, Woolsey said, is prototyping and starting small. This gets something in motion sooner and creates an opportunity to make incremental changes with feedback. She often sees leaders set out a 10-year vision, she said, then get stalemated when they think nothing will happen until they reach that endpoint.
That's because the process of developing and building a project is itself an opportunity for relationship building. In other words, the work starts when the project starts — not when it's finished and wrapped with a shiny bow.
"Sarah helped us reframe and remember that all of these things are really about bringing assets and building relationships for the neighborhood, and we can start that today by getting to know the neighbors," Lowry said.
In November, Lowry became the pastoral leader of the new missional community planted within Sunset Ridge called Charis Collective. She commends her church elders' bravery for allowing her to forge ahead in this new role, where she leads a community of around 30 worshippers and focuses on community-based projects.
Lowry says she can't imagine juggling these projects while maintaining her prior ministry job, and she recommends that other faith leaders be aware of the time commitment they can take. Like Woolsey, she appreciates that her church recognizes the effort it takes to do something new. As of now, the park and co-working projects are moving forward and will open in 2023, and the chapel project will get underway at a later date.
And as another small gesture to its neighbors, Sunset Ridge recently fixed the lighting on the historic chapel's tall window.
"We now light the window every single night as another beacon of beauty and hope in the neighborhood," Lowry said.
"Each day we get to know one more face and one more name and are grateful to get to meet God where God is already at work in our neighborhood."
Who else in your community shares your concerns and dreams for a new way forward?
Questions to consider
Where is God already at work in your neighborhood?
Does your organization's property add value to your community?
In what ways is your church a "silent investor" in local initiatives?
What big issues can your church address by starting small?
Who else in your community shares your concerns and dreams for a new way forward?