In 2019, more than 4,000 churches closed in the U.S.
I was given one of the buildings.
Typically when churches shutter, the property ends up being sold to other congregations or ministries. But I'm not a pastor or a director of a homeless coalition or a community activist. I'm a religion journalist.
Ten years ago, I started an online publication covering faith news and commentary in the Spokane, Washington, area. It's called SpokaneFāVS, which stands for Spokane Faith & Values, but we nicknamed it FāVS (as in favorite) because we want it to be everyone's FāV religion news source. That website is why I was given a church. And that property is how my scrappy digital startup came to be a million-dollar news organization.
When I started the site in 2012, I wanted it to be different from Patheos or Beliefnet, which were websites popular with theology geeks like myself at the time. These sites were missing something: community.
Maybe I was being selfish. I wanted to be around the communities I was writing about so I could understand them better, and I hoped others wanted that too. I grew up in a strict religious home that was intolerant of all organized religions, even Christian churches. We isolated by worshipping in our living room and studying teachings about how dangerous all other beliefs were.
Thankfully, I got out of that living room and made my way to a newsroom. Meeting Christians and Muslims and Jews and Buddhists saved me from intolerance, and I had a hunch that journalism could help break down walls for others too.
After I launched the site, it took only a few months to find columnists of all different faith backgrounds and to create a multifaith readership. But I wanted them to talk to each other. The comment section wasn't good enough. Neither was social media.
I racked my brain. How could an online publication create community? I remember pacing my home office and sticking idea-filled pink and yellow Post-it notes to my wall.
I needed to find a way to bring everyone together offline. Book club? Knitting group? Run club? No, I decided. Coffee is what we needed. (It's Washington state, after all.)
Then the Newtown shootings happened. A 20-year-old walked into a Connecticut elementary school and killed 20 kids and six staff members.
I reported on how Spokane-area congregations were responding. FāVS columnists wrote about how it affected their faith. Readers responded in the comment section expressing their sadness and confusion, but mostly their outrage.
This was the time to bring people together.
I quickly organized a community forum at a local coffee shop, dubbing the event "Coffee Talk" and titling the discussion "Angry at God." Five columnists who had written about the shootings agreed to be panelists: a Christian Scientist, a Lutheran, an Episcopalian, a Community of Christ pastor and a Presbyterian.
They sat awkwardly behind two tables I had pushed together in front of a SpokaneFāVS banner I'd taped to the wall. With 10 minutes until the event was set to begin, rows of empty chairs faced them. I thought my idea was a bust.
Anxious, I wandered to the coffee counter in the next room. The line was out the door, and there was a crowd of people waiting for their lattes and mochas and muffins. Christians, Muslims, atheists, seekers and even a few Jews (it was a Saturday morning) began to take their seats.
What followed was a discussion about gun culture, senseless violence, grief, fear, faith. The audience chimed in, sharing personal stories, crying together, comforting one another.
I knew I had to keep these conversations going.
We've been doing Coffee Talks since that first one in January 2013. We've had conversations about faith and technology, freedom of speech, religious misconceptions, ethical protest, and next we'll have one on the evil in this world.
Through these monthly forums, I've seen ecumenical and interfaith friendships formed. I remember going to the 40th birthday party of one of my Jewish columnists and realizing that almost everyone seated around the table was connected to FāVS. I smiled, knowing that my little website had had a hand in bringing this group together.
Six years after that first Coffee Talk, we had outgrown every coffee shop in Spokane. Finding a venue became a challenge, forcing us to hold the events every other month rather than every month. Still, no matter when or where we held our forums, between 30 and 50 people continued to show up.
We had 40 columnists by now, and although I was working full time as a journalism professor, I was still doing all the reporting, editing and event organizing on my own. I was stretched thin and worried that it was reflected in the content on the website.
Members of Spokane's Origin Church had watched FāVS grow over the years. The pastor was a columnist for FāVS, and I had done pulpit supply at the church on a few occasions. One day, I got a text from the pastor: "How would FāVS like a building?"
In later conversation, he explained that the Disciples of Christ congregation had decided to close, ending its 133-year history in Spokane. Four years prior, the church had bought a 3-acre wooded property and erected a modest-sized building with a community garden, hoping the new location would attract more members. But the church didn't grow, and members agreed that they wanted to be good stewards of what they had left.
They believed in our website's mission and wanted us to have a permanent home for our Coffee Talks. The church offered their property, as well as funding for three years.
I was floored. Sometimes, when web traffic was low or donations didn't come in, I had felt like giving up. I wondered whether FāVS was making a difference or whether I was holding on too tightly to a dream. But Origin's offer was a reminder that the safe space we were creating for conversations around faith and ethics mattered. Their belief in me, in SpokaneFāVS, was the fuel I needed to keep going.
I said yes; the FāVS board came up with the idea to use the building as a multifaith community space, which we dubbed the FāVS Center. We held an open house in June 2019, less than a year before the COVID-19 pandemic.
Between 2019 and 2022, we were able to provide a worship space for the Hindu community, a Ukrainian Christian congregation and a Bosnian Muslim group, as well as space for other groups who needed it for special events, such as holidays and birthdays.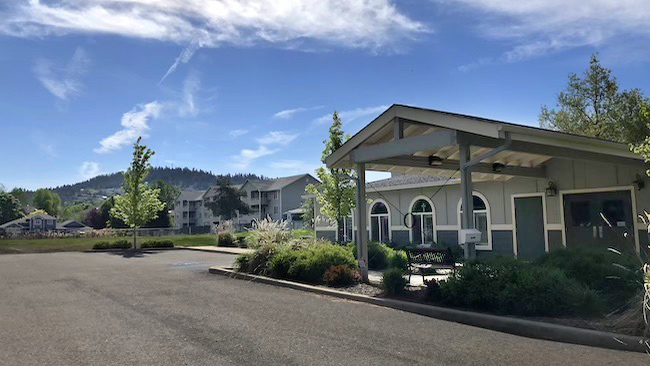 As you can imagine, it was a terrible time to open a community center. When the pandemic hit, we had to shut our doors and move events online. We kept the manager on staff and continued to pay for utilities and grounds maintenance. Our funds were quickly dwindling.
We realized that the pandemic had changed how people gather. The future was hybrid now. The interfaith center wasn't going to succeed and was only taking away from our core mission: meaningful religion reporting. By trying to keep the space open, we weren't being good stewards of the gift we had been given.
After much deliberation and some tears, we decided to sell the FāVS Center. We sought out owners who would value the space as much as we did, and as much as the people of Origin Church had. In the end, we sold the building to a dentist.
Dr. C Dental Partners had helped provide oral health care in Guatemala and hygiene bags to a region in Honduras. They aimed to change the oral health of the Spokane community, and to other communities throughout the nation and the world. The FāVS Center would become their headquarters.
The purchase price was about $900,000, and with the money we still had from Origin and from our recurring donors, FāVS became a million-dollar nonprofit religion news publication. The sale was in July 2022.
What does a niche site like FāVS do with that much money? To find out, I'm back to sticking Post-it notes to the wall, only this time with a consultant, a small staff and a dedicated board contributing ideas. I doubt that our brainstorming will land us a building this time, but my bet is that we'll find new, creative and engaging ways to bring our readers together once again.
In August, Ronan Rillovick boarded a Red Line subway toward Boston's sprawling Dorchester neighborhood, a working-class bastion of triple-deckers, gentrification-spawned condos and a smattering of majestic Victorians.
The 30-year-old university sophomore and part-time shoe salesman had been on what he described as a long journey in life. He grew up in Wakefield, Massachusetts, a suburb in the state's North Shore, in a "typical nuclear family." But after years of what he called being untethered, and with his family no longer around, he was headed for the closest arrangement to his experience growing up.
"I wanted community with people. I don't have a lot of family here anymore, so I just wanted to have a similar sort of community that's sort of like a family," he said.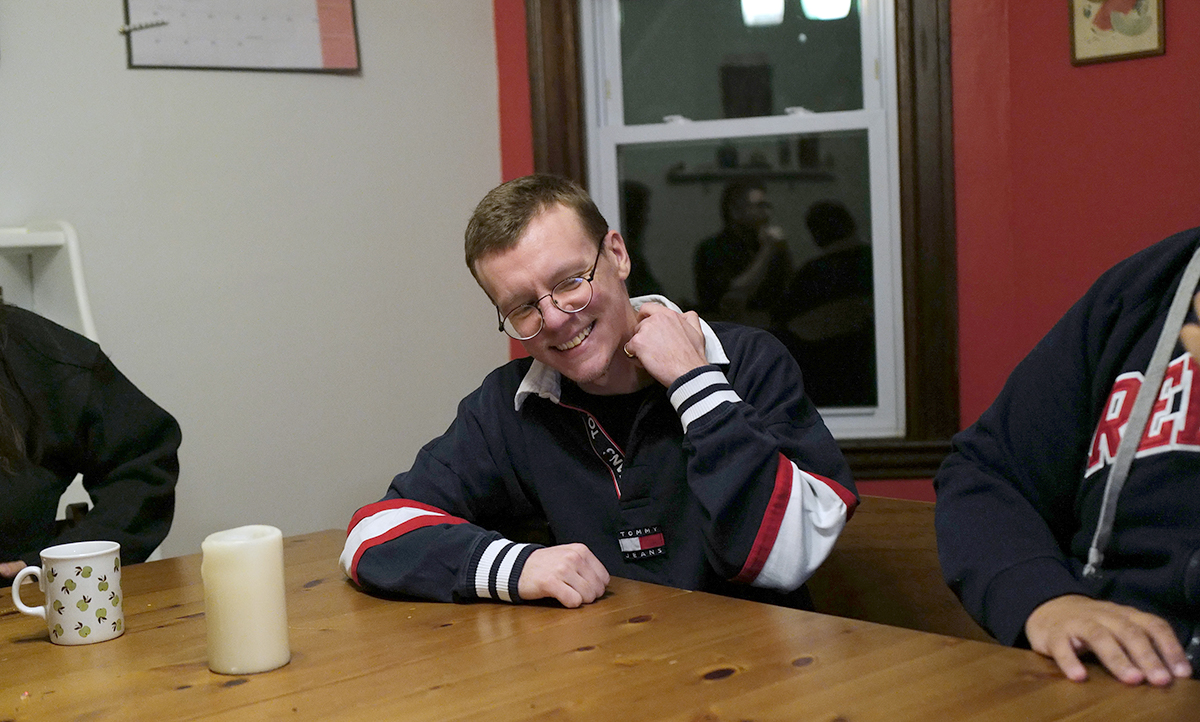 This would be his first day at St. Mary's House, a butter-colored single-family home a block from the coincidentally named Ronan Park, and one of four intentional communities started by the Charles River Episcopal Co-Housing Endeavor.
The nonprofit, CRECHE for short, describes itself as creating "a community-focused alternative to the for-profit housing market that is rooted in relationship and mutuality: co-housing communities in which people live like families, sharing meals, common spaces, and the rhythms of home care."
Residents in CRECHE households are chosen using a multitude of criteria, including spiritual cohesion rather than haphazard cohabitation. Participants in these intentional communities, as an alternative to protracted battles over responsibility for dirty dishes and control of the TV remote, commit to negotiating through conflict.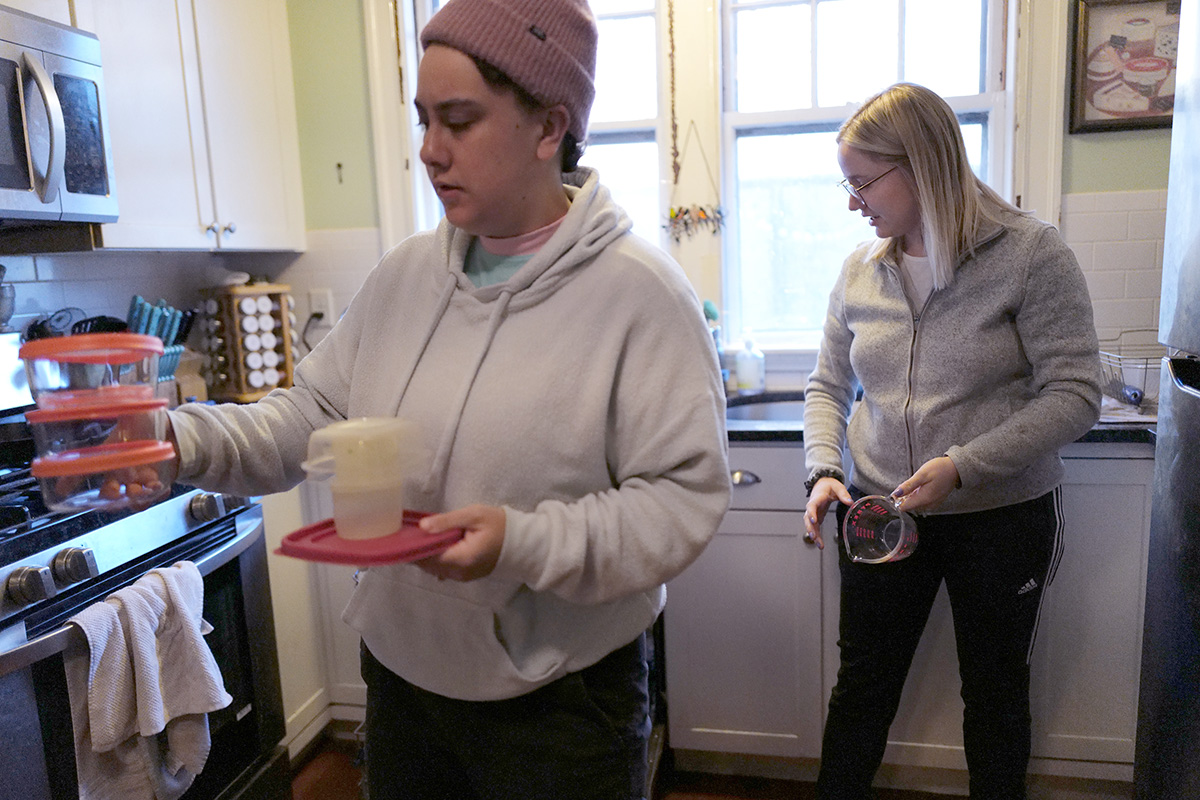 Intentional communities are rooted in ancient teachings that describe a voluntary residential community designed from the outset to have a high degree of social cohesion and teamwork.
"It's a group of people choosing not only to live together but to intertwine their lives relationally and to invest in each other emotionally," said the Rev. Isaac Everett, CRECHE's executive director.
Standing on the porch of another site in the network, Emmanuel House in the Allston neighborhood, he explained that the people here "grow together into the best versions of themselves by committing themselves to the discipline of co-living."
Everett, a 41-year-old musician by training, has lived in an intentional community with his girlfriend in the Jamaica Plain neighborhood since moving to Boston from New York more than 12 years ago. He found the concept to be popular, with high demand from friends and congregants who wanted in, but there was nowhere to go. So he met with a group of "collaborators" in the Episcopal Diocese of Massachusetts to raise money and replicate where he lived. CRECHE was the result.
What intentional practices could you bring into your community interactions?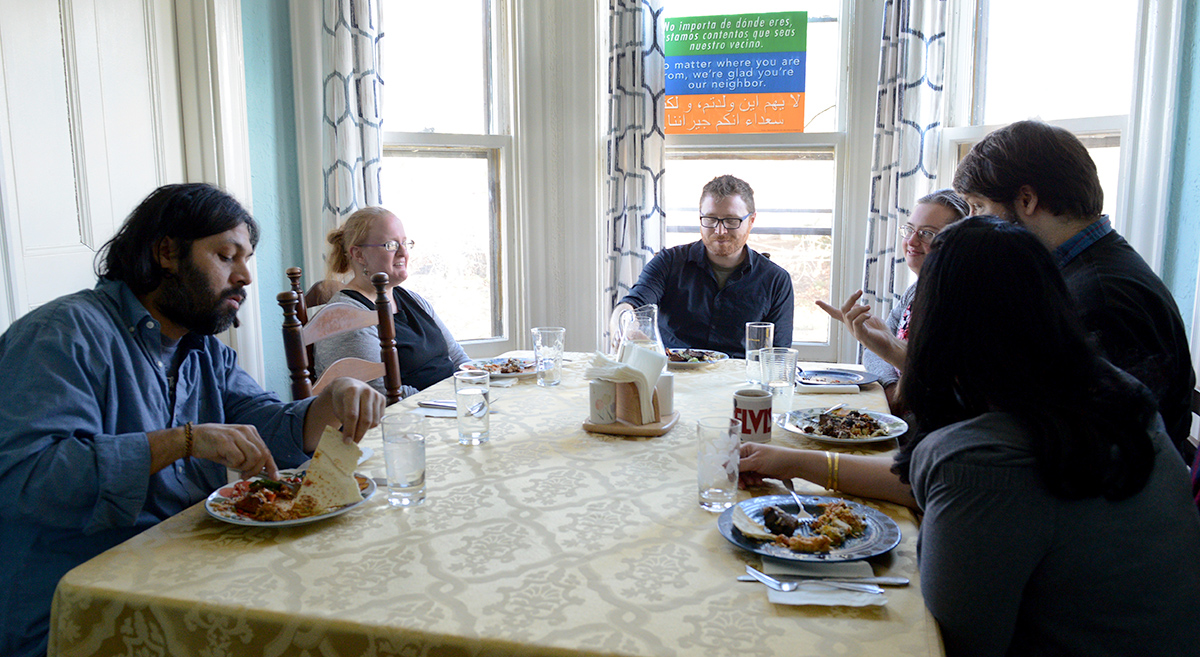 More than roommates
Since its incorporation in 2018, CRECHE has leased or purchased residential properties in the Greater Boston area, including the Allston and Dorchester neighborhoods, as well as the suburban city of Newton. Residents range from a cluster of four per house to six in the largest dwelling.
A fourth community was launched in November in cooperation with an African Methodist Episcopal Church. It is the first CRECHE partnership outside the Episcopal Church and the second with a Black-led congregation in Dorchester, Boston's largest neighborhood.
Finding a place to live in the Boston area is more challenging than almost anywhere in the United States. In recent rankings, Boston tied with San Francisco as the second-most expensive U.S. rental market in the country, according to Zumper, a rental listing company. The average monthly cost for a one-bedroom is $3,000.
The average CRECHE household rent is $600 per person. The nonprofit calculates total rent for each house at $580 per person when a house is full and $640 per person when it's not. Each household then divides that according to income, but the total for a four-person household is still no more than $2,560.
Affordability in a sea of housing instability is a major concern for church leaders, but it is not the determinative issue for who is selected as a resident. The arrangement is not for everyone, and the nonprofit is mindful about whom they select for the limited spaces available.
Residents are expected to cultivate relationships with their housemates and share meals, spiritual practice and decision making. They also are expected to engage with the surrounding neighborhood and in the life of the sponsoring parish.
How do housing costs affect the possibility for interaction where you live?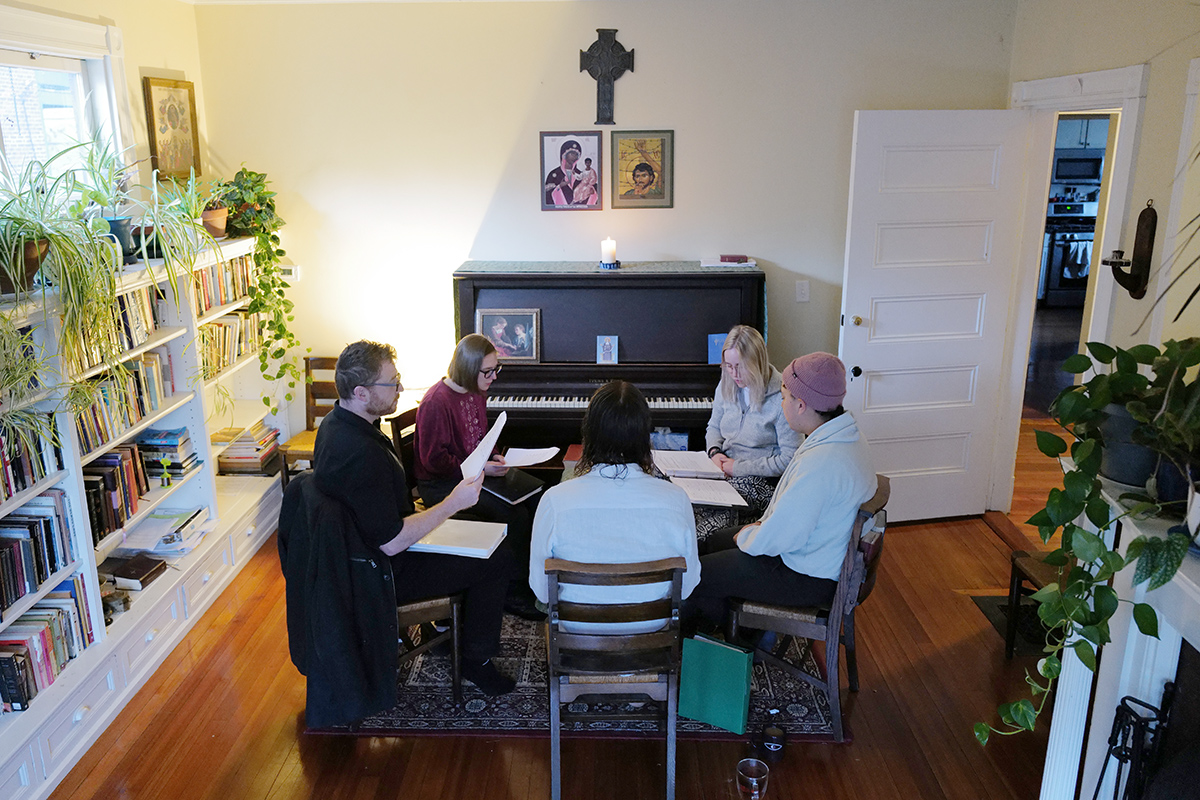 CRECHE does not advertise. It does not need to. Word-of-mouth is strong.
"We work with an existing social network and neighborhood networks to create our houses," Everett said. "We get probably five or six applications for every empty room. And we have a fairly long discernment process that we do with them involving multiple visits and a lot of conversation, because it's really important to find someone who's a good match for the culture of the house."
Trinity House in Newton, for example, is designated for graduate students and rarely has an opening. Residents there, like all the other CRECHE households, are involved in their neighborhood. They host end-of-semester study days at the nearby Church of the Redeemer in Chestnut Hill, prepare free healthy food for some of the poorest students in area colleges and universities, provide free printing, and offer meditative compline services.
While housemates in the CRECHE communities range in age from 16 to 61, the average age falls between 25 and 35. A CRECHE study of intentional communities nationwide found that young adults are the most likely demographic to join and that once they come on board, they tend to stay.
Building trust
On a crisp November morning, residents of Emmanuel House clasped hands and bowed their heads in prayer, as they do every weekday at that time. It's a community that comes together around devotion and trust.
"It's sort of this way of life," said resident Matisse Peppet, 23, who has lived there for one and a half years. "I think living at the Emmanuel House in particular, we have kind of these structures and scaffolding that I've found really helpful in terms of living a life that is being spiritually directed."
What spiritual opportunities beyond traditional worship and formation does your faith community offer?
Offering a tour, Peppet lingers in a kitchen large enough for communal cooking, surveys the chapel setup for morning prayer, and ends in a living room decked with couches and cushy pillows.
In her senior year of college, Peppet started attending Emmanuel Church, a historic Episcopal institution located on Newbury Street in one of the wealthiest areas of the state, the cornerstone of the diocese. Peppet, now a financial systems analyst, said she had felt unmoored and had moved home to Cincinnati but found herself drawn back to the Northeast, returning to Boston.
"I rejoined the church. They had a little advertisement that the Emmanuel House is looking for housemates. I actually had known of CRECHE, but I had never realized that CRECHE had a house that was affiliated with Emmanuel Church," she said. "That was very exciting."
Getting to know the person in the next room not as a mere companion but as a member of the family builds trust. And this sense of community is expected to extend beyond the house to the immediate neighborhood. Outreach is a mandatory requirement in CRECHE housing.
"We don't just exist for our own benefit. We're trying to serve our neighborhoods as well. The people who live within walking distance of our houses know that we exist. But are we improving their lives also? That's a huge question that we ask," Everett said.
The garden outside Emmanuel House sits in the shadow of St. Luke's, a long-abandoned church that occupies the entire right intersection of busy Brighton Avenue. This patch of green is viewed as a living example of the household's commitment to community. Though on this November day the grass has turned mushy brown and the trees are bare, the remains of carrots, green beans and corn from spring planting are still discernible in the garden beds.
Residents dine together most nights, and salad ingredients are plucked from the ground outside their door when the garden is in bloom. Produce is grown by both residents and neighbors living within a two-block radius.
"It's a neighborhood starved for green space," Everett said. "This has become the pivot from being just sort of a bit of a blight on the neighborhood to being a real center for the neighborhood, especially during the pandemic, when there was just a real lack of safe places together. Being able to offer an outdoor green space to the neighborhood has just been tremendous."
Not long after arriving, Emmanuel House residents took over the empty church's unused outdoor space. Working as a team, they pulled weeds, removed bottles and cans, and slowly watched the ground transform. They also built a lending library outside the house and added a doggy waste bag dispenser. A sandwich board announcing the availability of garden plots leads locals to this oasis in a neighborhood caked in concrete and teeming with car dealerships and detail shops.
How might you determine what your neighborhood is starved for?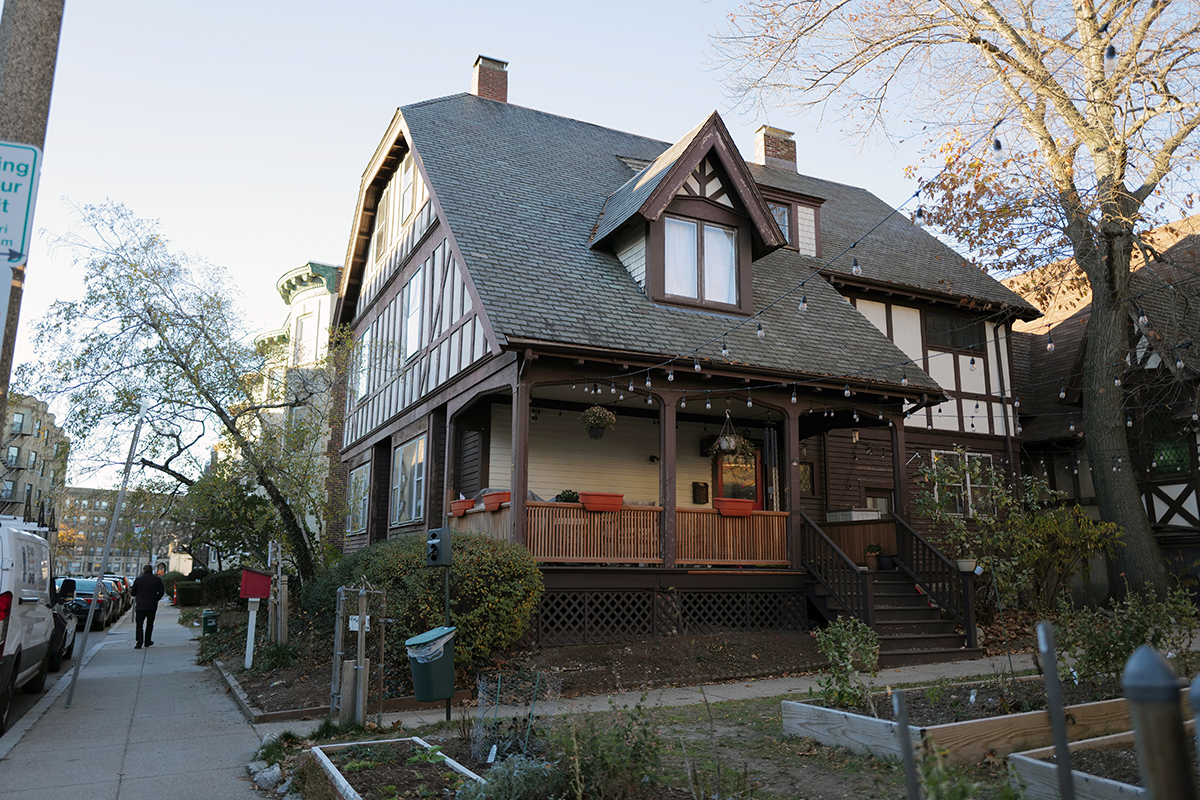 "You know, every time I come by here, there is someone in this space either studying or gardening or watering their plants or taking engagement photos or doing yoga or walking their dog," Everett said.
In 2021, CRECHE banded together with the diocese, which owned St. Luke's, and Boston University School of Theology to reconstruct the long-boarded-up structure, relying partly on the Community Preservation Act for financing.
Plans for the space include turning the building into a collaborative ministry, where it will serve mainly as a safe space for queer and trans people of color, said Everett.
CRECHE leaders also envision a host of community activities taking place there, an extension of the house itself. Residents have volunteered to lead workshops on topics ranging from Sicilian folk songs to yoga to gardening for toddlers.
An alternative to isolation
When word went out this year that a rare spot had opened at St. Mary's House, dozens of would-be roommates jumped at the chance to move in. It wasn't just affordability and proximity to the subway or the massive backyard and wide, angled front porch that fired up interest. A critical selling point for some was that the six-bedroom house also comes with a sauna in the basement.
"Ha! That was definitely a selling point," Rillovick said. But so too was the church, he said.
His reference was to St. Mary's Episcopal Church, the house's partner congregation and namesake, a 25-minute walk away.
"I'm Catholic, but I participate in the Episcopal church that we're associated with, or I'm starting to," he said.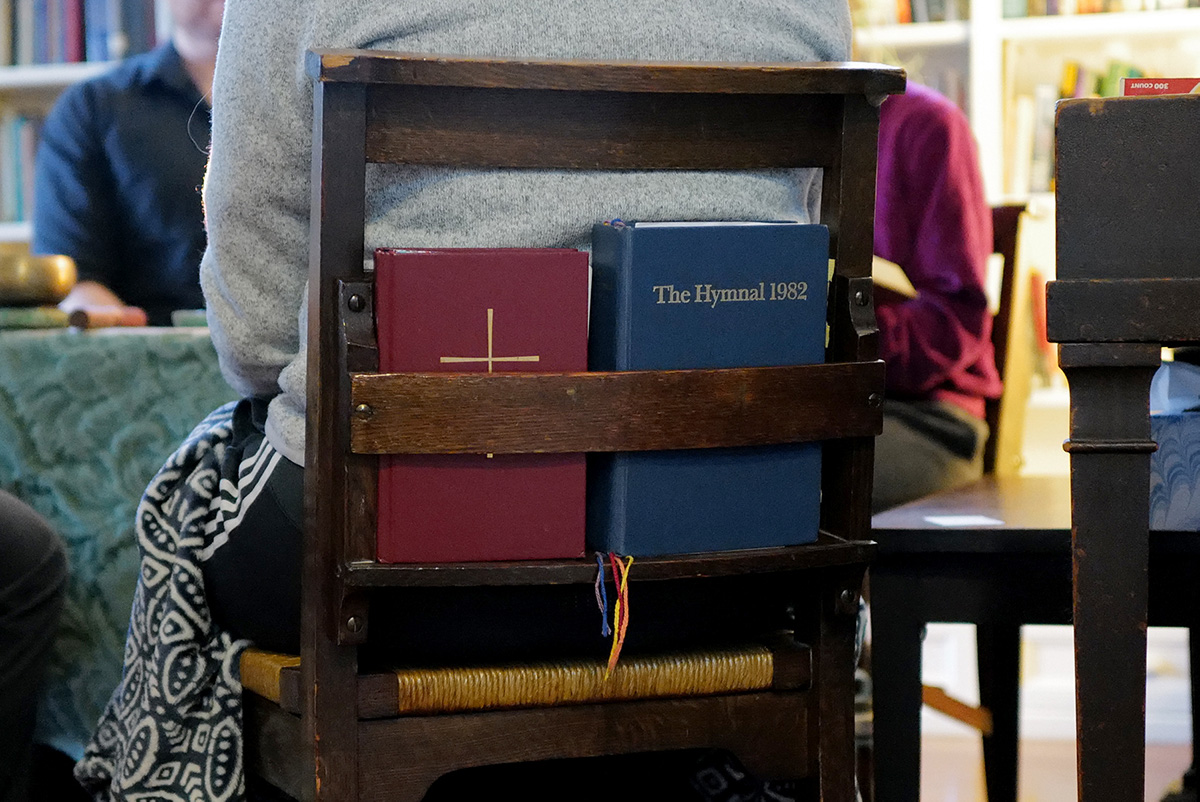 The four-member household interviewed several eager applicants before selecting Rillovick to live there. He said his housemates have helped him get around and adjust to his new home, which he has especially appreciated since a recent running accident left him using a cane.
It also helps that one household member is a physician. Dr. Sharif Tanyos is originally from Egypt and grew up in Oregon. He moved in last January after living in other intentional communities for nearly a decade.
"I think about how we live together in ways that are not isolated that I think counteracts the isolation of the nuclear family — that sort of rebuilds village life in a society that's pretty atomized," he said.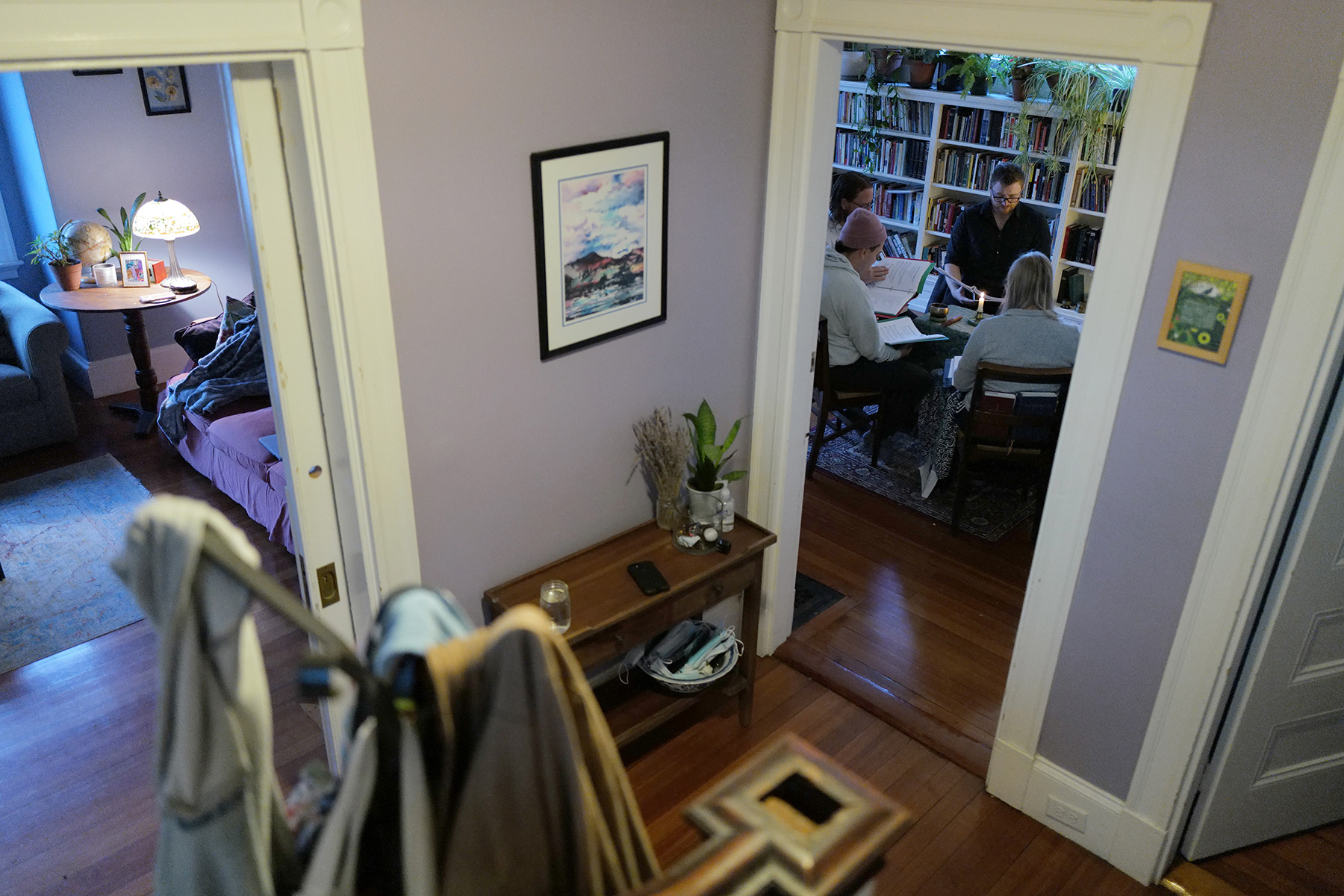 Tanyos met Everett at The Crossing, a Cambridge-based intentional community before that house was sold by the owner.
"So I reached out to Isaac , and he said there was an opening in this place, and I attended St. Mary's Church and thought it would be a good fit."
The church is attended by mainly Black and immigrant worshippers. Tanyos relates to many of their familial experiences.
"Egyptians are much more likely to live in big extended families with aunts, uncles, grandparents, and not in the kind of isolated nuclear families that the U.S. has more commonly," he said.
When his family moved to the U.S., that all changed. They relocated to a suburban community in their pursuit of the stereotypical American dream, a house with a white picket fence and little contact with neighbors.
"And that experience was hard. It's hard for any kid growing up in an isolated nuclear family," Tanyos said. "I remember as a child playing alone in my lonely suburban American house and not having the warmth of a big extended family around us. That experience shaped me a lot. Right now, we're in a mental health crisis that is driven by a lot of things. But one of them is isolation, for sure."
He does not view intentional communities as utopian but believes from his experience that they come close to being imperfect antidotes to isolation.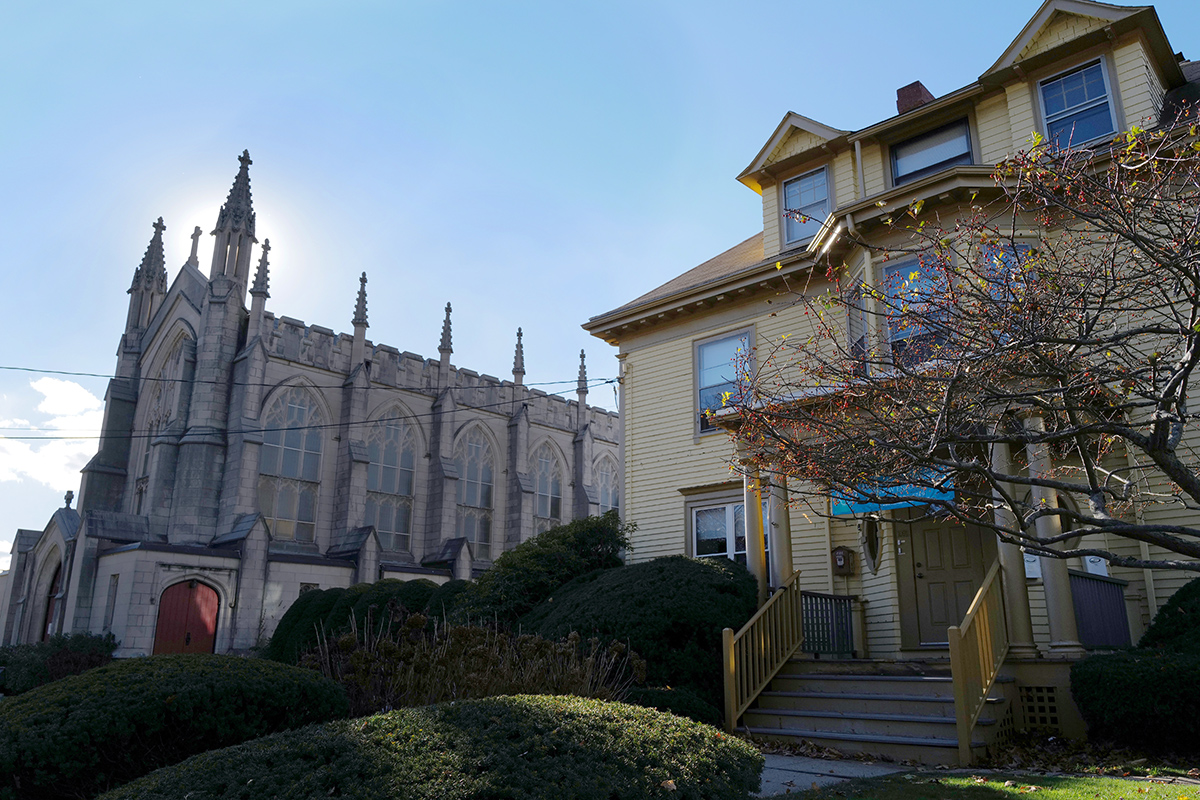 Collaborating on a fourth house
Gentrification in Boston has made block after block unaffordable for an estimated 1 out of 4 residents, even with full-time jobs. During the height of the COVID-19 pandemic, the rent crisis worsened.
Intentional communities are on a scale much too small to serve as solutions to significant housing displacement, but proponents view them as exemplars of community cooperation and engagement. CRECHE's latest project is the Jubilee House in Dorchester, where increasing numbers of Black and brown residents find themselves without homes.
Last year, the Rev. Mariama White-Hammond of New Roots African Methodist Episcopal Church reached out to her old friend Everett for assistance after her church decided to pursue a collective dream of establishing an intentional community.
"I was thinking, 'I wish we could have a house where people could live and not be gentrified out of our neighborhood and, you know, live in community with each other,'" White-Hammond said.
A church committee looked at dilapidated houses nearby and explored purchasing a farm in New Hampshire, but all fell through. The plan was to find a house within a five-year period. But White-Hammond recalled, "One of our stewards said, 'Why do we have to wait five years?'"
That's when she contacted Everett.
The timing was perfect. CRECHE's executive team had convened its annual board retreat to consider plans for expanding the organization's engagement with marginalized communities. Everett recalls the moment.
"I get back from that retreat and I open my email and there was an email from New Roots saying, 'We've been discerning a desire to do intentional community for the better part of a year now. Would CRECHE be interested in partnering with us?'"
They told Everett, "We've got the vision, we've got the passion, we've got the interest, we've got the culture. But what we don't have is a home."
Within a year, they did, and Jubilee House opened its doors last month, made possible by a combination of good timing and financial wizardry.
"I feel like it can only be God, the way that it aligned," White-Hammond said. "And I'm really happy as someone who lives in the neighborhood and has seen so many houses flipped to turn into condos that are unaffordable for people."
CRECHE moved fast over the summer to prevent speculators from grabbing the 1885 Victorian that would become Jubilee House. The unsung hero of this story is a longtime resident of a nearby co-op who late last year noticed that the house — which was badly in need of repair — was for sale.
"She had been watching all these big, beautiful houses on the block get sold to developers and flipped into luxury condos," Everett said. "And she was like, 'I can't have that happen next door to me.'"
"She knew the seller and asked if she could buy it before it goes on the market. So she liquidated a bunch of her retirement savings, paid cash for the house, then held on to it for three months while we did our fundraising and then sold it to us at a discount. We just closed the beginning of September. And that's the kind of network, 'knowing your neighborhood and your neighbors' kind of strategy that we have to employ in order to get ahead of the developers."
Prices in Boston's housing market are skewed by the purchasing power of corporate real estate companies and developers. Prime properties are scooped up minutes after going on the market. A recent investigation by WGBH's Jenifer McKim found that in 2021 alone, business entities purchased some 6,600 single-family homes across the state, nearly 10% of all single-family homes sold. "That's nearly double the rate of such purchases a decade ago, according to a GBH News analysis of data provided by the Warren Group, a real estate data analysis firm," McKim reported.
Investors and other businesses spent more than $5.6 billion last year in Massachusetts buying these properties, most in cash, the investigation found. And therein lies the biggest lesson, said Everett: the importance of purchasing property rather than leasing, if at all possible.
CRECHE rents Emmanuel House and Trinity House from the diocese but owns St. Mary's outright. Purchasing real estate in the Boston market on behalf of the intentional communities and those who can least afford rent will continue to be a major challenge for CRECHE's leadership moving forward.
What are some collaborations that your faith community is being called to? What are some creative possibilities for resources?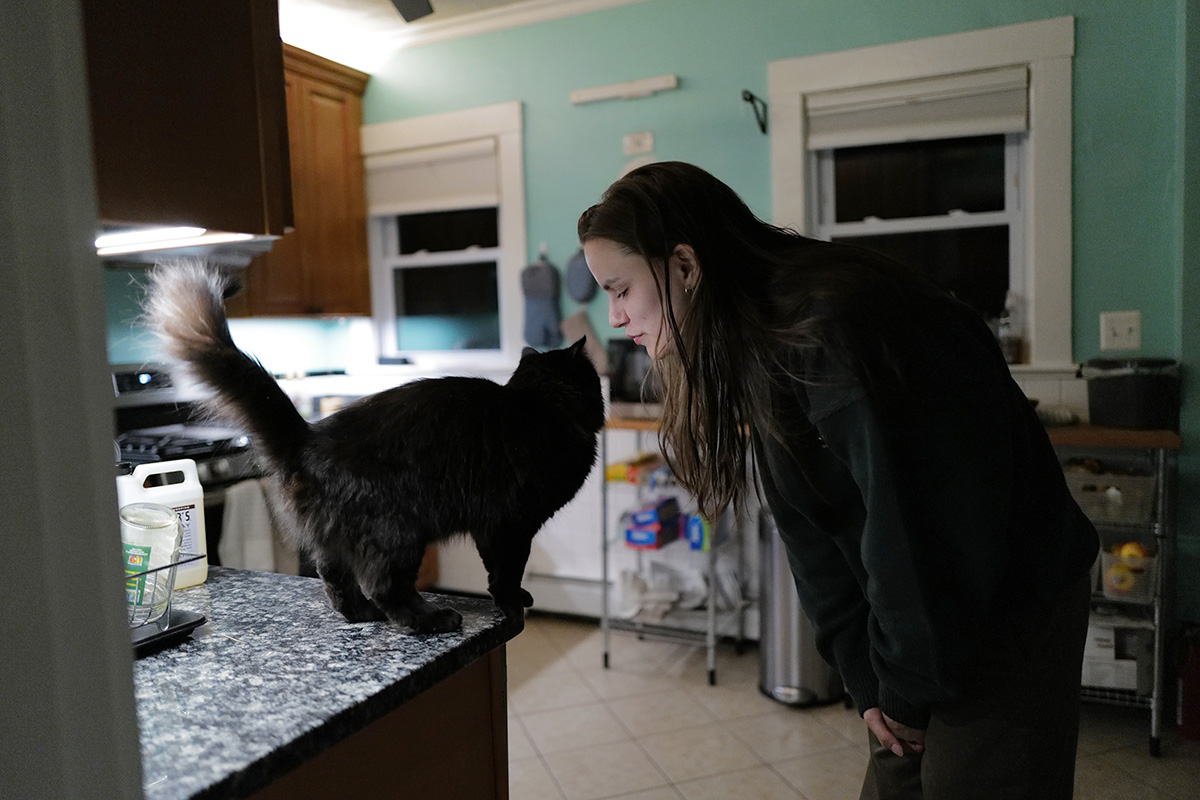 Meeting a deep need
Everett said his faith and motivation began with an epiphany when two commercial airliners crashed into the Twin Towers in New York on Sept. 11, 2001.
"I was 19 years old, working as a musician at the church across the street from the World Trade Center. And that was kind of my introduction to church work. I got to see in that environment the greatest service. And in the church, in all of its glory and all of its pathos, I saw what it means to rally for a community to respond to trauma and to care for one another."
He said that care extends to the issue of housing and points to Episcopal Church teachings. At its 79th General Convention, the Episcopal Church declared housing to be a human right. But Everett does not believe that the church is doing enough to address the crisis brought on by soaring rents.
Is your faith community addressing housing as a human right? Is there more that you could do?
"The Episcopal Church and most churches are not growing in urban centers or even generally. Church attendance is on the decline. But we have just as much real estate, for the most part, as we've ever had, much of it that we've had for centuries. So we have this whole culture and organization that doesn't have a ton of people and doesn't have a ton of energy, necessarily, but does have a ton of real estate. What if we used what we have to meet this deep need and, instead of merely talking about justice, we actually put people in homes?"
Peppet, the Emmanuel House resident, also thinks about the intersection of social justice and co-habitation, but in more personal ways.
"It's just fun living in a community," she said. "This sense of getting to know people as they are and learning what it takes for my housemates to feel connected, and to figure this out together."
Questions to consider
What intentional practices could you bring into your community interactions?
How do housing costs affect the possibility for interaction where you live?
What spiritual opportunities beyond traditional worship and formation does your faith community offer?
How might you determine what your neighborhood is starved for?
What are some collaborations that your faith community is being called to? What are some creative possibilities for resources?
Is your faith community addressing housing as a human right? Is there more that you could do?
When the house next door to the parish hall of Grace Episcopal Church came up for sale, it created the opportunity for more than a real estate transaction.
The Rev. Karen Hunter, the vicar of the Nampa, Idaho, parish, had already recognized the need for a local ministry to help support single mothers. With buy-in— both financial and philosophical — from the right people, she believed that the unassuming building could help them serve a new set of neighbors.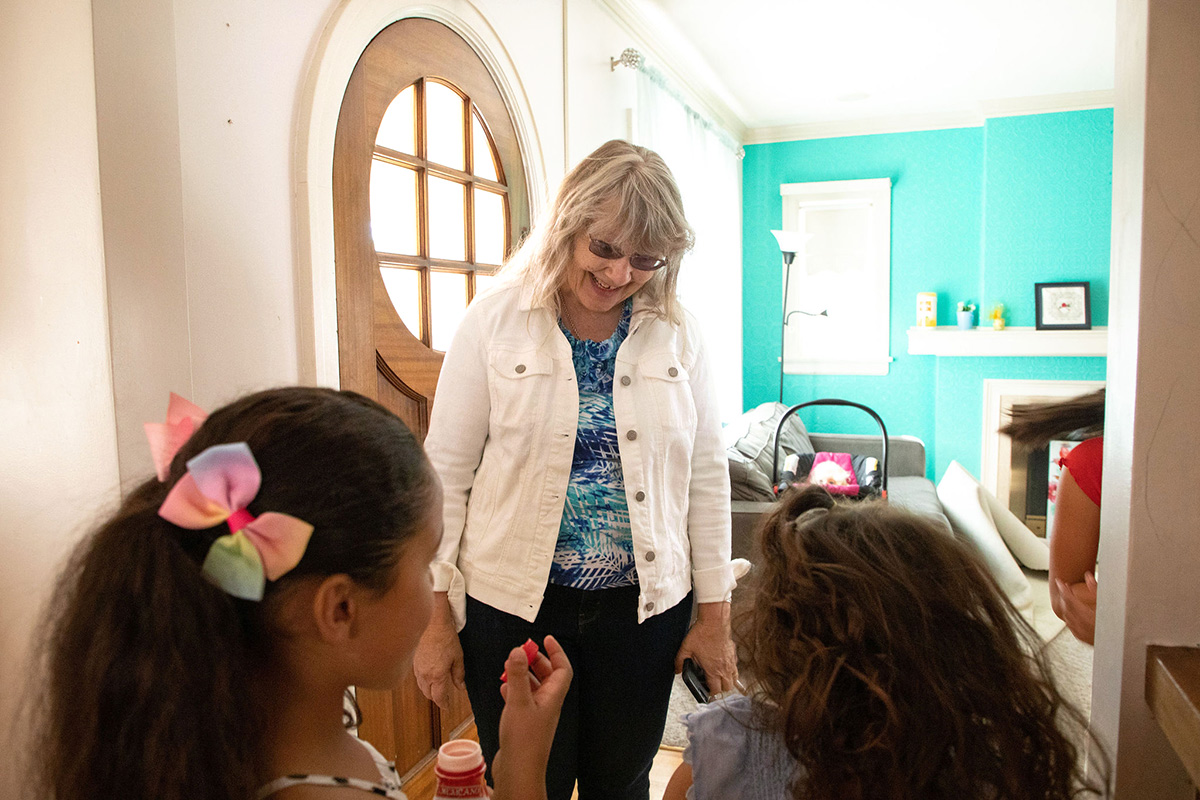 Although the church had owned the property once before, when Hunter and other members of the congregation went to take a look, they discovered a much larger floor plan than they'd realized. Knowing that Grace could not afford to buy the house outright on its own, Hunter reached out to her sister and brother-in-law and pitched them on the purchase with the hope that the church would pay them back eventually.
They agreed, and the plan was discussed further at a congregational meeting.
"There were a number of people who surprised me in being supportive, because something like this is a big undertaking," Hunter said. "We had so many people who had experienced being single moms, or had people close to them who were, I think it really resonated. It was clear that this was a time in people's lives when assistance is really important."
With an eye to housing families led by single mothers who were pursuing their education, the parish established a committee and a board, both of which got to work. The planning for what would be aptly named The House Next Door began in earnest, with next steps that would be familiar to any housing nonprofit: applying for 501(c)(3) status, hiring staff members, bringing in furniture along with the bits and pieces of daily life that would make the empty house a home.
What resources to address a problem are so close that you might have overlooked them? If those resources seem unattainable, what are some creative options to overcome those hurdles?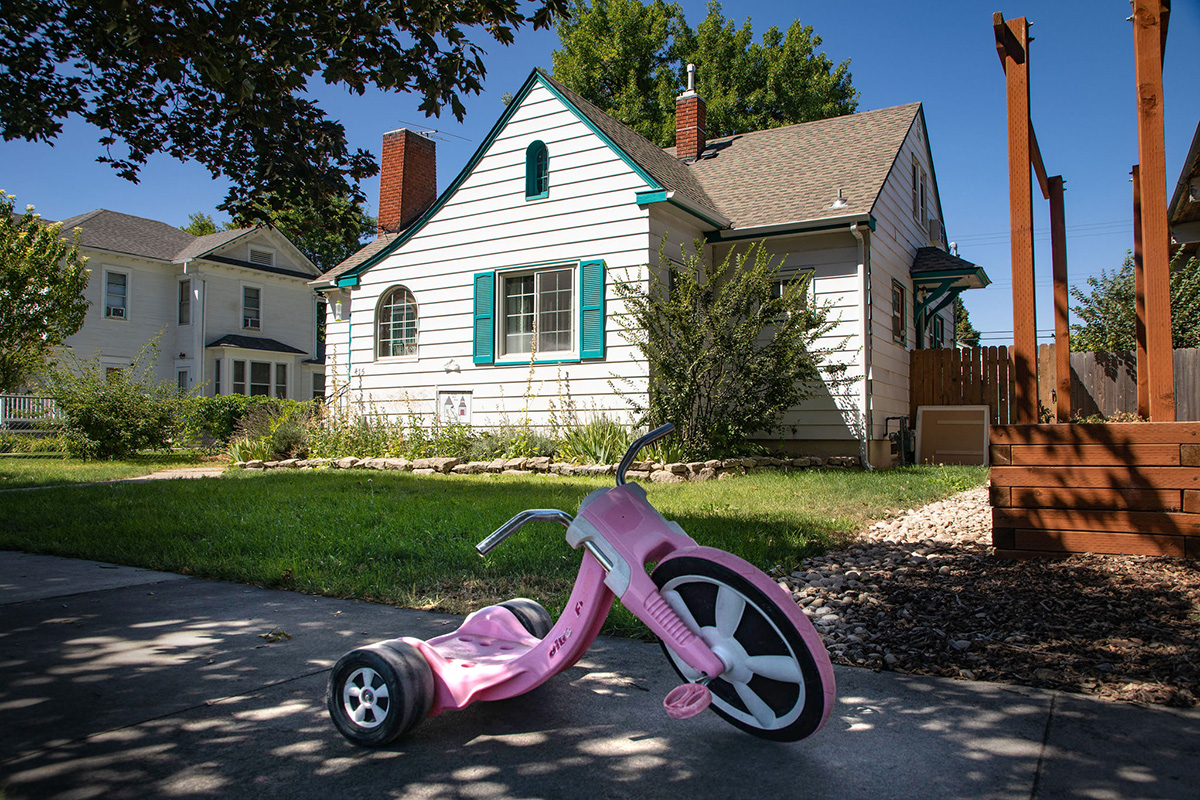 Learning as they go
The House Next Door went on to open in 2015 and has since provided rent-free housing for 16 mothers and 27 children, five of them born while their families were in residence. The qualifications and application process have evolved over the last seven years, mostly in response to new information and unexpected considerations, including deciding what qualifies as pursuing an education.
One of the first residents was pursuing her GED diploma rather than a college degree, as had been stipulated. In response, that requirement was broadened to include any kind of education — from GED studies to heating, ventilating and air conditioning (HVAC) training to an apprenticeship with builders to learn how to frame houses.
Nampa, with a population of roughly 100,000, is located 20 miles west of the state capital of Boise. The city is home to the annual Snake River Stampede Rodeo, abundant parks and walkways, and other attractions. It is also among those municipalities faced with a growing need for affordable housing. For single parents trying to improve their families' circumstances through education, housing insecurity is an additional burden.
Meredith Greif, an assistant research professor of sociology at Johns Hopkins University, said that supporting housing stability and parental education benefits families and communities.
"Anything that can be done to help people to advance their education is going to go a long way in terms of their ability to gain jobs that are helpful to their families, income they earn and, similarly, the housing they're able to secure," said Greif, whose research focuses on race, space and housing.
"Kids will 100% only benefit from that, from the stable environment their parents provide," she said. "Parents are best equipped to be supportive of their own kids when they, too, are in a mentally stable place, when they perceive their quality of life to be good and they're satisfied with their environment. Having parents feel good about themselves and feel engaged in the world and confident only is going to spill over to their kids."
How do you respond when realities shift and your expectations for a project need to change? How might you reframe those changes as opportunities?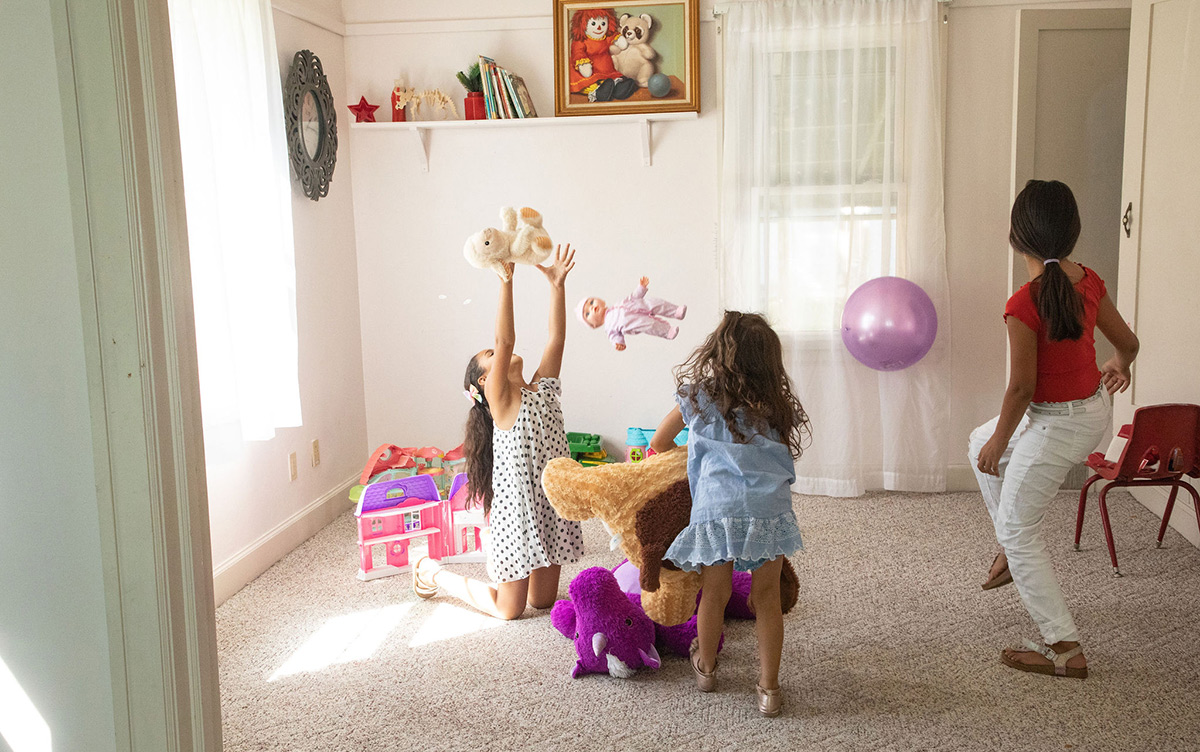 The application process for living at THND includes a list of general criteria: mothers must be 18 or older or legally emancipated; they must be enrolled in educational programming at least part time and be working toward a degree or certification; and they must maintain a minimum 2.0 GPA.
All residents must also agree to abide by the list of house rules, which include no smoking, no drugs or alcohol, and no overnight guests. Mothers with a prior history of addiction must be in recovery for a minimum of six months prior to applying.
Living in the house
The 1930s-era house blends into the neighborhood, with only a small yard sign displaying THND's name and logo.
Thanks to a donor, the house's interior and exterior have just received a fresh coat of paint —bright white inside and out, with teal accents and shutters.
In addition to the four bedrooms and three bathrooms split between three stories, there is a kitchen, dining room, living room, study room and separate playroom. Amenities include a washer and dryer, Wi-Fi, and a large backyard with a patio, storage space, a playground, and an aboveground pool.
Two mothers residing in the house recently spoke about what the experience has meant for them. (The mothers requested that their last names not be used.)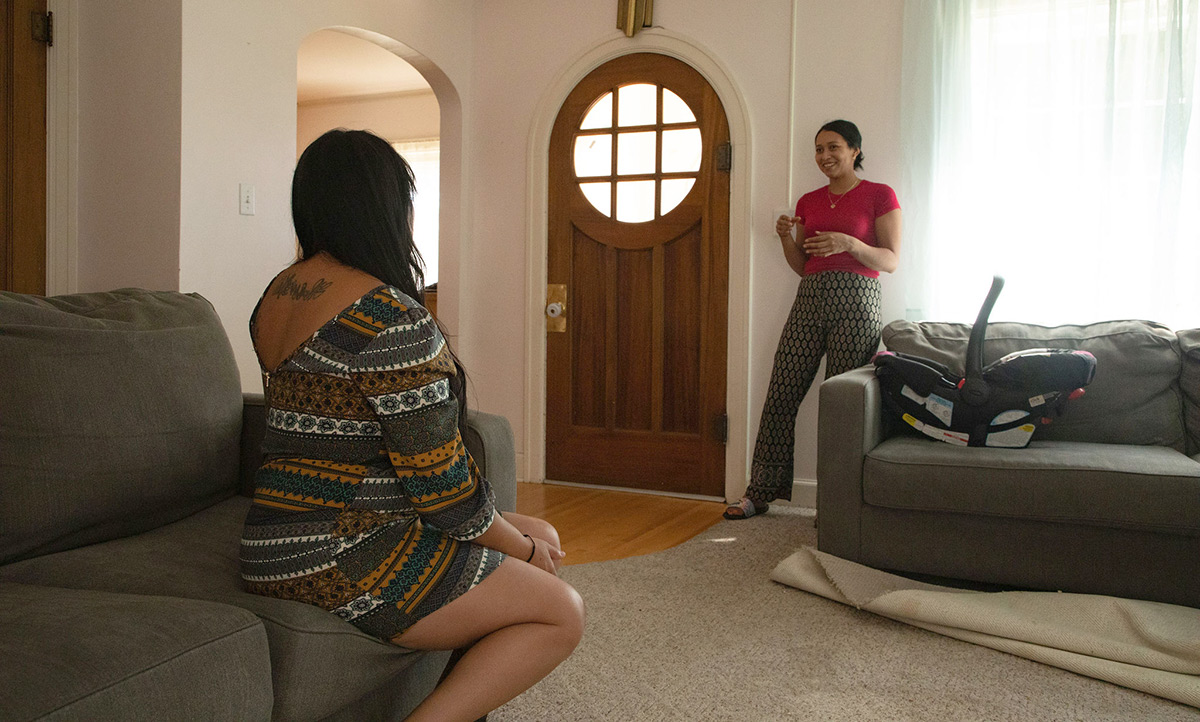 Carolina, 26, has three daughters, ages 2, 7 and 9. Originally from Honduras, Carolina speaks Spanish as her first language, and her interview was conducted through a translator.
She heard about THND through pastors in a church where she and her family had been in a shelter, and they helped her connect. Her family moved into the home in early December 2021, and she has been working on English classes and getting her GED certificate since then.
Jamilet, also from Honduras, learned about THND from Carolina through their work harvesting grapes. She is 22 with a 1-year-old and a 6-year-old. Before moving into THND in early February, Jamilet and her children were living in her aunt's living room. She already has her GED diploma and is taking English classes so she can attend college and pursue a career in nursing.
Jamilet said she feels safe and at peace living with her daughters at THND. She is glad the people there are helping her succeed. She also said it was challenging at first to establish a routine in the house between school, working, taking care of the kids and other responsibilities but that she feels more established in the home now.
The communal living established by THND is intentional, as it means more help with child care, house cleaning and general support. All are important factors while trying to juggle school and single parenthood. Each family pays $80 per month toward its share of the utilities and other necessities of the house. Residents also cover their own costs for food, insurance and personal expenses.
Building supportive relationships
When have you been surprised by someone's generosity, compassion or empathy? How can that shape your vision for what is possible?
Melinda Romayor, who became THND's new executive director in March 2022, has a background in advocacy against sexual violence through the Women's and Children's Alliance. She has almost a decade of experience running shelters and advocating for clients, a background that is useful for leading the work of The House Next Door. While THND is not a shelter for women affected by domestic violence, many who stay there have had similarly traumatic experiences.
Romayor's arrival came during a time of staff turnover, in both the executive director and the house manager position.
"There was a lot of change for the residents in terms of someone checking in," Romayor said. "They were used to just living there, doing their thing and not really being supported."
Romayor has been working to change that relationship, visiting with the women and helping them utilize all the resources THND has that they might not have been taking advantage of before. She has also been working to get the community more involved in opportunities for engagement, like sponsoring a room or a service project, such as the recent house painting, so that more people feel a part of THND and its success.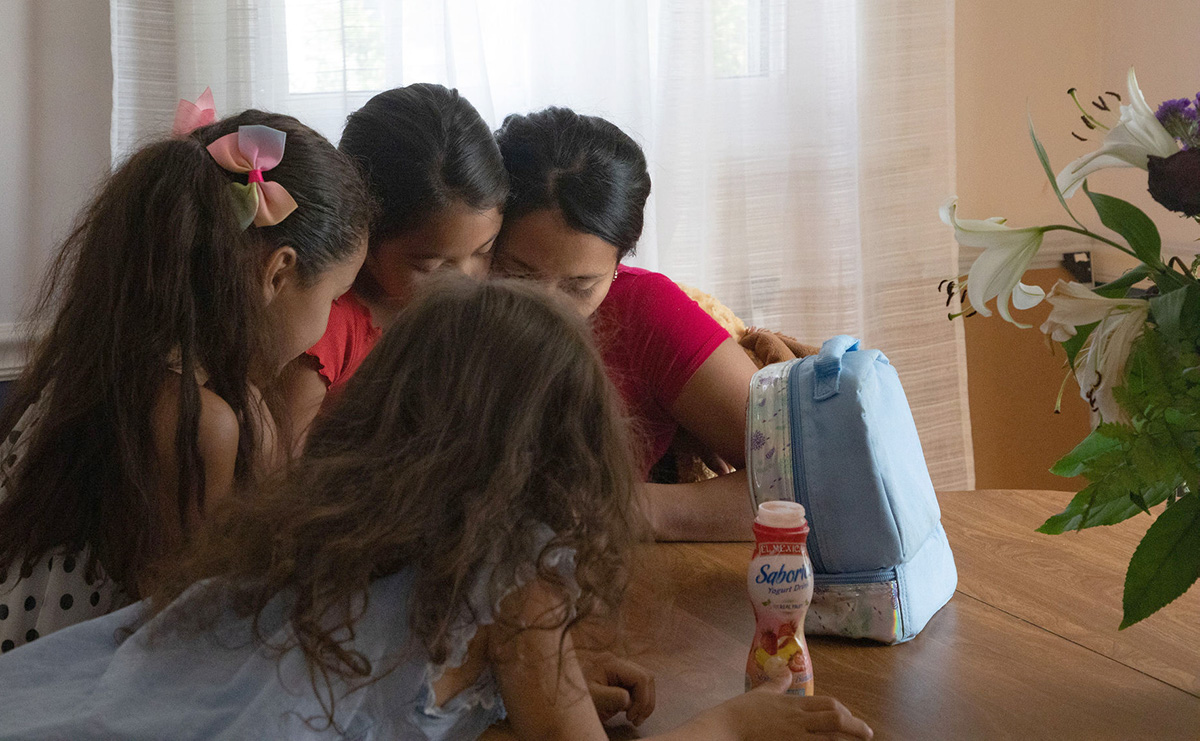 Each project done to renovate and upgrade THND — from replacing the 80-year-old original windows in 2016 to renovating the downstairs after a flood in 2017 to installing a new HVAC system in 2020 — has been through the support of volunteers, donors and grant money.
Grace Church has managed to secure funds for THND through a variety of endeavors, including a social enterprise to make priest's stoles and annual fundraisers, together with donations and grants.
The organization's budget goes primarily to maintenance of the house, Romayor's and the house manager's salaries, insurance, and the mortgage. They rely heavily on volunteers for supportive roles, especially for babysitting. Then there are the little things throughout the year that don't necessarily cost that much but have a big impact, such as gift cards for the residents on their birthdays.
There seems to be a natural rhythm to those coming and going from THND; there have been a few times when someone was wait-listed, but typically, as one woman moves out, another happens to apply. Grace Church and THND have received many requests over the years to open a house for single fathers. But for now, given the price of real estate in the area and the need to finish paying for the current house, the focus remains on the small home in Nampa, making a difference in single moms' lives.
Who are the people you need to bring on board for your next big project? What are some ways you can contribute to a larger endeavor in your community without being the one in charge?
Questions to consider
What resources to address a problem are so close that you might have overlooked them? If those resources seem unattainable, what are some creative options to overcome those hurdles?
How do you respond when realities shift and your expectations for a project need to change? How might you reframe those changes as opportunities?
When have you been surprised by someone's generosity, compassion or empathy? How can that shape your vision for what is possible?
Who are the people you need to bring on board for your next big project? What are some ways you can contribute to a larger endeavor in your community without being the one in charge?
Jonathan Brooks is convinced that if churches work together with the people in their neighborhoods, "that will give us the greatest witness in the world."
He's part of a "parish movement" across the country to help congregations connect and act locally, wherever they are, to become the "neighborhood-based incarnation of the gospel."
"It's not just about how we worship together. It's not just about what songs we sing together. It's about how we live together," he said.
But how can a pastor or congregation get started? Or what if you've gotten started but don't know where to go from there? Perhaps your congregation or neighborhood has changed and you don't know how to connect anymore.
The Parish Collective, an organization that connects people who are committed to the idea that neighborhood plus church equals parish, has created a free online tool to help.
Five Signs of the Parish Movement is an online quiz that helps congregations discern where they are in the journey of becoming a parish-minded church. In addition, it offers next steps and videos that explain the parish movement and help leaders guide others along the path.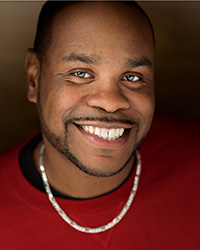 Brooks, who is the board chair and a fellowship member of the Parish Collective, has helped revamp the quiz to focus more on equity and justice as part of being a parish.
He currently serves as co-lead pastor at Lawndale Christian Community Church in the North Lawndale neighborhood in Chicago. He previously served as senior pastor at Canaan Community Church in Chicago's West Englewood neighborhood — where he grew up — for 15 years.
Brooks spoke with Faith & Leadership's Sally Hicks about the Five Signs quiz and the parish movement.
Faith & Leadership: What's the vision of the parish movement?
Jonathan Brooks: The way we define parish is neighborhood plus church. Your parish becomes your parish when your church is concerned about that neighborhood, so it becomes a church parish.
We believe — and I've always held this central to my theology — that geographic location is the one marker that can really hold the container for the diversity of the Christian world.
We try to gather ourselves around values sometimes, or we try to gather ourselves around shared beliefs, or we try to gather ourselves around doctrinal stances. All of those things — at some point, they get frayed.
But when I live down the street, the same issues and concerns that I have are the same issues and concerns [that my neighbors have], even if our values are different, if our theology is different.
It brings us into questions about equity — around race, around gender, around orientation, all these ways that we chop and divide ourselves up.
When you look at the way Jesus gathered his 12 disciples, they were all over the spectrum in their belief systems, but they all had a geographically shared idea in this little area the size of New Jersey.
They all lived there. They all understood the culture of what was happening there. They were marginalized folks living in a Roman-occupied space, and everything they did was about this space — and it grew.
What we're inviting people into is a new way of understanding the importance of this idea of church/neighborhood/parish combined.
What we're trying to get folks to recognize is we're not creating something new. We're rekindling what has been the most powerful part of the church: that the church is the tangible representative of God in a local place so that the people in that place know that God is concerned about their specific needs, gifts, concerns and well-being.
We invite people back into that to stop church shopping, to stop church hopping, to stop trying to look for the greatest place to go visit, where you feel most comfortable.
F&L: Were you inspired by the Catholic idea of the parish?
JB: 100%. The language of "parish" was intentional, because we believe that the Catholic Church and the way they've organized their parishes had it right — that idea that you don't go to the "best" Catholic church in the city; you go to your local parish. And if you move neighborhoods, that now becomes your local parish over there.
We use the word "parish" on purpose. It helps people that have Catholic backgrounds to connect to it, but it also helps people to understand when we talk about [church as neighborhood-based].
F&L: What do you mean by signs? How do they help congregations or individuals interested in the parish?
JB: First of all, we chose the language of "sign" because these are the ways we would describe what we see, what's visible, what's tangibly happening when you see people pressed into being the church in their specific contexts.
These are five expressions, or markers, in a very general sense, because there can be more than that. What I don't want people to believe is that it's exhaustive.
We're rekindling what has been the most powerful part of the church: that the church is the tangible representative of God in a local place so that the people in that place know that God is concerned about their specific needs, gifts, concerns and well-being.

The first one is, of course, a centering on Christ. We want to make sure our lives are centered on Christ as a collective expression of the love of God in our place. It's this idea that when we focus on who Jesus is and who Christ is in this specific place, there's a certain kind of expression of Jesus' love that will come.
This is how churches end up having different emphases or different ways of being the church in a specific place.
Those shouldn't come from boardrooms, where we sit down and have strategic planning sessions to say, "This is the kind of church expression we want to be."
They should come out of a real love for the place and a real experiential kind of knowledge of the place that allows us to say, "Who do the people of God, who do Jesus' followers need to be in this specific place?"
The second one is inhabiting our parish. We want to actively inhabit our neighborhoods, not just live in them, not just have houses in them.
In that place, who has been marginalized or pressed that needs to be liberated in that space? What is our response? What things do we need to do for our place and its inhabitants to live out the liberative story of God?

The third sign is gathering together. But not just gathering together, because churches are good at doing gatherings. It's gathering to remember. When we gather, we weave our parish — where we're living — into the larger story of our faith. This means that now our parish has an integral part in the massive story of God from the beginning of time to the end of time. Our parish has a part, and it's woven into that story.
Remember the past; remember the present; think about the future. What has the history of this place been? How do we factor into the history of the place? Do we really understand it?
Worship is not limited to being in a church building. You worship in the aisles of grocery stores and in cafes and on the corners. We gather as much as possible: gather at block parties, gather at people's homes, gather around the table, gather in church services — gather, but remember that all of that is a part of God's story.

The fourth sign is collaboration. We say it this way: "collaborating for renewal with God." It's not just about doing things together; it's about how do we step into God's story and reconciliation and renewal.
We trust that God will always invite us into new relationships and weave us into new relationships but also invite us into relational and collaborative projects that should be for the common good.
A lot of why the church grew in its infancy was because when people looked at the church, they were like, "Man, they're helping the society. People's lives are changing." When a church abandons that common good and really turns internally on itself, that's when we lose our impact in society.

The last one is what we call linking. Now, I added the word "across" to the sign: linking across. I wanted to make sure people understood that it's not the linking of people in your neighborhood together if you link only with people that you're most comfortable with or that you have a lot in common with.
We had to add "across" because we wanted people to be compelled to this unity in difference; we don't all have to be the same. We don't all have to have the same beliefs. We don't have to have the same political beliefs. We don't have to have the same theological beliefs or any of that.
We need all of that difference, because that's the only way we'll be unified. If we're all the same, it's not unified; it's uniform.
How do we actively connect across our parishes, across our congregations, across our cities, across our countries? How do we engage each other by linking and growing together using our unique but local expressions mixed with other expressions outside of our own?
Those are the five signs. And as you can see, we've tried to make sure that there's also a real deep equity and reconciliatory lens to this idea of being a church in a neighborhood as well.
F&L: What will people learn from taking the quiz?
JB: The goal is to let you self-diagnose where you think you are and then give you some action steps that can get you to where you would like to be. So it's very practical. That's why I like it. It's extremely practical.
The goal is to try to get people engaging with the signs to ask themselves, "Where are we now? What would we like our future engagement to look like in our parish?"
The goal is to get people activated, where they're starting, not to say, "Well, just work on getting here, and then we can help you."
No. It's, "Where are you now? Where's your congregation now? Where's the expression of the church now?"
Then we say, "Here's the first step." Maybe it's just researching some spiritual practices that will get you connected more to your parish. Or maybe it's a time to literally get with some friends and do a walk in your parish and get to know it better.
F&L: Do you have a recommended process?
JB: There's no pattern. There's no formula. This is an opportunity for you to engage and then create. We believe that creation will come from your place. All we're trying to do is activate your ability to create what you need in your space.
Really, we see this thing as a flywheel. What American churches have a tendency to do is to set things up in more of a step-by-step process. This is more of a flywheel, with parish at the center.
F&L: If a congregation is already engaged in this work, is this quiz still useful?
JB: I believe it's still beneficial, mostly because no one has "arrived" at doing parish ministry. You know what I mean? There's no point where you've just got this down pat. Communities change. Things become different.
I'm in Lawndale, where we've been doing this for 45 years now, and we've [still] got to be listening, because North Lawndale is changing. There are new things happening, new ideas, new ways of being.
As Lawndale was growing, quantitative measures was the way to go: How many people come to Bible study? How many people come to church? How many people are we calling on a weekly basis and checking in with? All those things were great.
The younger generation is coming up now. It's not about numbers. I mean, COVID has shown us that if you're trying to count numbers of people coming to church, that might be obsolete at this point.
Now we look at qualitative measures: How are people's lives improving?
My youth pastor has to give me a report every week on qualitative measures around the young people he's working with. What decisions are they making? What is their life looking like?
He sends me stuff like, "Oh, this young man is dating this young lady, and he's been sexually active, but he's decided he's not going to be sexually active with this young lady. He wants to do it God's way."
That's a qualitative measure. And it means a lot more to these young folks — that we're praying for their life changes — versus, "Lord, would you send 40 kids to our Bible study?"