When the Rev. Angela M. Redman left her 20-year legal career to serve as executive director of the United Methodist City Society, she did not expect so much of her time to be focused on real estate management and development. But she spends a good part of each day doing just that.
Located in upper Manhattan, the United Methodist City Society is a 185-year-old agency that provides support to United Methodist churches in the greater New York City area. A group of Methodist women started the organization to provide meals, education and shelter to children in economically impoverished neighborhoods. The society went on to build churches and spread the faith. Today, it still holds titles to churches throughout the area.
One of them was the Trinity-Morrisania United Methodist Church in the Bronx. But where that church once stood is now the Trinity-Rev. William M. James Senior Apartments, with 153 affordable housing units for low-income seniors. James had led a revitalization of the church as pastor there in the 1940s and '50s.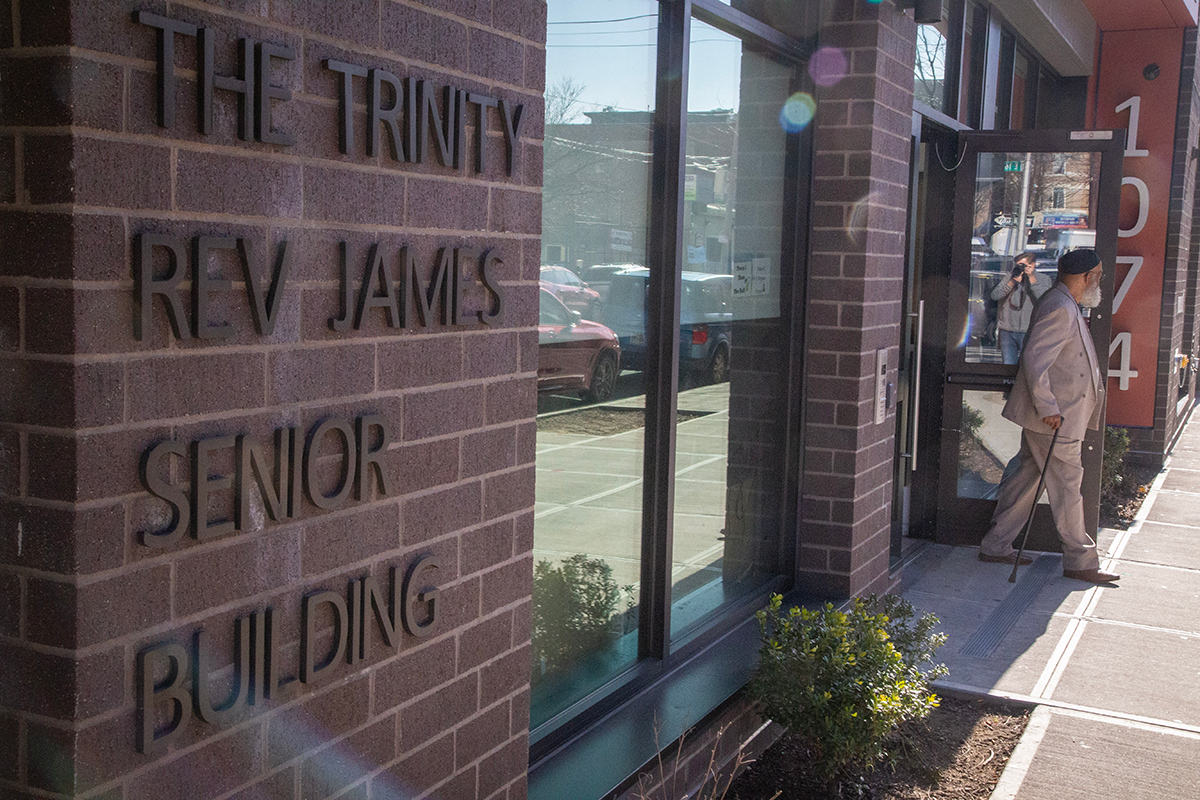 A joint venture between the United Methodist City Society and the Bronx Pro Group — a real estate development and management company focused on affordable housing — the Trinity Apartments began accepting tenants in late 2021. But the project's origin story goes back more than a decade, when the City Society's then executive director, the Rev. Dr. William Shillady, first visited the church in 2008.
"When I first got to City Society, I visited all the churches we held title to," Shillady said. A new apartment building had gone up across the street from Trinity-Morrisania, and the words emblazoned across the front door lintel caught his eye: "With God's Love All Things Are Possible."
That was Shillady's introduction to the Bronx Pro Group. He contacted the developer and got a tour of the property.
In 2016, when the 12 remaining congregants of Trinity-Morrisania decided it was time to close the church, Shillady contacted the developer, beginning the transformation from a 150-year-old church in ill repair to a modern 12-story apartment building for low-income seniors. To be eligible, tenants must meet an age requirement and earn no more than 60% of the area's median income.
The process was complicated, with intense negotiations between lawyers, Shillady recalled. Out of the eventual deal, City Society maintained a 25% share in the $88 million dollar development project, putting no money down, aside from the negotiating costs. Funded with tax-exempt bond financing, low-income housing tax credits and government subsidies, the project allows City Society to earn income — an estimated $50,000 to $75,000 annually — to fund additional mission work.
A developer with a mission
Since shifting its focus to affordable housing in 1998, the Bronx Pro Group has built more than 2,900 affordable units. Developing quality housing for low-income New Yorkers is integral to the mission of the firm, which was started by Peter Magistro, then a real estate developer and property manager, now retired. Aligning with his passion to cook for and feed the unhoused, according to his daughter, Samantha, he discovered he had a knack for affordable housing. After he completed his first such project in 2000, the company's aspirational nod to Matthew 19:26 — "With God's Love All Things Are Possible" — went over the door. It continues to grace many of the buildings that Bronx Pro develops and manages.
Samantha Magistro, now the company's CEO, said this kind of work takes effort and faith. The project with City Society was no exception.
Although Bronx Pro had repurposed a vacant church before, this was the first time they were taking down a building with architecturally historic significance, and working with a partner who wanted to collaborate every step of the way.
"All things being equal, from a business perspective, it's better to have fewer hurdles," Samantha Magistro said. "But business is not the only driving factor."
For example, it was important to Shillady that the new building incorporate elements of the old church. Walking through the lobby and the public spaces, you can see reminders: in the wooden arches built into a ground floor common room, in the restored stained-glass windows above the mailboxes and the restored pews, where residents can relax on their way in or out of the building.
How can your mission create community that sustains your organization's purpose?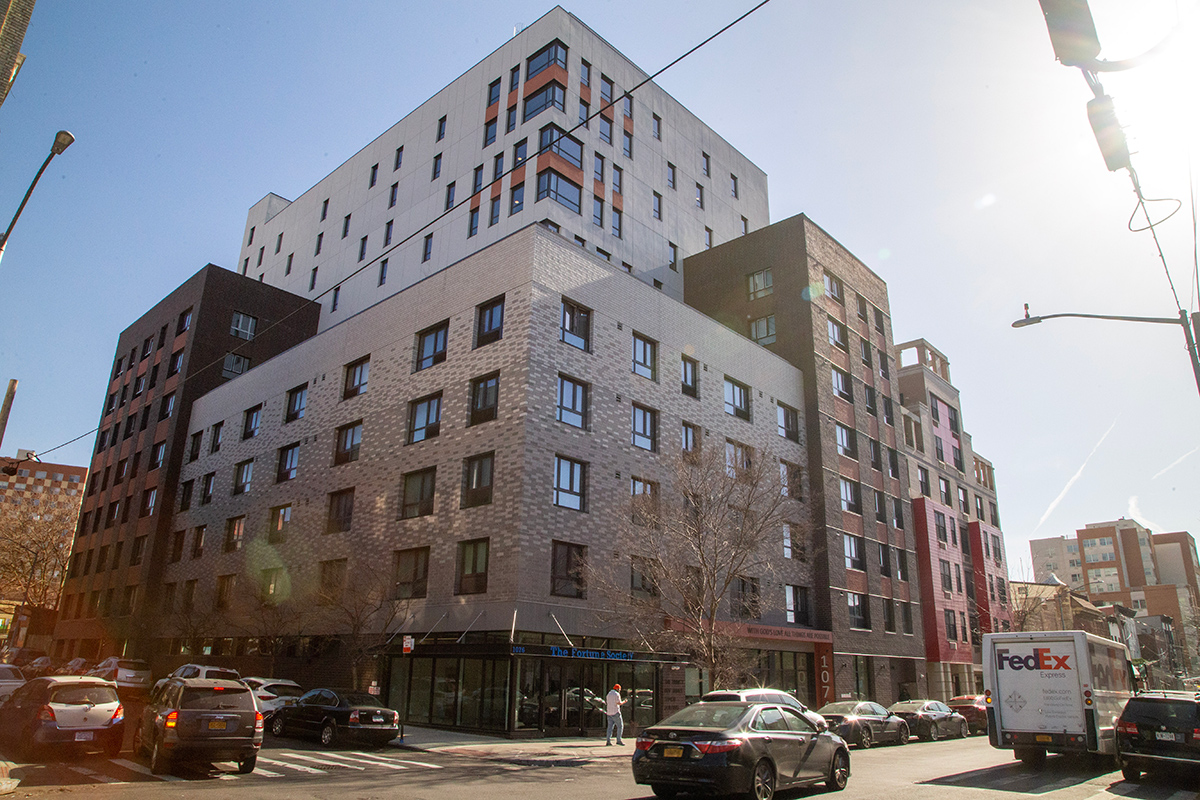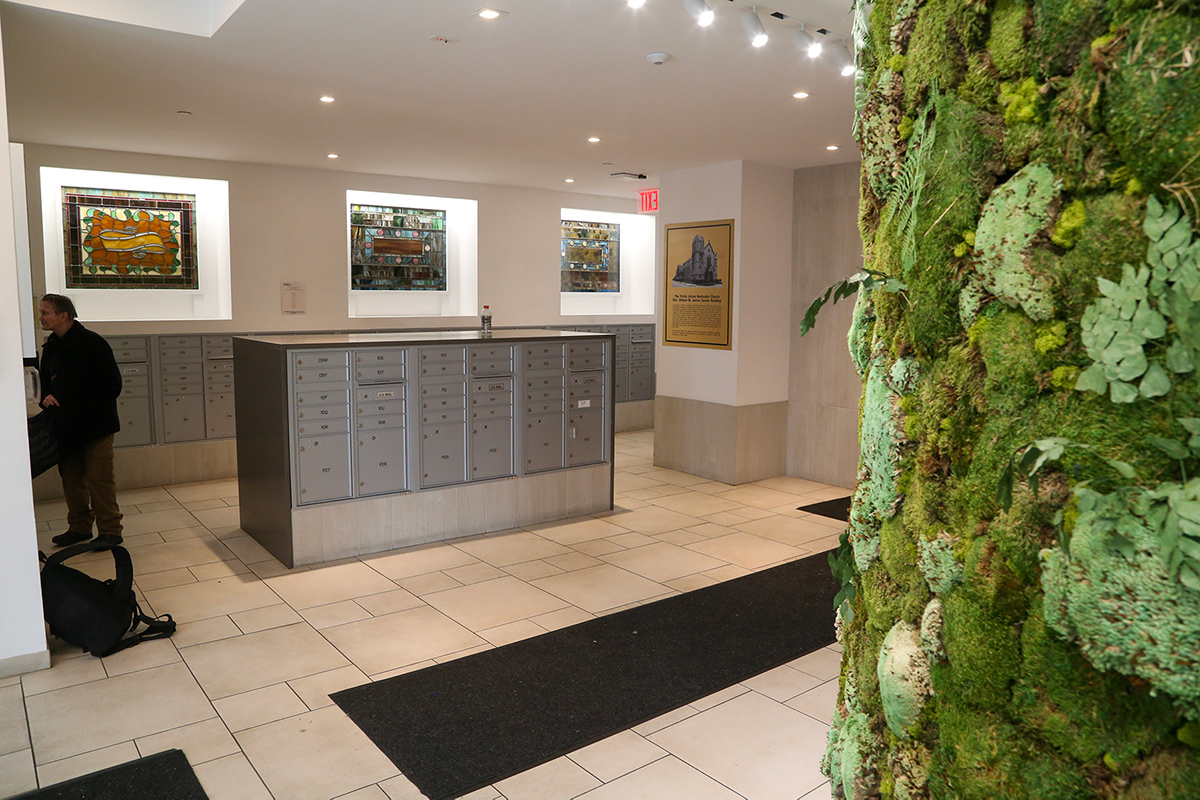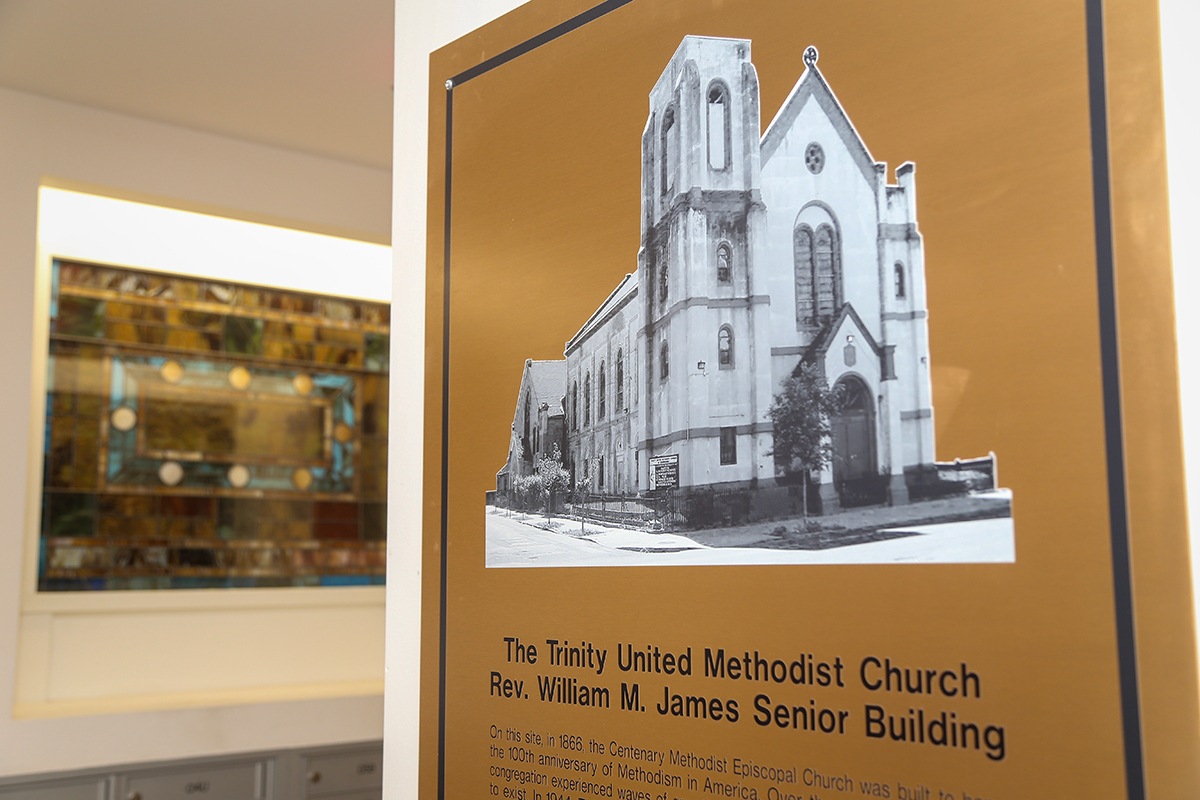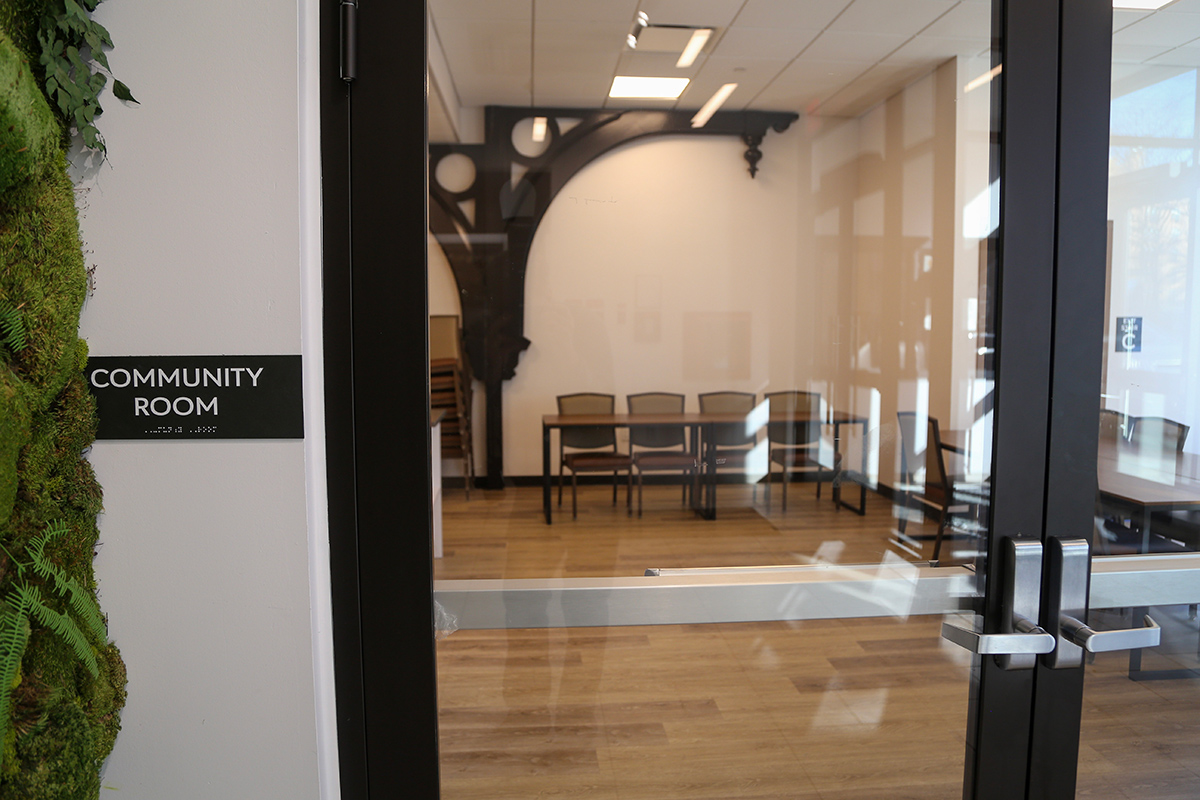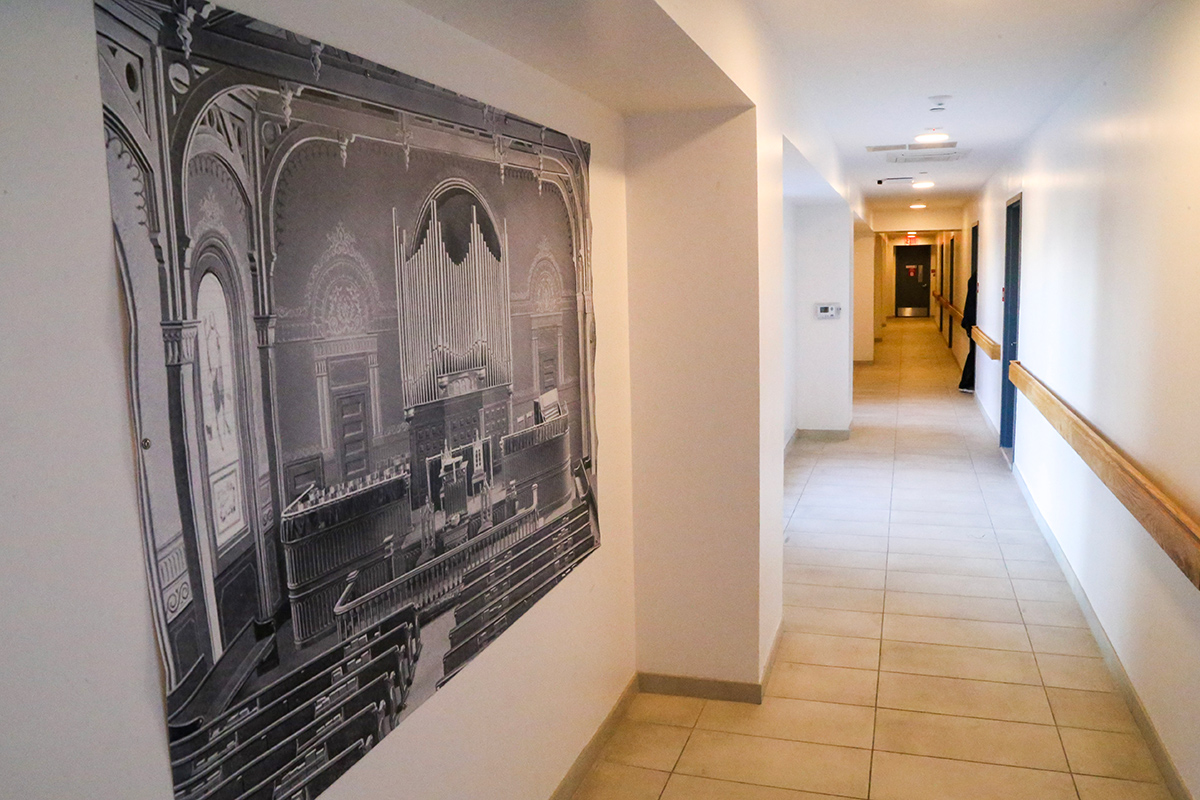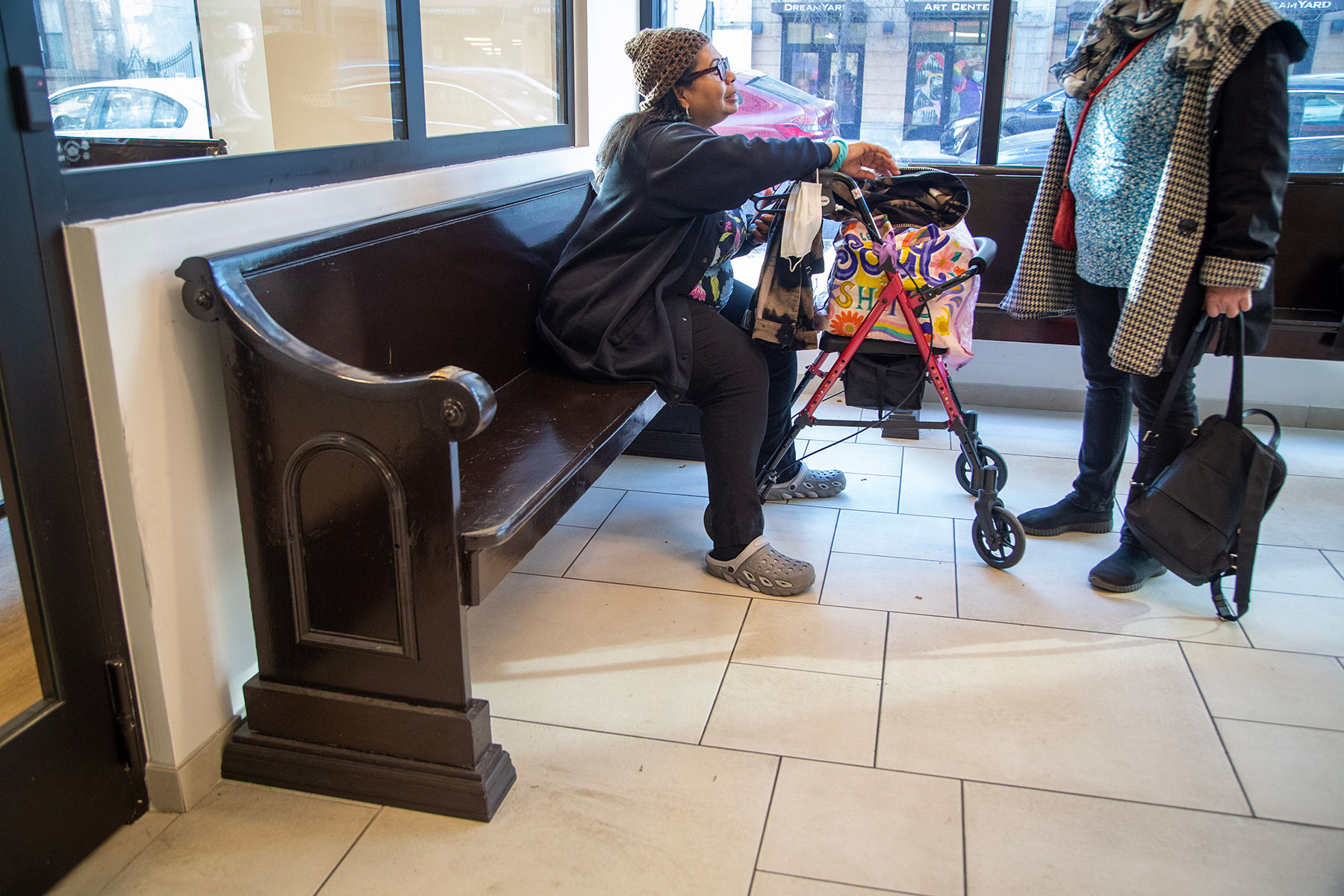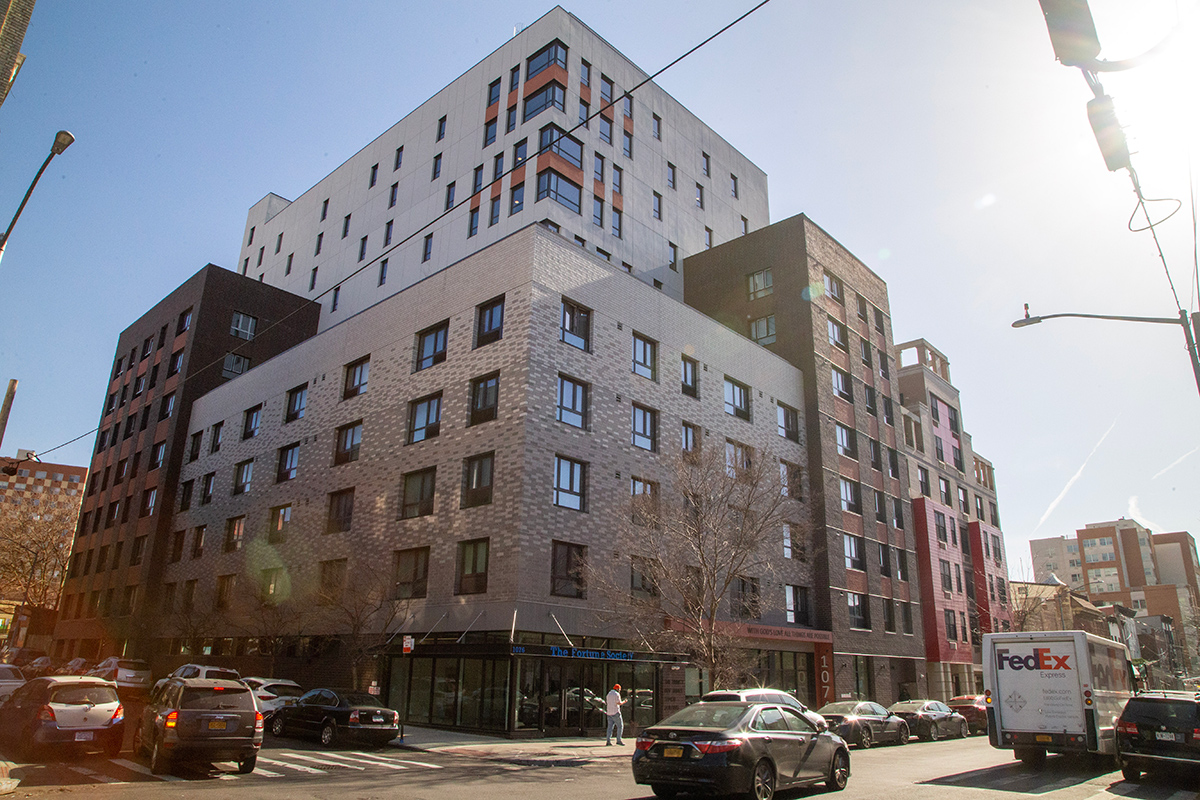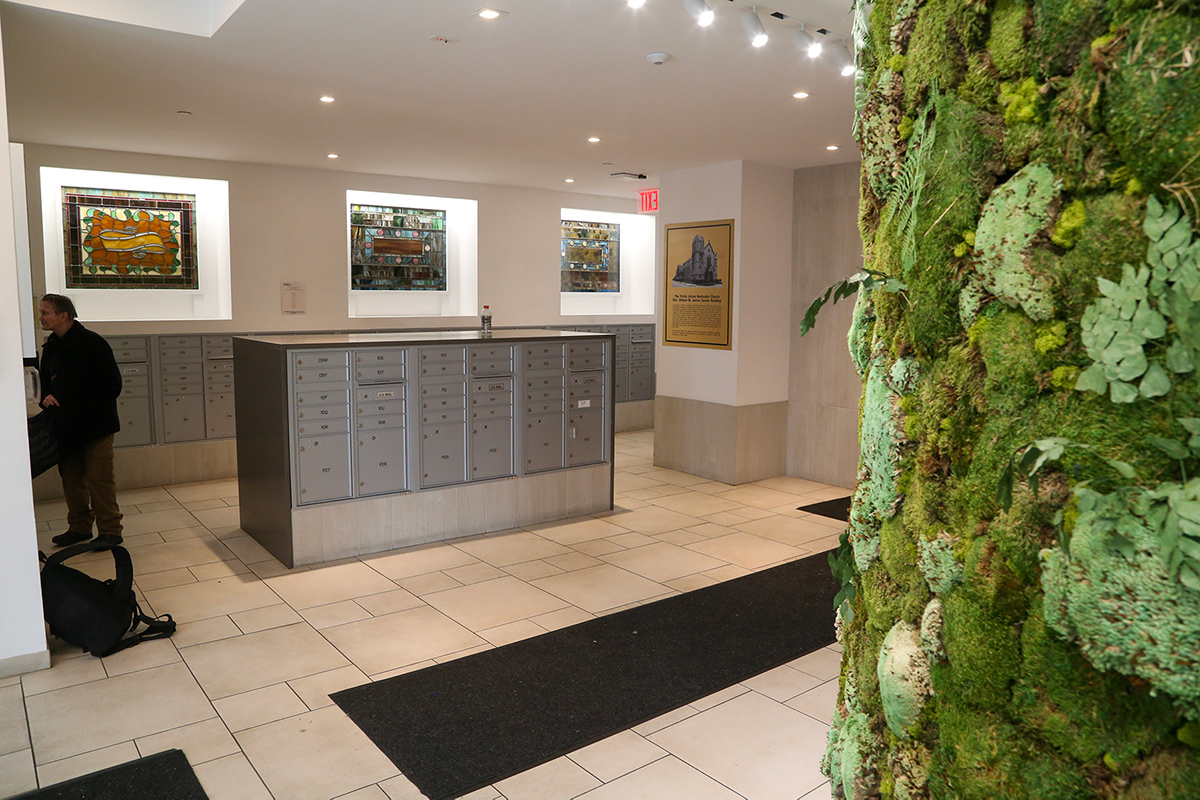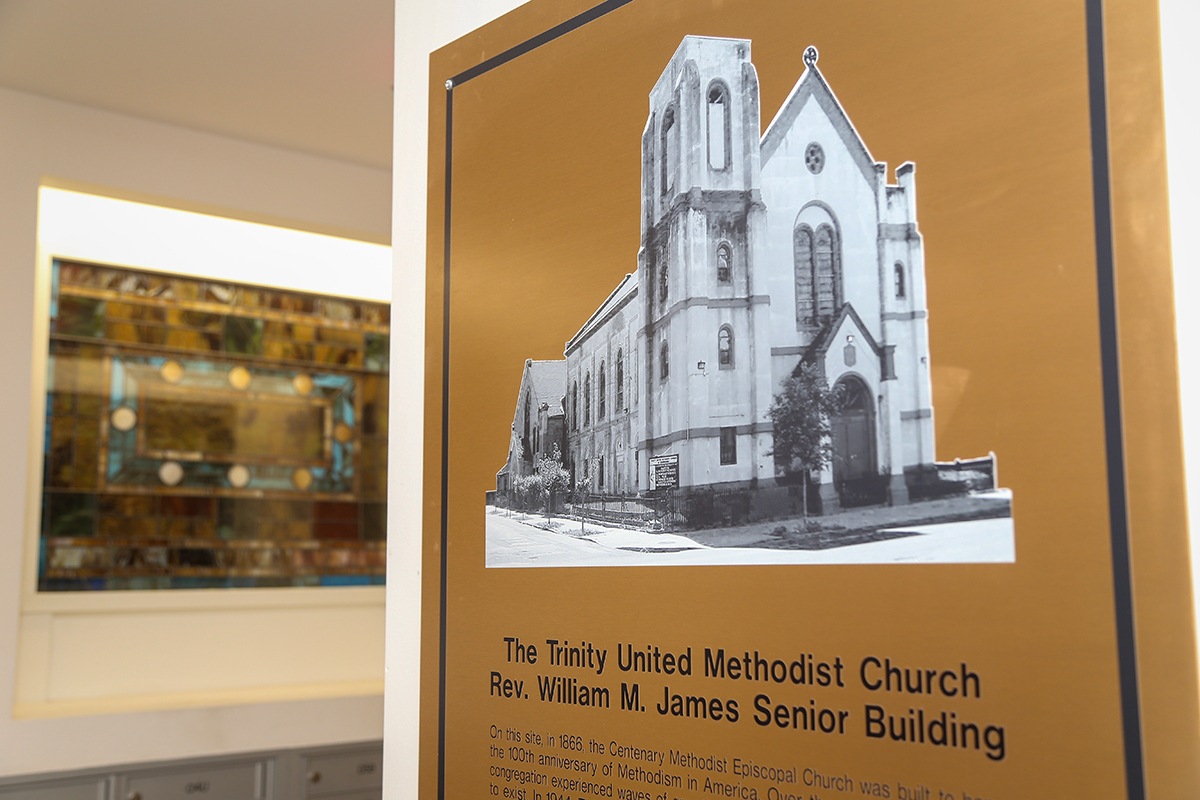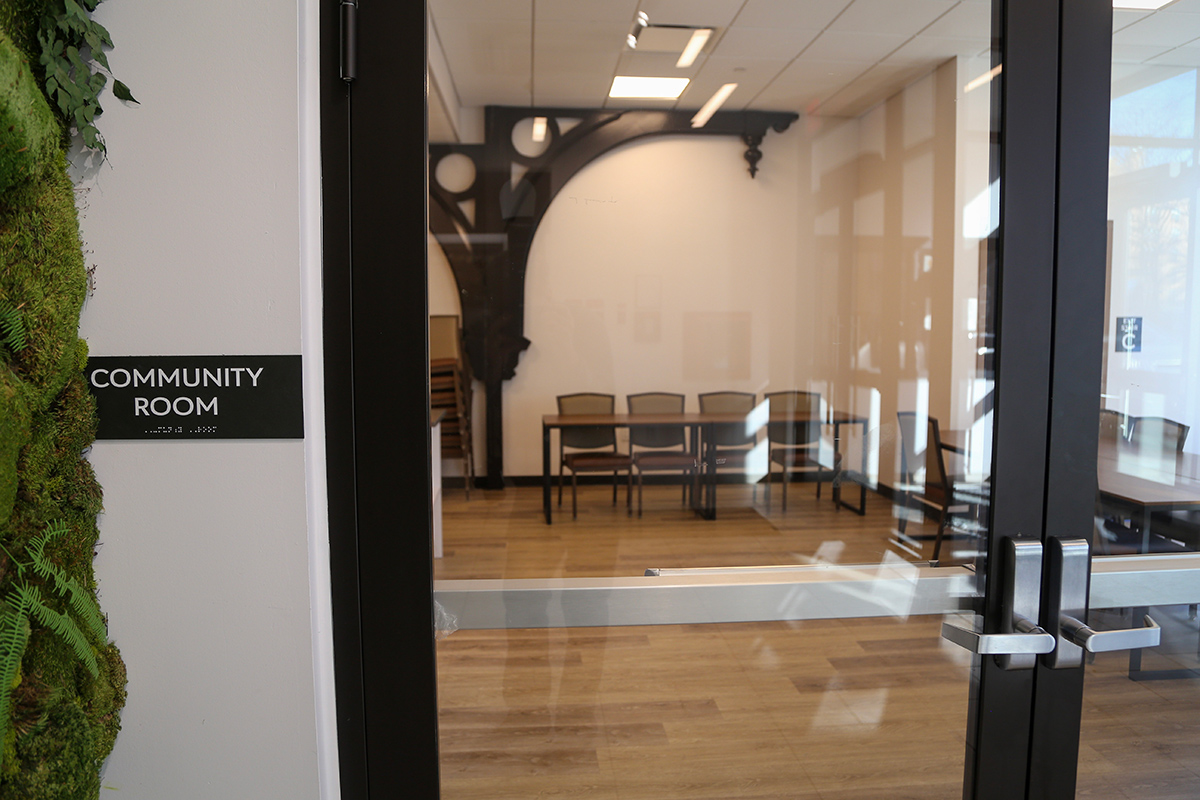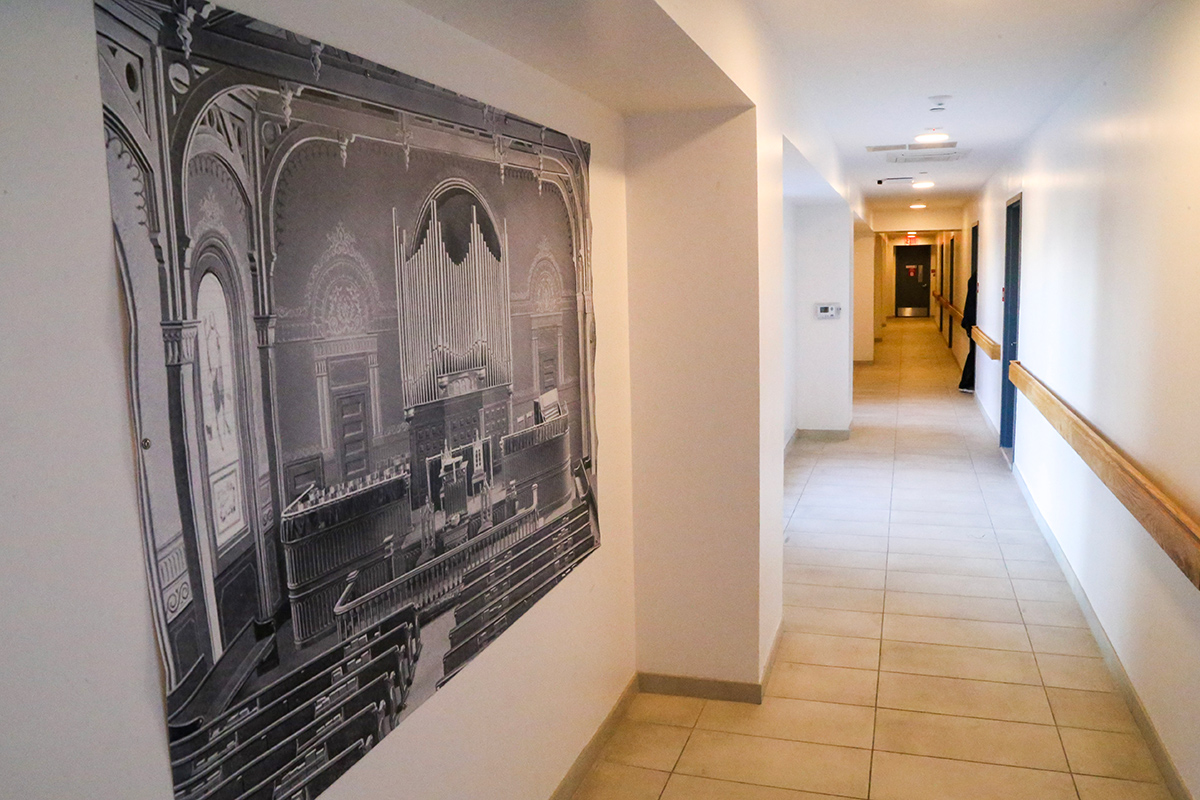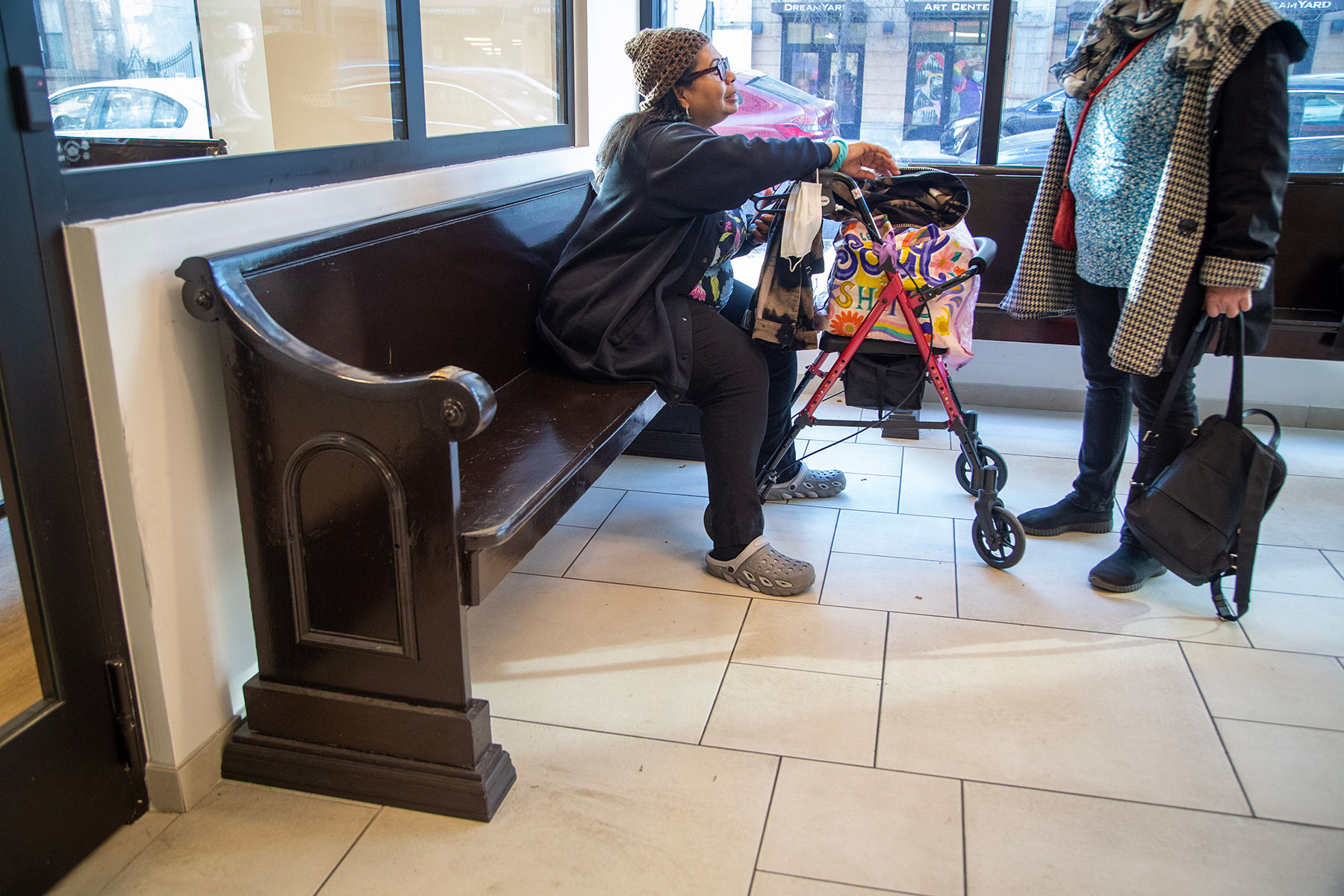 "Bill [Shillady] wanted to keep the mission alive, and it gave a richness to the experience of developing this project," Samantha Magistro said. "This work is hard, so you have to be fulfilled from it."
The church may be gone, but the mission work of the United Methodist City Society is very much present.
"Affordable housing is mission, by bringing the marginalized into beloved community," Shillady said.
In the case of the Trinity Apartments, not only are they providing sustainable housing to low-income seniors, but the property also dedicates more than a third of the apartments to supported housing, reserved for formerly incarcerated seniors.
Since his release from prison in 2019, 70-year-old Ruhullah Hizbullah had been shuttled among various New York City homeless shelters. He was in a shelter in the Woodlawn section of the Bronx when his name was picked in a housing lottery.
"They told me to pack my bags," Hizbullah said, holding his dog, Duke, in his cozy studio apartment. "I signed the papers and got the keys the same day. Now I feel free."
How can your property be reimagined for mission-driven development?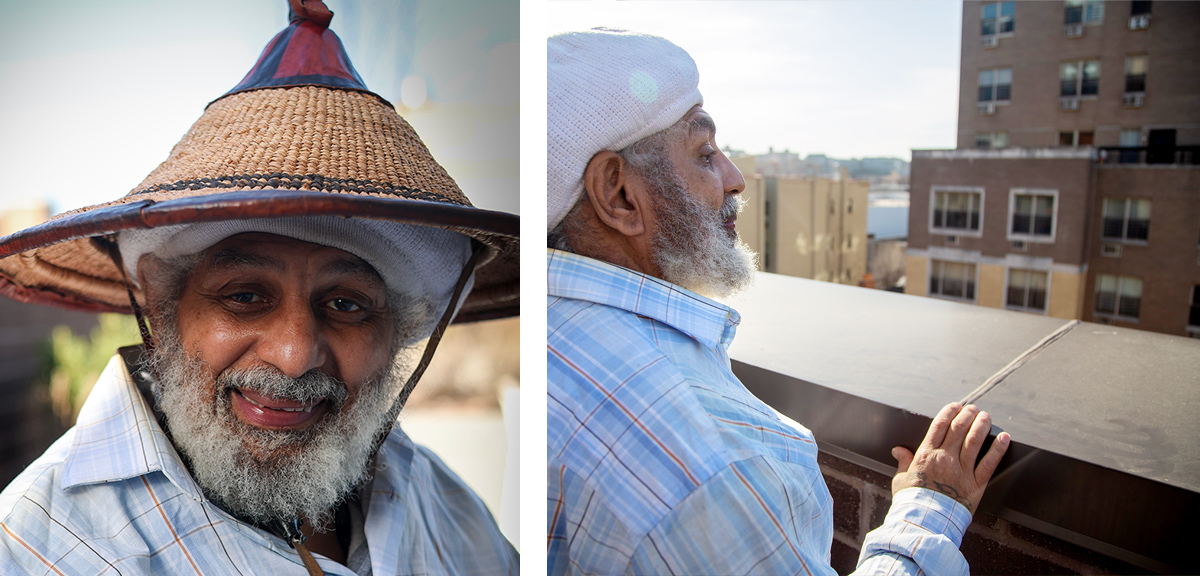 The apartment was move-in ready: fully furnished, with linens and a kitchen stocked with pots and pans. Like the other tenants in the building, Hizbullah pays 30% of his monthly income in rent. State and city subsidies cover the remainder.
Another benefit for supported housing residents like Hizbullah are the wraparound services provided on-site by the Fortune Society, a New York-based nonprofit that has been helping people released from prison successfully reenter the community since 1967. Fortune Society rents office space in the building to support the organization's broader mission in New York City. Among those working from the building are the case managers and staff who cater directly to the Trinity residents.
Providing a variety of services
"Each tenant has a case manager to talk with them individually to see what they want to work on," said Carolyn Slade, who directs the senior housing program at the Trinity Apartments. Many of the resident have a history of homelessness and involvement in the criminal justice system.
"We try to help them integrate into the community," she said.
That could mean addressing mental health issues and substance use. Ongoing services include training in budget management so that residents know how to be financially responsible. And an important part of Fortune Society's support is making sure residents are accessing the benefits to which they are entitled.
"We want to make sure they have the income and the means to take care of things, like rent," Slade said. The aim is to prevent these residents from experiencing homelessness again.
Fortune has a nurse on-site to help manage mobility issues, high blood pressure, diabetes. A lack of access to primary care means many tenants have unaddressed health concerns.
Tenants receive support to connect with primary care physicians and assistance with transportation to their medical appointments. Fortune also works with an agency that helps tenants access home health care workers to assist with cleaning, food preparation or shopping if they need it.
But among the most important services Fortune Society provides — not just for the formerly incarcerated but for all the residents — is building a sense of community.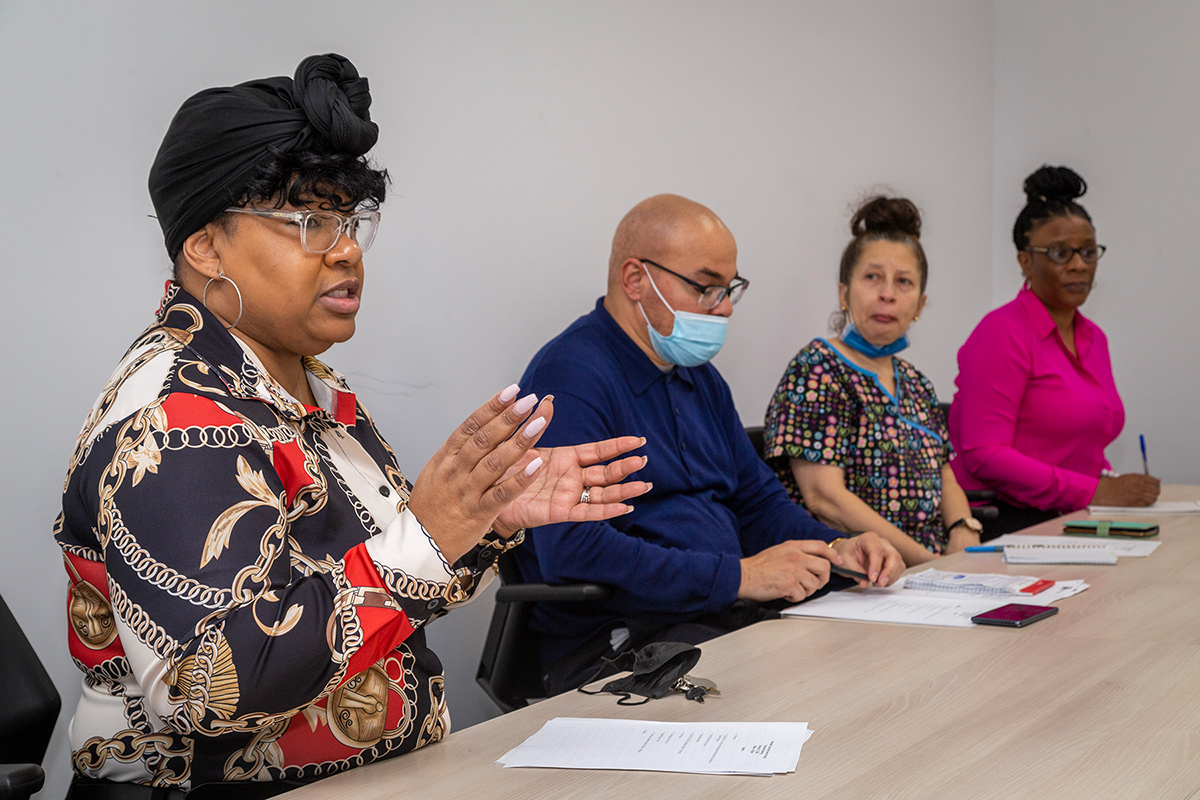 That took time, said senior case manager Stalin Hunt, a Fortune Society employee for 20 years.
"When we first opened the building, the affordable housing tenants said, 'I don't want people like that here,'" Hunt said, referring to the other tenants' concerns about the apartments reserved for the formerly incarcerated. "They were worried they would not feel safe or that their belongings would get stolen."
But nothing like that happened, and the tensions began to subside.
The Fortune Society fosters community through events — such as a Valentine's Day party and other holiday celebrations.
"You can really see people coming together as a community," Hunt said. "People look out for each other."
Resident William Muhamad Green, 63, said he also had spent a lot of time moving between the city's homeless shelters after he was released from being incarcerated. He eventually became one of Trinity's first residents and now experiences the type of community that builds friendships, like his with Hizbullah. He even takes turns caring for Duke.
When people challenge a concept or plan, how do you listen and form a response?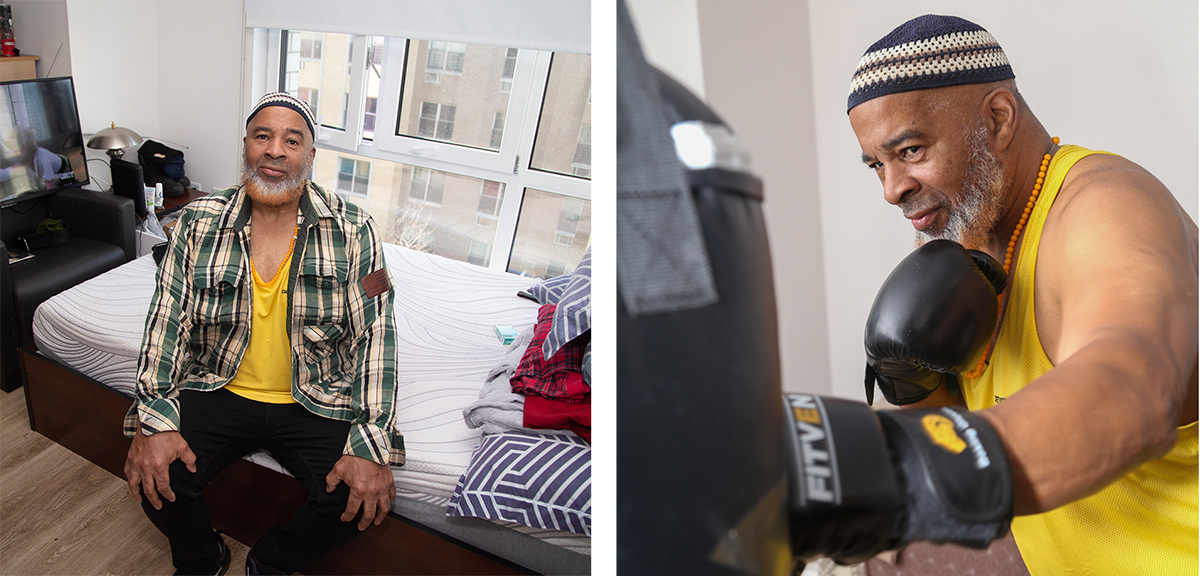 Fortune offers health, sports and cooking classes, as well as support groups. At a recent monthly tenants meeting, Fortune introduced a new member of the team, who would be coordinating other recreational activities, such as chess tournaments, bingo, nature walks and a talent show.
And there are plenty of spaces throughout the building where people can meet — like the sixth-floor terrace that offers a view of the Bronx skyline. On an unusually warm day in February, Hizbullah sat outside as the pigeons circled the coop on the neighboring rooftop.
"I like a place where I can meditate and read," he said. "To free my mind."
It may not look like a sanctuary, but the atmosphere is peaceful. A contemplative spot to call home.
Beyond serving congregations
"As church congregations are shrinking — and in some situations severely — the upkeep of the buildings is becoming too expensive for the congregations to manage," said Redman, the City Society executive director. It's important to explore how properties can be used differently to further ministry and generate income streams, she said.
This is not the first time City Society has been involved in affordable housing. Even in the early 20th century, the organization owned a number of buildings that offered housing to immigrants arriving in New York.
A later example is Grace United Methodist Church in Manhattan, which suffered a catastrophic fire in 1983. When City Society made plans to rebuild the church, the development project also included a 10-story building for low-income housing.
City Society owns that building outright. And while they hire a company for day-to-day management, maintaining the property is not for the faint of heart. Redman recently rattled off some of the reasons she spends so much time dealing with the property.
"We have five vacant apartments. That lowers the income stream. We have seven or eight tenants behind in rent. That lowers the income stream," Redman said. "We meet with a management team and have a real estate committee. This is a significant part of what I do as executive director."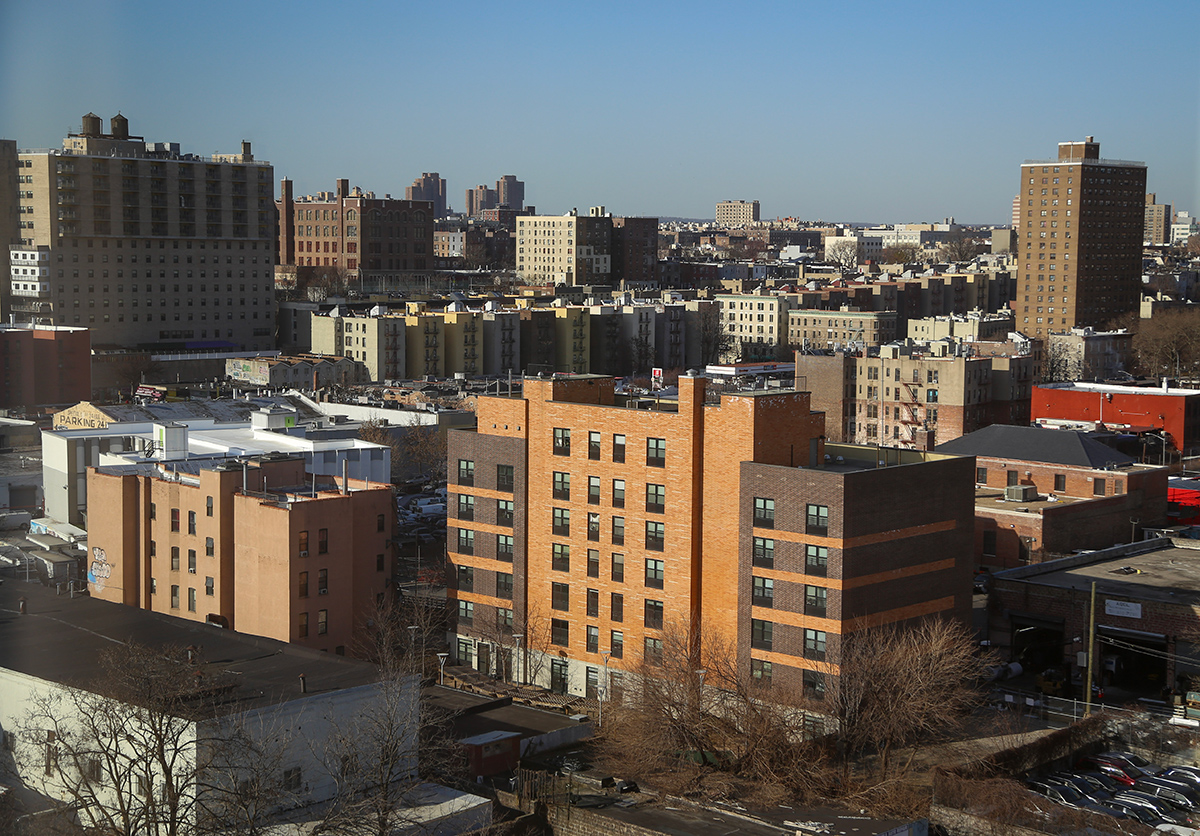 There are definite advantages, she pointed out, to the partnership model that City Society has with the Bronx Pro Group. They maintain partial ownership in the property but don't have to deal with all of those daily concerns.
But full ownership or a joint venture like the Trinity Apartments are just two possible models for churches. Since retiring in July 2022, after the official ribbon cutting at the Trinity Apartments, Shillady has invested his time in helping cash-strapped faith communities explore various ways to generate income.
"I'm really passionate about affordable housing and using church property for mission-driven development," said Shillady, who now consults with congregations about how they can repurpose their properties. He also serves on the board of a New York City-based nonprofit called Bricks and Mortals, which helps faith-based communities utilize their properties in creative, sustainable ways.
One of the purposes of this member-based organization in bringing together religious leaders, lawyers, developers and brokers is to document the strategies religious institutions may use to sustain themselves and continue to provide essential services to New York City and surrounding areas.
There are a number of ways the thousands of religious properties in New York City can use their space to maximize mission. Among them are selling air rights to a developer or renting community space for theater or dance classes or educational groups, Shillady said.
"A church can sell its property and make a lot of money and walk away, whereas a church can negotiate a development where they could have new space in a mixed-used building to do missional work," he said. "That congregation gets a new facility, partial ownership, income stream and usually some funds up front. It is not walking away but finding a way to be missional."
Who are the community partners who should be at the table in developing strategies for sustainability?
Questions to consider
How can your mission create community that sustains your organization's purpose?
How can your property be reimagined for mission-driven development?
When people challenge a concept or plan, how do you listen and form a response?
Who are the community partners who should be at the table in developing strategies for sustainability?
First United Methodist Church of Miami was Audrey's second pastoral appointment. She left a deeply challenging and meaningful missional ministry in South Miami to come to the big, shiny downtown church and find some rest, security and stability. She thought.
It didn't take long to notice that the exterior cross was not shiny but rusty, the roof was leaking, and the sanctuary pulpit had been eroded by termites. The building maintenance list was twice as long as the hospital visit list. So much for rest!
This is the reality of most of our beloved "Old First Churches." Because First Churches — often, the first of their denominations to be established in a city — are in strategic locations and have significant influence, they have long drawn the attention of observers.
In 1974, Ezra Earl Jones and Robert Wilson wrote a book titled "What's Ahead for Old First Church?" In their research, they focused on the role of the downtown church in the civic, religious and social life of a city, region and denomination. They noted a number of common traits of Old First Churches — quality, prestige and leadership.
And yet reading their work almost 50 years later, we were struck by the undeniable sense that already in the early '70s the Old First Church was in decline.
The disestablishment of mainline religion was underway; the function of downtown areas was shifting, especially as the suburbs were growing; and the aberrant patterns of convergent and cohesive communities that had occurred in the post-World War II 1950s were giving way to divergent patterns of social life.
Audrey's church fit this model, which we included in our 2020 book, "Fresh Expressions of People Over Property." First UMC Miami's history is deeply linked to its origins as a downtown church with multiple locations, narratives and identities.
Miami is magical, especially at night. This was not the case 126 years ago, when First United Methodist Church was birthed. The location on the Miami River had been occupied for thousands of years by Native Americans and had been visited by Ponce de Leon in the 1500s; the city itself was incorporated in 1896.
At that time, it wasn't much of a city, comprising wooden structures, mangrove trees and mud. Many of our early members imagined more; the people who built the city were also the founders of White Temple ME Church (in the northern faction of the Methodist Episcopal denomination) and Trinity ME Church South (in the southern one).

Both churches started in houseboats, then upgraded to buildings and eventually erected their sunbathed sanctuaries just two blocks from one another. The churches had been in their new downtown buildings only about 20 years when the northern and southern Methodists reunited.
Although the two churches were now under the same denominational umbrella and less than a mile apart, they never spoke of merging — they were too big. The growth continued until the '60s and '70s. But perhaps spurred by a damaging fire at White Temple, the two churches merged in 1966, meeting at the Trinity campus for several years before constructing a new building on Biscayne Boulevard, completed in 1981.
White flight continued, and by the '90s, most mainline churches in Miami had lost 50% of their membership. Many wondered what was ahead.
Urban theorist Richard Florida has noted that suburbanization "accentuated [the] fissure of urban areas into separate zones for working and living." Many of our downtown structures were defined and built for an earlier way of life. But church leaders were slow to adapt to change.
Still, adaptation would come. Many downtown churches simply followed their people to the suburbs; as we know, systemic racism was and is a factor in real estate markets.
Alongside the change came a nostalgia for the past — when sanctuaries and Sunday school classes were filled with people, when prominent preachers held esteemed positions in the community, when political and civic leaders of influence sat in the pews and were active as members.
This selective memory does harm to leadership in the present, lowering morale and increasing anxiety and stress.
When Audrey arrived as pastor of FUMC Miami in 2015, some members still identified themselves as "Templers" or "Trinity." Many carried with them the nostalgia and prestige passed on to them by the ancestors who had built the city and had stayed when so many others left.
Not all were longtime locals, of course. The faithful folks she inherited were from more than 25 countries around the world, and they also embraced FUMC's identity "in the heart of the city with the city in its heart."
The men's group started a powerful ministry with the unhoused. Many members started tutoring at local elementary schools. The church became a leader in Miami's People Acting for Community Together and took on many social issues downtown. FUMC's music was far from contemporary, and its sanctuary bore no screens, but each year new people trickled into the church.
Like many bighearted downtown churches across the country, First UMC found that love was not enough to pay the bills and do new things. Solutions such as budget cuts and renting out space helped for only so long. The church was looking at half a million dollars in upgrades, such as improving bathrooms and organ pipes — expenditures that were necessary but did not bring in new people.
For many churches, large property decisions arise from two main drivers: declaration and desperation. First UMC was motivated by both.
The congregation wanted to stay downtown to declare the gospel and serve the homeless. They also were becoming desperate. Audrey spent her first few months at FUMC crunching numbers. How much square footage was used for ministry? How many of the top 25 givers were over 65? (Answer: too many.)
The questions and the data led to a decision: They had to do something.
How could First UMC remain an Old First Church, willing to understand its past and appreciate its traditions, yet discern what in all of that could be released and repurposed for mission in a changed landscape?
The church formed an exploratory development committee, which created a plan and process to partner with a developer. It then sold a little over an acre to a developer who is building two towers on the property. The church will occupy 20,000 square feet on a corner of one building, and the rest of the building will have 696 microunit apartments, 40 of which will be used as a hotel. The second tower will be residential.
The income received from the sale is being used to buy and build the church's portion of one building. The rest will be in an endowment to fund the church in perpetuity.
The vision is to have a hub in downtown and spokes in the city. The spokes will be created by the missional and faith needs in their locations, such as a new brunch church directed toward the LGBTQ community or missional ministry with veterans.
FUMC of Miami does not want to stop following God where God might lead them now that they are building a beautiful home. Each year, they're working to live into a new future for their beloved — new — First Church.
When faced with the COVID-19 pandemic, congregations of all sizes overwhelmingly embraced virtual services to ensure that they stayed connected with their members and communities. Recent research suggests that this shift to technology is here to stay.
It was only a few years ago that online church and the adoption of digital technology ranked last among pastors' concerns, as evidenced in Barna's State of the Church 2020 research.
The yearlong project, which launched Feb. 3, 2020, with the release of a report on pastors' concerns, revealed that "challenges to the traditional church model (e.g., house churches, online churches)" ranked next-to-last, at 21st, for respondents, while "keeping up with the latest digital and technological trends" ranked last, at 22nd.
Of the 547 pastors surveyed, only 11% and 7%, respectively, rated those issues as "concerns facing the Christian church in the U.S. today."
"The pandemic forced a seismic paradigm shift for most pastors," said Nona Jones, who is chief content and partnerships officer for the online Bible platform YouVersion and also co-leads the Open Door Ministries church in Gainesville, Florida.
Jones is among numerous congregational leaders and researchers who are convinced that the hybrid offering of church services will be a lasting model.
"I believe the digital church is definitely here to stay," Jones said. "Churches continue to livestream at unprecedented levels, and they are using digital connection platforms like never before."
Early findings from a more recent Exploring the Pandemic Impact on Congregations (EPIC) survey support that trend, according to Scott Thumma, the principal investigator for the project, a professor of sociology of religion at Hartford International University for Religion and Peace, and the director of the Hartford Institute for Religion Research.
"When asked if they will continue to do hybrid worship five years from now, we're still seeing a pretty consistent number of churches — about 80% — who say they will," Thumma said. "Based on about 2,000 responses we have received so far, nearly everyone who is doing hybrid worship plans to continue to do hybrid worship."
Developing a strategy for church growth through online engagement
In the face of declining church membership, online engagement may provide a path for churches to continue their impact — and growth.
According to initial EPIC study findings, churches experienced a 12% decline in attendance during the two-year period from 2019 to 2021. In comparison, U.S. congregations had experienced a five-year median attendance decline of 7% pre-pandemic, according to the 2020 Faith Communities Today survey.
However, the 2019-2021 decline was not experienced across the board. Just over a third of churches did report a decline of 25% or more in attendance. But looking more closely, 15% reported stable attendance, and 28% of congregations actually experienced growth.
The mode of worship delivery made a significant difference. Churches that met only in person saw a decline of 15.7%; those that met only online, 7.3%. But congregations offering hybrid services showed overall growth of 4.5%.
"It's pretty clear that the pandemic has shifted human behavior and social organizations," Thumma said. "We see it in restaurants, movie theaters, … in every aspect of our lives. So it's not surprising that churches feel that as well."
According to John D. Witvliet, the director of the Calvin Institute of Christian Worship, which regularly hosts conferences for hundreds of congregational leaders, many pastors are increasingly conveying that they are seeking ways to use technology to cultivate deeper relationships, participation and overall engagement.
"It's one thing for a congregation to livestream a service or event to a largely passive audience," he said. "But it's another to have a congregation actively seek to engage people through a Zoom chat, an email exchange or a phone call after they've just watched a service. We have definitely noticed churches are engaged in all kinds of experiments on how to enhance and deepen engagement."
Witvliet said that many of the pastors he interacted with during recent conferences were hopeful about the positive impact they could make on people's lives through a hybrid church experience.
When considering a plan to build a stronger online church experience, Jones said, it is important to move forward strategically and prayerfully.
"An online church should be approached with as much planning and consideration as you would approach launching a new physical church," she said. "I often joke that you wouldn't launch a physical campus out of the blue one day — see a 'For Sale' sign and buy the building and have a church service that night.
"You would prayerfully think about where you want to open the location, then once that is decided, you would probably start embedding yourself in that area of town — getting to know the neighborhood and business community," she said. "You would then raise or allocate funds to get a solid staff in place to serve the new congregation and have that team begin inviting people to your launch service."
The same intentional approach should be taken for a digital ministry, Jones said.
Recently, after many years away and numerous COVID-related delays, I made my way back to the place of my childhood. I grew up along the winding Guadalupe River in the Hill Country of Texas, in the city of Kerrville, to be exact — a small town where I inhabited 11 different houses as a child.
Not only is this the place I grew up, it is also the place where I planted a church called the Soul Cafe in the late 1990s. I had anticipated going back for quite some time, and to my surprise, I found that not much had changed.
I was comforted to find a vibrant main street where I could still eat breakfast tacos on tortillas made fresh that morning. It was nice to sip coffee at Pax, have lunch at Francisco's and enjoy the region's wine at Grape Juice, all locally owned and operated.
I drove over low water crossings, remembering the thousands of trips down these roads in my 1985 turquoise-blue Camaro. I swam in the river and basked in the early-autumn sun below an enormous swarm of vultures circling overhead.
It can be easy to look back at the past, full of nostalgia, with rose-tinted glasses, but my childhood was more thorny than rosy, and that spilled into my experience of church as well. When I was a young teen, I endured a season in which my mother dropped my brother and me off at a different church each Sunday, hoping we would find one we liked. It was painful.
Despite an expressed emphasis on being welcoming, the churches I experienced felt anything but that. Awkwardly, I would enter, looking for a familiar face but sensing only impermeable boundaries roped off with pleasant smiles and perfect-looking family units.
My family was far from perfect. Dad had left when I was 5. Mom cycled through a series of relationships that kept us moving. My brother started using drugs at 13. Entering church on Sunday mornings, I stood out like a ragamuffin. I could find nowhere to hide, and it was impossible to blend in.
I ended up choosing the church where Regina went. A friend from school, Regina saw me at once and ushered me in to sit with her and her family. She truly and personally invited me in. Regina is someone who knows the art of friendship — someone I am still friends with today, over 30 years later.
In fact, she and her husband were part of Soul Cafe, the church I planted to reach young adults. Soul Cafe closed its doors several years ago, but there is still a group of people who are deeply connected by the experience of shared community it offered. These are the people I was keen to see on my visit.
On a Sunday night in late September, we gathered for a "come one, come all" potluck. In a familiar backyard under the stars, we jumped right back in with one another. We shared stories from the past, conversations about people who had moved away, photos and tall tales from weddings and other special events. We visited with young adults who had been babies back when Soul Cafe started, and we shed tears over the people who are no longer with us.
As I sat listening to stories and taking in the laughter, I just kept thinking: This is a holy space. This is what endures.
Several people have asked over the years what made Soul Cafe so special. My answer is always the same: community. It wasn't that the worship was awesome (it was!) or that we were pioneering the coffee shop church movement (we were!). It was the way we did life together.
We were friends, loving one another in good times and bad — and there were plenty of both — supporting each other, holding one another accountable, wrestling across differences, including political ones. Yes, both Democrats and Republicans live in Texas!
Soul Cafe ended after 11 years. At the 10-year mark, the elders decided to pause for one year to discern whether or not to keep going. You see, it had started as a church for unchurched young adults but had grown to be a family church. Because family churches abound in Kerrville, the leadership thought perhaps new things needed space to emerge.
Soul Cafe ended with no conflict. The leadership distributed its ample resources into ministries that had sprouted out of the church. Soul Cafe as a noun, a place, ended — but the community, the doing, the depth of friendship certainly didn't end. We'd been woven together, stitched into a sacrament with invisible threads. This rich community fed my soul back in the '90s and sparked my imagination on my recent trip back home.
It left me wondering: Do we make church more complicated than it needs to be? Do we underestimate the power of friendship?
After all, the gospel was lived out in the company of friends. Jesus walked with his friends; he ate with his friends; he performed miracles at events with his friends. It was his friends who lamented when he died and who shouted from the rooftops when they realized the grave couldn't contain him.
Scripture tells us people will know us by our love for one another (John 13:35). It is not the isolating holy huddle but the connecting act of radical friendship that counters the cultural norm of every-person-for-self.
What if friendship re-imagined is the crucial element the church needs to embrace? Not just friendship among people who are alike but friendship defined more broadly. Deep, engaging one-on-one time that breeds responsibility and care, not only for each other, but for a widening circle of concern.
We are living in a time when people of all ages — especially the young — are experiencing excruciating isolation. One study shows that 1 in 3 young people feel alone most of the time and that 40% say they don't have anyone to talk to. What if more gospel-infused friendships called us to create pop-up dinner parties and backyard barbecues that lived out abundance for everyone — the recently unemployed neighbor, the young person struggling with addiction, the lonely older person who lives down the street?
As a social innovator who often trailblazes new forms of community out of necessity, I've repeatedly felt ready to throw in the towel. Time and again, though, my community has showed up to sustain me. People have buoyed me along the way. Like Aaron and Hur, who held up Moses' hands when he grew tired, people have appeared at my side to lift me up.
They have called me to return to radical action; they have stirred up new reservoirs of empathy, encouraging me to keep taking risks and keep imagining new tributaries where the Spirit is flowing.
At our backyard gathering in Texas, we took a moment to share a ritual. We drank from a common glass of red wine, passing it from one to another, communion-style, each blessing the next with one word of heartfelt affirmation. Words such as "passion," "steadfastness," "integrity," "joy" and "loyalty" emerged to describe the ways people are showing up for life. These affirmations echo in my memory and call me to imagine.
Encouraged in the possibility of a church reawakened by focusing on a broad, expansive charge to befriend more boldly, I embrace this blessing by poet, mystic and soul-friend advocate John O'Donohue:
May you be blessed with good friends.

May you learn to be a good friend to yourself. …

May you be good to [your friends] and may you be there for them. …

May you never be isolated.