A pastor from a small Methodist congregation in Indiana has to borrow a smartphone from one of her elders. She watches a quick tutorial on Facebook livestreaming, then films a makeshift service from her living room.
And there's the pastor of a rural Presbyterian church who discovered that the church did not own a tripod — moments before recording his first online service. He fastened his iPhone to a ladder with duct tape.
These are just some of the stories coming out of the Tech in Churches During COVID-19 research project, a two-year study on how churches and their leaders have adopted — and adapted to using — digital technology in ministry.
Funded by Lilly Endowment Inc. and working with the Center for Congregations, a team from Texas A&M University is investigating 2,700 congregations that received grants to purchase technology resources during the pandemic to enable them to move their services online.
Before 2020, many churches had never considered the importance of having Wi-Fi connections in their church buildings, let alone internet-enabled cameras or livestream setups. In fact, most American pastors likely never even considered holding worship services online.
Yet the COVID-19 pandemic, ensuing lockdowns and social-distancing regulations quickly showed congregations that having access to up-to-date digital media technology was not simply a novel ministry opportunity but a necessity.
The forced migration of worship services online in March 2020 brought with it many stories of churches being caught off guard by these new technological requirements.
Nearly two-thirds of pastors in this study felt that of all the new things they were asked to take on during the pandemic, it was technology work and decision making they felt the most unprepared for.
Through conversations with 500 church leaders, we heard responses like, "This wasn't the job I signed up for as a pastor"; "I have no training in 'putting on the tech hat'"; and, "I am a novice at tech — but the only one willing to try and get the church online."
Leaders' widespread lack of technology skills, knowledge and experience was further complicated by the digital divide, which many churches encountered for the first time. The digital divide describes the gap between individuals and groups that do and do not have access to technology, especially the internet.
The experience of the pandemic revealed for churches the challenge of what it means to be among the digital have-nots. Smaller and rural congregations in particular discovered that being in a community with limited internet access was not just a disadvantage but often a major barrier to acclimating to or addressing changes in gathering.
Yet the struggle was often more than churches simply not having key technologies on hand or the funds to purchase them. Many congregations battled self-imposed limitations on technology and roadblocks they created for themselves.
This we describe as digital reluctance, an unwillingness among leaders and/or members to embrace technology due to fear or lack of familiarity.
This was expressed by senior members of congregations as well as by church leaders, and this digital reluctance often prevented them from innovating worship and adapting to public gathering limitations.
For example, one leader, who described his congregation as "very anti-tech" and said that he personally "never had an interest in going online," felt that these factors created significant obstacles for his church during the pandemic. In his view, the congregation's initial reluctance to consider or even experiment with technology-driven service solutions created unnecessary tensions during already uncertain and tense times.
In other cases, congregational resistance toward technology often corresponded with a church's general unwillingness to change its liturgical practice or re-envision the church. As one pastor said, "For some, getting on board with online worship was seen as giving up on the core of their faith."
Digital reluctance also created friction in some churches between the generations. Younger and more digitally fluent members, excited about the possibility of re-imagining the church through digital platforms, often found themselves in conflict with older members or those less familiar with digital media.
Some leaders said the generational digital divide, and the tensions created around it, contributed to the slower return of some younger members once face-to-face services resumed.
"Some of those folks haven't returned. … Our seniors were taught that you were here every Sunday, so they're ready to be back. But that's not the case with our younger people and those who were willing to try to go online from the start," one pastor told researchers. "Time will tell what impact online tensions created."
As a grand experiment and learning opportunity, the digital transition many churches underwent during the pandemic provides us with several valuable lessons.
First of all, our research found that pastors who had a positive and open mindset toward changing worship practices and/or engaging technology had a less stressful experience adapting to the challenges of the pandemic. This shows that attitude can greatly influence one's outlook in times of forced change.
Second, congregations and their leaders who were willing to experiment with technology and learn from mistakes made in the process found that moving to online services opened up the possibility to reconsider the very nature of church.
Congregations are asking questions, for example, about whether church is primarily defined by its Sunday worship service, its community outreach, its technology use or something else. This is a challenging and tiring task, but pastors who felt empowered to be creative in their problem solving seemed to demonstrate greater resilience when handling pandemic stressors.
Third, pastors who used difficulties with technology to facilitate conversations about the nature of the Christian community helped create space for new perspectives to be shared.
This helped refocus the discourse from what was lacking in online worship to one centered on exploring new opportunities for community building, such as reinventing how small groups meet, how leaders perform pastoral care and how hybrid Sunday school can redefine religious education.
While the digital divide continues to be a challenging reality for many churches, the pandemic revealed important traits church leaders need to prepare for future cultural disruptions and technological shifts. Duct tape and an online tutorial won't solve all church tech problems, but they do demonstrate creativity and a willingness to try — which can go a long way in moving churches forward.
It was an hour before the doors would open. I was beginning to panic. The chairs were set, the sound check was done, and the speakers were ready. All I had left to do was set up the giant TheoEd letters on the stage. The problem was, the lowercase e would not stay in place. It leaned a little to the left, a little to the right, and sometimes it would flop over on its side.
After 18 months of planning and promoting, I thought, this e was about to ruin everything! In truth, it was the least of my concerns.
What I was trying to pull off back in 2017 was risky. At that time, I was a scholar-in-residence at a large church in Atlanta, and I was working with a group of lay leaders to re-imagine the congregation's annual sermon and lecture series.
We wanted something fresh, something that could reach out into the community. We wanted to make the best learning available in a format that was accessible and engaging to a broader audience.
We wanted to bring a little bit of TED to church.
But could we really pull it off? Would leading thinkers in the church and the academy be willing to give the talk of their lives in 20 minutes or less, as TED Talks do? Would audiences show up? Could we produce the whole thing with the impeccable quality of TED?
We sold out that first TheoEd event, the speakers were fabulous, and the e stayed put.
Since then, we've put on seven TheoEd shows, with several thousand in attendance and more than 100,000 viewing our talks online. We have developed discussion guides to go along with each talk and a prize for graduate students. For the first time this February, we took TheoEd on the road, visiting Charlotte, North Carolina.
Through TheoEd, we've tried to do for the Bible, theology and spirituality what TED has done for technology, entertainment and design. In the process, we have been learning a lot about what it takes to engage public audiences in conversations about God, religion and the power of faith to shape lives and communities.
Here are three discoveries and how they might help churches and seminaries rethink their approach to education.
Re-imagining the sage on the stage
Conventional wisdom has it that the sage on the stage is dead. At least, that's what I took away from Parker Palmer's "The Courage to Teach" when I read it in seminary. Palmer describes a "community of learning" in which the expert is displaced from the center of attention and learning happens through a nonhierarchical web of relations between students, subject and teacher. I love this model and use it in the seminary classes I teach.
Much like Palmer, the TED organizers are convinced that the traditional academic lecture is not an effective vehicle for engaging most audiences. What Palmer solves through decentered, discussion-based learning, TED solves through well-coached speakers, compelling short-format talks, an attractive stage and high-end production.
We've followed a similar path in TheoEd. Getting there isn't easy, as most of our speakers are more comfortable reading lectures from a lectern or delivering sermons from a pulpit. If there's a secret sauce to TheoEd, it's the insistence on the highly polished, no-notes, short-talk format that TED popularized.
What TED reminds us is that the church and the seminary of the future will need new wineskins, not just good ideas. We'll have to let go of some well-established models of education, and we'll have to lean into creative experiments. Some of those might look like what Palmer describes. Others might, like TED, try to re-imagine the role of the sage and the design of the stage.
Reaching the second audience
What sets TED apart from most speaker series is that its primary audience is not the people who attend in-person conferences. Rather, TED is all about the "second audience" — those who experience its content only digitally. Focusing on the second audience doesn't just involve remembering to turn on the camera and set up the livestream. From how the speakers are coached to where the cameras are placed, the whole point of TED is to make the second audience feel like the primary audience.
We try to do the same with TheoEd. A case in point: During our February 2020 event, a speaker's microphone malfunctioned during the first few minutes of the talk. The in-person audience could still hear the speaker, but the malfunction would render the digital recording unusable. Having prepared for this scenario, we paused the talk, fixed the microphone and asked the speaker to start over.
It was a bit awkward for the in-person audience, but we were convinced that this was worth it, because we knew that far more people would eventually listen to this talk through our website than were actually in the room that day.
If churches and seminaries are going to get serious about using digital media to reach new audiences, they will have to start designing offerings with the second audience squarely in mind.
How will that change things? It will mean paying more attention to elements like lighting, sound quality, camera angles, stage design and run of show. It will also mean making strategic decisions about which offerings should be online and which should not — doing less might well be the key to doing better when it comes to reaching the second audience.
Creating communities of curious souls
The look and feel of TED is inviting and inquisitive. The talks prompt the audience to ask questions and to consider new ideas — or to revisit old ones. The point of TED, as its website says, is to create "a community of curious souls."
Isn't that what a church should be — a community of curious souls? Becoming such a community will mean valuing questions over creeds, dialogue over dogmatism (whether conservative or liberal) and wrestling with difficult texts over trying to protect God from people's doubts.
It will also mean rethinking where education happens. We've chosen to hold TheoEd in community centers and performance venues rather than church sanctuaries. We've found that these spaces can be more inviting to those for whom the institutional church has ceased to be a place of meaningful belonging.
Rather than inviting people to their buildings, perhaps it's time for churches and seminaries to do their work out where their audiences are already gathering — coffee shops, pubs, community centers, art venues, gyms, parks.
Taking TED to church is no panacea for all that ails traditional models of Christian learning and theological education. But learning from TED is, as their tagline puts it, an idea worth spreading.
What TED reminds us is that the church and the seminary of the future will need new wineskins, not just good ideas.
While the country's politically conservative congregations far outnumber other faith communities, left-leaning houses of worship are on the rise in the U.S., according to a recently published National Congregations Study. If tax laws permitted, liberal congregations would be more likely to publicly endorse or oppose a political candidate than those who identify as conservative or middle-of-the-road, the study found.
More than half of congregations (57%) reported engaging in at least one of 12 political activities surveyed in the study, including organizing get-out-the-vote efforts, distributing voter guides, and marching or demonstrating. Those who march are most likely to do so concerning poverty and economic inequality or in support of immigrants, the data suggests.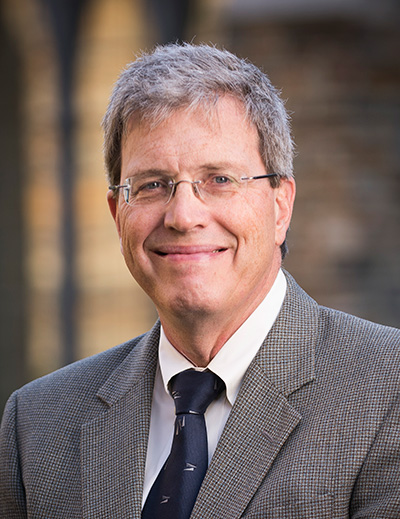 Those are just a few of the revelations contained in the fourth and latest round of the NCS, which gathered information on everything from size and political identity to worship practices and social services efforts among 1,262 U.S. congregations between July 2018 and September 2019. Taken alone, the study offers an interesting snapshot of congregational life just prior to the COVID-19 pandemic. But it's the long-term trends, captured over the last 20 years, that most interest Mark Chaves, who directed similar studies in 1998, 2006-07 and 2012.
"Everybody knows about their own congregation, but they don't know how they compare or how they fall in the national pattern," said Chaves, the Anne Firor Scott Distinguished Professor of Sociology and a professor of religious studies and divinity at Duke University. "Are they bucking trends? Are they part of the trends? People like to know what's going on in the bigger picture."
Taken together, the four studies, made possible by major grants from Lilly Endowment Inc., aggregate the practices of 4,496 unique congregations representing a range of Christian denominations, as well as Jewish, Muslim, Hindu and Buddhist communities. Many of the questions are repeated from survey to survey, to allow for long-term tracking, but each wave also includes a few new inquiries related to topics "in the air at the moment," Chaves said.
Policies that matter
For instance, nearly 39% of congregations that reported participating in lobbying efforts or marches in 2018-19 said they did so in behalf of immigration policy — triple the percentage reported in 2012.
Amid widespread media coverage of the Trump administration's stepped-up deportation efforts, the most recent NCS also asked congregations whether they'd discussed declaring themselves sanctuaries for undocumented immigrants. While 13% of congregations reported considering it, only 4% ultimately declared themselves sanctuaries — though that figure was considerably higher among Catholic churches, where nearly one-third reported taking that step.
On the campaign trail in 2015, Donald Trump took aim at the Johnson Amendment, a portion of the tax code that prohibits churches and other nonprofit organizations from endorsing or opposing candidates for elected office, lest they risk their tax-exempt status. Though that's still the law of the land, despite a 2017 Trump executive order, 4% of respondents to the most recent NCS survey acknowledged endorsing or opposing political candidates — a number the study notes is probably understated, given the potential consequences.
But how many congregations would openly take that step if the tax code didn't prohibit it? Seizing on the moment, the NCS added that query to its latest survey, with fascinating results, Chaves said. Of congregations that hadn't already endorsed a candidate, 17% said they would if the laws were changed, but most of that interest came from the left side of the aisle.
Does your congregation engage in any political activity? Why? How does your congregation's theology relate to its political activity?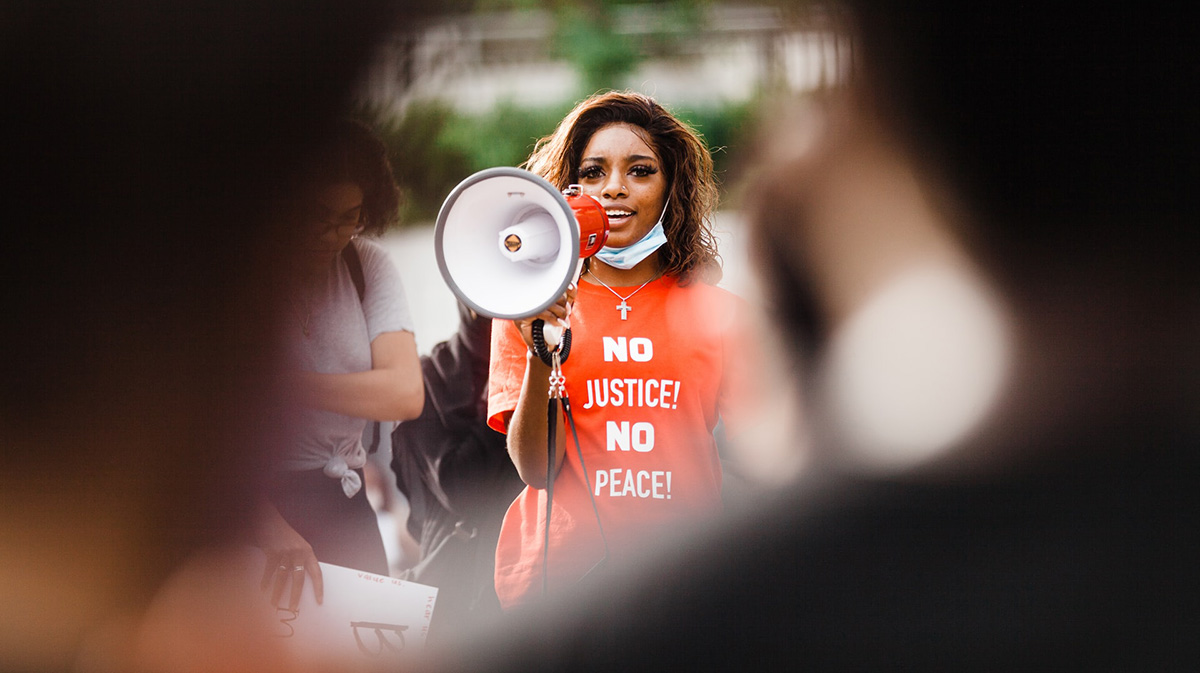 Though political conservatives have tended to be the loudest advocates for changes in the tax code, only 11% of right-leaning congregations and 15% of centrist congregations said they would support or oppose a candidate if doing so wouldn't jeopardize their tax-exempt status, compared with 45% of liberal congregations.
"Even though when this is in the news the advocacy is always from the right, the irony is if the tax laws around this actually got changed, it would unleash a lot of effort on the left," Chaves said.
Most American congregations, 46%, still identify as politically conservative, but that's down from 62% in 1998. While only 15% of the newest study's participants declared themselves politically liberal, that's basically doubled since the original study 20 years ago.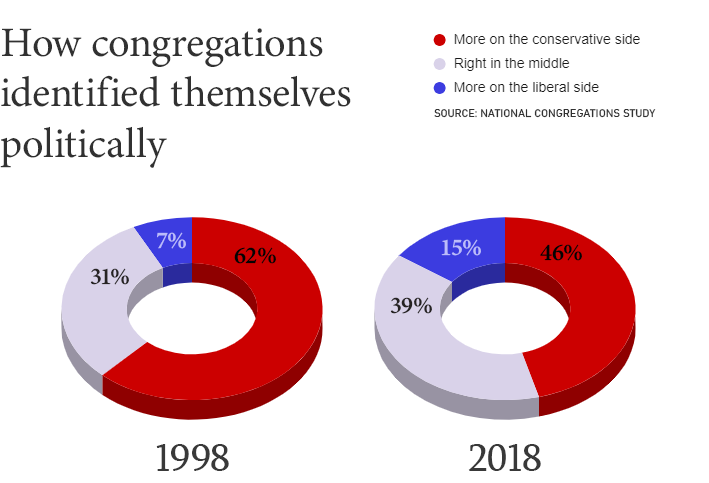 Among Christian churches, predominantly Black congregations were far more inclined to enter the political endorsement sphere, with 13% reporting they'd already done it — compared with no more than 4% within any other Christian group — and another 28% saying they would if they could, with only 15% or fewer of white evangelical, Catholic and white mainline Protestant churches saying they'd take that step.
Gospel perspective
The Rev. William Lamar IV, the senior pastor at Metropolitan AME Church in Washington, D.C., said he suspects that those numbers represent the response of Black congregations to the resurgence of racist ideals cloaked in public policy.
What are the challenges facing your community? In which challenges does your congregation engage? What does that engagement look like?
Lamar said he personally does not favor faith communities' endorsing or opposing individual candidates. He described the Johnson Amendment as "a creaky dam holding back the waters of oppression." If that dam breaks, Lamar predicted, political conservatives — given their numbers — have a greater ability to mobilize and raise funds than politically liberal congregations do. He said he worries that they also have a greater willingness to foment violence in behalf of their cause.
But congregations do have an obligation to speak out on issues that affect their communities, Lamar said. For Black congregations, those issues include living wages, affordable housing and health care, voting rights, and police violence against civilians, which politicians on both sides of the aisle have failed to address adequately, he said.
"You don't find in either political party a true commitment to those. Party politics on the left and the right sacrifice justice when politically expedient," Lamar said. "We are derelict if we don't speak about the issues from a gospel perspective. And if we are faithful to our tradition, neither party would be comfortable with our policies."
Less-formal worship
Collective worship remains the primary activity within faith communities, with virtually all Christian congregations and many non-Christian congregations typically including a sermon and singing in their services. But "one of the most fascinating and important changes" identified in the study is that worship services have become less formal and more expressive. Since 1998, significantly fewer congregations use a written order of service, play an organ or incorporate choral singing in worship, according to the study.
Drum playing, however, has more than doubled during that period, and 28% of congregations in the latest NCS reported worshippers jumping, shouting or dancing spontaneously, up from about 19% in the survey 20 years earlier. The study suggests that the changes could reflect the increasing influence of an evangelical "contemporary" worship style or simply a wider cultural trend toward informality.
"Whatever its source," the study explains, "this trend is part of a decades-long shift in American religion away from an emphasis on belief and doctrine and towards an emphasis on experience, emotion, and the search for a kind of worship with broad appeal in a time of ever less salient denominationally specific liturgy."
How has your congregation's worship changed since 1998? How does your style of worship compare with the trends toward less formality and more expressiveness?
That movement toward more experiential worship practices has been unfolding globally for the last 250 years within Protestant congregations, said Lester Ruth, research professor of Christian worship at Duke Divinity and co-author of "A History of Contemporary Praise & Worship: Understanding the Ideas That Reshaped the Protestant Church."
Not everyone is comfortable with the formality associated with "high church," Ruth said. To bridge the divide, Protestant congregations in particular have adopted practices that feel less like traditional worship and mimic other familiar public rituals.
"People, if they decide to go to a service, want to participate well. And if the ritual is familiar, they know what to do," he said. "If you invited me to a state dinner in the East Room of the White House, I wouldn't know what to do. But I know what to do at a rock concert. I know how I'm supposed to participate."
That invitation to dance, sing and put one's hands in the air is helped along by the kinds of technologies congregations are using during worship services, he said. Ruth's own United Methodist congregation in Durham installed TV monitors at the front of the sanctuary several years ago, initially using them in a limited manner to post things like song lyrics, which complemented whatever was in the printed bulletin or hymnal, he said.
But the monitors proved so popular that virtually everything is projected now — "If someone is scheduled to say it, there's a slide for it," Ruth said — while the hymnals and printed bulletins are rarely used. In fact, according to the NCS, the use of visual projection of everything from song lyrics to video clips increased almost fourfold in the last two decades, from 12% in 1998 to 46% in 2018-19.
Some of the technology marketed to worship communities is pretty cutting-edge, like environmental projection, a visually immersive process that allows a congregation to, for instance, transform the inside of its sanctuary so that it looks like a medieval cathedral, said Ruth. And the shift isn't simply an aesthetic one, he added. Projection allows worshippers to lift their heads out of their hymnals and creates a hands-free experience, which for his congregation has resulted in more clapping.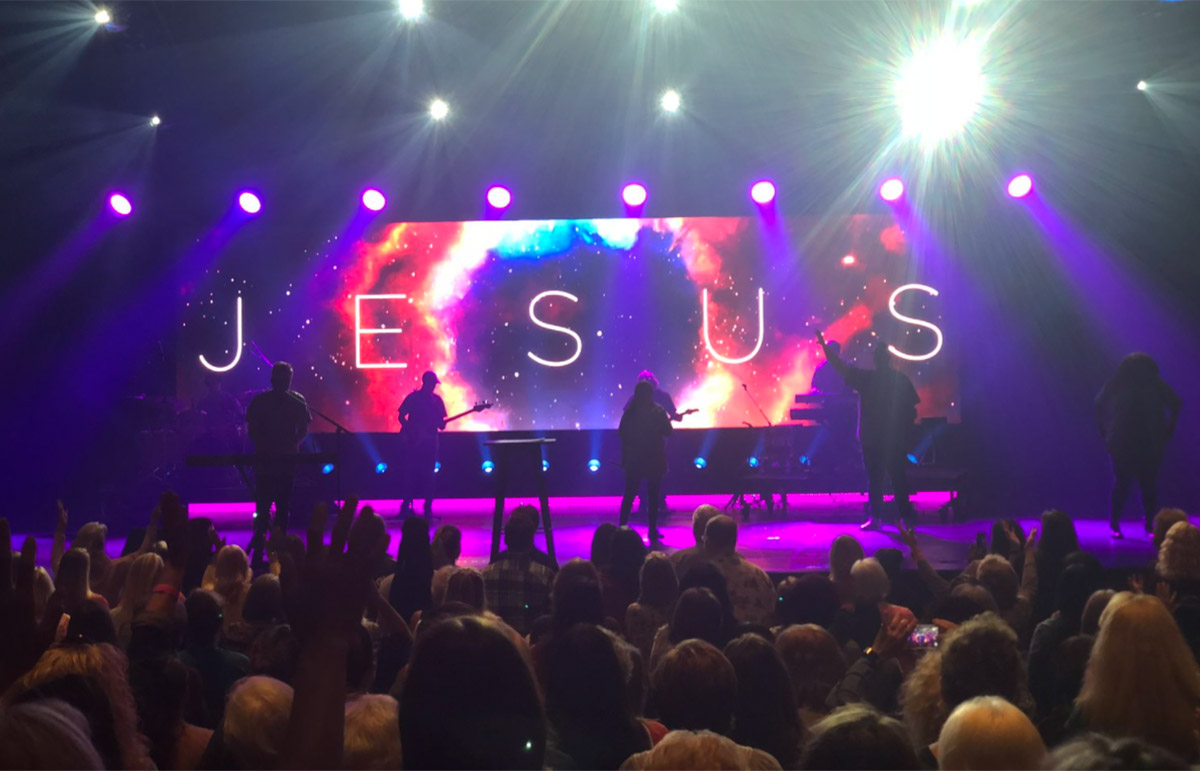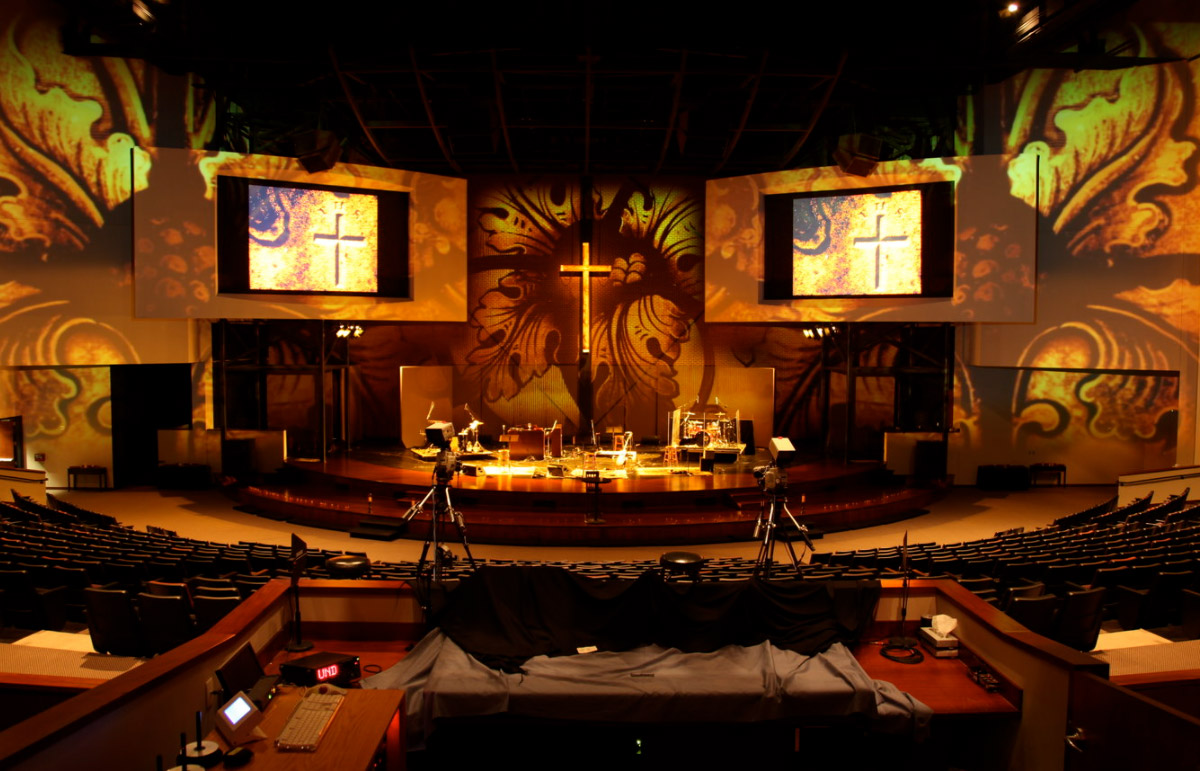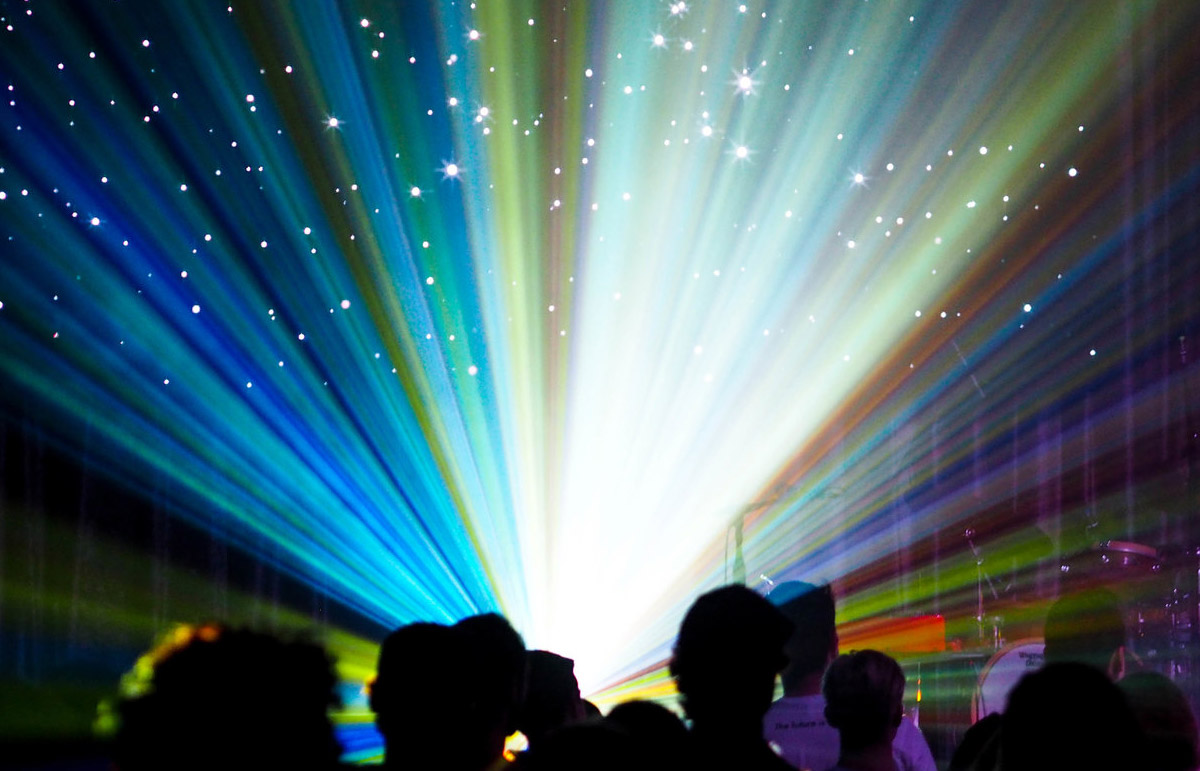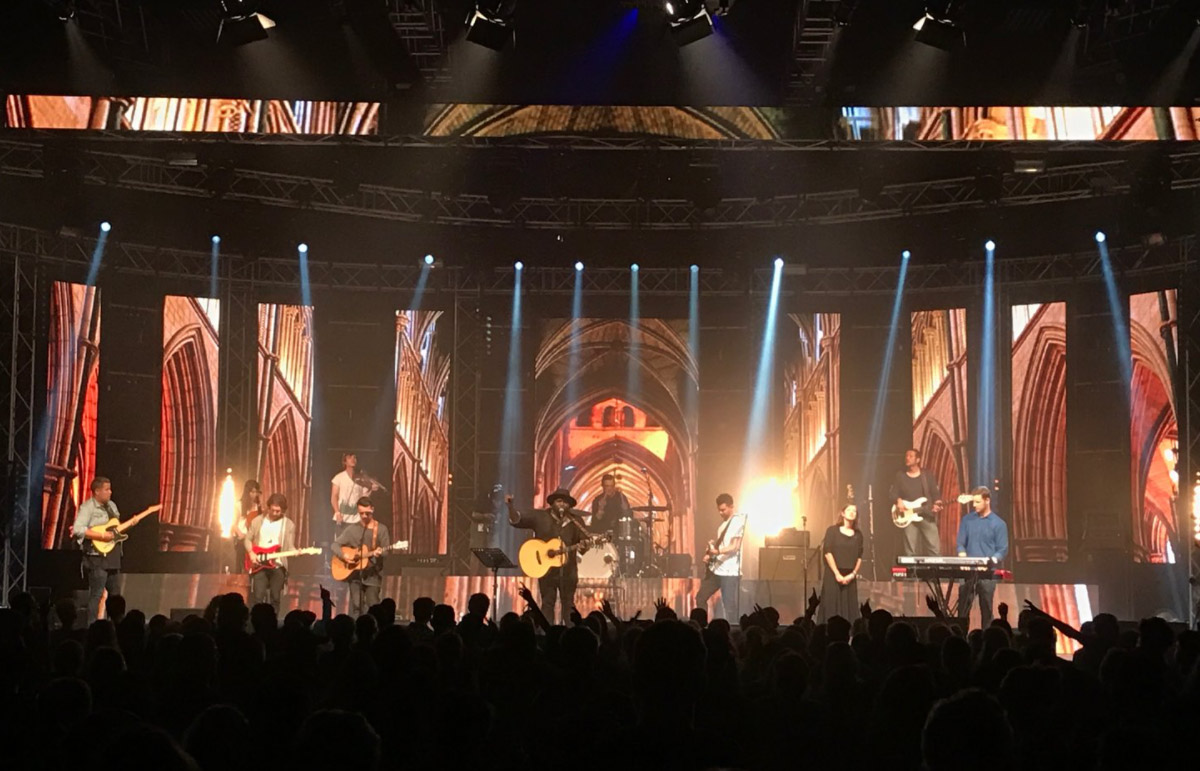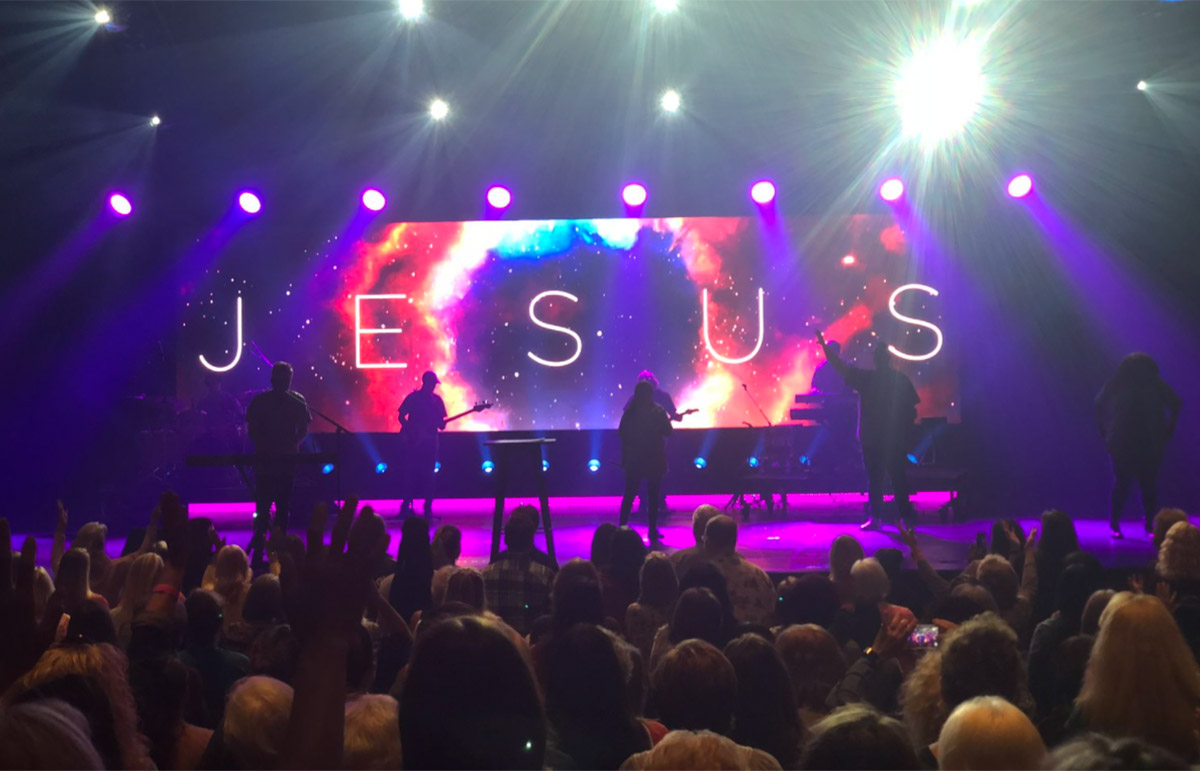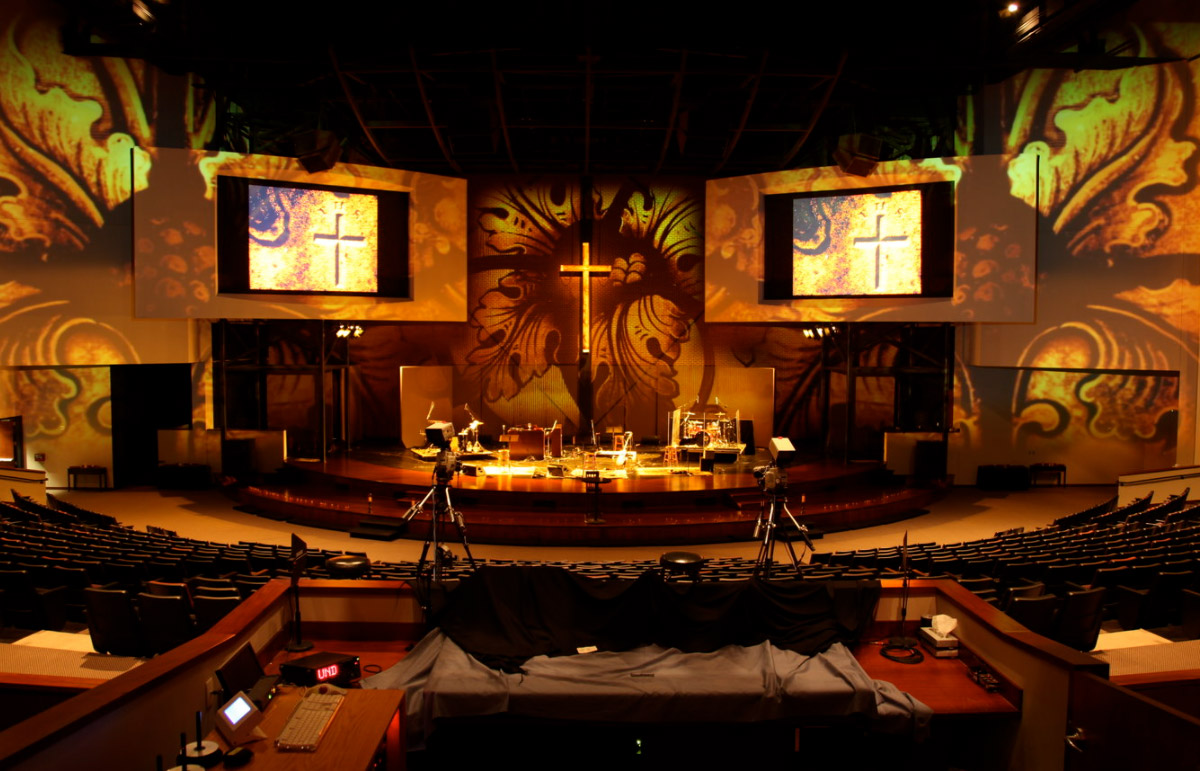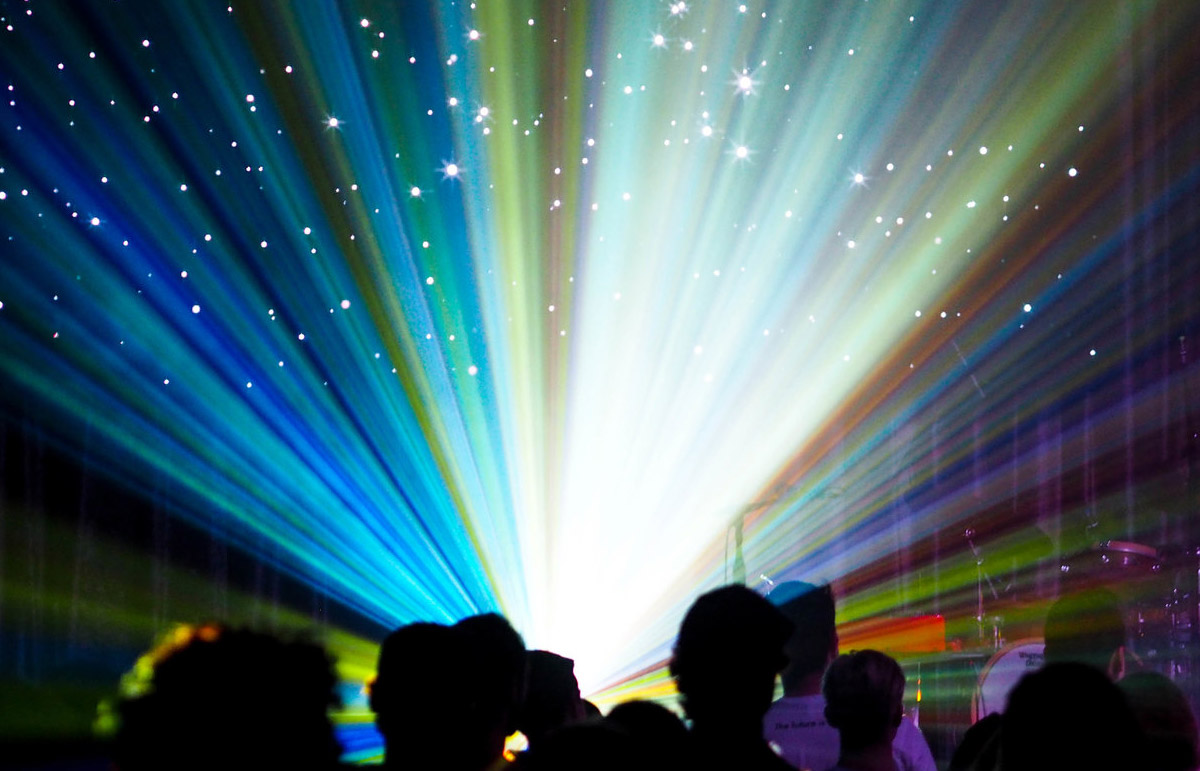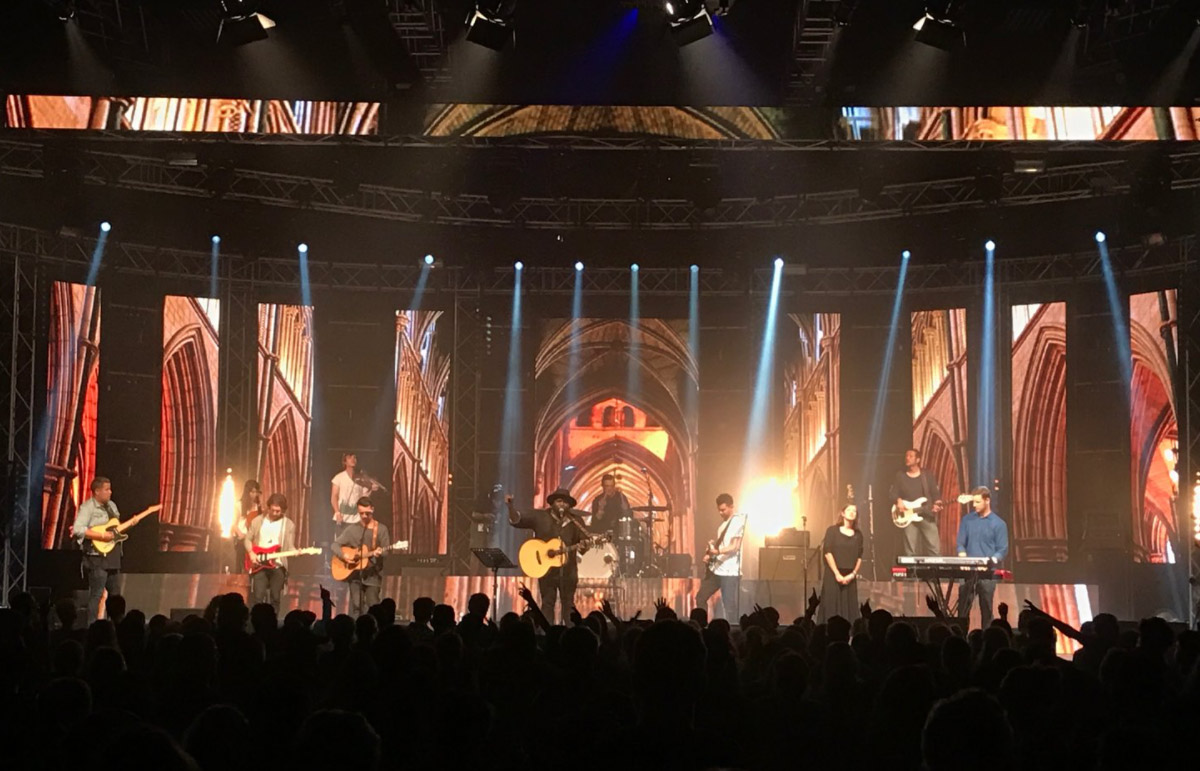 "What if we shift our presumption so that unprompted speech is not considered disruptive, so that layering multiple voices on top of one another is not considered disruptive, so that taking the initiative to respond is not considered disruptive?" he said. "I think this is where we're going."
One-third of congregations in the latest NCS also reported encouraging people to use their smartphones during worship, to access Scripture (57%), record part of the service (29%) or donate money (15%), among other uses. While technology that requires expensive equipment or special expertise tends to be limited to larger congregations, cellphones, with their ready availability, are incorporated in smaller faith communities at the same rates as in larger ones, according to the study.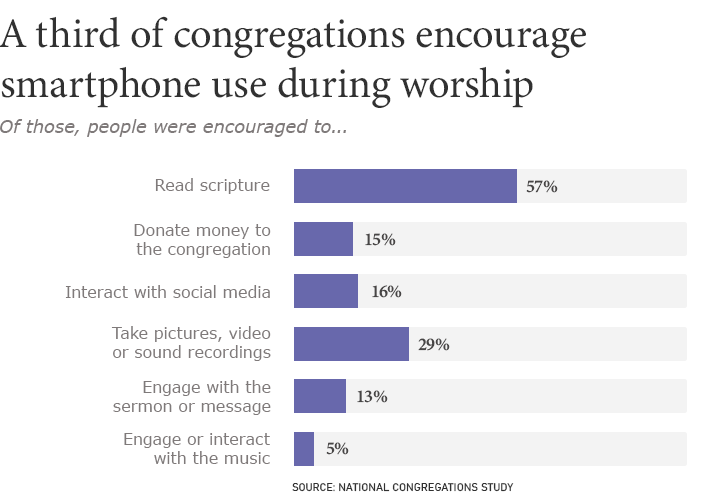 Technology pre-COVID
In 2018-19, 87% of congregations reported using a website, Facebook page, other social media account or combination of these ways to reach members and potential members, and 48% said they could receive donations online. Additionally, half of all religious congregations recorded parts of their service for people to listen to or watch later, while one in five broadcast or livestreamed worship services, with larger, younger and more urban congregations taking the lead.
Chaves predicts that technology use among congregations will likely continue to increase post-pandemic, particularly when it comes to offering online worship options.
Just about everything else, he said, is a big question mark. Will people come back to worship in-person? What will financial giving look like? What will community outreach look like?
"The general question for everything congregations did and do is, 'Will this be a blip and everything returns to normal after the pandemic? Or will we see some lasting shifts?'" Chaves said. "Stay tuned."
By the numbers
Among other findings in the NCS:
The number of congregations established in the previous 10 years has remained consistently higher for white evangelicals (16%) and Black Protestants (13%) than for Catholics (7%) or predominantly white mainline denominations (2%).
The proportion of non-Christian congregations has nearly doubled, from 5% of all religious congregations in 1998 to 9% in 2018-19.
Most congregations are small, and the average congregation is smaller today than it was in 1998, shrinking from 80 to 70 regular participants. But about half of all churchgoers attend the largest 9% of congregations.
Individuals in smaller congregations tend to give more generously than those in larger congregations. Overall, a congregation of 100 adults receives about 17% more per capita than a congregation of 400 adults.
Among part-time senior or solo clergy, 27% serve multiple congregations, while 65% hold a job outside congregational ministry. In addition, 14% of full-time paid pastoral leaders serve other congregations, and 17% hold non-ministry jobs. Overall, 18% of solo or senior pastoral leaders serve multiple congregations, and 35% are bivocational.
The median age of the head clergyperson has risen from 49 to 57 since 1998, and roughly 28% of people attend congregations led by clergy younger than 50 — down from 43% two decades earlier.
Women lead a small minority (14%) of American congregations, with mainline Protestant (30%), Black Protestant (16%) and Conservative, Reform and Reconstructionist synagogues (about 25%) at the forefront.
Racial and ethnic diversity within congregations is improving, with the proportion of predominantly white and non-Hispanic congregations declining from 71% in 1998 to 53% in 2018-19. Diverse congregations — those in which no one racial or ethnic group accounts for 80% or more of the people — tend to be larger and have more young people than racially homogenous congregations.
The vast majority of congregations (84%) are active in social or human services intended to help people outside the congregation, with roughly half providing food assistance, making that the most common helping activity.
Virtually all (91%) of the congregations reporting marching or lobbying on issues related to gay, lesbian and transgender people in 2018-19 said they support expanded rights for that population. That's a marked change from 2012, when the split was about 50-50 for and against gay marriage.
Twenty-five percent of congregations reported teaching the prosperity gospel, that God gives wealth and good health to the faithful — with 58% of Black Protestant and 21% of predominantly white evangelical congregations driving those numbers.
Plenty of studies focus on the narrative of decline within organized religion, and Chaves acknowledged that there's a bit of that in the NCS, which notes older clergy, graying worshippers and shrinking congregations. But the study points to vibrancy among faith communities as well, he said, with growing diversity within and among congregations, adoption of creative and technologically charged worship practices, and a burgeoning focus on helping communities meet social and political challenges.
The study makes no judgments about what congregations should be doing, nor does it offer any how-to advice. It's simply what's happening right now, said Chaves.
"A lot of what's here is not about decline or growth; it's what things are going on. It's changing the subject," he said. "It's descriptive — here's something going on that's interesting to think about and ponder what it means."
Interested in learning how your congregation compares with those in the study? You can find the questionnaire here.
Where is the energy in your congregation? How is your congregation distinctive with respect to the trends identified in the National Congregations Study?
Questions to consider
Does your congregation engage in any political activity? Why? How does your congregation's theology relate to its political activity?
What are the challenges facing your community? In which challenges does your congregation engage? What does that engagement look like?
How has your congregation's worship changed since 1998? How does your style of worship compare with the trends toward less formality and more expressiveness?
Where is the energy in your congregation? How is your congregation distinctive with respect to the trends identified in the National Congregations Study?
Kate Bowler is an unexpected media success. Trained as a historian, she expected a career in academia. She expected a happy life with her husband and young son. She expected that God had a plan for her life "in which every setback would also be a step forward."
But when she was diagnosed at 35 with stage 4 colon cancer, her "bright and shiny" life came undone. Suddenly, that life was in jeopardy, and all the expectations of what it would be like were gone.
In the years since, Bowler has continued to work in academia — she's an associate professor at Duke Divinity School, specializing in the history of the prosperity gospel. She also has written two books about her experience with cancer, hosted a seven-season (and counting) podcast and established a robust presence on social media.
She has written about her experience in The New York Times, including the recent essay "One Thing I Don't Plan to Do Before I Die Is Make a Bucket List."
Her book "Everything Happens for a Reason: And Other Lies I've Loved" was a New York Times bestseller that debunked the idea that God rewards the right kind of faith and punishes those who fall short.
Bowler also created the "Everything Happens" podcast, which features warm and often funny conversations with guests such as Malcolm Gladwell, Willie Jennings and Glennon Doyle.
"I think a lot about fragility and precarity, and how we can step into the delicateness of our lives," she said, "and then try to figure out a way to translate that into a very shiny set of mediums.
"That's the strange challenge and also the privilege of it."
In her new book, "No Cure for Being Human (And Other Truths I Need to Hear)," Bowler critiques the "best life now" promise of the American wellness industry. She is using the same "shiny" platforms that tout its claims to share a different message.
Bowler spoke with Faith & Leadership's Emily Lund about why she decided to share her story the way she has, and how she has employed popular media channels as a public intellectual.
The following is a transcript of the video, lightly edited for readability.
What I hope people learn from my story
The limitations of my single life and my single pain either was going to make me narcissistic: "Oh, look how interesting my story is; let me tell you about it forever." Or it was just going to be really lonely to be stuck in it.
And so the beauty of it is that this has given me a chance to talk to people about the things that take their lives apart and to ask, "What would it be like if we didn't treat our lives like problems to be solved?
"What are things in our own tradition that we can reach for that make us more likely to feel loved and carried forward, to have a thicker definition of hope and courage?" That's kind of what I'm hoping for.
The church as a place for people in pain
I sometimes found the church was a really hard place for me to be sick, because it's always embarrassing when you're as needy as you are. But it was also the place I needed to go.
But I used to have this army of lovely do-gooders who, even if they didn't always have the right thing to say, always showed up, because they were just that person. So I always had those people praying for me.
I always had Roger, from my church, who was willing to show up at 4 a.m. to take me to the airport. And he did not have a single thing to say that whole ride.
So sometimes, it's just that gift of presence that the church is better at than anyone else. So they're kind of my favorite.
Sharing on social media
When I compare the diversity of our platforms — and I just mean places where we have conversations, like Facebook or Instagram or YouTube — it is a very different way to have to be a public intellectual than it was 20, even 10 years ago.
And I think part of the gift of this moment is that it kicks us out of the assumption that just the ideas themselves are going to do the work. In the mainline and in the academy, we're so grateful for long-form thought that sometimes we think, like, "Oh, nailed it. This will surely go out to the masses."
I have found that the market and trying to learn how to have these conversations on social media has been a real humbler for me. Because I'm not naturally good at it. And also I have to learn how to break down, "What do I really want people to be having in this conversation?" into smaller, but very intelligible, bites.
And so when I think of all these platforms, what I really think is, "What is the main conversation that I get the privilege of being a part of because of my vantage point?"
It is so funny to be doing anti-Instagram theology, anti-Your life is going to be good, better, best. Best life now! You can have a presentation of your life that somehow matches a set of deep virtues you're supposed to have: "Oh look, I'm beautiful, posing in front of a sign that says 'Kindness'!"
It's just wild. Right?
And trying to not lie to people in our personal lives, in our self-presentation — that's hard work right now.
I think the most fun part is to be able to just talk about the same themes. So we do that with the podcast a lot. With "Everything Happens," the podcast, we just think: "OK, what we're about is interdependence, beauty, love; we want to model humility."
But we tend to have the same themes. So those kind of help anchor the project, this whole team that gets to work on these conversations.
In my life, I am someone who has not been able to work my way out of suffering. It just keeps happening.
And because of that, I think a lot about fragility and precarity, and how we can step into the delicateness of our lives, and then try to figure out a way to translate that into a very shiny set of mediums.
That's the strange challenge and also the privilege of it.
A podcast is a very weird medium, because it's surprisingly intimate. People hear you, even your weird NPR saliva sounds, and they're like, "Oh my gosh, we know each other."
And it creates a very strange and wonderful bond, where people listen in on what feels like a very private conversation. And then you get an incredible sense of togetherness. And that has been a wonderful community to love.
But trying to figure out how to serve each audience is so different. Everyone kind of seems to want a different voice even for the same message.
And I think it's just a weird work of discernment to figure out what — and this is true of churches and places and neighborhoods and congregations — what group is yours to serve, how to do that with the thing that most closely aligns with your abilities and energies and resources, and then what stuff to just let go.
I think just trying to figure out how to serve the actual people we're entrusted with requires that we be open to the platforms or the ways of communication that they already use.
Some people just want email, and they should have email for the rest of their lives!
But we don't have to accept a hyperfuturism in order to be really faithfully serving the people that we have now. We just have to know every generation faces some kind of deep insecurity about the media that they've been given.
It's OK to not be sure how people want to communicate as long as you're willing to be consistently curious and just willing to slowly and carefully consider what your choices are.
Our lives are never 'finished'
That's why Jesus swore he's going to come back. He was like, "This whole thing isn't over."
And therefore, we live in the not-yetness of this world, the not-yetness of our lives. And lots of times, the better we do at this whole thing, the harder it gets to leave.
We've created all these gorgeous, indebted relationships. We're never going to look at our family members or our friends and be like, "All good, thanks. I feel wrapped up on that one."
So I think that's part of why we're consistently challenged by our faith to accept the fact that this whole project is going to take a lot of courage. And it's certainly going to be very countercultural to say there's no such thing as a "finished" life.