I was sitting in McDonald's with my first Bible-study leader when I told her I didn't want Jesus in my heart. I was in my first year at the University of Pittsburgh and she, her last. She was gorgeous to me, even exposed to the fluorescent light rattling around us, but she spoke like the incarnation of a Hallmark card, which both aggravated and saddened me. I told her I wanted God out there doing something, nodding to the street beyond the glass window. Why confined to a heart? She tried to defuse a look on her face by sipping on coffee that tasted like ash. I, embarrassed (whether on my behalf or hers, I did not know), began alternating peeling my bare legs off of the plastic booth to fill in the silence between us. Until finally she said, That's where you're changed, pointing to her heart not mine. And I didn't have the courage to say, I like my heart just fine. She motioned toward our fluorescent canopy and back to her chest. For eternal life, God looks to the heart, she said. And I couldn't tell her I had no desire to live forever.
As someone who is made of more doubt than faith, I find that Christians tend to want to talk to me about salvation. They seem quite concerned with the future of my faith, but they make the mistake of showing little interest in my present conditions. If asked to choose, I want a God who is someplace. Not just in "the heart," but God standing on Fifth and Lothrop — God beyond the glass. I don't just want to be rescued; I want to be taken someplace safe and good.
I think of Abraham's descendants leaving the promised land and being forced into bondage. God didn't raise up Moses just to free them from Pharaoh. They were liberated to somewhere. They left their chains and began making their way back home. What healing can manifest when place is restored, when those once dislocated from their home are delivered into it once again. It seems to me God's promise was always a place. A liberation born of location.
And such a freedom does not unfold in a vacuum but stretches out through those who have known a place before us.
This is what they don't tell you. You might think Abraham's promise from God begins with him, but before Abram, there lived a man named Terah. Terah took his family and set out toward Canaan, but for reasons unknown to us, he settled somewhere along the way and never saw the end of his journey. Yet, years later, his son Abram would, by the mouth of God, set out on a journey to a promised land, a land we now know as Canaan. Abram's promise did not occur in a vacuum. Whether he knew it or not, it remained connected to his father's journey. Our question is not only What is this place to me? but also What has this place been to those before me and those who made me?
I do not know from where my ancestors were abducted. I cannot tell you what the air smells like there. I don't know what sound the waves and soil speak. These things were stolen from me as they were from them. I think it is one of the deepest evils to become a thief of place, to make someone a stranger to their home, and then mark their relationship to the land by bondage instead of love. To steal place has less to do with power than with hatred. How much must one hate oneself and one's life and one's own land to run around chasing everyone else's? I used to think colonization was about ego, and maybe it is. But maybe it's not that the oppressors think they're worthy of more but that they believe their present self is, in fact, worthless. It's the work of people incapable of perceiving their dignity without attempting to diminish someone else's. It is no surprise to me then that these same powers, in the end, care so little for the land they are desperate to conquer. It was never about love or curiosity or care but a violent act of self-soothing.
I am mystified when I read stories of enslaved people who liberated themselves with the hope of owning and caring for their own land someday. Didn't they hate the cotton that pricked their bloodied fingers raw? Wouldn't they have cursed the sugarcane as they sliced through it again and again, feeling their lower backs gnarl? They gave their bodies for a place that didn't belong to them and to which they did not belong. I could understand if their bondage and demonic tethering to such land would drive them to a hatred of it. In mystery, it seems many found glimpses of freedom in it. Love, maybe. I am learning from this.
I hope God really is preparing a place for us. When God talks about getting her house ready, is she expecting us all at once? Does she have a gate, and if so, does she keep it open all through the night? Maybe there she will tell me the secrets of where I come from. She'll pull me into the kitchen just before grace and whisper all the secret things once stolen from me. All the places that I'm made of and don't yet know it. There I will learn the site of my soul. And we'll saunter back to the banquet fuller and more whole than I've known.
From "This Here Flesh," by Cole Arthur Riley. Copyright © 2022 by Cole Arthur Riley. Excerpted by permission of Convergent Books. All rights reserved. No part of this excerpt may be reproduced or reprinted without permission in writing from the publisher.
Waiting is just the worst.
Whether it's with joy (anticipating a vacation, an out-of-town guest, a new job), fear (a test result, a jury verdict, a conflict with a loved one) or aggravation (a delayed flight, a trip to the DMV, a parent-teacher conference), waiting robs us of being present. We miss what is happening in our lives right now while we're busy making to-do lists or fretting or simmering.
It can be exhausting.
And yet here we are.
We are in the midst of our second pandemic Advent, and who wants to spend more time in intentional waiting? We are over it, as Episcopal priest Elizabeth Felicetti writes in The Atlantic — not just individually but collectively.
We've been waiting for the end of masks, the arrival of vaccines and the opportunity to sing. We've been waiting for the return of people to the pews, money to the offering plate and parties to the fellowship hall.
We've been waiting for the end of arguments about precautions, empty Sunday school classrooms and drive-thru celebrations. We've been waiting to move past the need to pivot with each new variant or surge.
We have been waiting to get back to normal.
Oh, church.
"Back to normal" might be familiar — but that doesn't make it faithful. The waiting posture robs us of hope, curiosity and imagination. It is a privileged position that suggests that what we found comfortable was loving enough, liberating enough, just enough, healing enough for all of God's people.
The Faith Communities Today report released this fall, "Twenty Years of Congregational Change," summarizing findings from the largest-ever survey of U.S. congregations, makes plain that our churches were not universally thriving before the pandemic: "Overall, the portrait shows a majority of congregations are growing older, smaller, and, by many measures, less vital."
Among the key findings: most churches are small, but most people are in larger congregations; attendance at most churches has declined rapidly in the past 20 years; and most congregations skew older than the national average, with aging participants and leadership.
Last month, the Hartford Institute for Religion Research released a report offering an early picture of how churches are navigating the pandemic. It suggests, from surveys this summer, that the pandemic is "exacerbating and accelerating" the declines detailed in the Faith Communities Today report. It also notes that the overall picture is "turbulent and chaotic," though "not all churches are experiencing the pandemic equally."
"Normal" before the pandemic wasn't so great.
Maybe we need this Advent after all.
Advent is not a season for waiting to usher back in the old or get through with gritted teeth. It is an invitation to wonder about and actively work for transformation: What new creation are we invited to participate in birthing? As the Faith Communities Today report notes: "A time of challenge and upheaval can also be a moment of opportunity and revitalization."
That is not to say that this work is easy or to suggest that we forget the trauma our people and our churches have endured for almost two years. We are called to what Old Testament scholar Ellen Davis terms a "chastened hope," a hope that keenly understands our current suffering and dependence on God.
Choctaw elder Steven Charleston in "Ladder to the Light" offers a mantra for faithful activism: "Don't look down, don't look back, don't look away."
He goes on to urge: "Look up and be confident. Look forward and learn from the past. Look at life as it is, without editing it to look better. See what is really there."
That practice, he says, allows us to "recognize darkness but trust in light." Charleston urges us all to choose each day to believe and to hope. By doing so, he writes, "we turn what we believe into what we see." That is fitting for the season of preparation we are in and the seasons of incarnation and revelation we are anticipating.
But how?
How might we unlock creativity in this season, grieving what has been lost while also holding some hopeful curiosity about the future? We begin with practices of rest, lament and remembering, alone and in community.
In "God and the Pandemic," N.T. Wright writes that "fresh action" must follow our lament, that God's kingdom is emerging through the "creative, healing, restorative work" of humankind.
"He sends in the poor in Spirit, the meek, the mourners, the peacemakers, the hungry-for-justice people. They are the way God wants to act in his world."
Wright goes on to suggest three questions these Jesus followers will answer: "What needs to be done here? Who is most at risk? How can we help?"
These seem like good questions for church leaders to ponder in their contexts, as a way to stay true to who and where they are while also waiting for an uncertain future with energy and wonder.
They also gesture toward some of the characteristics researchers with Faith Communities Today have seen consistently in "spiritually vital and growing communities" — strong leadership, a clear mission, a spirit of innovation and openness to change, active engagement in the local community, significant lay involvement.
"In the midst of all the unsettledness," the author writes, "now is the ideal moment to sustain the efforts toward innovation."
Which got me thinking about Mary and her bold "yes" to a transforming and uncertain future. As pastor Isaac S. Villegas writes in The Other Journal, we are all like Mary: "Mary surrenders control; she welcomes the mysterious workings of God. She embraces God's plan for the world, even though she doesn't know how it will turn out. It's a risk. And she says yes to God."
We don't have to know what the future of the church will hold. We don't have to like waiting or uncertainty or change. We can be tired and annoyed about it.
But Jesus is coming anyway. Something new is birthing in the church.
Say yes.
It will be worth the wait.
In the pandemic struggles for financial footing, church leaders have watched congregations and budgets shrink and felt a new urgency to address our financial futures. As a result, churches have been gradually sliding toward nonprofit management and economics for decades.
Today we have books about how the church can learn from companies like Starbucks and Southwest Airlines how to brand itself. I've been in church-giving seminars where I was told that I need to start thinking about Gen Z givers. These givers want to see tangible and productive results and to hear what they're getting for their money. When there are so many ways to give and so many needs, I have to learn to compete for the dollars.
One book suggests hosting a dinner for major donors of the congregation, a thank-you for their investment in the ministries of the church. People like the attention, the book said; it will increase their giving and let them know they are appreciated.
I see churches publish on their websites the amount of money they give back to the community. I've been told we should set targets, perhaps 25% of our budget, to flow to specific charities in our community.
This advice leaves me scratching my head.
My church — Raleigh Mennonite — isn't a nonprofit, not in the formal sense of targeting issues that impact the most vulnerable in our community and formulating and funding specific solutions to them.
I am grateful for nonprofits. I'm on the board of one, and I give to this organization and many like it. I know that others in my church also give substantially to such efforts.
And I'm glad they do, but my church isn't a siphon that gathers monies to redistribute them. People can give directly to these organizations without my church's name being attached. The church's work is different. We're a worshipping community, people who have been drawn together in following Jesus and creating a particular form of life.
What we do will look like a waste of time and money to the broader order of utilitarianism. We sing together, we share bread, we tell stories. We form people in the church to be very bad at capitalism.
But I am aware that the people who come to worship at my church are inundated with the message that their worth is tied to production — that we are what we make, what we make of ourselves, how we use our potential for the good of the world. On Sunday mornings, they could be working, they're told; indeed, on Sunday mornings, they should be working.
But instead, at my church, we take time — we take time — to worship. We recall that the world is held in the care of God's love and that we are called to that love. There is nothing we have to do or say or be that will make us more beloved, more worthy of love. We are simply creatures, frail and vulnerable, whose being flows from a God who is love. We are grateful.
Rather than an exercise in navel-gazing, worship that invokes this love is a lesson in paying attention. We've learned to give our attention to places that fall beyond what nonprofit management is often required to cast as goals and objectives.
I doubt we could make a good case to wealthy donors for the reason for our existence.
My church gives money away — but often to lost causes, to places where there aren't receipts, to people who don't register as productive and good citizens.
We gather our money to throw birthday parties at a women's prison, a token of care in a system of profound dehumanization. My church bails people out of ICE detention, with no word about their status after release. We buy laptops for Colombian farmers. We pay the tuition for the children of a Salvadoran friend of our congregation.
We pay attention to the places where people are abandoned to "get what they deserve." Raleigh Mennonite provides loans for people in my church who've made bad financial decisions that haunt them for decades. We pay people's rent. And we love each other — so, for example, when a couple in my church took a bare-bones honeymoon, camping for two weeks with money they had scraped together, we all put in a few extra dollars to offer them a bit of comfort and care.
But by far the most expensive part of my church is me, the pastor. My salary comes from the collective decision of a group of people to hire someone like me to lead the church. Often, that leadership means saying difficult things, making space for conflict and calling us back to the life of Jesus. If I give people exactly what they want or what conforms to the logic that dominates the other aspects of their lives, I'm not doing my job very well.
I'm a good preacher, but so are others in my congregation, and I work to cultivate their gifts for public worship. We have loving and thoughtful church people who offer one another pastoral care, show up in times of struggle and hold one another through the messiest times of life.
In other words, anyone could do what I do. My individual activities, were they to be assessed by an HR manager, would surely be considered redundant.
And yet my church has chosen to hire me to help them pay attention to themselves, their gifts, our worship and the world. I often call myself a "freelancer for Jesus," and my congregation can send me to join a task force on reparations for slavery, lead an action around affordable housing, or speak at a protest for the dignity and rights of LGBTQ youth in our state.
My church hired me because they wanted someone who shows up. They also wanted someone who could give attention to the collective life we lead that flows from worship. Because they take seriously their commitments to laborers, my church pays me a living wage, plus benefits, including health insurance for me and my family. If we cannot model this among ourselves, we cannot expect it of others.
Most of the press for Christianity these days goes to those churches with opulent spending and absurd theatrics. My church doesn't have a fog machine, and we've never produced fake rain during one of our sermons. Instead, we are permanent renters, vulnerable to the hospitality of other churches and schools who make space for us.
We don't have programs; there are plenty of those offered at the YMCA, our public library and our community centers. If people want to pay for those services, they can get them there, just as I do.
I don't imagine that my church is a place for re-creating the structures of philanthropy and enrichment around us. Those have their role, and we have ours. We are not committed to physical permanence.
As it is, my church may not produce results that work well for an end-of-year board report. We certainly won't make people better citizens or more productive workers. I don't know that I can say we're giving people "bang for their buck" or branding ourselves in a way that makes us essential for meaning-making.
But I do hope that we are carving out space to rest our lives in the care of the living God. I hope that meeting this God forges the way into the forgotten places among the forgotten people where God is already at work. I hope that I can be a pastor who helps us set down our lives here, among God's good news to the poor.
As a scholar of the New Testament who is also an African American woman in the context of the United States of America, I struggle with the idea of being a serious scholar while also attempting to write and teach in a manner that takes seriously the real and lived experiences of other Black women in faith communities across the country.
In my book "If God Still Breathes, Why Can't I? Black Lives Matter and Biblical Authority," I begin to tackle these struggles by engaging breath as a metaphor. I describe my book as "part memoir, part biblical scholarship" as a way to show that these struggles are real.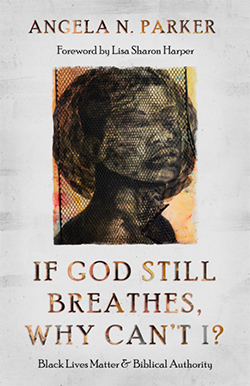 I often ponder this metaphor through the prevailing cultural lens of "The Bible says it; I believe it; that settles it." In my teachings and writings, I am trying to understand that adage as being connected to a Eurocentric worldview that produces a specific understanding of inerrancy and infallibility as tools of what I identify as white supremacist authoritarianism.
I argue that this worldview actually constricts breathing and highlights the connections between such suffocation in particular faith communities and the cries that have been vividly recorded in the many Black and brown men and women killed as a result of police violence.
In my own faith walk and in conversations about breathing, I have tried to develop a standpoint on authority that expands beyond inerrancy. Since the Bible, as the word of God, is seen as the ultimate authority in many faith communities, I ask how we can question the biblical text while still holding on to a modicum of authority that is not authoritarianism.
One of the ways that I expand upon my students' understanding of authority and authority's relationship to the Bible is to set it in a broader context — not in the context of a Eurocentric worldview alone. Understanding the Roman imperial context becomes important in broadening a student's view of authority.
The English word "authority" derives from the Latin word auctoritas. In Roman imperial society, auctoritas is distinct from the word imperium.
Imperium (from which we get "imperial") connotes the idea of rights held by government officials. In contrast, auctoritas allows for the interpretation of and elaboration upon the wisdom of those who came before.
As Old Testament scholar William Brown notes, auctoritas is more creative. While precedent matters when it comes to auctoritas, what matters more is having conversations with what comes before and after.
The idea of authority actually stems from movement between interpretation and contextualization. In many ecclesial settings, I still experience pastors and ministers interpreting texts without deep and thought-provoking contextualization.
As a biblical scholar, I understand the importance of contextualization as a part of interpretation; however, many students — and even some preaching pastors today — do not. Within my family, relatives sometimes ask me during visits what I think of a sermon. And often, I regale them with contextualization of the biblical text that they do not hear in their ecclesial lives.
How would our faith communities be transformed if we fully embraced an idea of biblical authority that lives and breathes in such a movement between contextualization and interpretation? How would our faith communities transform society if we embraced the need for an abiding sense of connection to what has happened in the past while having continued conversation with our present and imagining what future transformation could entail?
Furthering the authority conversation, Katie Cannon shows how African American professors depart from the "normative" (read: "white male") assumptions in our various guilds to bring a radical critique to inherited Eurocentric traditions and kerygmatic assertions that minimize Black people's actualization of our God-given authenticity.
As I engage biblical texts, I employ Cannon's idea of departing from the normative ways of reading by maximizing the authority within one's own identity to actualize the individual reader's ability to exert our God-given, inspired breath — our authority.
Part of my job as professor is to develop a creative understanding of biblical authority propelled by and enabled by a God who continues to breathe in and through the interpreter today. Such a creative understanding allows students to imagine readings of Scripture that foster a healthy society in which all participants are able to make distinctive and valuable contributions and therefore breathe!
As readers engage my work, my hopes and prayers are that faith communities will expand conversation around issues of biblical authority that take seriously a multiplicity of identities and the ways that various identities read biblical texts. I believe that it is only after we are forthcoming and mature enough for such conversations that we can begin to imagine faith communities that are truly multiethnic and multicultural.