Teresa Mateus got the call from Charlottesville, Virginia, on the August 2017 day when a white supremacist drove his car into a group of counterprotesters, killing Heather Heyer and injuring dozens of others.
Organizers there asked, "Can you come?"
"They were inundated with all of this trauma," Mateus said. "And even the providers in the community that had treated trauma for years didn't know how to treat this kind of trauma, because it was unique and new and specific to social movements."
Mateus, based in Louisville, Kentucky, is a licensed clinical social worker and trauma therapist by training who teaches spiritual care. And she offers such care for those involved in social movements. The work has history, and world events in recent years have given it renewed urgency.
"The lineage of healing justice going back to at least the '80s is really the genesis for the kind of work that we're talking about when we're talking about doing healing work — spiritual care and social movements," Mateus said.
Issues like racial justice, women's rights and the environment have pushed people into the streets and their concerns onto computer screens, televisions and newspaper pages, reaching beyond those actively engaged in protests. Between Jan. 20, 2017, and Jan. 31, 2021, the Count Love project (which tracks public protests through local media coverage) reported 27,270 U.S. protests, with more than 13.6 million attendees.
These protests, and the ongoing activism that happens in less public settings, can be emotional for participants as well as those observing them or living in affected communities. Movement chaplains can help address the distress, sadness and exhaustion that may accompany activism.
"We believe the field of chaplaincy has expanded tremendously. We believe that the way we are called to provide spiritual care is different in 2023; therefore, we believe that movement chaplaincy is the most cutting-edge way of doing chaplaincy in 2023," said the Rev. Dr. Danielle J. Buhuro, the director of movement chaplaincy for Faith Matters Network. The Nashville-based nonprofit offers resources for connection, spiritual sustainability and accompaniment for community organizers, faith leaders and activists.
"People who are involved in movement chaplaincy take seriously this notion that we are called to care not only for the spiritual, religious or faith needs of a person, but we are called to care also for the social and emotional mental health of patients," said Buhuro, who is also the executive director of Sankofa CPE Center.
The evolution of movement chaplaincy
How is your faith community present or absent in movements for justice? Why is that?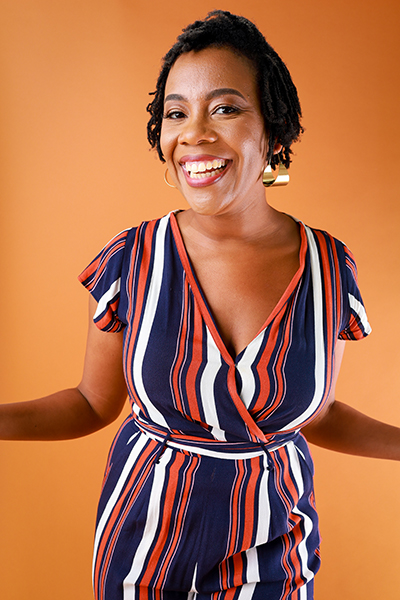 The Rev. Jen Bailey, the founder and executive director of Faith Matters Network, wrote in an email interview that movement chaplaincy is only one manifestation of work in social movement spaces that centers healing and care.
Movement chaplains offer spiritual, emotional and relational support to people engaged in social justice movements, wherever these people may be. Their work "has its antecedents in the lineage of the Southern Freedom Movement and more contemporary efforts through the healing justice movement," Bailey wrote.
Mateus also pointed to the "heavy history" of healing justice in the Detroit area. "It's very important work; it was happening very grassroots," she said, noting that although the work wasn't situated in what are considered epicenters of power, "luckily, it's beginning to rise to the top."
There is breadth in how the efforts are framed. For instance, the person offering the chaplaincy can be grounded in movement culture and understand activist life and what it's like to be an organizer, said Hilary Allen, who previously consulted on the movement chaplaincy project at FMN.
Under this definition, the approach that chaplains take is intended to be anti-oppressive, to fit within movement culture, and the person or organization receiving the care also is "grounded in movement," she said. In this way, the presence of chaplains allows there to be spiritual care in secular spaces.
At the height of 2020's protests — in the midst of the COVID-19 pandemic and the aftermath of the brutal slayings of Ahmaud Arbery, Breonna Taylor, George Floyd and others — images showed seas of people demonstrating in cities across the country. Related images showed law enforcement officers dressed in riot gear, using tear gas, brandishing batons and pushing back against the crowds — even as almost 95% of U.S. demonstrations during that time connected to the Black Lives Matter movement were peaceful.
Activists continue their work amid the seemingly infinite unfolding of more tragedy, such as the January 2023 killing of Tyre Nichols by police officers in Memphis, and the subsequent release of deeply disturbing videos.
The Rev. Vahisha Hasan, who is based in Memphis as a part of the activist community, is dedicated to providing this kind of pastoral care. After Nichols was killed, his community of fellow skateboarders organized a vigil at a local skateboarding park. There, standing under the night sky surrounded by a crowd, Hasan offered the opening prayer.
What justice issues are people concerned with in your area, and how are faith communities part of the concern? How might they be part of the solution?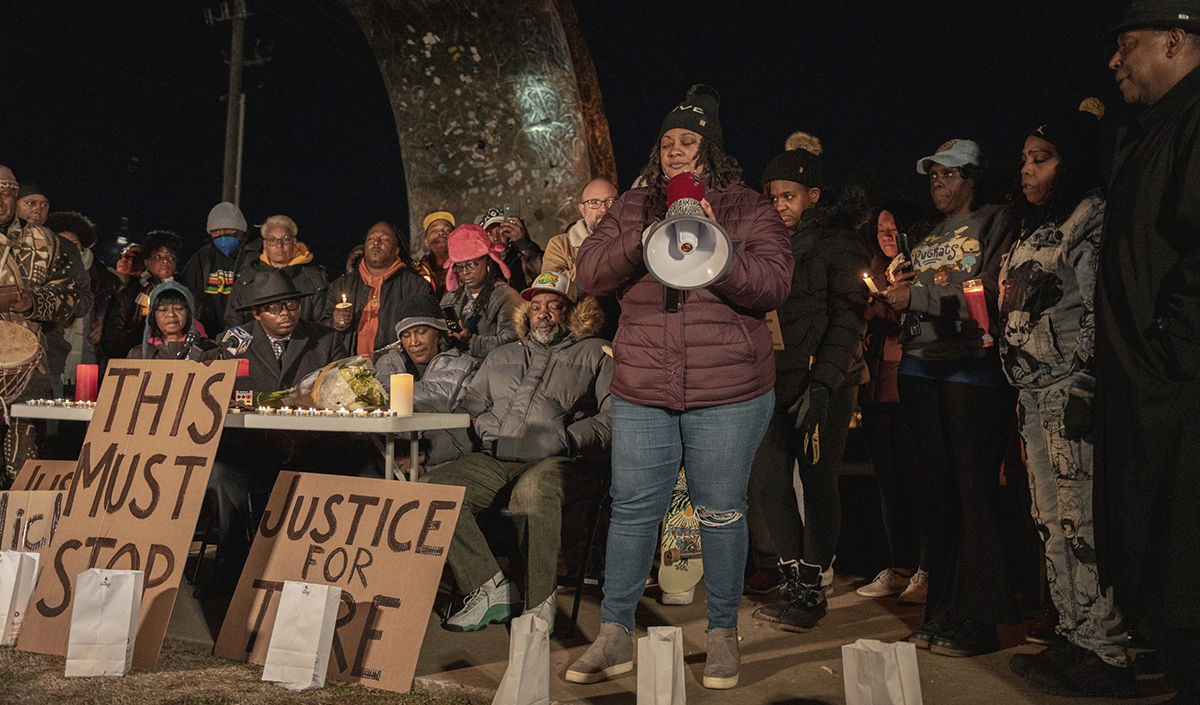 She has attended meetings with the district attorney and the Department of Justice, she said, and attended Nichols' nationally streamed funeral.
Hasan has focused on faith, social justice and mental health as program director at Historic Clayborn Temple in Memphis (the site where activists organized for the 1968 sanitation workers strike) and as executive director for Movement in Faith, a project of the Transform Network that works, in part, to connect people and faith communities with broader justice efforts to practice transformational church and social change.
"In order to do sustainable movement work, we need to have integrated wellness. How do we do this — how do we live and not die? We don't want the state to take our life. But we don't want this work to take our life either," Hasan said. "The overarching framework of my theory of change, if you will, is that we need well people who are doing well work to create well systems."
In many ways, Hasan is typical of those carrying this work forward.
"Many of the folks who seem most drawn to movement chaplaincy," wrote FMN's Bailey, "are those who feel a particular call to accompany those on the frontlines of social justice issues and/or who have some training in pastoral care, mental health, etc., and are looking for ways to deploy their skills in a way that can be nourishing to movement spaces."
Movement chaplaincy also seems to be growing more common. "We believe that the tide is turning," said Buhuro, the chaplaincy director. "We see more people working in various forms of social justice chaplaincy than we do folks working in the hospital. … We believe the hospital chaplaincy is no longer the traditional model."
Accessing training
Training for this demanding vocation is offered by groups such as Faith Matters Network and PeoplesHub. At FMN, students are offered "the opportunity to dig deep into their own traditions of healing and accompaniment while also learning practical skills for de-escalation and mental health first aid that can be of assistance to organizers and activists," wrote executive director Bailey.
The network's 12-week course, offered in partnership with the School of Global Citizenry, launched in 2019 and has trained more than 600 participants so far, according to Bailey.
"Students who took the 2022 course were involved in multiple capacities with local, national, and international movements for justice as well as serving as leaders in social justice work in their congregations. The course equipped students to draw from their particular denomination's spiritual practices as a source for their approach to movement chaplaincy," she wrote.
Participants have gone on to engage with everything from discipleship groups to social justice committees to anti-racism teams in churches from California to Maryland. Some have also continued to work independently of churches.
"Especially with the training course, we found that a lot of people were interested in movement chaplaincy as a sort of additional skill set or tool set that they'd be able to rely on," said Allen, the former network consultant. That broad subset of trainees could include people such as social workers, emergency medical workers, attorneys and even teachers, she said.
Mateus, the social worker and teacher, said there are many stages of social movements and many stages of trauma within them.
"I believe there's a place for chaplaincy and spiritual care at every layer," she said.
At the time she received the call to Charlottesville, the city already had some resources and infrastructure, Mateus said. When she got to the scene about a day and a half later with a small team, she connected with Unitarian Universalist organizers who had been previous contacts, along with Black Lives Matter leadership, to find a location and hold space for people who needed support. Through word of mouth, Signal chats and other community communications, they opened the space for drop-in hours to allow people to visit.
For her work providing spiritual care, Mateus said, she has integrated creative arts, contemplative practices such as yoga or meditation, and indigenous practices from her own Latinx orientation. She said this kind of care is especially important in communities of color, because there can be a lack of therapists who understand complex identities and the nuances of social movements.
Hasan incorporated breathwork into her prayer at the Memphis vigil. "Breathwork as a form of grounding has been really pivotal for me. And I include it in prayer; I include it as practice," she said, noting that she also integrates as much communal healing as possible.
What is one creative way that you have offered or could offer support to justice advocates in your area?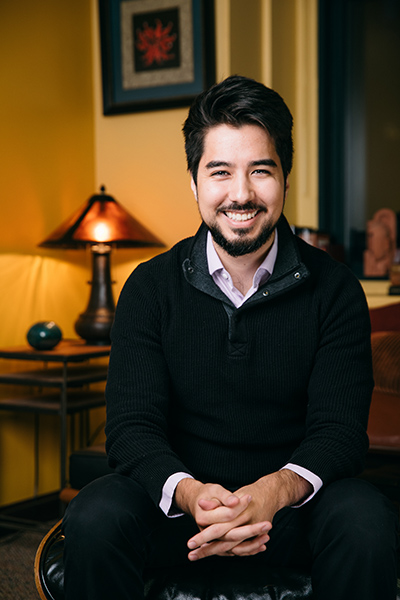 When professionals are trained in movement chaplaincy, they can provide more well-rounded care in general. Kenji Kuramitsu, who is based in Chicago, is employed full time as a clinical social worker at an LGBTQ health care center, and part time as a chaplain to a nonprofit. Though his training in chaplaincy is more traditional (he formerly served in a hospital setting), he recognizes the benefits that movement chaplaincy can provide.
During the earlier days of the COVID-19 pandemic, he said, he volunteered as a chaplain to support front-line workers.
"Folks who were themselves ministry, spiritual care, congregational leaders or other kind of providers were feeling as exhausted, as terrified, as uncertain as the communities of people they were serving," Kuramitsu said.
"Movement chaplaincy has the potential to provide access to spiritual care to populations that haven't traditionally been served by chaplains," he said.
Sustaining the work and connecting with communities
Movement chaplaincy can be a way to both reach people beyond church walls and offer those who would not ordinarily attend divinity school a way to care spiritually for others.
"As we know, some people, for whatever reason, it's their life circumstance, are never going to quite get close enough to those faith communities to be able to access those resources," Allen said. "Movement chaplaincy may be something that a person could get from a pastor, but they may never step foot inside a church."
For faith leaders who want to participate in this chaplaincy or help sustain it, Mateus said, understanding the fluidity of these practices can be helpful. Many of those in movements may not come from the Abrahamic traditions, she said.
To help bridge the gap, Mateus said, clergy could go beyond the old model of staying within their own houses of worship.
"You have to be where people are," she said. "Particularly with social movements, if people aren't seeing you at meetings, if you're not at least showing up and saying, 'I care about what you're invested in,' you can't show up in the moment of crisis and people believe that it's authentic or that they can trust you. There's a lot of necessary mistrust in social movements," Mateus said.
Building relationships with community organizers, asking what kinds of resources they need and being present in necessary ways can build trust, so that when help is needed, organizers can reach out, Mateus said.
Faith leaders also should consider being open to other points of view. "Listen to the organizers and let yourself be led by those who are most proximate to the challenges because they often have the best insight into the solutions that are needed," Bailey wrote, noting that faith leaders can look for these contacts by searching online for local organizations doing "movement chaplaincy" or "healing justice" work.
Buhuro, who works as a chaplain to chaplains, said she offers support via one-on-one talks, meetups, monthly and quarterly events, and even physical care packages, with items like gift cards, T-shirts and candy. She also spoke to the importance of doing creative, on-the-ground work, pointing to chaplains who spearhead food banks and serve in funeral homes.
"Our movement chaplains work hand in hand with community members to address unemployment, poverty, violence and other forms of oppression in that community. We're not just wanting to show up when it's time to provide care to activists on the front line during a rally, a march or a demonstration, but we want to provide long-term, systemic change by journeying with people in the community over a period of time," Buhuro said, noting that chaplains also can carry out this work by advocating for resources with legislators and clergy.
When chaplains learn to offer these more creative kinds of care, the results can be powerful.
"Movement chaplaincy can serve the spiritual and holistic needs of social justice organizations and their leaders not only in peak movement moments — such as the climax of a campaign, election, or major actions and street demonstrations — but in the in-between times," the Rev. Margaret Ernst, the director of learning and integration at FMN, wrote in an email.
How can you build relationships and foster trust with secular activists and advocates?
"Movement chaplains can help meet those needs through supporting groups and organizers to celebrate victories, grieve losses, work through conflict, attend to trauma, and facilitate nourishing community care," Ernst wrote. "Movement chaplaincy should help those who are [on] the front lines of justice struggles to know that they do not have to carry their burdens alone."
As individuals, faith leaders also can consider stepping out in other ways. "God is bigger than our individual safe communities, our individual churches, our individual institutions. So if God has placed a purposing in you, … then go find the place to be rooted. Do not wither and die where you are," Hasan said, noting that this growth does not require severing relationships with the people who have been spiritually formative.
"For the collective, for faith communities, I say we need to wrestle more," she said. "The same wrestle that Black churches had during the civil rights [movement] is not a dissimilar wrestle as today. It is a lie that all Black churches were excited about what MLK was doing and how he was showing up. There were people who absolutely were like, 'Be quieter; don't do this; don't make waves.' Because what he was doing was dangerous."
But the stakes remain high. "There needs to be some transformational work that's happening, and the church needs to see itself in movement," Hasan said. "And, God bless, the movement absolutely needs to see the church. What it will require is some vulnerability and some deference."
How are you present in the day-to-day activities of your community beyond church walls?
Questions to consider
How is your faith community present or absent in movements for justice? Why is that?
What justice issues are people concerned with in your area, and how are faith communities part of the concern? How might they be part of the solution?
What is one creative way that you have offered or could offer support to justice advocates in your area?
How can you build relationships and foster trust with secular activists and advocates?
How are you present in the day-to-day activities of your community beyond church walls?
Dana Cassell is looking for a full-time job. I met Dana a decade ago, in her first year as part-time pastor of the Church of the Brethren congregation in our city. Ten years on, she has found that cobbling together full-time pay out of multiple part-time jobs is no longer financially sustainable. Dana, who is single, has also struggled to find a part-time role that will cover her health insurance.
I think of Dana each time I see an emerging consensus among church professionals that bivocational ministry is "the future." As congregations and their budgets dwindle, I understand why ministry is moving in the direction of a clergyperson with one or more jobs beyond the pulpit. For some pastors, that's a welcome revision of a role that can be isolating and insular. Ministry "beyond the walls" can offer possibility and hope.
But the turn to bivocational ministry as an answer to clergy shortage and budget woes is often shortsighted. Dana, as a bivocational pastor who directed a program to support people in bivocational roles, saw this firsthand.
In her denomination, many pastors classified as bivocational have supplemented their income with retirement benefits and savings. Others have served churches in a limited capacity while holding full-time jobs outside the church. But what about people with families? And can bivocational ministry support single people sustainably?
Responsible models of bivocational ministry require churches and denominations to consider factors of age, race, family size, location and marital status in policies for salary and health care benefits.
For unmarried people who receive no health care benefits from a spouse's job, paying full or partial premiums cuts deep into a paycheck. Unlike married bivocational clergy, whose family units often have a second income, single bivocational pastors are on their own to negotiate the shortfalls of their lower salaries. Even in connectional polities, the decision to provide health care benefits to pastors working up to 20 hours a week remains voluntary on the part of the congregation.
And then there's the issue of debt. The majority of clergy incur graduate school debt from a seminary or divinity school, but for Black pastors, the economics are even more stark.
Black seminary graduates are burdened with significantly more debt than their white colleagues. In congregational polities, Black pastors are less likely than their white peers to receive retirement benefits or health insurance through their congregational roles. For many pastors of color, bivocational ministry isn't an option but a requirement to make ends meet. That can mean managing a 40-hour work week and a solo pastorate simultaneously.
Another friend, Heidi, reminds me that this scenario of bivocational is different from a call to two vocations. "I would not choose to work in multiple settings," she tells me, "but I have done it out of necessity."
This distinction — between bivocational ministry and multiple jobs — is often left out when I hear bivocational ministry lifted up as a model. How can congregations and denominations support clergy in finding meaningful and mission-driven work? If that work requires returning to school for further training, are institutions and churches prepared to offer financial support?
I know the struggles of part-time pastoring firsthand. I once served in a part-time ministry role, cobbling together a full-time salary from other jobs. I received a stipend toward half of my health insurance premiums but nothing for my spouse and children.
My contract included no retirement benefits or dental insurance. During those years, one of my cavities rotted so badly that I eventually had to receive a crown. The cost was astronomical, and the pain was constant. I relied on public dental clinics and dental schools for my care, often waiting months for treatment.
Part-time roles meant absorbing not only financial precarity but also the psychological burden of risk. This reality affected my relationship to the church. If we could not care for the health of our clergy, what did this mean about our commitment to laborers outside the church? How could we proclaim good news for workers when our church workers barely got by?
My denomination, Mennonite Church USA, has recognized the health care inequity for part-time pastors and pastors of color. In response, the Mennonite Church in 2010 launched The Corinthian Plan. Congregations, area conferences and agencies that choose to enroll in The Corinthian Plan contribute to a Fair Balance Fund.
Wealthier congregations and constituents pay more into the fund to support congregations that struggle to pay the full premium. This form of economic redistribution addresses the needs of small churches and of bivocational pastors.
That plan was lifesaving for Pastor Tomas Ramírez of Luz y Vida Mennonite Church in Orlando, Florida. In 2017, he was diagnosed with leukemia. The Fair Balance Fund provided additional financial support for his expensive and extensive cancer care, including a bone marrow transplant. Because the costs were shared across The Corinthian Plan holders, he also did not see a spike in his premiums.
Other denominations are looking for new and innovative ways to provide their part-time pastors secure and healthy futures. My friend Dana's denomination, the Church of the Brethren, recently announced new guidelines for pastoral compensation. These include a minimum salary suggestion that takes into account inflation. They also look at housing costs with respect to ZIP code as well as calculating hours per week in a contract only after housing and pension costs are covered.
The church can't turn to bivocational language as an excuse to underpay or underinsure employees. If we aren't intentional about setting structures to support bivocational ministers, we can anticipate exploitation, exhaustion and failure.
The future of ministry may be bivocational, but it will be healthy, just and whole only if congregations and institutions work creatively and intentionally to redistribute funds, offer robust benefits and attend to the long-term stability of these roles.
Kelly Latimore is a St. Louis-based artist who specializes in painting icons. Some of his images have attracted widespread attention, as when he faced death threats over "Mama," his Pieta-style image of a Black Mary cradling the body of Jesus, who resembles George Floyd. Others depict figures such as Dietrich Bonhoeffer, Pauli Murray and Mahalia Jackson. One, "La Sagrada Familia," shows the holy family as modern immigrants walking in the desert.
Latimore spoke to Faith & Leadership's Aleta Payne about his work. The following is edited for length and clarity.
Faith & Leadership: Can you talk about how iconography grew out of your collective work for connectedness as a member of a monastic community?
Kelly Latimore: I'm a PK, a pastor's kid, and I grew up in a small Protestant denomination. It was very much about transcendence. Later in life, after graduating [from college], I ended up in Athens, Ohio, and was a part of this small monastic farming community. The main mission of that place was growing vegetables and food for food pantries. Volunteers would come to the farm and help in that work, but also people who were poor and living in shelters, coming and joining us in that work as well.
Putting your hands in the soil and weeding a bed of carrots across from a complete stranger, and the conversations that came out of that — I really learned that the way we use things in the world is of spiritual significance. It was a transition away from transcendence. It was more about engaging God in a physical incarnation in the world.
It was less about transcendence and more about engagement, embodiment and communion, connection. And so it was a very profound time. The first icon that I painted was called "Christ: Consider the Lilies," and that stemmed out of my relationship with my best friend, Paul. We used to talk about a lot as we were growing food: How do we as farmers have a right relationship with the earth, and how do we, as Jesus would say, consider the lilies of the field? What does that mean?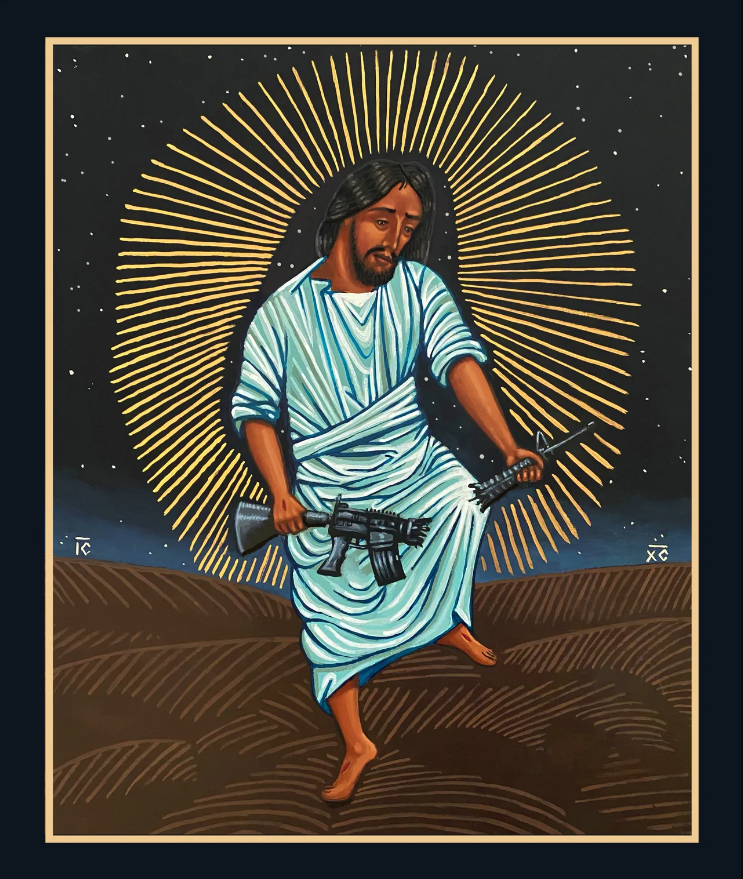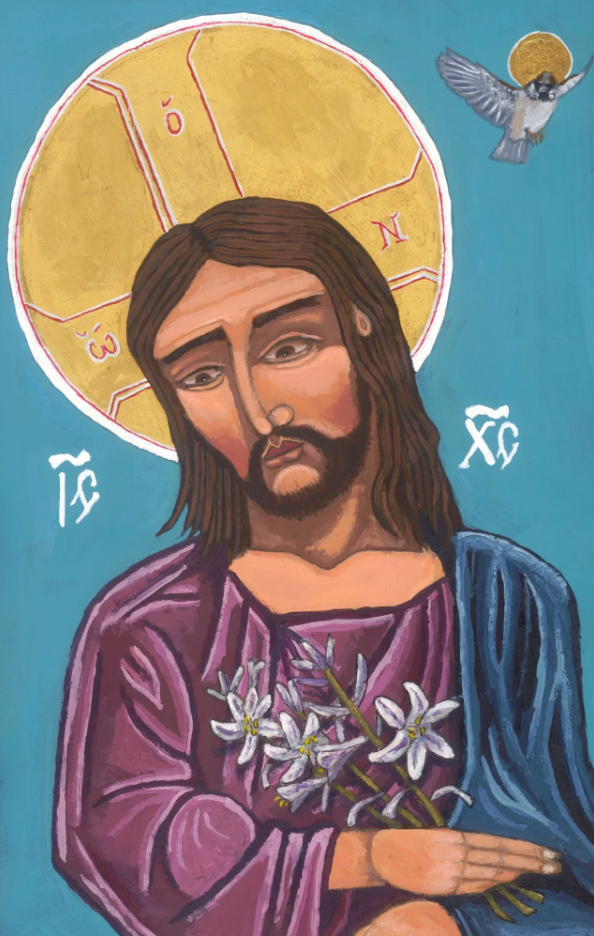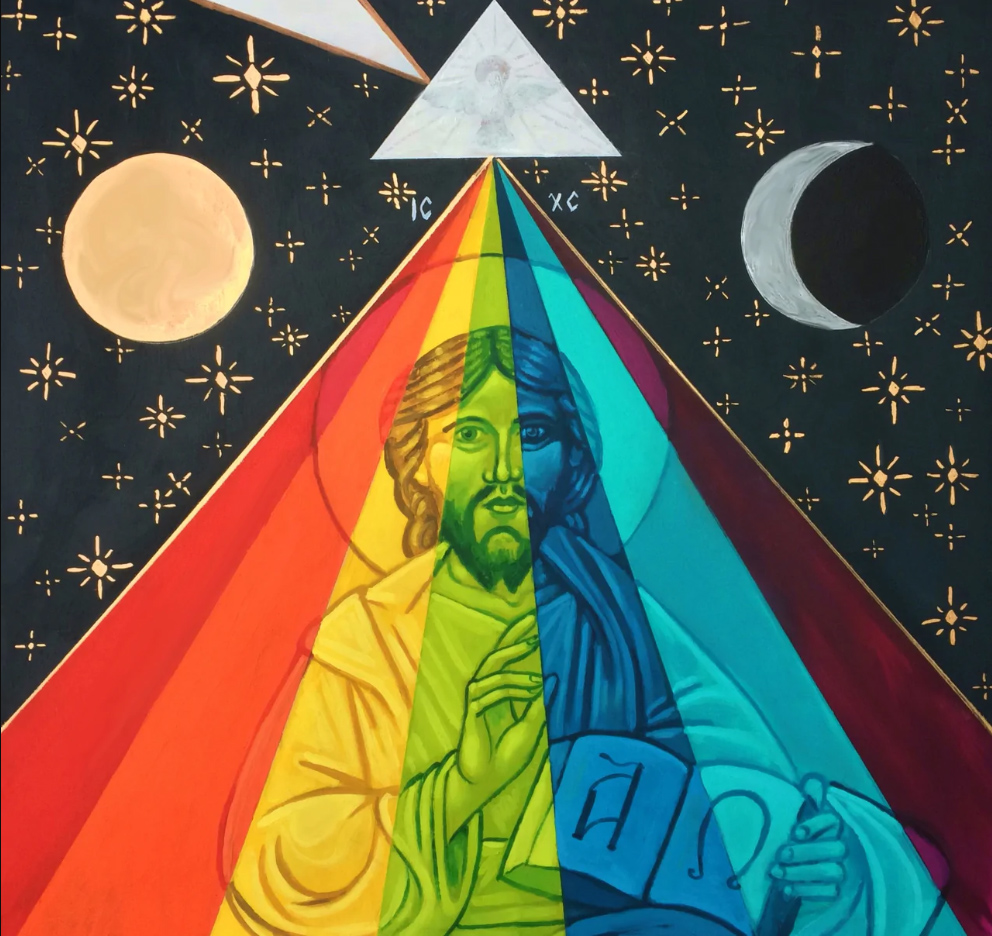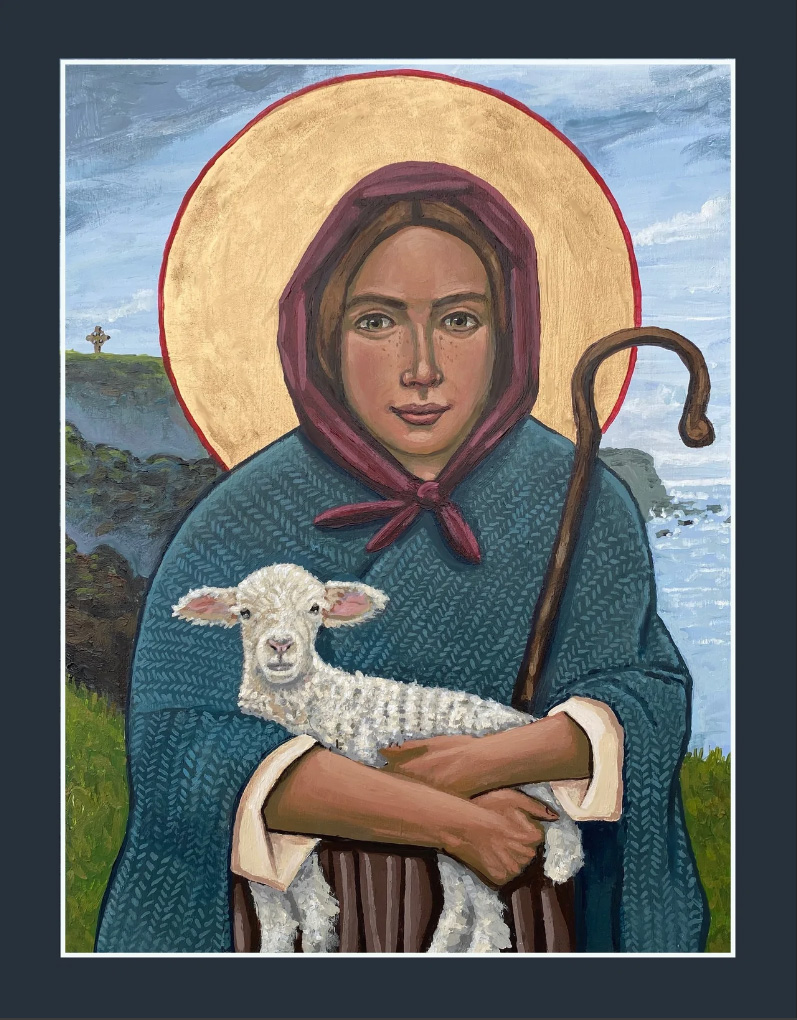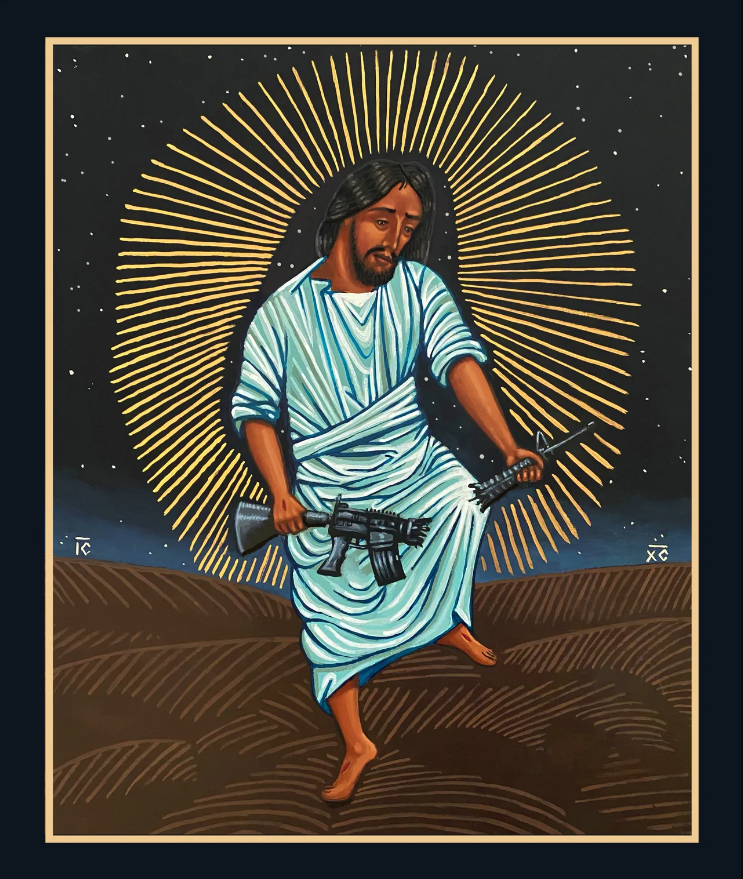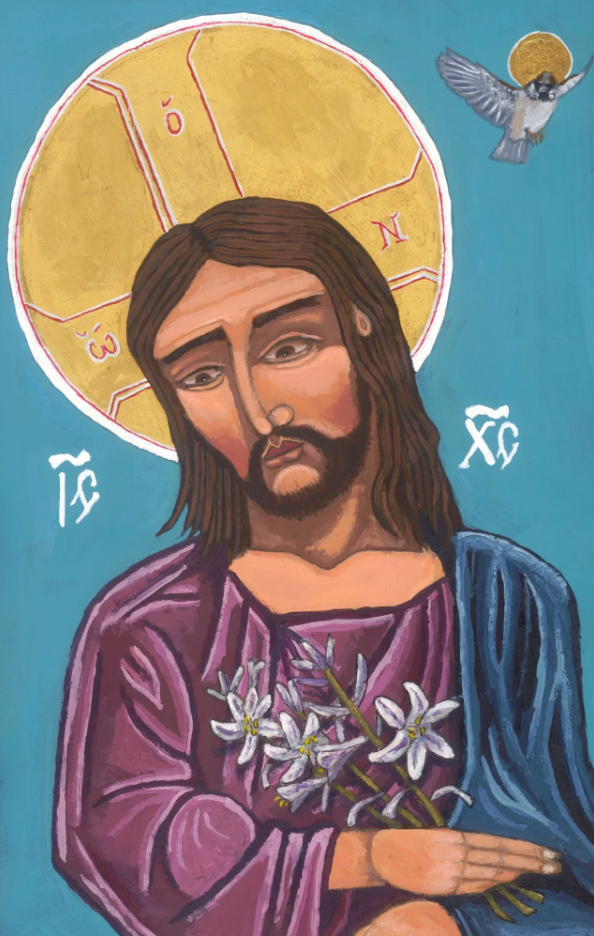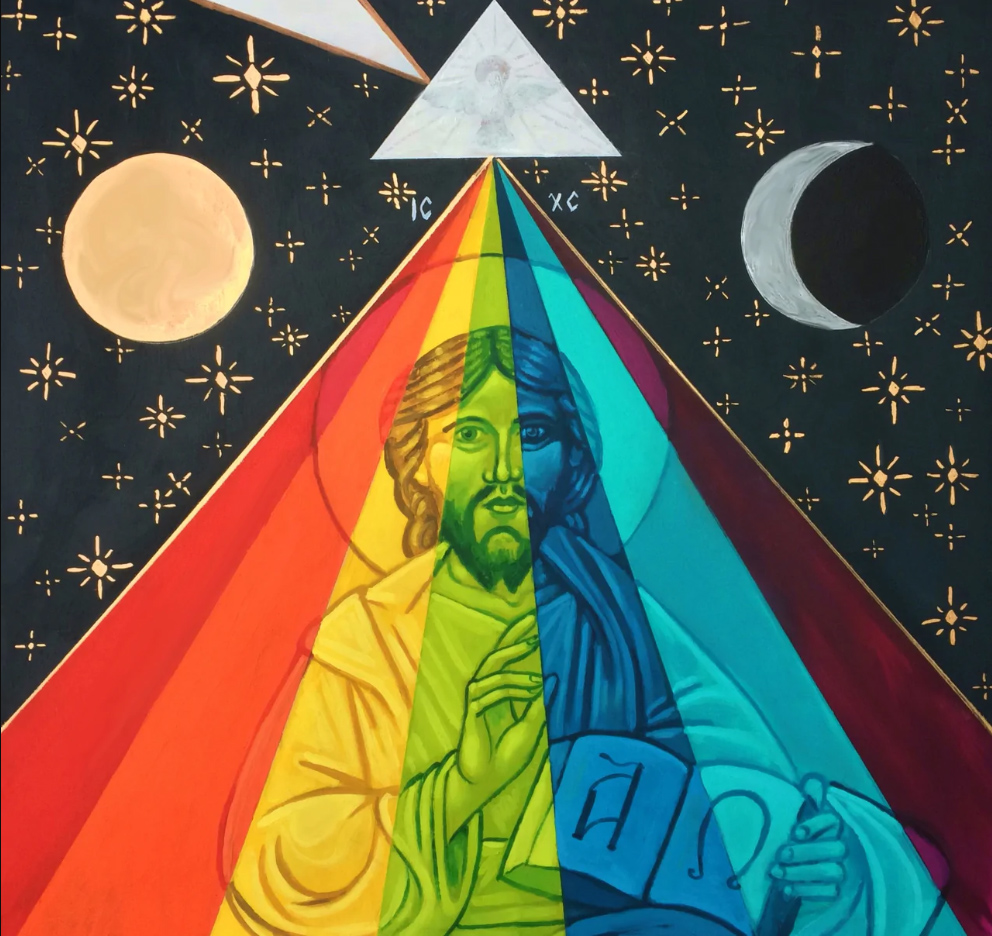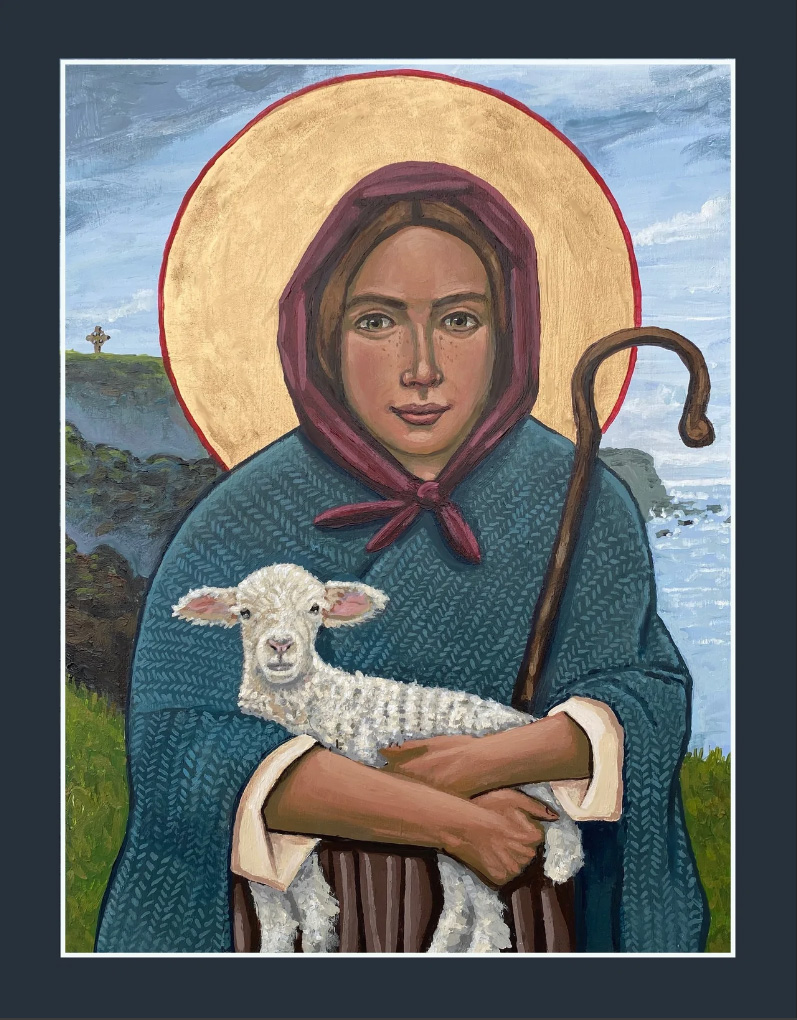 I had done a lot of traditional icons; I started how all iconographers start, going over these old images and tracing them as best I could. But then when I got to a point where I wanted to try my first original icon, it was that idea of "Christ: Consider the Lilies," and it focused on our common work. And what was interesting — it wasn't a great first. It was a good first try. Christ, if you see it, he's almost surprised that the lilies are in his hands, and the lines are shaky.
But what was interesting about it, and I think what was beautiful, was that the community embraced it, because it was a part of our common experience. It showed me how art can be a focal point for focusing and seeing in a new way how we want to live in the world. As time's gone on, this has been the theme of the work that my partner, Evie, and I collaborate on.
Trying to find the holy family that is among us here and now or Christ that is in our own neighborhood, and bringing these modern images of people that are struggling or in pain right in front of us but inherently have the image of God within them: the refugee, the immigrant, those in prison, those suffering from living in tent cities.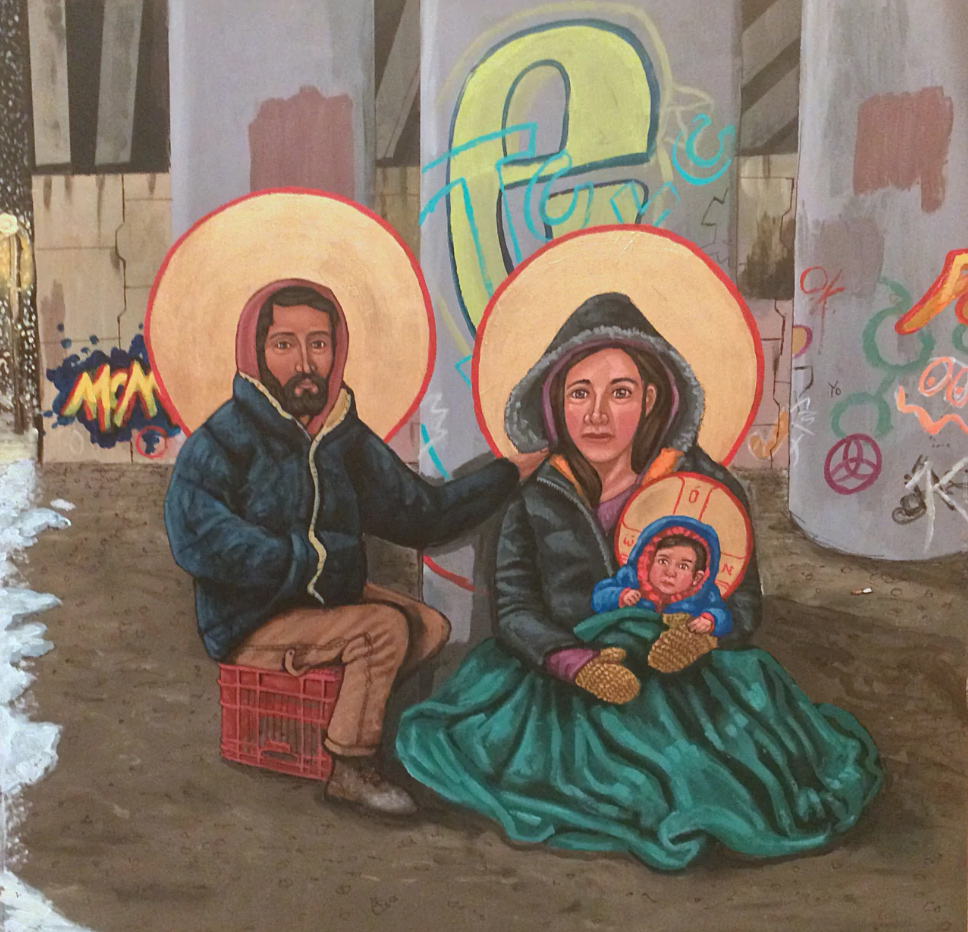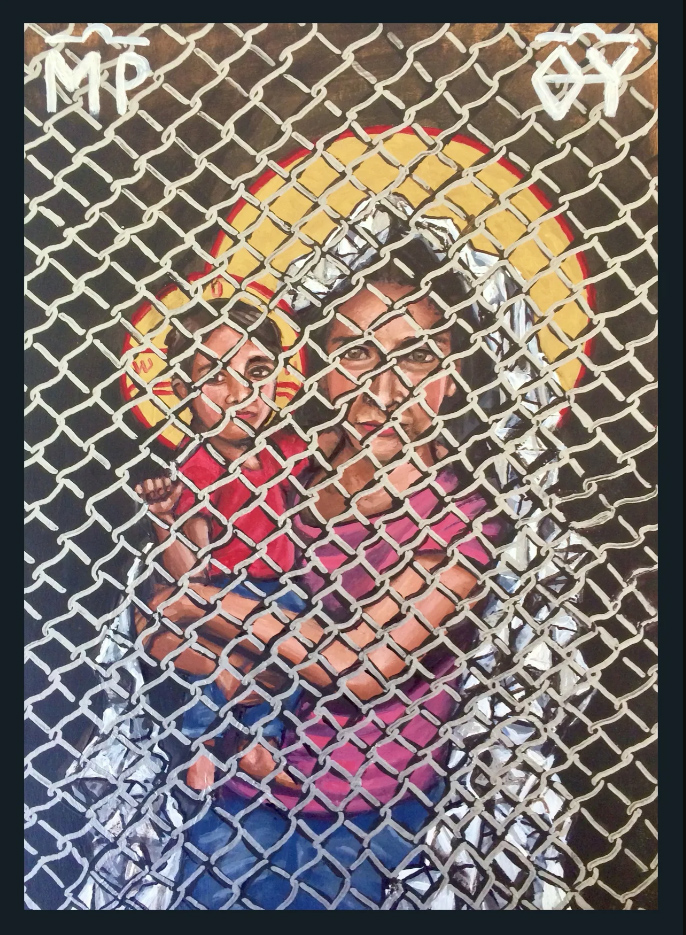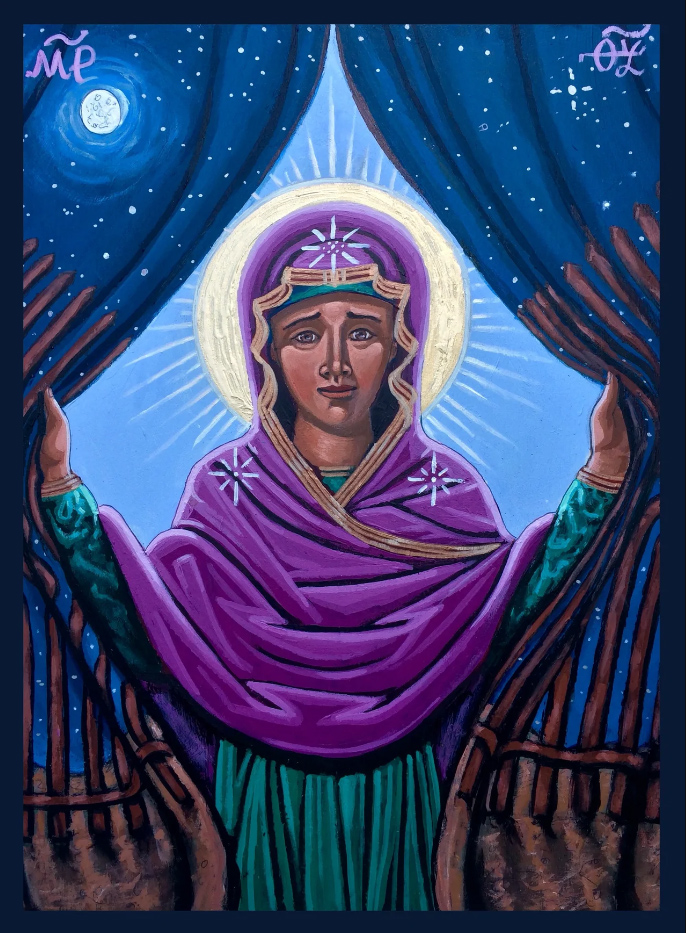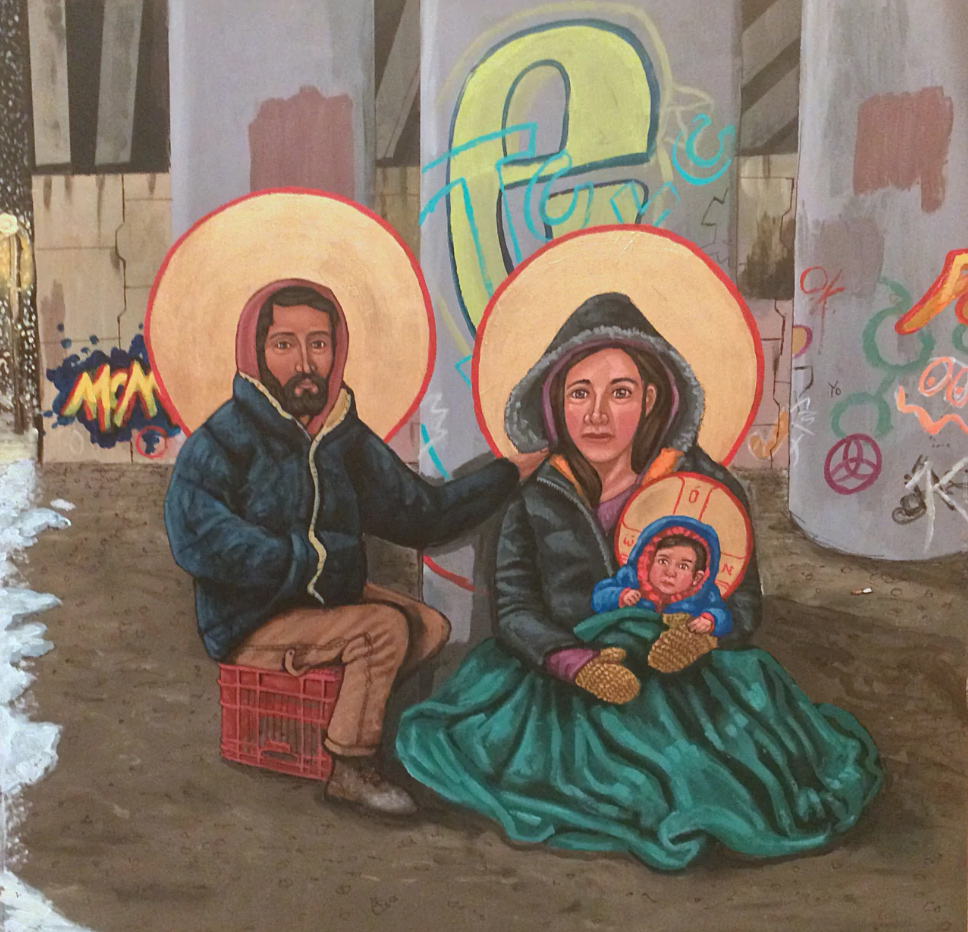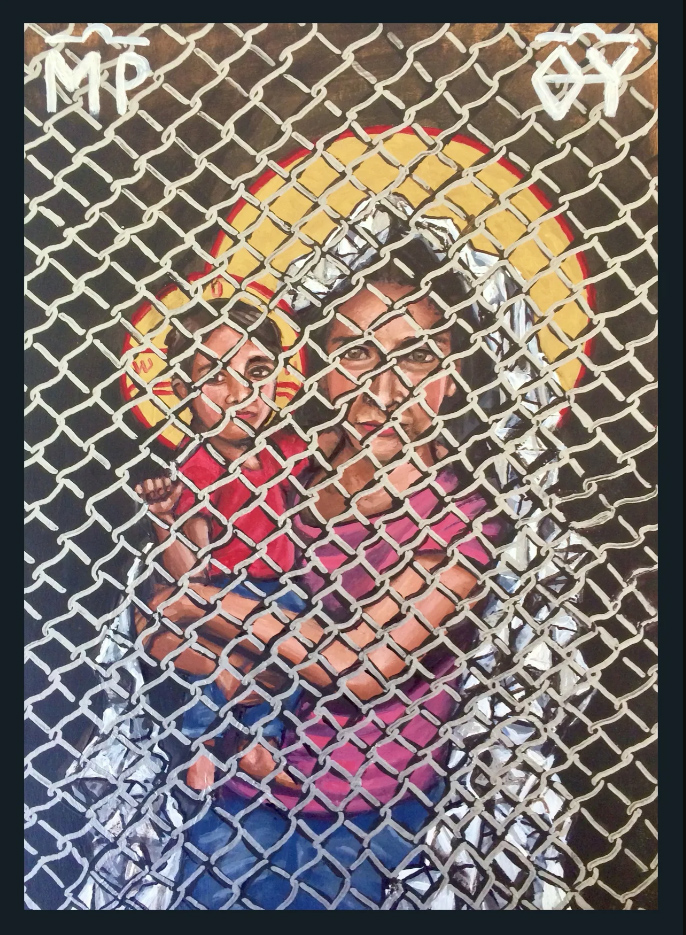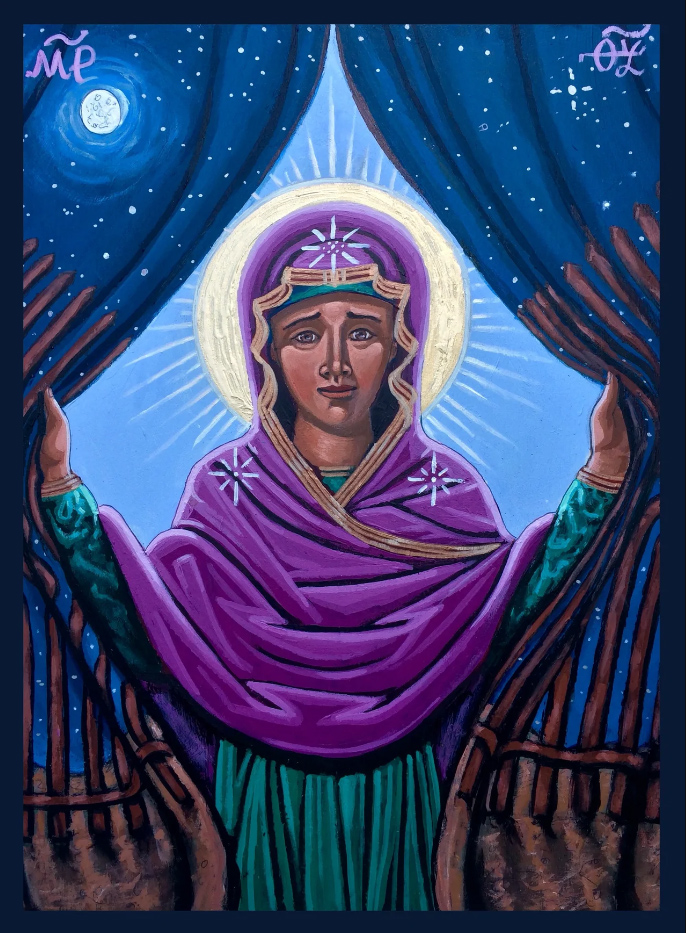 There's another icon I did called "Cloud of Unknowing." In my early days in iconography, I had started an icon called "Christ the Pantocrator" or "Christ the Teacher," which is a pretty traditional icon where Christ is holding the Gospels and holding a blessing hand. I got really frustrated. His face was fine, but his hands weren't right. And I ended up putting it up on a shelf, where it sat for two years.
And then at one point I had gotten some new gold leaf in, and I was looking for something to try it on, and I found that icon and was like, "Ah, I didn't really like this anyway," so I just started gold-leafing over it. But I realized that because I had reworked that icon so much, the paint stood up, even with the gold leaf [over it]. It looked like a gold leaf board, but if you got up close, you saw the raised face of Christ.
I had two priests that are friends of mine, and I was showing them what I was working on, and they saw it and both said at the same time, "That's 'The Cloud of Unknowing.'"
The 14th-century work is about [our] potential for knowledge, or knowing God — that the more we put God under a cloud of unknowing, or a cloud of forgetting, the closer we'll be to God through our hearts and through our experience.
My friends, those priests, named what that image was, and therefore it became a new gift. I think that's what art can do for us in our communities. It should teach us how to see in new ways, not only to show how similar we are, but also [to name] the racism that might be within me or to name the ways that I'm not loving my neighbor well or other ways that maybe I'm not seeing God as clearly in my neighbor and around me.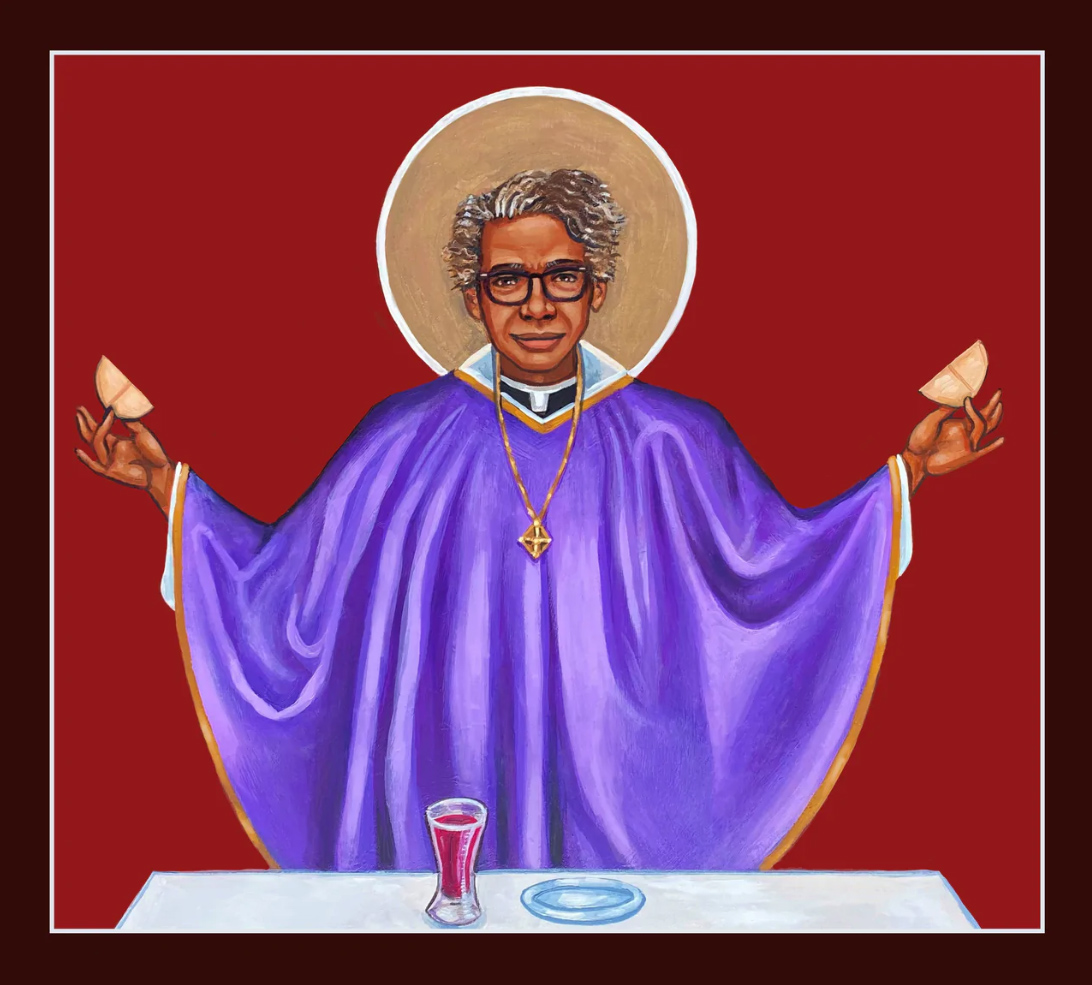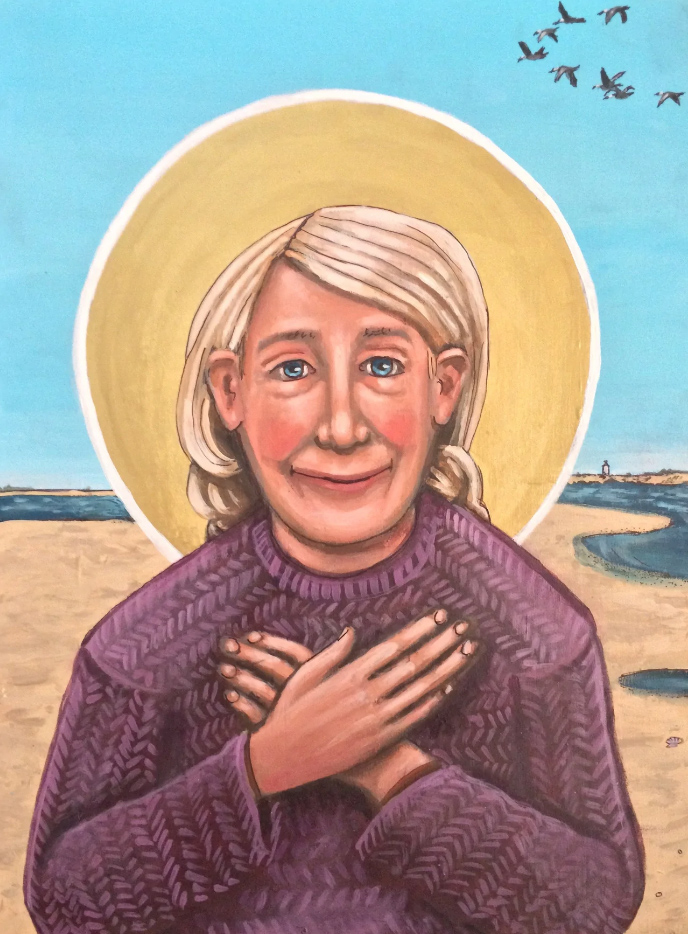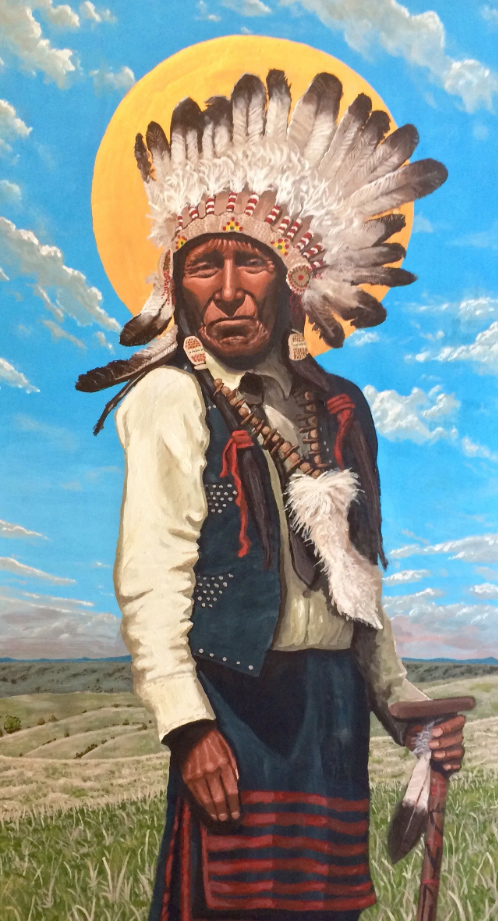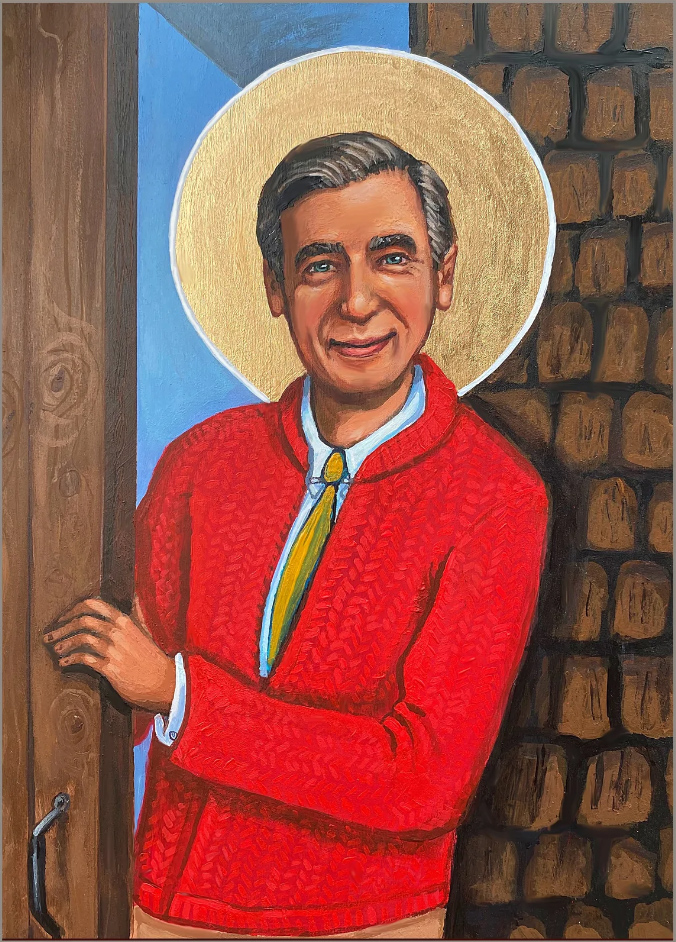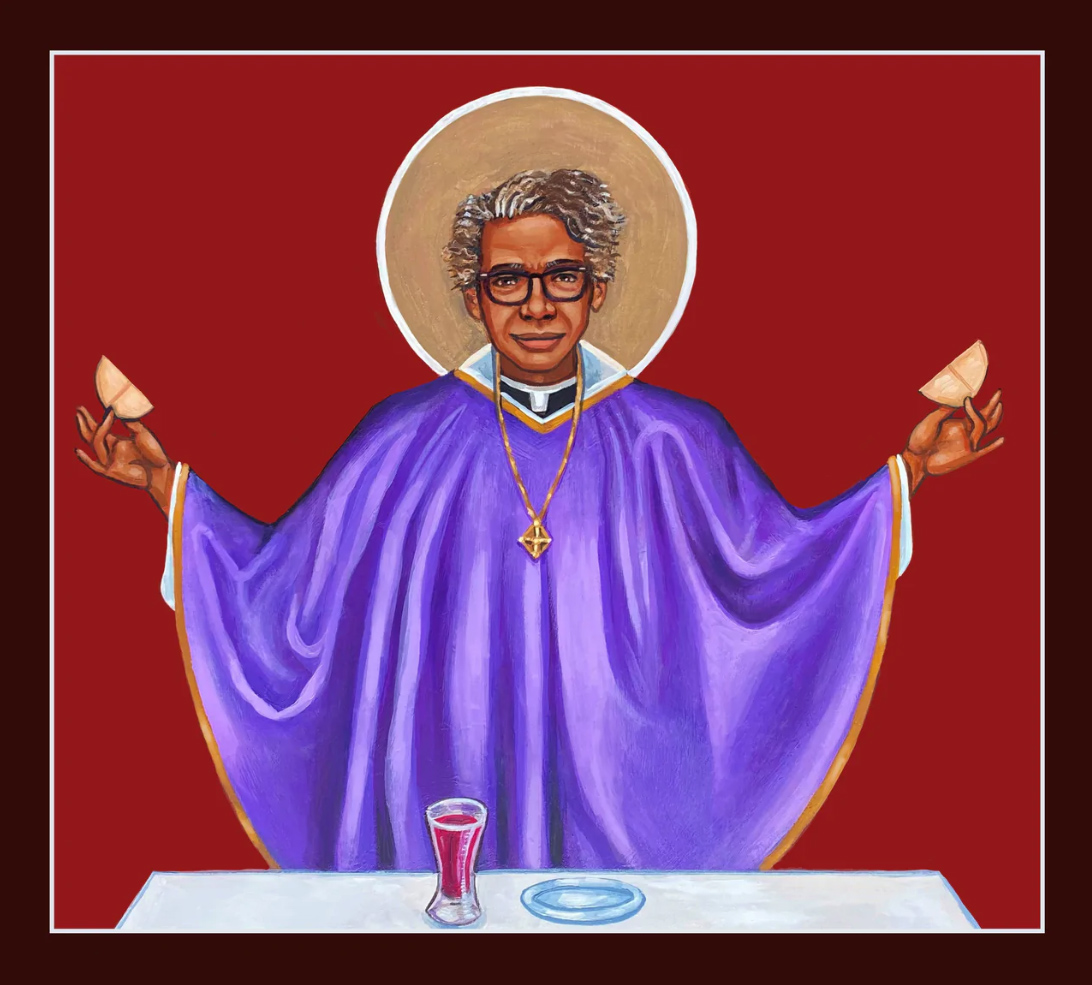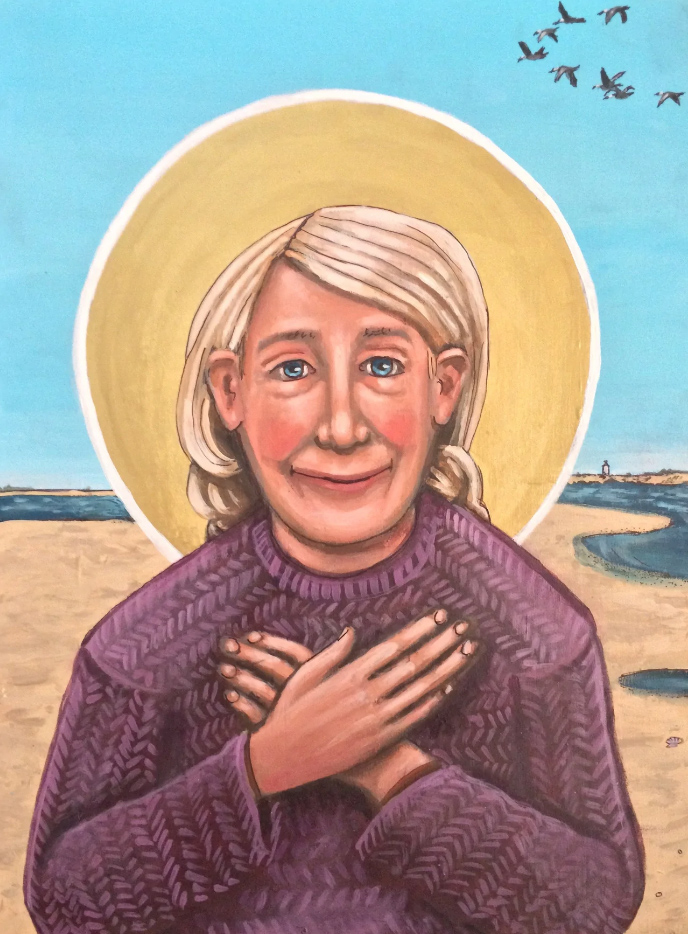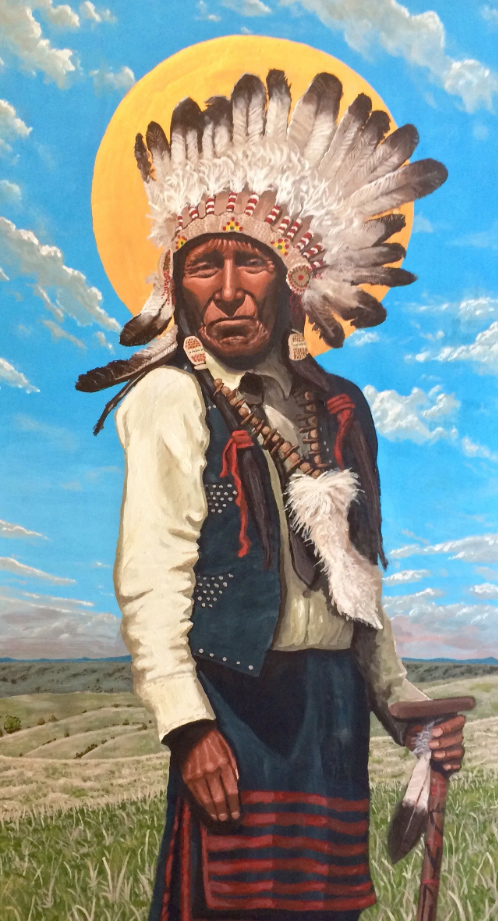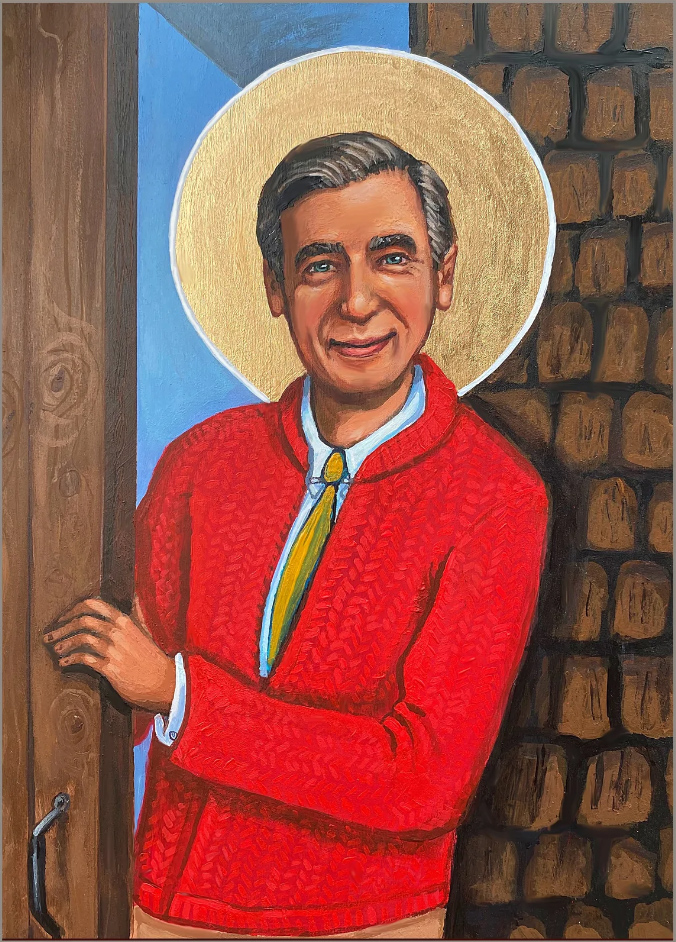 An artist's life is to be more present. For my partner, Evie, and I — and Evie is a big part of the work — we're just trying to be present to what is going on around us. But for me, all of this artwork doesn't really mean much without the relationships that make life worth living. And I think that's so beautiful about iconography; it's a very communal art.
As an artist, I'm entering into this improvisation or this dialogue, which I think doesn't happen in a lot of artists' work. Working on this artwork with churches can be very hard. But what is so gratifying and is a gift to me is that part of the work: the communality, the conversations about images that mean something to them and that want to push them toward communities and push them toward new ways of being in the world and new ways of relating to one another. I wouldn't be able to enter into that if I wasn't doing specifically this work, and so I think it's just about receiving those gifts and doing the best I can to translate that gift [of communality] into the work.
We are just constantly inundated with images. What happens, especially with the social media world, TikTok, Instagram, whatever, is that we can be so quick to speak into something. I hope my art has this potential to teach us to not speak into something but just to learn how to observe, to be still and observe something. And that's my hope for these images, that they can potentially create dialogue. Not only an internal dialogue but also a dialogue between each other. And that just observing and not speaking into something, I think, is the first part of connecting to the piece of art, whether it's art in churches, in this iconography or elsewhere.
What is our church art for? Is it glorified wallpaper, or can it be something that can help us see each other, see in new ways and see God in new ways?
When Daniel J. Bernardo took over as interim president of Washington State University in 2015, he had to handle multiple crises — fast.
He and the university community were already grieving the death of their beloved president. FBI agents showed up in his office to tell him that the campus computer network had been infiltrated. A forest fire shut down the airport and threatened to delay the start of the semester. And a Fox News segment about online syllabi prompted a deluge of complaints.
"It's amazing, as you probably know, what a firestorm that type of coverage can cause," he said. "So we just had a whole convergence of things going on in that first month, and it was a trial by fire for sure."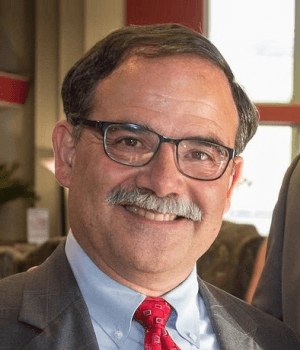 After surviving that initial trial, Bernardo went on to serve the university for the next year, until Kirk Schulz assumed the permanent role in 2016. Bernardo's experience — and other interim roles he's filled — inspired him to write a handbook for others stepping into such a position.
The book, "The Interim: A Guide to Transition Leadership in Higher Education," offers a five-stage plan, structured chronologically from positioning yourself for success to the handoff. Drawn from his own experience and research as well as more than 30 interviews with other interim leaders, it also includes specific advice about things from budget management to time management to developing a 30-day plan.
Bernardo, who now serves as a senior adviser to his successor, spoke with Faith & Leadership's Sally Hicks about his experience as an interim leader and why he thinks that job can make a difference in the life of an institution. The following is an edited transcript.
Faith & Leadership: Explain a little bit about how you became interim president of WSU.
Daniel J. Bernardo: I had been in a couple of interim roles prior to that, but the interim presidency was truly unique. It was an interesting time, a difficult time. We'd had a really charismatic leader — a native of North Carolina.
Elson S. Floyd was president of the University of Missouri System prior to us. [Before that], he was president of Western Michigan. He was a Tar Heel — went up the ranks [at UNC] and also got all his degrees there. Anyway, he was a dynamic guy. Really, really fun to work for. He really elevated us in terms of reputation.
Unfortunately, he contracted colon cancer while he was in office and died rather suddenly. The kind of leader he was, he didn't really take time away from his position to treat his illness. There was only a two-week period between when he stepped down temporarily and when he passed, so there was little preparation. It caught a lot of people by surprise. So it was a very, very fast transition.
F&L: I know you had a rough start. In the end, what did you enjoy about serving in the role of interim president?
DJB: This is my alma mater, so to be interim president of a place that's really special to me, that's truly what I enjoyed most. And I particularly enjoyed the external relations role. And being an alumnus was a huge advantage.
I did ask that question of most people I interviewed for the book. Their answers weren't about things like, "Oh, we restructured this" or, "We introduced this new program." It was really about service to the organization and advancing the culture and moving the organization forward. I think that the challenge of interim positions is fun.
It's exciting. It's exciting and gratifying, because you can really get a lot done.
I look back on each of those organizations that I led in an interim way and I think we set the table nicely. And that's a really important thing — the interim has to set the table for the next person. Even to the extent of, what kind of written documents do you want to hand over?
I feel like I handed over an organization that was much better organized, at least, than the one I inherited. Even though I revered Dr. Floyd, one thing he wasn't particularly good at was annual reviews. He was a relationship guy, right?
Dr. Floyd had 35 direct reports, which he could manage, but no mere mortal could do that. So we got it down to 17, and we did some restructuring in that way.
I think it's gratifying to hand it over to somebody. And in every case, they really appreciated what had been done.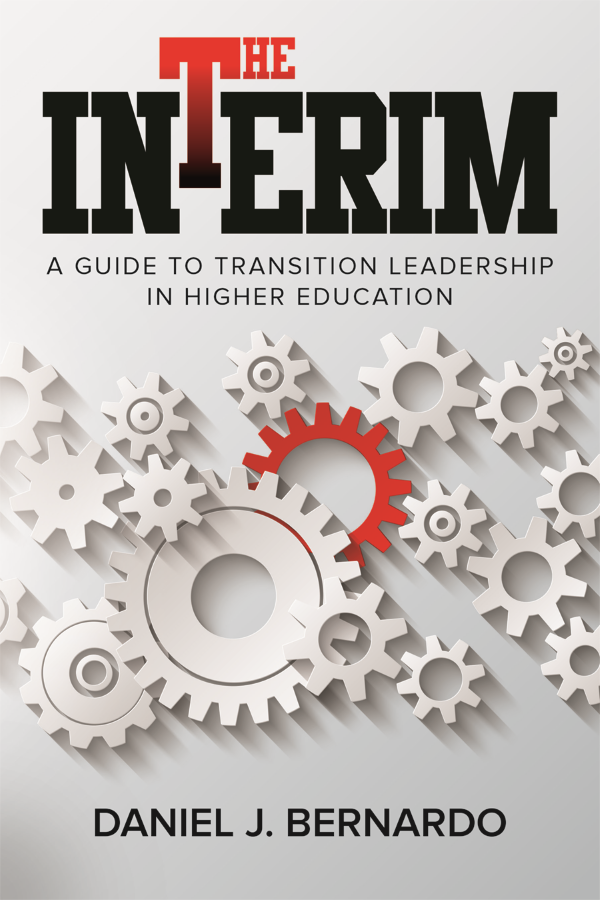 F&L: The central message of your book is that one should not view an interim leadership position as being a caretaker. Talk a little bit about leading with a "bias toward action."
DJB: What I've noticed over the years is that you're asked either officially or informally to be a placeholder. If you adopt that philosophy, it's going to be a significant time of treading water and missed opportunity for an institution. It's not uncommon for institutions to have as much as a quarter of their leadership team led by interims.
And if you just carry that out and think about it just mathematically, if you will, that's a lot of administrative years of opportunity risks, if it's just the status quo.
It really does require that the person appointing the interim make it clear that that person has authority to move forward. That will be challenged by faculty, because they're indoctrinated to the role of the status quo interim. You can quickly render that person ineffective by not being supportive.
Another thing about these interim roles that I found interesting was we think of them as six months to a year. But they can sometimes be indefinite. A good half of the people I interviewed had no time frame provided to them for their appointment. Even those that had a year time frame identified, for the majority of them, their appointments lasted longer than a year.
F&L: You also talk about how it's a unique opportunity and that interim leaders can do things that are needed because they're time-limited. What can an interim do that a permanent replacement couldn't do as easily or as effectively?
DJB: An interim that is not pursuing the job permanently certainly has the ability to make some changes that perhaps somebody coming into the role might be averse to.
Unfortunately, more and more circumstances prevail where interims are in the role of what I call the clean-up-the-mess interim. Those are scenarios in which there are very large problems to address within the college or the vice presidential unit.
And in those circumstances, the interim has the advantage of being able to address those issues aggressively, where a new person might be reluctant to do that. The interim typically comes from that same institution, so they tend to have a much better perspective on the institutional norms.
F&L: What are some examples?
DJB: The most common from the people I talked to and that I've encountered were personnel or culture issues. So certainly, those personnel issues and changing the culture of an organization are areas that an interim can plug into and make some significant progress.
It can be organizational. Some of the people that I talked with were involved in reshaping organizational structure. Interims are often used in establishing new organizations. For example, in a new college or new vice presidential area, there might be an interim there to try to set this organization up.
That can be a really productive use of an interim, because some of those things require people with the institutional knowledge, and also making some tough decisions that allow them to hand off the organization to a more permanent person.
F&L: You lay out five stages of an interim leadership position. There are two things that run through all of them. One is relationships, and the other is communication. Why are those two things important in particular for an interim?
DJB: Those are probably the two critical elements of any leadership position. I think, first of all, with respect to communications, one of the real challenges with an interim position is the time frame and the fact that everything is compressed.
I suggest creating a 30-day plan instead of what's typically thought of as a 100-day plan. So everything is compressed, and that makes it even more important that you invest in relationships and that you invest in communication.
It's very important to prioritize, and it's very important to stop and build relationships along the way, and invest in those relationships on the front end. It's important so that you have your team with you along the way. Some of the challenges an interim has are because of the impermanence with that team.
It's important to be strategic with your communication — not only what you say but what you don't say, because everything you do will be interpreted. In most of these interim situations, there is an information void inherent in the situation. And if people don't know what's going on or don't have the necessary information, they'll make it up, as you know, right?
F&L: One of the things you talk about is diversity, equity and inclusion as being a vital part of an interim leader's work. And you point out that even if there is a DEI plan, it might not really make a difference in the culture. How do you figure that out?
DJB: Again, it's communicating that that's important and talking to people about it, people who might have a perspective on that. The only way to do that is to talk to people who may be affected by that culture.
When I first became a dean, I inherited a place that had real culture problems, especially around women in the workplace. And once I opened that up as an issue and began to talk to people about it, I was pleasantly surprised how many people, once they figured out that we were going to take it seriously, came quickly forward to help identify the issue and help develop some real action steps.
We identified three tenured faculty in the college. We developed a case against each of them where either they were going to resign or we were going to be in court with them, and they opted out. But yeah, it probably will involve some tough personnel actions, because these things don't happen by themselves.
F&L: Another step you advise is making a learning plan. Why?
DJB: This [role] is not only something that's good for the organization; it needs to be good for you, right? So you need to be very conscious upfront about, "What is it that I want to learn from this experience, and how am I going to go about doing that?"
Sometimes you think you don't have time to learn, but if you want to maximize the benefits to yourself in terms of professional development, you need to invest in yourself through this process as well.
For example, one thing that I wish I had done was to keep a daily journal. First of all, to make this book a lot easier! But also, it would remind you of all of those learning opportunities that you went through along the way.
For example, the budget can be a challenge for some interim leaders. Well, this is a chance to learn, "How do I go about taking a budget and implementing it and holding people to that budget?" Those are great skills that a lot of deans and vice presidents have to develop on the fly.
F&L: You have really detailed suggestions, templates for all kinds of actions. And when I read it, I thought, "My gosh, for a person who probably is already overwhelmed by the job, that seems like a lot." But you have also a specific strategy for freeing up time. What do you recommend?
DJB: Time management is one of the real keys to being a successful interim, and I make some very specific suggestions. The first one is don't accept the predecessor's schedule as your own. You have different priorities, and there's a tendency for some interims to go in and keep all the same meetings and try to run the same schedule.
Spend some time analyzing, where does your time go? One of the key suggestions is don't try to have 100% of your 8-to-5 time committed to doing meetings and donor visits and all of the specific activities of the job, and not budget out time for things like email, phone conversations, etc.
That is a ticket to burnout. Many of the people I interviewed suffered that way. They just tried to outwork the job. We all do that.
It's my bias, but I use my administrative staff quite differently than many of my peers. I require a really outstanding administrative assistant — or what I would call chief of staff — and a really outstanding CFO.
And I'd always find it interesting that when people would come to interview, they would talk about the faculty and everybody else but they wouldn't talk about the most important person to me. And that is my chief of staff, my go-to person. You can delegate a lot to that person. And I just think that delegation is absolutely the requirement.
But that burnout is significant. There were four or five people I interviewed that had significant adverse health reactions to their interim positions. They weren't ready for the time demands that they imposed on themselves or the stress of that job. Fortunately, they were able to get out of it in time and get back to some normalcy.
F&L: And when you say use administrative staff differently, you mean invest them with real responsibilities so that your workload is reduced?
DJB: Part of that is that the CFO, for example, and that executive assistant are in every leadership meeting you've got, because they have to know what you're trying to accomplish so that you can trust them to make decisions based upon your goals.
Not everybody treats their CFO that way. They just go in and talk to him or her as needed. I think that an HR person's the same way. A real time sink for administrators is personnel, as you mentioned. And if you have an HR person who is in sync with you, he or she can buy you a lot of time.
F&L: Is there anything I didn't ask you that you would want to add to our conversation?
DJB: A key recommendation that many people should adhere to is do not keep your previous job. Do not try to do two jobs, because you will do two jobs poorly.
I regularly saw that as a significant issue. Either the interim stayed in the former role or they mentally couldn't disconnect from the former role. So you've got to have confidence in the [replacement] and let them do their thing.
And that goes back to the theme that these people have to be empowered. If they're all doing nothing proactive, that's a pretty significant tread-water time for the university.